Some of the baby items out there sound good in theory, but I definitely wouldn't call them baby registry must-haves!
When I was expecting my first son, I remember going up and down allllll the baby aisles wanting one of every single thing I saw.
It's funny how your perspective changes the second time around. With baby #2, I only bought things I knew we'd use. If you're only going to use a certain item for a couple of weeks, is it really worth it?
I get it though. I really do. When you're a first-time mom or if it's been a while since you've had a baby (My boys are almost 7 years part so I can definitely relate), it's hard to sift through everything and figure out which things you really need.
So, instead of an insanely long "ultimate list" that would just leave you even more overwhelmed, here are 17 baby registry must-haves that are actually worth it.
Baby Registry Must-Haves for 2019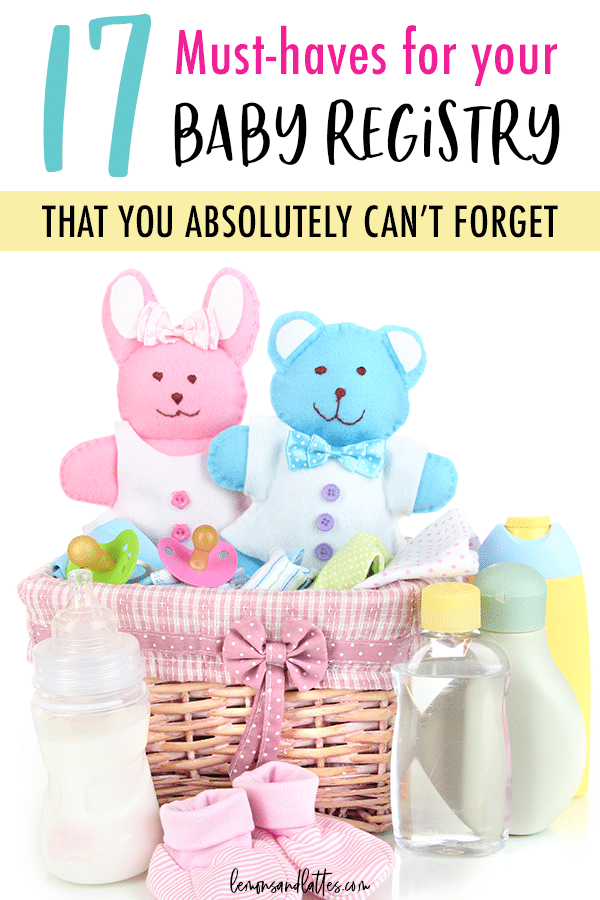 This post may contain affiliate links. Please read my disclosure for more info.
Where to register for baby?
First, if you haven't created a baby registry- go ahead and do that now!
It's so easy to create a baby registry these days. You don't even have to put on pants and leave your house.
You can choose any store you'd like, but I think Amazon has the best baby registry.
With Amazon, you get a massive selection of baby items, easy 90-day returns, and you can manage everything straight from your phone.
Create your Amazon baby registry now.
Baby Registry Must-Haves for Feeding
Baby's gotta eat!
Bottles
Unless you are exclusively breastfeeding (and zero pumping), you will need some baby bottles to get you started, but I don't recommend getting a ton of them. It can be tricky to find the right kind of bottle for your baby. Both of my boys spit up a lot as newborns and it took some testing to find a bottle they both loved AND one that helped with the spitting up.
That being said, it's probably a good idea to have at least a couple just in case you need them.
Baby #2's favorites have been the Munchkin Latch and the MAM baby bottles and they both have great reviews.
Bottle Drying Rack
Next, a bottle drying rack is a definite baby registry must-have for all those little pieces you'll be washing constantly. These are my favorites:
Burp Cloths
Burp cloths will help keep you and your baby dry. These Burt's Bees burp cloths are free from harsh chemicals and are super absorbent. (Make sure to pack a couple of these every time you leave the house!)
Nursing Pillow
If you plan to breastfeed, a good nursing pillow will be really helpful during those first days at home with your baby. This is one thing I didn't have (but wish I did).
I've been told by other moms that the Boppy and the My Brest Friend nursing pillows are great choices, but the My Brest Friend is the better choice if you'll be recovering from a c-section.
Nursing Pads
I also recommend using reusable nursing pads if you plan to breastfeed. These are a huge money-saver since you can just toss them into the washer.
Must-Haves for Bathing Baby
There is nothing on this planet that smells better than a clean baby. These will help you keep your baby fresh and clean so you can spend all day sniffing his hair and squeezing him. (I hope that's not just me.)
Baby Bath Tub
We used a baby bath tub like this one for both of our boys, but a friend of mine LOVED this for sink baths.
Baby Towels
Baby bath towels are another baby registry must-have. Keep her warm with this adorable hooded baby towel for sensitive skin (it has bear ears! *melts*).
Wash Cloths
You'll also need a few soft wash cloths for baby. These baby wash cloths are soft, moderately thick, and perfect for sensitive skin.
Baby Wash & Moisturizer
The best baby wash we've found so far for our baby's dry skin is this Dove baby wash. Nothing else has been able to lock in moisture like this stuff has.
Must-Haves for Keeping Baby Healthy & Groomed
And, of course, you'll need some health and grooming supplies. That being said, I'm not a huge fan of those "deluxe" kits. You'll need need or use most of that extra stuff.
Nasal Aspirator
These are not all created equal. I don't recommend the ones that don't come apart to clean. I'm still grossed out that mold that grow inside of there! I love this one because you can clean it after every use.
Nail Clippers
Both of my boys (and probably most other babies) were bad about scratching their little faces when they were newborns. A good pair of tiny nail clippers is a definite must-have.
Fast Thermometer
Oh man. Nothing like holding down a squirmy baby waiting on a slow thermometer to kick in. This one will get the job done in about 10 seconds.
Baby's First Hair Brush
The natural wooden brushes in this hair brush and comb set are perfect for baby's sensitive scalp.
Other Baby Registry Must-Haves
Teething Bandana Bibs
These are soo cute that it hurts. Our son loved his teething bandana bibs so much when he first started teething.
Backup Paci
You never know whether or not your baby will be one to love pacis or not… but if you choose to let your baby have one, consider getting a backup. These things can be like socks. They'll disappear and then turn up days later. (Isn't this giraffe paci the cutest thing you've ever see?)
Swaddle Blankets
Most babies love to be swaddled, but you need a blanket that's breathable and on the lighter side. These Muslin swaddle blankets are durable, soft, and 100% cotton.
Floor Seat
We used this frog floor seat with our second son and he loved it! I love the design of it. With the wide base, you won't have to worry about baby toppling the whole thing over like you do with the Bumbo.
---
What are your baby registry must-haves? Pop them in the comments for other mamas to see!
Pin for later?