This post may contain affiliate links. Please read my disclosure for more info.
The best bath toy storage ideas to help keep your bathroom neat and tidy!
Are your kids' bath toys taking over your bathroom?
If so, then it's time for a GOOD bath toy storage solution.
Bath time is a big deal for kids. They always want to take their toys into the tub with them. And while it's a lot of fun for the kids, it can be really hard on moms because these soapy little creatures never seem to dry out enough!
But it's not just about keeping your bathroom organized– Proper bath toy storage will also help keep toys squeaky clean since it will be easier for them to air dry.
No more stinky, moldy toys cluttering up your bathroom space!
Our top 3 best bath toy storage solutions
Are you in a hurry and don't have time to read all the nitty-gritty details? Here are our top 3 favorite bathtub toy holders! Keep reading for the full list.
Best hanging bath toy organizer: Tub Cubby Bath Toy Organizer
Best freestanding bath toy holder: Ubbi Freestanding Bath Toy Organizer
What to look for in a good bath toy holder
There's one key thing to look for when selecting a bath toy organizer: It must allow for water to drain from the toys and allow enough air inside for them to dry.
When water is not able to properly drain from the holder or basket, it creates the perfect environment for mold, and we don't want that.
(Already spotted mold on your kids' bath toys? Learn how to get rid of it.)
Which type of bath toy organizer should you choose?
There are several different types of bath toy organizers to choose from.
What's the best type for you? Let's find out.
First, what kind of surface does your bathtub or surrounding walls have?
Bathtubs with non-porous (smooth, non-textured) surfaces are best for organizers with suction cups.
If you are working with a rough/textured surface, look for organizers that come with extra adhesive or try a freestanding organizer instead.
Other than that, whether you choose bath toy storage with mesh net material or plastic is completely up to you.
How much space do you have in your bathroom? Because hanging bathtub organizers with suction cups utilize vertical space, they are best for small bathrooms.
If you have a larger bathroom with a bit more floor space, a freestanding organizer should work great if you're not a fan of suction cups/adhesive.
That being said, if you have a smaller bathroom and you want to avoid a hanging organizer, a storage basket that fits over your bathtub may work best for you.
What is the best bathtub toy organizer or holder?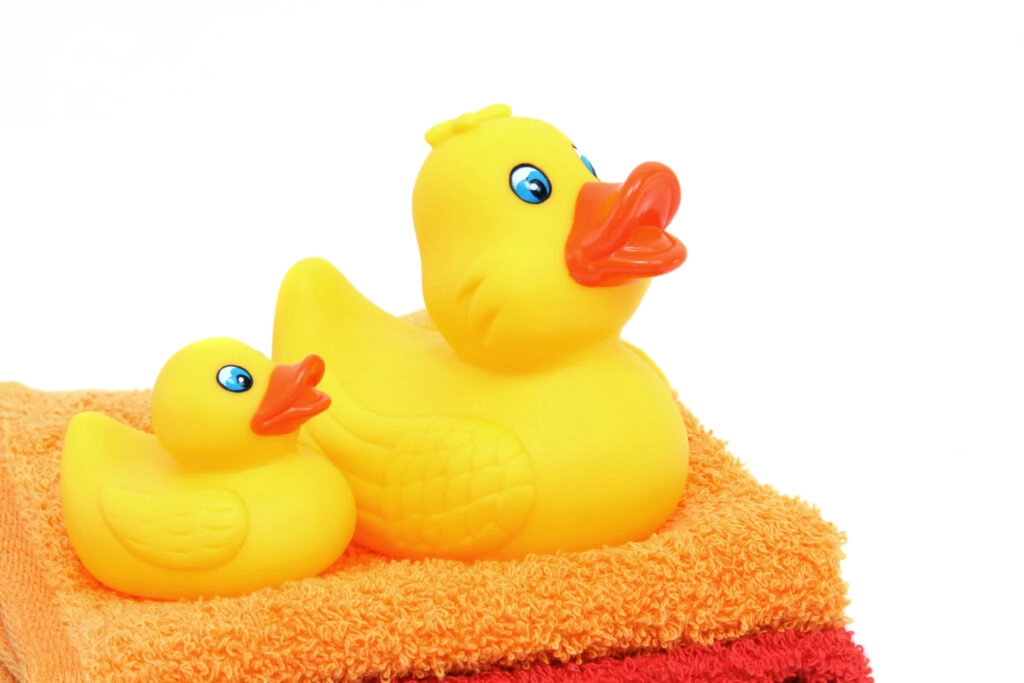 Tub Cubby Bath Toy Organizer
Were you hoping to get a hanging organizer but working with a textured surface?
The Tub Cubby Bath Toy Organizer is a great choice as it comes with suction cups and adhesive hooks.
If your walls are too porous for suction cups, the hooks should work well for you.
The double-stitched mesh net is a nice touch too.
Something to consider:
You still may eventually see some mold, especially if you live in a warm, humid climate. Regular cleaning is a must. (Like anything, though, right?)
Ubbi Freestanding Bath Toy Organizer
Next up is the Ubbi Freestanding Bath Toy Organizer.
If you're looking for a stand-alone bath toy organizer without suction cups, hooks, or extra work, scroll no more.
This freestanding bath toy organizer has large holes in the bottom that allow water to drain into the removable base.
While it does use a tiny bit of your floor space, it gets the job done and it's super easy to clean.
Something to consider:
If you have lots of bath toys to store, this storage bin may be a little small for you. But, then again, that could also mean it's time for some decluttering. 🙂
KidCo Bath Toy Storage Basket
Can't decide between a hanging or freestanding organizer? You can sort of have the best of both worlds…
If you don't have much extra space and you don't want to fool with hooks or suction cups, check out the KidCo Bath Toy Storage Basket.
It's adjustable, has dividers to keep toys and other essentials separated, and it's also easy to clean (dishwasher-safe).
A couple of things to consider:
If you think you'll be taking the basket in and out of your bathtub for any reason, it will drip if the toys haven't had enough time to dry.
Also, if you use a double-sided shower curtain, you won't be able to completely close it all the way without removing the basket.
Munchkin Bath Essentials Set
Don't mind suction cups? Consider this Munchkin Bath Essentials Set.
I love it because it comes with a couple of bonuses.
You'll get the bath toy organizer, of course, but it also comes with a little penguin toy and a shampoo rinsing cup.
Another thing I love about the organizer itself is the wide, sturdy opening. Just scoop up the bath toys and hang it back up!
Something to consider:
The bonus penguin toy is adorable, but it may be hard to keep clean based on a few of the reviews. If you're not okay with the idea of tossing it after a couple of months, this may not be the best choice for you.
Munchkin Hanging Bath Toy Holder
If you liked the previous organizer but decided you don't need the bonuses, try this Munchkin Hanging Bath Toy Holder instead.
It's very similar with its wide mouth for scooping up toys and mesh net material.
If the suction cups won't work for you, this organizer also comes with an adhesive disc to use if you're mounting to a textured surface.
Skip Hop Corner Hang Toy Organizer
The Skip Hop Corner Hang Toy Organizer fits securely to the corner of your shower– great for saving space.
My favorite things about this organizer are that it holds more toys than it looks like it would, the suction cups are adjustable (from left to right), and it's machine washable.
Something to consider:
In order to attach it securely– These are just your average suction cups so you will need to make sure the area you're attaching it to is cleaned really well first.
Boon Whale Pod Scoop Bath Toy
Another cute choice for a hanging bath toy organizer is the Boon Whale Pod Scoop Bath toy.
I love how it has a built-in shelf on top for other bath essentials.
Once the whale organizer is mounted, the tail can be used as a scoop for quick and easy cleanup once bath time is over.
Something to consider:
This organizer doesn't come with suction cups. Instead, it gives you the option of using adhesive (which takes about 24 hours to install) or screws. This may or may not be a deal-breaker for you, but I felt it needed to be pointed out.
---
Hopefully you found this helpful and one of these bathroom toy storage ideas will work well for you!
It's much easier to maintain an organized bathroom (and clean toys) when you have a practical way to store your kids' bath toys.
Pin for later?