This post may contain affiliate links. Please read my disclosure for more info.
Is Cozi the best family organization app?
Maybe I'm the oddball, but I actually love both paper and digital for different reasons.
I like getting my thoughts out on paper, but you really can't replace some of the perks that family calendar apps bring to the table.
As much as I love them, paper planners will never be able to send you a reminder straight to your phone like an app can.
So if you're looking for a free way to organize #allthethings straight from your phone, I think you'll like what I have to say.
Reasons you'll love Cozi
1. Easily create a shared family calendar
With the Cozi family calendar, you can easily create a shared calendar that'll make it a breeze to keep up with important appointments and events.
Just like I said in this post, having ONE place to store all your appointments, field trip dates, and anything else you have to remember will make things so much easier on you.
Back in the dark age before I started really trying to be more organized, I completely missed one of my son's appointments. It totally slipped my mind.
Ever had this happen to you?? Yes? Then you'll love that you can set appointment reminders with the Cozi family organizer.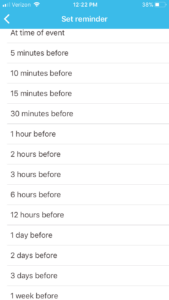 I also love that you can color coordinate by family member. If your schedule is packed, it's nice to be able to glance at your week and see what you have going on and which family members are involved.
And one last perk of the Cozi calendar is that you can even add your dinner plan straight to your family calendar if ya want.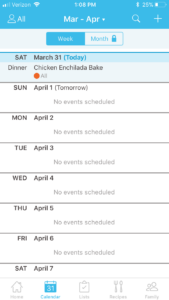 2. Create shopping lists
Raise your hand if you're a list maker! Me too… you're not alone. 😉
But hey- If you're really trying to save money on groceries… making lists is a smart move.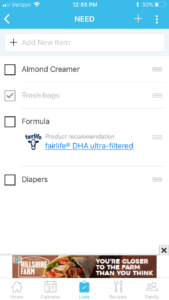 Just like each family member (that has the app) can view your calendar, they can also view your shopping lists.
QUICK TIP: Swipe left to delete a shopping list. This took me forever to figure out, and I have no idea why!
Still like to write your grocery lists by hand? Here's a free printable you can snag!
3. Make shared family to-do lists
More lists? Yes ma'am! I am probably the world's worst procrastinator at times… It's gotten to the point that I literally have to sit down and make a list of everything I need to do and then go ham on it.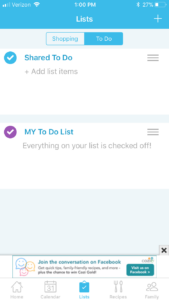 And, you guessed it, your to-do lists can be made visible to other family members (but you can create personal ones too).
Another idea- If you have older kids with smartphones, you could create chore lists or anything else you need them to do. 😉
4. Save your favorite recipes
I'm always saying how it's important to track your family's favorite recipes. It makes meal planning so much easier when you have a personalized "recipe bank" to pull from each week when you're planning out your meals.
If printing out recipe cards and creating a recipe binder isn't your thing, you can save your favorite recipes right inside of Cozi.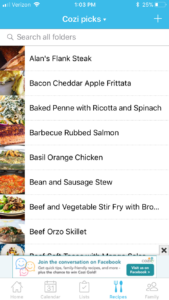 Cozi has recipes you can browse within the app and add to your recipe box or you can add your own. You can also copy the ingredients for a certain recipe straight into a grocery list.
5. Share pictures & memories
The Cozi family calendar app also features a family journal where you can share pictures, memories, etc. with other family members– all in one place.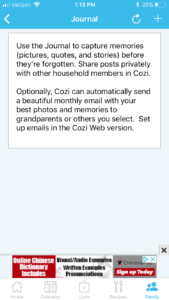 Personally, my family uses Facebook messenger for this, but it's still a neat feature for others than might not use Facebook for that (or at all!)
Cozi Family Calendar – Final thoughts
All in all, Cozi is a great digital alternative to paper planners and organizers.
If you're looking for a way to stay on top of things, organize your family's schedules, and create a shared family calendar, I recommend giving it a try!
(They DO also have a paid version that's $29.99 per year if you want extra features like contacts and birthdays, but I think the free version is great and will probably be good enough for most!)
---
Have you downloaded the Cozi family calendar app? Do you plan to? What's your favorite free calendar app?
Pin for later!