This post may contain affiliate links. Please read my disclosure for more info.
The #1 spot for best family calendar app 2021 goes to the Cozi Family Calendar.
Cozi is a free app designed to help families stay organized.
It's available on both iPhone and Android mobile devices. You can also access it from your computer.
👉 Click here to sign up for a free account
A closer look at the Cozi Family Organizer app
Now let's take a deeper dive into some of the features Cozi has to offer.
The Cozi Calendar
The main feature Cozi is known for is its ability to create a shared family calendar.
This means every family member has access to the same color coded calendar where you are able to view everyone's schedule at once or filter by family member.
The Cozi Calendar gives you one central place to organize your family's schedules, appointments, activities, and other important events.
It even takes it a step further and allows you to set a reminder before an event.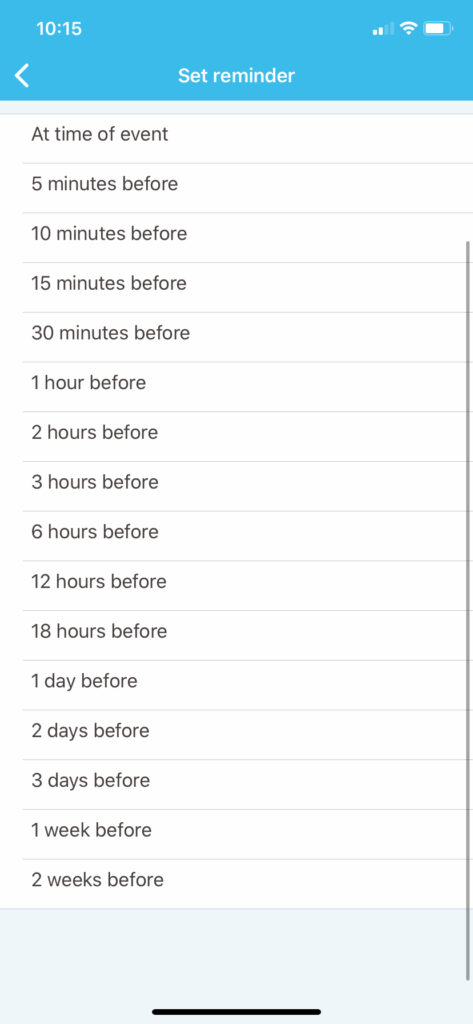 Reminders may be set to trigger at the time of an event, 5 minutes before, or all the way up to 2 weeks before.
Do you wish you could add your meal plan to your calendar? With Cozi, you can.
Add recipes straight from your recipe box (see below) to your Cozi Calendar, so everyone will be able to see what's for dinner!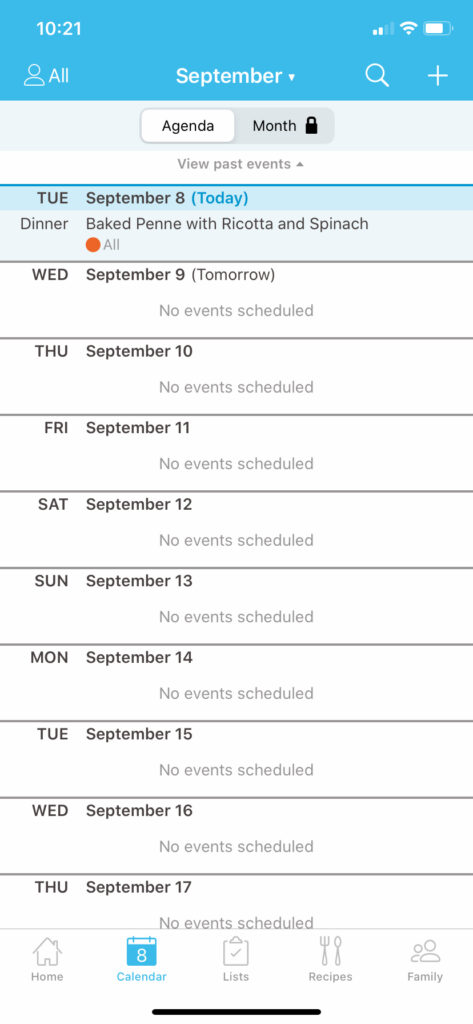 Create lists for everything
If you're a list maker like I am, you'll be excited to hear that Cozi has a whole section dedicated to list-making.
There are two main types of lists you can make within the Cozi Family Calendar app:
A shopping list
A to-do list
A shopping list is automatically shared with each family member.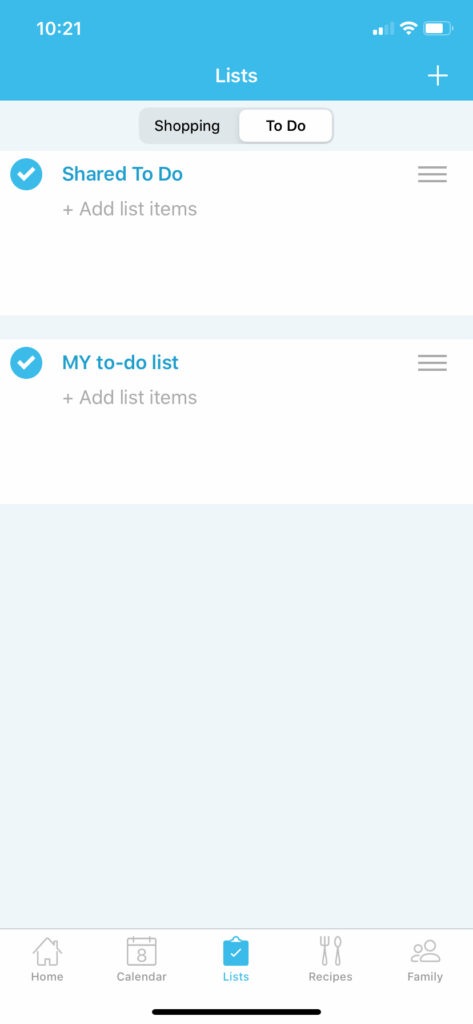 To-do lists can be shareable too, but you also have the option of creating private ones for yourself.
QUICK TIP: Swipe left to edit or delete a list.
Create chore lists, personalized to-do lists, or browse through Cozi's pre-made lists for more ideas.
Stay organized with a Family Recipe Box
Cozi also allows you to create a family recipe box– Which I absolutely love!
One of my biggest meal planning tips is to have a personalized "recipe bank" like this to pull from each when you're planning your meals– A huge time saver.
There are several ways to fill up your Family Recipe Box:
Import recipes from around the web– You just need the URL of the recipe you'd like to import
Add your own family favorites from scratch
Browse recipes already within the app and add them to your recipe box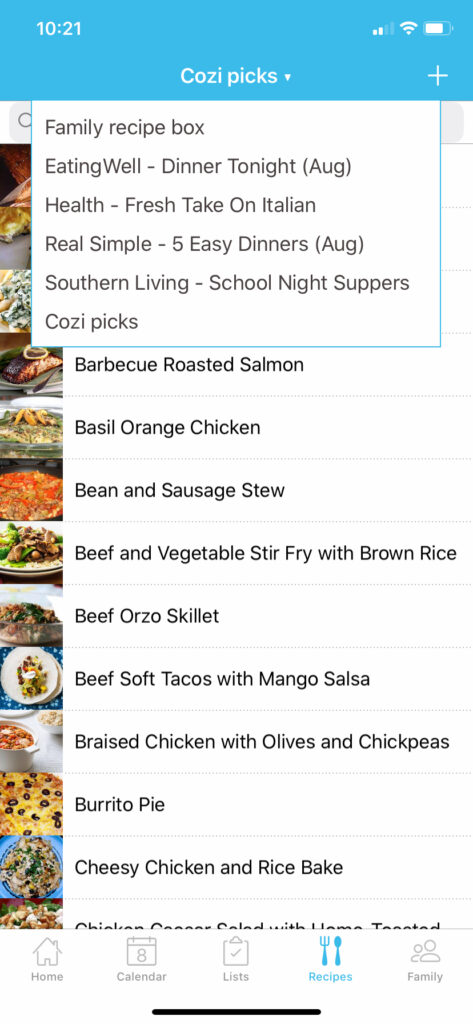 Each recipe can then be added to your Cozi Calendar as breakfast, lunch, dinner, or a snack.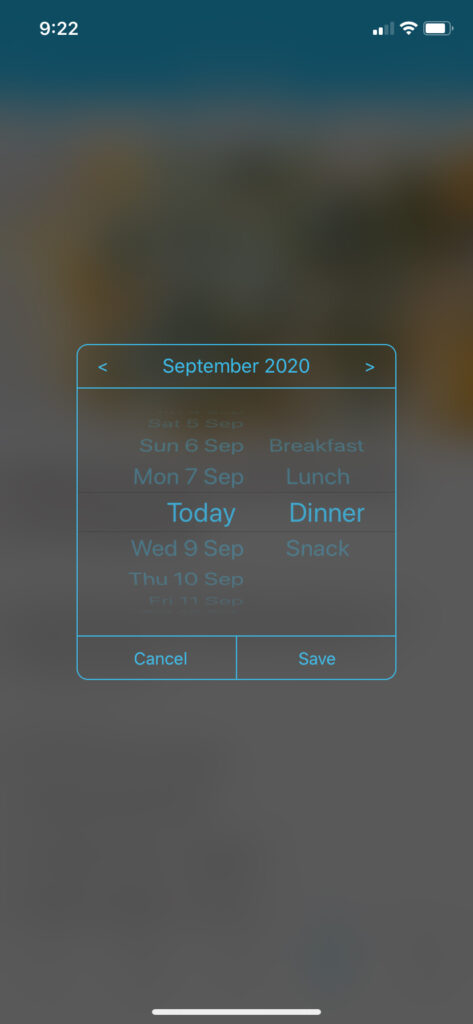 There's also a feature where you can click "add to shopping list" and the list of ingredients will be added to a shopping list. Convenient, right?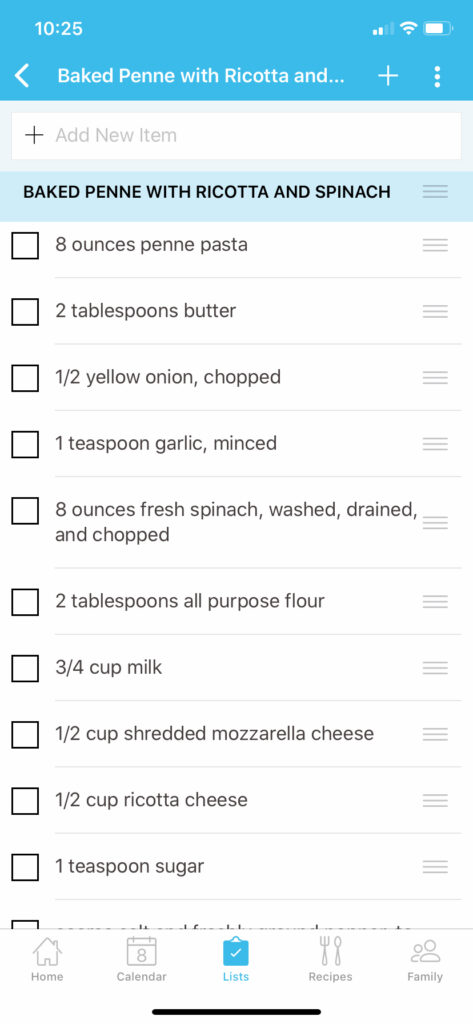 Share pictures & memories
Cozi has a feature called "Family Journal" where you can share pictures, quotes, and stories, etc. with other family members.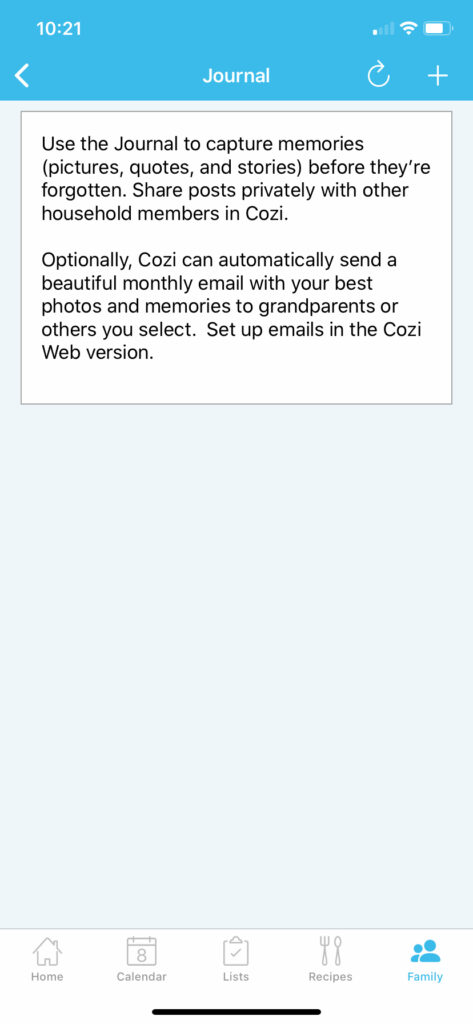 Personally, my family uses Facebook messenger for this, but it's still a neat feature for others who do not use Facebook.
Cozi integrations
The Cozi Family Organizer integrates with other calendar programs including Google Calendar, Outlook, and Apple Calendar.
You may share appointments and events to OR from Cozi.

Recently, Cozi has added new integrations that allow you to add your children's classroom calendars to the Cozi app.
So, if you've been wondering how you will keep up with your child's virtual learning school and everything else– This is your solution!
Currently, Cozi integrates with Google Classroom, Schoology, Canvas, and Outschool.
Free plan vs. Cozi Gold
Cozi is a free app, but there is an upgrade option that's called Cozi Gold.
Cozi Gold is $29.99 per year. Here are the extra features you get:
no ads
mobile month view – Gives you the option of a monthly view instead of the standard weekly view.
calendar search
multiple reminders
ability to change notifications
shopping mode – Your screen won't turn black while you're viewing your shopping list. This is a handy feature to have while you're at the grocery store.
contacts
birthday tracker
mobile app themes
So, yes, you do get quite a bit more plus NO ads.
However, the ads within the app are not that intrusive and you still get the main features with the free plan:
shared family account
color coded calendar
shopping lists
to-do lists
family journal
family recipe box
Cozi is an excellent family calendar app (with amazing reviews at the time of writing this) for busy families– No matter which plan you choose.
Cozi app review (final thoughts)
All in all, if you're looking for a way to stay organized and keep your family in sync (and you love lists, schedules, and all things organization), I recommend giving it a try!
---
What's the best family calendar app in your opinion?
Have you downloaded the Cozi app? Do you plan to?
Pin for later!