50+ Budget binder printables to help you say goodbye to money stress and hello to a plump savings account!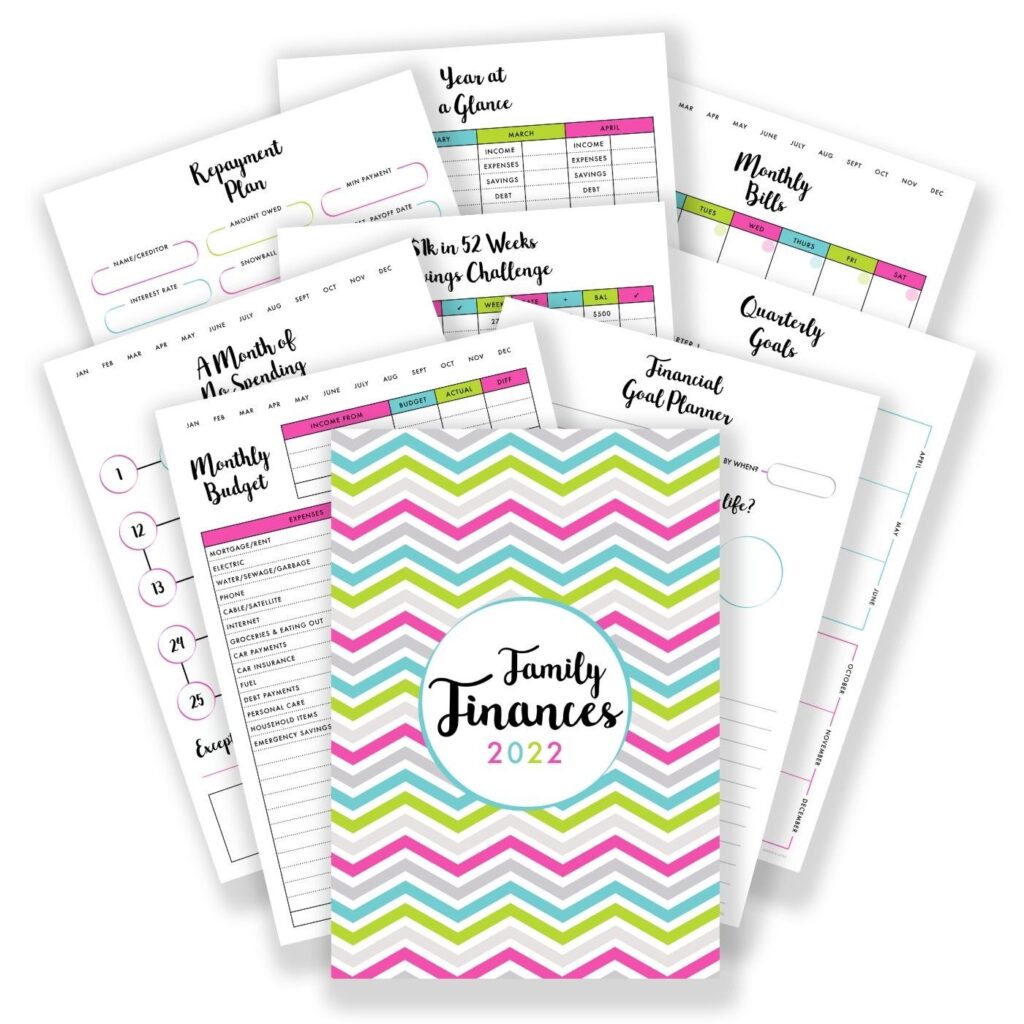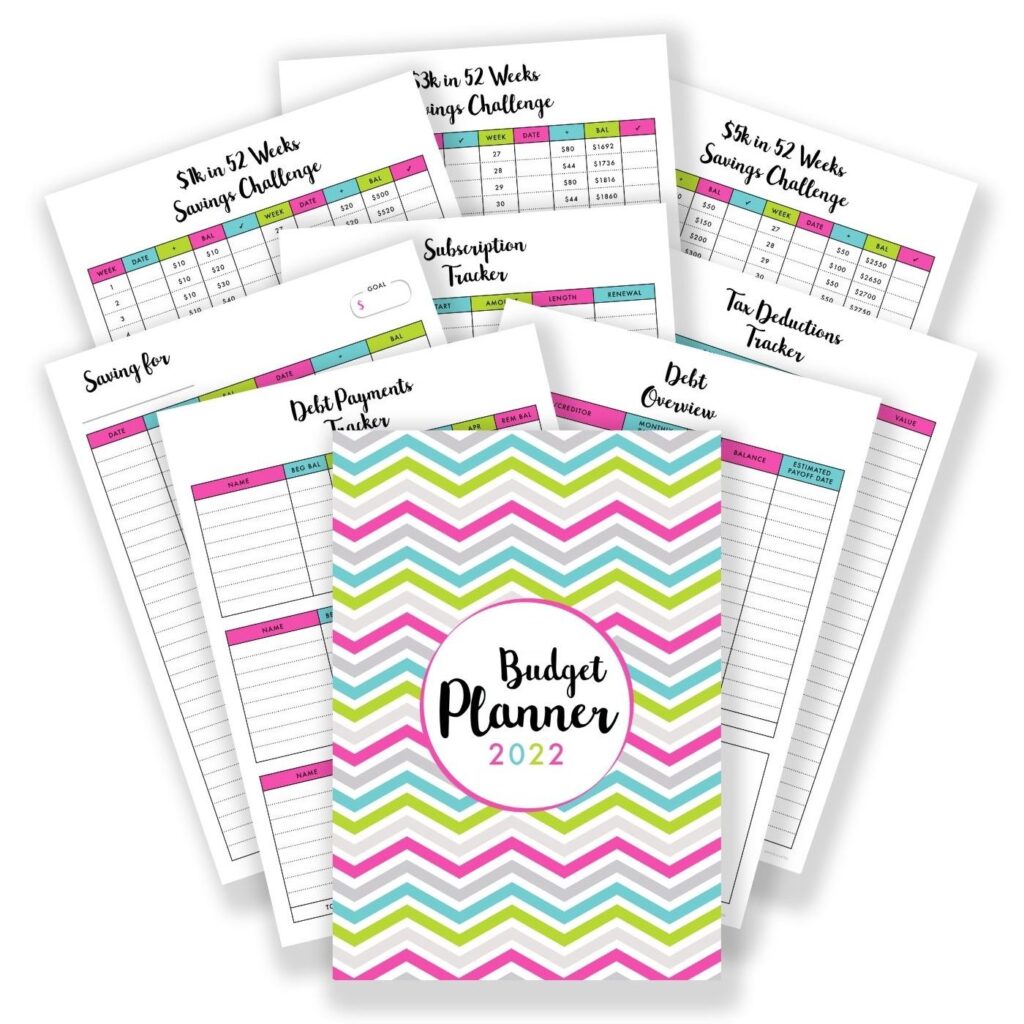 Do any of these sound familiar?
You know your family needs a household budget, but the whole process of starting a budget is overwhelming and you just don't know where to start.
Maybe you have spent money on other budgeting worksheets, but they ended up being way too confusing and time-consuming to figure out. (And they drained all of your ink… ugh.)
You're tired of living paycheck to paycheck and always wondering WHERE all of your money goes.
You have no real emergency savings fund in place and you're tired of only being able to afford the minimum payments on your credit cards. (That creepin' interest is real.)

But what if you could…
Create a family budget from scratch (or revamp your current one) without having to spend hours trying to figure out complicated worksheets
Spend way less time stressing because you know exactly where your money is going and you have emergency savings 💁🏻‍♀️
Finally be able to afford to pay more than the minimum payment on your credit cards and create a plan to slash down your debt
Breathe a sigh of relief knowing all your bills are paid on time (no more second-guessing yourself while you're in bed at night – Did I pay the water bill??)
Finally, a family budgeting binder that's pretty, but functional 🥳
Our planner includes over 50 simple-to-use budget binder printables that won't drain your ink – The perfect amount of color – None of the frustration!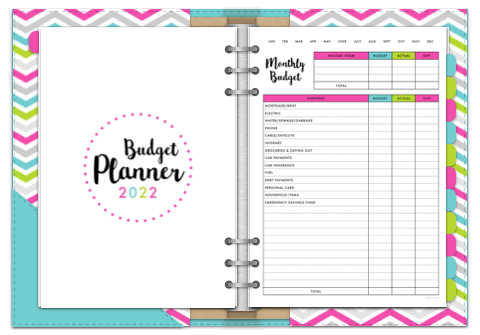 50+ Easy-to-use budget binder printables designed to help you…
Organize your family finances
Do you feel that your financial situation is out of control? It's time to kiss the late fees goodbye. 👋
Track your spending habits
You'll never have to ask yourself where all the money went again because your new budget plan will help keep you accountable for every last penny.
Save money
Do you want to save money?
No more stressing about how you're going to pay for unexpected expenses. You'll finally have an emergency budget in place.
Kick debt
Tired of endless payments and high interest rates? Create an action plan and kick them for good!
But what exactly am I getting?
The 2022 Family Budget Binder is a bundle of over 50 printable pages including cover pages, organization sheets, savings plans, meal planning templates, debt worksheets – It's all here!
You'll have everything you need to put together the perfect DIY Budget Binder and transform your family's finances.
Here's a peek inside:
4 Cover pages (Family Finances + Budget Binder + ink-friendly versions)
Monthly budget planner (blank + pre-filled versions)
Bill payment checklist
Spending/expenses log
Checkbook register
Account info/password organizer
52-week savings challenge (+3 bonus savings plans)
Savings tracker
Savings goal tracker
Full debt overview sheet
Debt repayment plan worksheet
Debt payments tracker
Financial goal planner
Quarterly goals
Subscription tracker
Donations tracker
Gift tracker
Tax deductions tracker
No-spend month tracker
Annual summary
Monthly bill payment calendar (undated portrait version)
Monthly bill payment calendar (all 12 months landscape version)
3 Cash envelope templates
Weekly menu planner template (start on Sunday or Monday)
Weekly dinner planner with a shopping list (start on Sunday or Monday)
Favorite meals brainstorming sheets
Favorite recipes organizer
All printables are standard letter size.
You will receive lifetime updates on future budget binder editions!
Also, this is an instant digital download– NO physical products will be sent! These are printable templates.
Plus a free bonus digital budget planner 🥳
Our 2022 Digital Budget Planner is included with this bundle as a bonus. That means you can organize your finances straight from your iPad or tablet without having to print a single thing (unless you want to of course)!
This includes the meal planning section as well.​
A digital planner is a PDF (usually with hyperlinked tabs) that is designed to be used with an iPad + stylus with an app like GoodNotes or Noteshelf.​
The apps needed to use the digital planner are not included with this purchase. You will have to download those from your app store.​
Black Friday/Cyber Monday Sale! Save 50% through 11/29 🥳
---
Pin these budget binder printables for later?