Does it take you forever to get a meal plan together each week?
Maybe you feel like you "go blank" when you sit down to create your plan… or maybe you feel overwhelmed with options and just can't seem to make a fast decision.
Planning by dinner theme is an easy way to speed up the meal planning process!
Everyone has heard of Taco Tuesday and Meatless Monday, but there are endless meal planning themes you can use to help you keep it simple.
Here are 28 dinner theme ideas you can try this month!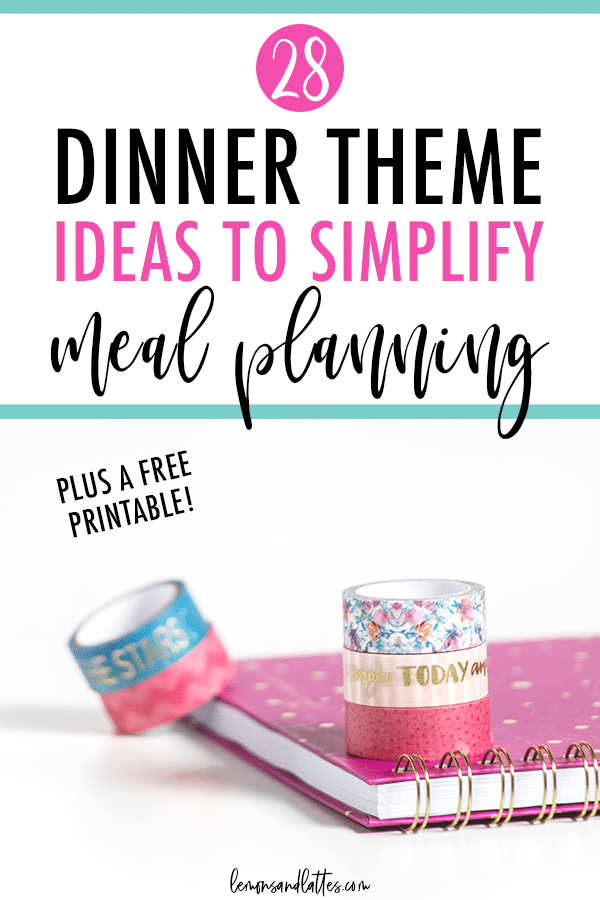 Sunday
Slow Cooker Sunday
Salad Sunday
Sip and Dip Sunday (Soup + Sandwich)
Southern Sunday
Monday
Meatless Monday
Meatloaf Monday
Make Ahead Monday
BBQ Monday
Tuesday
Taco Tuesday
Burger Tuesday
Turkey Tuesday
Traditional Tuesday
Wednesday
Wok Wednesday (Stir-Fry)
Warm it up Wednesday (Leftovers)
One Dish Wednesday
Wing Wednesday
Thursday
Pick 3 Thursday (Protein + Veggie + Starch)
Pot Roast Thursday
Breakfast for Dinner
Rice Cooker Thursday
Friday
Pizza Friday
Takeout Friday
Finger Food Friday
Fish Friday
Saturday
Spaghetti Saturday
Sheet Pan Saturday
Grill Saturday
Sandwich Saturday
Pin for later?