This post may contain affiliate links. Please read my disclosure for more info.
Lately, I have went a little crazy creating all sorts of printable calendars for you to download and print at home for free!
These are for anyone looking to get organized. You can stick them on your fridge or keep one at your desk.
Or – use them to make your own paper planner by sticking them in a binder along with some weekly planning sheets or hourly planning pages – whichever you prefer.
This list includes monthly calendars, weekly calendars, blank calendars, and even birthday calendars. Some of them have cute designs like polka dots while others are very minimalist.
Print as many as you'd like! They are totally free for personal use.
Matching calendar pages for the whole year
If you like to have matching calendar pages for the entire year, I always update these each year. This set always includes all 12 months plus a yearly calendar that includes them all on one page.
These also have a section at the bottom for you to write down the top 4 things you'd like to do during the month.
Currently, you can choose between the pink, blue, and green design featured below OR a black-and-white design that has no color at all for those of you who like to save your precious ink.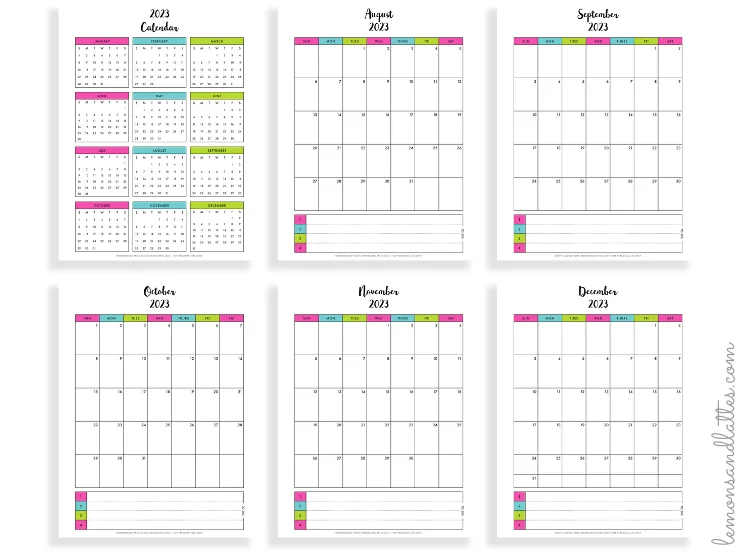 Check them out here – Matching monthly calendars for 2023
Weekly calendar printables
If you like undated calendars that never expire, these weekly blank templates may be perfect for you. They are very simple, but sometimes that's all you need.
There are several different layouts to choose from, including both Monday and Sunday starts for each design.
Some of them have an included notes section while others do not.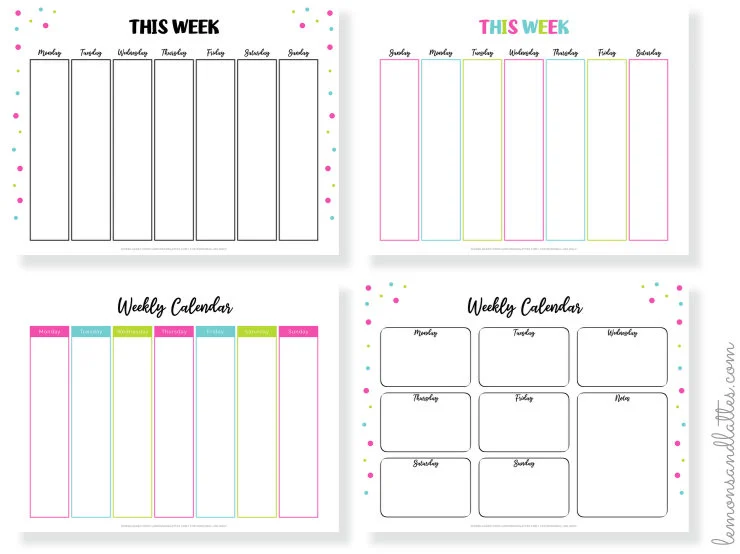 Check them out here – Weekly calendar printables
Quarterly calendars
Quarterly calendars include 3 months per page, as I'm sure you already know. They are so handy to have in front of you when you're in the midst of brainstorming what you want to achieve and writing down your goals.
Some of these include a notes section too! Others don't, so pick what works best for you.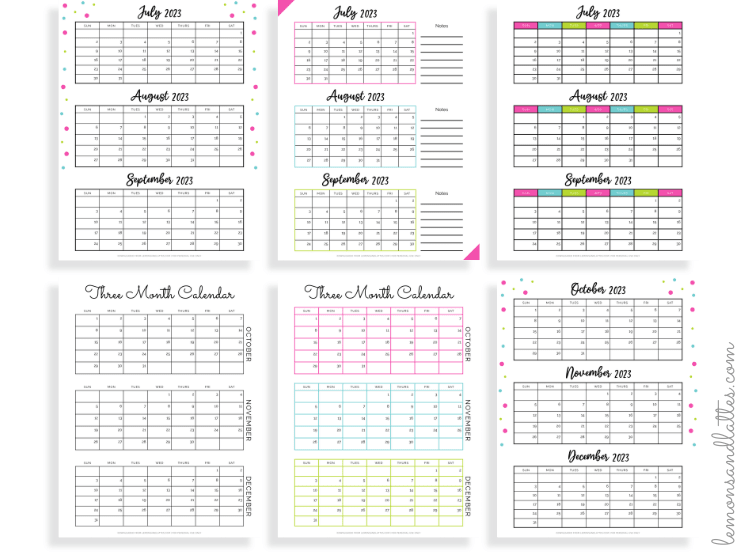 Check them out here – Three month calendars
Cute monthly calendar printables
Now for the individual monthly calendars. There are quite a lot of them!
The designs range from simple black-and-white to a little more pop of color. Some have alternating pink, blue, and green. Others have a couple of small, colored hearts around the title.
And some have polka dots around the calendar template that vary in color depending on the month.
The months August through December are currently included in this list.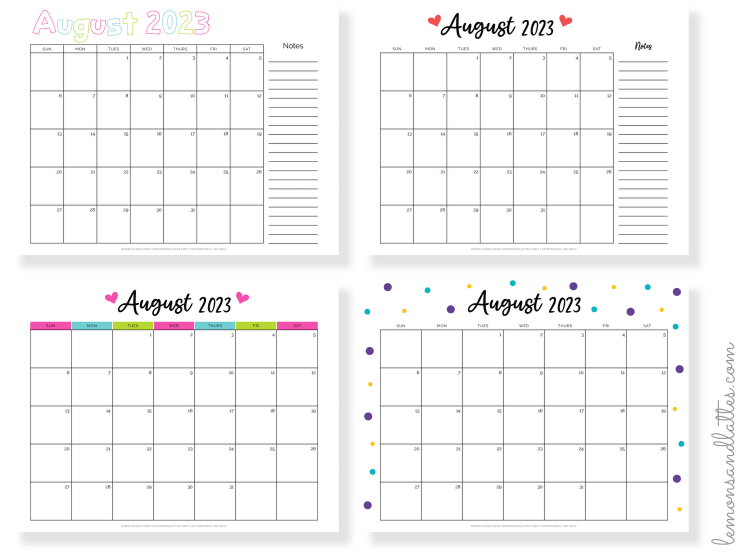 Check them out here – August 2023 calendars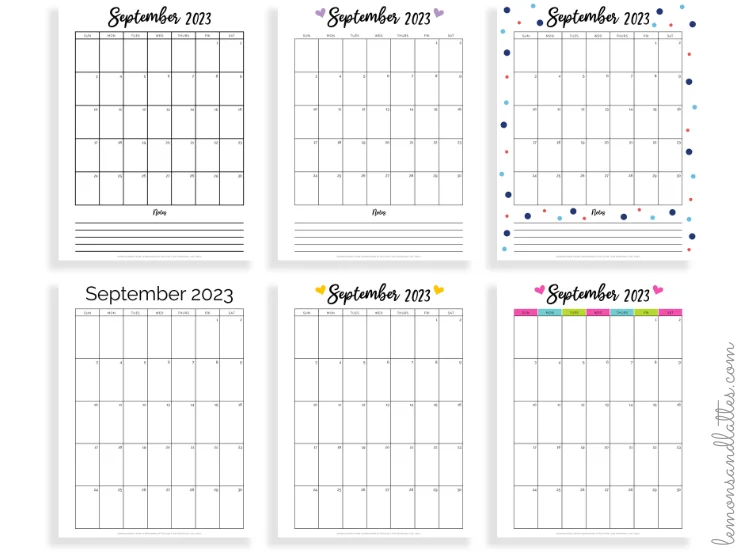 Check them out here – September 2023 calendars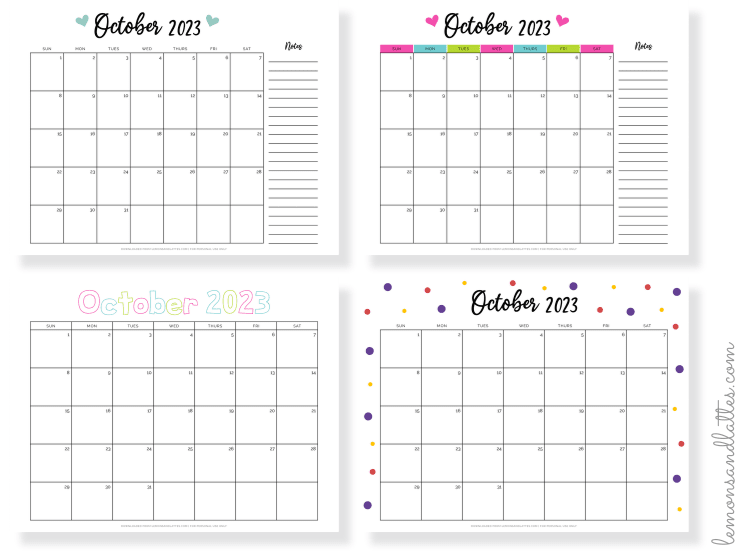 Check them out here – October 2023 calendars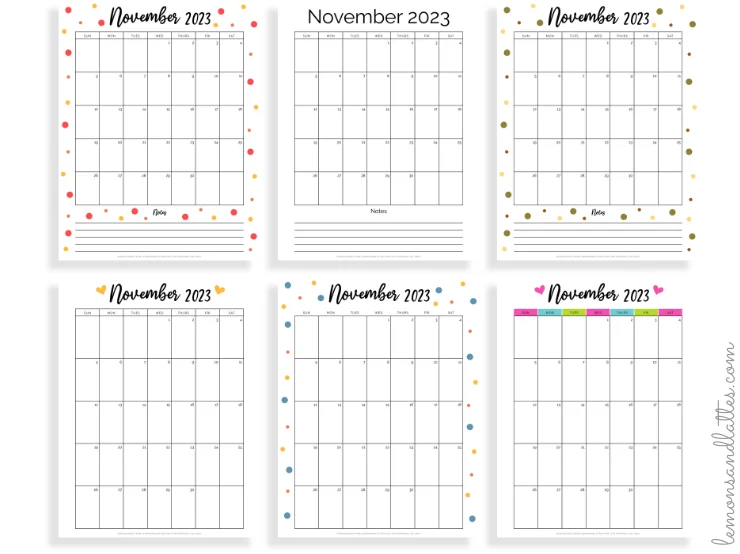 Check them out here – November 2023 calendars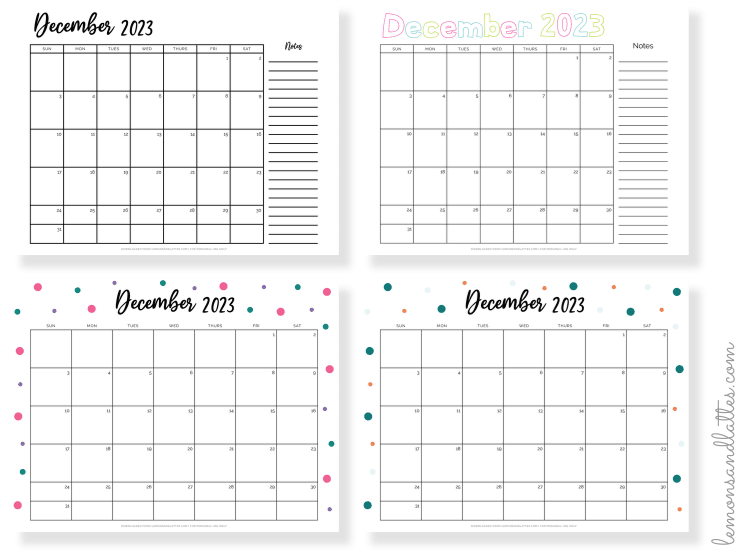 Check them out here – December 2023 calendars
Blank monthly calendars
But what if you don't want all the dates already filled in? What if you'd like to print a stack of calendars, stick them somewhere safe, and fill them in as you need them?
With these blank calendars, you can absolutely do that.
These are available in both 5 rows and 6 rows.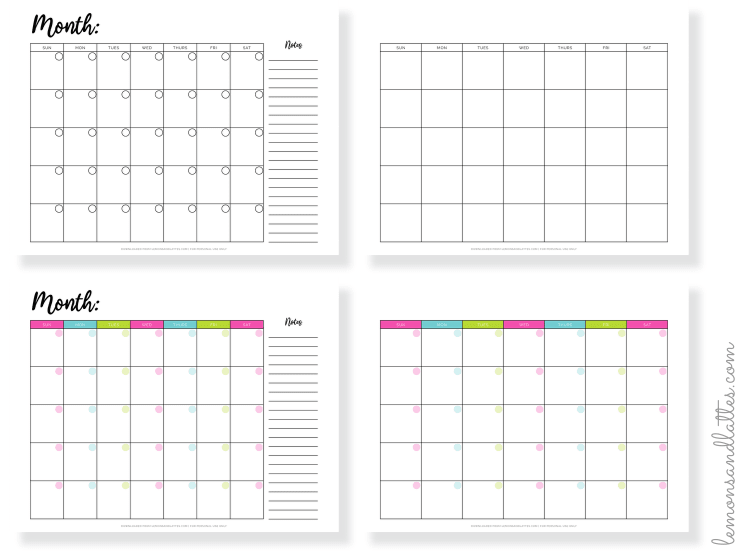 Check them out here – Cute blank calendars
Birthday calendars
A birthday calendar is such a great way to remember all of your friends and family's special days.
You can stick one on the fridge or keep it in a binder. If you're using a Happy Planner, you could also add one there for easy reference.
Using a different size binder or planner system? Learn how to resize calendars and other printables here!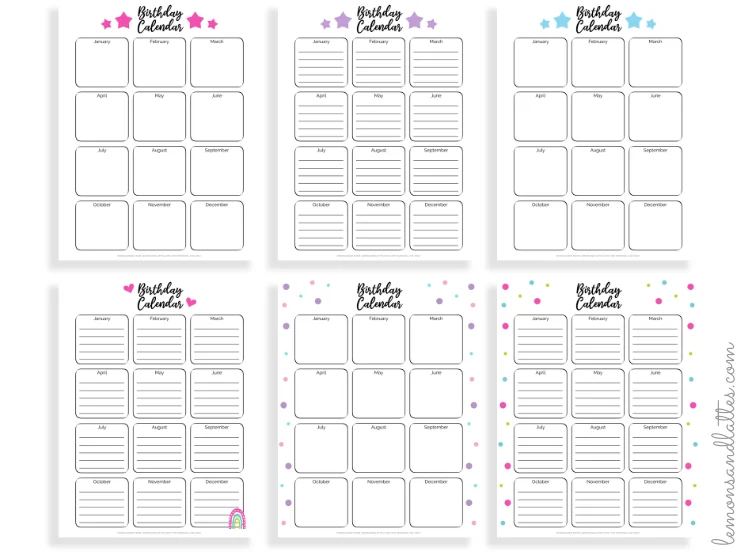 Check them out here – Birthday calendars