This post may contain affiliate links. Please read my disclosure for more info.
Raising a family on a tight budget?
I can relate all too well.
I was a stay-at-home mom for over 8 years, and I'll be the first to admit that surviving on one low income isn't always easy.
It may take some trial-and-error and adjustments to make it work– But it's not impossible.
Today, I want to share some of the tips I've picked up along the way that will help you save money and ultimately make surviving on one income much more doable.
Benefits of being a stay-at-home mom
First, let's look at how being a stay-at-home mom actually SAVES you money.
Your job may not come with a paycheck, but there are several benefits worth pointing out:
You won't have to pay for daycare (you're basically saving a second mortgage!)
You'll have more time to cook (and that's definitely cheaper than eating out)
No extra $$ for your commute to work
No social events for work that cost $$
You won't need a fancy wardrobe (although comfy leggings are essential)
Sounds like a pretty sweet deal, right?
How to survive being a stay at home mom financially
1. Organize your finances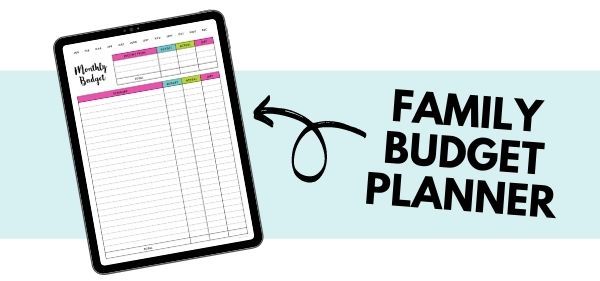 Ever had a bill totally slip your mind? It happens to the best of us. And, unfortunately, it usually comes with a late fee.
You may not think twice about paying late fees here and there, but they definitely do add up over a period of time.
When you're organized, it's easy to stay on top of what's due and when.
Getting your finances in order also helps you figure out where your money is going and whether or not adjustments need to be made.
Whether you prefer spreadsheets or you're a pen-and-paper kind of girl, your bank account (and your sanity) will thank you!
2. Use Amazon Prime to your advantage
I'm usually not a fan of racking up subscriptions. Too many of them can eat up your budget– UNLESS they end up paying for themselves like Amazon Prime.
When you're a stay-at-home mom with little kids, it's not always the easiest task to get out the door. Am I right?
I literally just ordered my son a new potty seat 2 nights ago, and it will be delivered today! And I didn't have to put on real pants and leave the house. #winning
As an Amazon Prime member, you can save 20% on diapers, baby food, etc. And you can't beat the fast and free shipping.
Plus, you'll have access to Prime Video– A great alternative if you've kicked your cable service.
👉 Click here to sign up for a free Amazon Prime trial
We use Prime for everything, and it is absolutely worth it!
3. Make coffee at home
I love my Starbucks coffee as much as the next mom, but my pocketbook feels a bit differently.
One "fancy" coffee costs almost as much as big container of my favorite coffee.
So, invest in a nice new travel mug and start saving.
Bonus tip: Want to try some really delicious coffee? Get yourself a percolator! We recently snagged one of these, and we'll never go back to the Keurig (you'll never have to buy pods again).
4. Invest in a water filter
I used to use bottled water for everything. Coffee, cooking, everything! Because I didn't like the taste of tap water.
Recently, we started filtering our tap water. It has helped us cut back on bottled water tremendously, and there's no funky taste.
Currently, we are using a Brita faucet water filter like this one.
It's great for filling up a glass of water or cooking (when you only need small amounts of water).
We also have a Brita water filter pitcher like this one— This one works best when you need more than, say, a cup of water at one time.
If you frequently spend money on bottled water, I highly urge you to try a water filter.
5. Get cash back on purchases
If you want to maximize your savings when shopping online– Always always always use a cashback tool like Rakuten (formerly Ebates).
Rakuten gives you a percentage of your purchase back. It may not seem like much at once, but it adds up after several shopping trips.
👉 Sign up through my link and get $10 back after your first qualifying purchase!
6. Find cheaper alternatives for everyday items
Especially items that require refills.
Here are a few examples:
Instead of continuing to buy dryer sheets and fabric softener, you might try wool dryer balls to keep your clothes soft and wrinkle-free.
Rather than continually buying air fresheners that don't last long, you could try charcoal air-purifying bags (These last up to two years).
Or maybe consider buying toys that don't require batteries rather than expensive electronic toys.
7. Grow your own produce
Now, I realize that starting a garden may not be for everyone– especially if you have a farmer's market nearby. (And if you do, please support your local farmers!)
But if you're even the least bit interested, it's an excellent way to shave off a few extra dollars from your grocery bill.
And you don't need a lot of space to get started. There are lots of resources on container gardening and growing food in tiny spaces to help.
8. Save money by buying in bulk
Certain household items are cheaper to buy in larger quantities.
If you are already an Amazon Prime member, you can save money by purchasing diapers, coffee, light bulbs, feminine products, and more.
Wondering what else to buy in bulk? Be sure to read over this post!
9. Turn off your cable
With so many cheaper alternatives available, cable is one service that I 100% feel is not necessary.
We haven't paid for cable in years and have not missed it one bit!
Some cheaper alternatives you might consider:
Netflix
Hulu
YouTube (My favorite cause it's free!)
10. Breastfeed
Another great money-saving tip for stay-at-home moms is to breastfeed their babies.
Breastfeeding has so many benefits, and saving money is one of them.
Formula is expensive– Even more so if your baby has allergies.
If this is something you really want to do, I recommend taking a breastfeeding class to learn everything you can.
11. Start planning your meals
This is one tip I kept hearing over and over that I would roll my eyes at in the beginning. But that's because I was overthinking it.
You don't have to plan fancy meals, cook everything from scratch, or turn into a 1950's housewife in order to reap the benefits of meal planning.
After I finally learned how to rock at meal planning, I quickly realized that it really IS a money and timer saver after all (if you do it right).
Where to find a cheap grocery list for a month?
$5 Meal Plan does all the heavy lifting for you. All you have to do is grab your shopping list, do your grocery shopping, and you're set. Click here to try it for free.
12. Reduce your expenses
Sounds like a no-brainer, right?
But have you actually taken the time to sit down, list out ALL your expenses, and really try to reduce them as much as you can?
Here are some ideas to start with:
Shop for cheaper insurance rates
See if you can lower your phone bill (Do you really need unlimited data?)
Can you turn off a service altogether?
Downsize to a cheaper car?
List all your debt and make a plan to start knocking it out
13. Stick to a grocery budget
Creating a grocery budget and sticking to it will also help you save (LOTS OF) money while raising a family.
When I first started taking this budgeting thing seriously, I was blown away at how much money we were spending on food– groceries, eating out, snacks, etc.
14. Use a grocery pickup service
We all know how tempting it is to toss other things into the cart even if we don't necessarily NEED them while we're at the grocery store, right?
Using a grocery pickup or delivery service will help you avoid buying extra items that are not on your list, making it much easier to stick to your budget.
You also won't have to worry about little grabby hands at the checkout counter.
15. Build an emergency fund
If you don't already have an emergency savings fund in place, now is the perfect time to start building one.
How does having an emergency fund in place help you save money?
Let's say your fridge stops working or your car needs servicing… With an emergency fund in place, you won't have to finance a random expense (which costs more in the long run because of interest).
The best way to start a savings fund when your budget is super tight is to declutter your home and sell the things you no longer need and use.
16. Find free + cheap things to do for fun
You don't have to spend a ton of money in order to have fun as a family.
Pack some lunches and go to the park
Find some trails in your area and go hiking
Have a movie night at home & pop some popcorn or have a dessert night
Etc.
This may take some brainstorming and research upfront, but there are endless fun things to do for free (or very cheap).
17. Avoid buying unnecessary baby items
Do you see a new baby in the near future?
Take note of the lists of unnecessary baby items floating around out there. There are numerous baby items you can live without.
18. Watch your credit card balance
I've come to realize that credit cards can be either a blessing or a curse.
While they are great for building your credit, it's best to keep your balances small and always pay off your statement balance monthly so that you avoid paying interest.
19. Quit drinking soda
Soda is packed with added sugars and empty calories. And it's not helping your grocery bill either.
If drinking soda has become a habit for your family, it may be a hard transition at first, but it's one that's totally worth it.
Want to give it a try? Stay on track with a printable water tracker.
20. Choose generic brands vs. name brands
Another simple way we save money is by choosing generic or store brands over name brands.
If you've ever compared labels and ingredients, you've probably noticed how there isn't much difference between the cheaper brands and the more expensive brands anyways.
21. Start a blog
Finally, start a blog to ultimately save more as a stay-at-home mom.
Now, you're probably wondering what blogging could possibly have to do with saving money?
Starting a blog will not help you save money right away— True.
However, it can turn into a solid income stream which would make saving money a heck of a lot easier.
There are SO many stay-at-home moms out there who are on the hunt for tips to make their lives easier.
Why not share your own tips and make a little extra coin on the side too?
Don't think blogging is for you?
👉 Check out other side hustle ideas that are perfect for stay-at-home moms.
---
So, to wrap this up and answer your question–
How to afford to be a stay-at-home mom?
It's all about getting your finances in order and finding small ways to save money.
Small changes over a period of time really make a big difference.
---
What are your best tips for saving money as a stay-at-home mom?
Feel free to leave them in the comments to help other mamas out!
Pin for later?