Those sparkly clean floors and organized spaces may SEEM like they're lightyears away when you're dealing with a messy house, but you CAN make that dream a reality with a little work and patience.
I very much believe that clutter weighs us down, creates more stress, and makes organizing virtually impossible.
And that's exactly why THIS year should be the year you decide to to be ruthless. The year to purge the things you no longer use (or never did to start with), no longer wear, and FOR SURE the things you no longer enjoy.
You down? Let's get to it!
Helpful Tips to Declutter a Messy House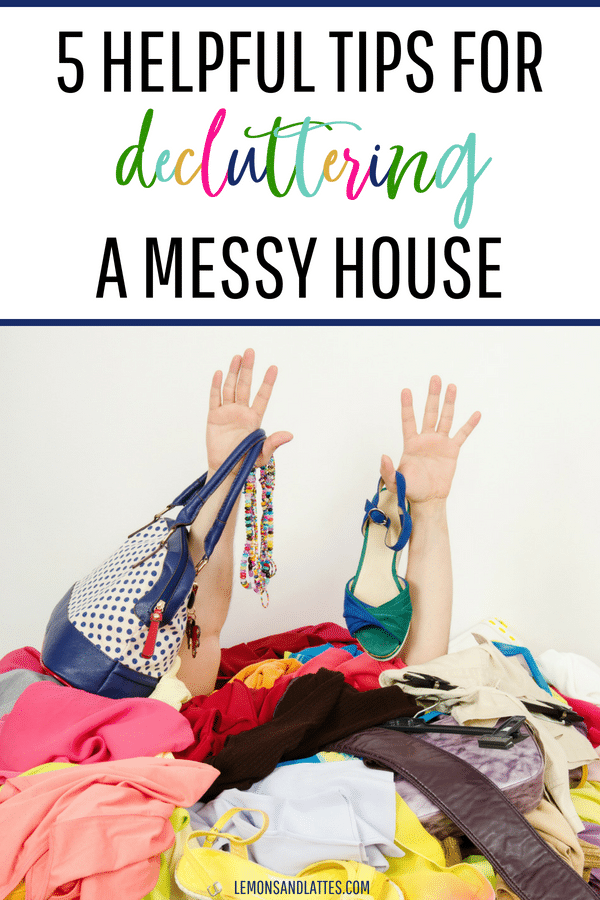 This post may contain affiliate links. Please read my disclosure for more info.
Take it room by room & space by space
The most important tip I can give you is to take it one room at the time and one space at the time.
Try not to go wandering around the house doing a little here and there and creating piles everywhere. All that will do is create more of a mess and leave you feeling frustrated and overwhelmed.
Instead, I like to focus on a single room first.
Then, I'll focus on one space on one side of the room and work my way across to the other side of the room. I'll remove everything from the area I'm working on, wipe it down, and only put back the items that belong there. Everything else either gets thrown away, sold, or donated.
And I literally repeat that same process for each space and each room. I don't move on to the next one until I'm finished with the one I started.
Related: 11 Genius Organization Ideas for Small Kitchens
Give yourself a realistic time frame
I know you want to declutter your house FAST, but I don't recommend trying to do it all in one day. That's just not enough time!
The average house has around 7-9ish rooms? If you devoted 2-3 hours per day for 1-2 rooms (maybe a bedroom and a bathroom), you could declutter your entire house in about a week. That's still fast considering there are lots of challenges out there that take a month or longer.
Bottom line: Set realistic goals to avoid getting overwhelmed and giving up entirely.
Don't organize clutter
Did you just say to NOT organize?
Yes, I did! Let me explain.
We have had a box of DVDs stored in our basement for 2 years. I'm embarrassed to admit that, but it's true!
My husband kept saying how we needed to get a new storage shelf to organize them all. But then I had an epiphany. Why do we need to spend money on a new shelf when we never watch those dusty old things anymore anyway??
So OUT they're going!
Moral of the story: If you're trying to organize something you no longer use, you're really just "organizing" clutter and creating more work for yourself.
Purge like a maniac
If you REALLY want to declutter a messy home, you MUST purge like a maniac. 😜
Declutter first. Organize second.
If you haven't touched something in the past 6 months to a year, there's a good chance you won't miss it if it happened to, I don't know, disappear? 😉
Here are a few ideas of things to declutter:
Clothes and shoes you no longer wear/like or that the kids have outgrown
Paper clutter
Items "in storage"
Kitchen gadgets you never use (I donated an old waffle maker and I regret nothing.)
Toys your kids no longer like or play with
Random food container lids
Old makeup
Cookbooks you never use
Old magazines
DVDs you never watch
Expired vitamins and other items
Be honest with yourself. If you "forgot you had something" you'll likely never miss it.
Improve your habits to keep clutter at bay
Finally, in order to maintain all the work you've done, you really have to put some effort into changing the habits that contributed to the clutter to begin with.
Stop buying things you don't really need
For example, we stopped buying our son a new toy every single time we went grocery shopping. These were things that were neat, but he would only place with a couple times realistically.
When you buy a bunch of small things you don't truly need, they really start to add up over time!
Assign designated spots
It might be a "no brainer" but this simple tip has honestly been a game changer in our home.
After we moved into our home, there was no place to hang our keys. Guess you guess what happened? They would always end up on the island or LOST. So, we mounted a simple key organizer right beside the door and boom problem solved.
Everything in your home needs a designated place that's not on your dining room table, countertops, etc.
Train yourself to "put things back where they go"
This is a classic tip your grandma has probably told you your whole life.
Having all the designated spots in the world won't do you much good if you aren't diligent about returning them when you're done.
I've found it helpful to take a few minutes every day to tidy up and return things to their designated spots as part of my evening routine.
---
Now, I'd love to hear YOUR best tips on how to declutter a messy house. Pop them in the comments if you'd like!