This post may contain affiliate links. Please read my disclosure for more info.
Meal planning used to take me forever.
I had no system. I wasn't organized. And to be honest? The whole process stressed me out.
However, the good news is that after a whole lot of meal planning fails, I started to pinpoint the critical mistakes I was making.
And after making a few tweaks, I'm happy to say that meal planning is MUCH easier these days.
If you're feeling like meal planning is not working for you or you tend to go blank when you sit down to get a plan together, these tips are for you!
Related: 10 Printable Meal Planner Templates
Meal planning for busy moms: The tips you need to know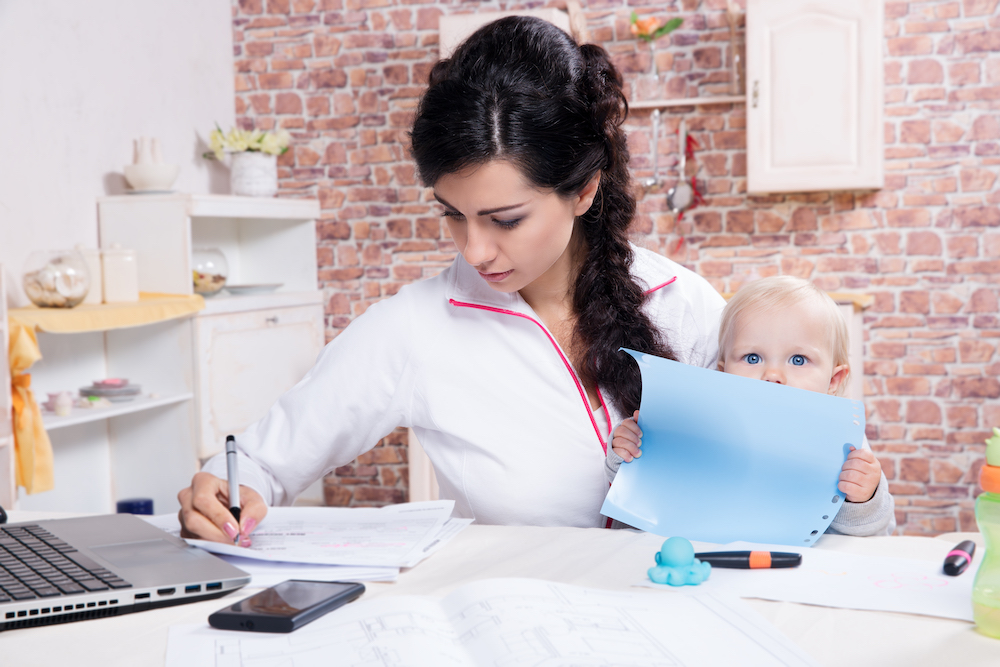 1. Track your family's favorite meals
A favorite meals tracker was one of the first printables I ever created (grab one here) and definitely one of the most useful.
Do you ever just "go blank" when you sit down to plan out your meals?
Having a list of favorite meals to pull ideas from really is a game-changer and can help you keep the meal planning process fast and easy.
Creating your own list is really simple. You just need to set aside a few minutes to brainstorm the meals you already know your family enjoys. That's your starting point.
Then, if you try something new and it's a huge hit, add it to your list/tracker.
2. Be realistic
If you want meal planning to work out for you, you have to keep it realistic for your own personal circumstances.
For example, if you have a picky spouse, an ultra picky toddler, and a baby on your hip, this is not to time to go 0-100 real quick.
If your family is used to mac and cheese and McDonald's and you decide overnight you're now a strictly Paleo family, it probably won't fly.
A few things to consider:
How much time do you have? You may not want to plan Grandma's homemade all-from-scratch lasagna if you're a 20-minute meal kinda girl.
WHY are you meal planning in the first place? If your goal is to save money, for example, it might not be the best idea to plan out 7 random recipes you saw on Pinterest that have 45 ingredients each, right?
3. Plan simple-to-make meals
This meal planning tip branches off from the last one– Forget the complicated meals that take hours to make! Simple meals for the win.
My go-to meals are simple stir-fry dishes with a side of rice that I effortlessly make using my rice cooker.
When looking for new recipes, look for sheet pan meals, 20-minute meals, and slow cooker meals galore.
A nice air fryer can save you a ton of time too! I'm in love with my Ninja air fryer.
Related: 35 Easy Rotisserie Chicken Recipes to Make When You're Short on Time
4. Organize your favorite recipes
Ever head to the kitchen to make something and then *suddenly* the very recipe you need is nowhere to be found? Which Pinterest board did I save that to again?! ugh.
Getting organized and keeping all your favorite recipes in one place is essential. Busy moms don't have time to waste going on a wild goose chase for a certain enchilada casserole recipe.
Here are a couple of easy ways to keep your recipes organized:
Create a recipe binder
Creating a recipe binder is one way you can organize your recipes, and it's really easy to assemble.
Here's what you'll need:
In order for this to be effective, you're not going to add every recipe you come across that sounds good (That's what Pinterest is for).
These will only be your tried-and-true favorites.
Create a digital recipe box
Not a fan of pen and paper? If you'd rather access everything straight from your phone, you can create a digital family recipe box with apps like the Cozi Family Organizer.
With Cozi, you can:
Import recipes from a specific URL or add your own
Create a shared family calendar
Create shopping lists
Make to-do lists
& more!
👉 Sign up for your free Cozi account
5. Try something new each week
Until you've built up a decent list of favorite meals, try planning one NEW recipe every week or two.
This will prevent you from getting bored with your meal plan (and falling back into the fast food trap).
Eventually, you'll have several new family-approved meals to rotate!
Best places to find new recipes?
👉 Click here for easy and cheap meal plans for busy families!
And, of course, there are always plenty of all sorts of recipes to try that you can find on Pinterest.
6. Try planning by theme
Next, if you're still feeling indecisive when you sit down to plan your week, planning by theme can help you speed up the process.
Dinner themes or "theme nights" help to narrow down your options for each day, making it much easier to pick something and move on.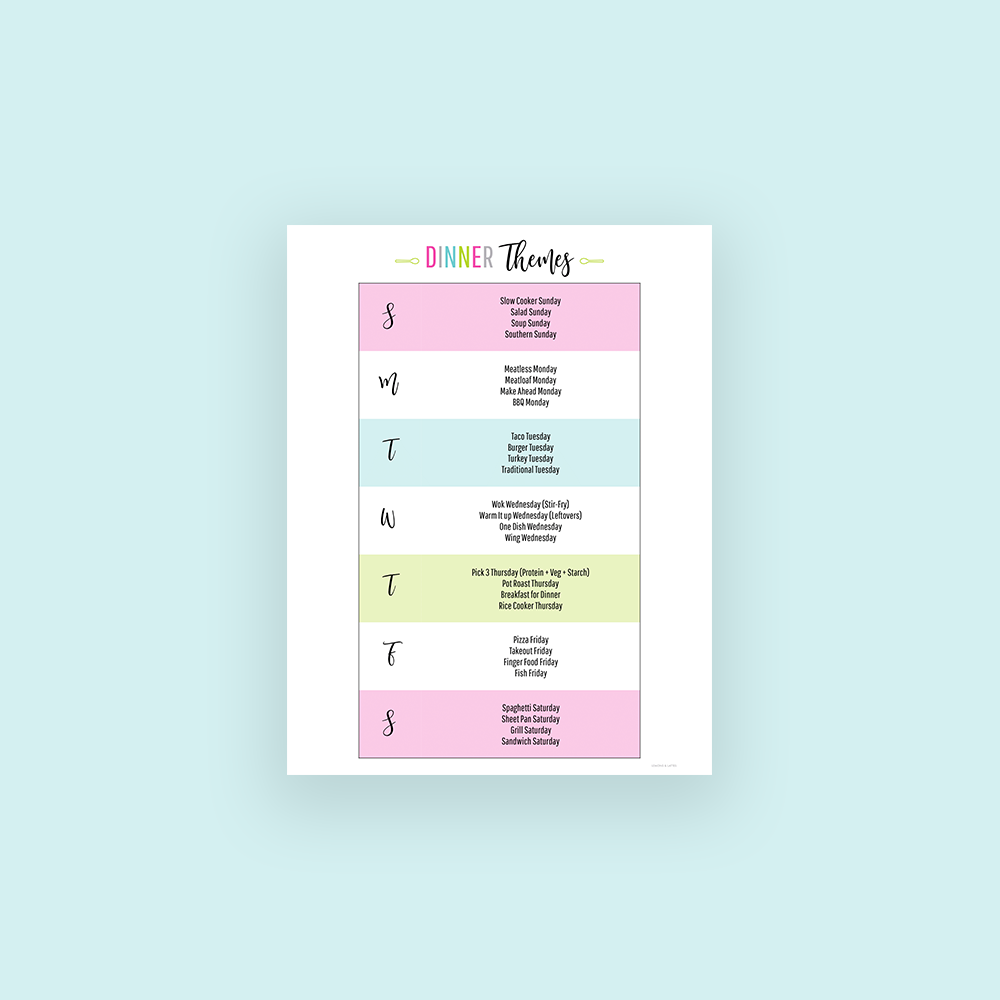 👉 Need some ideas? Here are 28 dinner theme ideas you can try this month.
7. Use a meal planning template
My favorite meal planning template is a simple meal planner with space for my grocery list on the side.
It makes it super easy to jot down which meals I want to plan for the week and what ingredients I need to grab at the store for each one.
👉 Need a template? Meal planning printables you can print now!
8. Have a backup plan
You never know what could come along and ruin your plans. That's never what we want to happen, of course. But when it does? What's the plan?
Our backup plan is almost always breakfast for dinner. I can whip up some eggs, turkey bacon, and breakfast potatoes pretty fast. 🙌
Your backup plan can be anything you can make easily and fast.
9. Meal prep when you can
Meal prepping can save you a ton of time during the week!
And that doesn't necessarily mean you're prepping full-blown meals (although you can definitely do that).
For me, meal prepping can mean anything from preparing snacks for my kiddo to take to school for the week, pre-chopping fruit and veggies for the fridge, or freezing meals to make ahead of time so that I have one less thing to worry about later during the week.
Related: 28 Cheap and Easy Make Ahead Meals for Busy Moms
10. Cook once, eat twice
Another thing I'm loving lately is doubling a recipe and having that for dinner two days in a row.
If it's something your family loves to eat (like vegetable beef soup for mine for example), it should be no problem.
If you have picky eaters that don't like to have the same thing two days in a row, you could do this for the main dish and have a different side with it the next day so that it's not completely the same!
---
Help other mamas out by pinning!