This post may contain affiliate links. Please read my disclosure for more info.
Do you feel like you're always scrambling to pay your bills on time? Or do you sometimes forget a bill is due until it's too late?
If so, a monthly bill organizer may be just the thing you need to help you get organized and stay on top of your payments.
There's nothing more annoying than being slapped with a late fee all because a certain bill slipped your mind. Am I right?
These free printables are designed to make it easy for you to keep track of due dates, amounts owed, and payment status.
You can print these out and keep them in a designated binder or folder so you always know when your bills are due and how much money you need to pay.
(If you want, you can also print out a budgeting planner too!)
For personal use only. Please do not redistribute.
Organizing bills: Why is it important?
Organizing your bills is important for several reasons.
First, it helps you keep track of what you owe and when each bill is due. This can help you avoid late fees and penalties, which can have a negative impact on your credit score.
Let's be honest – your credit score is something you want to protect and take care of considering how important it is when you apply for things like loans and credit cards.
Second, it allows you to budget more efficiently by knowing exactly how much you need to set aside each month for bills.
Third, it can help reduce stress by eliminating the worry of missed payments. Think – less waking up in the middle of the night worrying if you paid your electric bill and more time sleeping soundly.
By taking a few minutes each month to organize your bills, you can save yourself time and hassle in the long run!
How do these bill tracker printables work?
We have a few different types of bill tracker printables to choose from, depending on your needs, and they are all very simple to use.
They are all in PDF format, so all you will need to do is download and print them out at home. You may print as many copies as you need, but I recommend printing at least 12 copies at the time so you'll be set for the next year (unless you're printing the bill payment checklist – it includes all 12 months on one sheet).
By the way, if you have a goal to save money, you can also grab some free 52-week savings trackers here before you head out.
The monthly bill organizers
Now for the free printables! You'll find different styles and types of monthly bill organizers below, including monthly bill calendars, a bill payment checklist, debt payment trackers, and a simple bill payments template as well.
You definitely don't have to use all of the printables. Pick the ones that suit your needs the best and get started tracking your bills right away.
Bill payment calendars – landscape
If you prefer to keep up with your due dates using a calendar, you'll love these templates.
First off, they're all undated, which is great because you will never have to worry about them expiring. Use them year after year if you want.
Each calendar day has space for tracking up to 3 bills. Once the bill has been paid, there's a checkbox you can fill in.
There's an additional section at the top for writing your top 3 goals for the month also if you choose to do so.
The bill calendars come in 3 different designs: a cute flower design, the usual pink, blue, and green alternating colors, and a minimalist version (I know your ink is precious).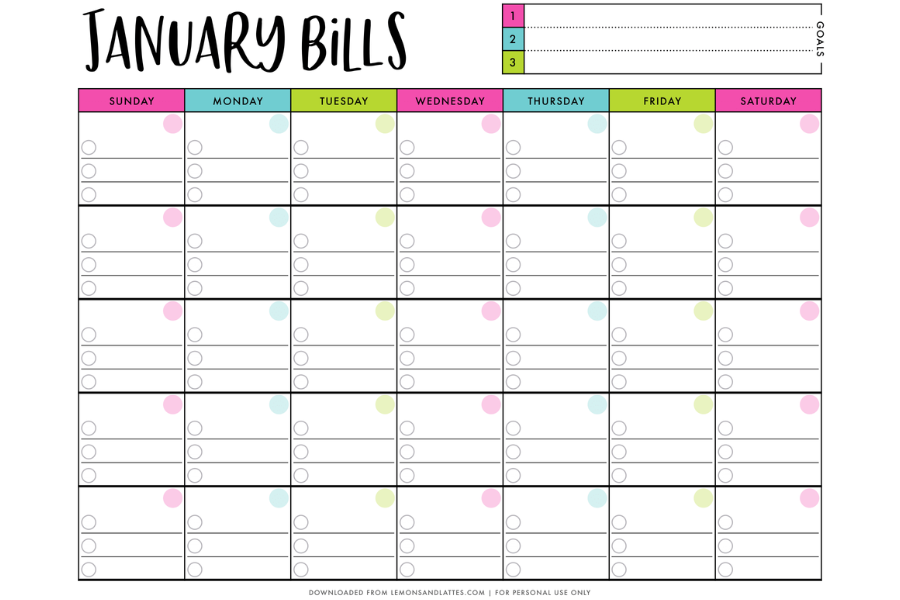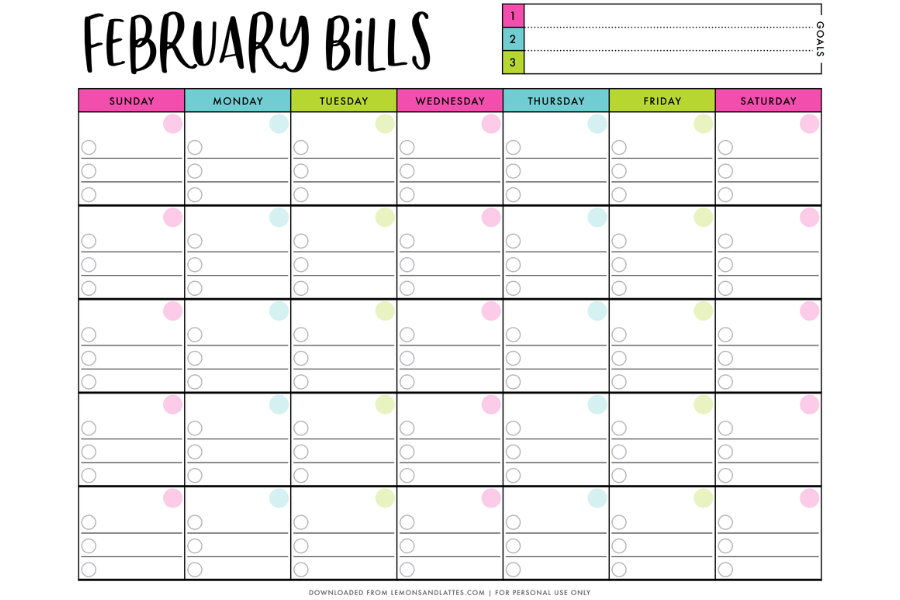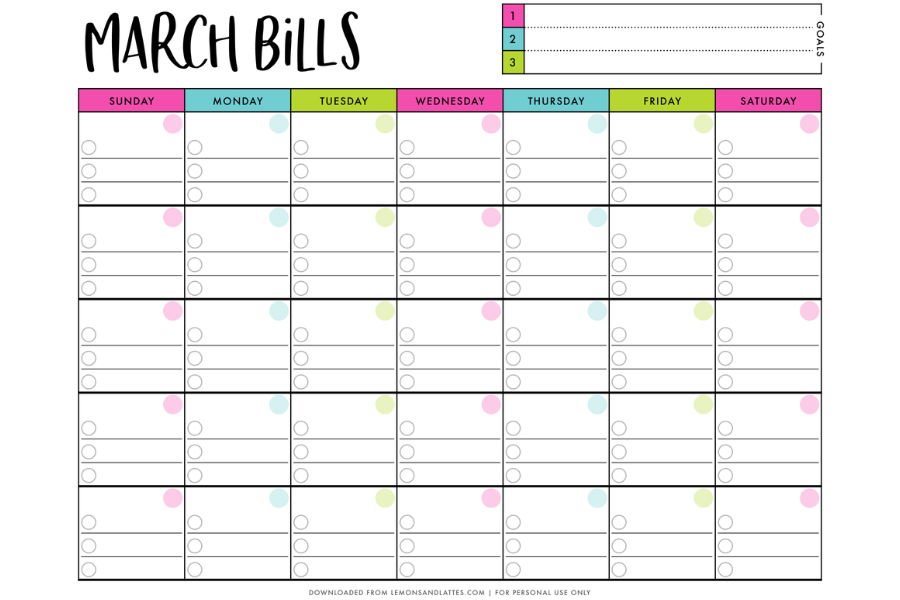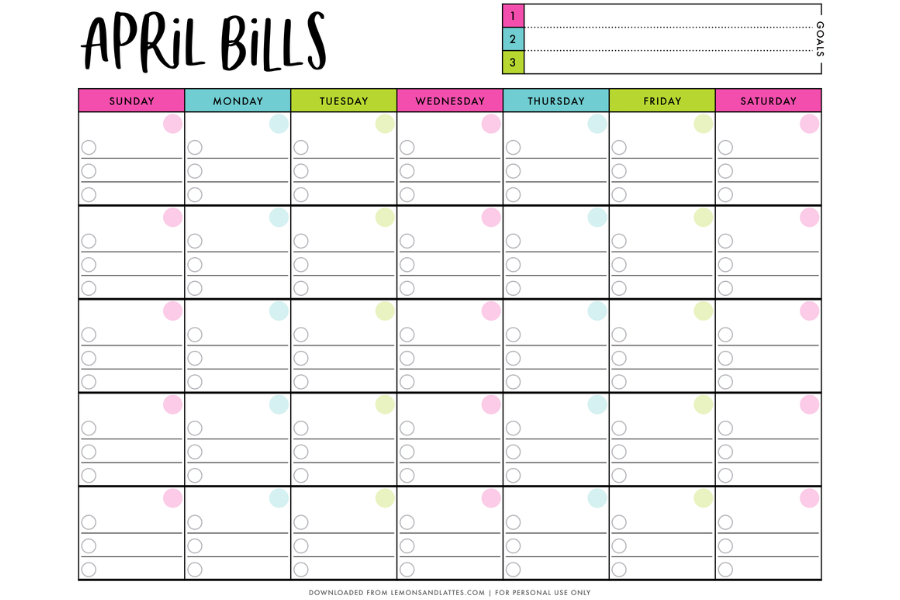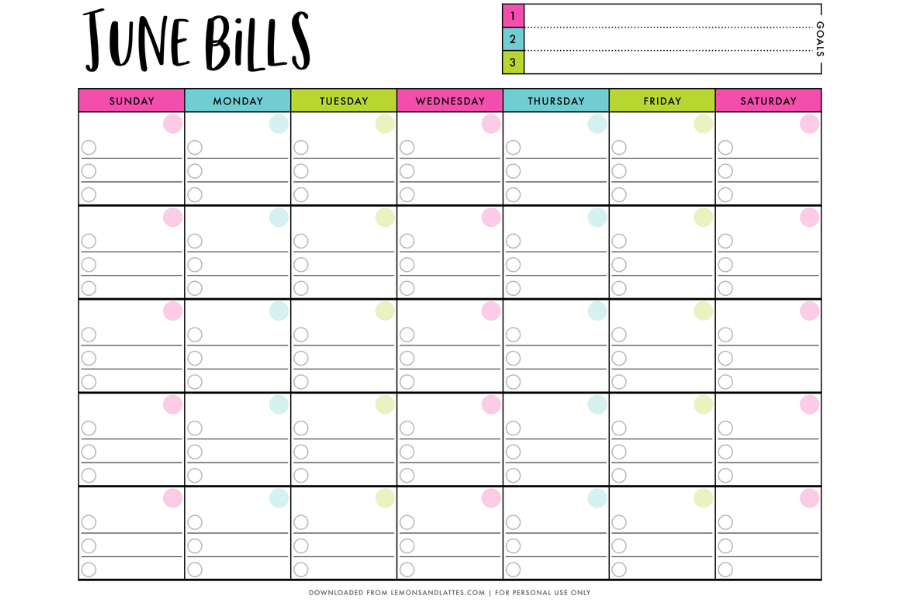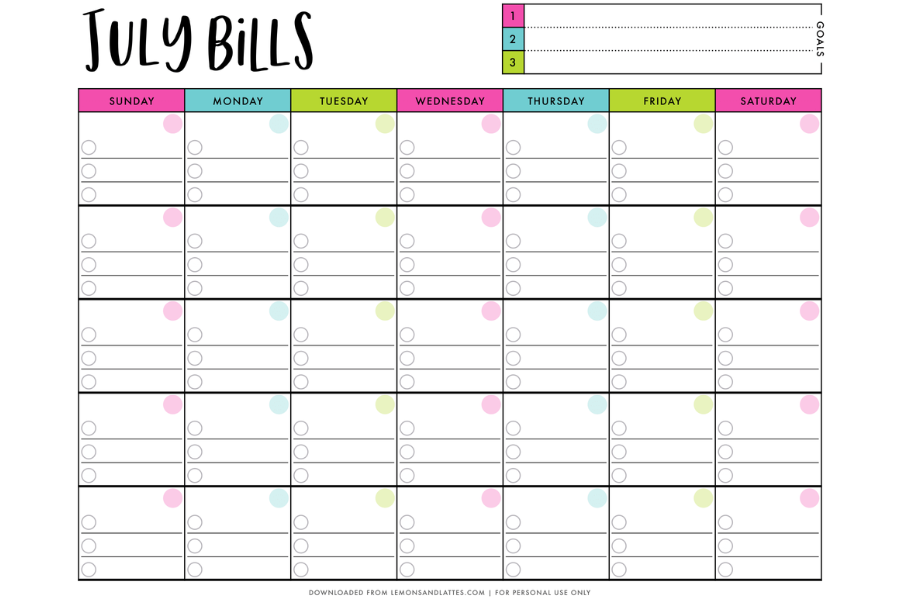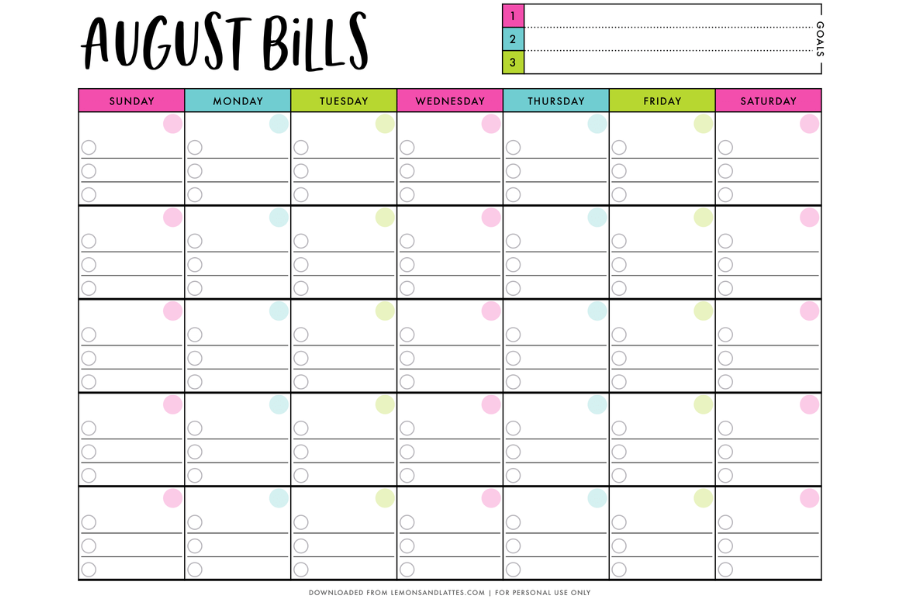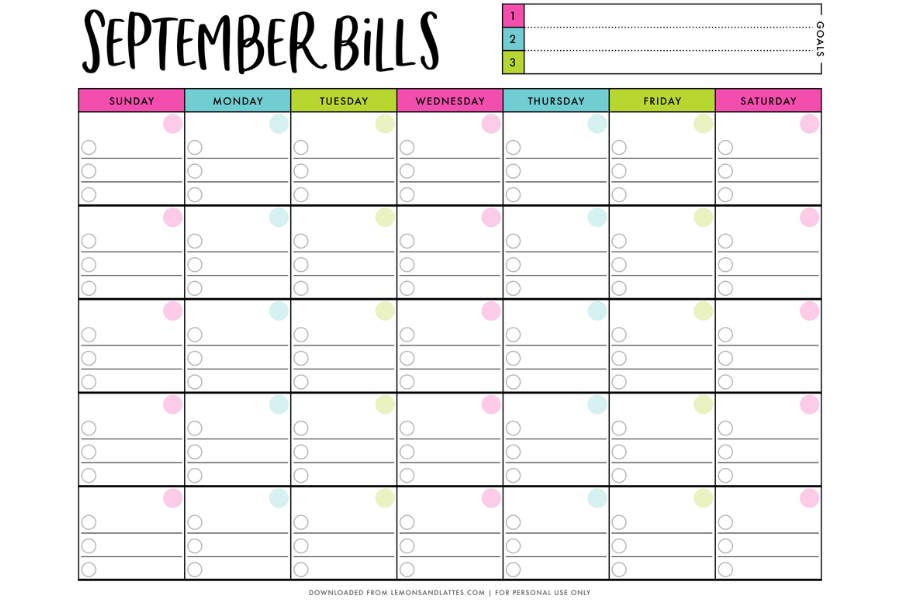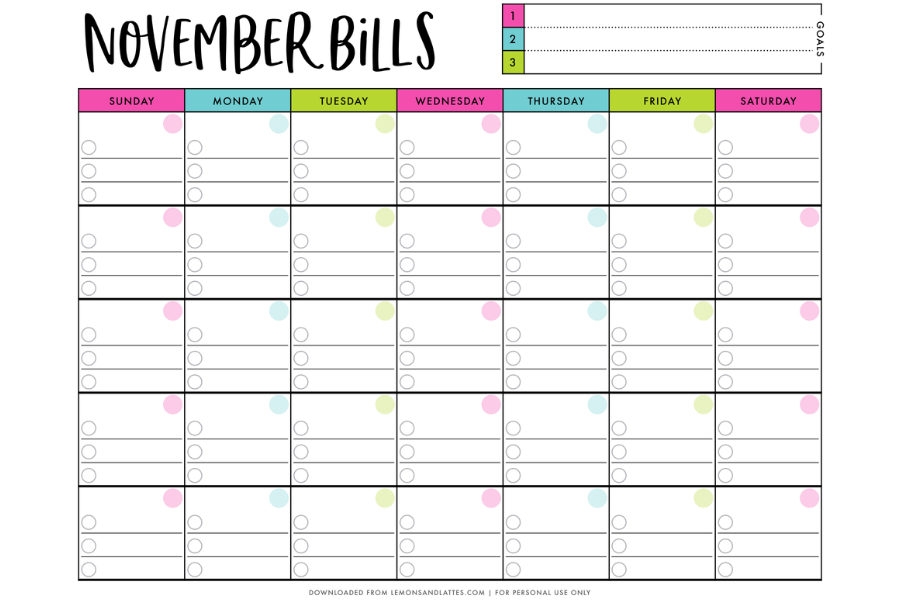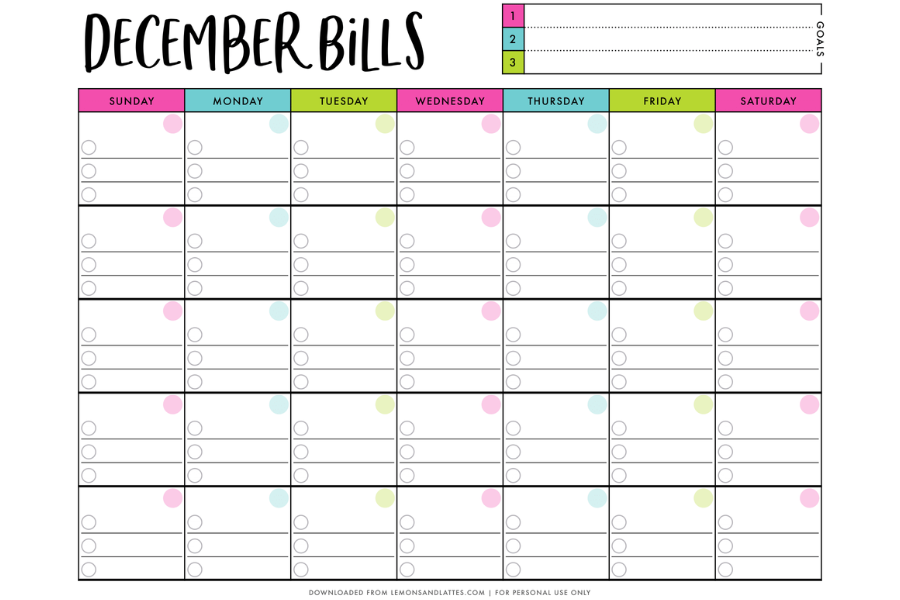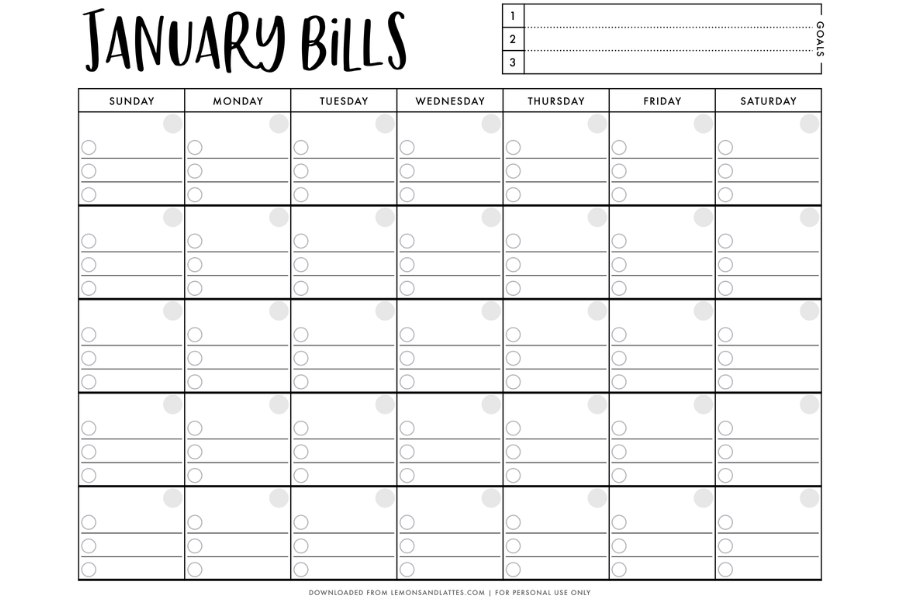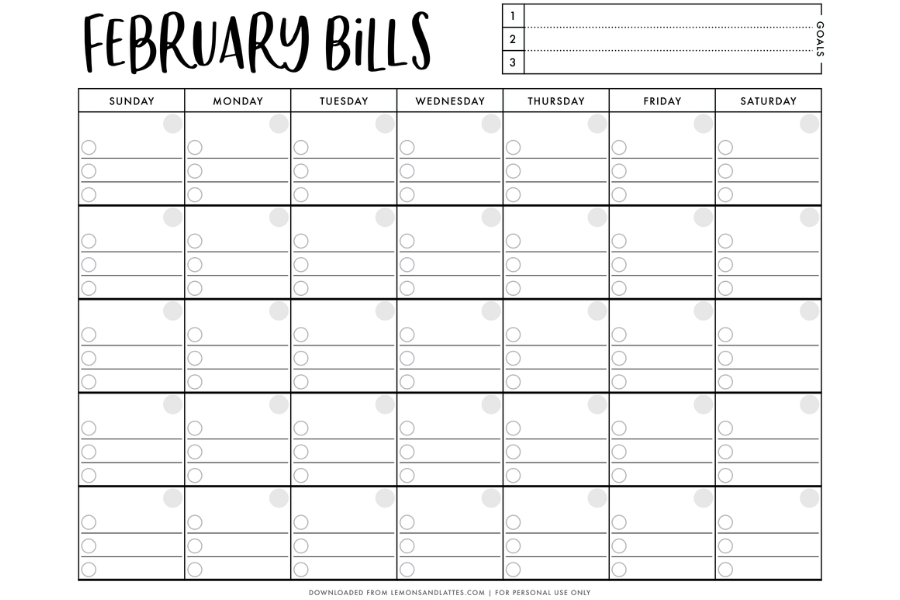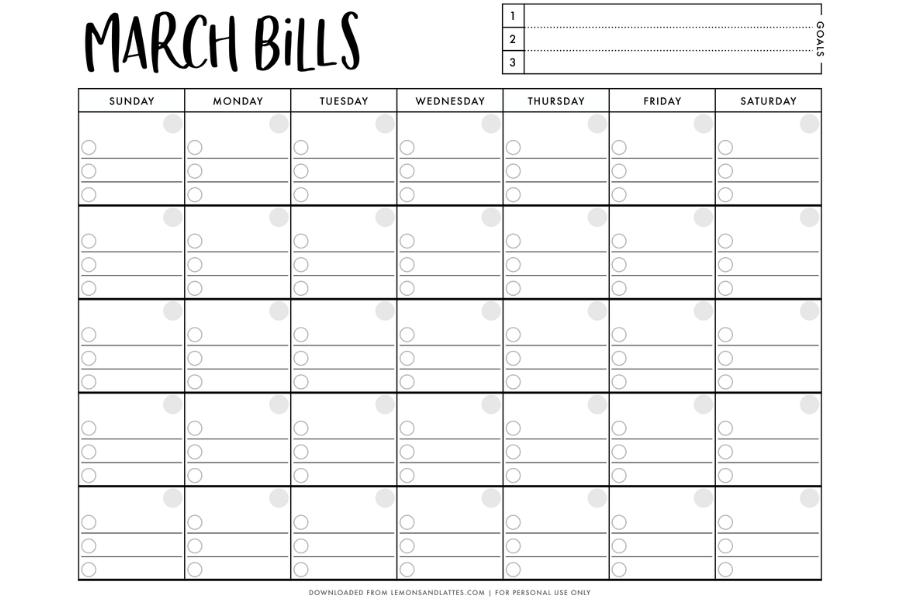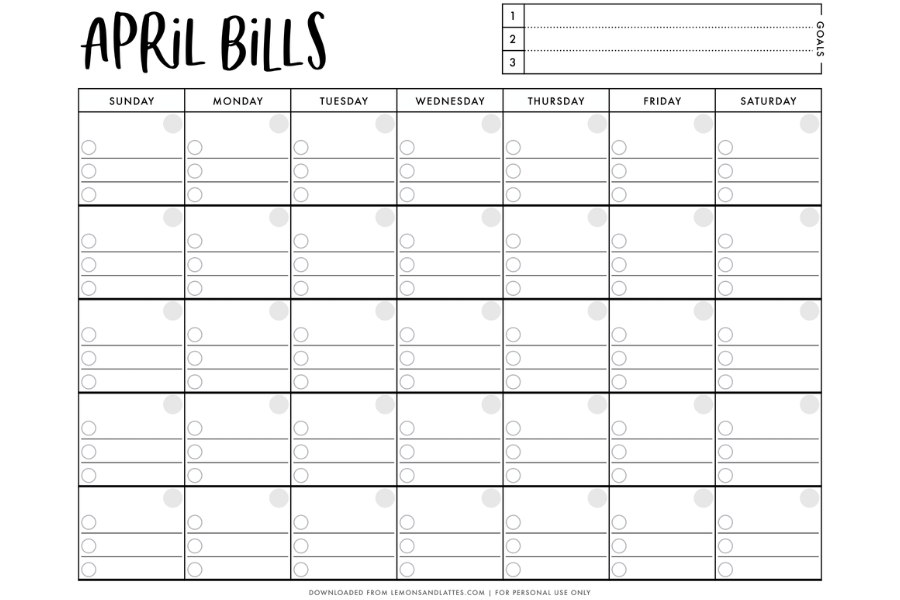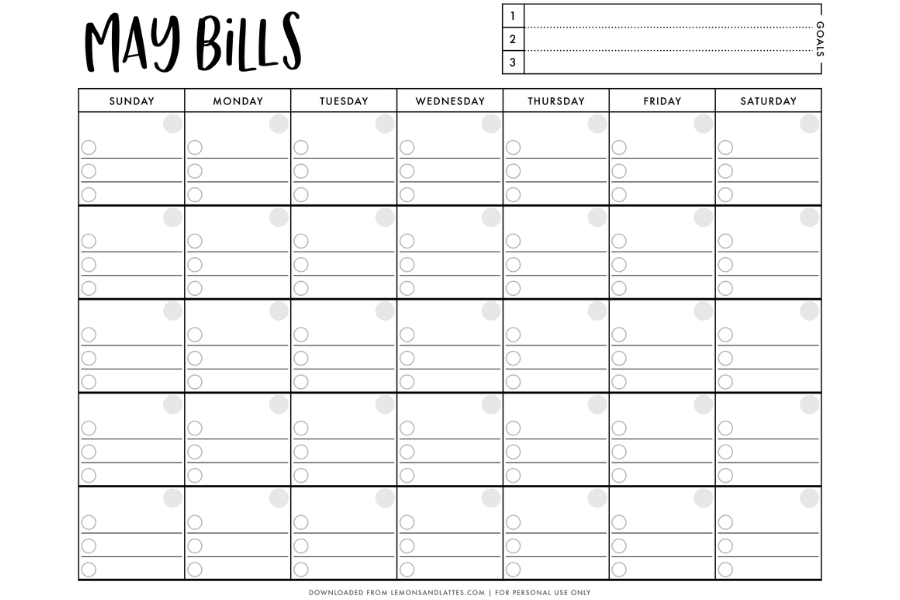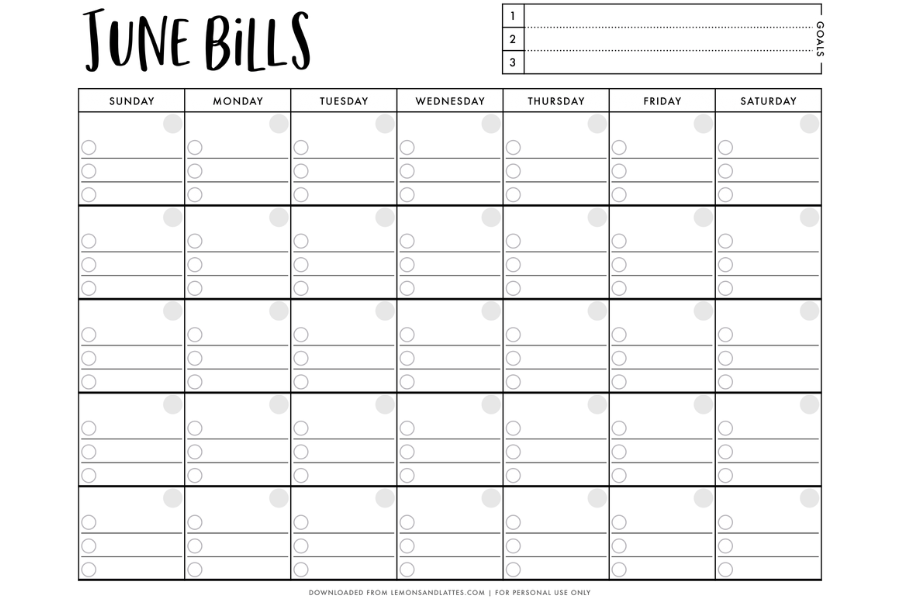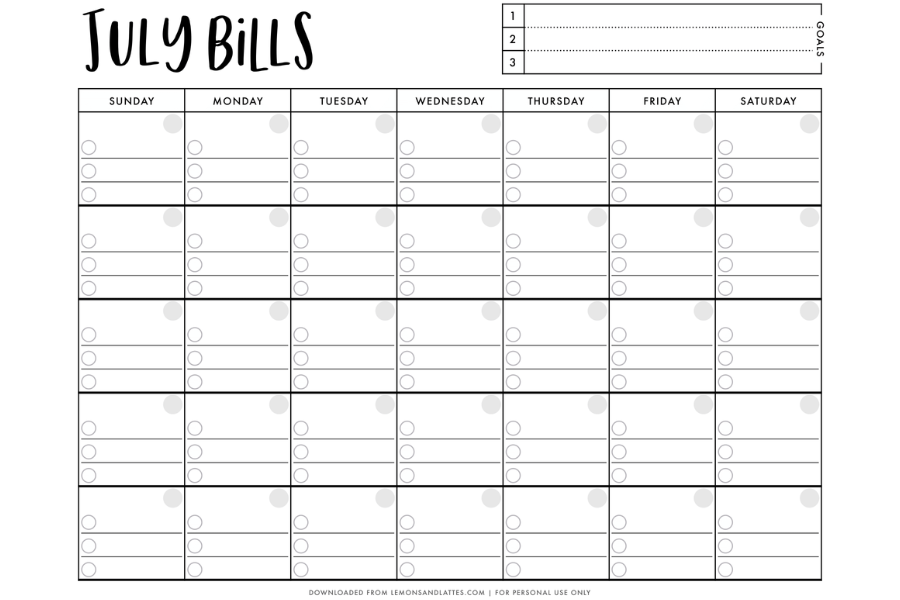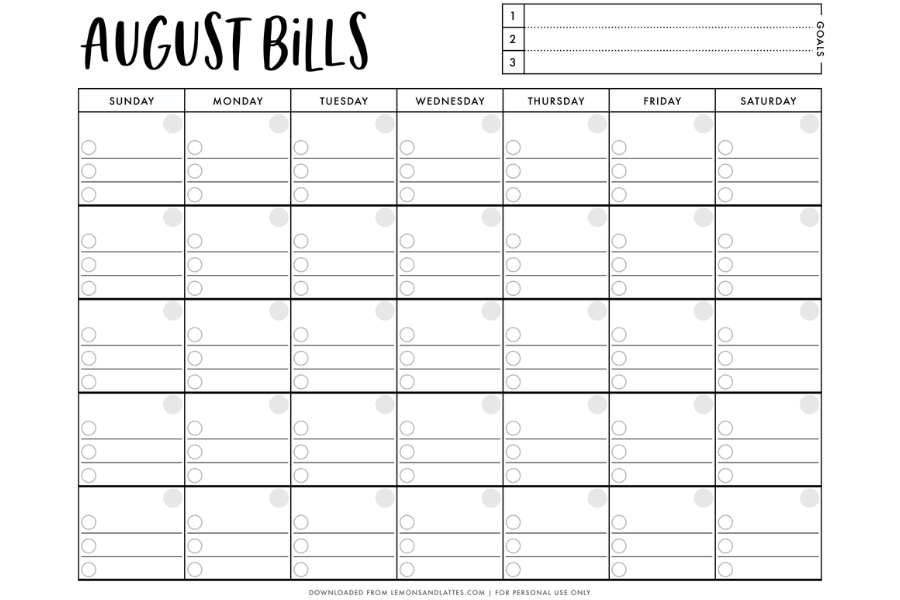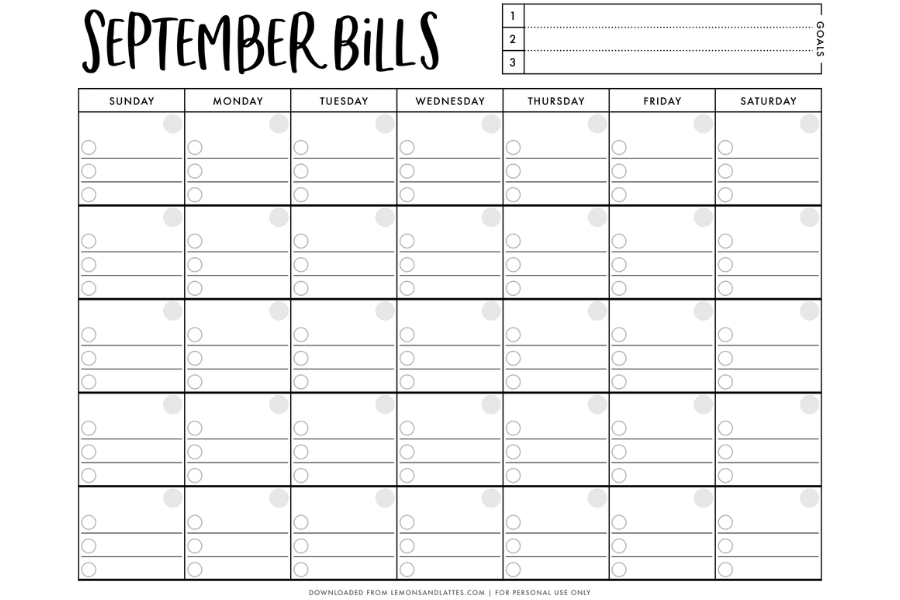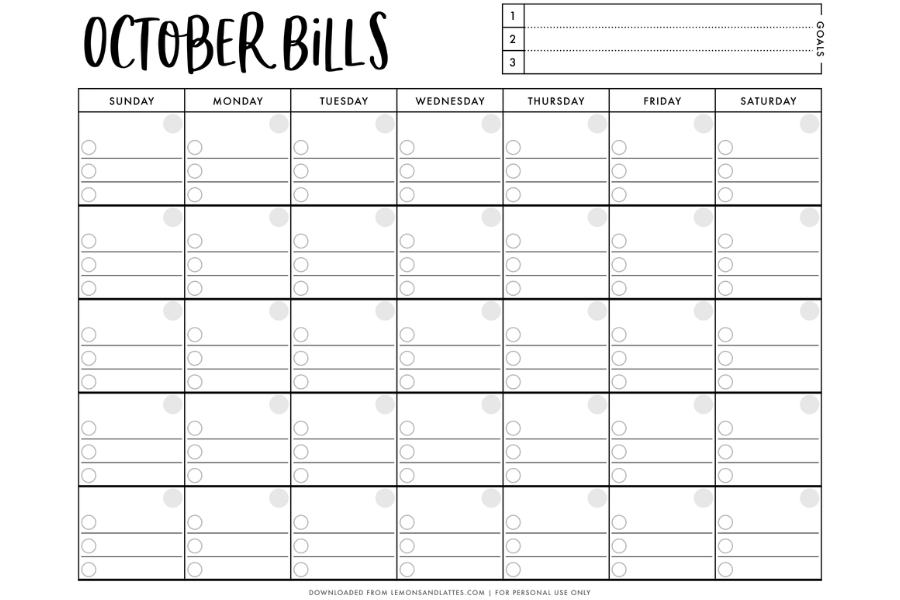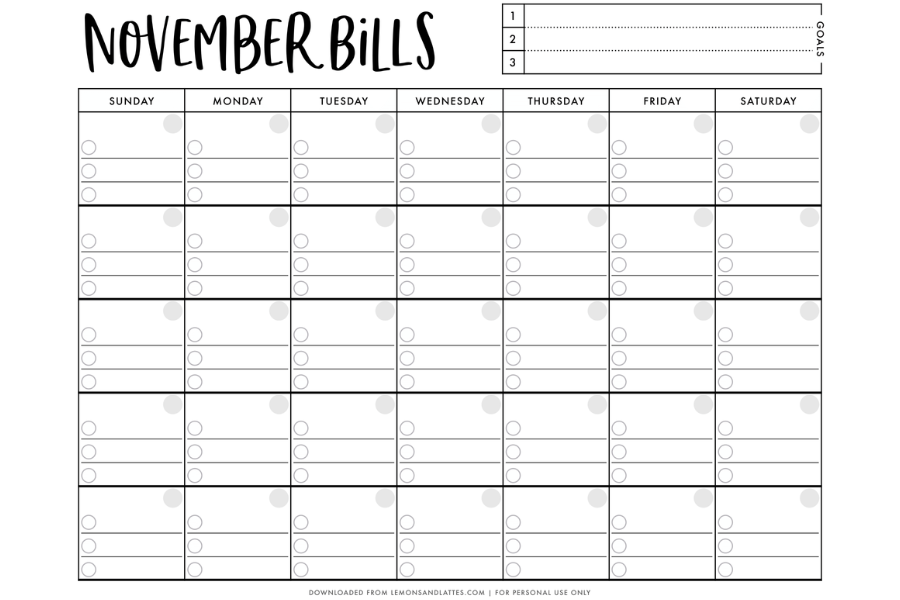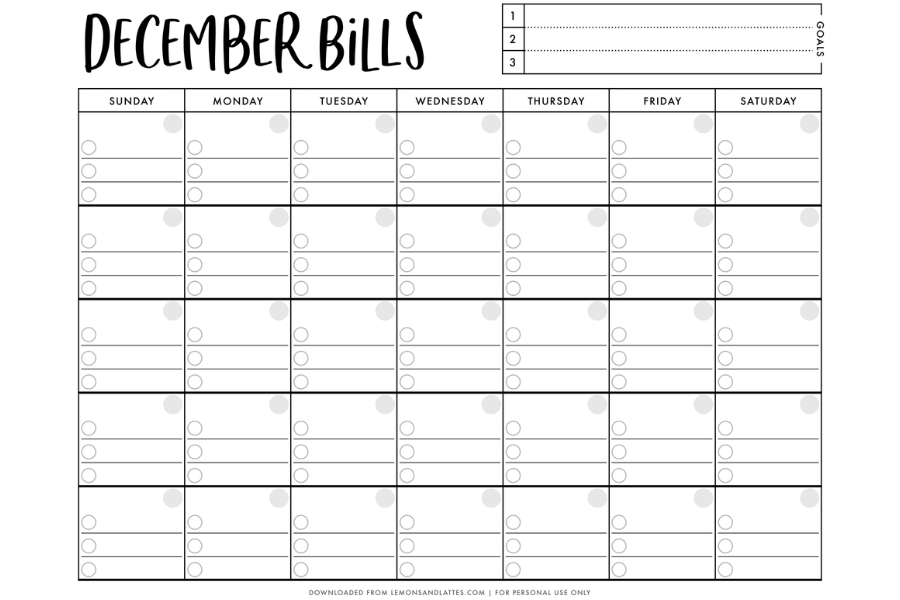 Bill pay calendar – portrait/vertical
I realize that not everyone is a fan of landscape calendars, so you also have the option of grabbing this style instead.
The only other difference between this one and the previous calendars is this version does not have the lines or checkboxes on the days.
You still have the goals section – it's just located at the bottom of the template instead.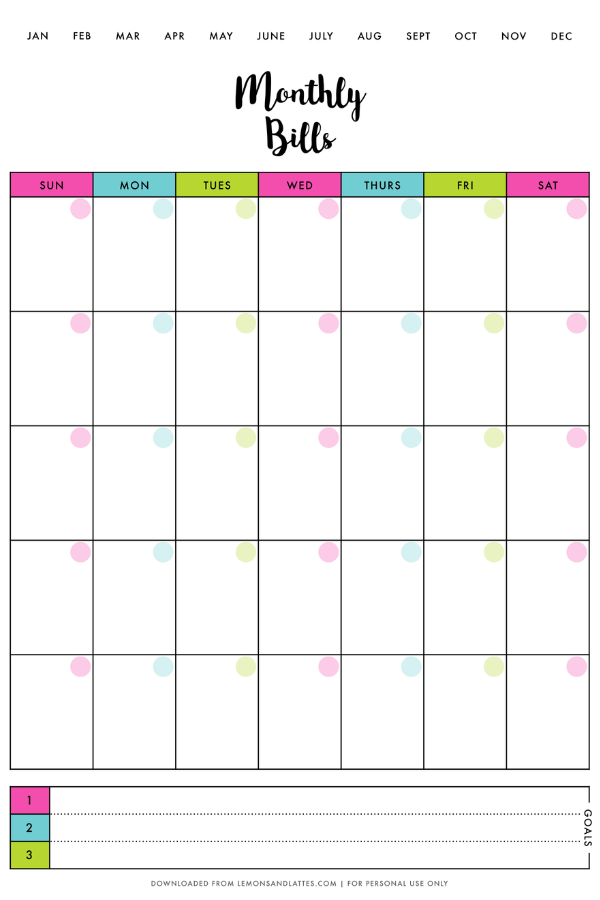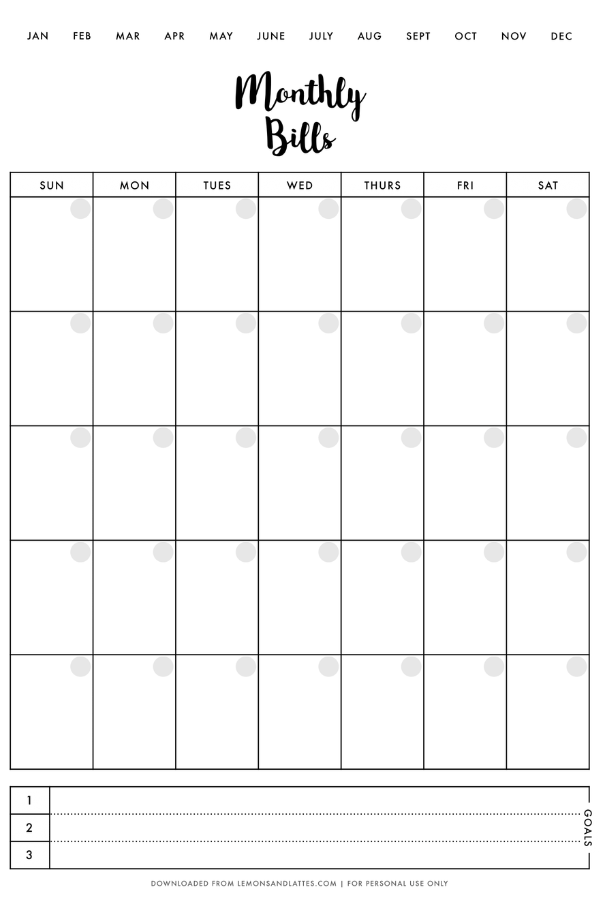 Bill payment checklist
This printable is a great option if you prefer to keep your bills in list form. It will definitely save your paper as well since all 12 months are included in the template.
There is space to write the due date, bill name/description, and the amount. Each bill has a checkbox for each month, so it's easy to keep up with every payment.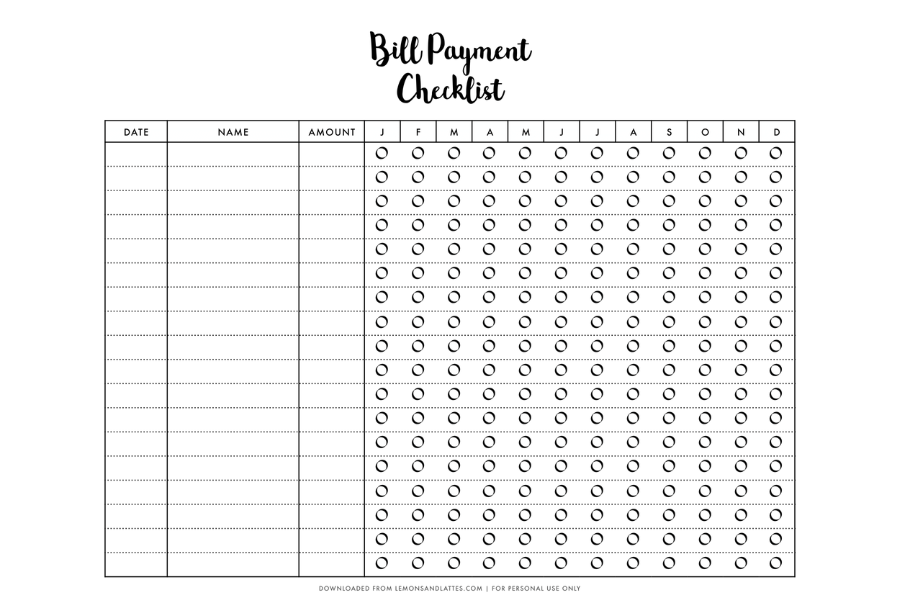 Monthly bill organizers to track debt specifically
If you have debt payments to keep track of specifically, these templates are perfect for you.
The first one is a debt overview printable. Just as the name implies, this template is helpful for organizing your overall debt – to give you a birdseye view of what's owed, the monthly payment, and the estimated payoff date.
This is helpful when you're getting together a repayment plan.
Speaking of a repayment plan, that's the second printable. Use this one to create a plan for each creditor. There's a space to write the amount owed, minimum payment, interest rate, snowball goal (if you're following the Dave Ramsey method), and the estimated payoff date.
You track payments on this sheet as well, so it doubles as a debt payoff tracker.
If you don't want all the extras, the last option is a debt payments tracker. With this one, you can track payments for the entire year.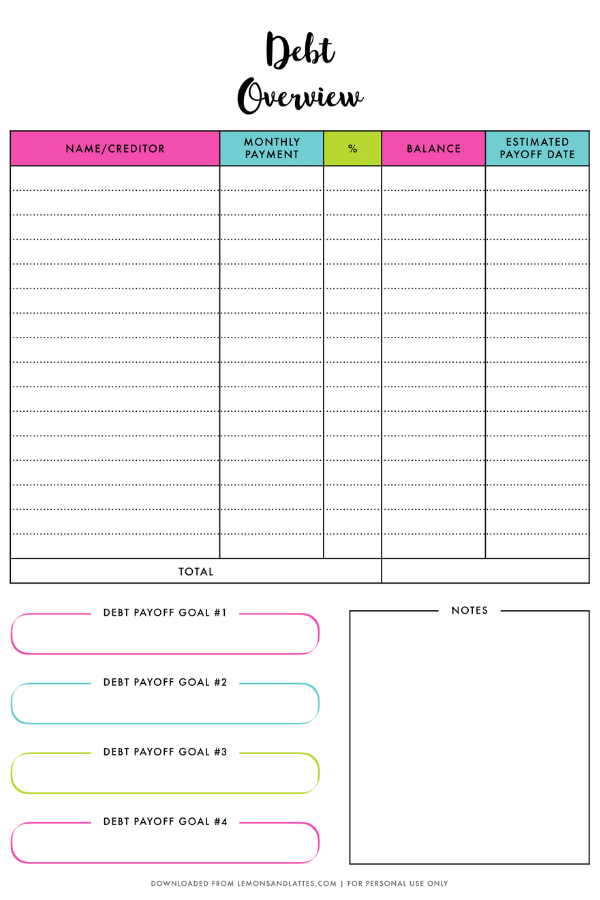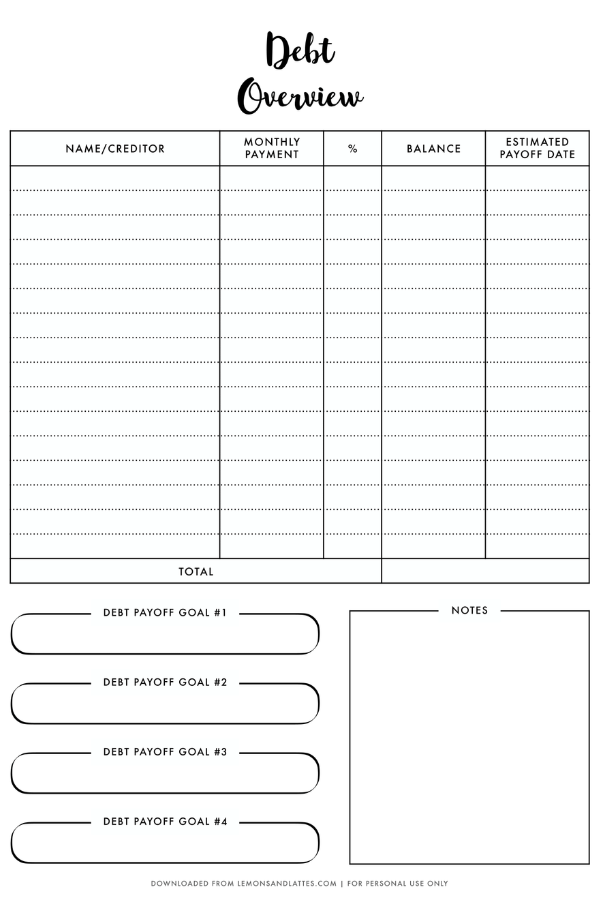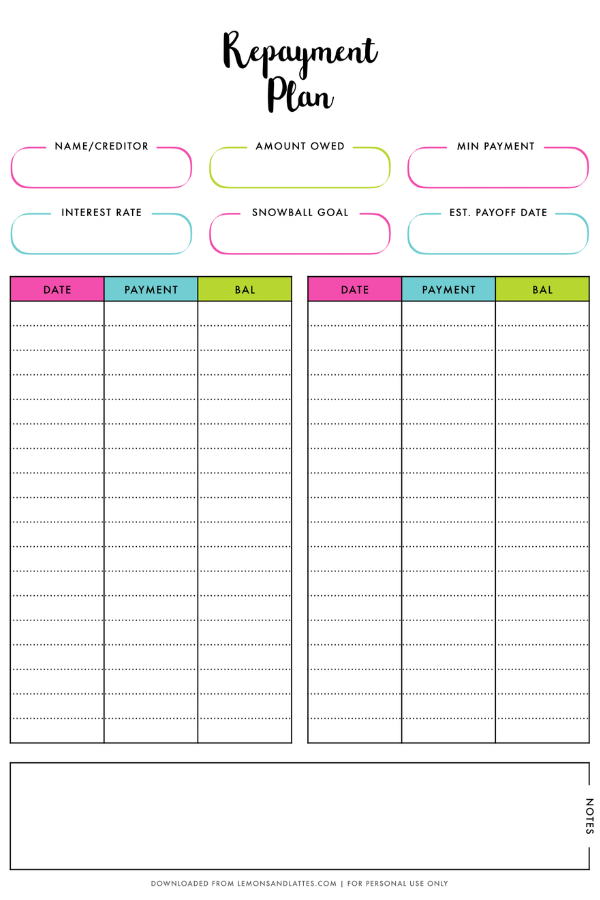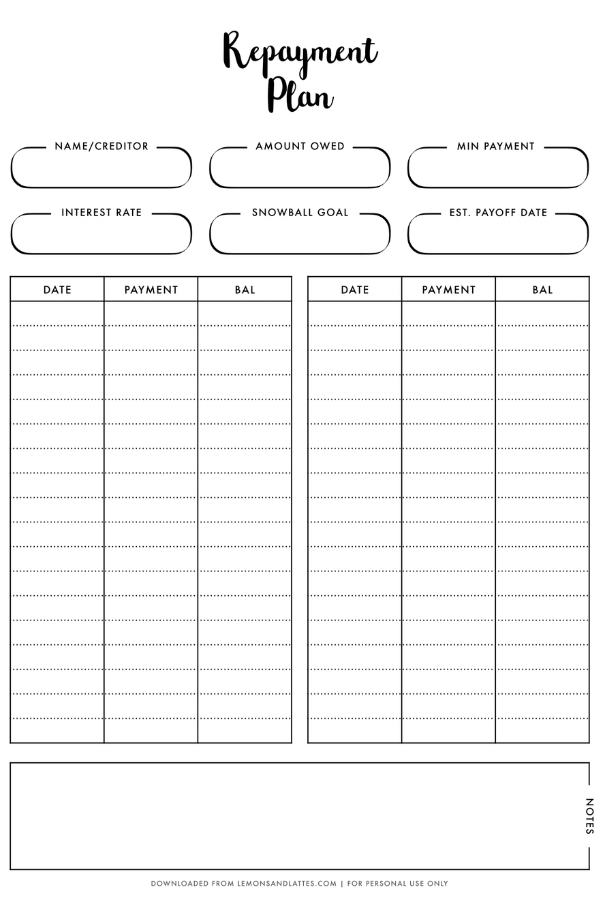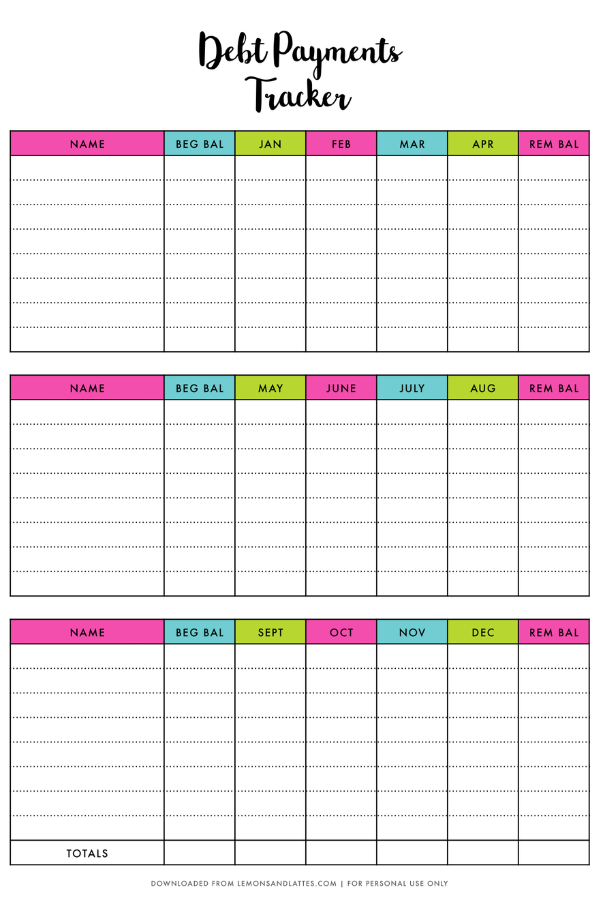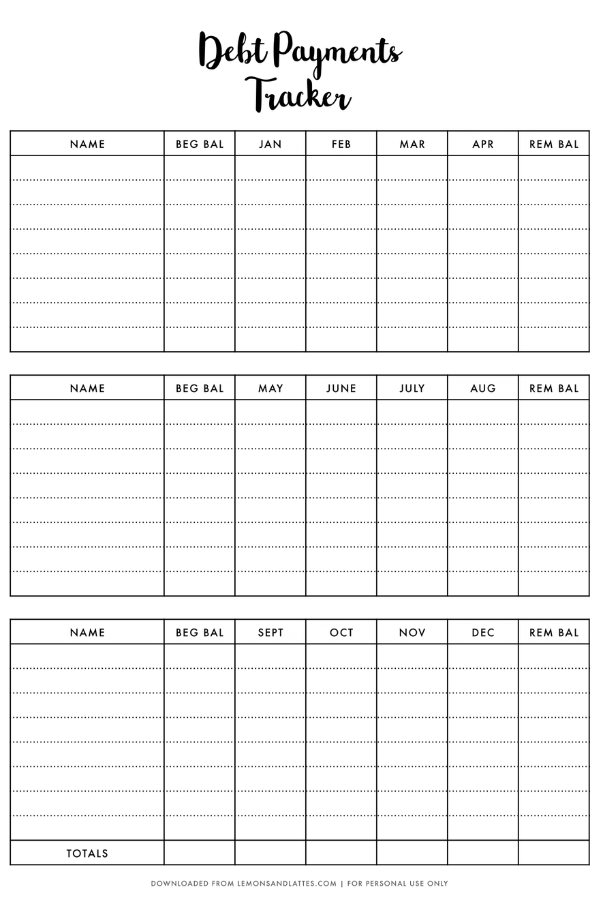 Simple bill tracker printable
The final monthly bill organizer we have for you is a simple bill tracker printable.
This one doesn't have the extra bells and whistles, but it still gets the job done.
It's a great choice if you just need one simple place to write down your due dates and keep track of what's been paid and what has not.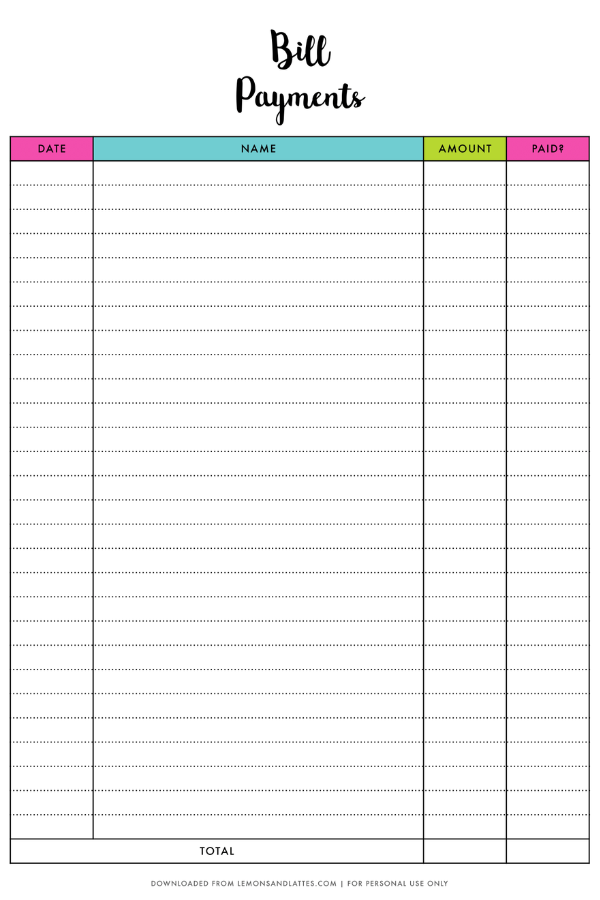 ---
Organizing your bills doesn't have to be an overwhelming chore. It can actually be quite simple when you have the right tools to help you out.
These free printable monthly bill organizers are perfect for helping you get on top of your payments – and stay there!