This post may contain affiliate links. Please read my disclosure for more info.
My Lala Leggings – An honest review
It's official. Leggings are no longer just for yoga.
We're dressing them up. We're dressing them down. And if you're a busy mama? You're wearin' them all around!
I have to be honest though. It took me a while to jump on the leggings bandwagon.
Sure, I thought they looked really cute on other people, but I always assumed they'd either feel too tight and restrictive or that I just wouldn't be able to pull off the look.
However, my sister tossed me a pair of hers to try one day… and I loved them! (That range of motion though)
And my very first pair just so happened to be from My Lala Leggings.
Today, I'm going to share a bit about the company, the leggings, and I'll also show you how to become a My Lala Leggings affiliate so that you can either get a discount on leggings for yourself or start your own leggings side hustle.
About My Lala Leggings
My Lala Leggings is still a newish company (just started up in 2016), so many people haven't even heard of them yet, including most of my own friends.
The company was founded by a group of girls that simply wanted to start their own businesses and work for themselves.
I think most stay-at-home moms can relate to this. There's nothing better than being about to stay at home with your kids while still making a few extra bucks on the side, right?
My Lala Leggings prides themselves in their designs and quality products and only work with the top manufacturers to provide us with durable, stylish, and comfy leggings.
Although the leggings are probably the most popular, the company also offers shorts, skirts, and tops.
What are My Lala Leggings made of?
My Lala Leggings are made from 92% polyester and 8% spandex, and they have a high waist elastic band.
Let's talk about this high waistband for a sec. If I had read this before trying some of the leggings myself, I would have been hesitant because I'm personally not a fan of those super high (up to your armpits) waistbands.
However, these are really comfy and stretchy (in a good way). I've had no problem wearing them right below the belly button, but I definitely could pull them up higher if I wanted.
My point is, no matter where you prefer to wear yours, it will probably work because of how stretchy they are.
As far as texture goes– Apparently the leggings world has this thing called "buttery soft." I never knew what "buttery soft" meant until I tried these. They are as "buttery soft" as it gets.
All in all, they feel durable and crazy comfy!
BUT– if you're looking for compression leggings that will "hold you in," their basic leggings are probably not what you're looking for.
However, they do have a newish line of "booty lifting" leggings that you may want to check out.
The design
For the design, you can go as plain or as bold as you want.
The leggings come in solid colors (olive, navy blue, mulberry, burgundy, and black) and lots of different prints and patterns for you to choose from with new styles being added every week.
You can choose between an elastic band or a yoga band (a wider waistband). The yoga band leggings are my personal favorite– so comfy!
You can also get mommy & me sets. (Use promo code MOM at checkout to receive $3 off your order.)
My LaLa Leggings size chart + prices
The leggings come in three sizes + kid sizes:
Kids (small, medium, and large) – $16.00
One Size (OS) – $18.00
Curvy Size – $19.00
Extra Curvy Size – $19.00
Although they do typically run sales so these prices may change from time to time.
Shipping
UPDATE:
Shipping is fast and free used to be fast and free!
Here are the current shipping prices as of December 2019: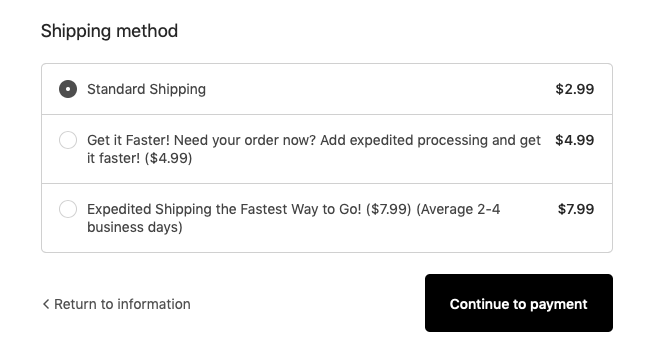 At the moment, My Lala Leggings only ships within the United States, but they may expand eventually.


My LaLa Leggings affiliate program (how to get a discount)
The My Lala Leggings affiliate program gives you the opportunity to earn money by referring others and/or enjoy a 25% discount for yourself.
Here are some of the perks of signing up:
25% discount on personal purchases
Up to 40% off if you choose to buy in bulk
25% commission on any leggings or other products you refer to friends
$5 bonus for any affiliate personally you personally refer
5% commission from 1st line team sales if you choose to build a team
Affiliates are also the first to know about new designs. Each Thursday, you are sent a preview (via email) of the new designs that will be released the following day.
And the best part is there are no quotas to meet and no ongoing monthly fees. None of that "personal sales volume" to stay active, etc.
I love that any commissions you earn are sent directly to your PayPal ($10 minimum required for payouts) so it's a smooth + secure process!
My LaLa Leggings – Pros and Cons
Now, this wouldn't be a truly honest review if I didn't include both the things I love and the things I don't, so let's get to it.
Pros:
They are extremely soft and comfortable– No doubt.
Plenty of colors and patterns to choose from and they're always adding new ones.
Wide range of sizes (ranging from kids to extra curvy)
There is a solid affiliate/referral program you can join (if you want)
Cons:
If you're looking for leggings that will shape you in all the right places– These are probably not the leggings for you. They are just your average (but really comfy) cute leggings.
Shipping is no longer free. That being said, you can get it for as little as $2.99 as shown above.
How to become a My LaLa Leggings consultant
If you've decided you're ready to get started as a My Lala Boss either to start your own business or just to simply take advantage of the discount, it only takes a few minutes to sign up.
Step 1: Choose your enrollment package
First, you'll need to select your enrollment package.
I would start with either the 1 pair or 2 pair package if you've never tried the leggings before.
That way, you're still getting a pair or two to test out and see how you like them and you're saving money! If you were to buy a pair of leggings at a regular price and just get the affiliate enrollment only (separately), you'd be spending at least $28.
After you've chosen your package and checked out, save your confirmation/order #. You'll need this for the affiliate application!
Step 2: Complete the My LaLa Leggings affiliate application
Next, you'll need to fill out the affiliate app.
Add your name, email, and choose a My Lala ID. Note: This ID is semi-public, so don't choose something you're embarrassed for people to see.
For payment confirmation, this is where you'll add the confirmation number you received when you purchased your affiliate enrollment package.
And that's it!
It may take 24 hours or so for them to approve your application. I submitted mine at night and heard back the very next day. 🙂
Once you've signed up, send me an email to let me know and I will send you the info to get you added to the Facebook groups!
---
I hope you love your LaLa Leggings as much as I do!