After you've stock-piled allll the baby clothes, diapers, and other must-have baby items— You've probably thought about organizing the nursery.
What is the best way to organize baby clothes? How do you organize nursery drawers?!
After all, you'll need to be able to locate everything quickly and easily after baby arrives.
No worries though– These nursery organization ideas will help you organize all the baby items even if you have a baby room with limited space!
Related: 17 Baby Registry Must-Haves That Aren't a Waste of Money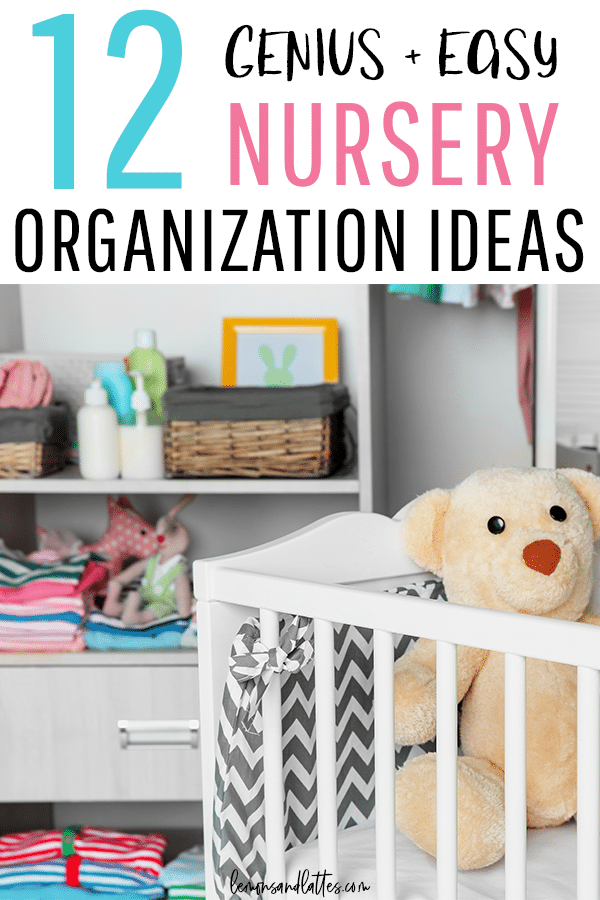 This post may contain affiliate links. Please read my disclosure for more info.
Organize baby clothes by size with dividers
Between the baby clothes you've gotten from family and also from your baby shower, you might be feeling a tad overwhelmed by all the different sizes.
Why not organize the baby clothes by size using cute baby closet dividers?
Use a hanging shoe organizer
Using a hanging shoe organizer is a genius (and affordable) way to organize baby blankets, diapers, baby clothes, and more.
Organize dresser drawers with dividers
Keep baby's dresser drawers clutter-free and easily find what you're looking for with drawer organizers/dividers.
These are perfect for keeping tiny baby socks, mittens, and other accessories from getting lost.
If you're on a tight budget, the plastic bins from the dollar store may also work.
Roll onesies to save space
A nursery organization idea you can try for baby clothes is to roll them instead of folding them how you normally would.
Store baby toys in a nursery hamper
Honestly, every nursery needs a hamper or storage basket!
Use it to store baby toys or as a "catch all" for baby blankets, burp cloths, etc.
Hang a diaper caddy
Save space and keep all your diaper changing supplies within reach by hanging a diaper organizer on the crib, playard, or changing table.
This one holds up to 50 diapers and can be easily folded up for travel.
Organize diaper-changing supplies with a rolling storage cart
Another great way to organize your diaper-changing supplies is to turn a rolling storage cart into a mobile diaper-changing station.
Create a breastfeeding/pumping station
Rolling storage carts are also perfect for creating breastfeeding/pumping stations like this one:
Hang a storage organizer in the closet
Next, a hanging storage organizer can help maximize space in baby's closet.
This one has 12 compartments and 4 side pockets to store baby clothes, shoes, blankets, diapers, and more!
Store too big baby clothes in bins
Do you have baby clothes that are way too big for baby at the moment? Or maybe you're saving some from older siblings that baby can wear later on?
Try a storage bin with windows so that you can easily find exactly what you're looking for.
Add a pocket organizer to the inside of your closet door
Another space-saving nursery organization idea is to add a pocket organizer to the inside of your closet door.
I love this one because of the large pocket space and it can't be seen from the outside!
Use a cube organizer in the closet to save space
Finally, adding a cube organizer shelf to baby's closet can also help you maximize space and keep baby's belongings organized.
There are so many cute bins you can get for these!
---
There you have it– 12 super easy nursery organization ideas!
Don't forget to pin for later!