This post may contain affiliate links. Please read my disclosure for more info.
Recently, I had the opportunity to try the healthy meal delivery service for kids known as Nurture Life.
(A big thank you to them for letting us try their products!)
This service really caught my eye when I found out their meals are made with organic ingredients.
After all, that can be really hard to find in a pre-packaged meal.
Overall, our kids liked the meals and this is our honest review!
About the company
Nurture Life was founded in 2015.
The idea for the company started with co-founder and mom of 2, Jennifer Chow.
As the daughter of a registered dietician, Jennifer knew kids' meals needed to meet certain nutritional standards.
And after struggling to find nutritious meals her own son would love, Jennifer realized that busy parents needed better "quick and easy" options.
If you've ever read through the list of ingredients on your typical frozen meal at the grocery store, then you probably understand exactly where she's coming from.
It's usually a bunch of ingredients you can't pronounce… and many of them have no business in our kids' food.
Nurture Life brings a better option to the table. All of their meals are made with real ingredients – no fake stuff.
They're nutritious and most of them are delicious (I won't say all, and you'll find out why in just a few).
An overview of the service and menu
The way Nurture Life works is simple, and it's really easy to sign up if you decide to do so.
First, you will choose a plan.
They currently have four plans available:
6 items per week
9 items per week
12 per week (this is the most popular plan)
or 15 per week
From there, you will be able to choose the meals you want or you can choose the "fill my box" option, which will automatically add their top-rated meals to your cart.
There are four main categories you can choose from including:
Complete meals – best for toddlers and kids
Fingers foods – best for ages 10 months and up
Smoothies – great for all ages
Snacks – perfect for all ages (even adults – I can vouch – They are quite tasty!)
Are there any meals for picky eaters?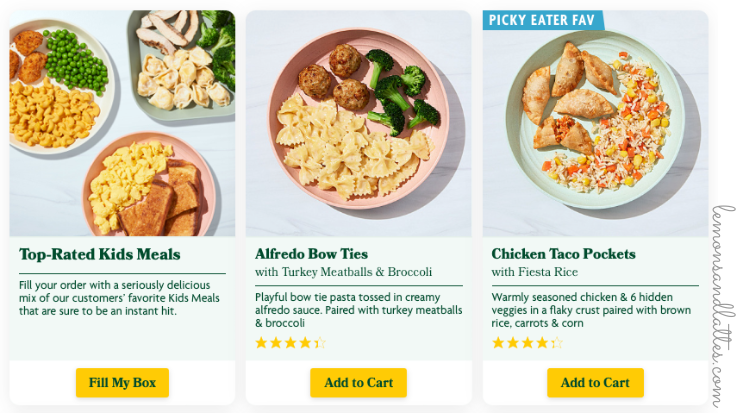 Yes, Nurture Life has several meals that are suitable for picky eaters.
For example, their mac and cheese is a good option to start with. It's made with whole wheat noodles and has organic butternut squash blended into the cheese sauce. They won't even know it's there.
But there are several other options as well that have earned the picky eater stamp of approval, including their…
Cheese Pizza Pockets
French Toast Sticks
Beef Taco Pockets
Cheeseburger Mac
Chicken and Tortellini
How much does Nurture Life cost?
The more items your plan includes, whether it's a meal, finger food option, snack, or smoothie pack (these come in packs of 2), the less you will pay per item.
These prices are subject to change, but at the time of writing this, here's what you can expect to pay:
Complete meals: $6.49 to $7.49 per meal
Finger foods: $5.49 to $6.49 per meal
Smoothies: $3.25 to $3.75 per smoothie
Might bite snacks: $6.49 to $7.49 for a 10-count package
So, what's a rough estimate per week?
It will depend on the combination of items you choose and your plan, but you can expect to spend around $45 per week for the smallest plan and around $98 per week for the largest.
To save you some math, this may be around $180 to $392 per month.
Plus, there's a small shipping fee that may vary a bit depending on where you live.
The good thing about shipping – you don't have to be at home when your box arrives. Ours was waiting for us on our doorstep and everything was still cool thanks to the insulated packaging.
As you can see, the meals come packaged with a thick layer of insulation around them. There were 2 ice packs underneath there too that I forgot to take a picture of.
The nice thing about the ice packs is you can keep them and reuse them if you want.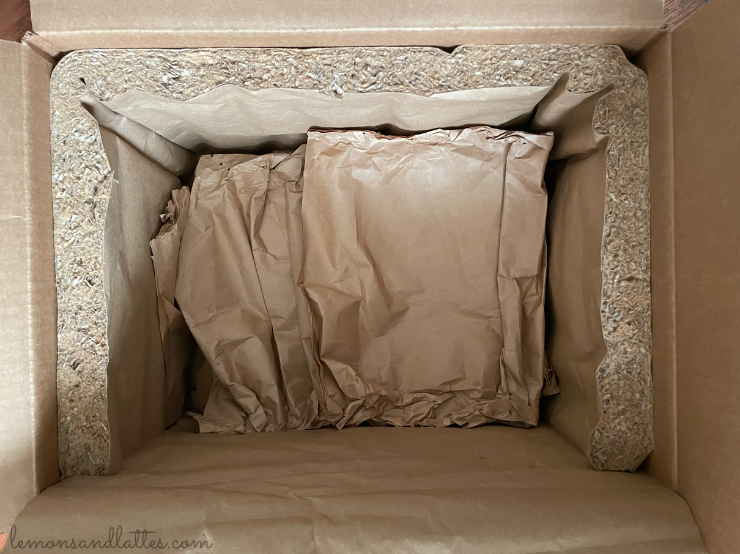 And, something that may surprise you because it surprised me – the meals will arrive fresh. They're never frozen. Although, you can freeze them once they arrive.
The pros and cons
The main benefits you're getting with a meal delivery service like this is convenience and peace of mind.
Convenience because, well, that's several meals you don't have to cook yourself. If you're pressed for time, taking some of the workload off yourself can do wonders for your stress levels.
Peace of mind – because you know your kids are getting healthy, nutritious meals without all the junk that's so common in other pre-packaged foods.
How do you know? All meals, snacks, and smoothies are designed by registered dietitians.
They're made with organic ingredients. The meat is antibiotic-free. And you don't have to worry about any added artificial flavors, food dyes, or nitrates. They also don't use high fructose corn syrup.
It's real food!
But – They are rather expensive for the average family. That's the main downside. Convenience comes with a price.
Is Nurture Life allergy-friendly?
The meals are all prepared in a peanut and tree nut-free facility – except for coconut. So, Nurture Life states their meals can be an option for children with nut allergies.
As far as other possible allergies or intolerances such as wheat/gluten, dairy, egg, etc. – These are all processed in the same facility, but there are are some options on their menu that do not include these ingredients.
If you're concerned about a certain ingredient, they advise reading the ingredients list before selecting meals.
The ingredient list is on the back of every package and is very easy to read through. But you can also check every ingredient list before ever purchasing.
You can also personalize your box to only include meals that exclude a certain ingredient if you'd like, which is nice.
Who is Nurture Life best suited for?
Nurture Life is best suited for busy families who are looking for healthier kids' meal options (and have the budget for it).
It's a better option – nutritionally speaking – than processed foods or take-out.
Overall, it's definitely worth checking out if you're looking for an easy way to provide your child with healthy food that tastes great and you don't necessarily have the time to make every meal from scratch.
Our personal experience
Our Nurture Life box arrived on our front doorstep, as promised. It was well-packaged and very insulated, so no complaints there.
The smoothies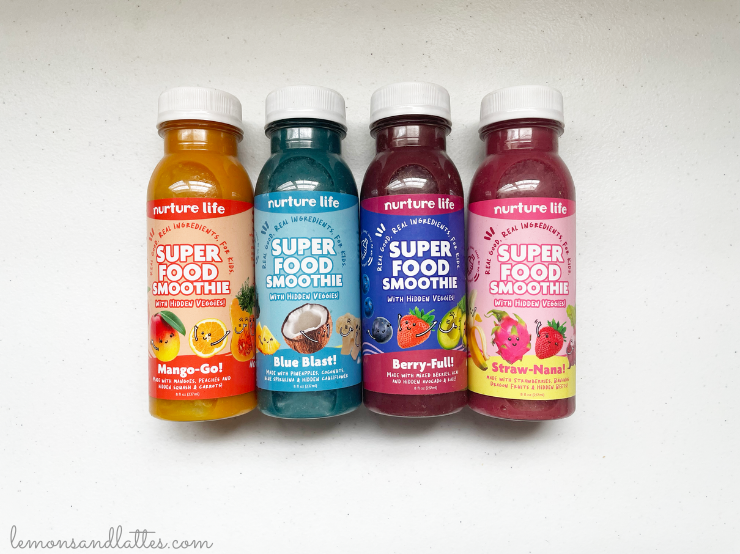 The smoothies have brightly-colored labels, so they look very appealing to kids. My two could hardly wait to get their hands on them.
We received one of each flavor, including Mango-Go, Blue Blast, Berry-Full, and Straw-Nana.
We love the smoothies because, like the meals, they also have hidden veggies. To name a few:
squash
carrots
avocado
cauliflower
kale, and beets.
They even snuck some spirulina in there.
So, A+ on the ingredients list.
As far as the taste, I also taste tested these myself so I could offer you a bit more feedback. Overall, not bad! Surprisingly good for a drink that includes ingredients like kale and beets.
They are a bit less sweet that I expected (the smoothies contain no added sugars). But that must not be a bad thing because my two devoured them and asked for more.
The Straw-Nana was one of their favorite flavors, which is interesting because you can taste the beets. I guess the other flavors mixed well because there wasn't a drop left.
The Mango-Go was a favorite too, but all of the flavors were gobbled down without hesitation.
The meals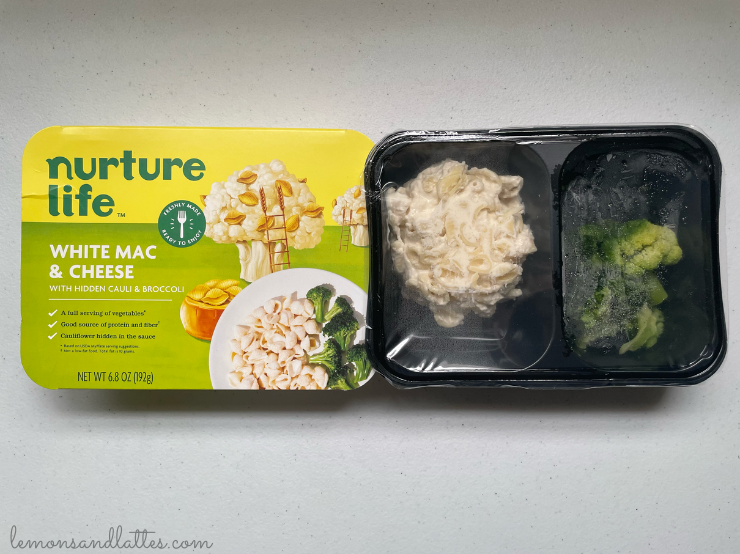 The meals only took about a minute in the microwave. Or just a few more seconds for a few of them.
The white mac and cheese with hidden cauliflower and broccoli was our favorite.
Here's what it looked like after it was heated: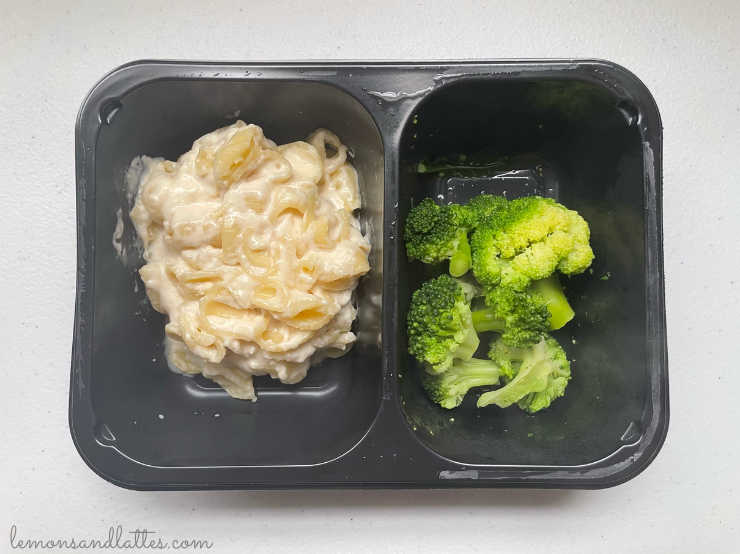 The mac had a very "comfort food" taste and texture. So, of course everyone loved it.
The spaghetti and meatballs were another favorite. I thought the noodles looked a bit rubbery, but my tiny food critic didn't have a problem with them.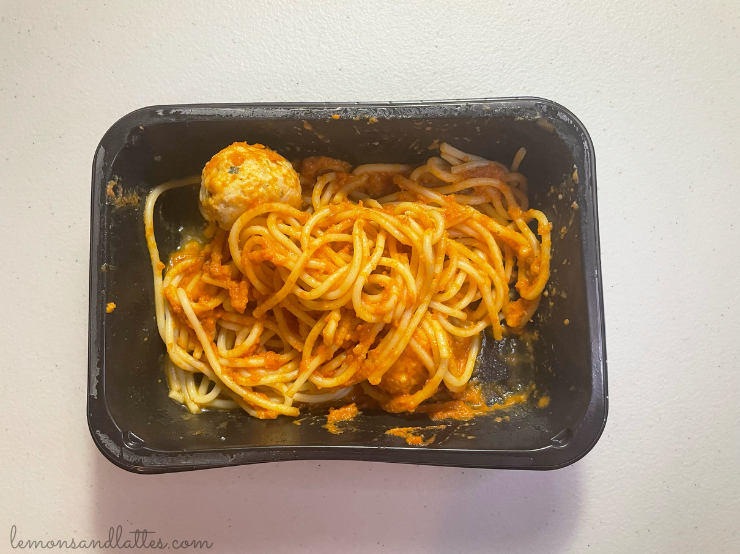 And the cheesy omelet wasn't bad either. My husband said the pancake puffs were a little dry. But, again, our tiny critic didn't seem to have any complaints.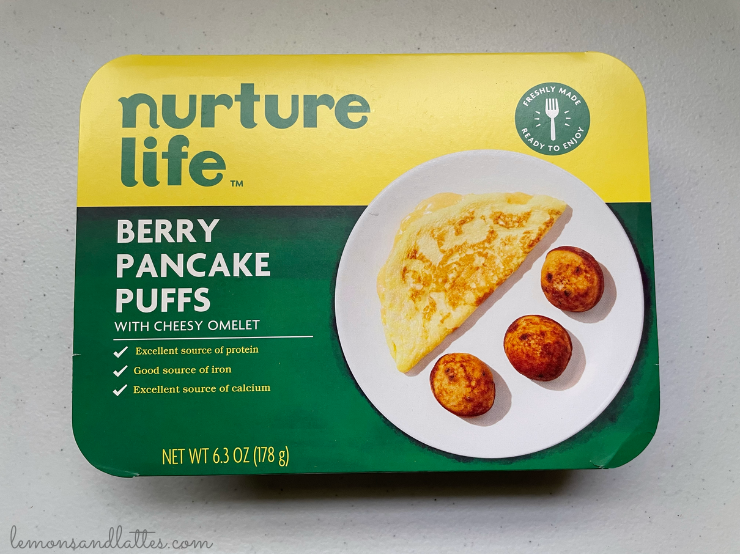 Now, let's talk about the chicken.
So, it's no secret that, most of the time, breaded chicken from any type of frozen or pre-packaged meal is really gross, right?
It's usually your typical sponge-meat-weird-texture situation. So, if you are wondering if the chicken in these meals have that same texture, they don't.
Phew.
These were actual chicken, rather than "sponge" meat, and I think that's definitely worth mentioning.
See for yourself. Here's a close-up of the inside of a nugget: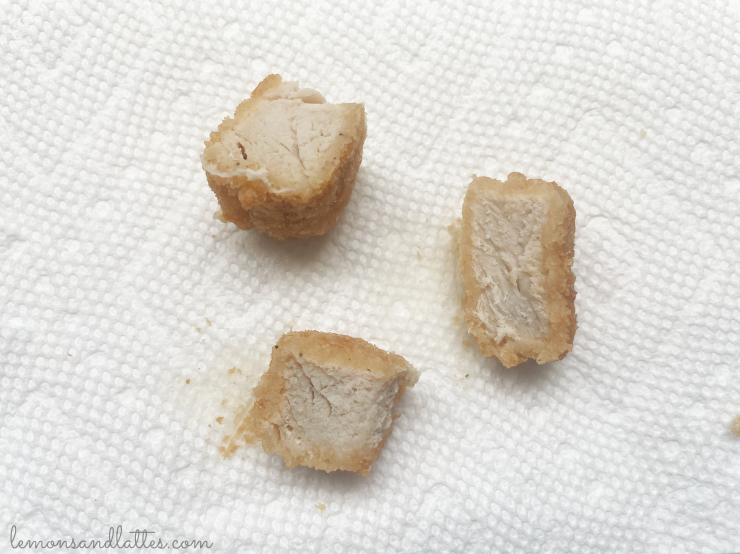 Most of the meals we tried were delicious, but one wasn't.
We were not a fan of the salmon. The texture, smell, and taste were not very appetizing.
Our youngest took one bite and didn't want any more of it.
The rice, on the other hand, was delicious.
So, if your child isn't a fan of one meal. That definitely doesn't mean they won't love another one.
Moving on.
The snacks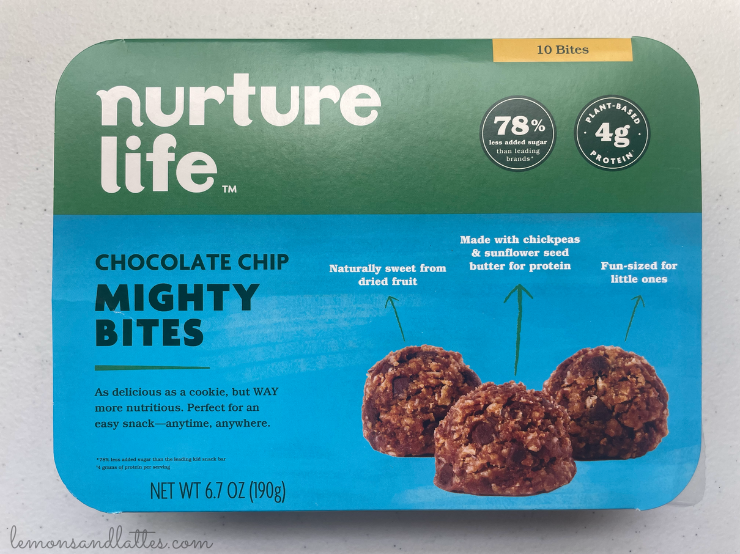 The snacks are called Mighty Bites and they are absolutely delicious. We tried two of the flavors: the chocolate and oatmeal raisin. Both *chef's kiss* good.
It's actually very surprising that these are made with chickpeas, because they really do taste like a cookie.
They're not over-the-top sweet, but just the right amount of sweetness. The texture is nice and not overly squishy or crunchy.
Both kids were a fan.
The fingers foods
The finger foods we received came in little jars: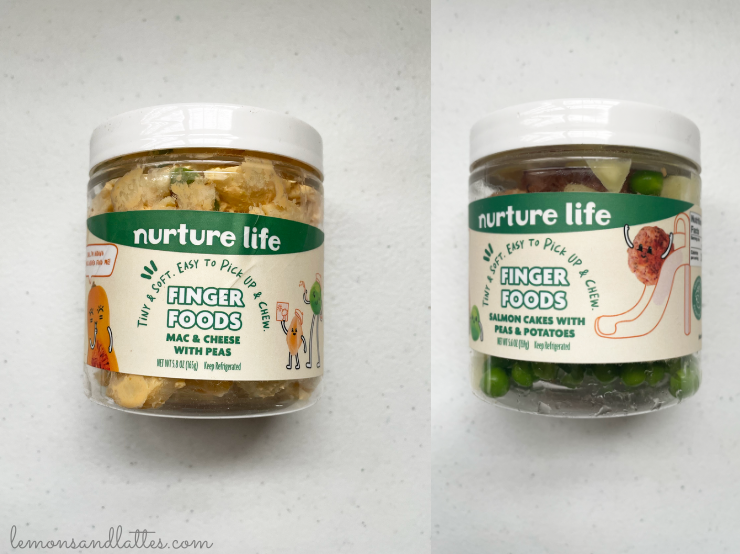 These would have been convenient to have when my kids were younger.
They don't have a lot of added flavor, but that's to be expected since they are designed for younger kids (as young as 10 months).
Final thoughts: Is it worth it?
Now, for the final question – Is the Nurture Life meal delivery service worth it?
The answer is… maybe.
If you're on a strict food budget it's probably not going to be worth it to you. You can make balanced meals for your children at home and probably for less money.
But, making those healthy all-from-scratch meals takes time.
So, if time is the thing you're lacking and you're looking for some high-quality meals you can pull straight from the fridge and feel good about serving them to your kids instead of guilty – this could be a good option for you.
The meals are very nutritious, the taste is good overall, and picky eaters have several options too.
At the end of the day, it boils down to your personal budget and needs.