This post may contain affiliate links. Please read my disclosure for more info.
Do legit side hustles for stay-at-home moms exist?
Yes! Yes, they do.
After I became a mom, I wanted nothing more than to be able to stay at home with my kids and make an income.
So, I became somewhat of a guinea pig for side hustles, home businesses, and the like.
Some of the things I tried weren't worth my time. Like working my tail off for pennies as a ChaCha guide… That wasn't worth my time. But some things were.
If you want to find the perfect stay-at-home mom side job, the key is to keep trying new things until you find something that's a good fit for you.
And I can't wait to help you with that.
In this post, I'm going to share a few ideas that you can do straight from your couch (without ever having to change out of your leggings).
How to find the perfect SAHM side hustle
It can be tricky to find the perfect side hustle when you are a stay-at-home mom, but there are a few things you can do to make it easier.
One of these is to think about what your passions are and then see if there is an opportunity that matches up with that.
It's important to take some time to think about this because it will help ensure success in your new venture.
Once you have narrowed down the possibilities, try out different ideas until you find one that best suits both your interests and skillset.
Side hustles for stay-at-home moms: 23 ideas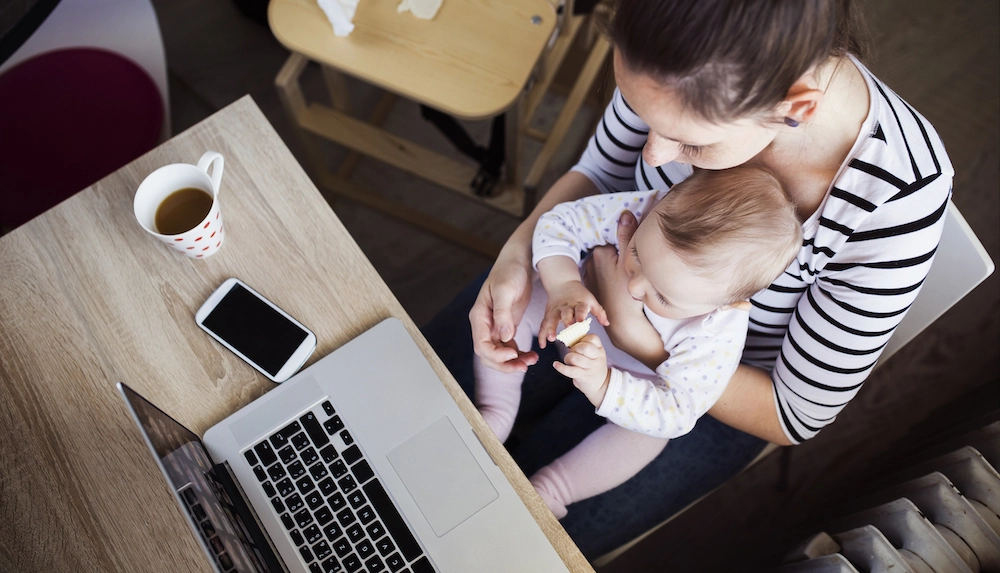 1. Take surveys in your spare time
Taking surveys isn't technically a "job" and certainly won't make you rich.
However, it can be an easy way to make a few extra bucks in your spare time.
Surveys can be done in the comfort of your own home, and you don't need any special skills or qualifications. All you need is an internet connection.
Surveys will take up about 30 minutes of your day if you want them to, but they could also take much less time than that depending on what type of survey it is.
The average online survey takes about 10-15 minutes, which means that even if you do just one per day, it should only take around two hours out of your day.
American Consumer Opinion is a survey company that will pay you for each survey you complete.
👉 Learn more about American Consumer Opinion here!
2. Start a blog
Starting a blog is another legit way you can earn some extra money from home as a stay-at-home mom.
One of my biggest stay-at-home mom tips, in general, is to get yourself a hobby. And that's one reason I love this blog– It's both a hobby and a side hustle.
But just because a blog has the potential to help you make extra money does not mean you're going to have a full-time income overnight. Not even close.
It's not as easy as just sitting down and writing about your kids or other interests. Blogging takes time, consistency, and a strong determination to learn.
That being said, the process is actually pretty fun and there's no better feeling than when it finally starts to pay off.
The most common ways to monetize a blog are advertising, affiliate marketing, online courses, and digital products such as eBooks or printables.
👉 Want to start your own blog? Read my step-by-step guide here!
3. Become an affiliate for something you love
Is there a certain product you're in love with?
If you have any type of audience online (maybe you have an Instagram where you share your fitness journey for example), you can become an affiliate for that product and share your affiliate link with your following.
Most products and services have an affiliate or referral program you can join.
Once you are an affiliate, you will have your own special link to share with others. If someone purchases using your link, the company will pay you a percentage of the sale.
Most affiliate programs are free to join and you can mention your link on social media, in blog posts, in the description of YouTube videos you create, etc.
Basically, anywhere that you have an audience. Just always be sure to disclose your affiliate links and familiarize yourself with the company's terms. You want to be 110% sure you are in compliance.
So, where do you find affiliate programs?
All you need to do is hop on Google, type in the product or service you love followed by "affiliate program" and find out how you can become an affiliate.
Usually, it's as simple as filling out a form.
Some affiliate programs will require you to join an affiliate marketing network in order to sign up for their program.
One of my favorite affiliate networks is ShareASale. They have numerous affiliate programs you can join in a variety of niches.
👉 Find affiliate programs to join through the ShareASale network by signing up here.
4. Make and sell planners
Printables and planners are one of my favorite products to make and sell.
Not only are they fun to make– Making and selling printables is a fantastic side hustle for stay-at-home moms because they don't require you to ship anything physical.
You also don't have to invest in any fancy design programs (unless you want to). I have used Google Docs, Apple Pages, and Canva to create my products. All of these are free programs!
If you are interested in learning how to get started with making planners, I highly recommend checking out Passive Income Planner Girl.
I took this course a couple of years ago and learned so much.
There are numerous ways to sell digital products. The most common ways are to start your own blog and offer them there, open an Etsy store, or start a Shopify site.
5. Start a YouTube channel
Starting a YouTube channel is another potential side hustle for stay-at-home moms if you like the idea of creating videos for content.
Like blogging, it's not as easy as just sitting down and recording your thoughts– you will need to choose a niche and put work into this side hustle.
It takes time, commitment, and consistency to see results with YouTube.
That being said, the process can be a lot of fun, and creating videos is also an opportunity for moms to show what they're knowledgeable about.
So, how do you earn money with a YouTube channel?
Once you start getting consistent views on your videos, you can make extra money through ad revenue, sponsors, and affiliate marketing.
6. Start a podcast
Podcasting is very popular right now.
A podcast can be the perfect side hustle for stay-at-home moms who love to talk about a certain topic.
By starting your own podcast, you can share your thoughts and ideas with the world. It's a fantastic way to build an audience of people who are interested in what you have to say.
Podcasts make money through sponsors (once you've built an audience). And, if you record videos of your podcasts, you can upload these to YouTube also.
7. Become a freelance writer
Are you a stay-at-home mom who loves to write?
Freelance writing is a side hustle you may want to consider if starting your own blog isn't for you.
It's ideal for stay-at-home moms because, like the other side hustles we've talked about, you can work from home and set your own hours.
Freelance writers typically offer their services to corporations and businesses (or anyone else who needs content written).
Some of the most popular topics for freelance writers are travel, food, lifestyle, and home design.
8. Offer proofreading/editing services
Maybe it's not the writing from scratch that excites you, but you've realized you're pretty good at proofreading and editing.
A proofreader looks for errors in articles, blog posts, or other text. They make sure the spelling, grammar, and punctuation are correct.
An editor also looks for errors in the text but they also focus on making sure the meaning is clear to the reader. They make suggestions to reword, combine, or cut content to ensure clarity.
If you have a knack for correcting grammatical errors, this could the perfect side hustle for you!
9. Offer resume writing services
For some people, writing up a resume is no big deal. But for others, it can be a real challenge.
A resume is a marketing tool that tells someone whether or not to consider you as a potential candidate for an interview– so having one written by someone who knows what they're doing can make all the difference.
With this side hustle, stay-at-home moms can offer their services to people who are looking for a job and need help getting together a resume.
10. Become a virtual assistant
A virtual assistant is someone a business owner hires to outsource some of their tasks.
The type of tasks will depend on the specialty of the VA.
As a virtual assistant, you may be responsible for simple tasks like responding to emails or comments on social media.
Or, if you are a VA with more specialized skills and experience, you could be responsible for helping with graphic creation, content creation, marketing, etc.
Virtual assistants usually offer retainer packages to their potential clients that include a certain amount of hours per month. The cost of these retainers varies depending on the VA's experience and skills.
11. Become a social media manager
There are also virtual assistants who specialize in the management of social media platforms.
These are known as social media managers.
As a social media manager, you may be responsible for creating content, responding to comments and messages, and tracking analytics.
There are also social media managers who specialize in certain platforms– For example, a Pinterest Manager or Pinterest Virtual Assistant.
12. Offer graphic design services
Do you love to design or are you interested in learning?
If you are a stay-at-home mom who loves art and drawing, offering graphic design services may be the perfect side hustle for you.
As a graphic designer, you could design logos for blogs or businesses, book covers, or even party invitations.
Even if you have never touched an Adobe program in your life, if this is something that interests you, it's a skill that can be self-taught if you're willing to put in a little time and effort.
13. Make and sell custom invitations
One side hustle idea that branches off from graphic design is making and selling custom invitations.
If you don't want to create your own website, you can sell custom-made invitations on platforms like Etsy.
Whether it's invitations for kids' birthday parties, graduations, or weddings– People are definitely seeking out this service!
14. Write and sell eBooks
Another side hustle that doesn't require any shipping or physical products? Writing and selling eBooks.
Ebooks are a great way to make some extra money, and it doesn't matter if you're an expert or not.
As long as you have a personal experience to share or have some tried-and-true tips that have worked for you, you can share them with others in the form of an eBook.
And the best part is– eBooks are self-published. Anyone can create one with Google Docs or Apple Pages (just export it as a PDF).
15. Make and sell crafts/jewelry
If you love to make things with your hands, there are plenty of side hustles for stay-at-home moms that allow you to turn this skill into an income.
One option is making and selling crafts or jewelry.
People know that when you purchase a handmade good, not only does it help the person who made it, but you also get something of higher quality and more uniqueness than what you would find at a store.
16. Sell your photography online
If you're a stay-at-home mom who loves photography, another option is to sell your photos online.
Stock photos will always be needed by business owners, bloggers, and the like.
You can use sites like Etsy or Creative Market to set up an online store for people to purchase your photos.
Or, you can look into selling your photos to stock photo sites such as Deposit Photos.
17. Start a photography business
Another option if you're a SAHM who loves photography is– Start your own photography business.
If you have a DSLR camera, some basic knowledge of Photoshop and Lightroom, and the talent to take great shots– You could be making money in no time.
There will always be clients looking for high-quality photos that capture their favorite moments.
18. Sell on Amazon
Starting an Amazon store can be a great opportunity for stay-at-home moms.
Amazon is a huge platform with a ton of traffic, so there is a lot of potential to make sales.
When creating your store, make sure to choose a category that you're interested in and knowledgeable about. That way, you'll be able to create listings that are high-quality and appealing to customers.
19. Sell clothes on Poshmark
Poshmark is an app that allows you to sell your clothes.
This app is free to use. For sales under $15, Poshmark takes a commission of $2.95. For sales over $15, Poshmark will take 20%.
All you have to do is take photos of your items, list them on their site with descriptions and prices, then wait for buyers to purchase them.
Once someone purchases from you, Poshmark will provide you with a pre-paid shipping label. The process is very simple.
If you've been decluttering your closet, this is the perfect way to make a few extra bucks and clear out some clutter!
20. Sell your unwanted items
Speaking of selling your unwanted clothes, you can also sell other unwanted items.
I have used eBay to sell several of my random items over the years– Fitness DVDs I didn't want anymore, old college textbooks, you name it.
Things like baby toys your children have outgrown, electronics you no longer use, etc. usually do well on the Facebook Marketplace.
21. Thrift store flipping
Now, if you find that you've had great success selling your unwanted items online, you can take it a step further with a side hustle called thrift store flipping.
Thrift store flipping (or simply thrift flipping) is when people buy goods from thrift stores (or garage sales/yard sales) and sell them online for more than what they originally paid.
This can be an exciting way for stay-at-home moms to make some extra money on the side.
22. Sell handmade candles
Candlemaking is the perfect way to use your creative skills, and it's a fun hobby that can also turn into a profitable side business.
The most popular way to sell handmade candles is to set up an online shop on Etsy or another platform.
You can also set up social media pages for your candle-making business. This will help drive traffic to your listings.
23. Refinish furniture
It may come as a surprise, but refinishing furniture can also be a terrific side hustle for stay-at-home moms.
If you're looking for a way to bring in some extra money and you enjoy working with your hands, then refinishing furniture may be just the thing.
This side hustle involves finding furniture pieces that you can refinish at home. You might find pieces like this at thrift stores, garage/yard sales, or online.
Then, you'll sand the surface and apply a sealant for protection. After it dries, you can then stain or paint as desired.
Once it's finished, you'll have a unique piece that you can resell for more than you originally paid!
---
Stay-at-home moms have plenty of opportunities when it comes to finding a side hustle. These are just a few examples, but there are many more out there!
If you're looking for the perfect side business, then these ideas might be a great place to start.
Pin for later?