17 Small Kitchen Organization Ideas to Maximize Space
This post may contain affiliate links. Please read my disclosure for more info.
Ever since we moved into our current home, there's one thing I've been researching like crazy: What are the best small kitchen organization ideas to maximize space?
While I love our cute little kitchen, I'll admit that it's been a bit of a challenge figuring out how to store and organize everything in a way that's functional.
If it feels like you're running out of space in your own tiny kitchen, these organization ideas I came across while in research mode should help!
Related: Printable Kitchen Cleaning Checklist
How to maximize space in a small kitchen
The biggest tip, hands down, that I can share with you is to declutter your kitchen before you try to implement any sort of organization methods.
Honestly, this is always my recommendation for cleaning any room in a messy house, and the kitchen is no different.
Start by clearing your countertops and cabinets of things that aren't used often (if ever).
This may mean parting ways with some of the small appliances you never seem to use. Or, downsizing your mug collection.
It's best if you only keep what you need. Otherwise, you'll end up with a crowded, cluttered kitchen that's difficult to get under control.
The second tip that will help you maximize your kitchen space is to utilize vertical space. If you're lacking in horizontal space, it makes sense to utilize any vertical space you have instead.
This hack doesn't just work for your floor space and countertops, but you can implement this strategy in your cabinets as well. You'll find several examples of this below.
The best small kitchen organization ideas
Here are 17 different ways specifically that are fairly easy to implement!
1. Try a roll-up dish drying rack
Traditional dish drying racks take up a lot of counter space.
If you don't wash a lot of dishes by hand, a roll-up dish drying rack may be all you need for your small kitchen.
2. Store fruit vertically
If your kids love fruit like ours do, you may find that you are always running out of counter space right after grocery trips.
Placing your fruit in a bowl helps a bit, but it still takes up precious counter space.
This is where that whole vertical space tip comes into play. Try a hanging or vertical fruit basket to save counter space while still storing your fruit in a way that's pleasing to the eye.
3. Organize your spices
If you have a pantry, mounting a spice rack on the inside of your door can free up a ton of shelf space.
It's also a huge time saver because you won't be digging through your spices trying to find the one you need (and knocking everything over in the process if we're being honest).
But what if you don't have a pantry? I mean, you are working with a small kitchen, and not having a pantry is actually pretty common.
If you're using your regular cabinets as your pantry, you can still organize your spices with spice gripper clips or a spice tower.
4. A storage solution for bakeware and cutting boards
Are your cutting boards or pans thrown into the back of your cabinets?
Or, are they stacked in a way that's frustrating to find the exact one you need when you need it? Here are a couple of simple solutions to make your life easier:
An organizer that hangs on the inside of your cabinet door is an easy way to keep your cutting boards organized in one spot.
This one won't scratch your cabinets and it's also useful for organizing aluminum foil and other longish boxes.
Not a fan of the "hanging" style? Try a storage rack like this one instead. You'll love the adjustable dividers!
5. Stack your frying pans the smart way
You've probably experienced the frustration of trying to stack pans that don't exactly fit together. Or maybe you've tried forcing them to fit (only to end up scratching your pans).
Here's a smarter way to stack your pans and keep them organized. You can also turn them on their sides with their handles facing out if you choose.
6. Use a 2-tier shelf to organize under the sink
A 2-tier organizer for the area under your sink can help you tackle the clutter.
You will just want to make sure the organizer you choose leaves enough room for your plumbing like this one does.
7. Prep and store produce in glass containers
If you have a small kitchen, it's likely that you have a small fridge too – Although this is a great hack for ANY size fridge.
Instead of throwing dirty produce into the bottom of my fridge, I love prepping it ahead of time and storing in glass containers like these.
Not only does it keep things nice and organized, but it saves me a ton of time washing and prepping every time my kids want a quick snack.
8. Keep your fridge tidy with bins
You can also keep your not-so-large fridge organized with bins.
Instead of leaving your La Croix in a box on the floor (guilty!), you can store them in bins in your fridge.
There are tons and tons of different sizes and colors at the dollar store if you're on a budget, but I love the look of the clear ones like these.
9. Use storage containers vs. boxes
Boxes and bags take up a ton of unnecessary space in your kitchen as well. Why they feel the need to use SO much packaging when the food only fills up 1/4 of it is beyond me.
One thing I like to do to combat this is to transfer everything to my own storage containers. Perfect for cereal, flour, coffee – really anything.
I used to use some old-school containers my grandmother gave me, but recently I've been slowly adding more and more clear ones because I love the simple esthetic.
10. Store grocery bags in a dispenser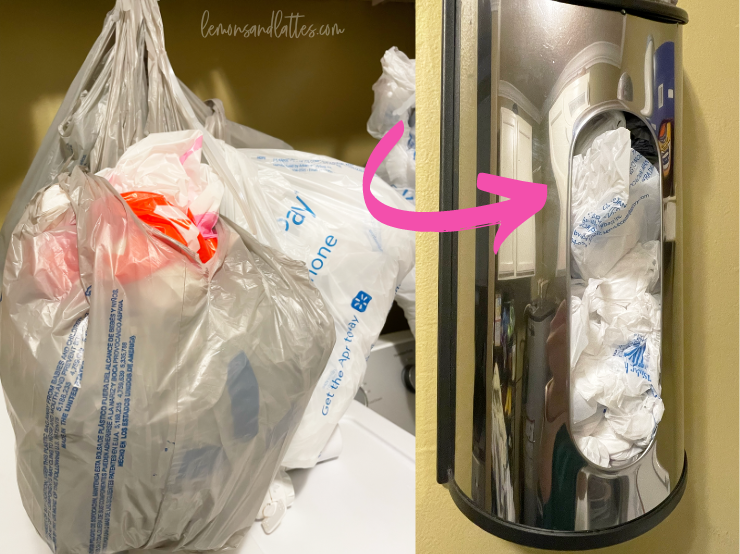 For the longest time, we would store our grocery bags all stuffed into one bag.
And when that one bag would get full, we would start another bag. I eventually ended up with way too many grocery bag-filled bags, and it was not the best use of space.
I knew there had to be a better way to store grocery bags, and I was right.
This dispenser holds 18 bags at a time and will keep your bags organized and out of the way until you need them.
11. Toss the tea boxes
Do you love to drink tea? If you're guilty of buying several different kinds at once, you've probably experienced tea box clutter.
You can always stack the boxes to save space, but then you have to unstack them to find the kind you're looking for.
Kick the tea box clutter with a tea bag organizer.
12. Store cans vertically with the best can organizer
Do you have a million cans taking up valuable cabinet space?
A stackable can rack is a simple solution. This one is a winner because it's sturdy and easy to put together.
13. Store container lids together
Food container lids are at the top of the kitchen clutter list and there's finally a way to tackle the problem.
A lid organizer will make it so that you never lose another lid again.
14. Add more cabinet space with a basic shelf organizer
Easily double your vertical cabinet space with shelf organizers.
Organize cups, plates, sippy cups, and more!
15. Lacking extra drawer space? Try this!
If it's drawer space you feel you're lacking, a 2-tier sliding basket organizer is an incredibly easy way to achieve this (without an actual drawer of course).
These are great for adding a little bit of extra storage for lightweight kitchen items!
16. Get creative with hooks (an easy solution for pot holder clutter)
One problem I've had with my own small kitchen is where to put pot holders.
I had been attempting to neatly stack my pot holders on the counter, but it just wasn't working. Here's my solution:
I ordered these hooks and I plan to vertically mount them for hanging up pot holders (although they'll also work for pans, pots, utensils, and more).
17. Consider adding more storage outside your kitchen
One thing we have recently done is purchase a freestanding cabinet so that we would have a little bit of extra space for storage. Thankfully, our dining room area was the perfect place for this.
We also purchased a separate little cart to put our air fryer on because it was simply not feasible to keep it on the counter. These often have additional shelves and storage space, which is helpful!
Organizing a small kitchen boils down to this…
The two main things to remember to keep your kitchen neat and tidy are 1.) Utilize vertical space as much as possible. 2.) Declutter often. Only keep what you need and use in your kitchen. The rest has no business in your space!
---
Save for later? Pin these small kitchen organization ideas to your favorite board!