These clever small kitchen organization ideas will help you eliminate clutter and maximize space!
Those BIG beautiful kitchens you see in the magazines?
The ones with all that cabinet and counter space?
Not our kitchen. Don't get me wrong. I LOVE our cute little kitchen, but having a small kitchen does mean less overall space to store things.
But it does not mean you're doomed with clutter!
Small Kitchen Organization Ideas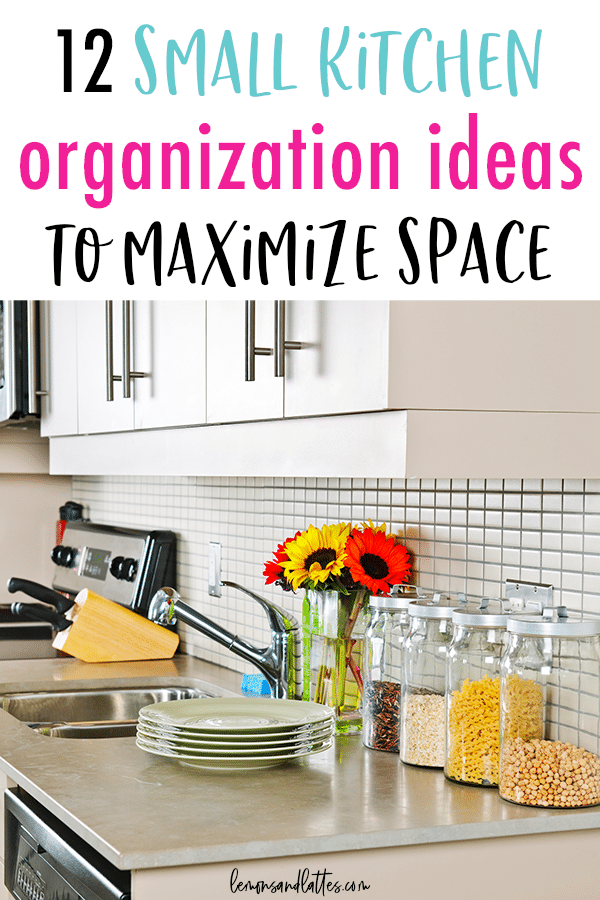 This post may contain affiliate links. Please read my disclosure for more info.
Try a Roll Up Dish Drying Rack
Traditional dish drying racks take up a lot of counter space. I have tried ditching mine altogether, but still find that I need one for quick washes like baby bottles, etc.
THIS space-saving roll up dish drying rack is GENIUS!
Store Fruit Vertically
My son loooves those little clementine Cuties, so we are always running out of counter space right after our grocery trips.
I love this idea! Placing your fruit in a bowl helps a bit, but it STILL takes up counter space.
Try hanging your fruit up instead to free up counter space.
Related: 5 Tips to Help You Declutter Your House Fast
Mount a Spice Rack
If you have a pantry, mounting a spice rack on the inside of your door can free up a ton of shelf space. It's also a huge time saver because you won't be digging through your spices trying to find the one you need.
If you're like us and you don't have a pantry, you can still take advantage of a spice rack. You will just need one that fits between your shelves when the door is closed. We use spice grabber clips like these:
Store Cutting Boards Together
Do you have your cutting boards thrown in the back of your cabinets? An organizer that hangs on the inside of your cabinet door is an easy way to keep your cutting boards organized in one spot. This one won't scratch your cabinets:
Not a fan of the "hanging" style? Try a simple pantry rack like this one instead:
Stack Your Pans the Smart Way
You've probably experienced the frustration of trying to stack pans that don't exactly fit together. Or maybe you've tried forcing them to fit and ended up with scratched up pans.
Here's a smarter way to stack your pans and keeps them organized (You can also turn them on their sides with their handles facing out if you choose):
Use a 2-Tier Shelf to Organize Your Supplies Under the Sink
A 2-tier organizer for the area under your sink can help you tackle the clutter. Just make sure the organizer you choose leaves enough room for your plumbing like this one does:
Organize Your Fridge with Bins
Instead of leaving your La Croix in a box on the floor (guilty!), you can store them in bins in your fridge. There are tons and tons of different sizes and colors at the dollar store if you're on a budget, but I love the look of the clear ones like these:
Prep & Store Produce in Glass Containers
Instead of throwing dirty produce into the bottom of my fridge, I love prepping it ahead of time and storing in glass containers like these. Not only does it keep things nice and organized, it saves me a ton of time washing and prepping every time my son wants some for a snack.
Use Storage Containers vs. Boxes
Boxes and bags take up a ton of space! And it's unnecessary space. Why they feel the need to use SO much packaging when the food only fills up 1/4 of it is beyond me.
One thing I like to do to combat this is to transfer everything to my own storage containers. You can do this for things like tea bags, cereal, flour, coffee– really anything!
I use some old school containers my nana gave me, but I really love how clean the clear ones look:
Store Grocery Bags the Smart Way
Did you know this even was a thing? I didn't! For the LONGEST, I had all my grocery bags stuffed into another bag. And when that one would get full, I'd start on another bag until it came to the point that one entire area of my cabinet space was filled with puffy grocery bags of grocery bags!
This dispenser holds 30 bags at the time and will keep your bags organized and out of the way until you need them:
Use Book Bins to Organize Tupperware
I have yet to find the perfect way to organize ALL my containers and lids, but I love this idea from Better Homes and Gardens of using book bins to keep everything together!
Install a Paper Towel Rack for Your Trash Bags
Genius idea from Simply Organized! Right now, my trash bags are still in the box taking up a chunk of my drawer space, so I can't wait to try this.
Have you tried any of these small kitchen organization ideas? I'd love to hear which ones were your favorite in the comments!