Staying motivated to lose the baby weight when you're adjusting to life with a brand new baby can feel like an uphill battle.
You definitely need more than a couple of "nothing tastes as good as being fit/skinny feels" quotes to keep you going (Sometimes when I see those, I giggle to myself and wonder if they've ever tried a warm doughnut. 👀)
To keep the motivation game strong, here are 10 practical tips to help you stay on track so that you can lose the baby weight once and for all!
Related: 10 Insanely Simple Ways to Start Losing the Baby Weight
Ways to Stay Motivated to Lose the Baby Weight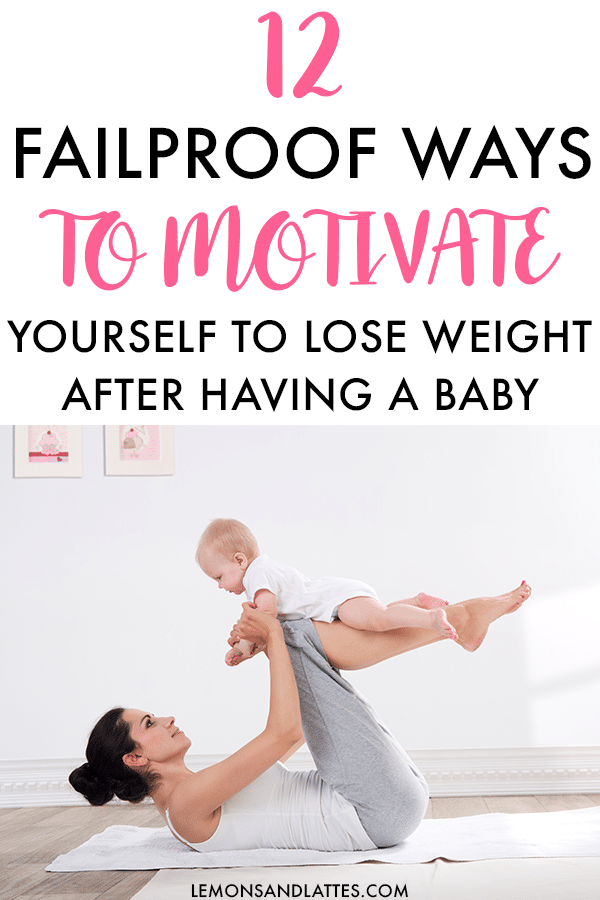 This post may contain affiliate links. Please read my disclosure for more info.

Write down your goals
There's one tidbit of advice that most (if not all) goal setting experts have in common… and that's to write down your goals.
According to this Forbes article, people who write down their goals in vivid details are 1.2 to 1.4 times more likely to follow through. (That's also a fantastic read if you're curious about the science behind it all.)
As simple as it sounds, I challenge you to actually grab a pen and piece of paper (or a goal setting printable worksheet) and write down a few things you'd LOVE to achieve.
Find support
After baby #1, I "started on Monday" so many times. I finally stuck to it and took action after one of my best friends agreed to jump on board with me. It's SO nice to have someone to talk to that's going through the same thing as you.

If you don't have an accountability partner, there are plenty of online groups and forums you can join.
There are also numerous new moms on Instagram posting about their fitness journeys that you can follow for inspiration.
Start a fitness blog
Do you love to write? Why not start a fitness blog and keep yourself motivated by sharing pieces of your journey?
Blogging can be a fun way to make money on the side and you'll also be inspiring other new moms at the same time.
Read my step-by-step guide on how to start a blog for beginners
Track your measurements
At times, it might seem as though you're making zero progress, especially if you've been fixated on the scale.
No matter what the scale says– measurements don't lie. If your measurements are going down (even if it's painfully slow!), you are making progress.
You can use an app, store it all in a designated notebook, or even use a printable template.
Take progress pictures
This adds on to the previous point, and I cannot stress it enough. Take progress pics! The scale might like to troll you, but pictures also don't lie.
A lot of new moms don't want to take pictures of themselves when they first start because they feel embarrassed and don't think they'll ever want the reminder.
If this is you, I promise you will thank me later. You can hide them somewhere or download a locking app on your phone. Just please take the pics!
Kick the all or nothing mentality
If there's anything I've learned about losing the baby weight, it's that you MUST kick that perfectionist voice out of your head.
If you "slip up" and eat a whole box of cookies, your whole week isn't ruined and you don't have to starve and skip dinner. Instead, have a light healthy dinner, make healthier choices the next day, and move on with your life. 💕
Incorporate things you love
No matter what style of eating you've chosen– Vegan, paleo, vegetarian, Keto– You can always incorporate things you love.
Find substitutions if you must, but it's always easier to stick to something when you're not forcing yourself to only eat foods you hate. I learned this the hard way.
Celebrate non-scale victories
Listen, I know you want your jeans to fit and the scale to go down, but it is imperative that you strive for more wins than the ones you can see on the scale.
The amount of weight you'll lose isn't something you always have FULL control over. One week, your weigh-in might be awesome. The next, it might be half of what it was the previous week. Or exactly the same.
Instead of beating yourself up when it happens, it's much better to focus on non-scale wins too like the step goal that you demolished for the week… Or the fact that you exercised 4 times. Are you forgetting that you completed your entire workout this time without having to take a break?!
These things matter, too.
Reward yourself
I'm a huge fan of setting mini goals. And when you crush them? #treatyoself
Giving yourself little mini rewards is a fun way to keep yourself motivated.
And, yes, there are tons of things you can reward yourself with that are not food!
Here are some ideas:
The new pair of shoes you've been eyeballing
A massage
Manicure/pedicure
New shirt/jeans/dress
New book
It can literally be anything.
Keep a food diary
And finally, one of the biggest tips that will help you stay on track to lose the baby weight is to keep a food diary.
Keeping a food diary is beneficial for so many reasons.
It helps you stay on track. Let's be honest… nobody likes to log or write down a Big Mac and large fries!
You can refer back to it for future meal ideas.
If something isn't working, you can use your food diary as a troubleshooting tool and figure out why.
I love Myfitnesspal for this, but pen and paper works perfectly fine too.
---
Have any of these helped you stay motived? What are your best weight loss motivation tips?