If you're ever wondered… how can I stay motivated to lose weight after baby?! I promise you are not alone!
Staying motivated when you're trying to lose weight sometimes feels like an uphill battle and that's especially true if you are adjusting to life with a brand new baby.
You definitely need more than a couple of "nothing tastes as good as being fit/skinny feels" quotes to keep you going (Sometimes when I see those, I giggle to myself and wonder if they've ever tried a warm doughnut. 👀)
After lots of trial and error in my own life (and losing 35 lbs after baby #1), I've put together 12 real-life tips to help crush your health and fitness goals and keep the motivation game strong!
How to Stay Motivated to Lose Weight After Baby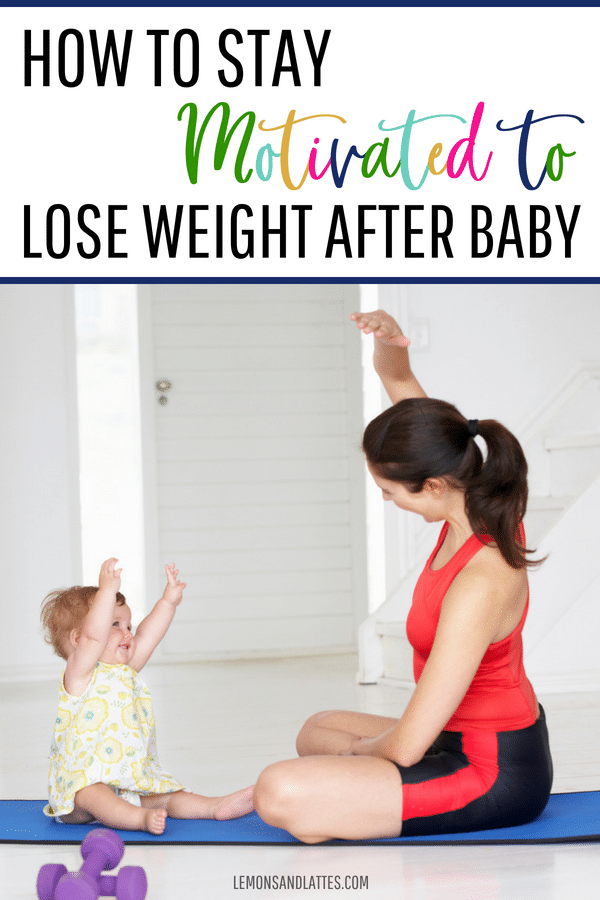 This post may contain affiliate links. Please read my disclosure for more info.
Strive for non-scale victories
Listen, I know you want your jeans to fit and the scale to go down. I just started my baby #2 fitness journey, and I want those things, too. BUT it is imperative that you strive for more wins than the ones you can see on the scale.
The amount of weight you'll lose isn't something you always have FULL control over. One week, your weigh-in might be awesome. The next, it might be half of what it was the previous week. Or exactly the same. Instead of beating yourself up when it happens, it's much better to focus on non-scale wins too like the step goal that you demolished for the week, for example…. Or the fact that you exercised 4 times. Are you forgetting that you completed your entire workout this time without having to take a break?! These things matter, too!
When you do set weight goals…
Make sure they are realistic. I cringe every time I hear or see those ads promising that you'll drop 10 lbs in a week, etc., etc. In certain situations, sure, maybe it can happen. But for the mass majority of us, it's not likely. And if it did, it wouldn't be healthy and the weight would probably pile back and then some once you stopped doing whatever it was you did to make it happen.
Most experts agree that a healthy 1-2 lbs per week is a good steady pace to lose weight. I do want to add that you may lose more during the first week of a diet change. This is usually because you're dropping some water/sodium weight rather than actual fat.
Take progress pictures
This adds on to the previous point, and I cannot stress it enough. Take progress pics! The scale might like to troll you, but pictures don't lie.
A lot of people don't want to take pictures of themselves when they first start because they feel embarrassed and don't think they'll ever want the reminder… if this is you, I promise you will thank me later. You can hide them somewhere or download a locking app on your phone. Just please take the pics. Okay?
Take measurements
You know what else doesn't lie? Measurements. At times, it might seem as though you're making zero progress, especially if you've been fixated on the scale.
You can use an app, store it all in a designated notebook, or even use a printable template.
Measurement progress > weight progress.
Get support
After my first son was born, I "started on Monday" so many times. I finally stuck to it and took action after one of my best friends agreed to jump on board with me. It's SO nice to have someone to talk to that's going through the same thing as you.
If you don't have anyone in mind, maybe you can try out some Facebook groups or create an Instagram account that's dedicated to your health and fitness journey.
It's so important that you surround yourself with like-minded people who want the same things as you and get it.
Get rid of the all or nothing mentality
That perfectionist voice has gotta go. The road to success is never a straight line.
Here's an example:
Let's say you're 2 weeks into your journey. It's been a long, stressful day at work or your kids were wild animals and your 2-month-old straight up refused to nap. You're literally about to rip your hair out, so you say screw it and order a pizza for dinner.
You eat your weight in pizza, feel guilty about it…. And then since you've already ruined your whole day, you might as well finish off the ice cream in your fridge, too. And since you've already probably ruined your week, you say screw it, you'll start fresh again on Monday.
No. Push those thoughts aside. You did not "ruin" anything. You enjoyed some pizza. It was great. It doesn't have to be "all or nothing."
Which brings me to the next tip…
Incorporate things you love
I believe we can live active, healthy lives without completely cutting out the things we enjoy.
If you've cut out certain favorites for health reasons (maybe gluten makes you feel bloated, so regular pizza is out). Or maybe your new lifestyle is paleo. Or vegan. There are substitutions for everything. You just have to do a little bit of searching to find them.
At the end of the day, remember that balance is your friend.
Do exercise you actually enjoy
It may sound painfully obvious, but doing exercise you actually enjoy will do wonders for your motivation when you're trying to lose weight after baby.
You know what I'm not a fan of? Running. I also don't really enjoy things like P90X (sorry, Tony). Forcing yourself to do something you hate is a recipe for disaster.
But, at the same time, you have to keep an open mind and actually try things. Don't just assume you won't like something. Keep looking and trying new things until you find something you like that fits your lifestyle.
If you have 2 small kids and getting to the gym isn't going to happen in a million years, consider trying out some home workouts. And, yes, those do work, skeptics. 😉 I was doing Turbo Jam and TurboFire (try it for free here) when I lost 35 lbs a few years ago and was literally in the best shape I've ever been in.
Plan + prep your meals
Ever find yourself stressing over what to cook? Maybe you're like me and it's a Dr. Jekyll and Mr. Hyde situation when the 5 pm hunger strikes.
Grab a few templates or a notebook and start planning out some of your meals (especially dinner). If you can prep some of your meals ahead of that, that's even better. I use meal prep containers to prep lunches from dinner leftovers. (They stack neatly in your fridge and are microwave, dishwasher, and freezer safe too.)
Planning and prepping your meals will also save you time and money, which is always a plus.
Consider an activity tracker
Activity trackers are perfect for helping you stay motivated to MOVE. It's almost annoying to not hit your step goal for the day. I've found myself walking way more than I normally would just to hit my goal (think parking far away from the grocery store on purpose.. *gasp*). Plus, if you're a total newbie and trying to ease into exercising, simply walking more is a great place to start.
There are a ton of different trackers out there, so feel free to do your research. I went with the Fitbit Flex 2, because it tracks your sleep, gives you an estimate on calorie burn, syncs to my iPhone, lets me set goals within the app, isn't bulky on my wrist like some I've seen, syncs to Myfitnesspal, and *drum roll please* it's not that expensive. #yasssss
I have a friend that LOVES her Samsung Gear Fit Pro 2. Lots of choices when it comes to activity trackers. 💪
Eat enough
I cringe every time I come across someone saying they're trying to stay around 1,000 calories per day. I'm not a doctor, nutritionist, or anything like that, but I do know that there are no shortcuts. If you try to starve, you will land yourself in a vicious binge cycle. It's just not worth it.
So, how much is enough? Everyone's different and has different activity levels. I feel better when I don't drop below my BMR at least. BMR is your basal metabolic rate. You can learn about it and calculate yours here.
At the end of the day, numbers are just numbers. Try to be mindful and listen to your body.
Drink enough water
Finally, drinking enough water can help you stay motivated to lose weight after baby because you're less likely to mistake hunger for thirst.
I know for myself that sometimes when I'm feeling particularly snacky, sometimes guzzling some water does the trick.
One thing I try to do daily to get in more water with little effort is to start my day off with a glass of lemon water. This is supposed to be good for digestion and gives me a head start on hydrating for the day, so it's a win-win!
---
Whew! You made it to end. Now, I'd love to hear from you. How are YOU staying motived to lose weight after baby?