This post may contain affiliate links. Please read my disclosure for more info.
After I became a mom, it wasn't long before we were swamped with toys.
Toys in the bedrooms. Toys in the bathrooms. Toys in the living room. Toys everywhere!
Can you relate?
If toy clutter has you feelin' some type of way, these easy toy storage ideas will help you eliminate toy clutter once and for all!
Related: How to Clean a Messy House When You're Overwhelmed by Clutter
Space-saving toy storage ideas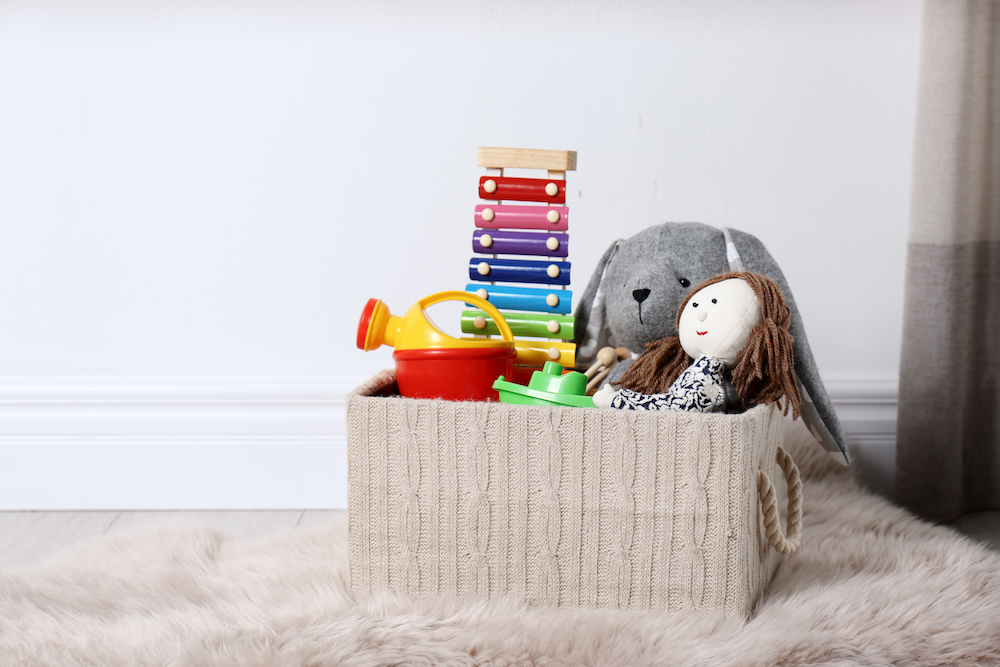 1. Organize toys in bins
There are endless toy storage organizers with bins to help you organize the toy clutter and keep a clean floor.
The organizers with plastic bins are my favorite. I found out real quick that the ones with collapsible storage bins just aren't sturdy enough for rambunctious toddlers!
Rather have a mobile organizer that you can push and pull? Try this organizer with stackable baskets.
2. Decorative baskets
Next, baskets aren't just for laundry, folks!
Large, decorative baskets are the perfect toy storage solution– Especially for those times when you need to clean up quickly!
3. Chests and trunks
Toy boxes have been around forever– Definitely a toy storage idea that's not going anywhere any time soon.
I love the ones with lids so that everything is out of sight and out of mind.
If you're going to go with a toy chest without a lid, I like the idea of getting one with handles so that you can easily move it around if you need to.
4. Store toys on a sturdy shelf
A sturdy shelf is a nice addition to any playroom. Easily store and organize toys, books, and more.
There are countless cute bins or baskets you can place on the shelves to organize and store toys.
5. Save floor space with a hammock
Are stuffed animals taking over your child's room?
Kids are often attached to their stuffed animal collection even if they never play with them. So, what's a mom to do?
Free up more floor space by hanging a toy storage hammock.
6. Organize toys on the back of your door
An over the door hanging wall organizer makes it easy to organize smaller toys and accessories.
These are also great for coloring books and art supply storage.
7. Utilize space under the bed
Next, create more floor space by storing toys under the bed.
Under the bed organizers make it easy to keep everything neat and organized.
8. Store bath toys in a bath caddy
Stepping on blocks is one thing– But how many times have you stepped on toys while simply trying to shower?
Store bath toys in a bath caddy like this to keep your bathroom clutter-free!
9. Eliminate toy clutter with a storage bench
A storage bench doubles as extra seating and toy storage.
These make a cute addition for kids' corners and reading nooks– whether it's in the playroom or living room.
10. Conquer living room toy clutter with an ottoman
If your living room is the main playroom, you may not want as many of the bright colors or patterns.
Using an ottoman bench or foot stool to hide away toys is a genius way to keep toys out of your living room floor.
What about Lego organization?
Tired of stepping on Legos? Here are a couple storage ideas for Lego blocks specifically.
11. Multi-compartment containers
As the mom of a Lego-obsessed little boy, I know how frustrating it can be to keep ALL those tiny little blocks out of the floor.
This storage container has 50 adjustable compartments– Plenty of space for Legos and your feet will thank you!

12. Use an activity chest to organize Lego sets
Rather store Legos by the set? An activity chest will make Lego organization a breeze.
I love this activity chest because the drawers are also carrying cases– Kids can easily take their blocks with them to a different room without losing pieces.
---
Don't forget to pin for later!