This post may contain affiliate links. Please read my disclosure for more info.
Do legit stay-at-home mom jobs exist?
Yes! Yes, they do.
After I became a mom, I wanted nothing more than to be able to stay at home with my boys and make an income.
So, I became somewhat of a guinea pig for side hustles, home businesses, and the like.
Some of the things I tried weren't worth my time. Like working my tail off for pennies as a ChaCha guide… That wasn't worth my time. But some things were.
If you want to nail the perfect stay-at-home mom job, I really think the key is to keep trying new things until you find something that's a good fit for you.
And I can't wait to help you with that! Here are a few ideas that you can do straight from your couch (without ever having to change out of your leggings).
SAHM jobs that don't require a degree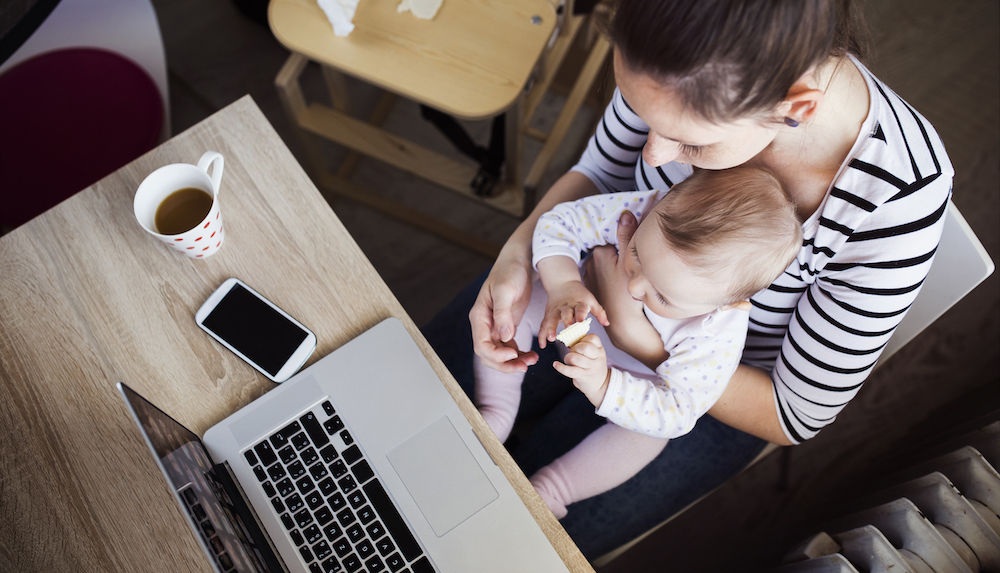 Take surveys in your spare time
Taking surveys isn't technically a "job" and certainly won't make you rich. However, it can be an easy way to make a few extra bucks in your spare time (#treatyoself).
American Consumer Opinion is a survey company that will pay you for each survey you complete.
👉 Learn more about American Consumer Opinion here!
Open an Etsy Shop
Are you a creative or crafty mom?
Opening an Etsy shop is a great way to make extra money as a stay-at-home mom. But is it right for you?
Do people often comment on your DIY creations?
Are you good at creating printables or planners?
Can you make custom t-shirts?
Party invitations?
These are all HUGE on Etsy!
Or, maybe your creative skills reveal themselves when you get behind the camera.
There is definitely a demand for feminine/pretty stock photography for people like myself that 1.) have no idea how to use a DSLR camera or 2.) aren't very good at taking our own photos.
Start a blog
Starting a blog is another LEGIT way you can make extra money as a stay-at-home mom.
One of my biggest SAHM tips is to get yourself a hobby. And that's one reason I love my blog! It's both a hobby and a side hustle.
But just because a blog has the potential to help you make extra money does not mean it's a get rich quick scheme. Not even close. It takes consistency to see results, and you will ALWAYS be learning. But the process is actually pretty fun. 🙂
👉 Want to start your own blog? Read my step-by-step guide here!
Recommend something you love
Now, I know direct sales has a bad rep with some people. There ARE some sketchy things that go on in this industry, but I don't think it's all bad.
For example, I tried some leggings my sister gave me, ended up loving them, knew other moms would probably love them too, and became an affiliate.
My review post brings in a few extra $$ randomly, and I don't have to go around bugging people about it. It's a win-win.
Start freelancing
Freelancing is perfect for stay-at-home moms because you work for yourself and set your own hours.
Chances are you have a skill or two. Are you good at researching things? Have you been able to grow a social media account fairly fast and easily? Maybe you have a knack for Photoshop or creating graphics.
If you think nobody would ever hire you for your particular skill, think again. I've been hired for everything from making simple spreadsheets to helping a fellow mom blogger out with her landing pages.
Here are a few freelance job ideas to get you thinking:
Freelance Writer –

Are you good at writing? Freelance writers get paid to write blog posts and articles for other blogs/businesses.

Social Media Manager – Is there a certain platform you know really well or prefer over the others? As a social media manager, you might create and post content, respond to comments, etc. It really just depends on the person or company's needs.
Graphic Designer –

If you have an eye for design and are skilled in something like Photoshop or Illustrator, this might be the right path for you.

Virtual Assistant –

If you don't have a specific specialty like any of the above mentioned, but you consider yourself tech-savvy, maybe becoming a virtual assistant is right for you.

As a VA myself, I have set up landing pages, done research, spreadsheets, Pinterest, blog setup and tweaks, and a little writing.
If you don't have any skills at the moment for freelancing, you can always learn some.
Sell your unwanted items
If you've been working hard to declutter your home, you can sell your unwanted items for extra cash.
I have used eBay for a ton of random things over the years. Fitness DVDs I didn't want anymore, old college textbooks, you name it.
It's easy to set up and the sound the app makes when someone bids is pretty exciting if I do say so myself.
Things like baby clothes that no longer fit, baby toys, electronics you no longer use, etc. usually do well on the Facebook Marketplace.
Related: 50 Easy Things to Declutter Right Now
---
All in all, the opportunities are out there. You just have to put forth a little effort to figure out which ones are right for you!