This post may contain affiliate links. Please read my disclosure for more info.
Autumn is in full swing! Are you looking for some easy and free fall color by number printables for the kids?
In total, we have 4 coloring activities to choose from. Each one features a different fall-themed scene. One has a tree with falling leaves on a windy day. Another features a coffee mug. Or, you can choose pumpkins or a big sunflower.
Kids will love coloring in the pictures. And when they're done, they'll have a lovely fall picture to hang up or give to someone special.
To use these printables, simply print them out and then hand over some crayons or coloring pencils.
You are welcome to print as many copies as you would like. No sign-up is required.
For personal use only. Please do not redistribute.
Color by number fall printables
Choose your favorite activity or print them all in one single file.
Scene #1: Color by number fall leaves in a blue sky
This scene is all about the leaves. Color all different kinds of leaves as they're blowing around in mid-air. Once the coloring page is complete, you'll also have a blue sky behind the leaves.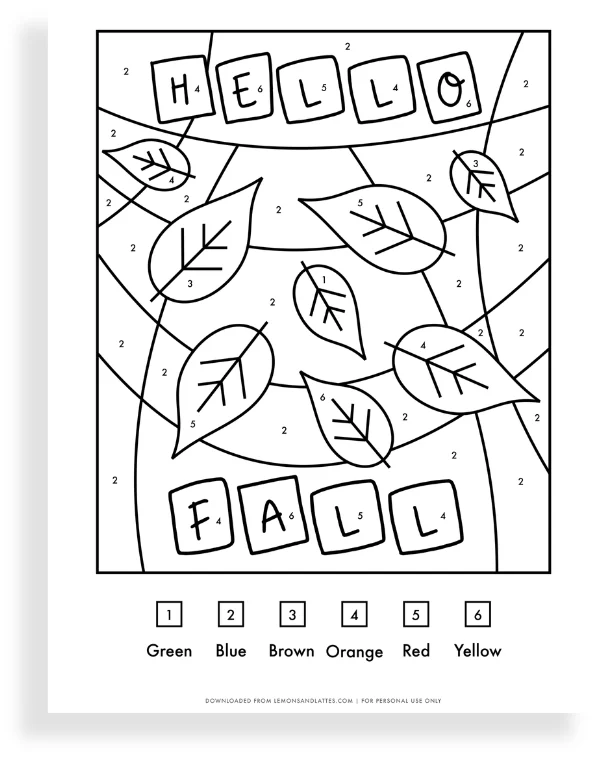 Scene #2: Fall coffee mug with leaves
This one is probably my favorite. Can you guess why?
There's a warm drink in a cute mug. This can be hot cocoa, coffee, or a chai latte – whichever you prefer.
Once the scene is colored, it will reveal a blue sky and green hills.
There are also falling leaves all around the mug to give it more of a fall vibe.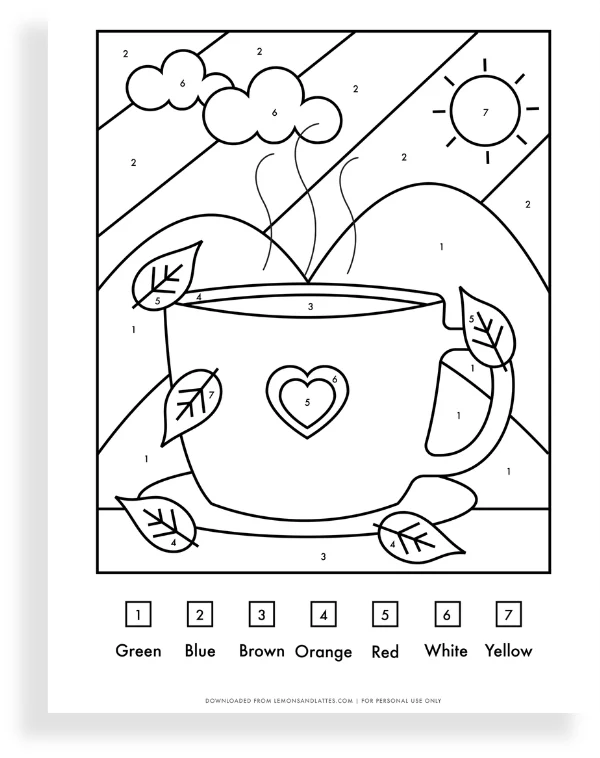 Scene #3: Color a fall sunflower
Sunflowers may not be the first thing that comes to mind when you're getting into the fall mindset, but they are considered fall flowers because they typically bloom mid-summer and early fall.
In this scene, you'll get to color a giant sunflower surrounded by fun little circles that are placed randomly around the page.
This is a fun activity to mix in to give you a break from just coloring leaves!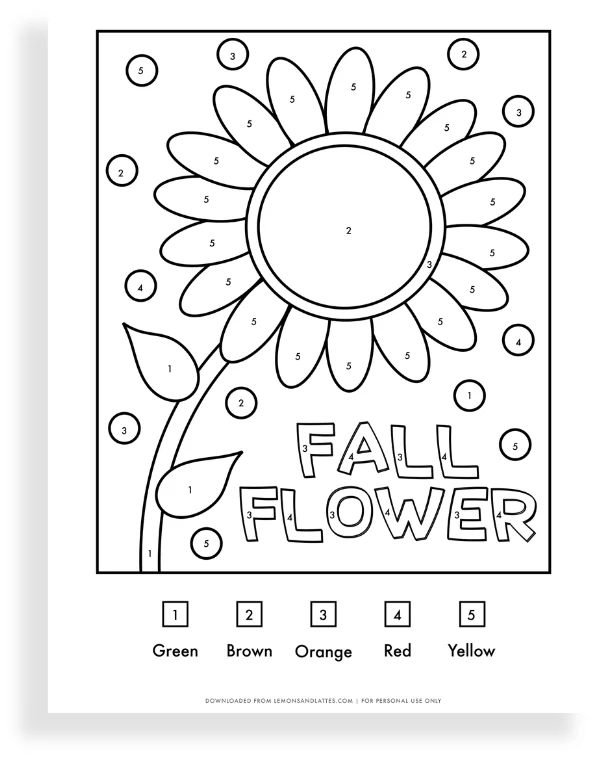 Scene #4: Windy fall day with leaves falling from a tree
This scene features some pumpkins with leaves falling onto the ground. The leaves are all different fall colors including green, orange, brown, and yellow.
You'll also color the words "Happy Fall" along with more fun circles that are scattered around the page.
More free fall printables
---
If you're looking for some free fall color by number printables to do with your kids this autumn season, give these a try!
I'd also love for you to let us know in the comments which is your favorite.
Pin this page so that you can easily find it again later!