After my sons were born, the first thing I wanted to do (after recovering from a c-section of course) was start losing the baby weight.
With baby #1, I gained about 50 lbs and had to work incredibly hard to get back to my pre-pregnancy weight.
I know firsthand that starting a new weight loss journey after growing a baby for 9 months is no easy feat.
Thankfully, there are some really simple things you can start doing now to help you get a running start.
Related: 10 Foolproof Ways to Stay Motivated to Lose the Baby Weight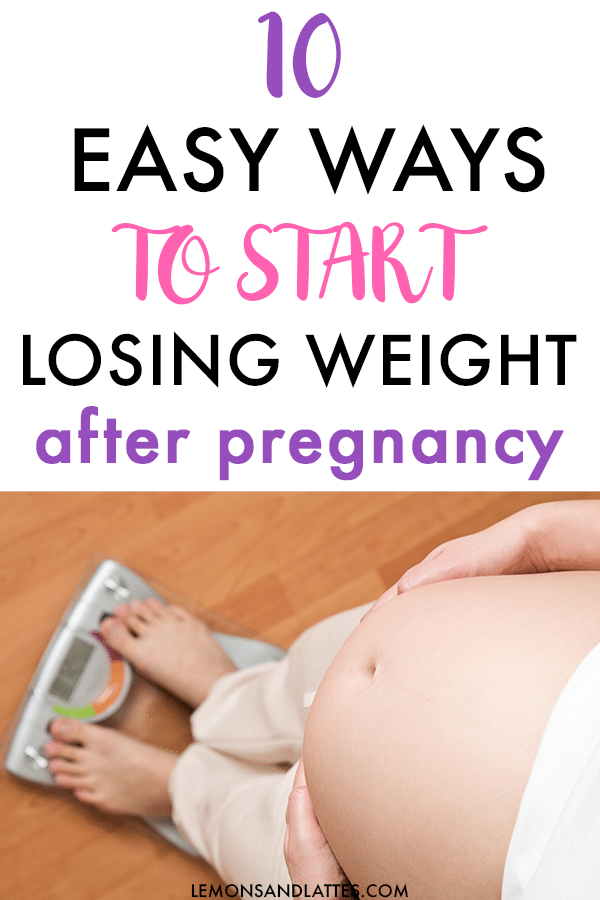 This post may contain affiliate links. Please read my disclosure for more info.
1. Stop drinking soda
One soda has roughly 140-170 calories and 46g of sugar.
Assuming you drink 3 sodas per day (one with each of your meals), this tip alone will save you an extra 420-510 calories and about 138g of added sugars per day. That's crazy, right?
Swapping out soda for water and herbal tea (this green tea is my favorite) is definitely the way to go.
If it's the fizz you find yourself missing, sparkling water is another alternative you can try (I love La Croix).
Staying hydrated can help with losing the baby weight because you won't be mistaking hunger for thirst.
Ready to commit to drinking more water? Grab your free 30-day water challenge printable and get started!
2. Skip the crash diets
I cringe every time I come across someone saying they're only going to eat 1,000 calories per day. I'm not a doctor, nutritionist, or anything like that, but I do know that there are no shortcuts. Starving yourself will only land yourself in a vicious binge cycle and that's just not worth it.
Not only that, if you're breastfeeding, not eating enough can affect your milk supply.
So, how much is enough? That will vary from person to person based on your activity level, etc. I feel better when I don't drop below my BMR at least. BMR is your basal metabolic rate. You can learn about it and calculate yours here.
At the end of the day, numbers are just numbers. Try to be mindful and listen to your body.
3. Eat real food
There's a difference between eating real food and eating food products.
Everything is usually fine in moderation, but for the most part, I've found that it's much easier to stay on track if you're skipping the processed foods.
A good rule of thumb: If it's pre-packaged and the marketing is geared towards weight loss, it's probably best to avoid it.
A simple apple with a tablespoon or two of peanut butter beats 3 bites of 100-calorie crackers any day in my eyes. 😉
If you need some new healthy meal ideas, the Healthy Meal Planning Bundle has lots of time-saving recipes and meal plans!
4. Fill up on veggies
Speaking of real food– One easy trick you can try is to fill half of your plate with your favorite veggies.
Vegetables are filled with fiber and other nutrients and are low in calories– Basically the holy grail for losing the baby weight!
Tip: An easy way to get more veggies in your diet is to serve up veggie noodles. My favorites are zucchini noodles (you'll just need a veggie slicer to make these!) and using spaghetti squash as a noodle replacement.
6. Start exercising
Disclaimer: Make sure you have been cleared by your doctor before you begin any new exercise regimen! This is usually done at your 6 week postpartum visit.
The more you move, the more you burn… but the trick is to find an exercise you actually enjoy. It may sound painfully obvious, but this will do wonders for your motivation.
Forcing yourself to do something you hate or realistically don't have the time and energy for is a recipe for disaster.
Want to try new exercises and don't have time to go to the gym (Let's face it– It's hard to do with a new baby or small kids in general)? I love BeachBody on Demand, because it's basically the Netflix of home workouts!
Related: Free Printable Workout Log/Tracker
5. Set a step goal
If you're not quite ready to hit the workouts yet, committing to a daily step goal is a simple way to start losing the baby weight.
Activity trackers are perfect for helping you stay motivated to move.
I've found myself walking way more than I normally would just to hit my step goal (think parking far away from the grocery store on purpose.. *gasp*).
There are a tons of activity trackers to choose from, depending on your goals and budget.
If you're looking for a budget-friendly option– I went with the Fitbit Flex 2, because it…
Tracks your sleep
Gives you an estimate on calorie burn
Syncs to my iPhone
Lets me set goals within the app
Isn't bulky on my wrist like some I've seen
Syncs to Myfitnesspal
However, a friend of mine absolutely loves her Samsung Gear Fit Pro 2. 💪
7. Find healthy substitutions
If you live for your daily milk chocolate candy bar, it's not very realistic to say you're going to cut out all sweets completely, right?
Instead, look for substitutions that align with your goals and your style of eating. There are substitutions for everything. You just have to do a little bit of searching to find them.
Speaking of chocolate, these dark chocolate squares with sea salt caramel are my favorite!
At the end of the day, remember that balance is your friend!
8. Meal Plan + Prep
Do you ever find yourself stressing over what to cook? Maybe you're like me and it's a Dr. Jekyll and Mr. Hyde situation when the 5 pm hunger strikes.
Planning your meals ahead of time (especially dinners) will help you stay sane.
If you can prep some of your meals ahead of time, that's even better. Sometimes I use meal prep containers to prep lunches from dinner leftovers. (They stack neatly in your fridge and are microwave, dishwasher, and freezer safe too.)
Also, heading to the grocery store with a plan will prevent you from buying things you really don't need, which is also a plus for your pocketbook!
Related: Free Meal Planning Printables
9. Make a plan for losing the baby weight
Not only should you write your goals down, but you also need to figure out the exact action steps that'll get you there.
If you have a goal to fit into your old jeans, what specific things are you going to do each week or day to make that happen?
Try this free goal setting worksheet to help you brainstorm!
10. Create healthy habits
Finally, if you want to start losing the baby weight and keep it off, creating new healthy habits is key.
Success doesn't come from saying you're going to lose X amount of lbs in Y amount of days.
The Compound Effect goes into this in more detail, but success actually comes from doing those small, daily tasks consistently over a period of time.
Like exercising consistently, drinking plenty of water consistently, making the right food choices… consistently.
Here's a free monthly habit tracker printable to help you start establishing the healthy habits that'll help you start losing the baby weight and keep it off for good.
---
Pin for later?