This post may contain affiliate links. Please read my disclosure for more info.
Trying to keep your family happy and fed can feel like a full-time job.
But did you know meal planning can help alleviate some of that stress?
With a few cute meal planner printables, you can easily put together a menu. No more stressing over "what's for dinner."
Instead, you'll know exactly what to make each day and it'll take you no time to make a grocery list since you'll know exactly what you'll be making.
Quick tip to save on ink
As someone who loves printables, I completely understand the frustration of going through so much ink.
It feels like every time you turn around, you're printing off another batch of templates.
Laminating your printables is an easy way to make your ink last a lot longer. You don't need any fancy machines to do this. Self-laminating sheets make this very easy to do. All you'll need is a wet erase marker to reuse them.
Not only will you save money on ink, but you'll also be able to use your weekly menu templates over and over again.
Sale
Cute meal planner templates
There are several meal planning templates included – all with a cute cursive font for the headings and just the right amount of color.
There are a total of 27 pages. Keep in mind that you don't have to use them all. Print out the ones that suit your needs the best.
Printable weekly meal planner template with snacks
A meal planner can be a helpful tool if you're trying to eat healthier or save money on your grocery bill. But often, meal planners will only include space for breakfast, lunch, and dinner.
If you're someone who likes to plan snacks or you're using the meal planner as a food tracker, you'll need a place on the template to jot down snacks in addition to your main meals.
This weekly meal planner includes space for breakfast, lunch, dinner, and snacks as well.
And, of course, you can choose the Sunday start or the Monday start, depending on your preference.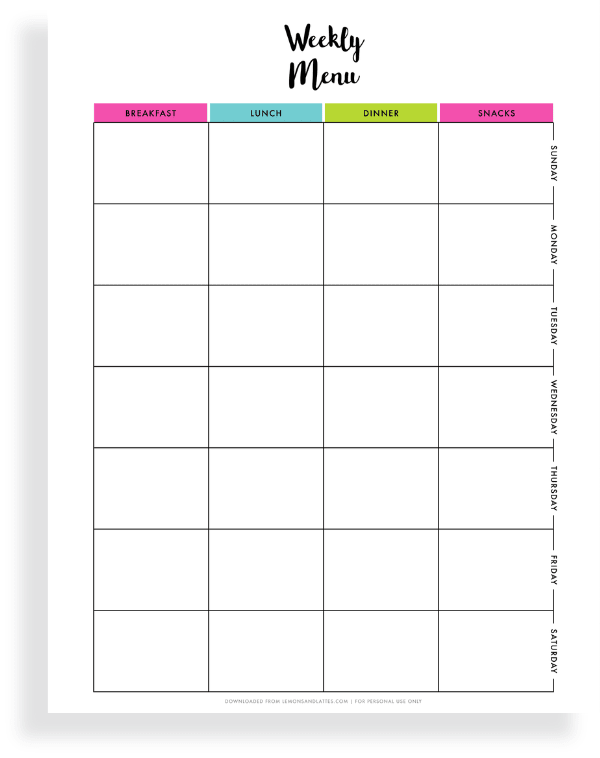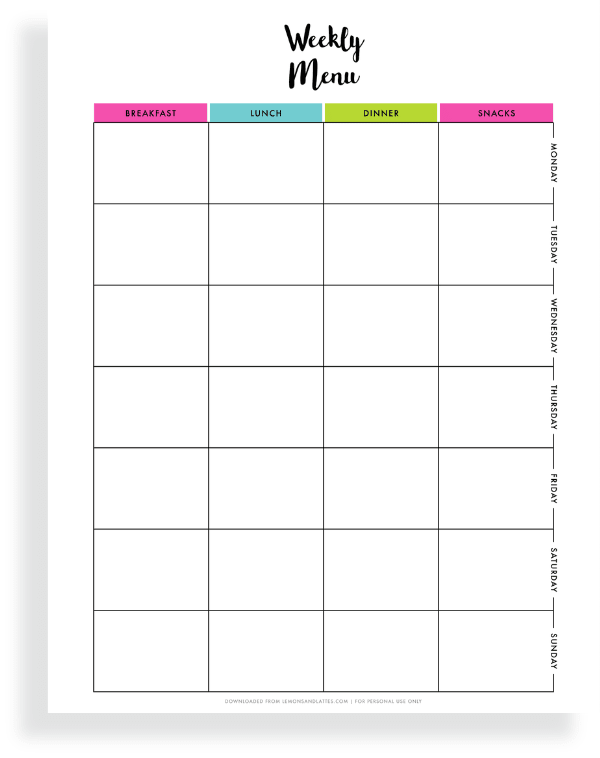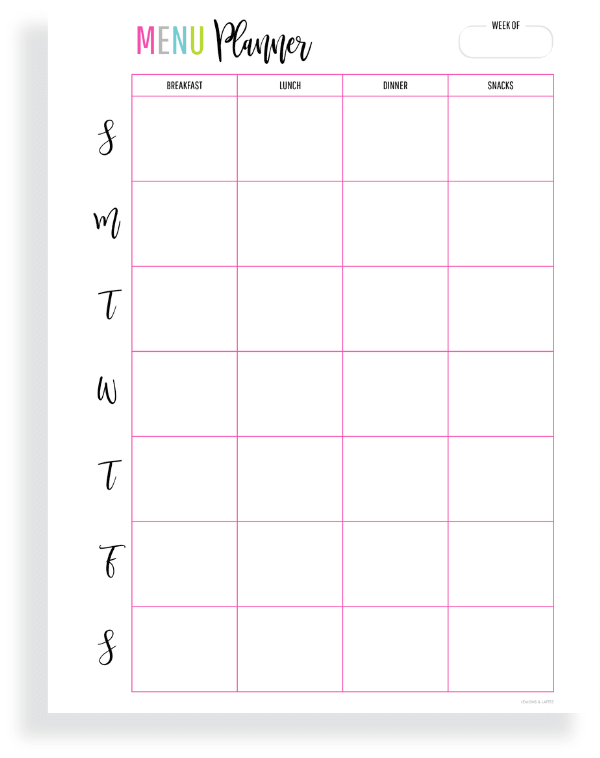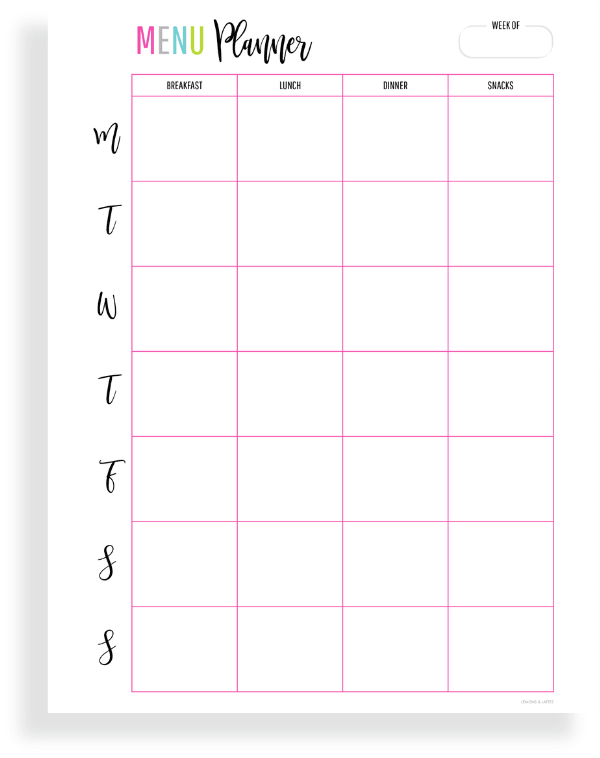 Weekly meal planner with grocery list template
A printable weekly meal planner with space for making a grocery list is another useful template to have. It's my favorite for planning dinners only.
This design makes it super easy to get a grocery list together because you can jot down the ingredients you need as you're planning your meals for the week.
It has everything you need all in one place. There's space for each day of the week and a large writing area where you can make your shopping list.
And once you're finished, grab some scissors and cut off your grocery list, and head to the store. Or – open up your grocery shopping app if you're like me.
With this dinner menu for the week template, you also have the choice of printing a Sunday or a Monday start.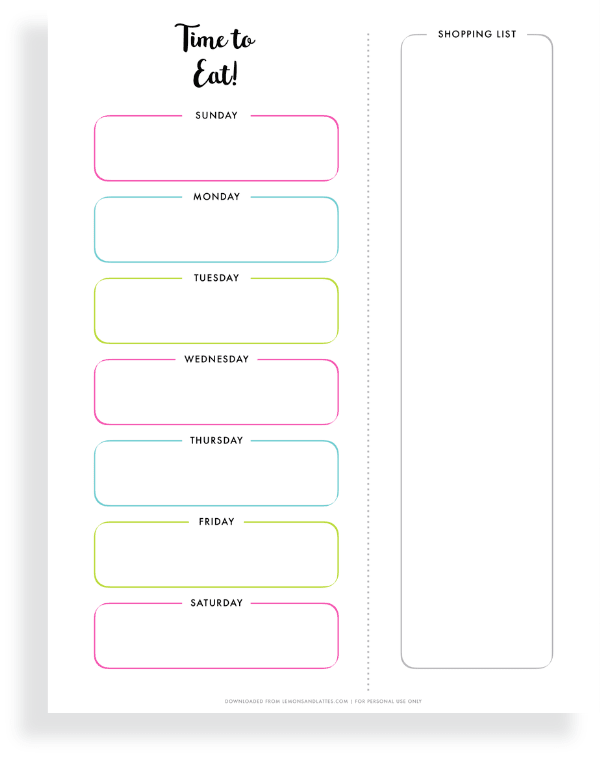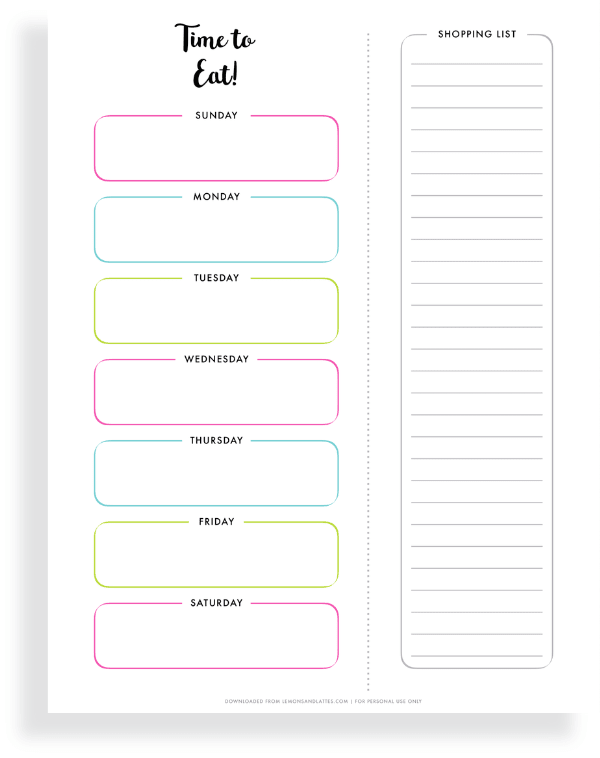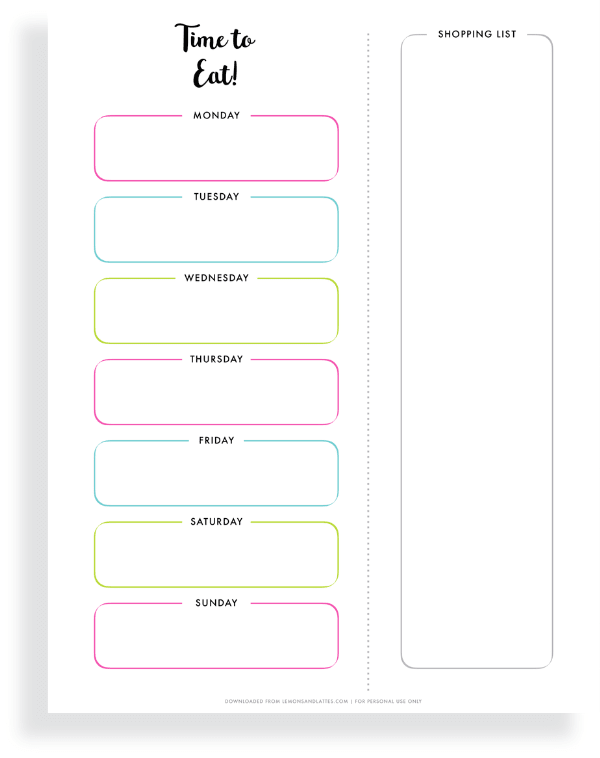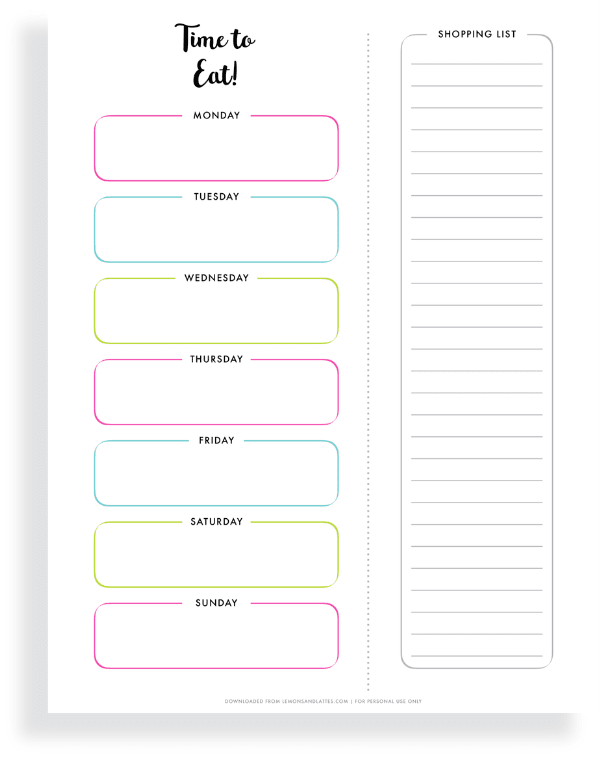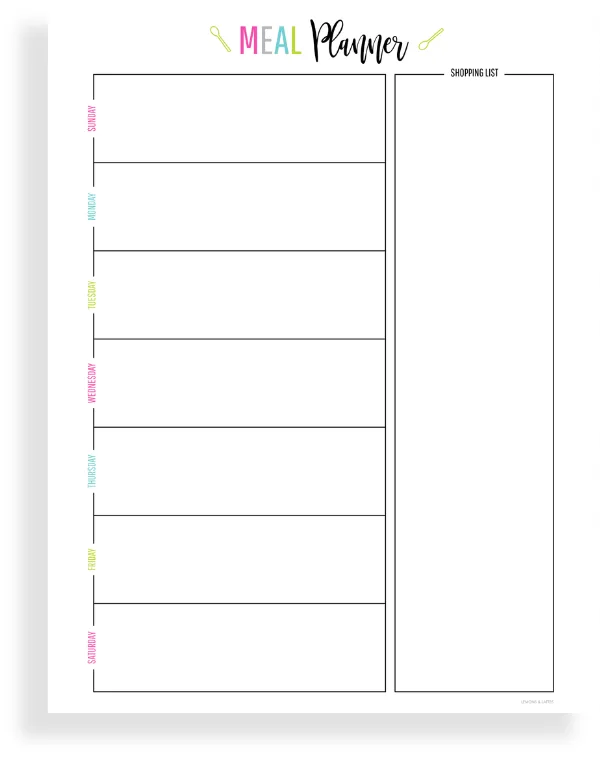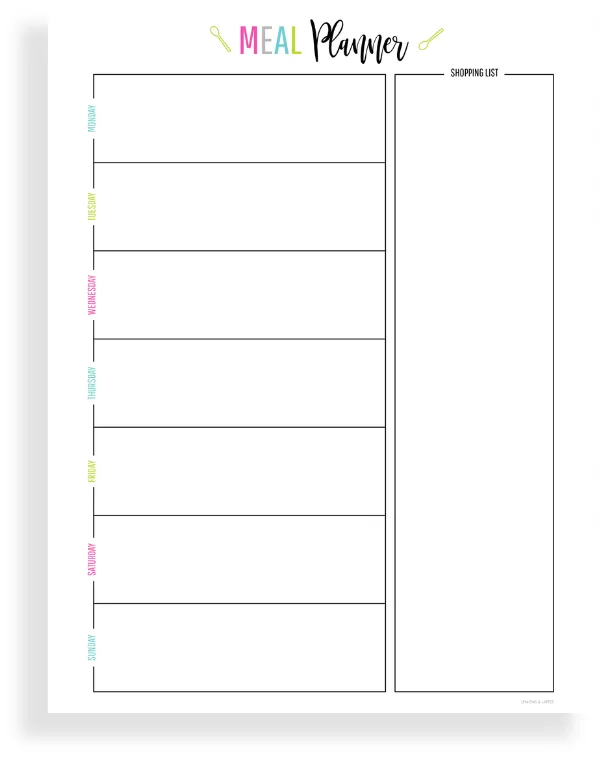 Family favorite meals sheets
When I mentioned tracking your family's favorite meals in the tips section, you can do this with these sheets.
Specifically, there are 2 versions for tracking your favorite breakfasts, lunches, dinners, and snacks.
There are also sheets for tracking your favorite holiday meals to make so that you never space on them again (even if you get mom brain from time to time).
There's a printable for keeping track of your favorite recipes specifically. The purpose of this printable is to help you quickly locate your favorite recipes – whether that's in a cookbook, on a Pinterest board, etc.
And, I've included a page for jotting down the recipes you want to try in the future so that you don't forget about them.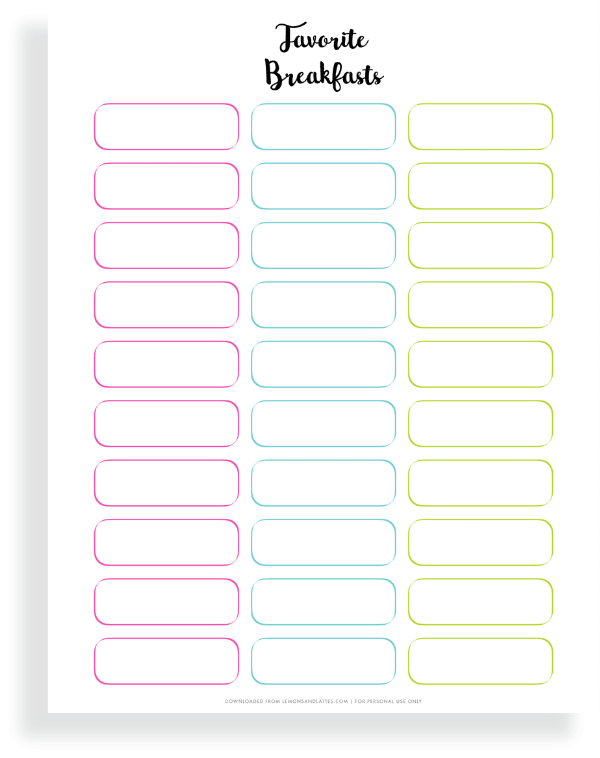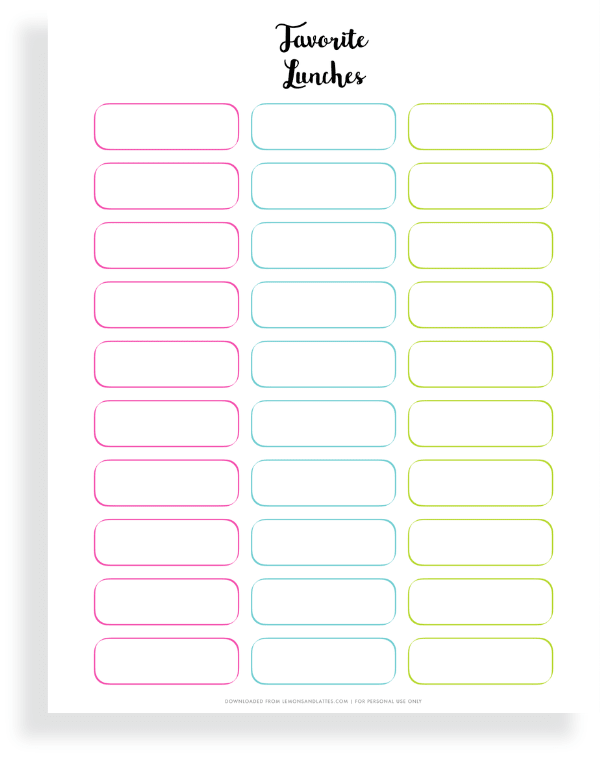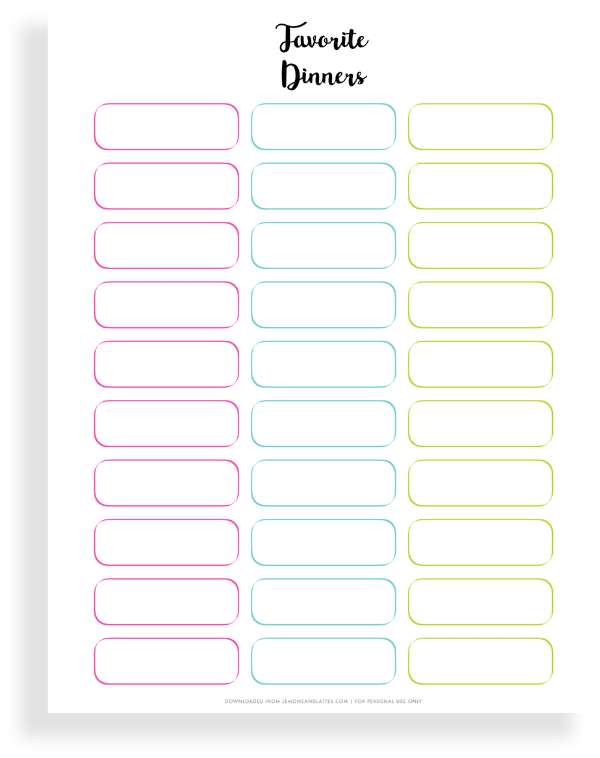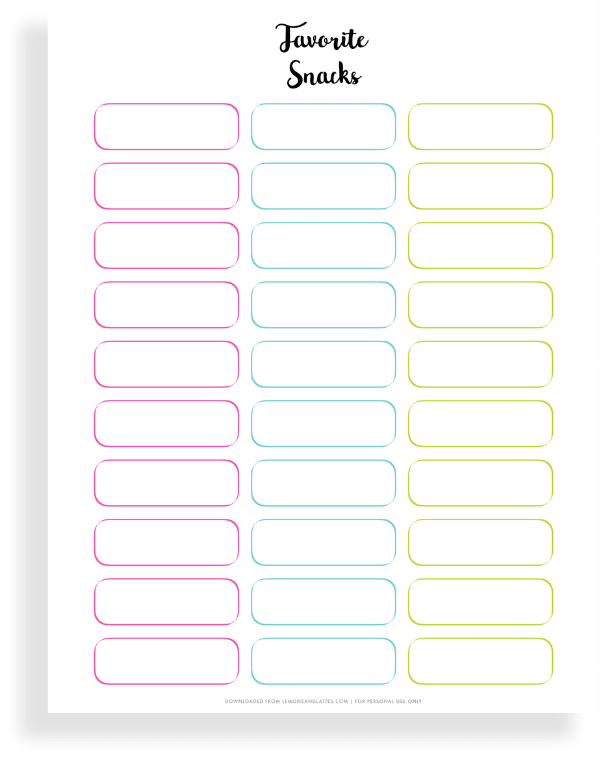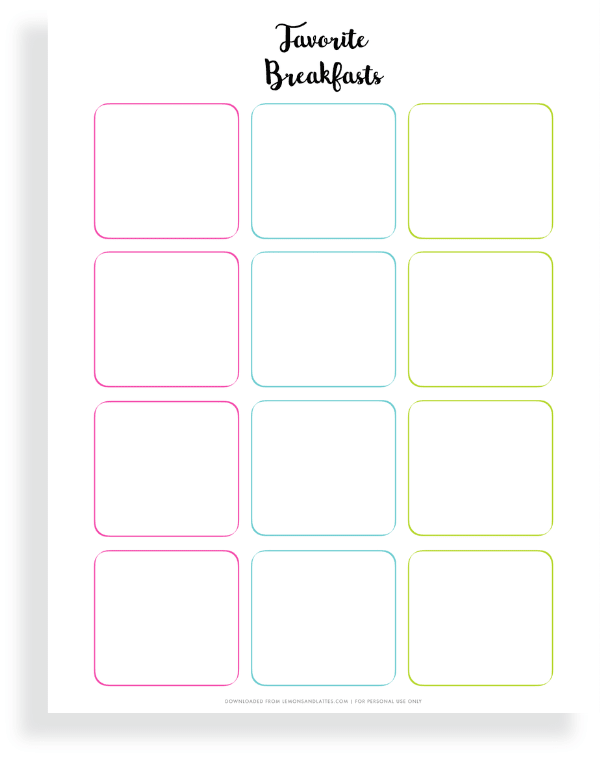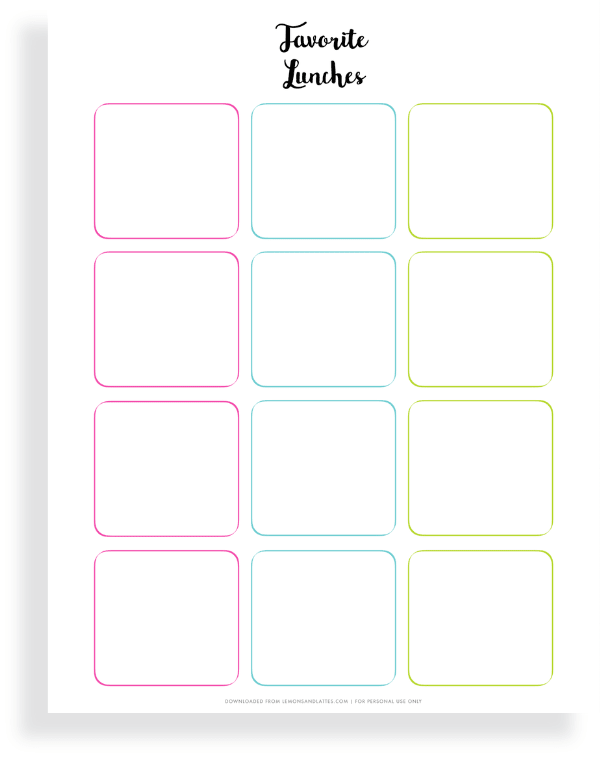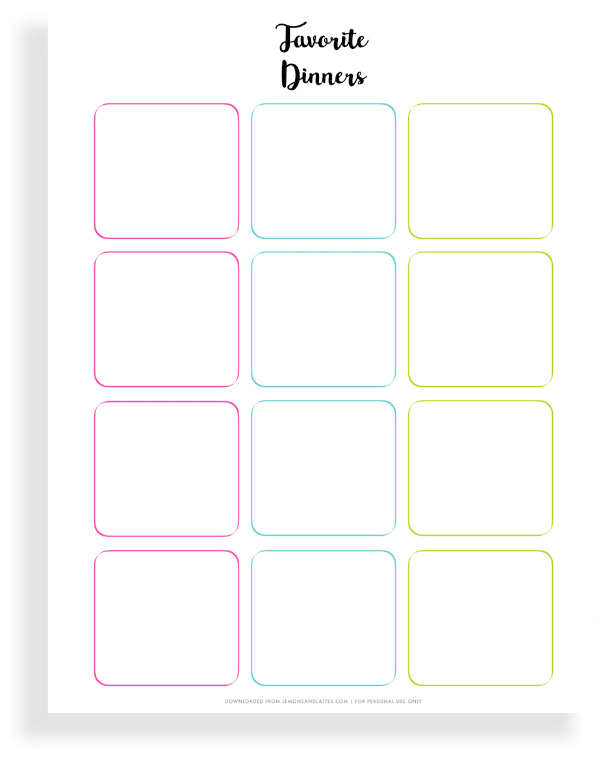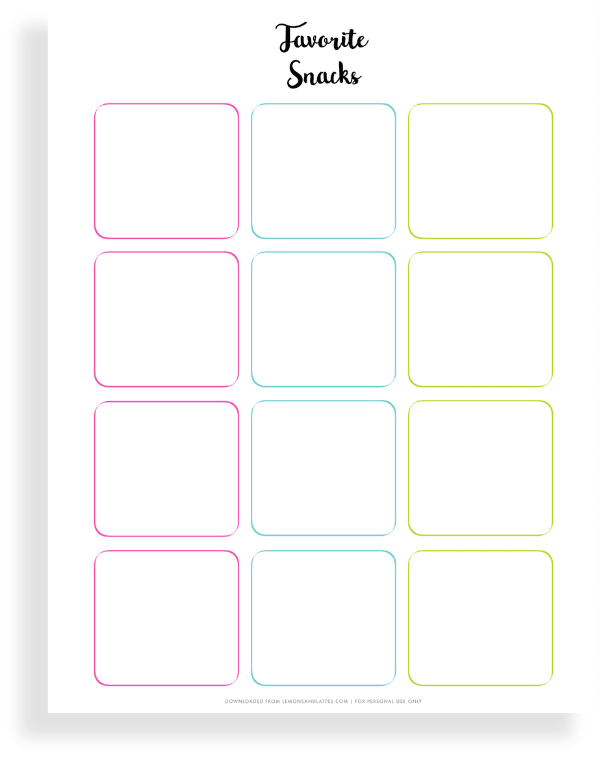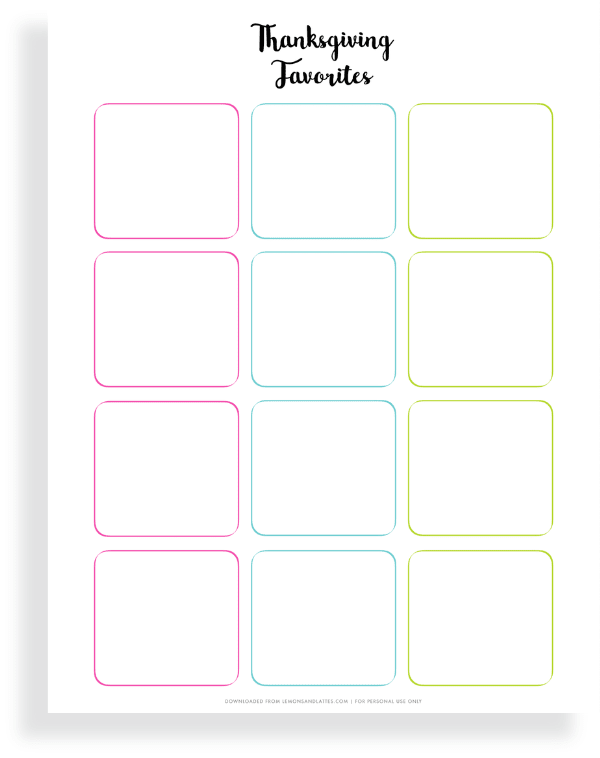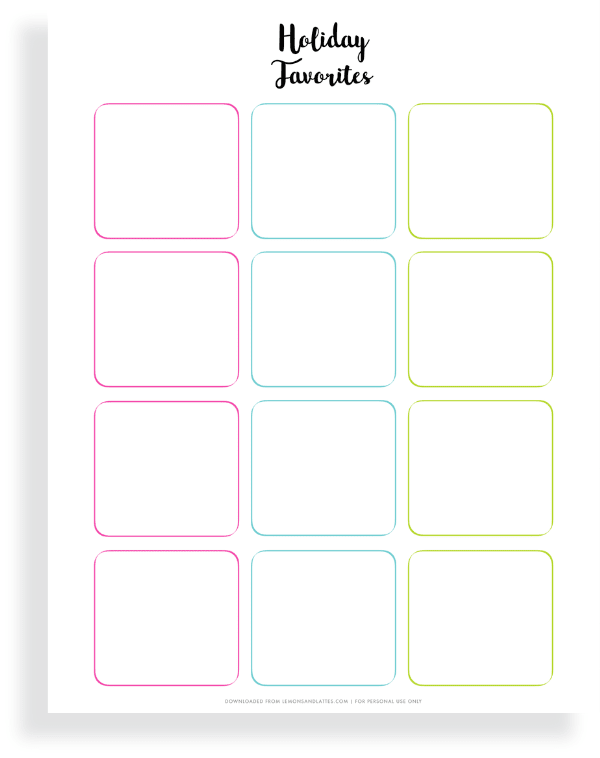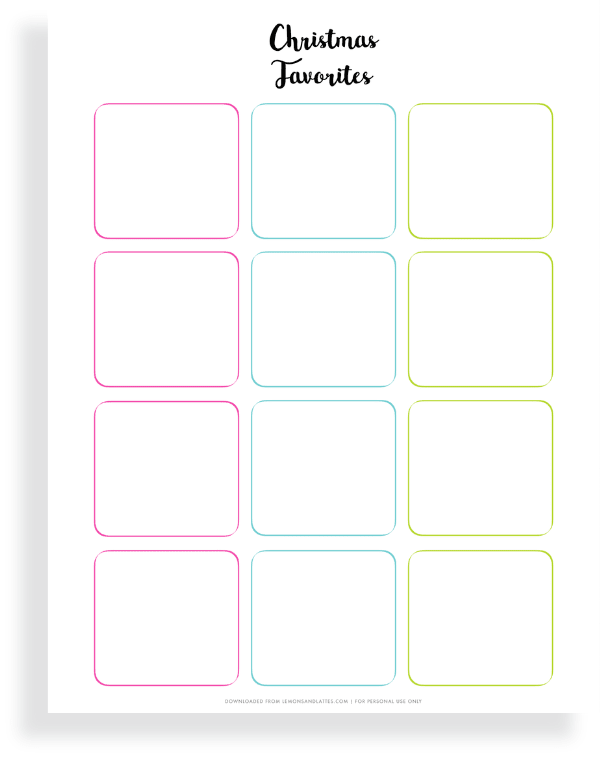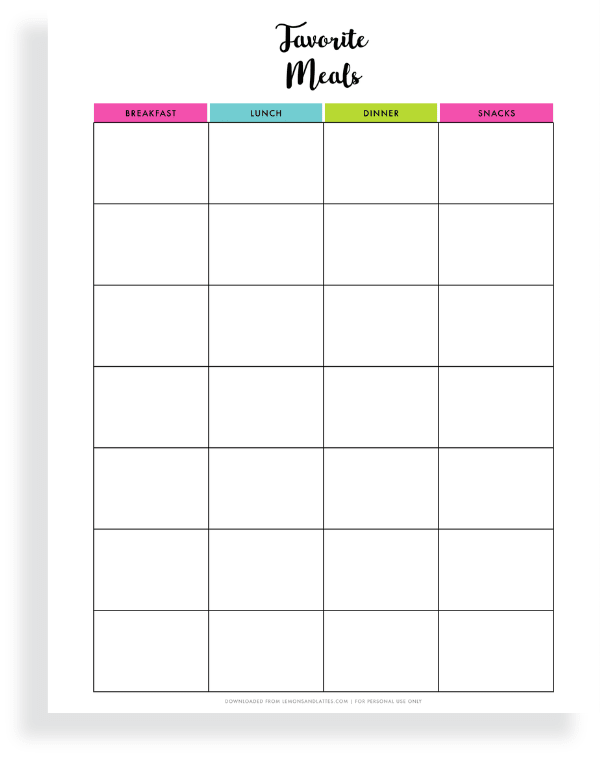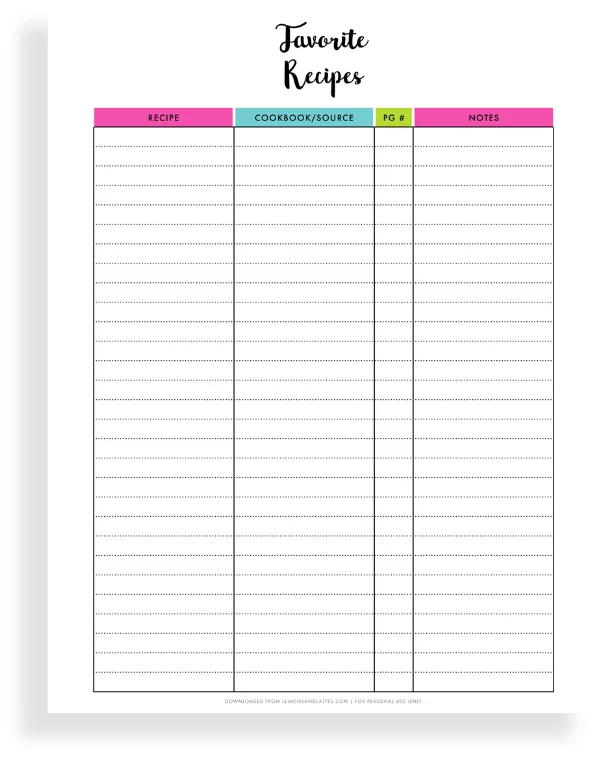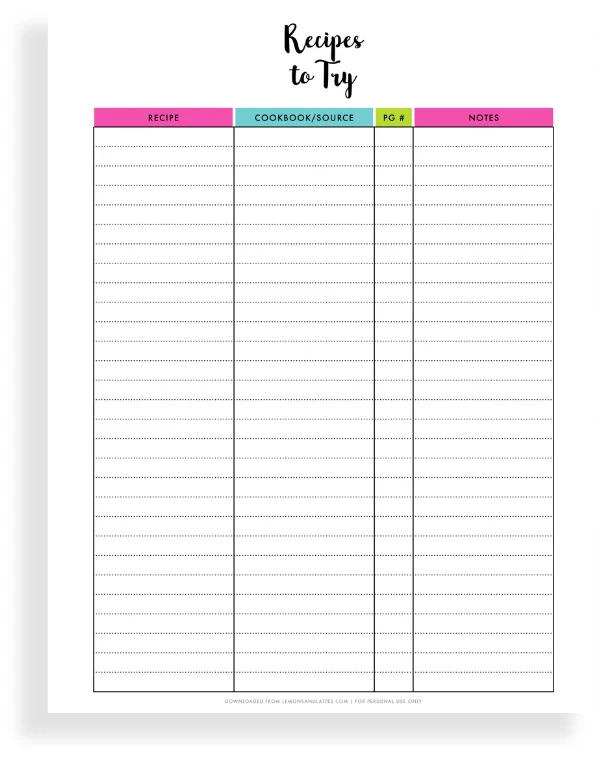 Free monthly meal planner template
If you would rather plan your dinners a month at a time, print this meal planner calendar printable. It's undated, so you never have to worry about it expiring.
If you're new to meal planning, you not think you would ever want to plan an entire month of meals at once. But – once you start filling up those "favorite meals" sheets, it's easier to do than you'd think!
There's also a notes section at the bottom if you need it.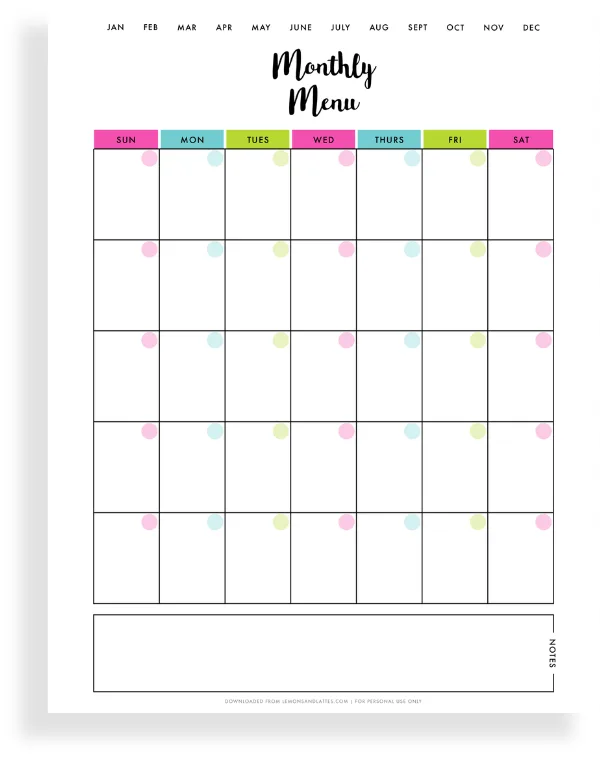 No fast food challenge
If you're trying to cut back on fast food, that's exactly what this planner was designed for. Print this challenge any time you need to take a break from eating out.
There's also a place for your to write in your exceptions, motivation, and notes.
This is the perfect challenge to stat with if you're new to meal planning and are trying to eat at home more. It gives you a little extra boost of motivation.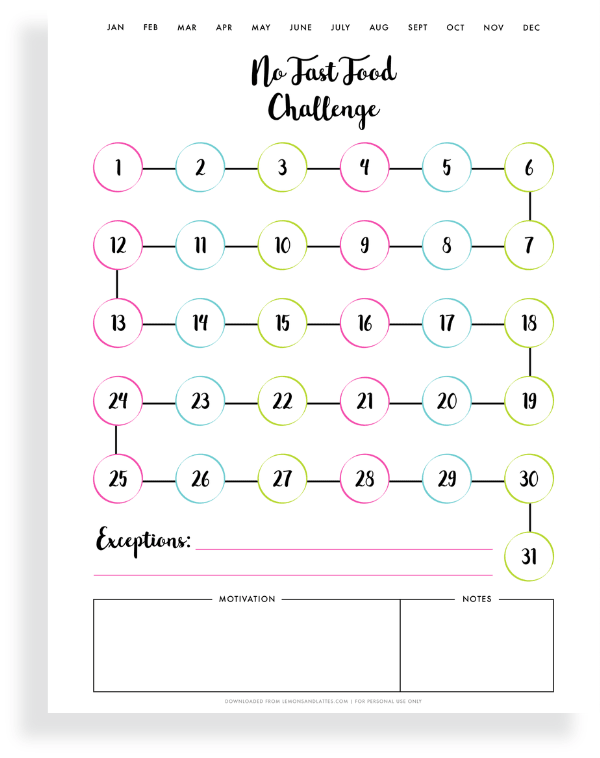 Themed dinner nights
In the tips section, I mentioned using themed dinner nights as a trick to try if you're struggling to make a decision on which meals to pick. I've included a printable with a list of 28 dinner theme ideas for each day of the week.
This is meant to be a starter list to get you thinking. If you like the idea of meal planning by theme, I urge you to start your own list of meal planning themes.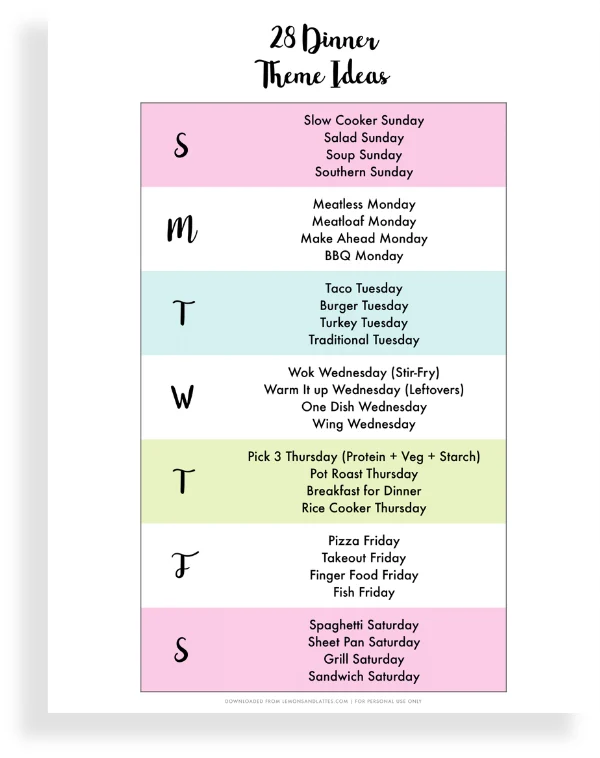 ---
Help other moms get organized by pinning these cute meal planner printables to your favorite board!
Meal planning can help you save time and money, as well as eat healthier. These printables are perfect for anyone who prefers cute templates over notebook paper!