This post may contain affiliate links. Please read my disclosure for more info.
Trying to keep your family fed and happy can be a full-time job.
Meal planning can help take some of the stress out of dinnertime by giving you a roadmap for the week ahead.
Below you will find 19 free and cute meal planner printables to help keep your family organized!
Quick tip to save on ink when you're using meal planning printables
As someone who loves printables, I completely understand the frustration of going through so much ink.
It feels like every time you turn around, you're printing off another batch of templates.
Laminating your printables is an easy way to make your ink last a lot longer. You don't need any fancy machines to do this. Self-laminating sheets make this very easy to do. All you'll need is a dry-erase marker to reuse them.
Not only will you save money on ink, but you'll also be able to use your weekly menu templates over and over again.
Sale
Benefits of meal planning
Before you start printing, let's talk about some of the reasons why it's beneficial to plan your weekly meals.
It saves you time
How many times have you opened the fridge after a long day, having no idea what you were going to make for dinner? (And, of course, no one else knows what they want either.)
Does it often result in you giving up and ordering pizza?
When you have a plan for what you're going to eat for the week, you don't have to spend time and energy each time day digging through your kitchen trying to figure out what to make.
Meal planning also reduces stress
Meal planning can take a lot of the daily decision-making off of your plate (pun intended), which can reduce stress and make life easier. Much easier.
It helps you avoid the fast food lines and save money
If you know what you're going to make ahead of time, it's much less likely that you'll find yourself in the drive-thru line.
You're also less likely to make impulse purchases at the grocery store if you know what you need to buy before you go.
Meal planning helps you eat healthier
Meal planning is especially helpful if you're trying to lose weight or feed your family more nutritious meals in general.
Since you'll be eating at home, you'll be avoiding a lot of the unhealthy convenience foods that are often high in calories and sodium and low in nutrients.
Meal planning helps you avoid food waste
When you are in control of making your own meal plan, you can plan to eat the foods you already have at home that you may have otherwise let go to waste.
Tip: If you're not sure what you can make with the ingredients you already have at home, check out Supercook. It's a free resource that can help you find meal ideas based on the ingredients you have at home.
Related: Kitchen Inventory Sheets for Ultimate Organization
Tips for successful meal planning
Whether you're new at meal planning or you've tried it before with mixed results, here are a few golden nuggets I've learned through my own trial-and-error to help make your meal planning efforts successful.
Start small
One common misconception about meal planning is that you have to plan every single meal for an entire week (or month) in advance.
This is just not necessary or realistic for most people. Instead, start small.
Instead of planning every meal for every day, maybe you can start with the meal that stresses you out the most. For most busy families, that's going to be dinner.
You also don't have to assign a day to each meal if you don't want to. You can simply pick out 7 dinner ideas for the week, buy your ingredients for those meals, and then pick and choose depending on which one you're in the mood for.
Track your family's favorite meals
A favorite meals tracker was one of the first meal planner printables I ever created (you can print one of these below) and definitely one of the most useful.
Do you ever just "go blank" when you sit down to plan out your meals?
Having a list of favorite meals to pull ideas from really is a game-changer and can help you keep the meal planning process fast and easy.
Creating your own list is really simple. All you need to do is set aside a few minutes to brainstorm the meals you already know your family enjoys. That's your starting point.
Then, whenever you try something new and it's a huge hit, be sure to add it to your list/tracker.
Think of this sheet as a running list that you'll probably always be adding meals to.
If your list starts to get too big, you can always organize it by category or theme.
Be realistic with your time
If you want meal planning to work for you, you have to keep it realistic, especially when it comes to your time.
And how do you do that? By being honest with yourself.
How much time do you have to spend on cooking and preparing meals?
Not only that. How much time are you willing to spend on cooking and preparing meals?
You may not want to plan Grandma's homemade all-from-scratch lasagna (even if everyone loves it) if you have a busy family and you need to have dinner on the table in 30 minutes or less.
Try not to plan for meals you know you won't make or that will take way too long to cook when you're short on time. No matter how delicious they may look on Pinterest!
Organize your favorite recipes (so that you can find them quickly)
Ever head to the kitchen to make something and then *suddenly* the very recipe you need is nowhere to be found? Which Pinterest board did I save that to again?
Getting organized and keeping all your favorite recipes in one place is essential. Most of us don't have time to waste going on a wild goose chase for a certain enchilada casserole recipe. Do you feel me?
One way to do this is by creating a recipe box. You can certainly do this by buying a recipe box and writing your favorite recipes on cards. My mother-in-law gifted me one of these for Christmas one year and I love it!
If you're not a fan of pen-and-paper and you'd rather access everything straight from your phone, another option is to create a digital family recipe box with an app like the Cozi Family Organizer.
With Cozi, you can:
Import recipes from a specific URL or add your own
Create a shared family calendar
Create shopping lists
Make to-do lists
& more!
👉 Sign up for your free Cozi account
Try something new each week
Until you've built up a decent list of favorite meals, try planning one NEW recipe every week or two.
This will prevent you from getting bored and falling back into the fast food trap.
Eventually, you'll have several new family-approved meals to rotate.
Best places to find new recipes?
I really like $5 Meal Plan. It's an inexpensive meal planning service that sends you a new meal plan and shopping list each week.
The recipes are budget-friendly, easy to make, and (most importantly) they're family-friendly.
Try $5 Meal plan for free by clicking here.
If you're not interested in signing up for a meal planning service, there are always endless recipes to try that you can find on Pinterest.
If you're a fan of chicken recipes, here are 70 easy recipes you can make with rotisserie chicken from the grocery store. Many of them can be made in 30 minutes or less.
Try planning by theme
What if you have a list of tasty meals to make, but your problem is you just can't decide what to pick and which day to assign it to?
Planning by theme can help you speed up the process.
Dinner themes or "theme nights" help to narrow down your options for each day, making it much easier to pick something and move on.
Some example themes include:
Taco Tuesday
Pizza Friday
Soup & Sandwich Monday
Slow Cooker Sunday
Leftovers Wednesday
There's a printable with more examples for each day of the week below.
Meal prep when you can
Meal prepping can save you a ton of time during the week.
And that doesn't necessarily mean you're prepping full-blown meals (although you can definitely do that if you want to).
For me, meal prepping can mean anything from preparing snacks for my kids to take to school for the week, pre-chopping fruit and veggies for the fridge, or freezing meals to make ahead of time so that I have one less thing to worry about later during the week.
Cook once, and eat twice to save time
Another trick you can try is doubling a recipe and having that for dinner two days in a row. I realize this tip isn't for everyone as some people do not enjoy leftovers.
However, if you don't mind leftovers now and then, and if it's something your family loves to eat (like vegetable beef soup for mine for example), it should be no problem.
If you have picky eaters that don't like to have the same thing two days in a row, you could do this for the main dish and have a different side with it the next day so that it's not completely the same!
Now for the cute meal planner printables
There are several meal planning templates below – all with cute cursive fonts for the headings and just the right amount of color.
Keep in mind that you don't have to use them all. Print out the ones that suit your needs the best.
Printable weekly meal planner template with snacks
A meal planner can be a helpful tool if you're trying to eat healthier or save money on your grocery bill. But often, meal planners will only include space for breakfast, lunch, and dinner.
If you're someone who likes to plan snacks or you're using the meal planner as a food tracker, you'll need a place on the template to jot down snacks in addition to your main meals.
This weekly meal planner includes space for breakfast, lunch, dinner, and snacks as well.
And, of course, you can choose the Sunday start or the Monday start, depending on your preference.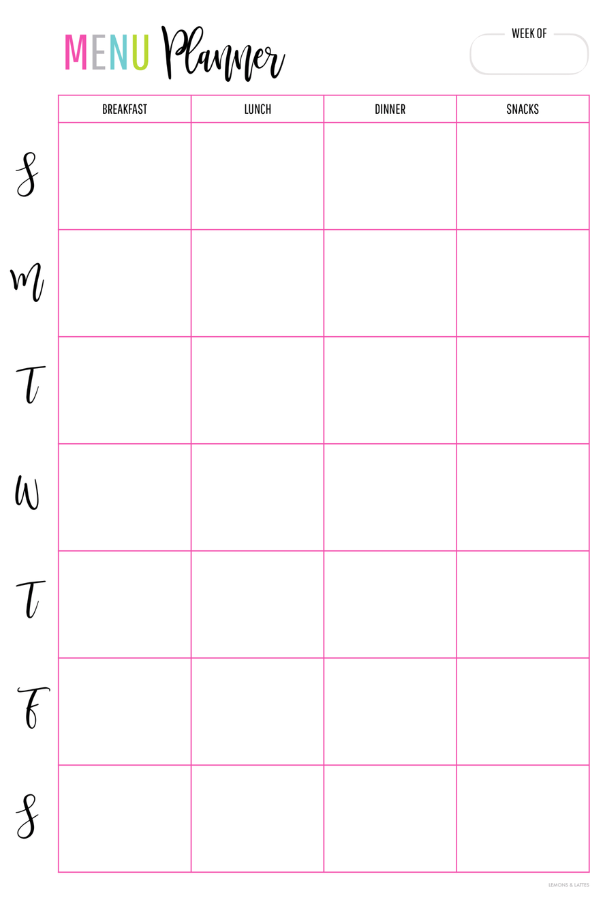 Download the printable weekly meal planner with snacks – Sunday start.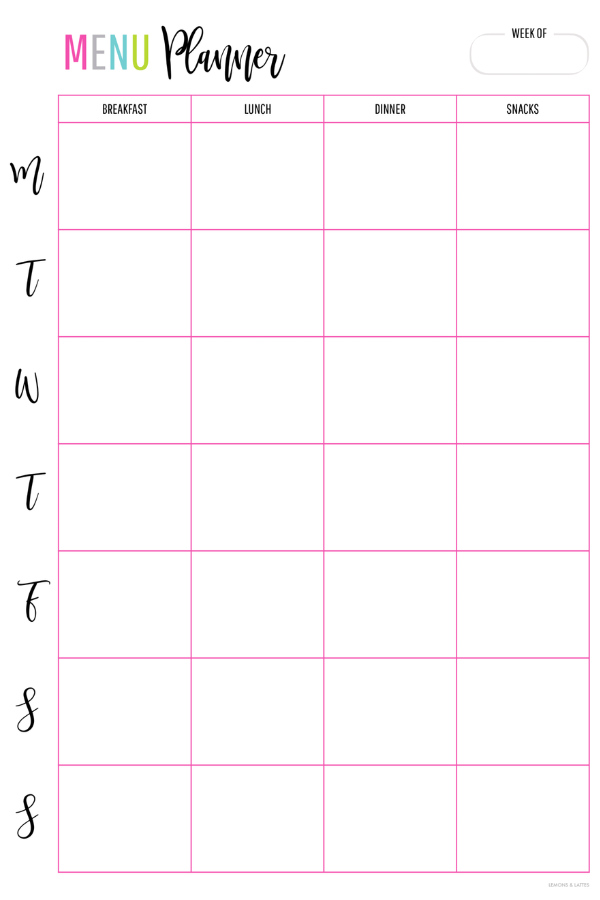 Download the weekly meal planner with snacks – Monday start.
Weekly meal planning template with snacks – Pink, blue, and green
This template is similar to the previous ones. The main difference is the design, the days of the week are on the right side, and there is no specific place for writing the date.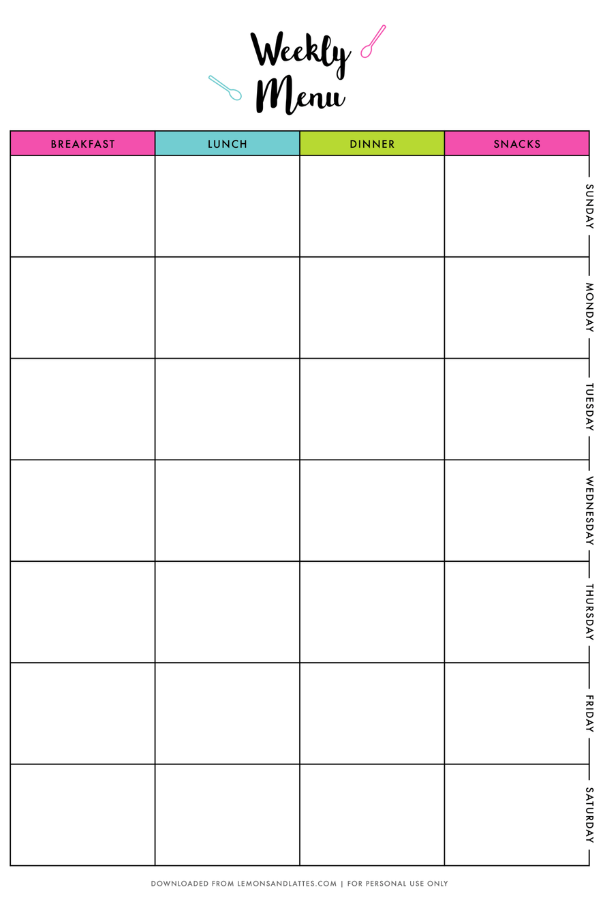 Download the Sunday start here.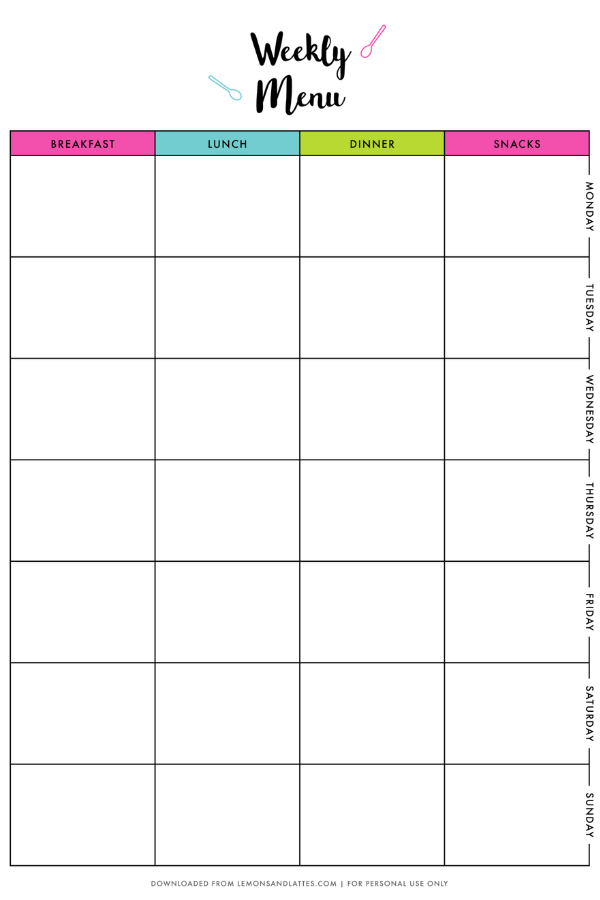 Download the Monday start here.
Weekly meal planner with grocery list template
A printable weekly meal planner with space for making a grocery list is another useful template to have. It's my favorite for planning dinners only.
This design makes it super easy to get a grocery list together because you can jot down the ingredients you need as you're planning your meals for the week.
It has everything you need all in one place: space for each day of the week and a large writing area where you can make your shopping list.
And once you're finished, grab some scissors and cut off your grocery list, and head to the store. Or – open up your grocery shopping app if you're like me.
With this dinner menu for the week template, you also have the choice of printing a Sunday or a Monday start.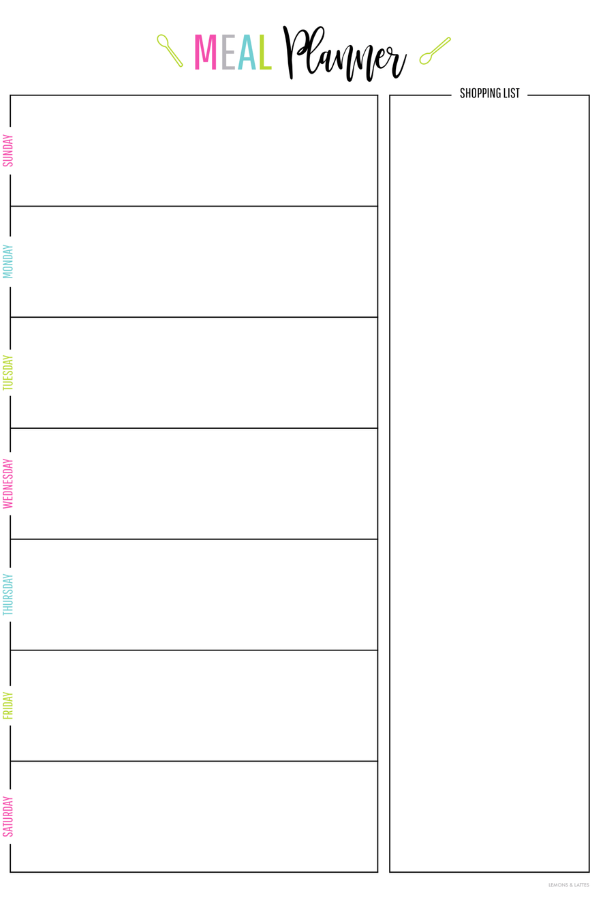 Download the weekly meal planner with grocery list – Sunday start.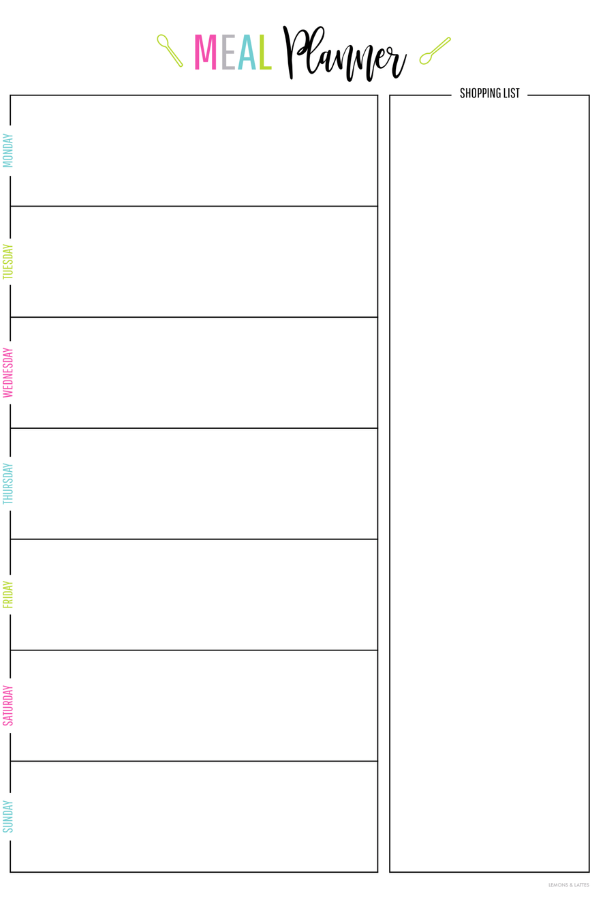 Download the weekly meal planner with grocery list – Monday start.
Cute meal planner printable with shopping list – Pink, blue, and green
This meal planner was designed so that when you sit down to write out your meals for the week, you can quickly add them to your shopping list as you go along.
There's also a dotted line that separates the menu from the grocery list. Cut along this line once you are finished, take the list with you to the store, and stick the menu on your fridge.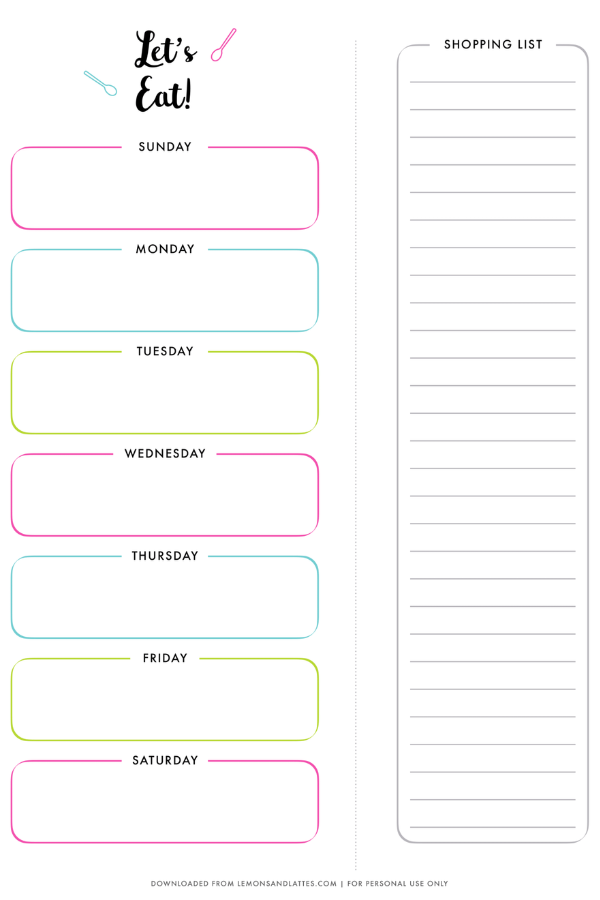 Download the Sunday start here.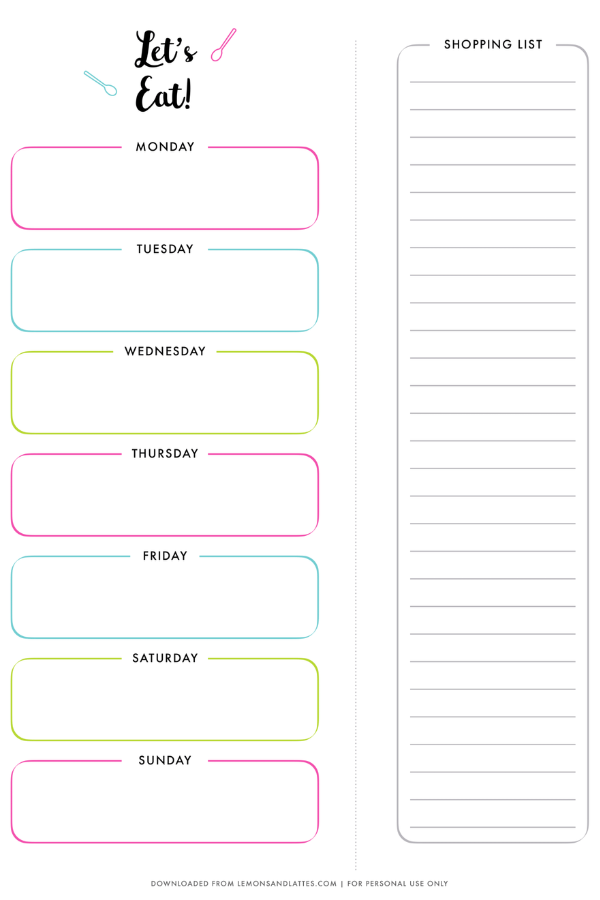 Download the Monday start here.
Family favorite meals sheets
When I mentioned tracking your family's favorite meals in the tips section, here is a printable you can use for this. With this one, you can track your favorite breakfasts, lunches, dinners, and snacks on one sheet. Print as many sheets as you need.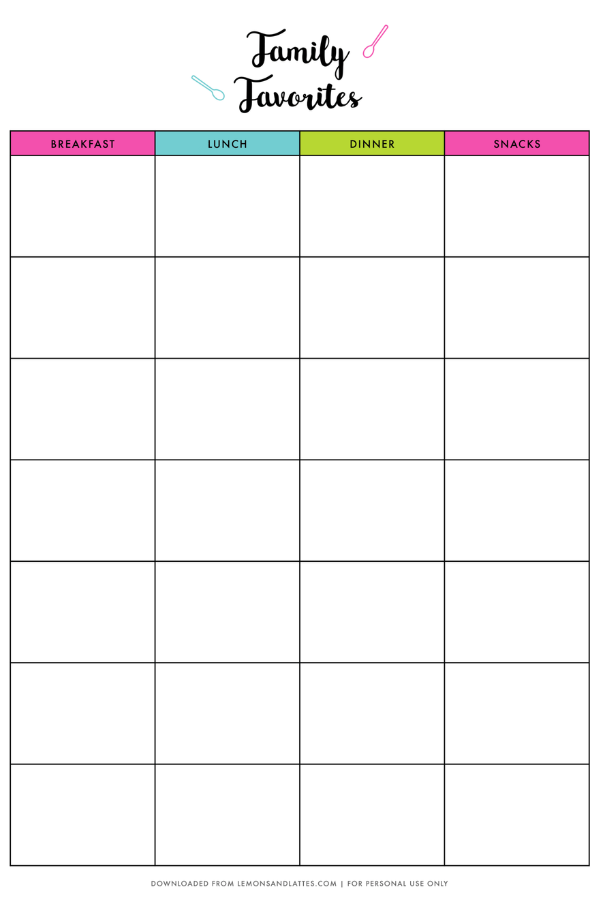 Download the family favorite meals sheet here.
Cute meal planner printables for tracking and brainstorming favorite meals
These sheets are also helpful for tracking or brainstorming your family's favorite meals. There's a sheet for breakfasts, lunches, dinners, and snacks.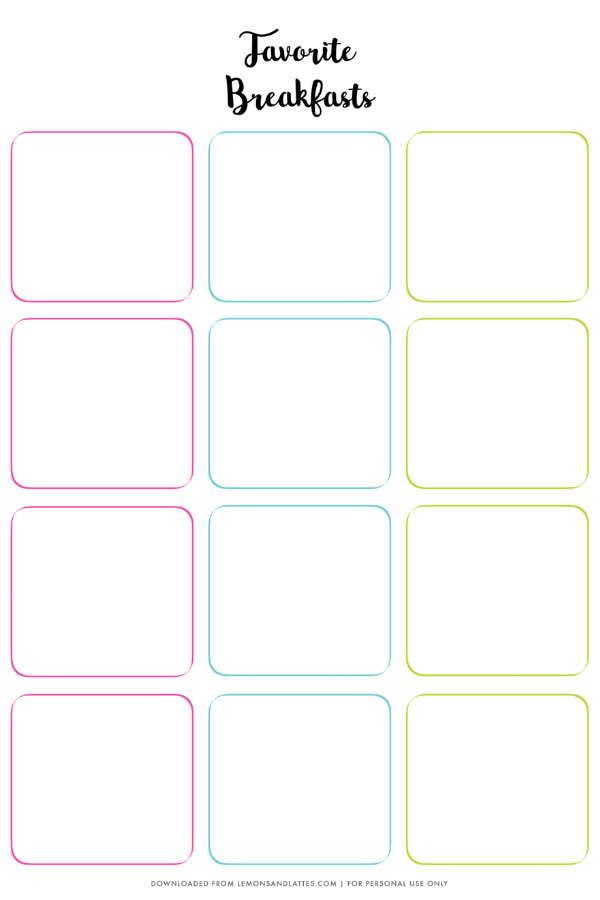 Download the favorite breakfasts meal planning sheet.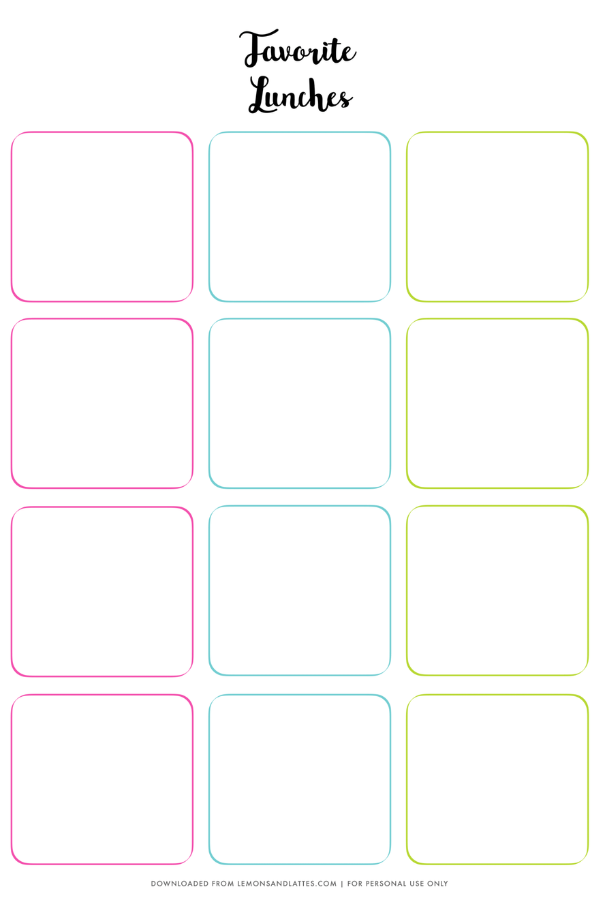 Download the favorite lunches meal planning printable.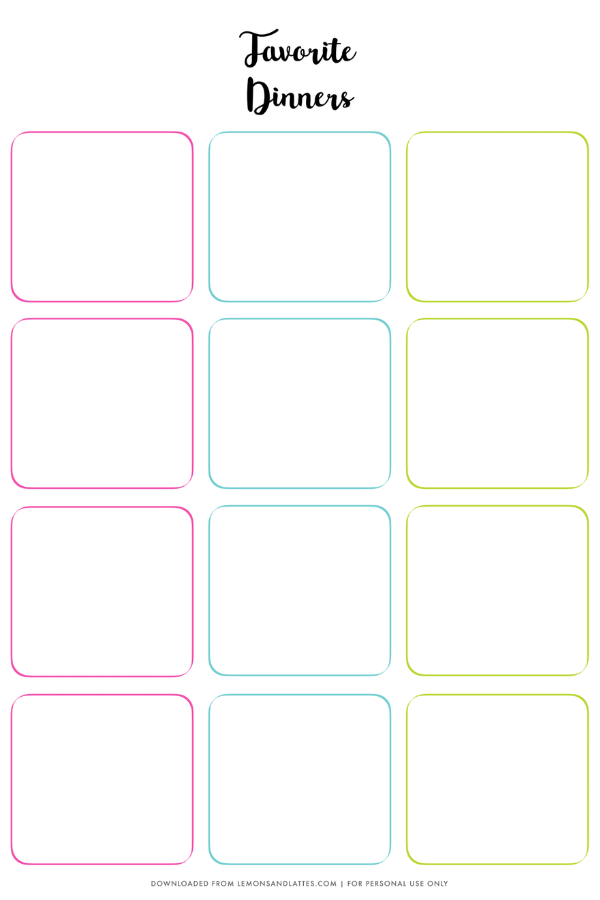 Download the favorite dinners meal planning template.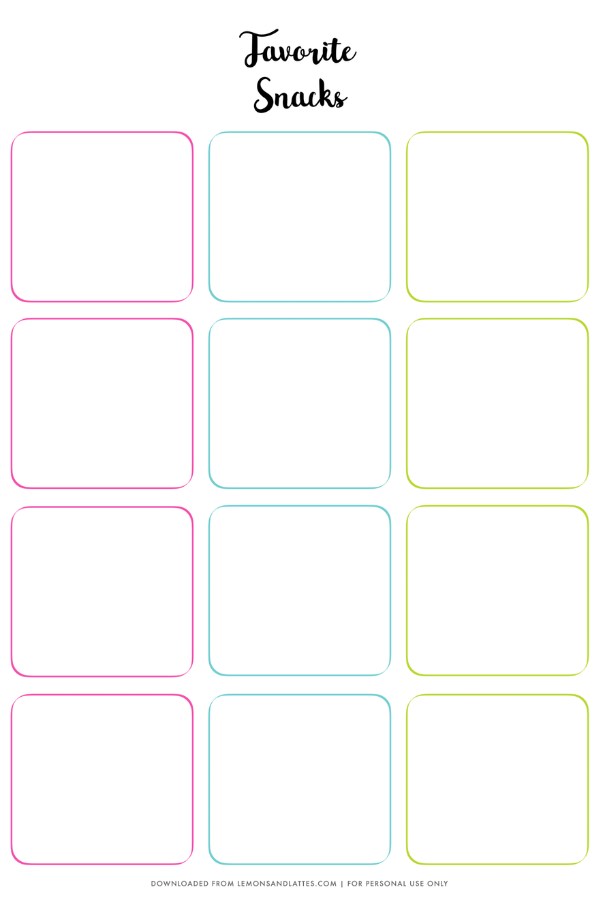 Download the favorite snacks brainstorming sheet.
Favorite recipe organizer printable
The purpose of this printable is to help you quickly locate your favorite recipes – whether that's in a cookbook, on a Pinterest board, etc.
This can be a handy sheet to have in your meal planning binder if you haven't created your own recipe box yet.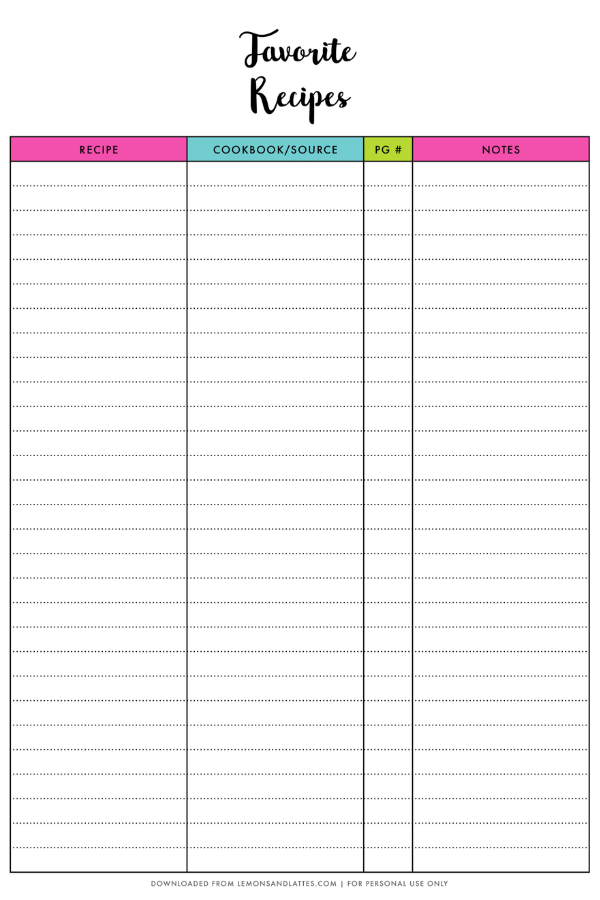 Download the favorite recipes organizer here.
Grocery list printable
If you still like to make your grocery lists on paper, this printable is categorized to help you gather all your supplies and ingredients quickly. There is a lined version and a template without lines, so pick the one that works for you.
If you have an iPad, you can also import it into GoodNotes. Then, write your list there and send a screenshot to your phone if you wanted to save your ink!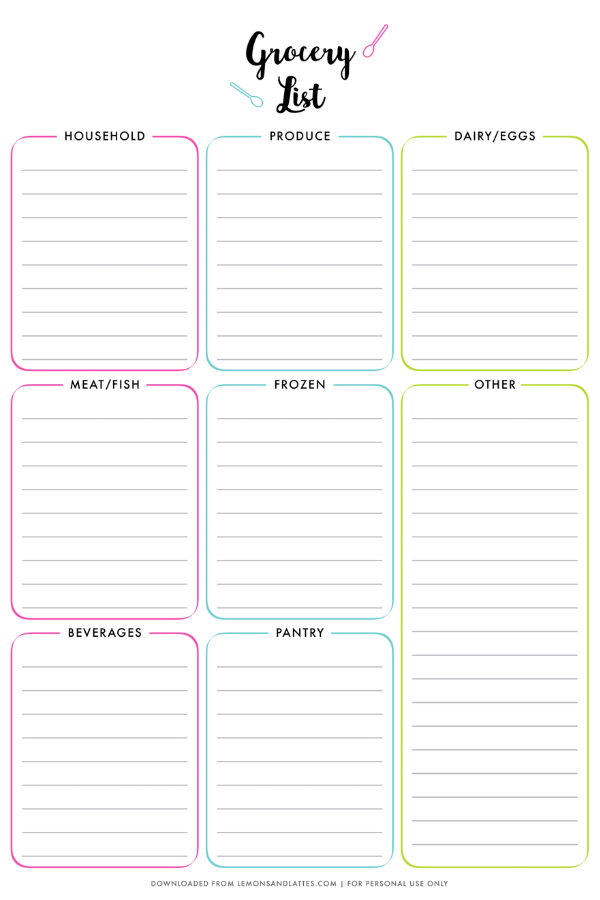 Download the grocery list with lines here.
Download the shopping list without lines here.
Free monthly meal planner template
If you would rather plan your dinners a month at a time, print this meal planner calendar printable. It's undated, so you never have to worry about it expiring. There's also a notes section at the bottom if you need it!
Download the free monthly meal planner template here.
No fast food challenge
If you're trying to cut back on fast food, that's exactly what this planner was designed for. Print this challenge any time you need to take a break from eating out.
There's also a place for your to write in your exceptions, motivation, and notes.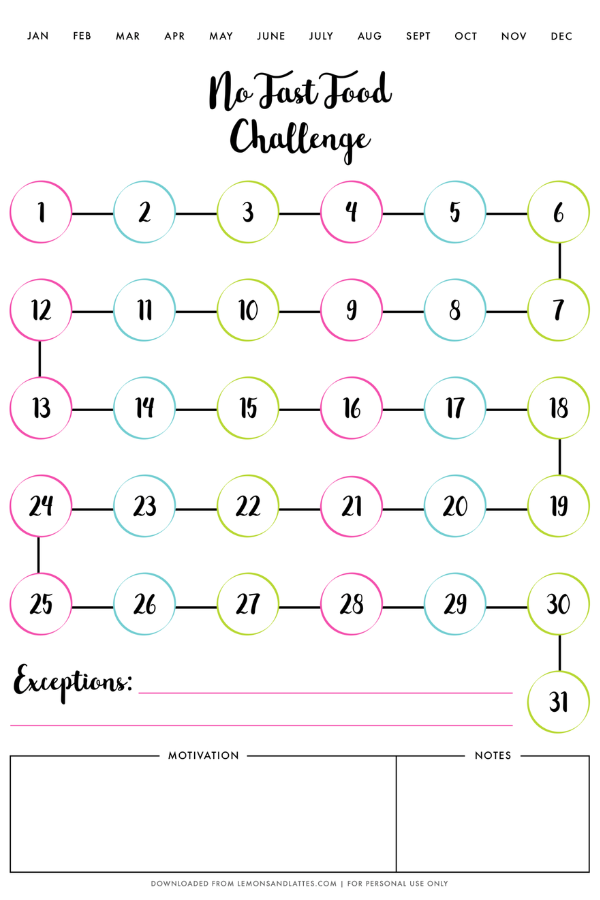 Download the no fast food challenge printable here.
Themed dinner nights
In the tips section, I mentioned using themed dinner nights as a trick to try if you're struggling to make a decision on which meals to pick. This printable includes 28 dinner theme ideas for each day of the week.
This is meant to be a starter list to get you thinking. If you like the idea of meal planning by theme, I urge you to start your own list of meal planning themes.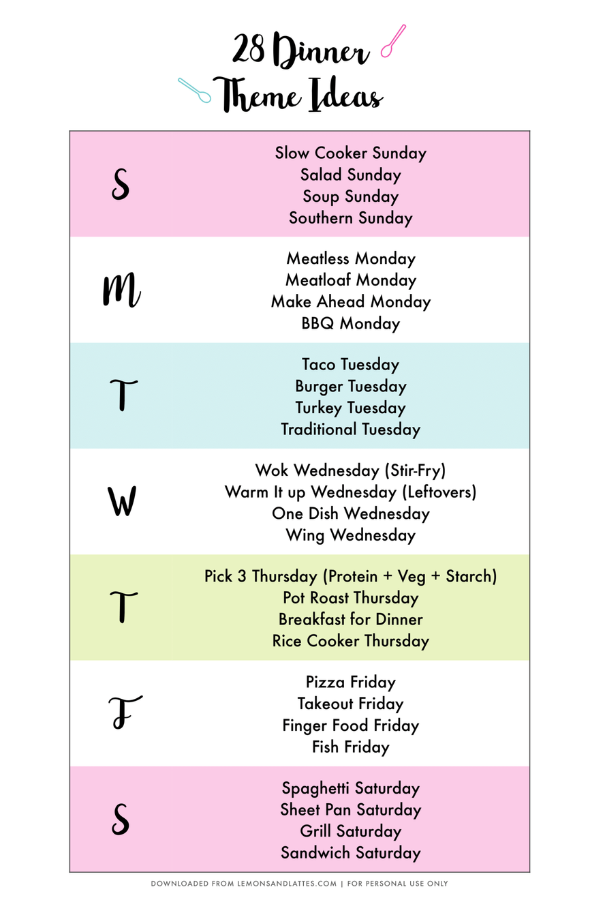 Download the 28 dinner theme ideas list here.
---
Help other moms get organized by pinning these cute meal planner printables to your favorite board!
Meal planning can help you save time and money, as well as eat healthier. The printable weekly meal planners we've provided are perfect for anyone who wants to be more organized with their eating.
And if you're looking for a more in-depth solution, consider checking out one of the bundles mentioned above.