This post may contain affiliate links. Please read my disclosure for more info.
Do you ever feel like no matter how much cleaning and organizing you do, there's STILL clutter everywhere? These declutter checklist printables will help!
Cluttered spaces can manifest themselves in a variety of ways such as having random items scattered across your countertops.
Or closets full of clothes you haven't worn in 2 years.
OR even a cabinet full of glasses and mugs you never use and probably will never use.
It can be overwhelming to know where to start, but a decluttering list can be a helpful tool to simplify the process.
This list includes 100 things to get rid of to help you get started!
Why is decluttering your home important?
But first – why is decluttering get so much attention in the first place?
Not only does physical clutter cause our homes to be messy, but it also affects us on a deeper level.
It can be incredibly overwhelming and stressful when you're digging and searching for something that you cannot find. (Those junk drawers are the worst!)
It's also not the best feeling to walk into a messy room.
This may cause a lack of motivation and inspiration when it comes to other aspects of life as well.
Clutter affects our stress levels, our ability to focus, and can even make us more likely to make unhealthy eating choices (source).
Also, when your home is cluttered, it may feel like nothing can be organized. I mean, there are only so many ways you can stack a bunch of boxes or other things you've crammed into your closet, right?
Having fewer items makes keeping a tidy house considerably easier.
(Pssst… Do you struggle to keep your home clean and organized? Here's a simple solution!)
How to start decluttering when overwhelmed
Decluttering your home may feel impossible.
When we declutter, we often feel like we're throwing away precious memories and treasured belongings that can never be replaced.
But decluttering doesn't have to be so scary!
Here are two very important tips to remember when you're feeling overwhelmed by the tasks in front of you:
Start small. Pick one room and one task and start there.
Take your time. Decluttering doesn't have to be done all at once! Breaking the process down into manageable chunks so that it's less overwhelming is key.
Once you finish up a room, move on to the next, and then rinse and repeat.
Before you know it, your entire home will be clutter-free.
Questions to ask yourself to make decluttering easier
Does your mind come up with all sorts of excuses to keep an item when it's time to decide whether to toss or keep it?
There are a few questions you can ask yourself to make the decision a tad bit easier.
If you can honestly answer no to the majority of these questions, then your best bet is most likely donating, recycling, or selling.
Do I actually like this?
Have I worn or used this item in the past year?
Is it useful or is it just a waste of space?
Do I (truly) have any plans to utilize this item in the near future?
Is the value of this item worth fixing if it's damaged?
Would I purchase this again?
100 Things to get rid of now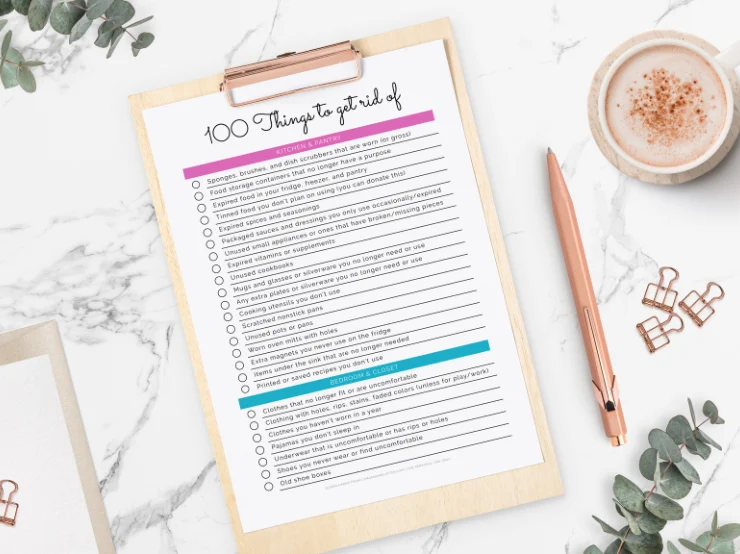 Most people tend to overthink what they need when it comes time to declutter.
If you've been wanting to declutter your home but you struggle to find that perfect starting point, this declutter list will help you gain some momentum.
Here's an easy list of 100 things to get rid of.
Things to declutter in the kitchen and pantry
1. Sponges, brushes, and dish scrubbers that are worn (or gross)
2. Food storage containers that no longer have a purpose (especially the ones with missing pieces)
3. Expired food in your fridge, freezer, and pantry
4. Tinned food you don't plan on using (you can donate this)
5. Expired spices and seasonings
6. Packaged sauces and dressings you only use occasionally or are out of date
7. Unused small appliances you don't use or have broken/missing pieces (Do you really need 3 coffee makers?)
8. Expired vitamins or supplements
9. Unused cookbooks
10. Mugs and glasses you "just don't like" to drink out of
11. Any extra plates or silverware you no longer need or use
12. Cooking utensils you don't use
13. Scratched nonstick pans
14. Unused pots or pans
15. Worn oven mitts with holes
16. Extra magnets you never use on the fridge
17. Items under the sink that are no longer needed
18. Printed or saved recipes you don't use
Bedroom/closet
19. Clothes that no longer fit or are uncomfortable to wear
20. Clothing with holes, rips, stains, or faded colors (unless they still serve a purpose)
21. Clothes you haven't worn in a year
22. Pajamas you don't sleep in
23. Underwear that is uncomfortable or has rips or holes
24. Shoes you never wear or find uncomfortable
25. Old shoe boxes
26. Discarded gift wrap and bags
27. Unused purses/handbags/wallets
28. Old backpacks that are no longer used
29. Bridesmaid/old prom dresses
30. Jewelry you no longer wear/like
31. Earrings without matches
32. Old belts and ties that are broken or bent beyond repair (or missing a buckle)
33. Ripped or frayed bedsheets/pillowcases/blankets
34. Nightstand clutter
35. Kids' toys that are no longer played with or are broken
36. Games and puzzles with missing pieces
37. Sheets that no longer fit (maybe you upgraded to a larger bed recently?)
Laundry room
38. Empty detergent bottles or other containers
39. Old or broken laundry baskets that you no longer use
40. Unused dryer sheets or fabric softener
41. Socks that do not have matches
Things to get rid of in the living room
42. Old remote controls
43. Old entertainment center items (DVD players, video game consoles)
44. DVDs, CDs, or video games you no longer use
45. Outdated decor and furniture with no sentimental value and doesn't match your style anymore
46. Coffee table books or magazines that are not read
47. Extra coasters
Bathroom
48. Expired makeup you've had forever
49. Empty product bottles
50. Hair styling tools you never use
51. Old contact lens cases
52. Dried up nail polish
53. Old nail files
54. Plastic shower caddies with missing pieces
55. Expired medicine or vitamins
56. Any old prescriptions that are out of date (contact your doctor if needed to see how you can safely dispose of them)
57. Old towels and washcloths that have tears, stains, faded colors, or do not match the rest
58. Old toothbrushes (replace every 3-4 months!)
59. Cleaning supplies you never use
60. Perfumes or body sprays you don't like or use
61. Old bath mats that are not being used
Garage/basement/outdoor
62. Exercise equipment you no longer use
63. Holiday decorations you never put up
64. Boxes you are storing random items in that do not have a home or use anymore
65. Toys and sporting equipment not being used
66. Garden tools that are dull or rusty
67. Ladders no longer in use, with missing pieces/broken parts
68. Paint supplies left over from a past painting project that have dried up or are out of date
69. Umbrellas that are damaged or broken
70. Tools you never use (or can't remember where they came from)
71. Tools in need of repair and have been sitting around for a while collecting dust (and cobwebs)
72. Storage containers with missing pieces or no lid is left behind after tossing the contents out
Office/paper items to declutter
73. Expired coupons
74. Old utility bills (or duplicate copies)
75. Unopened mail
76. Junk mail and flyers
77. Old notebooks
78. Out-of-date calendars, planners, and organizers
79. Expired warranties
80. Old greeting cards (unless they are special to you)
81. Empty folders that serve no purpose
82. Misc. piles of paperwork cluttering your desk
83. Pens and markers that no longer work
84. Old restaurant menus
Misc. items to declutter
85. Books you will never read again
86. Old textbooks from college
87. Old phone cases
88. Old phones and/or other unused or broken electronics
89. Useless power cords
90. Broken crayons and other art supplies
91. Old product manuals
92. Old business cards
93. Old or unused lightbulbs
94. Lamps that do not work
95. Unused mattresses, desks, or other large items
96. Any throw rugs you don't use and/or like
97. Unused candles and candle holders
98. Dusty knickknacks taking up space
99. Product samples or useless items from events
100. Whiteboards that are not used
Declutter checklist printables
Want a printable version of this list? Click the button below each image to download your free declutter list printable (no signup required)!
You can also grab some free cleaning checklists here.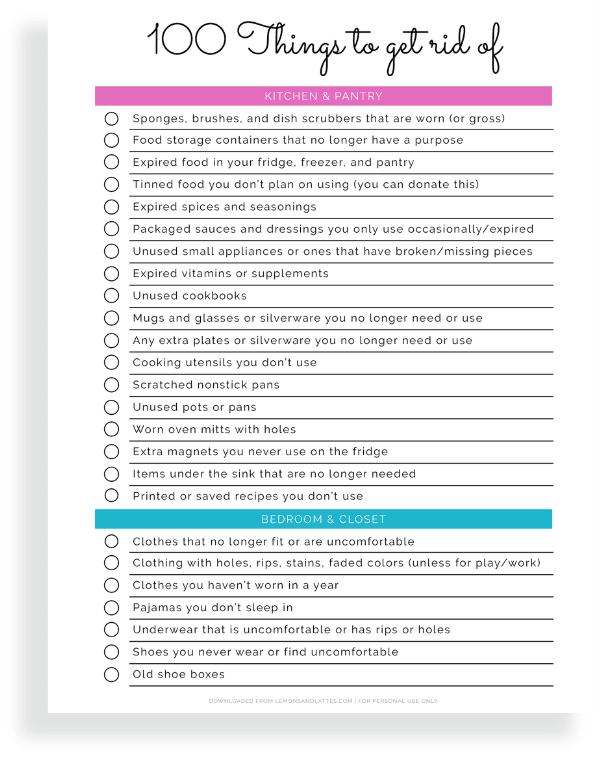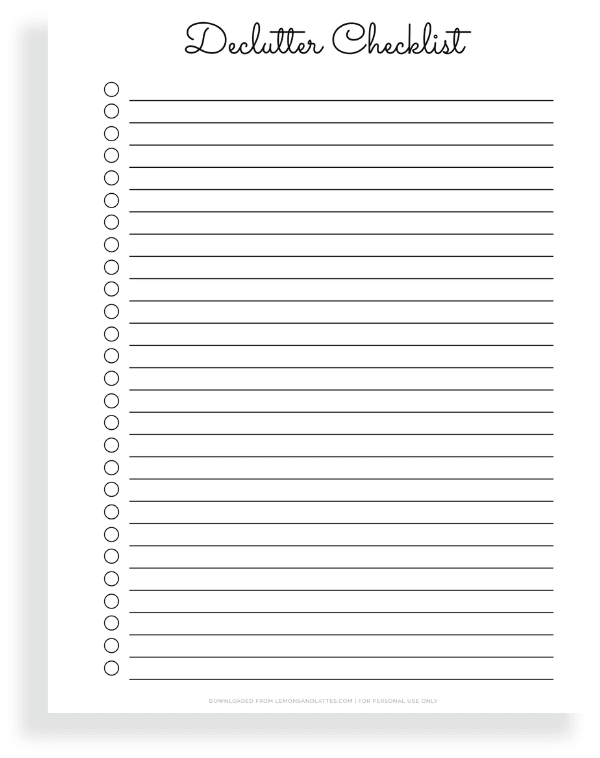 ---
Hopefully, this easy list of things to declutter will give you the starting point you've been looking for!
Decluttering can be overwhelming and time-consuming but it's completely worth the effort in order to create an environment that is more peaceful and relaxing.
Just remember to take it one room at a time and don't think you have to do it all in one day – unless you just want to of course!