This post may contain affiliate links. Please read my disclosure for more info.
Spring is always a popular time of year for deep cleaning your home, and there's no doubt that it provides the perfect opportunity to reset after a long winter.
But if you're not one to wait, you don't have to!
Taking the time to do a deep cleaning of your house at any point throughout the year can bring an incredible sense of accomplishment.
So, if you're feeling inspired and motivated, use this deep cleaning house checklist as your guide – there's also a printable PDF version for extra convenience.
Will I be able to deep clean my house in one day?
Some people want to deep clean their entire house in one day, but that's totally up to you. It will also heavily depend on how much time you have to clean.
Remember, deep cleaning can be a lengthy process.
While it is feasible to accomplish everything in a day or two, please don't feel compelled to do so. It's completely fine if you need to spread out the work over several days!
Do this before deep cleaning your house
Before you jump into the checklist, here are a couple of recommendations before you dive in.
Thoroughly declutter your home before deep cleaning
Before you start mopping or scrubbing away, I highly recommend that you first take some time to remove anything that should be thrown away or donated.
The less overall clutter you have to move around, the easier it'll be to spot how dirty something is or how clean something isn't. Make sense?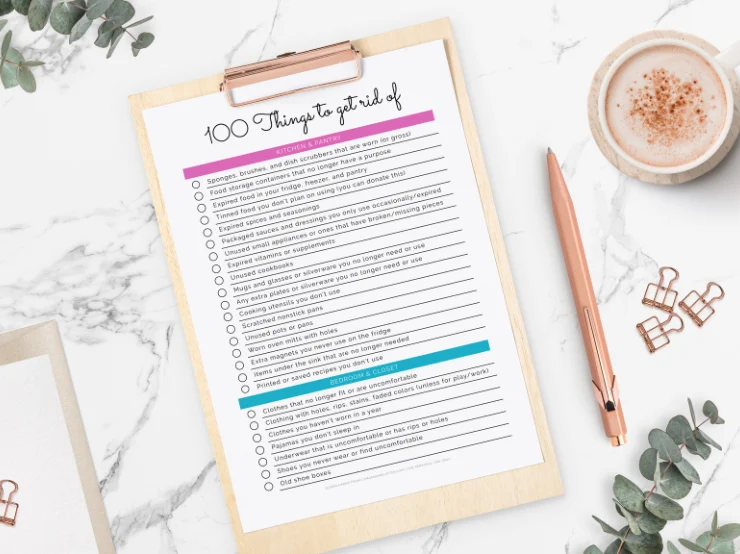 Tackle your basic cleaning tasks next
Next, you may want to do a basic cleaning of your home before you dive into the "deep cleaning" tasks as well.
For example, you may need to put a few things back in their proper places instead of leaving them on counters, tables, shelves, etc.
For more tips on cleaning your house (and staying motivated), definitely read this post before moving on.
The deep cleaning house checklist
Are you ready to get your house looking its best?
Good! This deep cleaning house checklist gives you a (for most of us, much-needed) starting point and will help you stay organized and focused on your efforts.
Grab your supplies and let's get started. This is how to deep clean your house room-by-room.
All rooms (including hallways and entryway)
Vacuum and shampoo carpets/clean wood floors
Cleaning your floors is one of the most important things you can do to keep your home clean.
Start by vacuuming first. Vacuum carpets thoroughly before cleaning them with a carpet cleaner.
This will remove any dirt particles that may be embedded in the fibers of your rug, which would otherwise just get pushed around when you use a cleaning solution.
You should also vacuum hard surfaces like tile or linoleum so they're free from dust and soil as well. This will make it much easier to clean with a mop.
Clean hardwood floors the right way by using a microfiber mop and a floor cleaning solution.
Remember, if you use harsh chemicals on your wood floors, it could strip the finish.
Dust all surfaces
Dust is one of the most important things to remove from your home because it can worsen allergies.
Remember, dust doesn't just sit on top of surfaces, it gets in cracks and crevices too which can lead to a dirty house if you don't clean properly.
Don't forget things like curtains, blinds, etc., especially behind them since that's typically how the dust settles in the home.
Vacuum/clean throw rugs
You may not think of your throw rugs as a place to clean, but they can be a breeding ground for bacteria.
Here are a couple of ways to deep clean your rugs:
If it's on the smaller side, you may be able to put your rug in the washer and let it soak for 24 hours in hot water with your favorite detergent. Then, wash it on a heavy-duty cycle with an extra rinse.
If your rug is too delicate for a washer cycle, you can fill up the bathtub with hot water and add detergent. Then, put the rug in and let it soak for an hour.
Finally, scrub the rug with a brush to remove any stubborn dirt stains before you rinse.
For very large rugs, deep cleaning with an upholstery cleaner will probably be your best bet.
Clean windows
Cleaning windows is a task that many people don't enjoy.
My best tip for cleaning windows (and mirrors) is to use a cleaning solution that works and doesn't leave streaks. This is the best solution I've found:
Sale
Open the windows to let some fresh air in
This will allow fresh air to circulate through your home and it may help with how your house smells after you're done cleaning.
Wipe down baseboards and walls
Wipe down all baseboards and clean off any dirt or dust that may be on the wall.
This may seem like next-level cleaning (because it kind of is), but your home will look so much better with sparkly clean baseboards.
If you want to speed up this process, consider getting one of these. This is much easier on your knees and back!
Sale
Dust ceiling corners
And don't forget those corners!
I know it seems like an impossible task, but you'll be glad when you're done and don't have any spider webs hanging around.
Dust light fixtures and/or ceiling fans
You may think that dusting your light fixtures and ceiling fans is a given, but you'd be surprised how much dirt can gather in this area.
If you have an outdoor fan, make sure to wipe down those too.
An extra-long microfiber duster is helpful for this one.
Launder curtains
If you have any curtains that need to be cleaned, now is the time to do it.
You may or may not be able to machine wash your curtains, depending on the type of fabric they're made of.
Usually, you can wash them on a gentle cycle (unless they are particularly delicate).
Vacuum/wipe down vents
Whether you have central air or window units, it's important to clean out the vents because dust can get trapped there.
This article is a good, quick read if you need step-by-step instructions on how to clean your vents.
Vacuum underneath furniture (couches included)
It can be a pain to move furniture, especially if you're cleaning by yourself.
But, I do have one trick that may help you out, depending on the type of couch you have.
A robot vacuum cleaner. (If you're thinking to yourself – Wow, that sounds expensive… They're really not that bad!)
We went with the OPK Life K2 Robot, which is less expensive than some of the other choices on the market.
The main thing I love about it is that it's small enough to fit underneath our couch, so we don't really have a whole lot of dirt buildup underneath there anymore.
(For reference: Our robot is roughly 3″ tall – So maybe 3 1/2″ if you include his little feet.)
Dust/wipe down decor and shelves
Don't forget to dust your knickknacks and other home decor, including picture frames, lamps, and wall decor.
It's insane how much dirt collects on and around these items.
Wipe down doors and disinfect handles/doorknobs
Doorknobs are one of the most frequently touched spots in your home. Wipe them down with a disinfectant wipe or spray with a good disinfectant spray.
Don't forget to wipe down your doors too OR use a long-handle dust mop.
Deep cleaning your house checklist for the kitchen
Scrub and disinfect the inside of your sink and all around it
All you need is a good sink scrubbing brush and the cleaner of your choice.
Clean out fridge and freezer
And, of course, you can't forget about the inside of your fridge and freezer when you're deep cleaning the kitchen.
Toss any expired items and wipe down all shelves. A basic toothbrush can be helpful for those stubborn spots.
Dust/wipe down the area on top of your fridge (and any other neglected surfaces)
One surface that's often forgotten (probably because most of us can't see up there) is the top of the fridge.
Remove everything from this area and give it a good wipe-down.
Clean behind your fridge and other hard-to-reach places if possible
If your fridge is fairly easy to move, it may be worth pulling it away from the wall so that you can clean the floor underneath there.
You might be surprised by what you find!
Clean microwave inside and out
If you've been neglecting your microwave for a while, it's time to tackle it.
Here's a trick you can try:
Soak a paper towel in some water with the juice from 1/2 lemon (do not squeeze the water out), and put it in the microwave for 30 seconds. This will steam your microwave and make everything super easy to wipe down!
Clean oven and stovetop (don't forget to remove the knobs)
Remove the knobs, and anything on top of these surfaces, and start wiping down all of those hard-to-reach spots.
If you have a self-cleaning oven, be sure to follow the directions in your manual.
For a non-self-cleaning oven – Baking soda works wonders!
And then, if you have a glass stovetop, it may be helpful to pick up a cleaning kit (this stuff is also helpful for removing scorch marks on your stovetop) if you really want it to shine.
Clean backsplash
One of the most overlooked areas in any kitchen is the backsplash. You might have noticed that it gets dirty with just about anything from spilled food to dirty hands rubbing against it while cooking in the kitchen.
There are plenty of ways to clean this area, but here's an easy trick you can try:
Mix one cup of water with 1/4 cup of baking soda and scrub it down until you're satisfied.
Wipe down any other appliances you have
Do you have a toaster, blender, food processor, or coffee maker? These appliances can get very dirty with crumbs and other substances.
Give these items some TLC while you're deep cleaning your house!
Try to get into those hard-to-reach spots. For coffee makers, pay close attention to the area that holds the water, Keurigs are notorious for accumulating some funk in there.
Wipe down any exterior surfaces of these appliances as well.
Wipe down cabinets and hardware
From spills and splatters to grubby hands, don't forget to wipe down your cabinets and hardware while you're deep cleaning the kitchen.
How to deep clean the dining and living room
Clean/polish table and chairs
Most dining room tables and chairs are very easy to clean.
Usually, all you will have to do is clean or polish the table surface with either a damp cloth and a little dish soap or a commercial furniture cleaner.
Wipe down the chairs with a damp cloth and dry them immediately (if needed) so that they don't get streaky.
Dust/polish end tables/coffee table
While you're at it, don't forget to also tackle any coffee tables, end tables, or decorative tables you have.
Clean couch and other furniture
First, take off the cushions and put them somewhere where they won't get dirty.
Next, use a vacuum to take care of any big pieces of dirt (or dropped food). If you have kids, then you know it's not uncommon to find a random French fry under there.
Cleaning your couch cushions and the rest of your couch will depend on the type of material you have.
There are commercial cleaners made for every type of material you can imagine.
For example, if you have a leather couch, you might give this one a try.
For cloth couches – There are plenty of couch/upholstery cleaners available if you don't have an upholstery cleaner (However, if you are looking for an upholstery cleaner, this one is excellent!)
Sale
Launder throw blankets and throw pillows
We want all throw blankets and pillows to be smelling fresh too!
Checklist for deep cleaning the laundry/utility room
Wipe down the washer and dryer
If you have a stackable washer and dryer set, you're probably less likely to let things pile up on top of them.
But if you have a side-by-side washer and dryer, it's very possible this area has become somewhat of a "catch-all" in your laundry room.
Clear off the space on top of your washer and dryer, if needed, and wipe down any visible dust, lint, etc.
Clean behind washer and dryer
If possible, try to clean behind your washer and dryer as well.
Remove any random items that may have fallen back there and give the floor a quick cleaning as well.
Clean the agitator (for top-loading washers)
You may also want to consider cleaning the agitator in your washing machine if you have a top-loading washer.
This is an overlooked area that's often full of trapped dirt and even mold.
This article has lots of great tips on deep cleaning a top-loading washer!
How to deep clean the bedrooms
Wash all bedding
This includes comforters, sheets, pillowcases, blankets, and throw pillows.
This is also a great time to take note of any pillows that may need replacing.
Rotate/flip mattresses if needed
Once your bedding is in the wash and you've stripped your mattress, you may want to rotate or flip your mattress as needed.
Flipping your mattress twice a year helps to maintain its form and prevent one side from having more wear than the other.
Dust/polish dressers and nightstands
While you're deep cleaning your bedrooms, don't forget to clean off all of the surfaces on top of any dressers and nightstands!
If you've already done a good job decluttering, this should only take you a few seconds.
Tasks for deep cleaning bathrooms
Clean mirrors
For mirror cleaning, I highly recommend this cleaner. (Yes, it's the same product I used for windows as well!)
This stuff does a great job and leaves no streaks or smudges behind!
Clean/sanitize sinks
A washcloth and your favorite all-purpose cleaner will usually do the trick.
Wipe down bathroom counters
The same goes for your bathroom counters.
Or, if you have any disinfectant wipes on hand, those also work well for a quick wipe-down.
Give the toilet a good scrubbing
Deep cleaning your bathroom means you're going to have to scrub a toilet. There's no getting around it!
Make sure you have a good toilet bowl cleaner and scrub brush beforehand.
Then, for the outside and seat of your toilets, deep clean using an all-purpose cleaner or disinfectant wipes.
Deep clean the shower and/or bathtub
If you have a bathtub, use an all-purpose cleaner and your favorite brush, and don't get in between those grout lines!
For showers, if there is soap scum build-up on the glass shower doors or tiles, you may have to try a special cleaner for this.
Another thing you can try for those random spots that just won't come clean: I've had a lot of success with the Mr. Clean Magic Erasers.
Clean drains
As gross as it can be to clean your drains, it's necessary.
Your water should flow from the bathtub and sink much better after using an inexpensive drain-cleaning snake tool.
Add septic treatment if needed
Before you wrap up deep cleaning your bathroom, if you have a septic tank, now would be a good time to go ahead and add your next treatment (if needed).
Printable deep cleaning house checklist
As promised, here is the printable version of the checklist! You may download the free PDF by clicking the button below the image.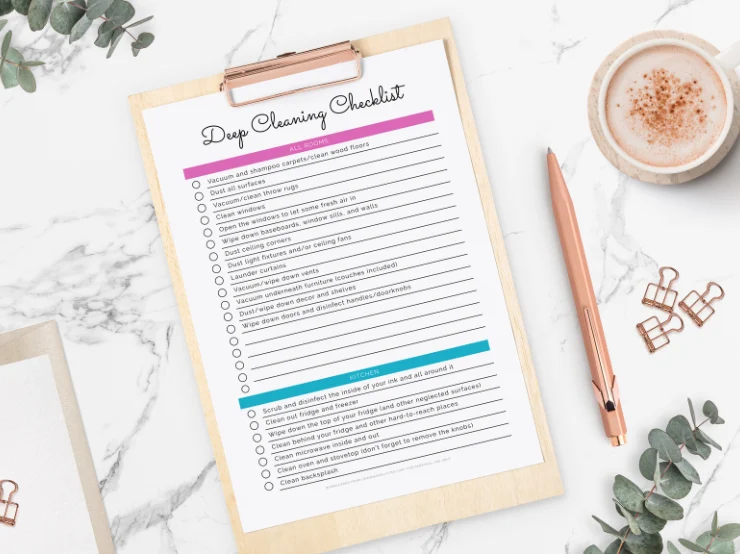 I hope this deep cleaning your house checklist gives you some direction to get your house in tip-top shape.
Don't forget to pin for later so that you can revisit if you need to!
Have any deep cleaning tips or tricks that work well for you? I'd love to hear about them in the comments.