This post may contain affiliate links. Please read my disclosure for more info.
A chore chart printable template is a simple way to make chores a little more fun and exciting for kids.
And that's crucial! Let's be honest – Most kids would rather browse YouTube or play a game than spend their free time doing chores.
Having a responsibility chart in place helps kids get into the habit of completing their chores so that they eventually become second nature.
What is a chore chart and why do you need one?
A chore chart is a tool that can be used to help kids learn about responsibility. It usually includes a few specific tasks to be completed each day, week, or month.
There are all different kinds of chore charts including magnetic ones that stick to the fridge, printable chore charts like the ones below, and there are even some apps for tracking chores too.
Some responsibility charts are designed to be used with multiple children, while others are specifically for one child.
The most important thing to keep in mind when making a chore chart is that it should be age-appropriate and realistic for your child.
As far as why you need one, chore charts are great for encouraging kids to complete their tasks. Each time they check off a box, they feel a sense of accomplishment.
How to make a chore chart for your kids
You can certainly print new paper copies each week, but if you want to save on your ink, I highly recommend printing once and laminating your chore chart.
Self-laminating sheets make this extremely easy to do.
Sale
Laminating also makes it sturdier and you'll be able to write on it with a dry-erase marker.
I really like this method because once you're finished, instead of having to print new pages, you can just wipe off the checkmarks and start fresh for the week.
Once you've finished with that, the only thing left to do is assign some age-appropriate chores.
What chores are age-appropriate?
Here are a few ideas.
Age-appropriate chores for toddlers (2-3 years old):
Pick up toys
Put clothes in the hamper
Dust (feather duster or sock on hand)
Help wipe up messes
Help put clothes in the dryer
Age-appropriate chores for preschoolers (4-5 years old):
Match socks
Help take care of pets
Clear and set the table
Empty small trash cans
Help put laundry away
Age-appropriate chores for elementary age (6-9+ years old):
Sort and fold laundry
Help put laundry away
Help pack school lunches
Sweep
Wipe counters
Try to avoid being vague with the chores you assign. The more specific you can be with their chores, the better!
You want to give them actual things they can do and check off their list.
Free chore chart printable template
There are 8 printable chore charts to choose from and they are all very cute if I do say so myself!
Let's take a look.
Chore chart for multiple kids (up to 2)
This template has a place for you to add a chore list for 2 kids. There are 2 spots to write their names as well as their chores. There are checkboxes for every day of the week – Sunday through Saturday.
One printable says "Family Chores" at the top and the other says "Responsibility Chart." Choose the one you like best.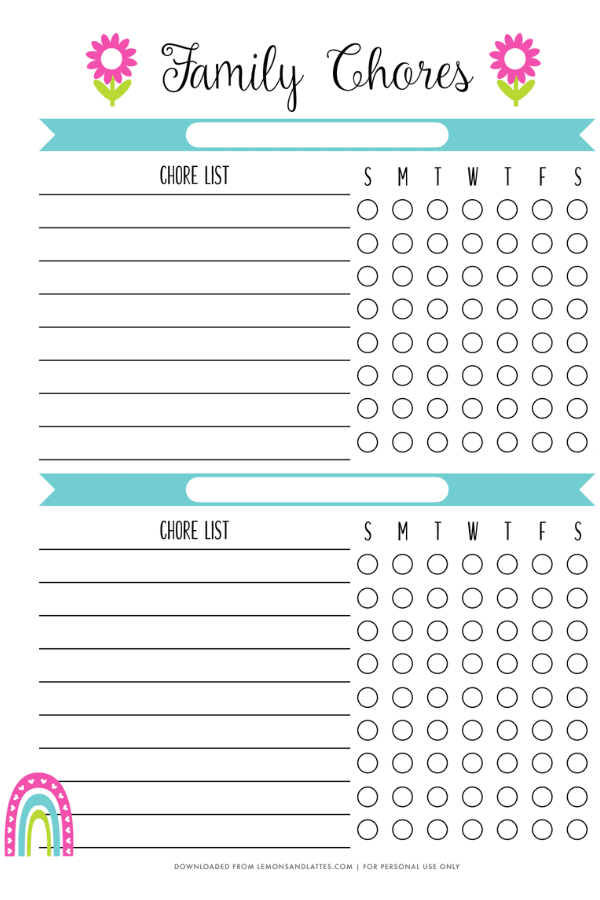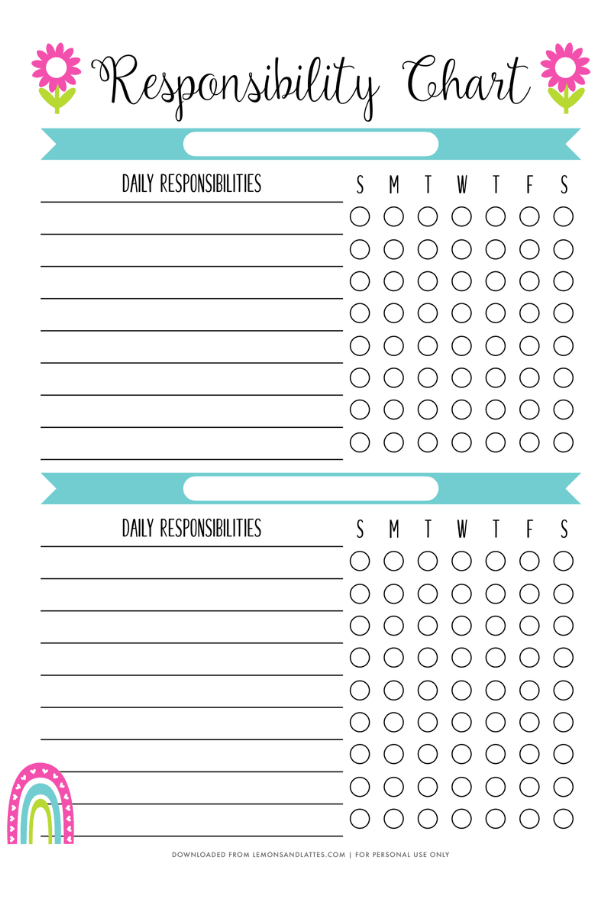 Chore chart for multiple kids (up to 3)
This template includes enough space for your to add chore lists for 3 kids. You can also write the date at the top if you want.
There are 2 different printables with different headings. Also, the first one says "chore list" and the second says "daily responsibilities" instead. Just a matter of preference.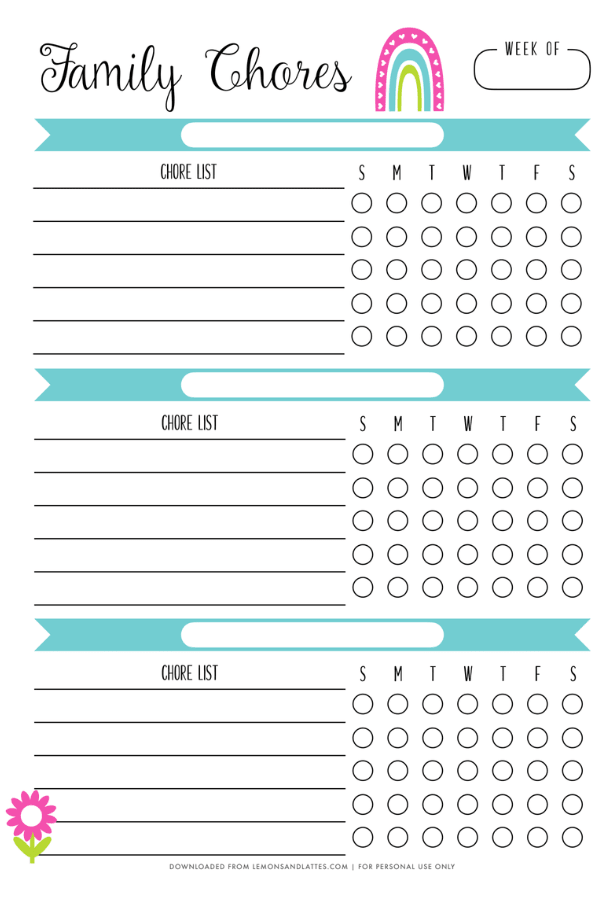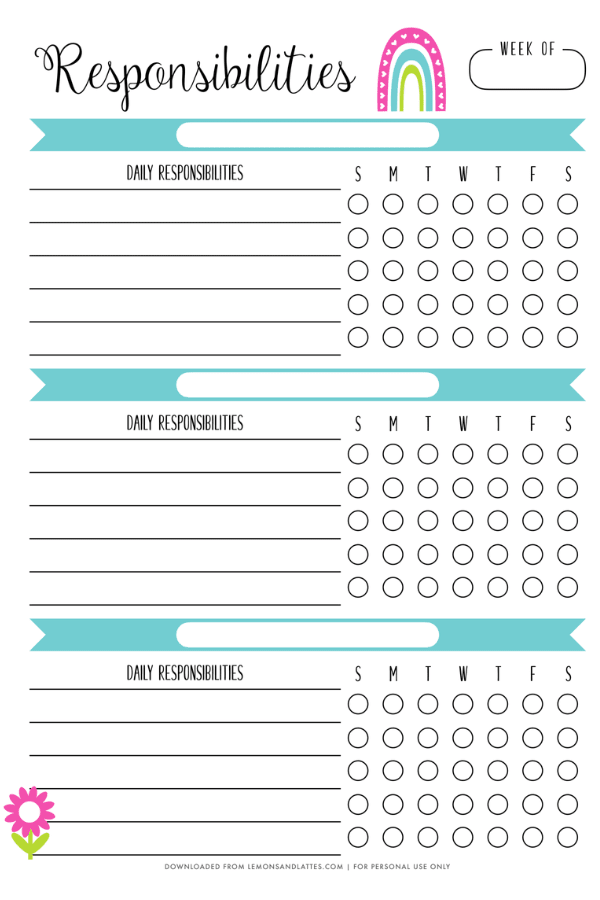 Kids' chore chart printable template with a daily and weekly chore list
This template has a place for both daily chores and weekly chores. There's also a spot at the bottom for writing in a reward and any other notes you want to include.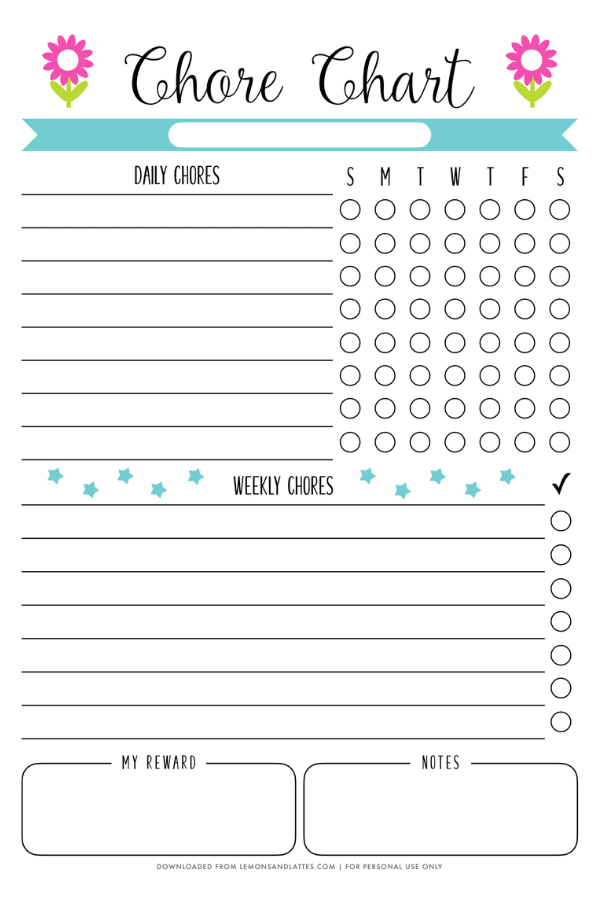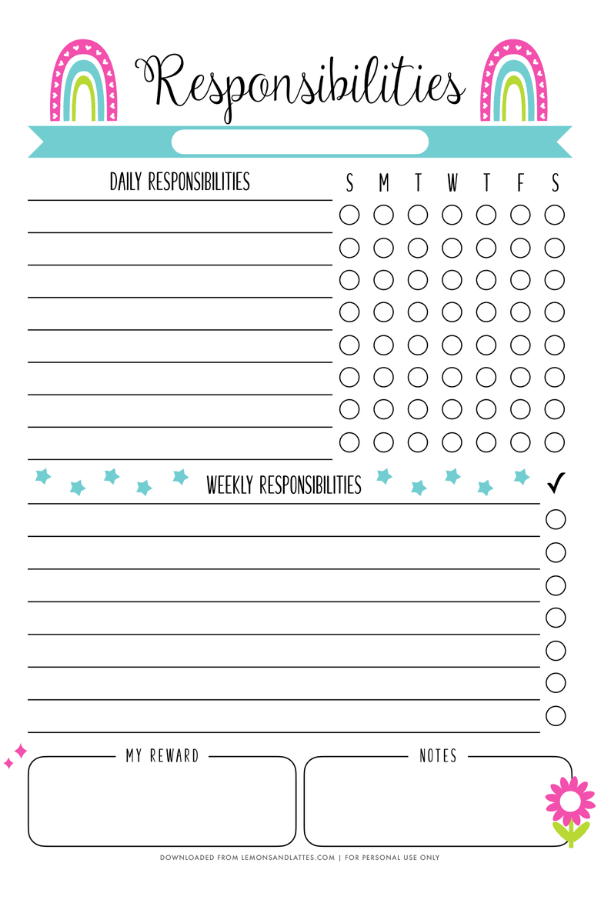 Landscape chore chart for multiple kids (up to 3)
If you prefer a landscape chore chart instead, this template includes space for 3 kids. With this one, you can also write in the date.
Like the others, choose between 2 different headings.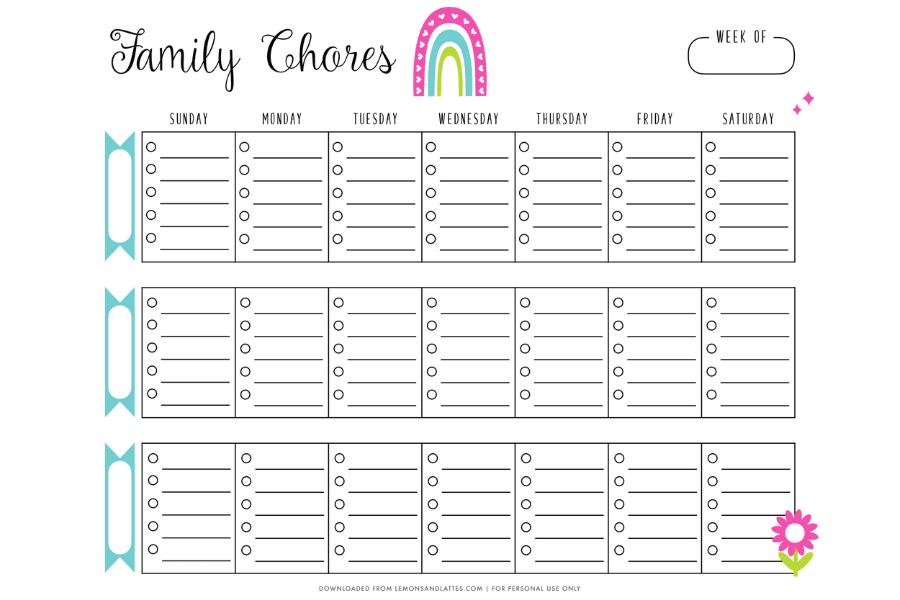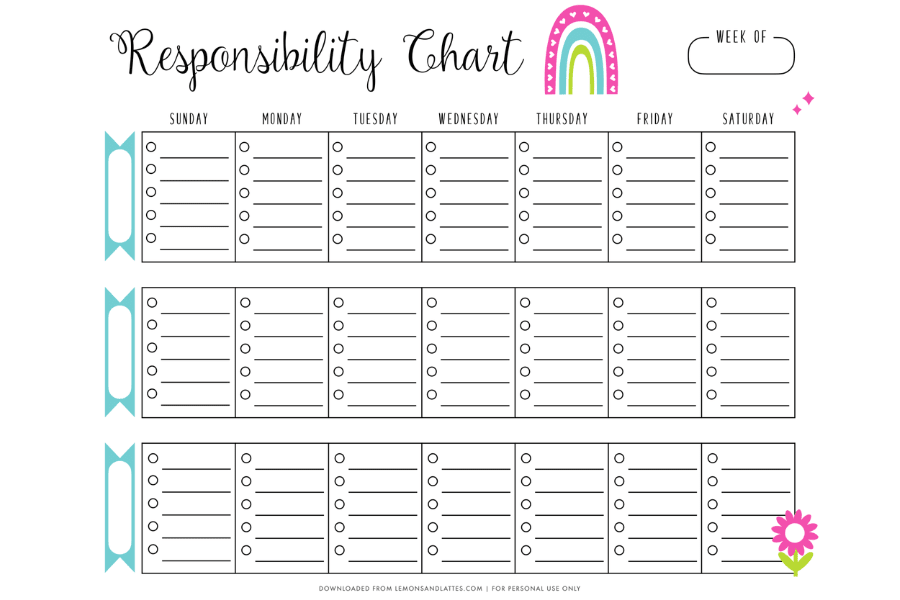 More responsibility charts for kids
I love printables! But if, after reading over this, you think you'd rather just purchase a magnetic chore chart or you need a single chore chart for multiple kids, here are a few of our top picks from Amazon.
Roscoe Learning Responsibility Star Chart
Sale
Magnetic Behavior Chalkboard Rewards Chore Chart
Sale
Kenson Kids "I Can Do It" Reward and Responsibility Chart
Magnetic Behavior/Star/Reward Chore Chart
Melissa & Doug Magnetic Responsibility Chart
Sale
---
Using a chore chart printable template can be a great way to help kids learn about responsibility and develop good habits. It is important to make sure that the chore chart is age-appropriate and realistic for your child. It's supposed to be fun and encouraging!
If you have any questions about the chore charts, please don't hesitate to ask us in the comments below.
Pin for later?