This post may contain affiliate links. Please read my disclosure for more info.
If you love printable planners, there's one thing you should know: How to resize a PDF.
Have you ever found the absolute perfect template only to discover that it's the wrong size?
You can still use it!
There's no need to search for another PDF when you can adjust the size yourself.
And, I promise you, it's a lot easier than it sounds.
There are a few easy ways to resize any printable. And, you don't even need Adobe Acrobat in order to do so.
What is a PDF?
If you didn't know, PDF is a file format that stands for Portable Document Format. It's a universal document type that allows for easy viewing across multiple devices and platforms.
Since all printers are able to print this file format, it's pretty much become the standard for most digital documents these days, including eBooks, coloring pages and other activities, and printable planners.
Here are a few examples:
Knowing how to adjust printable sizes is a useful skill.
Here's why.
Let's say you are looking for a printable to track your food and water intake, for example. You come across the perfect one, but it's the wrong size.
Maybe this is a US Letter PDF and you were really hoping to add it to your new A5 binder.
Or, maybe you've read over the best planners for moms and you quickly realized the Happy Planner is the perfect system for you, but it requires the printable to be 7 x 9.25 inches.
By knowing exactly how to change the size of the page, you will be able to make any planner or printable fit perfectly. No chopped edges and no weird stretching!
So, let's get started.
How to resize a PDF without Acrobat
Here's a step-by-step of my favorite methods.
Tweak your printer settings
The easiest way is to first see if you can change your printer settings. I use a very basic printer (an inexpensive Canon), so you shouldn't need anything fancy in order to do this.
If I want a planner to print out on a different size paper, here are the steps I would take.
Step 1: Locate the PDF you want to print and click File >> Print. This may be slightly different if you're printing from a mobile device or an iPad.
See if you have an option to change your paper size. If you don't see the size you need, you may need to select "custom size" instead.
Step 2: Choose your new paper size.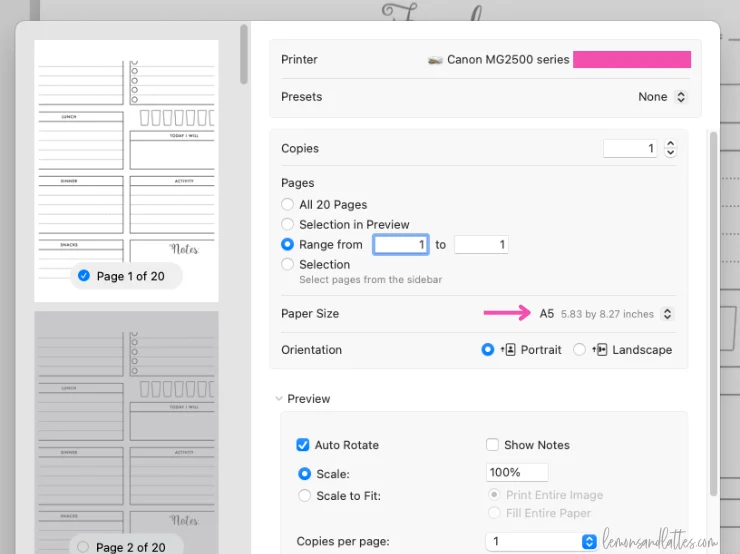 After selecting your paper size, you will see the preview change. For example, mine appears to be zoomed in.
Step 3: To fix this, you'll need to play around with your scale settings a bit.
If you have the option, usually "Print Entire Image" does the trick.
But, if for some reason yours still doesn't look right, you can try playing around with these settings until it looks right. You may need to scale up or down, depending.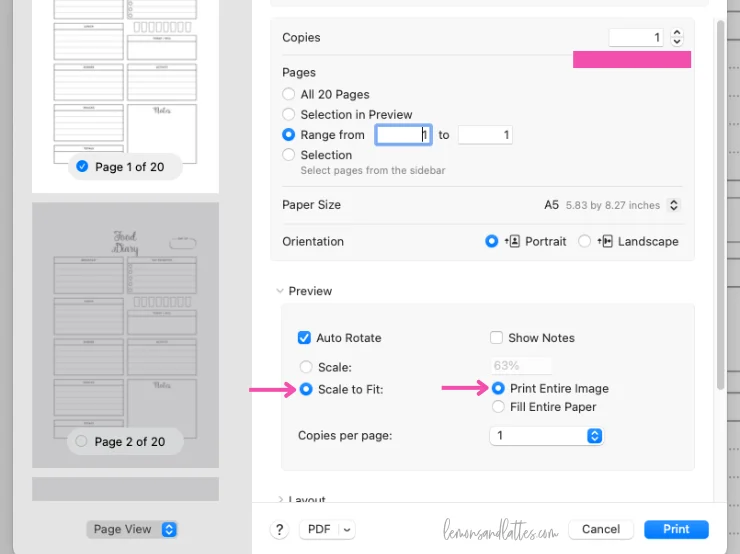 Online editor
The second method is to use an online editor.
The one that I prefer currently is PDF2Go. With this editor, you can resize ANY printable to ANY size you want, and it's insanely easy to use.
I have received an error message with this editor a handful of times, but I believe this is due to uploading a file that's too large.
If you happen to get an error message, try compressing it first, then run it through the editor again and see if that works!
Step 1: Upload your PDF planner or other printable.
You can do this by dragging the file to the red area or clicking "Choose File" and locating it on your device.
Step 2: Choose your new paper size.
There are several preset paper sizes to choose from, but if you do not see yours on the list, then you will want to select "Set custom page size" instead.
If you are resizing a landscape PDF instead of a planner with a portrait layout, all you need to do is reverse the numbers.
For example, if you are resizing to Classic Happy Planner – For a landscape printable, you would enter in 9.25 for the width and 7 for the height. Turns out perfect every time.
Step 3: Click start.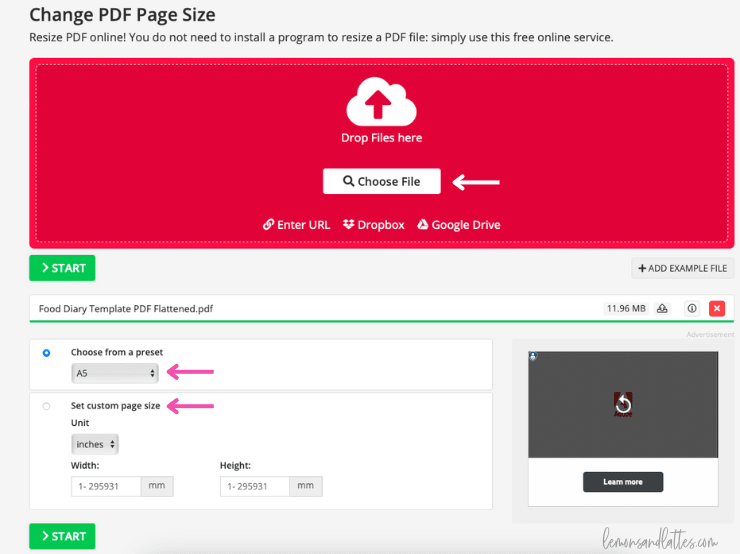 Step 4: Download your new resized printable!
That's literally it. Simple, right?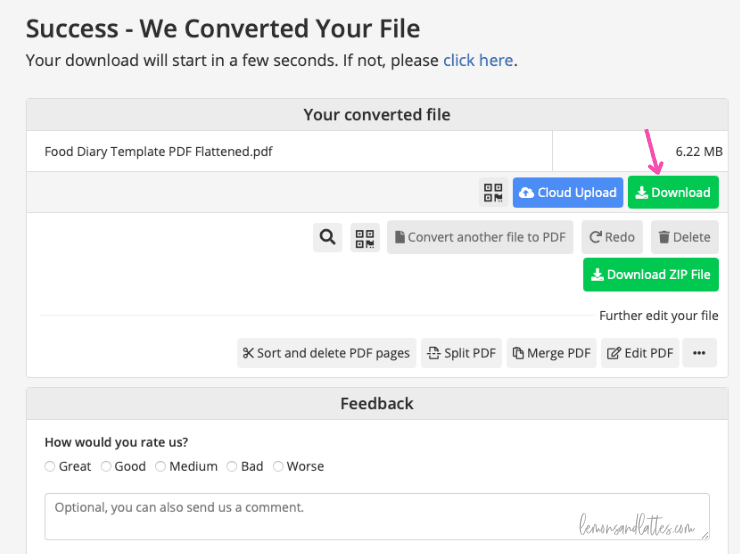 How to resize a PDF with Canva
Canva is an inexpensive in-browser design program that allows you to do much more than just resize printables.
This is the perfect option if you are looking for a way to quickly resize your document and you make a few minor customizations too.
There are, however, a couple of downsides to this method. First, it only works well if you are working with a flattened PDF.
But what does that mean?
A flattened PDF is a document that has all of the text, images, and other elements on the same layer. You can usually tell if your PDF is flattened if you are able to select all the elements on the page (not just text).
And, you will definitely be able to tell if you import your file into Canva and you notice that certain elements have moved around the page. It just doesn't look like the original.
All of the planners you find on this site should be flattened. If you come across any that are not, please let me know!
If you come to realize your PDF is NOT flattened, you can still use Canva to resize it, but there is one additional step you'll need to take.
You'll need to flatten it. Please see below for a quick how-to.
The second potential downside for using Canva to flatten pre-made PDF planners is it's not free. The resize feature is only available with Canva Pro, which is currently $12.99 per month.
If you will be resizing a lot of printables, designing some of your own, or you want to add additional elements to your printables, it still may be worth it to you.
If you only need to use the program this one time, you can always get a free trial or, if you've already used your trial, pay for a single month and then cancel.
The good thing about Canva there are no contracts. They don't require you to commit to a year. It's simply a month-by-month service.
If Canva sounds like a good option for you, go ahead and create an account if you don't have one already and get started.
Step 1: Drag and drop the PDF you'd like to resize or click "Add New" and then "Upload."
If your PDF is already flattened, Canva should import your file nicely without any issues.
Step 2: Then, click "Resize" from the top navigation bar and choose your new paper size.
There are preset paper sizes listed, but if you don't see the one you want, you may enter it as a custom size.
Step 3: Resize your printable!
I love how there is no stretching or missing edges. Everything looks just as it did before, only now your PDF is in a new size.
Step 4: Add additional elements (optional).
What if you want to add extra text or other elements before downloading and printing?
As long as you are using these for your own personal use (meaning you're not trying to sell the document afterwards), you can do this very easily using Canva.
How to add additional text:
First, I recommend zooming in just a bit. It just allows you to see what you're doing – much better.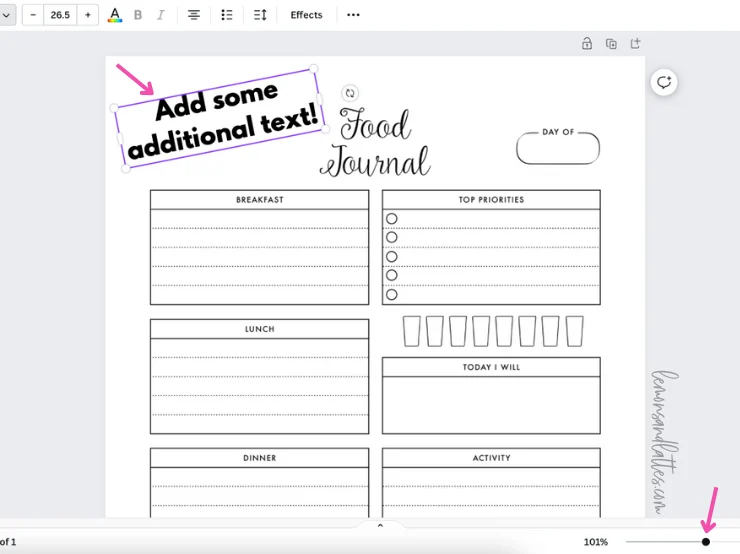 From the vertical navigation bar on the left side, choose text and click "Add a text box." Adjust your font and font size and move it around the page anywhere you want.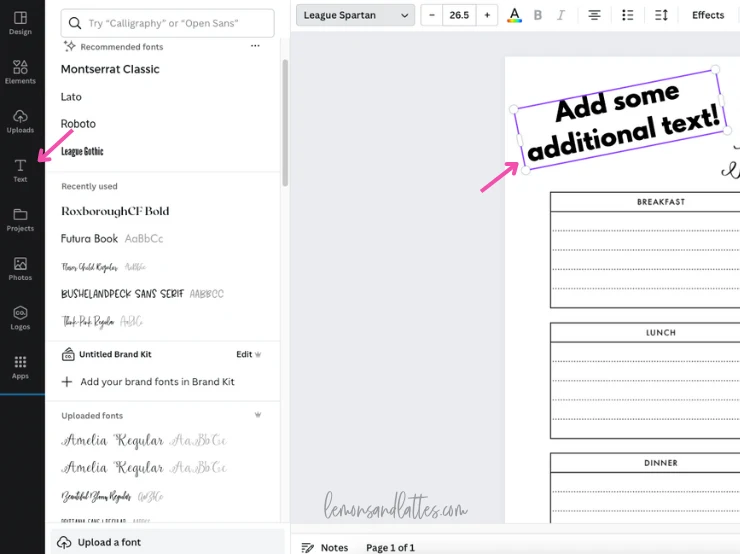 How to add other elements:
You can also add all sorts of other elements like shapes, graphics, and more.
A few ideas for additional elements might be adding a bonus box to write in notes if your planner doesn't have one. You can add checklists or any extra designs you like.
You can also personalize it by adding your name. For example, maybe you've printed a chore chart for your child and you want to type in their name instead of write it – You can make that customization very easily with Canva.
How to flatten a PDF the easy way
The easiest way to do this is with an online editor. But, you can also convert the PDF to PNG files and upload them to Canva, but it's a more time-consuming process.
Sejda is a super easy tool you can use to flatten your PDF files, if you need to. Just keep in mind, there is a limit on how many files you can resize per day unless you are cool with upgrading to one of their plans.
How to flatten with Sejda:
Step 1: Upload your planner or other printable.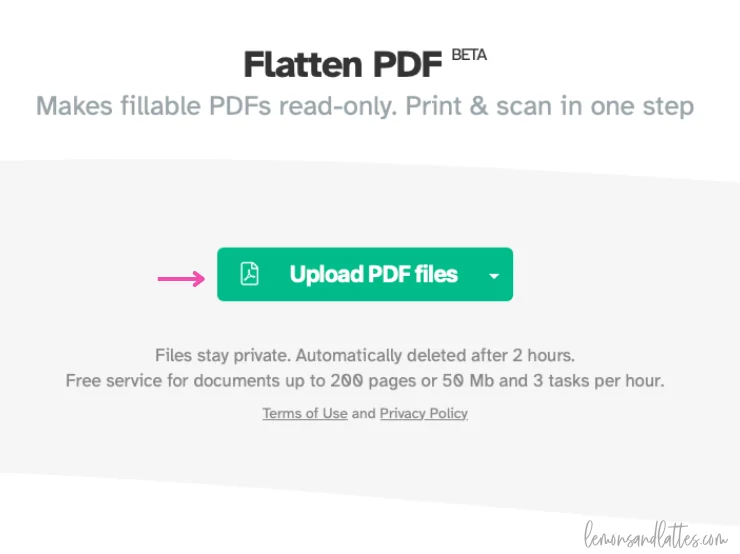 Step 2: Click flatten PDF.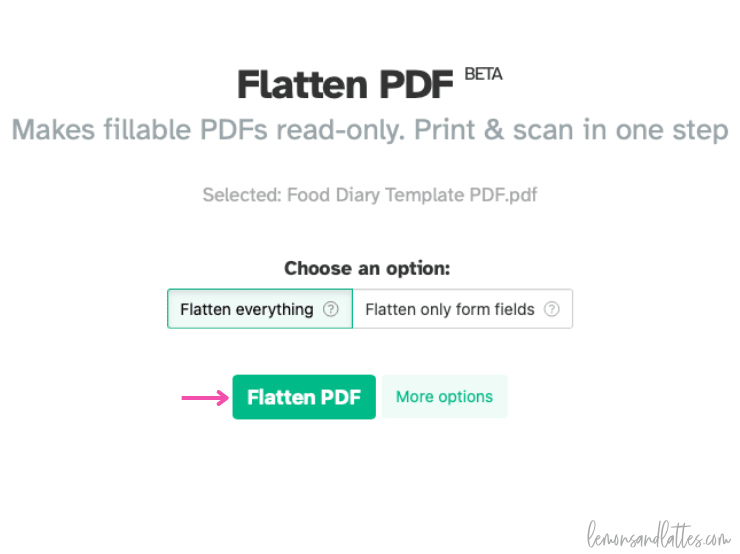 Step 3: Download!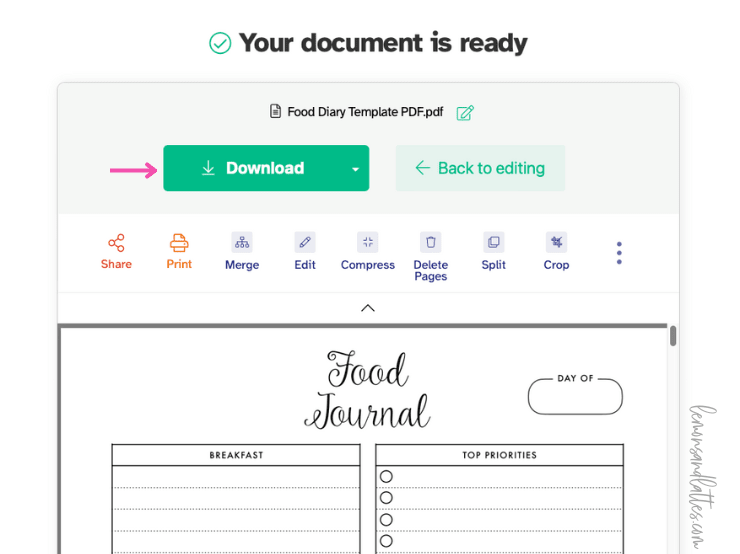 That's it!
FAQs
What size is US Letter?
US Letter is the standard size of 8.5 x 11 inches (or 216 x 279 mm).
What size is A4 paper?
A4 paper is 8.27 inches wide by 11.69 inches long, or 210 mm x 297 mm in metric measurements.
What size is A5 paper?
A5 paper is 5.83 inches wide by 8.27 inches tall, or 148 mm x 210 mm in metric measurements.
What size is A6 paper?
A6 paper is 4.13 inches wide by 5.83 inches tall, or 105 mm x 148 mm in metric measurements.
What size is Classic Happy Planner?
The Classic Happy Planner is 7 x 9.25 inches, or 178 mm x 235 mm in metric measurements.
---
As you can see, there's definitely more than one way to resize a PDF. The easiest way is probably to tweak your printer settings if you are able to.
If that doesn't work, I'm a huge fan of using an online editor, especially if you are not interested in making any customizations to the printable like additional text, images, etc.
But – If you are interested in making a few personalizations here and there or even learning how to design your own printables and planners, I highly recommend Canva.
If you have any questions, please leave them in the comments.