This post may contain affiliate links. Please read my disclosure for more info.
A list of the best planners for moms 2021 to help you stay organized and productive!
I want to share a little secret with you that took me way too long to realize.
Every busy mom needs a good planner.
A few years ago, I was a new mom who thought she didn't have time to keep up with a planner.
I assumed I could remember #allthethings and get away with storing all of my important dates and to-do's inside my head.
It turns out my memory just isn't as wonderful as I assumed it would be– And neither is my ability to find random pieces of paper with lists written all over them at any given time.
Fortunately for me (and every other busy mom), there are planners that are designed specifically for moms who need help staying up-to-date while juggling everything else life throws your way.
Best planners for busy moms (at a glance):
How do planners benefit busy moms, anyway?
A planner is more than a pretty notebook. Let's look at a few of the benefits:
Hello, organized life! Using a planner is a simple way to stay on top of all your important dates and things to do. No more missed appointments or due dates (as long as you are diligent about writing them in as SOON as you are aware of them). A planner keeps everything in one place so there are never any surprises.
Less stress – And when you're organized and have all your ducks in a row, you're less likely to feel frazzled as well.
To increase productivity and stay focused – Using a planner helps you be more intentional with your time. Magic happens when you use your time wisely!
Creative outlet – A planner can also be a creative outlet for moms, depending on the type of planner you choose.
Finding the perfect mom planner for you
Here are a few questions to consider to help you choose BEST planner for you:
How do you plan to use a planner this year? Are you wanting it simply for keeping up with due dates, birthdays, appointments, etc.? Or would you prefer additional features?
What features matter to you most? Such as managing your budget, meal planning, goal setting, etc.
What type of design do you prefer? Do you love lots of color or do you prefer a more minimalist look? What type of binding?
What type of layout do you like best? Do you prefer weekly planning or daily planning? Vertical or horizontal spreads? Time blocking?
Does portability matter? Do you prefer the larger sizes or do you want a smaller planner that's easier to carry around with you?
What's your budget? Are you looking for a budget-friendly planner that'll get you by or are you looking to splurge on the perfect planner that will do everything you need it do?
How customizable do you want your planner to be? Is it important to you to have the ability to customize your planner beyond the basics? Or are you cool with using is straight out of the box.
Do you want to have more freedom to add additional pages to your planner? Branching off from the previous question– Are you the DIY type? If you get bored easily, you may want to consider choosing a planner that will allow you add additional designs, pages, or inserts to your planner.
What are the best planners for moms?
These are our top planner picks for busy moms, whether you are a working mom or a busy stay-at-home mom.
1. Best undated planner to organize your entire life: The Living Well Planner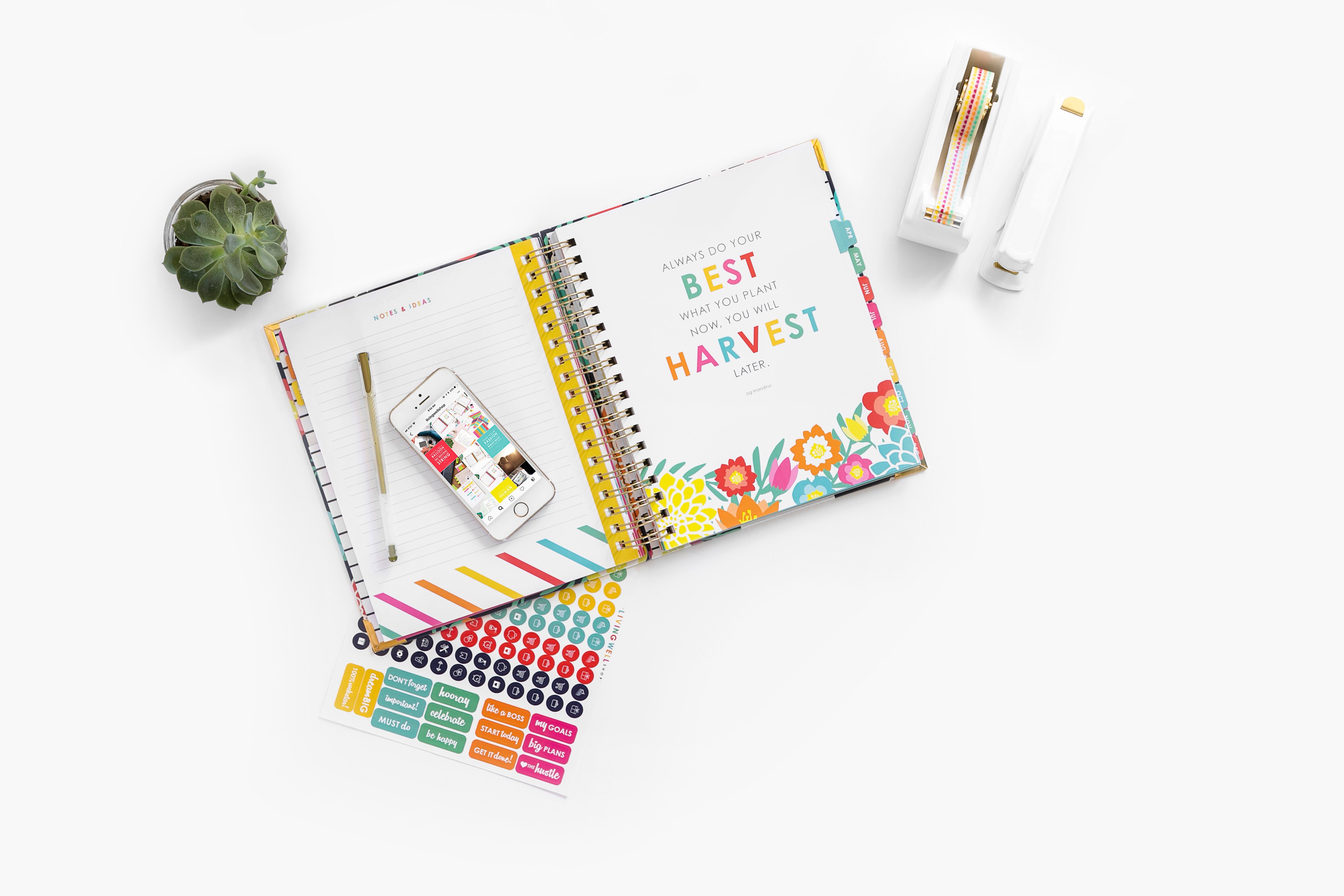 The Living Well Planner is B-E-A-utiful and easily one of the best planners for moms. Especially if you are looking for an undated planner.
If you're looking for a planner that will organize more than just your schedule– you will love the Living Well Planner because it was created to help you organize your whole life and has additional features that your basic planner does not have (like goal setting, budget planning, and more).
Features:
Long-term and monthly goal setting
Includes a formula for crushing your goals
View your year at a glance
Weekly planning with time blocking (vertical layout)
Manage your budget
Plan your meals and shopping lists
Keep track of your projects
Clean design
12 month calendar
Wire binding
7.5 x 9.5″
Things to Consider:
May be a little on the pricier side if you're on a budget or won't use the extra features
Undated– You'll have to write the dates in yourself
👉 Check out the Living Well Planner here!
2. Best dated + customizable planner: Erin Condren Coiled LifePlanner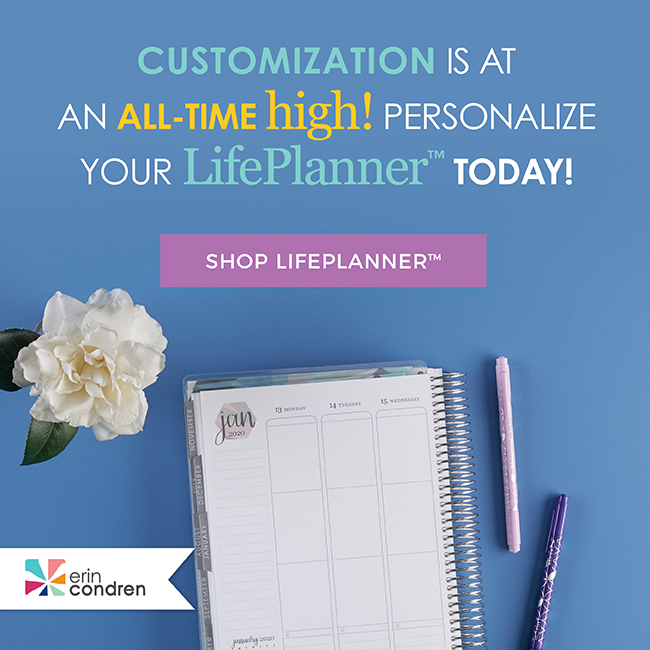 The Erin Condren planners are definitely not the new kids on the block. This means they've had plenty of time to perfect their planners.
And they definitely have– With the Erin Condren LifePlanner, you're getting lots of color and options to really make it the perfect planner for you.
Features:
Lots of customization options to make it fit your needs
Interchangeable cover
3 Weekly layout options: Vertical, horizontal, and hourly
2 Color schemes (choose colorful or neutral)
Includes sticker sheets
Dated monthly and weekly spreads
Has an inside pocket/folder
Inspiration board
Coloring and dot grid pages
Additional notes
12 or 14 month calendar options
Coil binding
7 x 9″
Things to Consider:
No designated sections for meal planning or budget management, although there is a snap-in meal planner you can purchase separately. However, this is not a deal breaker if you will not use these additional features.
👉 Check out the Erin Condren LifePlanner here!
3. Erin Condren Softbound LifePlanner
Do you love the Erin Condren LifePlanner, but are not a fan of the coil binding or don't have a need for stickers/extras?
Say hello to the Erin Condren Softbound LifePlanner!
Features:
Ideal for both right-handed and left-handed moms (it lays flat!)
3 Weekly layout options: Vertical, horizontal, and hourly
2 Color schemes (colorful or neutral)
Vegan leather cover
Dated monthly/weekly spreads
Additional notes
12 month calendar
8 x 10″ or A5
Things to Consider:
Doesn't have the bells and whistles of some of the other planners– Just a really nice basic weekly planner.
👉 Check out the Erin Condren Softbound LifePlanner here!
4. Best basic dated + personalizable mom planner: PurpleTrail Mom Planner
Another great option if you're looking for a planner you can personalize is the PurpleTrail Mom Planner.
Much like the Erin Condren LifePlanner, you have a wide variety of cover designs to choose from, which is great.
But the PurpleTrail Mom Planner doesn't stop there– You also have to option of adding your name and even your own photo to the cover of your planner if you'd like.
One feature I appreciate about this planner is that you have the option to choose any start date you'd like. You also have several options when it comes to the length of your mom planner (6-month, 9-month, 12-month, 15-month, or 18-month).
Features:
Wide variety of cover designs
3 Cover types to choose from: Synthetic, laminate, and hard cover
Dated full spread monthly calendar
Vertical weekly layout
2 Color schemes: Colorful or neutral gray
Monthly page for birthdays and events
Select your start month and planner length (6, 9, 12, 15, or 18 months)
Each monthly divider features dots like a bullet journal (which is fun for doodling)
Includes full list of holidays in the front
Coil binding
6 x 8″ or 8.5 x 11″
Additional add-ons available (stickers, pocket folder, and other misc. add-on pages)
Things to Consider:
The main thing you don't have control over with this planner is the layout– It only comes with the vertical weekly layout. So, if you were hoping for a horizontal spread, this may not be the planner for you.
No extras like goal setting or meal planning (but they do have a separate meal planner)
No inside pocket/folder (although you can grab one as an add-on)
5. Best basic planner for moms: Day Designer
If you're looking for a planner that does the basics very well, take a look at the Day Designer.
It's nice, functional, and includes a goal-setting section. 🥳
Features:
Hourly time blocking (daily spread)
Space for your top 3 daily priorities (daily spread)
Space for your to-do list (both spreads)
Goal setting
Morning & evening routine
Dated weekly and daily spreads available
Twin wire binding
12 month calendar with bonus months
5 x 8″ or 8 x 10″ (daily planner options)
5 x 8″ or 8.5 x 11″ (weekly planner options)
Things to Consider:
No additional space for extras like meal planning or budgeting
No inside pocket or folder
No stickers or extras
👉 Check out the Day Designer Planners here
6. Best customizable planner for DIYers: The Happy Planner
The Happy Planner is one of the best planners for creative moms. If you love to DIY and customize, this is the perfect planner for you!
Features:
Plenty of free inserts on Pinterest, etc. to help you customize
Dated monthly/weekly spread
Horizontal or vertical layout
Discbound system– Easily add/remove pages
12 month calendar
7 x 9.25″
Things to Consider:
👉 Check out the Happy Planners here
7. Best basic budget-friendly planner for moms: Amy Knapp's Family Organizer
If you're looking for a basic planner or organizer to stay on top of your schedule and you're not wanting to splurge on a fancy planner, the Amy Knapp's Family Organizer might be a good fit.
Features:
Weekly & monthly calendars
Plan your menus and grocery lists
Create weekly to-do lists
Dated weekly/monthly spread
Color-coded sticker sheets
Inside storage pocket
Wire-o binding
17 month calendar
6 x 8″
Things to Consider:
Honestly– Not the cutest design, but it IS functional
No tabs for quick access
👉 Check out the Amy Knapp's Family Organizer here!
8. Best planner for creative moms: Bullet Journal
Bullet journals (BUJO) has taken over the planner world and are definitely one of the best planners for moms– Especially if you feel like traditional planners stifle your creativity.
This video explains a little more about what a bullet journal is and how it works:
Pros of Starting a Bullet Journal:
Customize as much as you want
Use as much (or as little) color as you want
Let your creativity run wild
Easy (and fairly inexpensive) to get started
Plenty of bullet journal ideas out there for inspiration
Something to Consider:
If you're trying to choose between a bullet journal and a traditional planner, it basically boils down to this: Do you want complete freedom to customize every single thing to do with your planner? Including designing every page?
Or do you find that you do better when you have a framework to work with? If you are a creative or love to DIY, but a bullet journal gives you a little too much freedom, The Happy Planner gives you the best of both worlds and might be the perfect planner you've been looking for.
👉 This notebook will help you get started with bullet journaling
---
I hope this list of the best planners for busy moms helped you find a planner that is right for your needs.
Which one is your favorite?