12 Best Planners for Moms 2023-2024
This post may contain affiliate links. Please read my disclosure for more info.
I used to be the mom who thought she didn't have time to keep up with a planner.
I assumed I could remember all the things and get away with storing all of my important dates and to-do lists inside my head.
Turns out – my memory isn't as wonderful as I assumed it would be – and neither is my ability to find random pieces of paper with lists written all over them at any given time!
Having one central place to write everything down helps me tremendously with staying organized.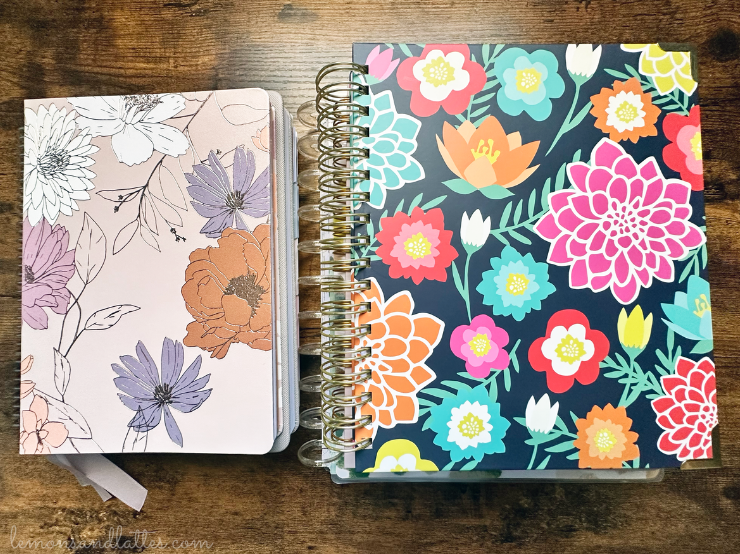 My favorite family planners (quick list):
1. Best planner for moms overall: The Living Well Planner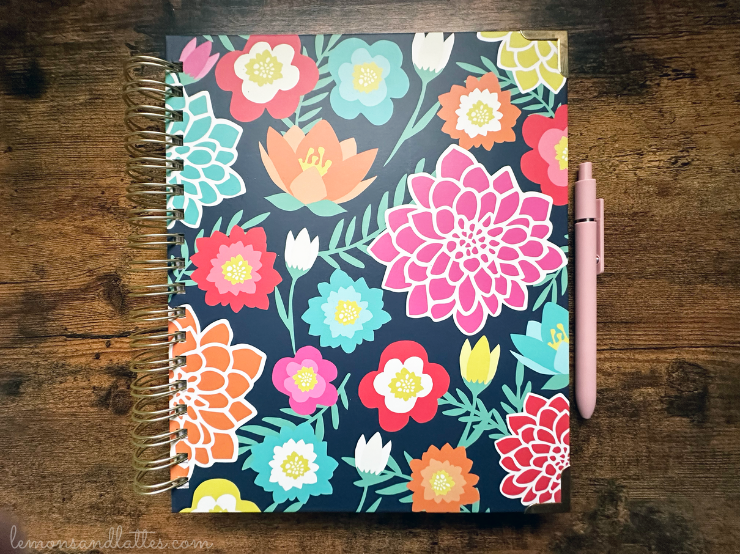 The Living Well Planner is a gorgeous planner that helps you organize your entire life, not just your schedule.
It has a 12-month undated calendar, so you can jump right into using it at any time during the year without having to lug around outdated pages.
The trade-off is you'll have to write in your own dates.
The planner is available in several beautiful cover designs, including the newest Dream Big cover (the vibrant flower design featured above).
There's also a storage pocket right on the inside of the cover for storing stickers or anything else you need to access quickly: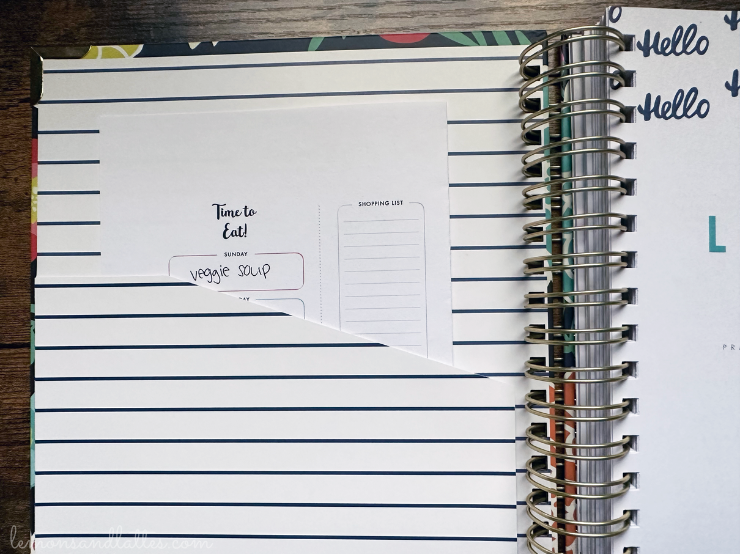 The weekly vertical layout is another main reason why I love this organizer. Horizontal layouts are fine, but I prefer vertical.
We often think of our days vertically, from morning to evening, so maybe that's why it makes more sense to me.
If you prefer hourly planning, this planner is right up your alley. There are hourly increments included from 6 am to 10 pm.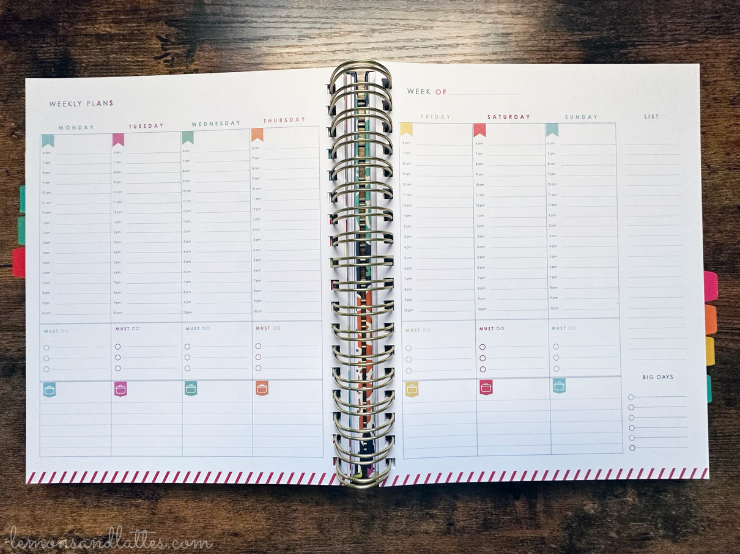 The weekly planning pages also include a designated space for meal planning.
This section is a little small, but if you typically only plan your dinners, you don't need a ton of space anyway.
(For more detailed meal planning, a printable meal planner or food diary template may suit your needs better.)
Above the meal planning section, there's an area where you can write down your top 3 "must dos" for the day.
I'm always doing brain dumps and prioritizing my to-dos, so this is really helpful!
The Living Well Planner is designed to help you stay organized in multiple areas of your life, which is why it offers more than just basic planning pages.
The first bonus section is all about goal-setting. There are sections for long-term goal setting: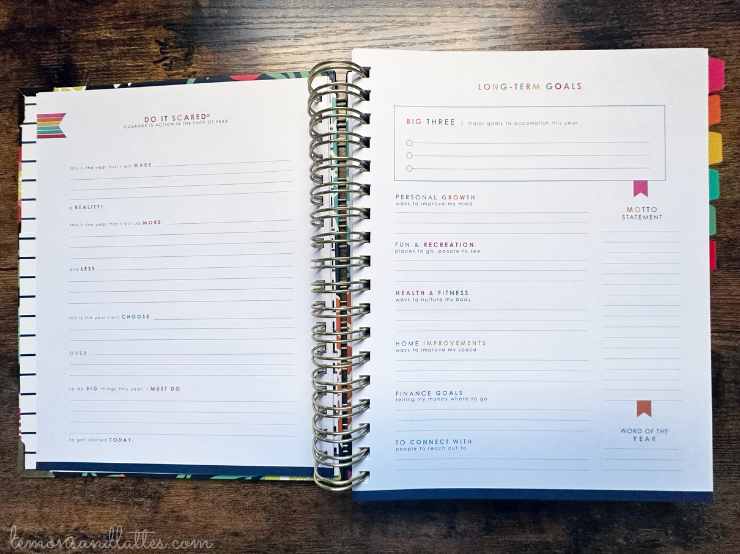 As well as monthly goal setting: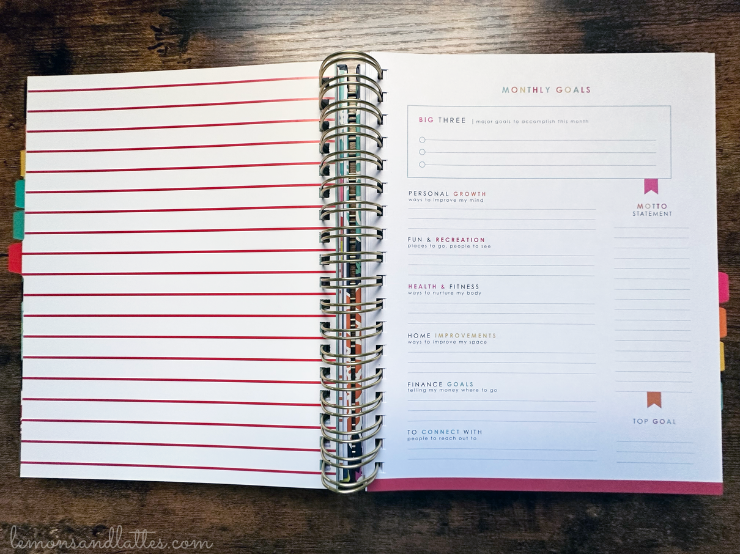 You can also use this planner to stay on top of your family finances since each month has a section for making a monthly budget.
And, as you can see, the money management pages are fairly detailed.
There's a separate page for tracking monthly expenses and writing down your financial goals as well.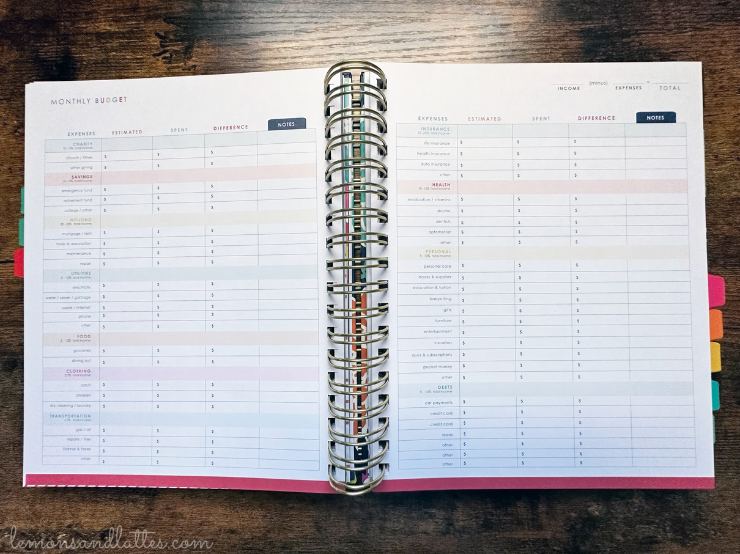 Why moms like it:
Long-term and monthly goal setting
Includes a formula for crushing your goals
View your year at a glance
Weekly planning with time blocking (vertical layout)
Manage your budget
Meal planning section
Project planning section
Important dates & info
Clean design (with just the right amount of color!)
12-month undated calendar (start any time of year)
Wire binding
7.5″ x 9.5″
Things to consider:
May be a little on the pricier side if you are on a budget or know you will not use the extra features
Undated – You'll have to write the dates in yourself
No stickers
2. Erin Condren Coiled Weekly LifePlanner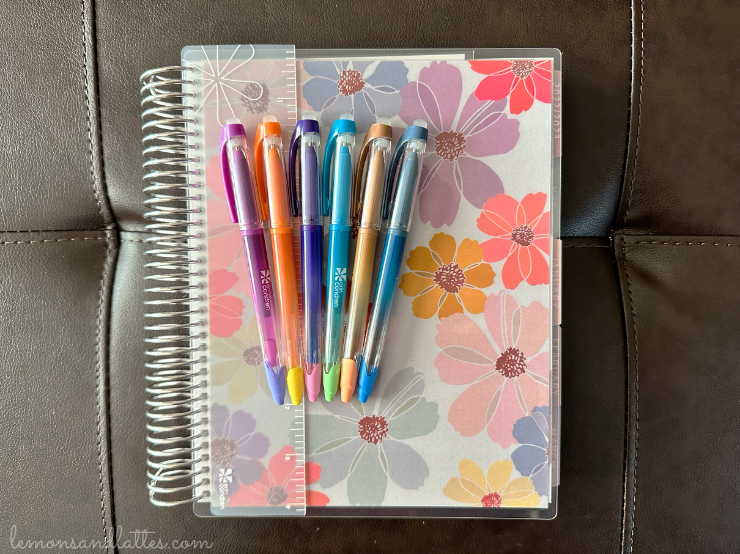 Erin Condren definitely isn't the new kid on the block when it comes to planners. This means they've had plenty of time to perfect their products.
Their Coiled Weekly LifePlanner is one of their most popular planners. It has a 12-month calendar, and there are plenty of customization options to really make it your own.
I love that you're not limited to just one planning layout. You can choose either a horizontal, vertical, or hourly planning layout.
It's nice to have options because everyone's preferences are not the same.
This is what the horizontal option looks like:
Personally, my favorite part about these planners is the paper. It's thicker than your average sheet of paper and there's a nice texture to it as well.
As far as extras…
There are some basic goal-planning pages towards the front of the planner. This is what they look like: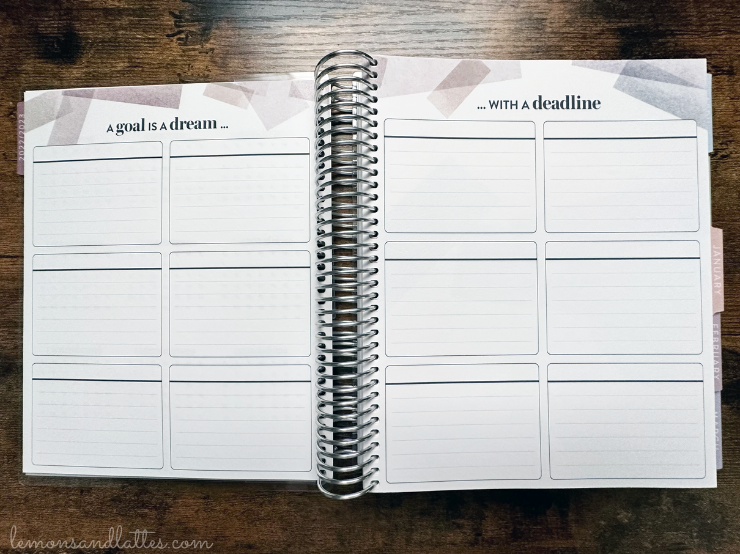 There are 12 different sections, so you could use this space to write down your monthly goals.
Or, use it to divide your goals into different categories – whichever you prefer.
There is a monthly productivity and notes page as well. It looks like this: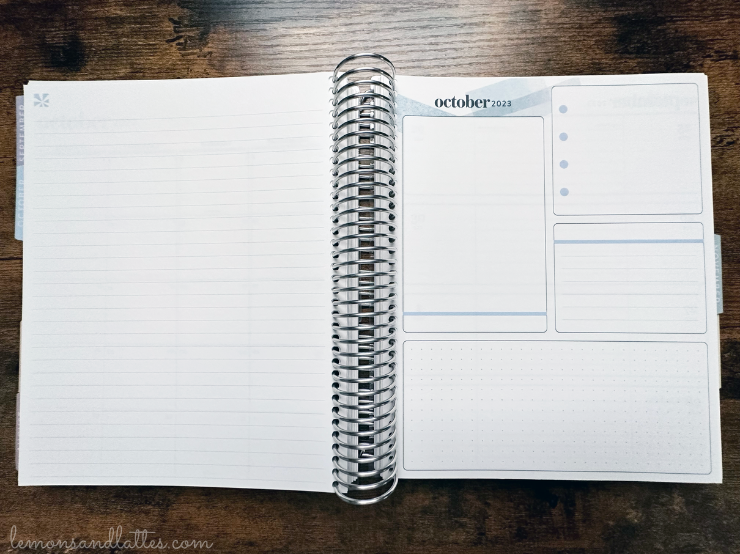 When I was using my Erin Condren planner, I used this area for making a list of my top goals and to-dos for the month and for jotting down reminders.
The planner also comes with 4 sticker sheets, which are really cute. They say things like…
Today
This week
To do
Celebrate
Let's party
Rescheduled
Canceled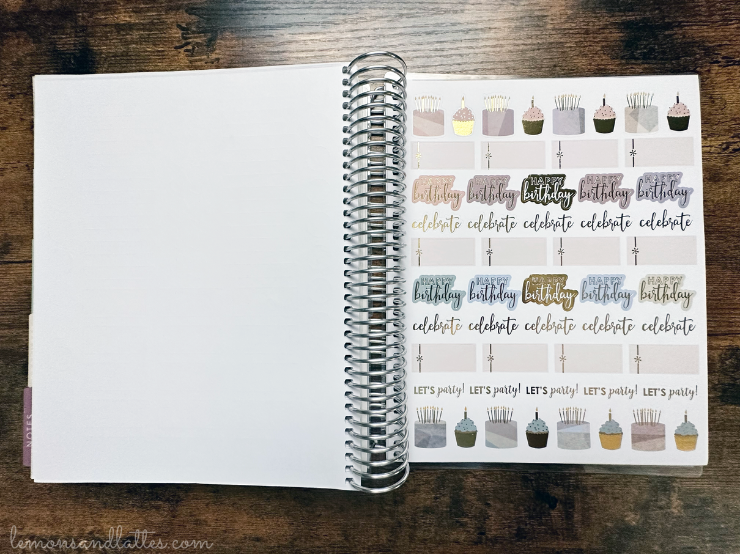 There is a double-sided storage pocket included in the back. Since this planner doesn't have any money management sections, this would be the perfect spot to keep a separate budget planner (if you need it).
Mine came with a perpetual calendar as well, so that's a nice bonus!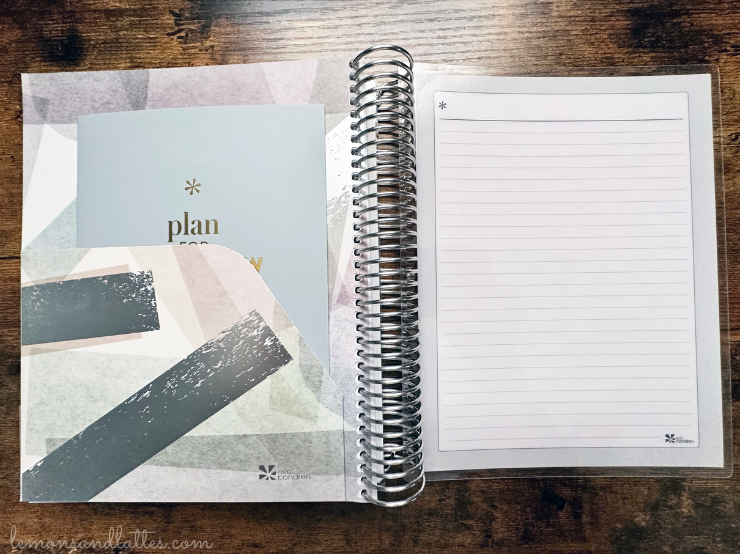 Why moms like this weekly organizer:
Lots of customization options to make it fit your needs
3 layout options: Vertical, horizontal, and hourly
Snap-in ruler included
Sticker sheets
Double-sided storage pocket
Mini months
Monthly quotes
Productivity pages and notes for each month
12-month calendar
Coil binding
7″ x 9″
Things to consider:
No designated sections for meal planning or budget management, although there is a snap-in meal planner you can purchase separately. However, this is not a deal-breaker if you won't use these additional features.
3. Erin Condren Softbound LifePlanner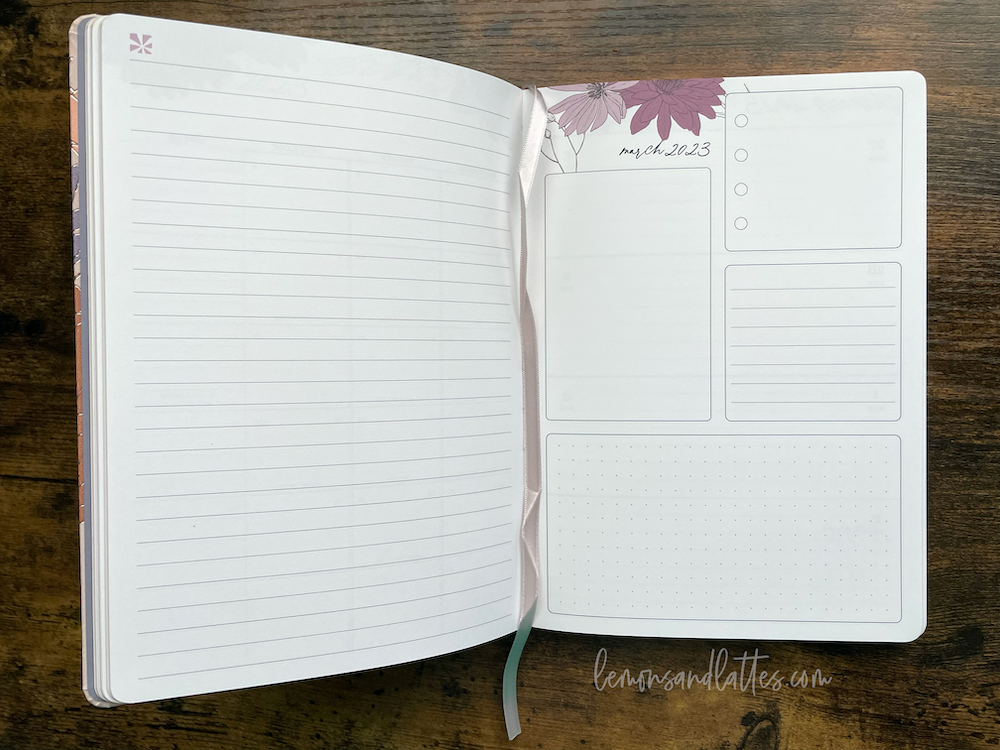 If you love the Erin Condren LifePlanner but are not a fan of the coil binding, say hello to the softbound version.
As much as I do like their coiled planner, I love this little organizer even more. I have the A5 size, and I think it's perfect, especially if you plan on leaving the house with it as it does give you a bit more portability.
If the A5 is too small for your liking, these also come in an 8″ x 10″ size.
Instead of the plastic cover, the softbound planners are made of vegan leather, which gives it a nice "quality" feel.
With these planners, you still get a 12-month calendar and still have the 3 planning layout options, which is really nice.
Here's a glimpse of the horizontal layout:
As far as the features go, you have the same goal-planning pages and monthly productivity pages as the coiled version. The only thing you're really lacking is the ruler, storage pocket, and sticker sheets.
You also won't be able to use their snap-in meal planner.
However, if you take a closer look, you'll notice there is extra blank space provided for each day. This space can be utilized for meal planning purposes.
Why moms like it:
Ideal for both right-handed and left-handed moms (it lays flat!)
3 Weekly layout options: Vertical, horizontal, and hourly
4 interior design options
Vegan leather softbound cover
Dated monthly and weekly spreads
Additional notes
12-month calendar
8″ x 10″ and A5
Things to consider:
No sticker sheets
No snap-in ruler
No storage pocket
4. Savor Beauty 90-Day Planner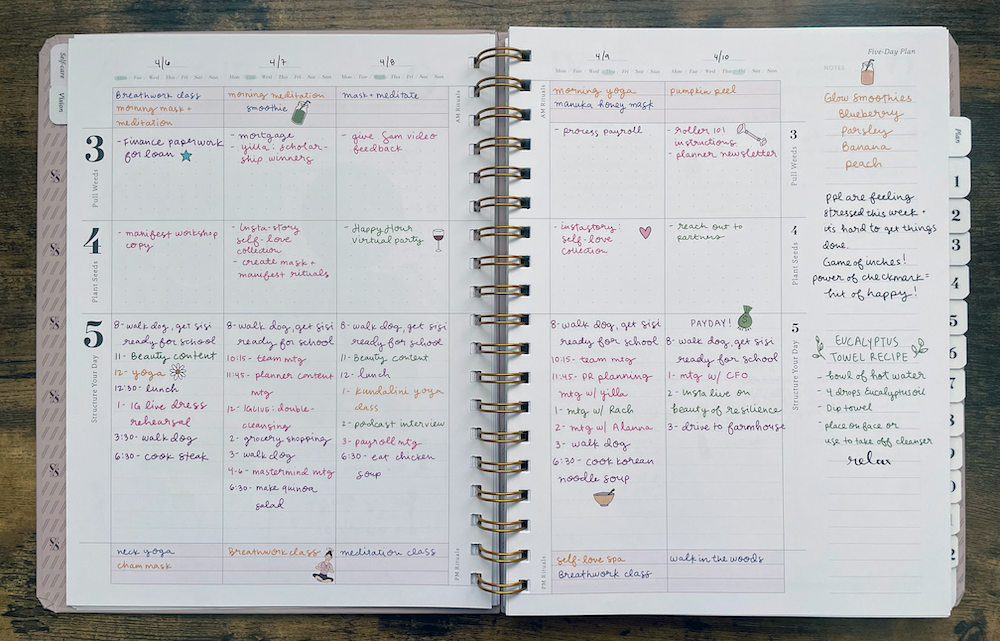 I'm a big fan of the Savor Beauty Planners as well. What sets them apart from other planners is that they only focus on 90 days at a time.
This is one of the best planners for moms who are bloggers or business owners because you can get laser-focused on those quarterly business goals.
But, that's not a requirement. Anyone can use this planner and benefit from it.
I love how the planner's tabs are divided into weeks. Each weekly section also has a place for you to do a brain dump and pinpoint your top priorities for the week.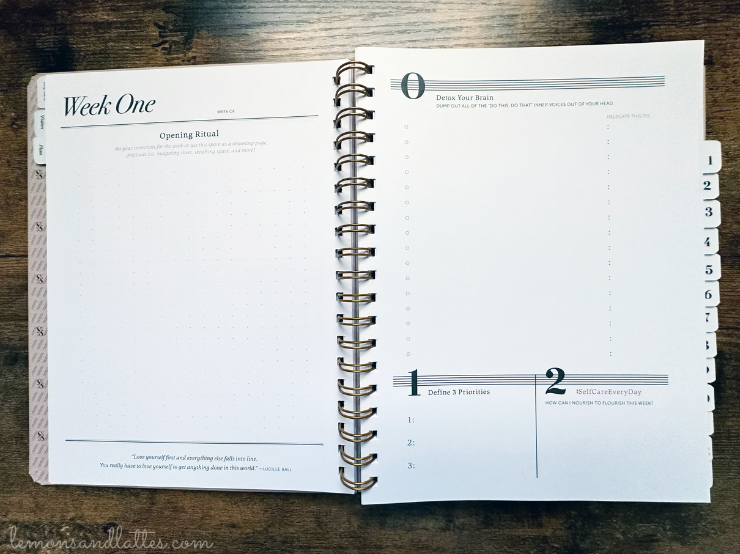 There's also a tab dedicated to self-care, which is really important for busy moms as self-care is an area we tend to neglect. (Time to fix that!)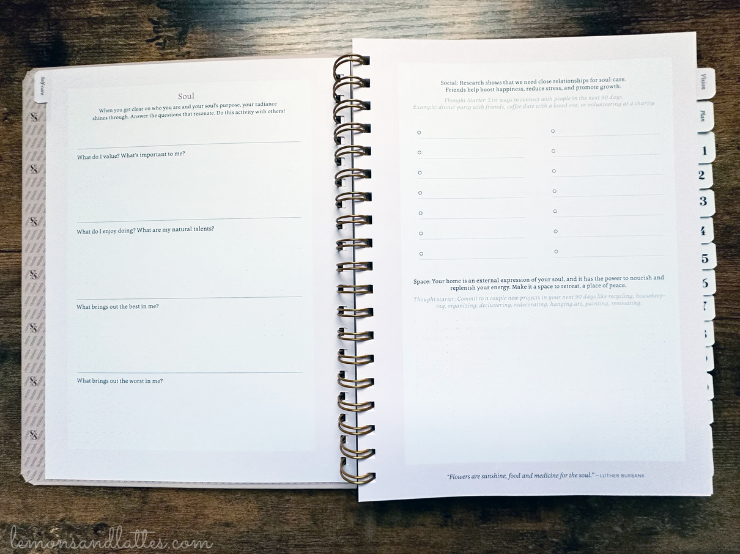 The planning pages have a vertical layout with plenty of writing space, and they are undated, so you can start using this planner any month of the year.
Here's a peek inside: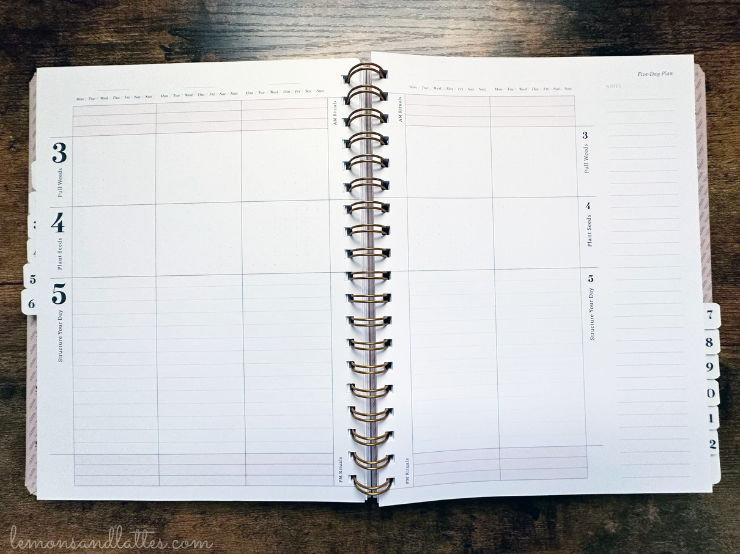 The last tab includes several blank note pages. And, at the very back you'll find some sheets of pretty stickers.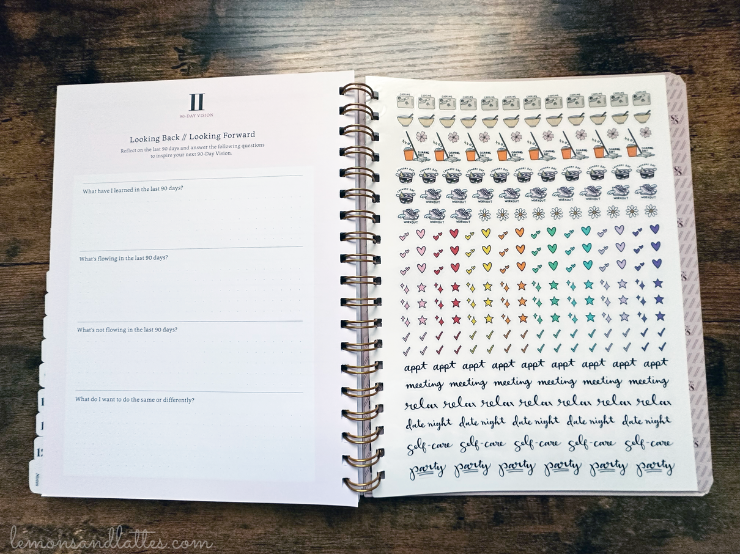 Why moms like it:
Not dated
Focuses on 90 days at a time
Emphasis on self-care
Includes sections for AM and PM routines
Includes sections for brain dumps and defining priorities
Weeks are divided into 12 tabs
Includes a notes section at the back
2 sticker sheets
Vertical weekly planning
Hardcover (also comes in several cute designs)
Made with recycled paper
8″ x 10″
Things to consider:
Since this is a 90-day planner, you will have to buy a new one every quarter. (I highly recommend buying the bundle!)
More expensive than your typical planner
No inside storage pocket
5. Day Designer for Blue Sky
If you are a mom with a jam-packed schedule, a day planner may suit your needs better than a weekly planner.
A daily planner gives you more space to write down each day's agenda and tasks.
One day planner that does the basics really well is the Day Designer for Blue Sky planner. It's both aesthetically pleasing and functional.
The planner features a vertical layout with hourly planning that stretches from 5 am to 9 pm.
So, if your day begins early, this may be the perfect one.
There are also sections for your top 3 priorities, a to-do list, expressing gratitude, and notes to help you further organize your day.
You can also keep track of your dinner plans and any bills that are due for each day.
One last thing worth mentioning: It's common for day planners to only include 6 months' worth of planning, but not this one.
The Day Designer for Blue Sky planner runs from July 2023 to June 2024.
The best time to purchase this planner is in the summer right before school starts back!
Why moms like it:
Hourly time blocking
Space for your top 3 daily priorities
Space for your to-do list
Goal setting
Includes storage pocket & stickers
Snap-in ruler
Twin-wire binding
12-month calendar (July 2023 to June 2024)
5″ x 8″ or 8″ x 10″
Things to consider:
No additional space for extras like meal planning or budgeting
A bit bulky
6. The Happy Planner
The Happy Planner is one of the best planners for creative moms. If you love to DIY and customize, this could be the perfect planner for you!
It's a dated planner that begins in January and runs through December, so the best time to purchase one is at the beginning of the year if you want to use all the pages. (These make great Christmas gifts)
The BIG Happy Planner pages are the same size as US Letter (8.5 x 11), so you can add any printable page you want to your planner. The only thing you will need is a special hole punch.
This includes any Happy Planner inserts from around the web and any printables you find here too.
You can also easily remove pages or sections. So, if you end up skipping a couple of weeks, you can simply remove those pages from the planner.
You'll never get bored with this one since you can change it up as much as you want – whenever you want.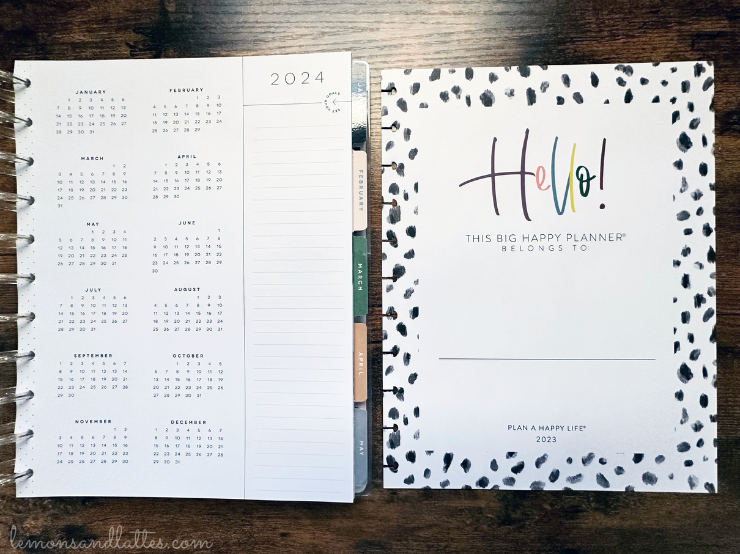 The organizer has 2 planning layout options. You may choose vertical or horizontal.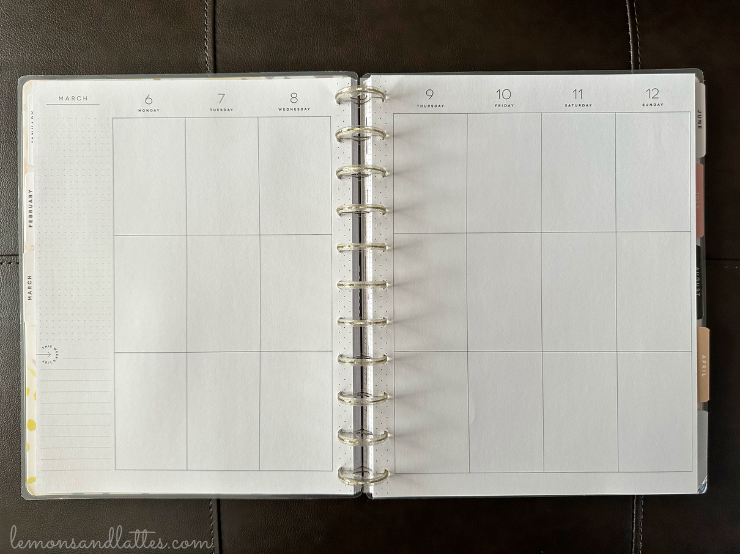 But there is one thing to consider: The vertical layout does not include lines to write on (at the time of writing this). The horizontal layout, however, does.
Why moms like it:
Plenty of free inserts on Pinterest, etc. to help you customize
Dated monthly and weekly spread
Horizontal or vertical layout
Discbound system – Easily add or remove pages
12-month 2024 calendar
7″ x 9.75″ or 8.5″ x 11″
Things to consider:
If you want to add additional pages, you'll have to also purchase a special hole punch
No stickers
No storage pocket
7. Amy Knapp's Family Organizer
If you're looking for a basic planner to stay on top of your family's schedule and you don't want to splurge on a premium planner, Amy Knapp's Family Organizer might be a good fit.
This planner has a 17-month calendar and is designed for moms and families. Since the calendar begins in August, it's perfect for the start of a new school year.
The features that stand out the most are the perforated lists for weekly menus and grocery planning pages.
Those are really handy if you're trying to meal plan and save a little cash each week, and you won't have to print any additional pages.
Love the ink-saving factor here.
As far as the planning pages themselves, they have a horizontal layout without lines.
While Amy Knapp's Family Organizer may not be the fanciest of options, it is an affordable family planner that consistently gets positive feedback year after year, and that really speaks for itself.
Sometimes all the bells and whistles simply aren't needed.
Why moms like it:
Weekly horizontal layout & monthly calendars
Plan your menus and grocery lists
Create weekly to-do lists
Dated weekly and monthly spread
Color-coded sticker sheets
Goal planning section for mom
Inside storage pocket
Wire-o binding
17-month 2023-2024 calendar
6″ x 8″
Things to consider:
No tabs for quick access
Can't choose more than one planning layout
8. MomAgenda Desktop Planners
If you're wondering what's the best planner for families with multiple schedules, it's going to be the momAgenda Desktop Planner.
The Desktop Planer is a softbound planner with a vegan leather cover, and I really love the "luxe" design.
Designed by a mom of 4 herself, this planner is made specifically for moms who need to manage more than just their own schedule.
It has an 18-month calendar that begins in July, so you can grab one of these right before school starts and be set for the whole school year.
The planning pages feature a vertical layout with lines (big fan).
There are separate planning spaces for you to add up to 4 kids' schedules so that you can easily keep up with everyone's activities, appointments, and more – all in one place!
You can also use the bottom section for your dinner plans.
Aside from the basics, there are some additional pages that are useful, such as a websites and passwords page and a place to write down important phone numbers.
I love these additional pages because you can write down the random info you need to remember and you'll know exactly where it is if/when you need it.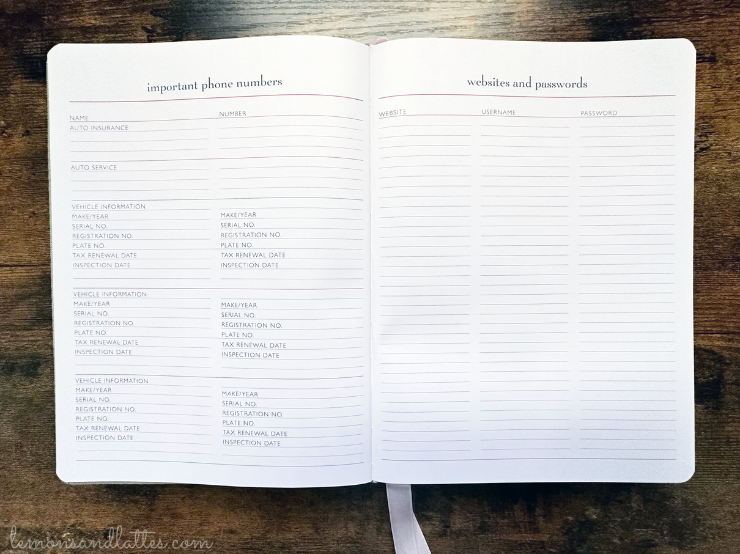 There are other sections for birthdays and medical information as well. These are great for staying organized because you really can't remember it all.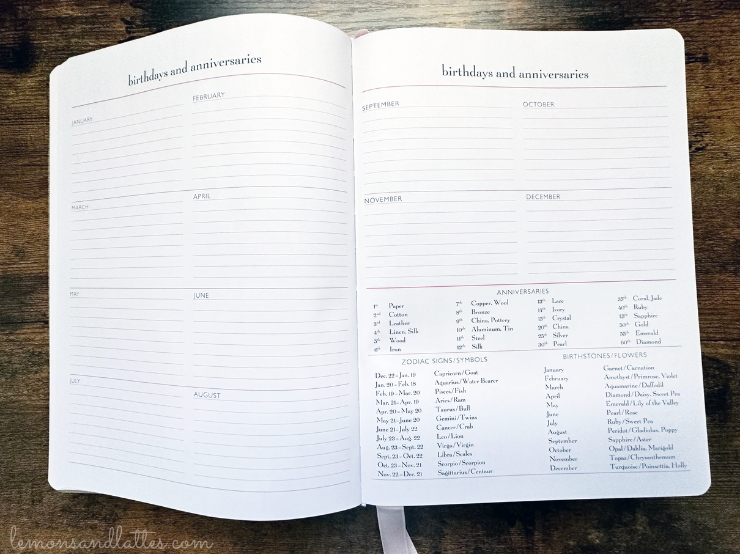 Why moms like it:
Dated weekly & monthly spread
Vertical weekly planning with lines
Includes space for mom and up to 4 kids or family members
2 Ribbons to quickly find your place
Includes additional notes pages
Available in 6 different colors (as long as they're in stock)
18-month July 2023 through December 2024 calendar
7″ x 9″
Things to consider:
No inside pocket/folder
No stickers or extras are included
9. Clever Fox Weekly Planner
If you value portability and productivity and you're cool with an undated planner, take a look at the Clever Fox Weekly Planner.
It's perfect for moms like myself who get excited about goal-setting, making lists, vision boards, and the like.
Clever Fox's main goal is to keep you productive and focused so that you can hit your goals.
The weekly planning pages have a horizontal layout with lines. An added bonus is the habit tracking section, where you can track up to 7 habits and mark them as completed each day.
But, of course, the goal-setting and to-do list sections are there too!
If you prefer a daily spread rather than a weekly spread, Clever Fox also has a daily planner.
Overall, I really like the concept of this planner. I just wish there was a vertical planning option.
Why moms like it:
Weekly & monthly spread
Write your own dates
Emphasis on goal-setting
Weekly spread includes a personal to-do list and habit tracker
Vision board
Included 150 colorful stickers
Inside storage pocket
12-month calendar
Comes in 23 different colors
Faux leather cover
A5 (5.8" x 8.3")
Things to consider:
This may not be the right planner for you if you aren't concerned with goal-setting
You will have to write in the dates yourself
Can't choose a layout type
10. Bullet Journal
For moms who love to plan, but feel restricted by traditional planners, bullet journals (BUJOs) are a great alternative.
A bullet journal is a customizable system of organizing your thoughts, tasks, events and more using bullets, symbols, and different layouts.
Since you start with a blank notebook, you have complete control over every page and can design layouts, trackers, and lists that reflect your own style and priorities.
You can create sections for meal planning, chore tracking, budgeting, self-care routines, and more.
This video explains a little more about what a bullet journal is and how it works:
If it seems a little intimidating at first, don't fret.
There are boundless bullet journal ideas circulating on Pinterest that will show you how to set up all sorts of pages to organize your life.
Why moms like the bullet journal:
Customize as much as you want
Use as much (or as little) color as you want
Let your creativity run wild
Easy (and fairly inexpensive) to get started
Plenty of bullet journal ideas out there for inspiration
Something to consider:
If you're trying to choose between a bullet journal and a traditional planner, it basically boils down to this: Do you want complete freedom to customize every single thing to do with your planner? Including designing every page?
Or do you find that you do better when you have a framework to work with? If you are a creative mom or love to DIY, but a bullet journal gives you a little too much freedom, The Happy Planner gives you the best of both worlds and might be the perfect planner you've been looking for.
11. Cinch! Dry Erase Fridge Calendar
For some busy moms, a magnetic weekly planner for the fridge may be more useful than a traditional planner.
Although, if you want to use both, you certainly can.
With a magnetic fridge calendar, you can easily make changes, wipe off the old week, and start fresh each week.
It's a simple way to keep the whole family on the same page since everyone can check the fridge to see what's coming up for the week.
Why moms like it:
Stain-resistant
Includes 4 fine-tip markers
Includes large eraser
Keeps the entire family organized
Things to consider:
Since you will only be able to fill this in week-by-week, you still may need to use a calendar app or traditional planner in addition to the magnetic fridge planner.
12. Bliss Collections Family Planner
Not everyone is a fan of dry-erase boards. They do have their pros and cons.
However, if you like the idea of having your family planner on the fridge but don't want a dry-erase board, you do have another option.
Meet the Bliss Collections Family Planner. It has 50 undated sheets that are US letter size (landscape variation). So, it's essentially a notepad for your fridge.
There's plenty of space for planning your daily meals, appointments, activities, field trips and other school events, chores, etc.
There's also room for adding up to 4 kids' names, which I love.
Why moms like it:
Space for up to 4 kids
Vertical planning layout
Undated, so it will never expire if you take a break from using it
Keeps the whole family organized
Things to consider:
If you are looking for a solution that will last you an entire year – While this notepad comes close, it won't quite last you an entire year since there are only 50 pages.
---
I hope this list has pointed you in the right direction to the perfect planner to keep your life organized!
If it seems like there are too many options to choose from, it may be helpful to take a few extra minutes to brainstorm exactly how you will use your planner and narrow down the features that matter to you most.
Ask yourself questions like what type of layout are you looking for. Horizontal or vertical? Do you need hourly planning?
Do you need any extras such as goal setting, budget planning, etc.? Do you want your planner to come with stickers? Does portability make a difference?
Remember, the best planner for one mom may look completely different for another.
Have you decided on one? I'd love to know which is your favorite and why if you have a few extra minutes to drop a comment.