This post may contain affiliate links. Please read my disclosure for more info.
Are you looking for a cute weekly planner printable? These are for you!
I love pretty templates, but they also need to be practical. Luckily, these are both.
They have just enough pop of color for a girly esthetic without being too over the top.
As far as the layout goes, you have a couple options. There's a vertical weekly spread and a horizontal one.
Many of the templates include a weekly to-do list along with a notes section for any extras you may need to write down. Others have a spot to write your top goals for the week.
You may print as many as you want! They are all free for personal use.
Why use a weekly schedule template?
There are endless ways to take charge of your life when things are feeling out of order.
For starters, there are plenty of cute printable calendars you can stick on the fridge to help you stay on top of important upcoming dates.
And you are certainly not limited on options when it comes to finding a meal planner to solve the "what's for dinner" dilemma that seems to happen every night.
But one of my favorite ways to organize your life is to get your own planner and actually use it.
Buying a paper planner can be a great option for some, but others prefer printable pages instead.
And there are a few reasons for this. For one, they allow you to eliminate distractions and focus on one week at a time.
Another reason is you won't have any gaps to worry about. For example, if you decide to take some time off from planning, you won't have a random chunk of expired pages that you can't use.
Not to mention, these won't cost you a single penny!
The benefits of weekly planning
There are a whole slew of benefits and the good news is anyone can enjoy them.
Whether you're a busy mom, stay-at-home parent, student, or you work a 9-5, you can benefit from setting aside a little time each week to think about your goals and what you'd like to get done in the upcoming week.
Better time management
You've probably heard some variation of the saying that we all have the same amount of time in a day. It's how we spend our time that matters, right?
Beautiful things happen when you are intentionally spending your time on the right activities.
Plus, it's so nice to be able to wake up knowing exactly what you need to focus on for the day. There's no time wasted wondering what you should be doing.
Helps you achieve your goals
And when you're laser focused on the right daily tasks, it's pretty much a given that you're going to eventually achieve your goals!
Every week you will be chipping away at them.
Helps you follow through with those Resolutions
A weekly or daily planner is also a great way to start off a new year, especially if you have some new goals in place.
Every new goal needs a plan.
Makes it easy to track your progress
You'll be able to see how much you've accomplished each week. It's the perfect way to gauge whether you need to do more (or less).
Sense of accomplishment
We all love that feeling of satisfaction when we can check something off our list. Especially when it's the end of the week and you know your time went into your top priorities.
Less stress
Another great thing about using a weekly planner is that it takes away some of the stress.
Personally, when I know I'm being intentional with my time, I feel much less overwhelmed and happier overall.
Tips for planning your week
Before we jump into the PDF files, I want to share a few tips to help you get the most out of your planner templates.
Set aside a few minutes each week for planning.
Not only for planning the upcoming week, but also for reflecting on the previous week.
Here are a few key questions to ask yourself as you're reflecting:
Am I happy with how this week went?
Am I doing too much, not enough, or the perfect amount?
Are there any ways I can improve?
Consider a brain dump.
If you ever sit down to plan your week and you feel overwhelmed or bombarded with thoughts, a brain dump can be incredibly helpful.
Sometimes you just have too many things on your mind and you need to get everything onto as sheet of paper so you can sort and prioritize what needs to be done first.
Consider your goals.
Another thing to consider when you're planning your week is your personal goals.
Are there any weekly goals you can aim for?
If you've created a goal plan, these will be those smaller action steps you can do each week that will inch you closer and closer to your bigger goals.
Try not to OVER plan.
Remember, it's important to not pack too many things into your weekly schedule. I try to aim for 3-4 important tasks each day.
I've found that I'm way more productive when I don't have an endless, overwhelming to-do list.
If it starts to feel like too much work, it will be hard to stay consistent.
Additional ideas to add to your free printable weekly planner template
Aside from your important things to do, here are some ideas you may also want to consider adding.
Daily habits
Adding new habits you'd like to establish into your daily routine is the best way to stick with them. This could be making your bed, journaling, stretching, exercising, drinking plenty of water – Anything you want.
Gratitude reminders
We can all express a little more gratitude. Take time each day (or week) to be thankful for all the good things in your life. You'll be surprised at how this can impact your mood and shift your perspective.
Self-care
Taking care of yourself is just as important as your other goals. So, plan for that walk or whatever it may be that helps you feel refreshed.
Weekly planner printables with cute designs
There are 40 total free printables with two different layouts for you to choose from. So, whether you prefer landscape layouts or portrait, you have options.
You can also choose between a Sunday and Monday start.
Some of the designs feature pastel colors, while others are a little more bold and vibrant.
All printables are in PDF format.
Portrait weekly planner with horizontal layout
Prefer a horizontal planning layout? Scroll through these until your find your favorite planner template.
There's also a to-do list column on the right side of the page, so if you have any tasks that you don't want to assign to a specific day, you can add those there.
These also have a notes section at the bottom for any other reminders you may need to jot down.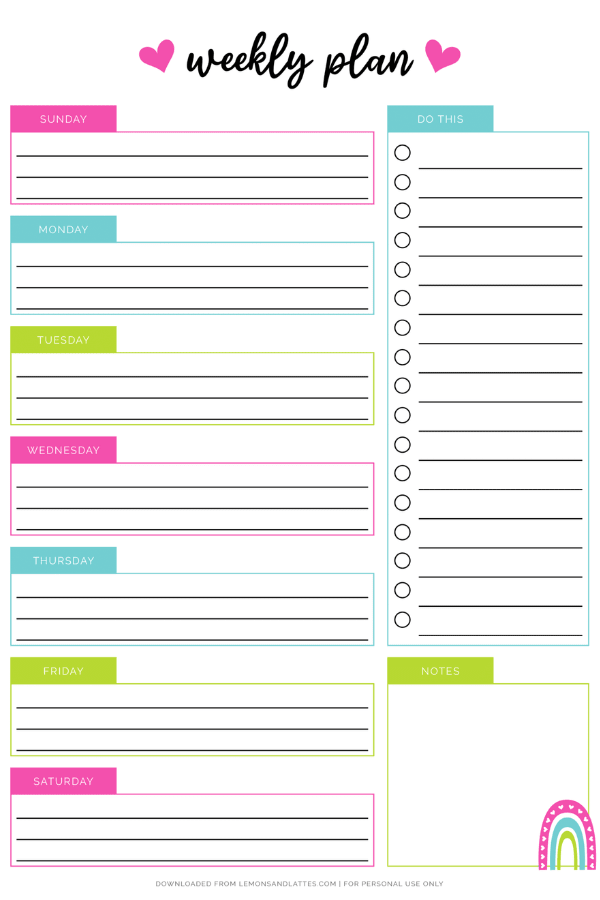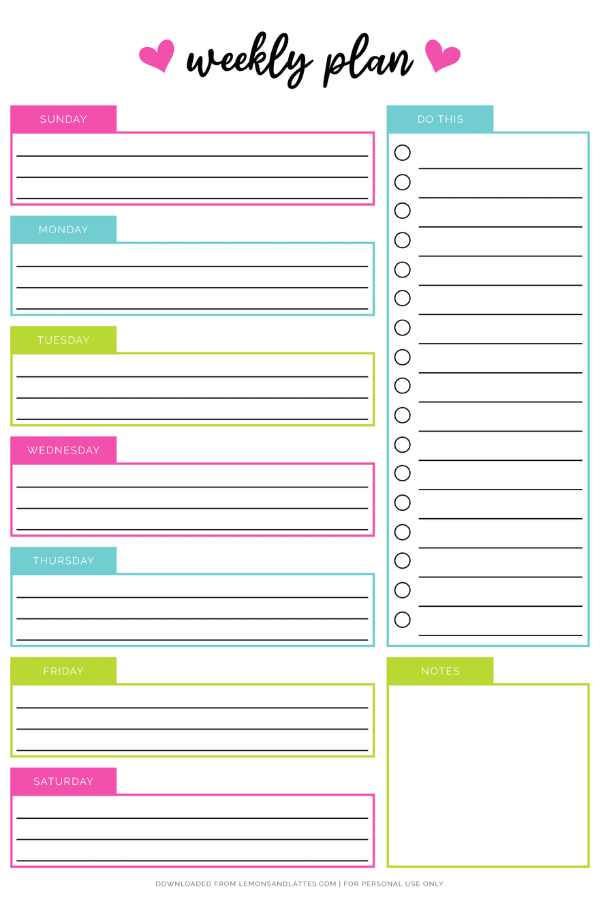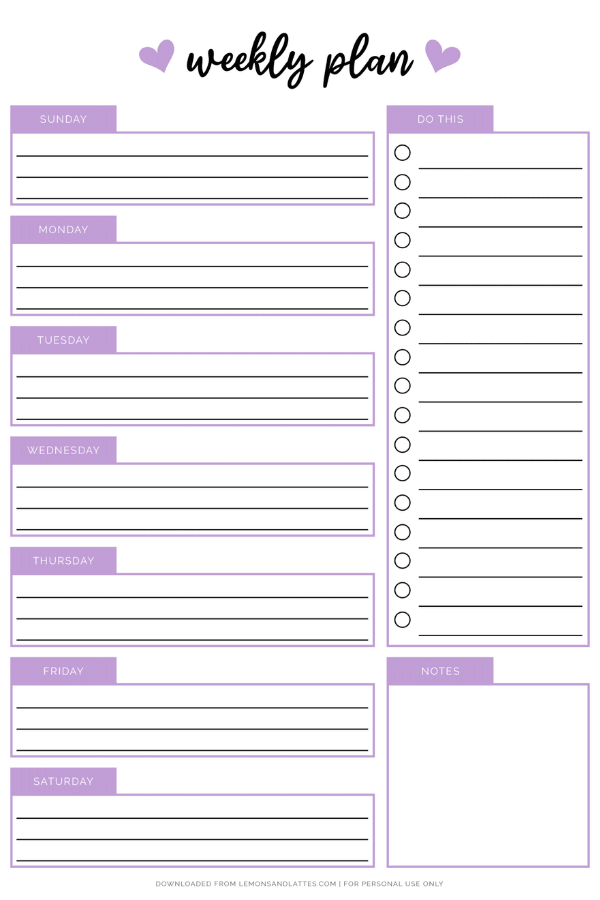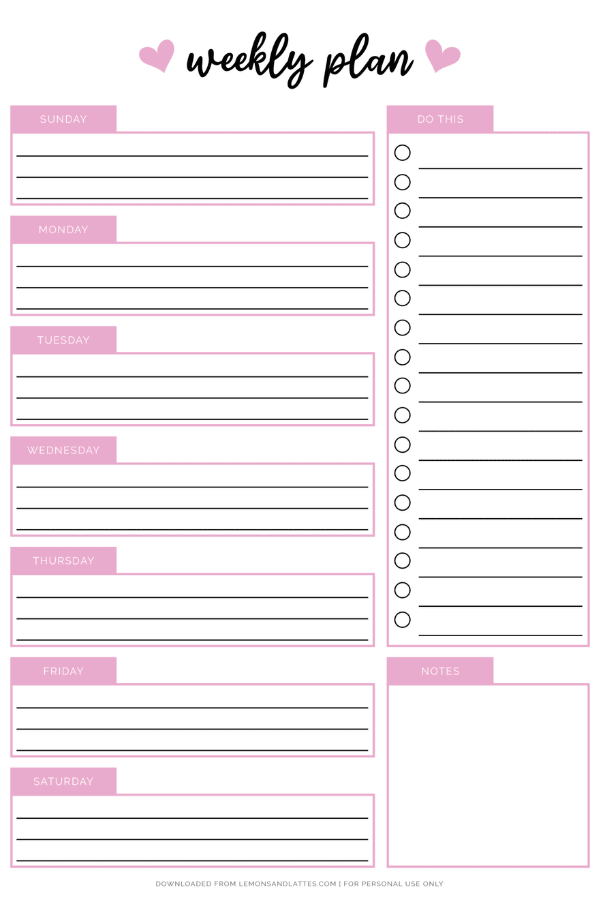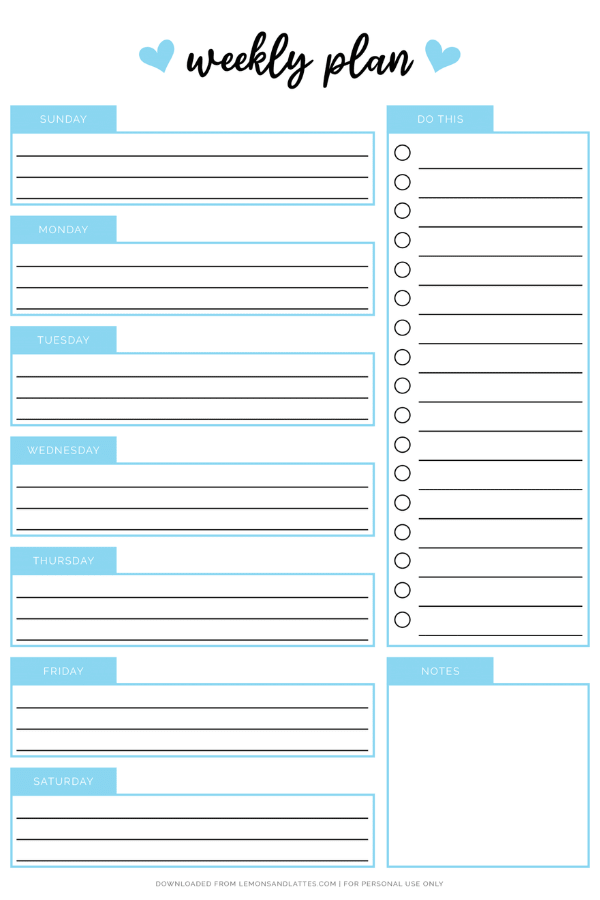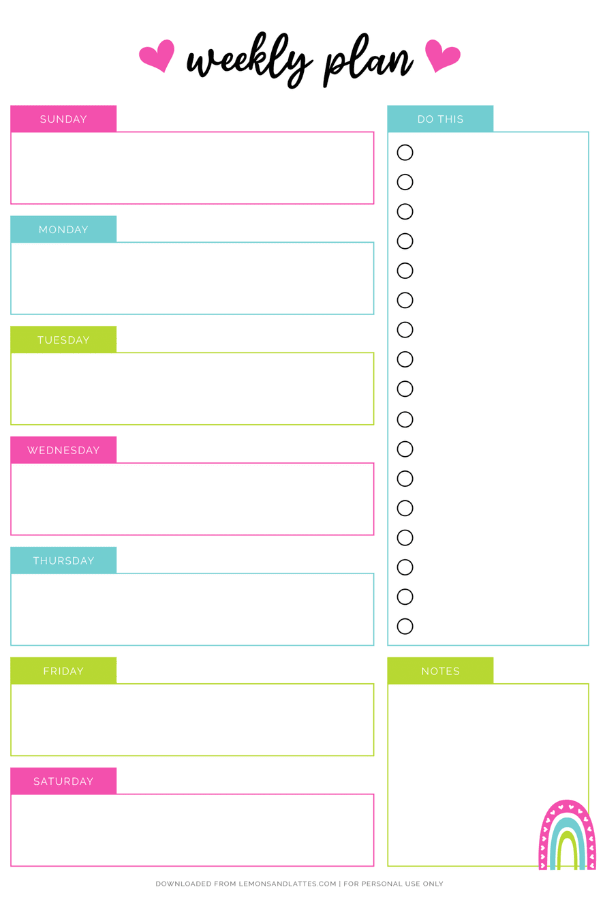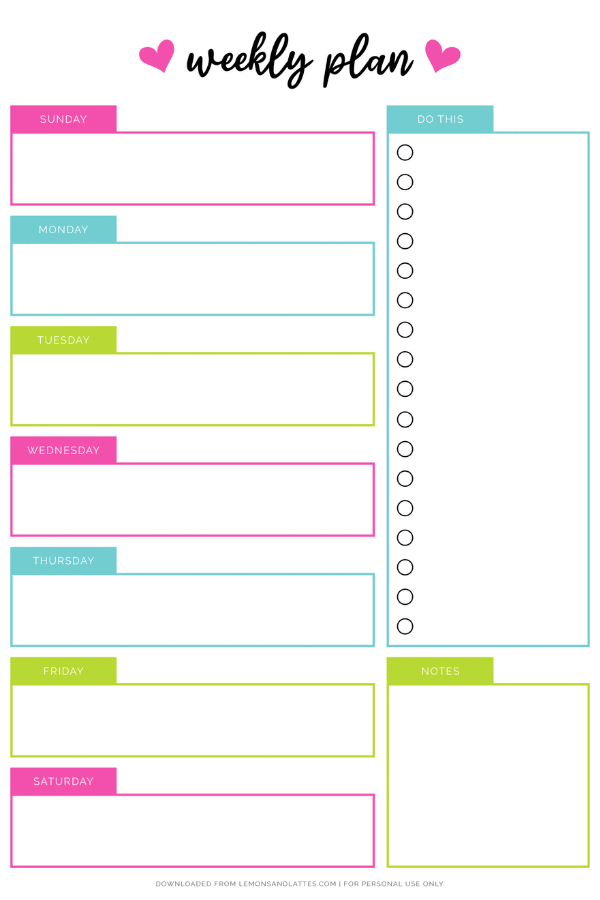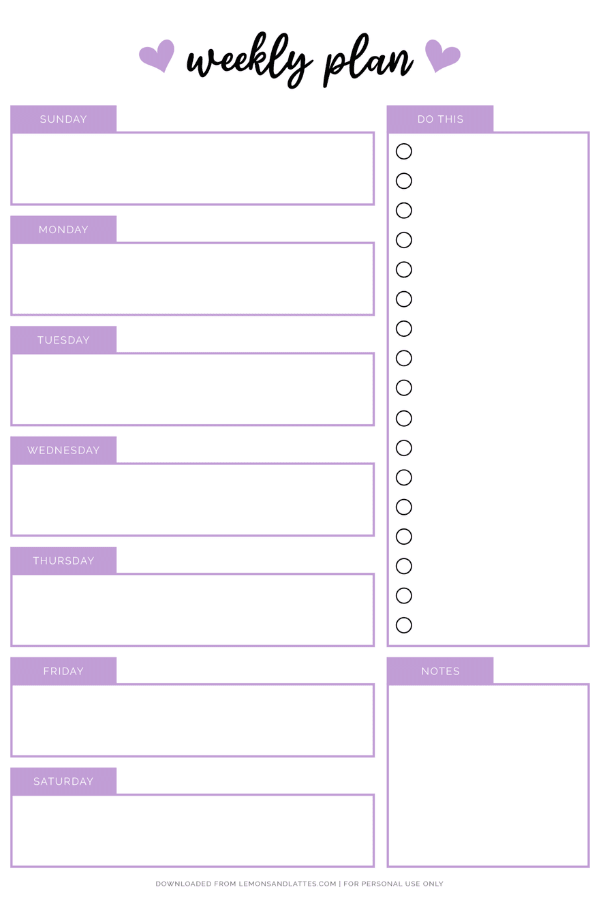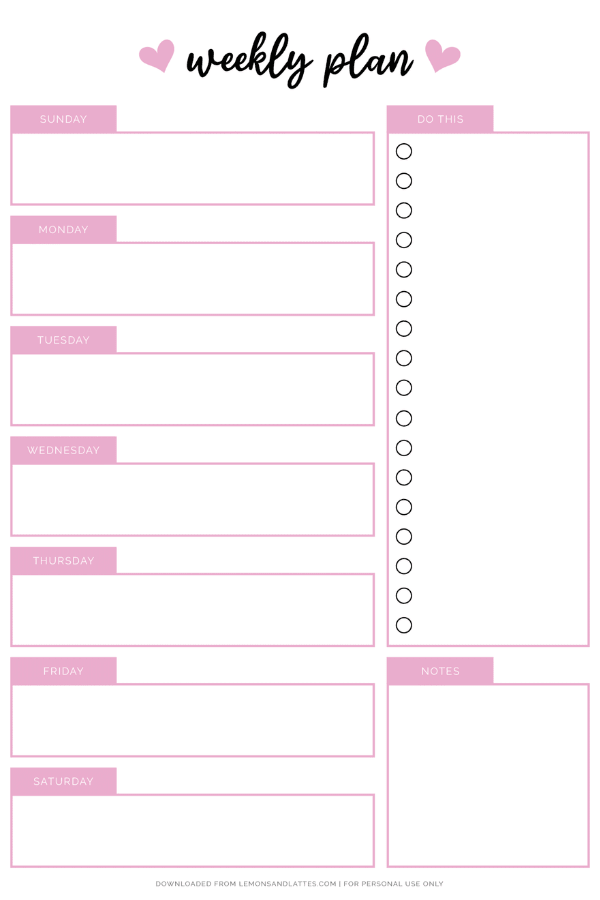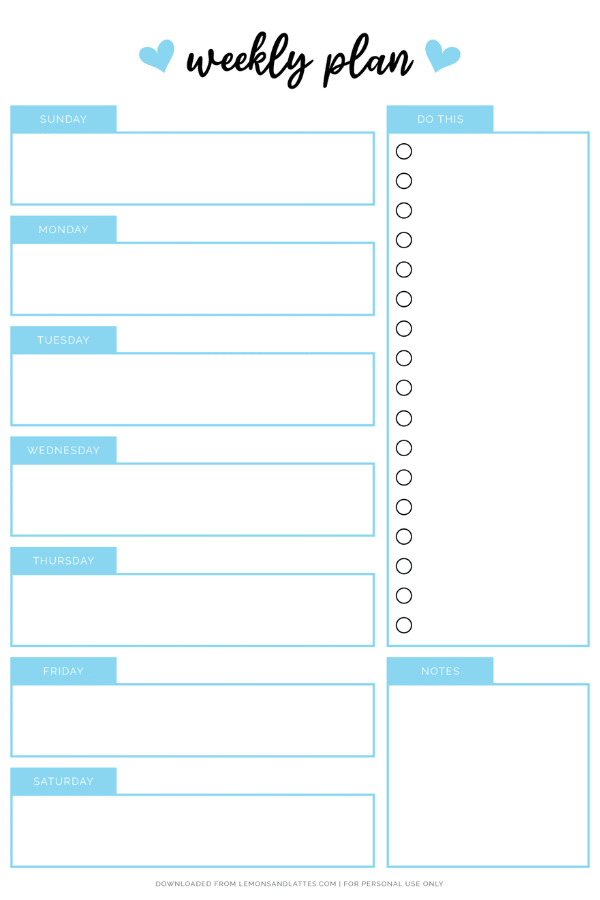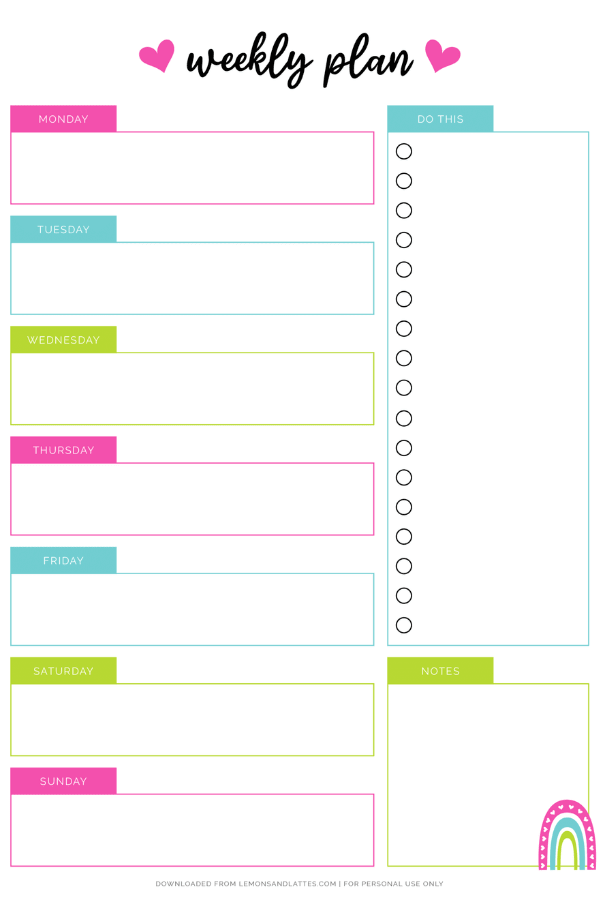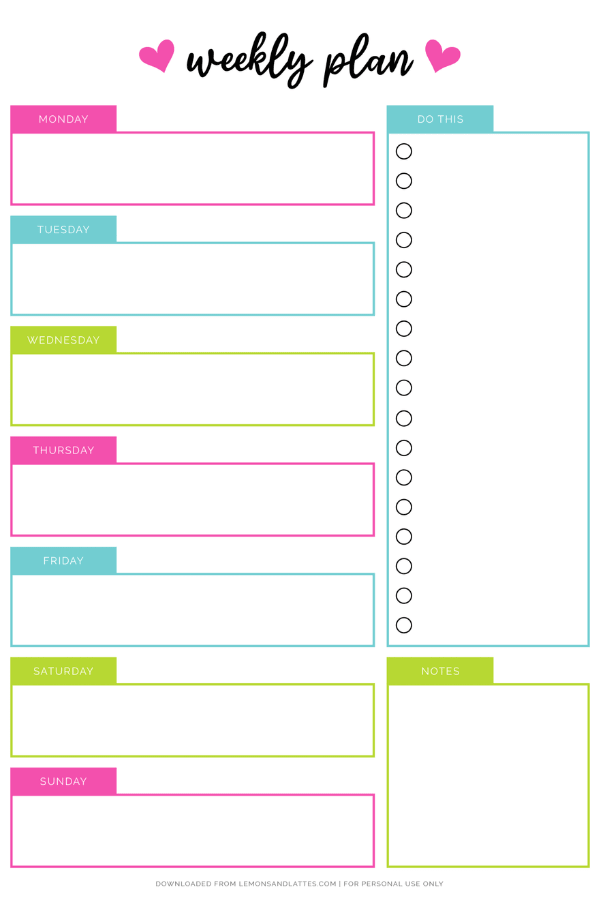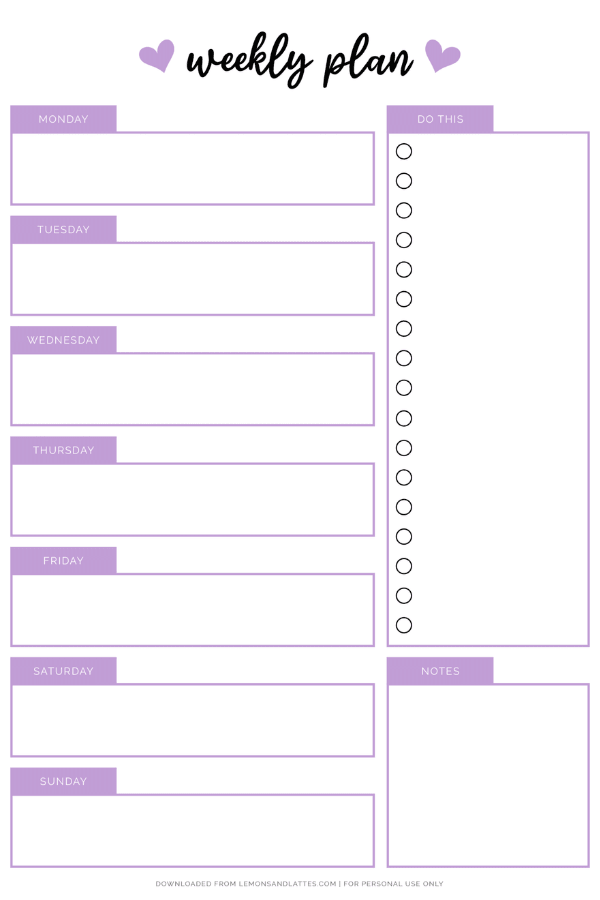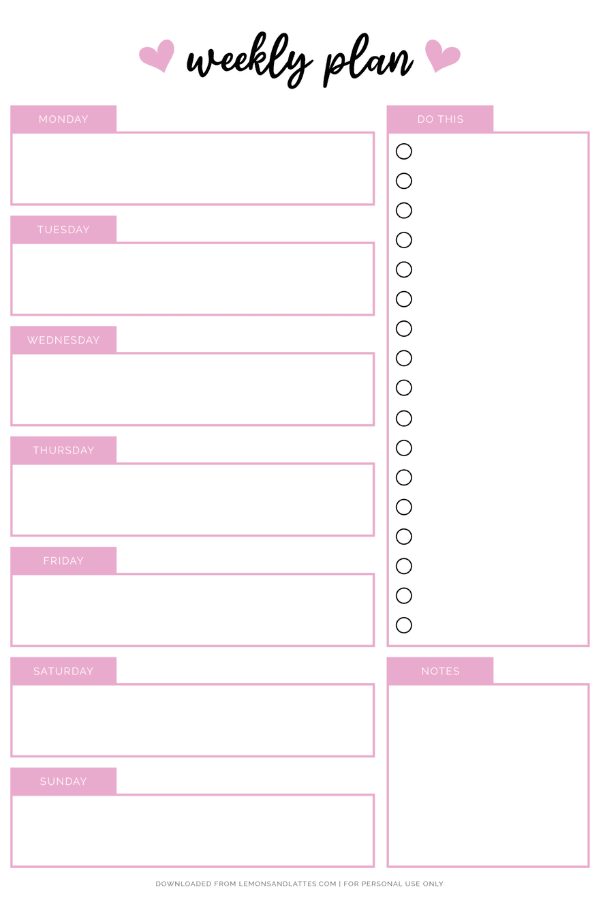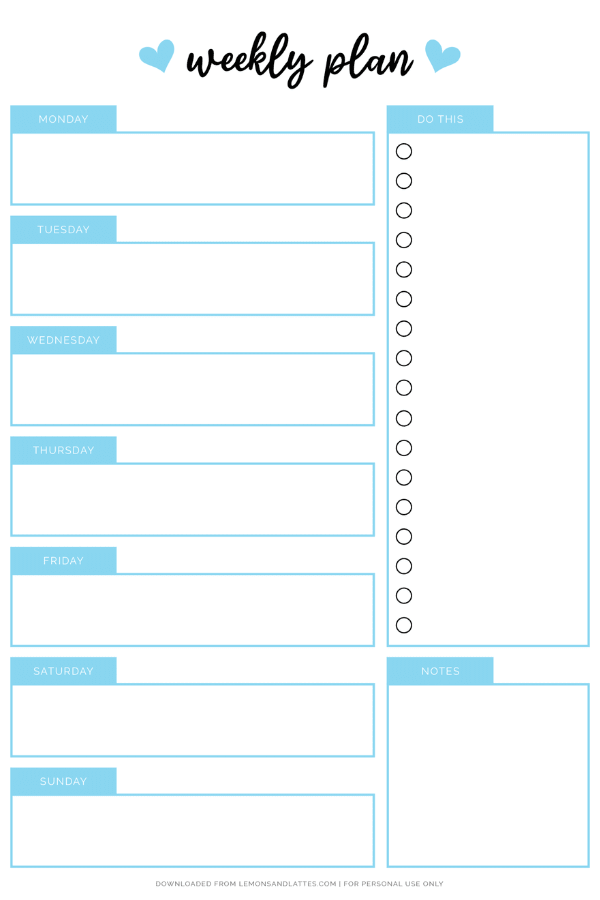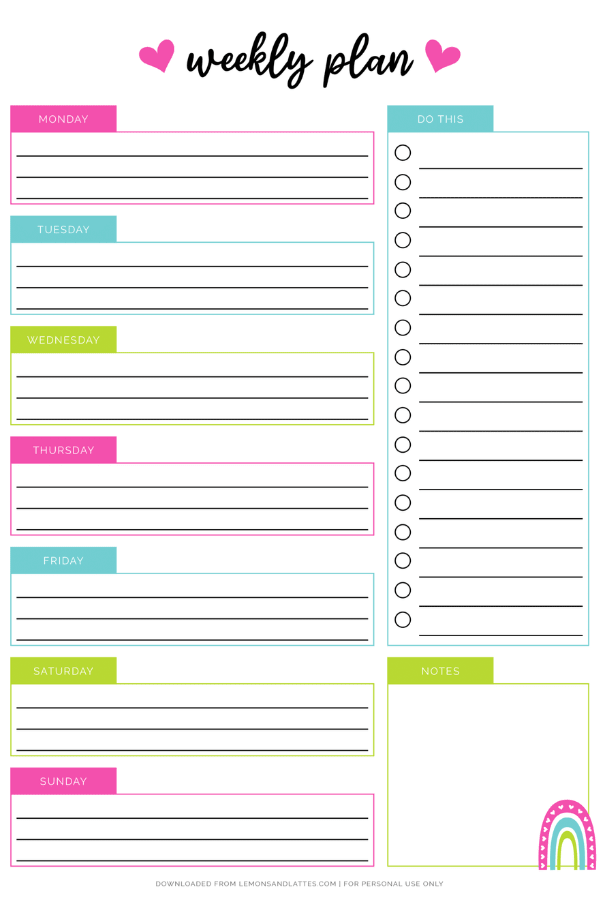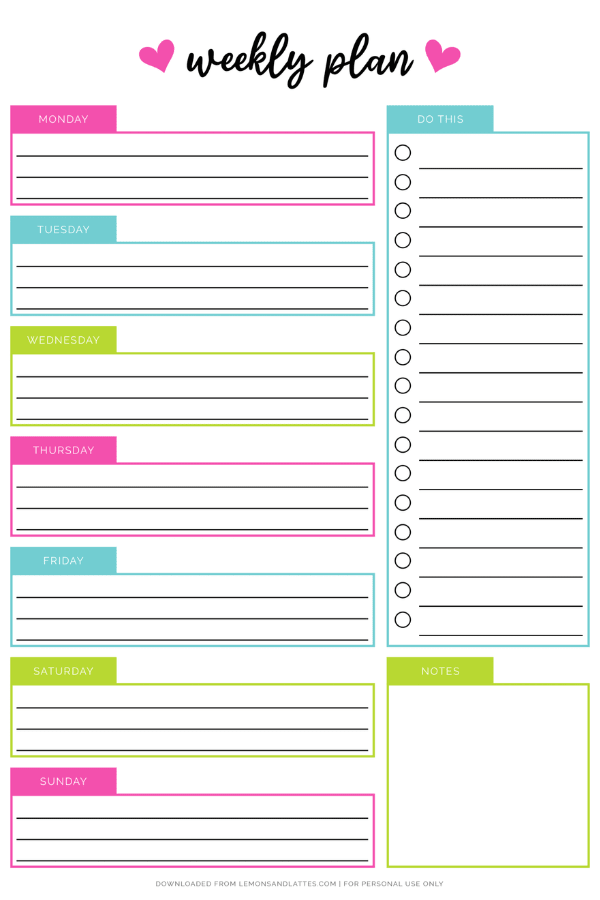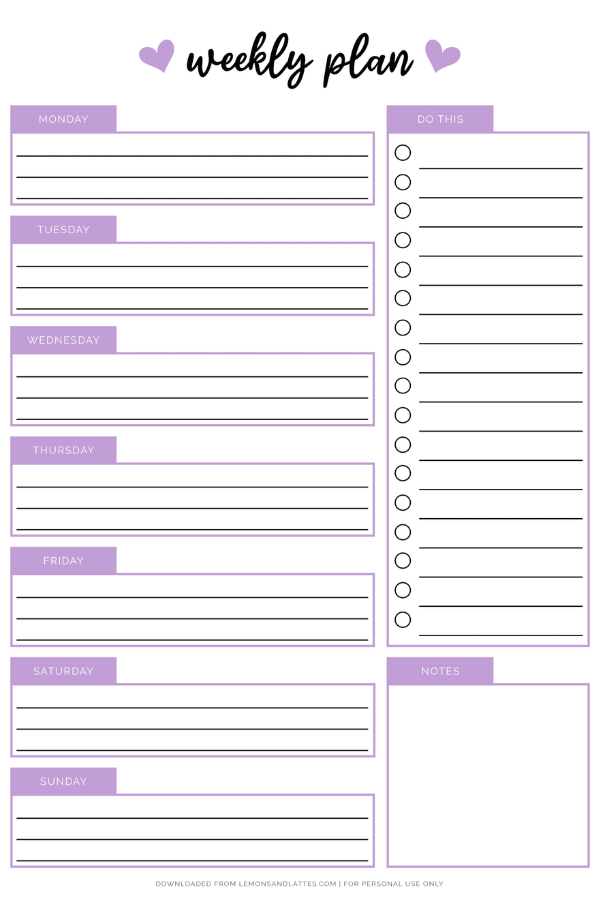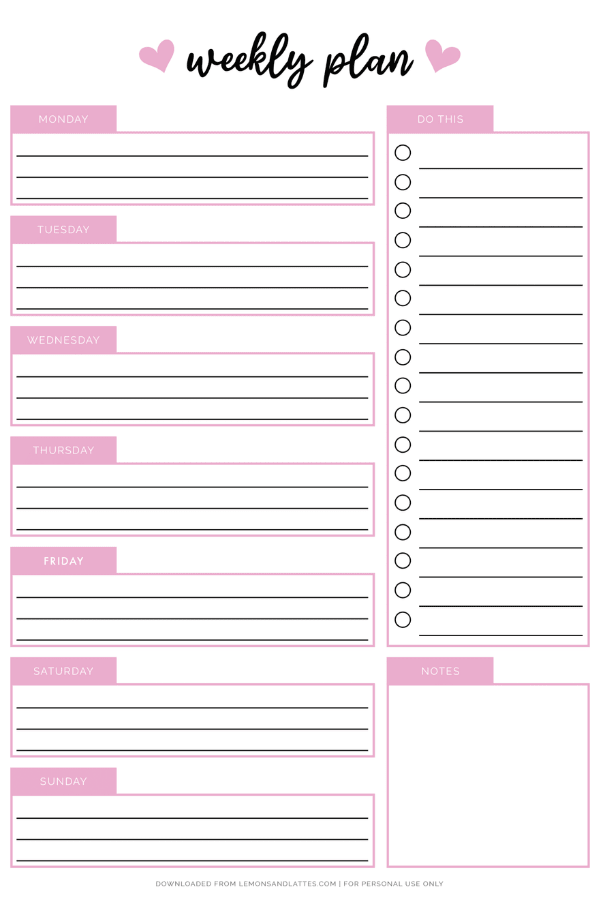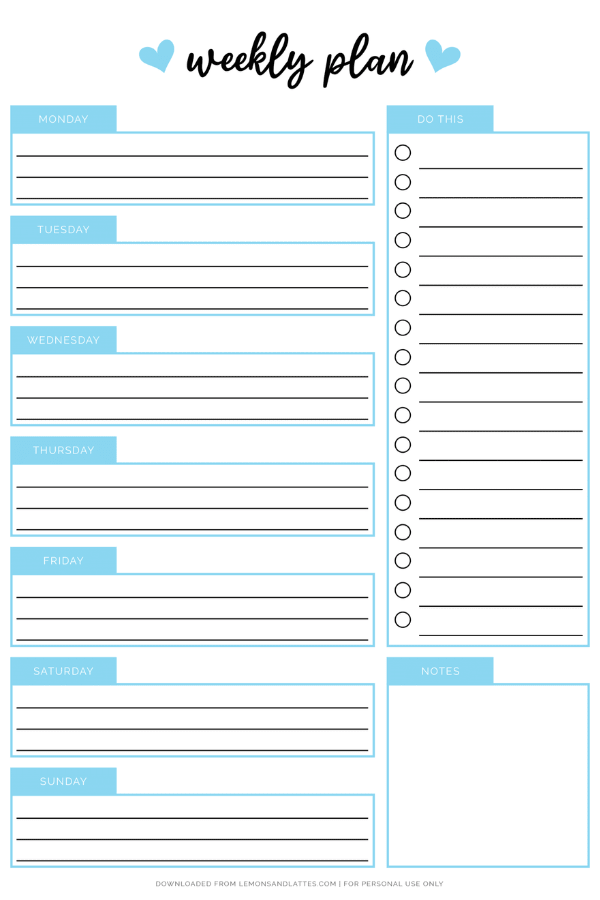 Landscape weekly planner printables with vertical layout
If you prefer a planner template that has a vertical weekly layout, these were designed with you in mind! I get it, because vertical columns are my personal favorite as well.
These do not have a notes section like the previous ones, but they do have a spot for you to write in your top 4 goals for the week.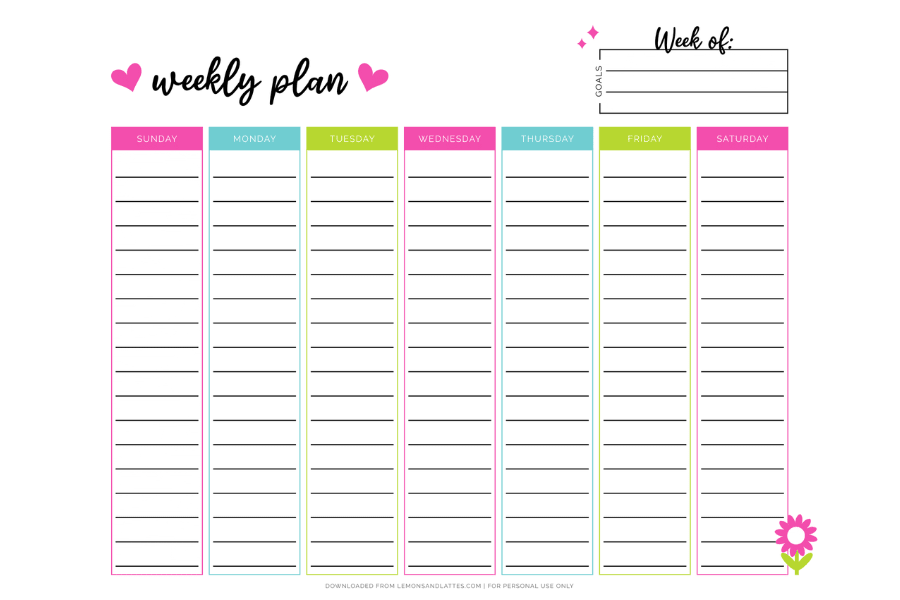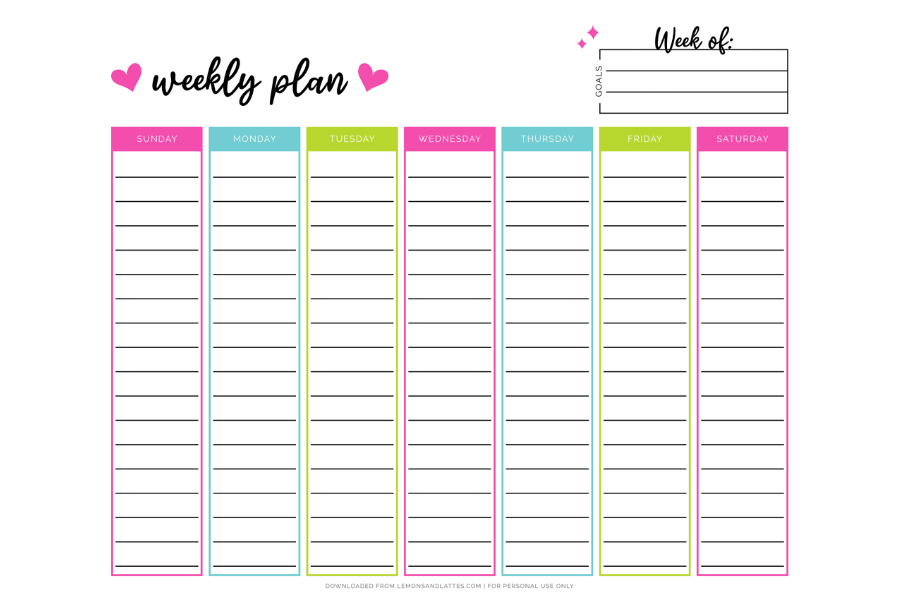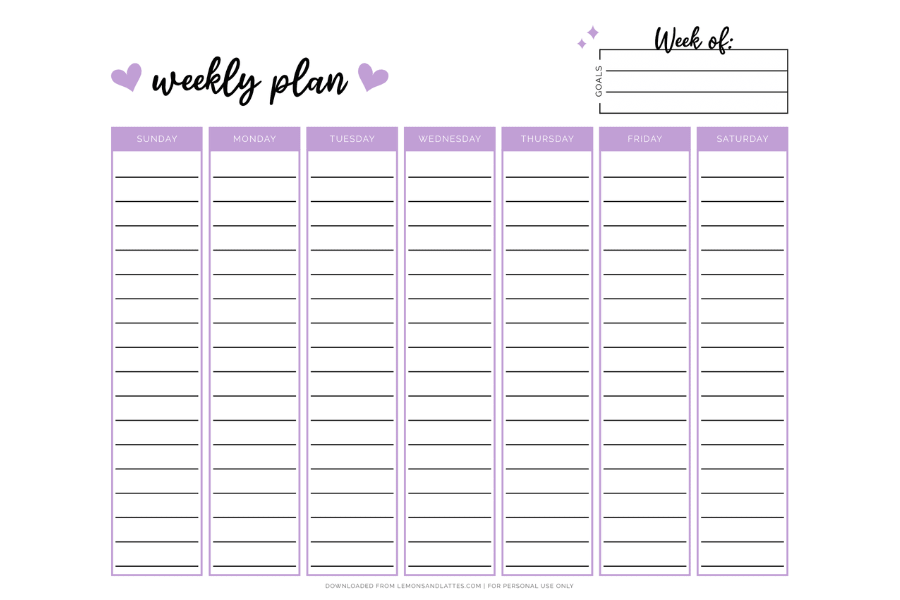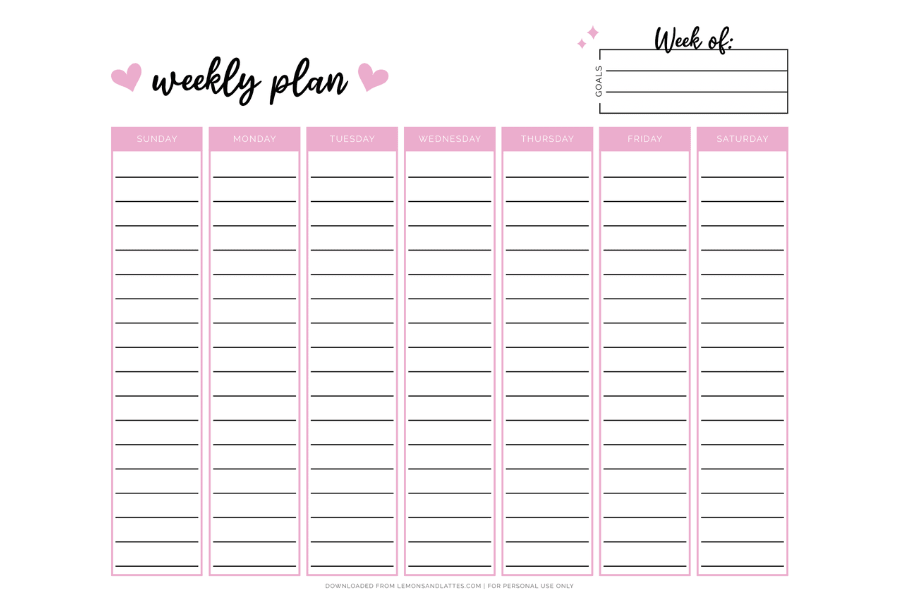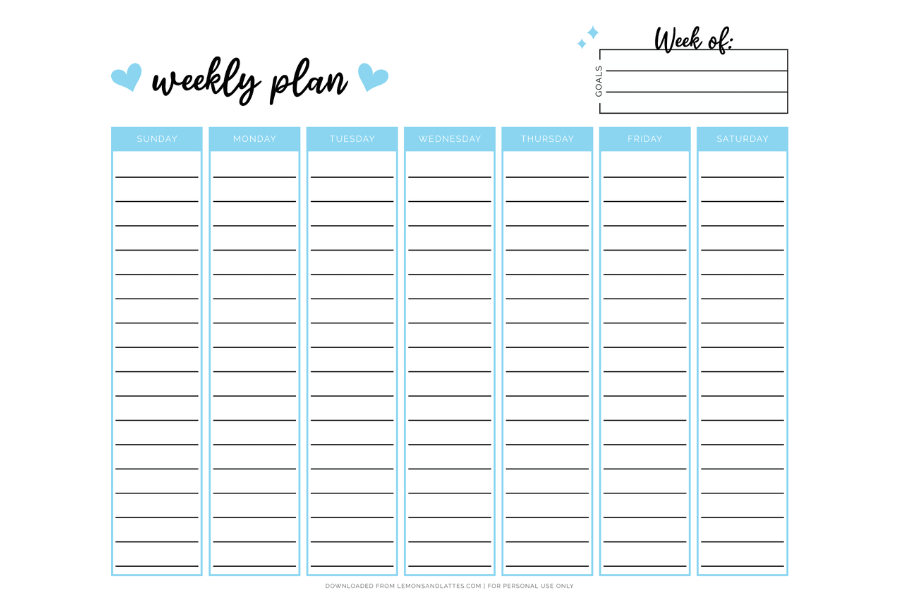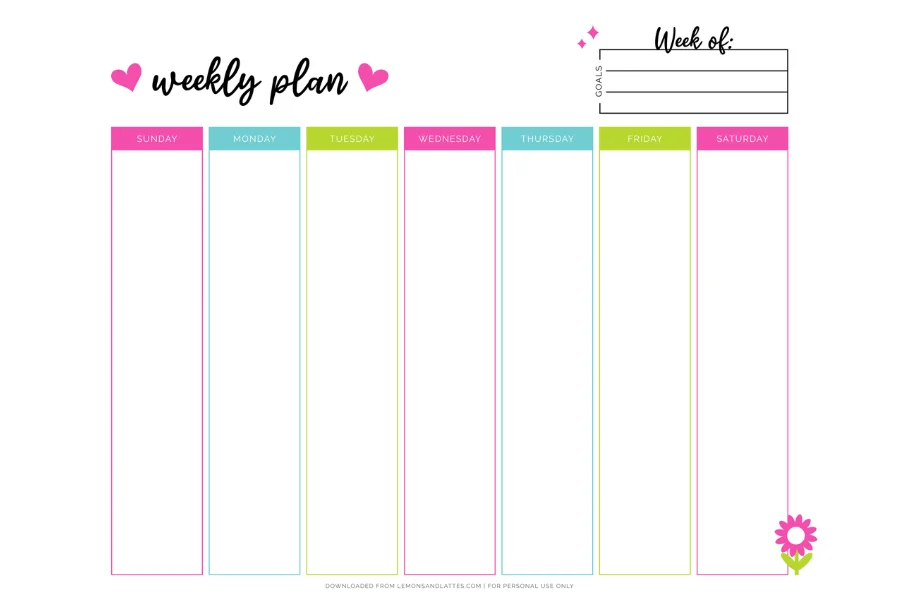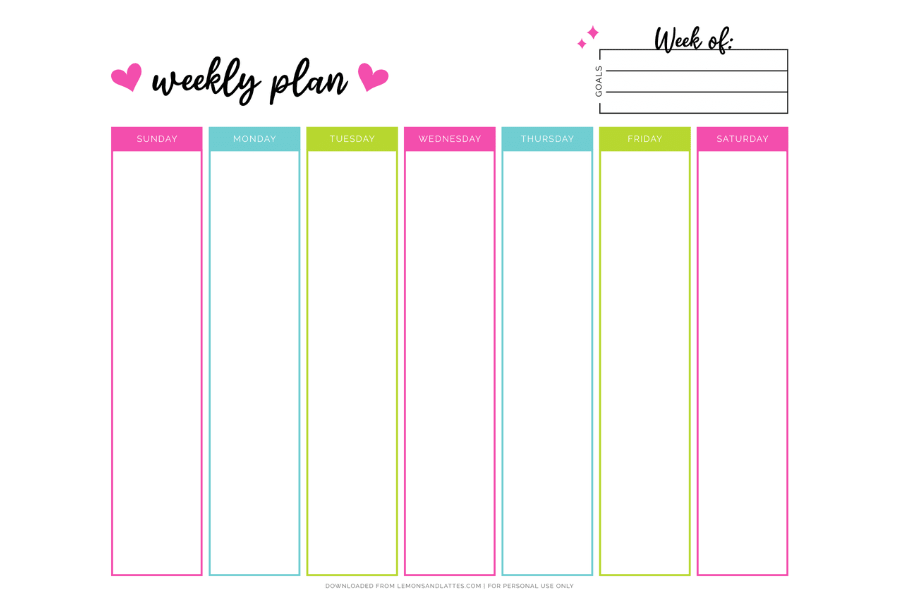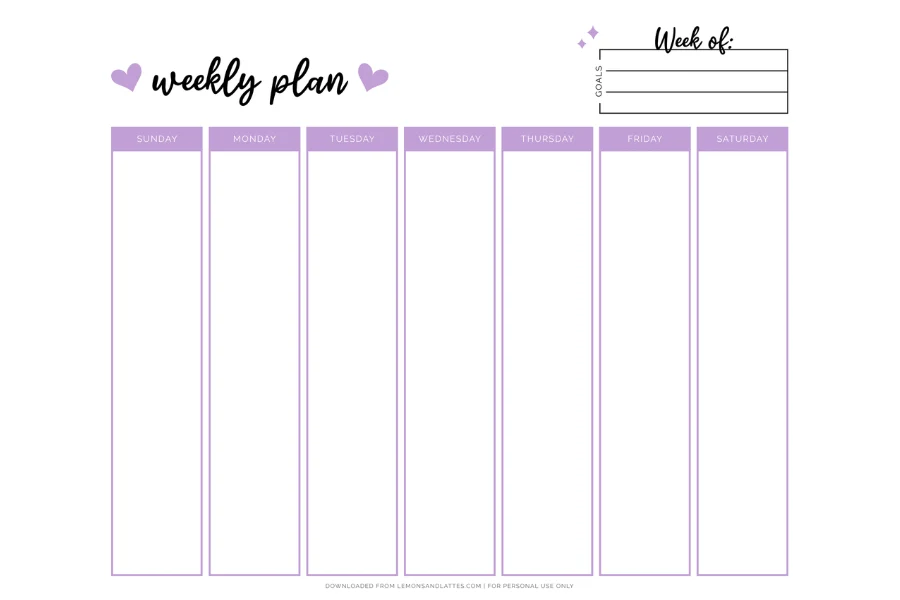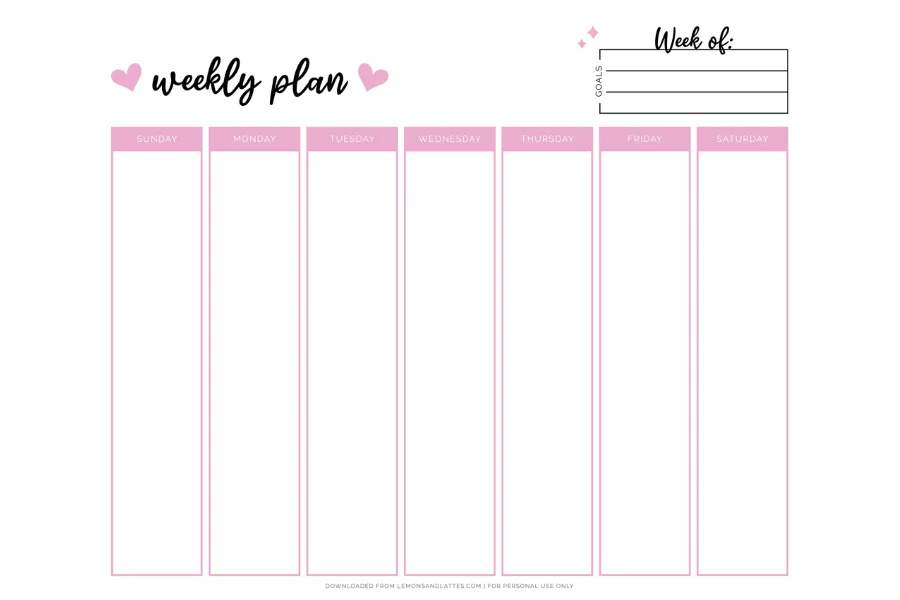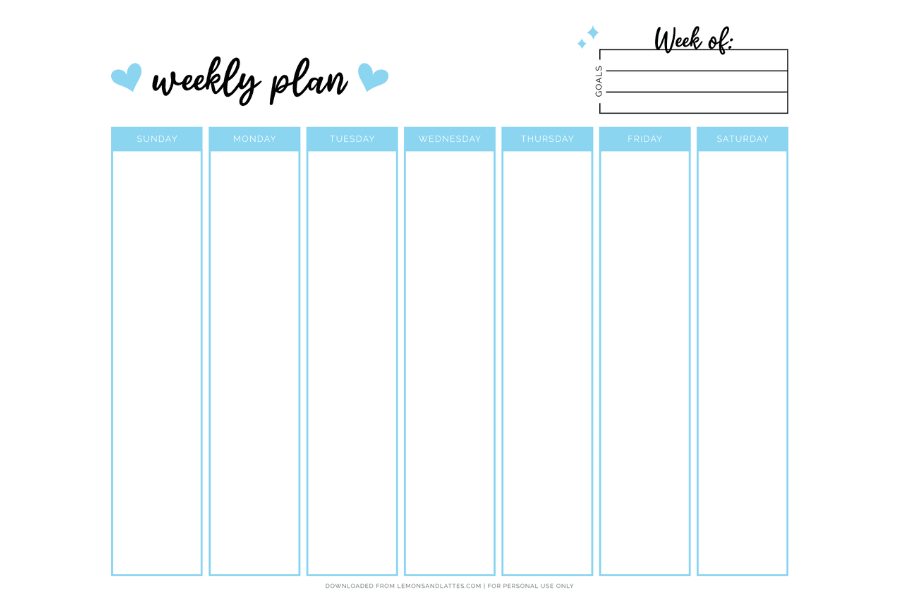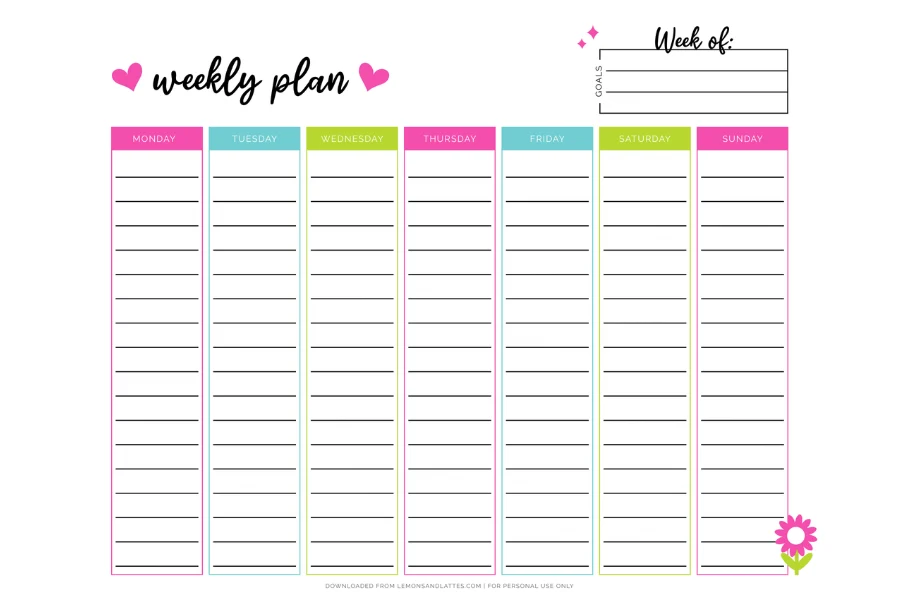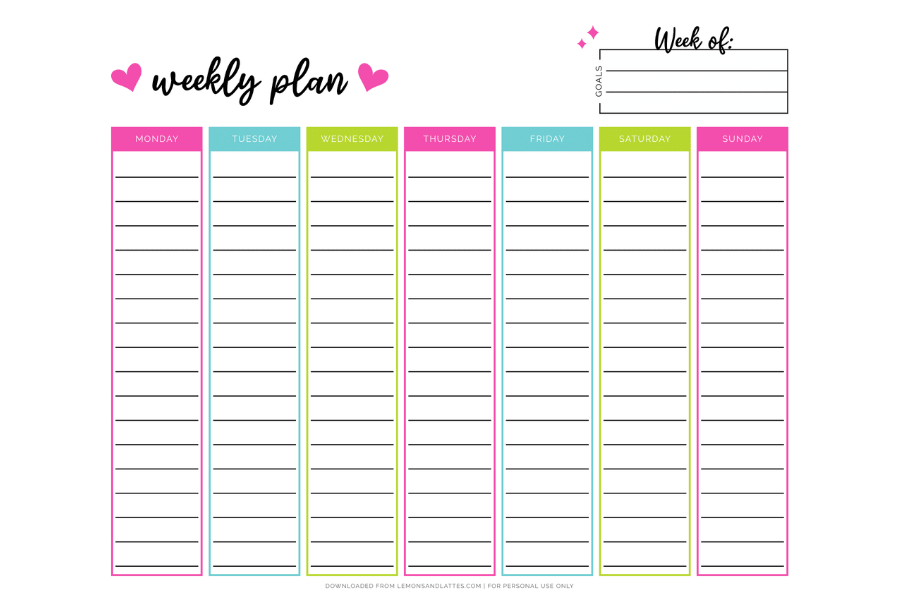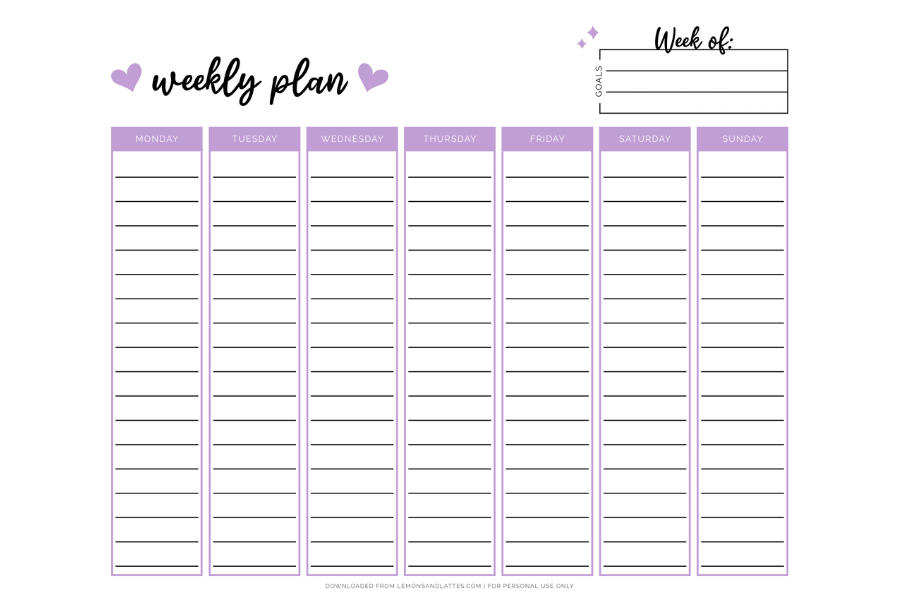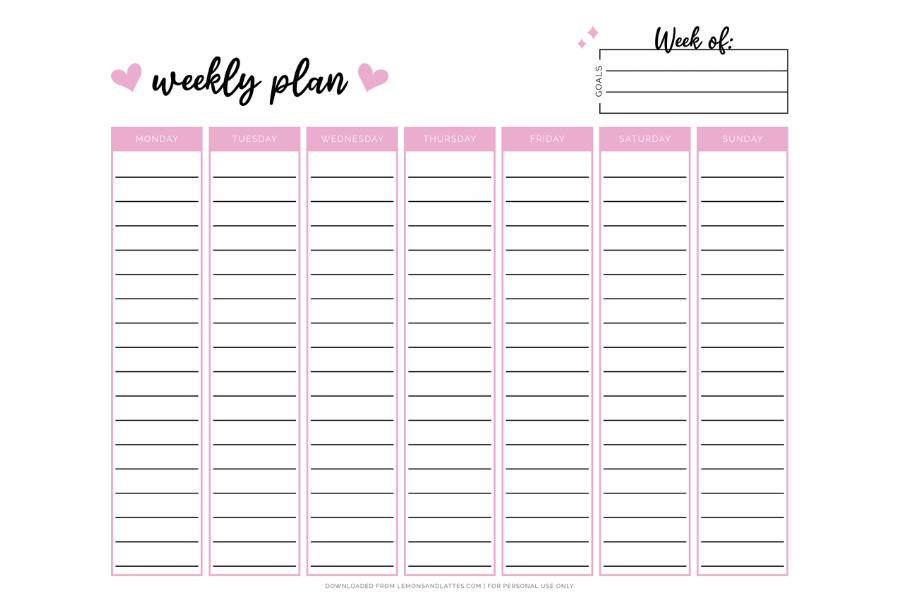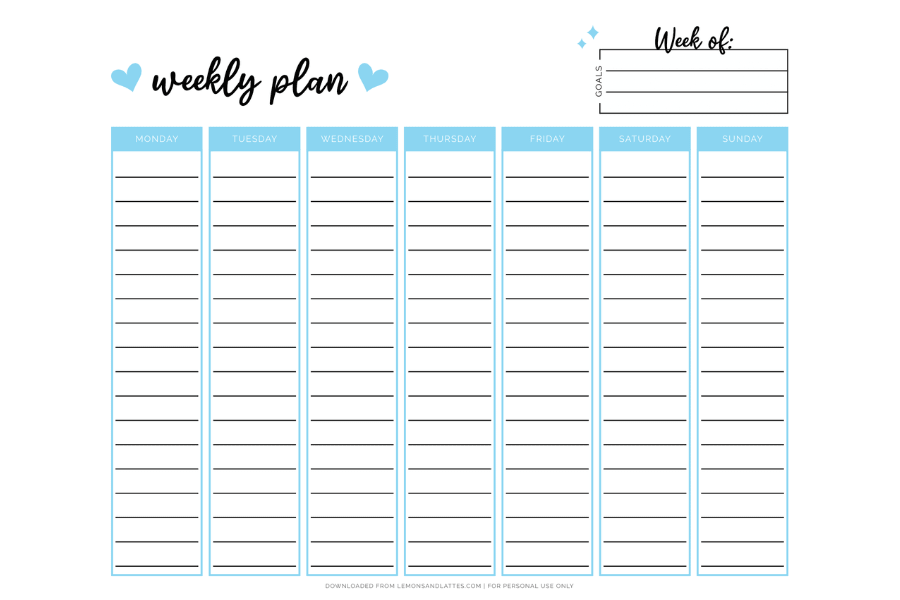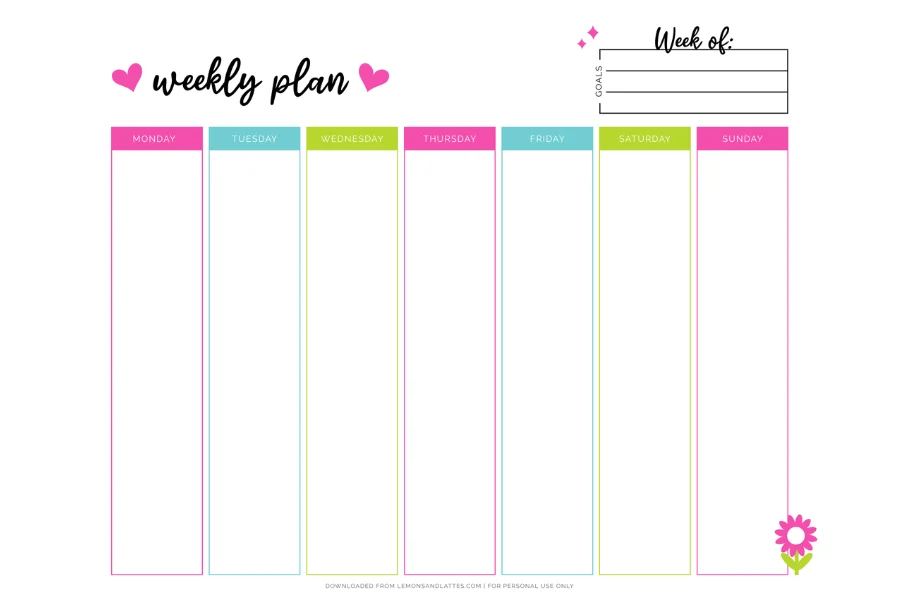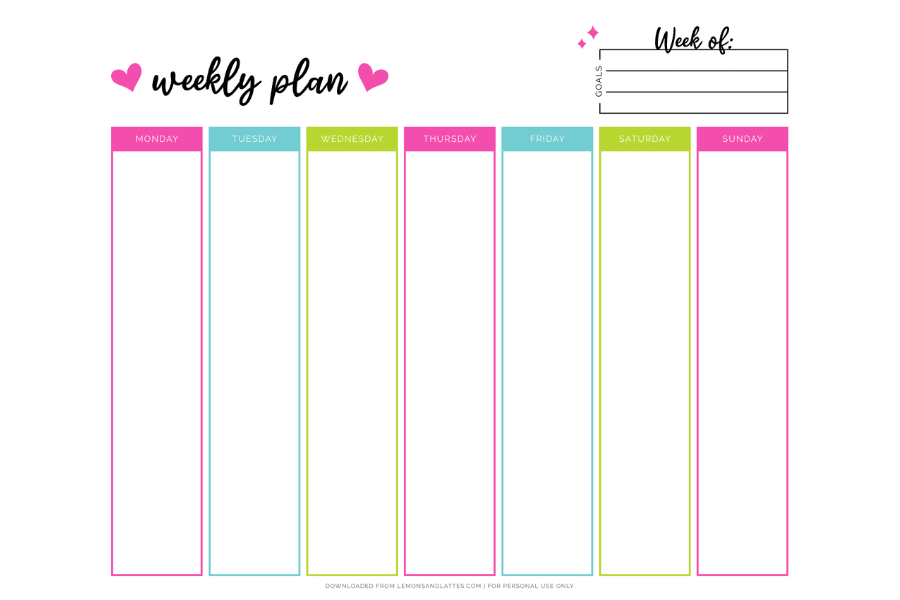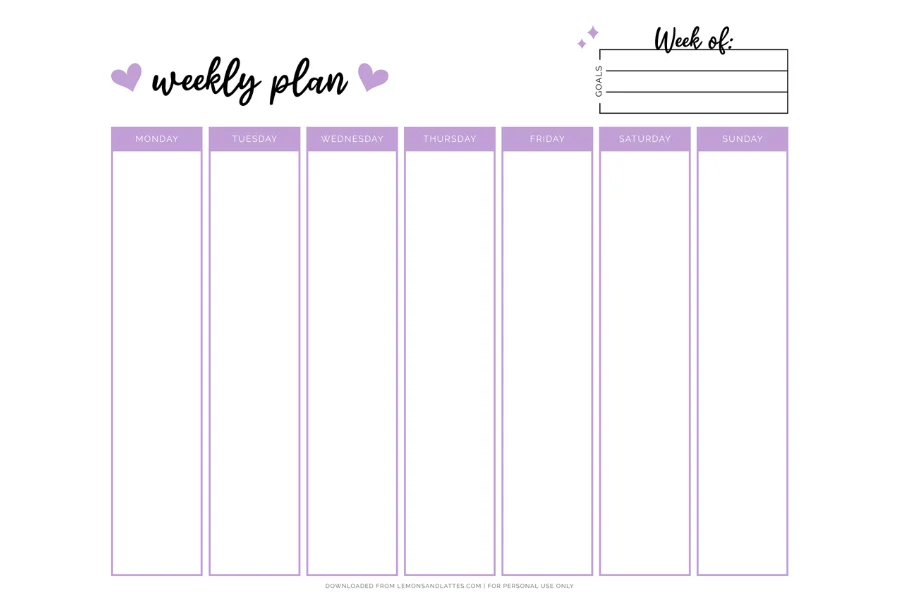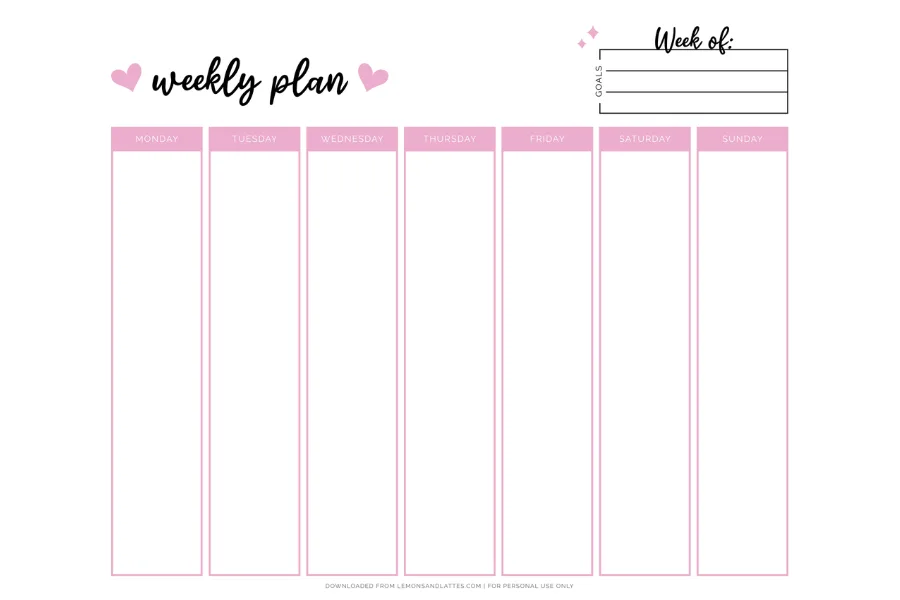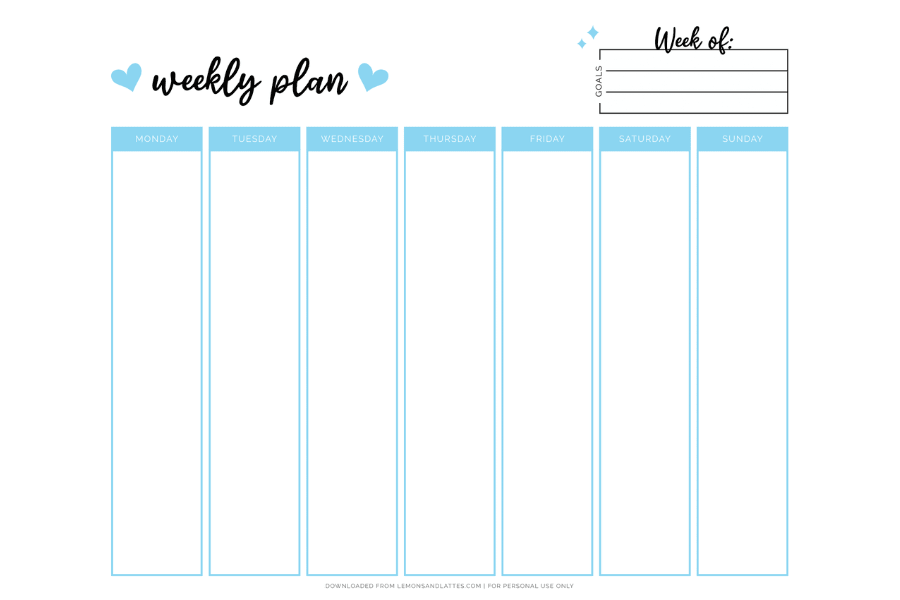 So, if you're tired of approaching your weeks willy-nilly and getting little to nothing done as a result, a cute planner can be a helpful tool to turn things around for you.
If you think you'd prefer free planner printables over a traditional organizer, consider one of these!
Again, they come in both portrait and landscape layouts, and there are also lined and unlined versions of each.
Choose the printable planner pages you like the best or try both layouts and see which is your favorite. Sometimes the only way to figure out which one you prefer is try them out and see.
Happy planning!