This post may contain affiliate links. Please read my disclosure for more info.
As a busy mom, I love leftover rotisserie chicken recipes.
They're perfect for those busy weeknights when you need to get dinner on the table but don't feel like cooking every single ingredient from scratch.
You can easily jazz them up to make casseroles, soups, salads, tacos, delicious dips, low carb meals, and more. It's a real time saver!
Rotisserie chicken is high in protein and fairly cheap, which is a bonus if you're trying to keep your grocery bill down like most of us are these days.
So, give one of these recipes a try the next time you sit down to make your meal plan. They're all excellent options when you're looking for new meal ideas to make during the week!
What to make with rotisserie chicken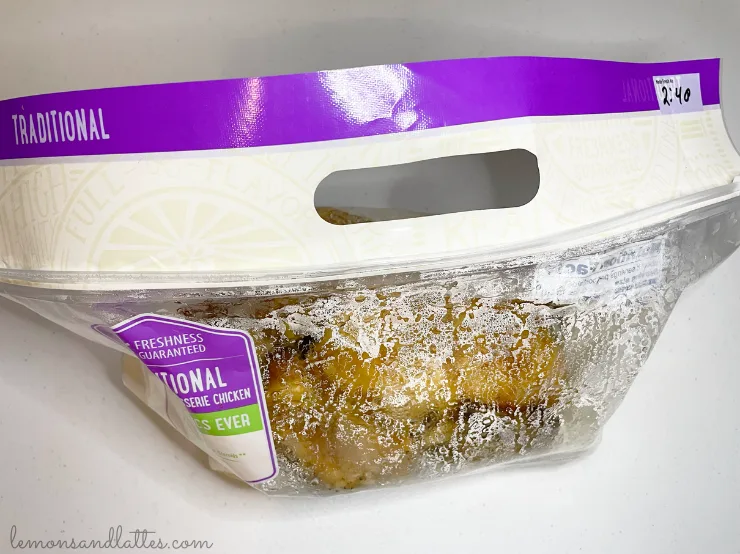 Whole chicken is quite delicious by itself, however, there are several ways you can make it even better.
You can:
Add to a salad for a quick and easy meal
Use in place of beef in recipes
Make a hearty soup for a warming meal on a cold day
Create a delicious stir-fry for an easy weeknight meal
Make a filling sandwich
Pair with rice and beans for a delicious meal
Toss into your favorite pasta dish for extra protein
Use it as a pizza topping
Make tacos, burritos, or quesadillas
Make a protein-packed wrap
Use it to simplify holiday meals
Make a homemade chicken broth
It's also a huge time saver for any make ahead meals that call for cooked chicken. One less step!
Need more specific ideas? I've rounded up 70 of the best family recipes you can make from a $5-$7 bird (depending on where you live).
Note: If you came here for the low carb recipes, those start at #57.
Many of these are great for meal prep as well.
For prepping ahead of time, make sure you have some good storage containers.
Rice dishes with shredded chicken
From bowls to casseroles, there are several weeknight dinners you can whip together that all include rice.
1. Easy Burrito Bowls
If you're looking for an easy dinner that's extremely versatile, burrito bowls are a family favorite. And, they're even better with a dollop of sour cream on top!
These are great because you can mix in any veggies you have in the fridge, and it will still taste delicious.
via Cookies and Cups
2. Easy Asian Chicken Rice Bowl
This one is just as delicious cold as it is hot, so it also would make a great recipe to prep for work or school for the next day.
And best of all, there's edamame – a favorite in our house.
via The Girl Who Ate Everything
3. Easy Peanut Chicken With Veggies
Not only does the peanut sauce add all the flavor, but you can have this entire dish ready in about 25 minutes.
That's a win-win on those nights when your feet are aching and you can't wait to sit down.
via Well Plated
4. Coconut Curry Chicken
If you're craving some bold flavors, pair this coconut curry dish with a side of rice.
A rice cooker will make this recipe even easier!
With this one, you'll have dinner done in about an hour.
5. Orange-Sesame Chicken Rice Bowl
We all have those moments when we're craving takeout.
And when that craving hits, this orange-sesame chicken is the perfect solution.
You can throw this one together in about half an hour.
via Savory
6. Chicken Fried Rice
Craving some chicken fried rice? No need to order expensive takeout.
You can make this yourself at home and have dinner on the table in just 30 minutes.
via Simply Delicious
7. Creamy Chicken and Rice Casserole
This rice casserole is easy to make and takes about 45 minutes from start to finish.
The best part? Since the prep time is only a few minutes, it's also a time saver. While it's baking, you can take care of any other tasks you need to do.
via Mom On Timeout
Breakfast recipes
Breakfast recipes with leftover chicken may sound a bit odd, but these are actually quite delicious.
8. Rotisserie Chicken with Potatoes and Eggs
Serve this combination up on a Saturday or Sunday morning. It's a nice protein-packed alternative to the usual bacon or sausage.
You could easily turn this into a hearty breakfast as well by substituting the potatoes with your favorite green veggies instead.
via SkinnyMs
9. Chicken Breakfast Casserole
This breakfast casserole is definitely worth trying at least once. It is a little different, but sometimes that's exactly what we need.
Especially if you're looking for a high-protein meal prep idea.
Make it on a Sunday, divide it into equal squares, and you'll have breakfast made for the next few days.
via Deli Anytime
10. Southwestern Jalapeno Potato Chicken Hash
This dish is similar to the previous one because it's packed with protein. But, if you're looking for a little more kick, try this unique hash.
It's a little bit spicy, a little bit savory, and it's full of flavor. Plus, it only takes about 35 minutes to make.
11. Easy Breakfast Quesadilla
If you love breakfast quesadillas, this recipe is filled with veggies and gets two thumbs up on protein.
The recipe calls for whole wheat tortillas, but, you could definitely substitute whatever kind of tortillas you prefer – gluten-free, low carb, etc.
via The Worktop
Soup recipes
Soups are always a favorite because they're easy to make, and they're always comforting – especially during the fall and winter.
12. Creamy Chicken Noodle Soup
This creamy noodle soup gives serious chicken pot pie vibes, but in a soup.
If you like that sort of thing, try this. It's just the right amount of creamy, and it'll definitely hit the spot on a cold day.
via EatingWell
13. Comforting Chicken Gnocchi Soup
While we're on the topic of creamy soups – In just half an hour, you can have a rich and creamy soup that is sure to warm you up on even the coldest of days.
The key to this soup is in the fresh ingredients. Spinach, potato gnocchi, and Italian herbs come together to create a flavor that you can't be beaten.
via Striped Spatula
14. Rotisserie Chicken and Potato Chowder
You have to make potato chowder at least once a year, right?
The chicken gives this recipe a nice protein boost.
This is the type of soup that'll leave you feeling full and satisfied, but not heavy.
via Food Lion
15. Spicy Chicken Pho
When it comes to brothy soups, pho is definitely one to consider. It's perfect for chilly nights when you need something to warm you up.
Plus, it's pretty easy to make and only takes about 30 minutes of your time.
via The Worthey Life
16. Slow Cooker Chicken Tortilla Soup
Set it, forget it, and enjoy some flavorful chicken tortilla soup later in the day.
All you have to do is dump the ingredients in the crockpot, go about your day for about 8 hours, and dinner will be ready to go. The house will also smell amazing.
via Norine's Nest
17. Crockpot Chicken Noodle Soup
Ever since I was a little kid, chicken noodle soup has always been a go-to comfort food for me.
There is nothing like that warm and cozy feeling you get when you sit down with a bowl, especially when you're feeling a bit under the weather.
This soup recipe doesn't take long to put together. Then, about 3 1/2 hours to cook on high or 7 hours on low.
via The Frugal Girls
18. 30-Minute White Chicken Chili
Need to get dinner on the table in a hurry? This chili won't disappoint!
The recipe calls for basic ingredients that you can find in pretty much any grocery store. It's also packed with plenty of protein, fiber, and plenty of those bold chili flavors.
Quick and easy sandwiches
Sandwiches are one of the easiest rotisserie chicken meals you can make, and they really hit the spot when you need to get dinner on the table quickly.
19. Chicken Parmesan Sliders
Since you won't have to prepare any chicken first, these parmesan sliders are going to be one of the easiest recipes you've ever made.
With just a few simple ingredients, you can make 12 sliders ready to devour after only 20 minutes of bake time.
via Tasty
20. Buffalo Chicken Sliders
Now, if you love buffalo sauce and you've just picked up a rotisserie chicken fresh from the grocery store, these are the sliders are for you!
They're easy to make and only take about 25 minutes in total.
21. Crack Chicken Sliders
Do you like bacon, ranch dressing, and cheese? Make these!
They have all of those delicious flavors, plus the added bonus of being extremely easy to make. These would be perfect for football season or any party, really.
via Real Housemoms
22. Swiss Chicken Sliders
When you combine chicken, ham, and swiss cheese, you have a divine (but incredibly easy) chicken slider.
The hardest part about them is waiting for them to come out of the oven – which isn't long!
You can have 12 of these to serve for lunch or dinner in just a few short minutes.
via Taste of Home
23. Chicken Sliders with Hot Honey
If your family is all about the sauce, these sliders are going to be a big hit.
They're made with hot honey, which is a combination of cayenne pepper, smoked paprika, and a few other simple ingredients. You can make it as mild or spicy as you like.
Then, top the sliders with some coleslaw for the perfect bite.
via Borrowed Bites
Mexican-inspired dishes
If you're in the mood for something with a little bit of a kick, these ideas are perfect when you need new meal ideas for taco Tuesday.
24. Leftover Chicken Quesadillas
Skip the fast food line and try these quesadillas instead. In under 20 minutes, you will have a cheesy meal that the whole family will love.
Make these any time you have uneaten chicken in the fridge or when you need to make a tasty dinner in a hurry.
via Gimme Delicious
25. Spicy Chicken and Cheese Enchiladas
When we're talking about Mexican-style rotisserie chicken recipes, you cannot go wrong here.
This recipe takes about 40 minutes in total. It's an excellent choice if you want to try something new on a Sunday and have some extra chicken that you don't want to see go to waste.
26. One-Pan Chicken Enchilada Skillet
One-pan rotisserie skillet meals are exactly what you need when life is crazy busy.
This meal includes all the classic enchilada flavors, but you can have this done and ready to serve in about 10 minutes.
That's next-level fast.
via The Girl Who Ate Everything
27. Easy Chicken Tacos
Are you craving tacos? You'll have dinner ready in about 40 minutes.
Best of all, you probably already have everything to make these. The ingredients are very basic!
via A Family Feast
28. Chicken, Guacamole, and Bean Tostadas
If you're looking for a dinner idea that's crispy, taco-flavored, and has virtually no cook time, add these these tostadas to your list of things to try.
The only ingredients you'll need to heat up are your beans and chicken – unless you're making your own tostadas beforehand, of course (highly recommend).
via Cooking Classy
29. Smothered Honey Lime Chicken Burritos
Smothered burritos are a thing of beauty.
You get a burrito packed with all of your favorite ingredients, but the tortilla is smothered in a delicious sauce and cheese mixture.
These deliciously covered burritos will be a hit.
And you'll have them ready in about 30 minutes flat. Sign you up? Me too.
via Oh Sweet Basil
30. Baked Spicy Chicken Tacos
If you can't stay away from the tacos (I mean, who can?) and you're looking for a recipe with a kick, these spicy baked tacos should do the trick.
Total time is only 25 minutes for these! And this is another one that requires very basic ingredients, so there's a good chance you already have everything needed to make these.
31. Baked Chicken Taquitos
Do you have some corn tortillas you need to eat? Try this.
Since these aren't spicy, the whole family is sure to love these even if you have younger kids or picky eaters.
Serve these up for lunch one day or with a salad one evening and call it a night. Don't forget the guacamole.
32. Fiesta Chicken Casserole
When you're searching for easy recipes with rotisserie chicken, you can't go wrong with casserole dishes.
And this flavorful casserole is a winner for sure.
This recipe will also help you use up any extra pasta you're needing to finish off, which is always good. We always have extra in the pantry.
33. Mexican Pizza
Mexican Pizza is the perfect dinner idea to make when you're craving something spicy and cheesy.
And you need to serve it up in a hurry.
Instead of ground beef, this pizza uses shredded chicken.
34. Doritos Chicken Taco Salad
If you're looking for something a little different to try on game night, you won't regret this taco salad.
This recipe shouldn't take you any longer than about 15 minutes.
via Plain Chicken
35. Chicken Parmesan Casserole
Chicken parm is always a hit with the family, but it can be time-consuming to make if you have to cook the chicken first.
This casserole uses rotisserie chicken as a shortcut. You'll have a dish full of flavor in about 40 minutes flat.
And the best part is that it freezes beautifully, so you can make it ahead of time and have a delicious meal ready to go when you need it.
via The Country Cook
Pasta recipes
Are you craving some carbs? Luckily, there are plenty of things you can make to take care of that in a hurry.
36. One-Pot Lemon Pasta with Rotisserie Chicken
Making the perfect one-pot pasta dish can be tricky – you don't want to end up with either overcooked noodles or a watery sauce. But this recipe gets it right.
In about 25 minutes, you can cook up a quick meal that will satisfy any pasta craving.
via EatingWell
37. Rotisserie Chicken Alfredo
Have you ever had a craving for homemade alfredo, but thought it would be too much work to make on a weeknight? Well, think again!
This kid-friendly Chicken Alfredo can be on the table in 25 minutes.
via Simply Recipes
38. Easy Chicken and Bowtie Pasta
Looking for a fun and easy way to change up your weekly pasta routine? Why not try bow-tie pasta?
This creamy stovetop skillet recipe turns leftover chicken into a hearty meal that's sure to please the whole family. Plus, it's ready in just 30 minutes.
via Betty Crocker
39. Creamy Garlic Parmesan Pasta
If you're a fan of garlic and creamy pasta, this recipe will not disappoint.
It's made with just a few simple ingredients, it'll be ready to serve in about 30 minutes – maybe less!
via Get On My Plate
40. Hearty Chicken Stroganoff
When we're talking about stroganoff, the first thing that comes to mind for most people is beef stroganoff.
This recipe is a fun twist that'll have even the pickiest of eaters begging for seconds.
via PunchFork
41. Chicken Bacon Spinach Tortellini Bake
Not only is there bacon involved, but this recipe uses homemade alfredo sauce that's super easy to make and tastes a thousand times better than store-bought.
Make it ahead of time or have it ready from start to finish in about 35 minutes.
42. Chicken Macaroni Salad
This macaroni salad only requires about 15 minutes of your time.
And since refrigerating it first allows the flavors to mix together, it's the perfect make-ahead dish for barbecues, potlucks, or even just to take to work with you the next day.
43. Easy Rotisserie Chicken Spaghetti
Are you tired of traditional spaghetti? Try something new with this cheesy chicken spaghetti.
Since this recipe takes a bit longer than some of the others, you could prepare 2 casseroles at once. Serve one of them for dinner and freeze the other for another day.
via BellyFull
44. 4-Ingredient Chicken Pasta Casserole
Are you in the mood for a casserole dish but don't have the patience to wait an hour for it to bake?
This recipe will satisfy any carb craving and you'll have dinner ready in about 25 minutes.
via Gimme Delicious
45. 20-Minute Tuscan Chicken with Penne Pasta
This is one of those recipes that sounds really impressive, but it's actually really easy to make.
Don't you love recipes like that? This will hit the spot, and it sounds rather fancy too.
via Gal on a Mission
46. Creamy Chicken Tortellini with Chicken and Bacon
This simple tortellini is a must-try if you're in the mood for something quick and comforting on a busy weeknight.
You'll love the creamy sauce and crispy bacon!
When you just want something different
When you're not sure what kind of food you're in the mood for, you can't go wrong with one of these.
47. Buffalo Chicken Dip
Every family needs a good buffalo chicken dip. This one is really creamy, thanks to the cream cheese.
A lot of the recipes use canned chicken, but shredded tastes much better!
This dip has all of the flavors you would expect in a buffalo dip. Make this on game day and you won't have a single scoop left.
Plus, this recipe only needs about 20 minutes in the oven before serving time!
via Once Upon a Chef
48. Cheesy Spicy Ranch Stuffed Baked Potatoes
If spicy, cheesy comfort food (with ranch) gets your attention, be sure to add these spicy baked potatoes to your menu.
They're delicious, filling, and comforting, and they're an excellent way to take care of any chicken you have in your fridge.
via Cookies and Cups
49. BBQ Chicken Tacos
If you can't choose between taco night or BBQ, why not have both?
BBQ sauce may seem like an odd ingredient for tacos, but this combination is surprisingly tasty and takes less than an hour to prepare.
50. Rotisserie Chicken Salad
Sometimes you just need a good traditional chicken salad, whether it's to satisfy a craving or to take to a potluck.
This recipe will also hit the spot if you're looking for something light and healthy to eat.
Side note: If you're not a fan of onions, just leave those out! It will still turn out fine without them.
via Wonky Wonderful
51. Chicken and Apple Salad
Another food item that sometimes goes to waste in the fridge is apples. If you have some apples that are starting to go bad, try this.
The sweetness of the apples balances out the savory chicken and flavorful spices in this recipe.
via Perry's Plate
52. Rotisserie Chicken Caesar Salad
A home-made caesar salad beats any pre-made salad you can buy.
Top it off with some croutons or breadsticks on the side if you want and serve it for lunch or a light dinner when you don't have much time to cook.
53. Chicken Quinoa Salad
Hummus is yet another food item that sometimes gets left behind in the fridge. If you have a container of hummus that needs to be eaten, try this recipe if you also have some quinoa on hand.
It's healthy and light and you can take it for lunch the next day. And, surprisingly, it'll only take you about 20 minutes to prepare.
54. Mediterranean and Chicken Hummus Wraps
Looking for a new way to make a simple wrap? These wraps are filled with plenty of hummus, veggies, and rotisserie chicken.
They also have some feta cheese. With feta, you either love it or you don't. If you're not a big fan, leave it off and this wrap will still taste amazing.
via Five Boys Baker
55. Cheesy Rotisserie Chicken Rotel Dip
If you're looking for a chicken dip that isn't buffalo, this cheesy alternative may suit your taste buds better.
You can make it mild or spicy, depending on your preference. While it does take a bit longer to prepare than some of the others, the finished dip is worth the wait.
56. Buffalo Chicken Taquitos
Switch up taco or wing night with these crispy taquitos and get the best of both worlds.
They couldn't be easier to make. You only need a few ingredients in addition to some shredded rotisserie chicken, about 15 total minutes in the oven, and dinner will be served!
I love that these are baked in the oven instead of fried.
Low carb meals
If you're trying to avoid gluten or you're eating fewer carbs in general, here are a few more tasty dishes to try that'll keep your belly full without the extra carbs packed in.
57. Chicken Enchilada Stuffed Zucchini
Any recipe that calls for zucchini, I'm there.
The total time to make these zucchini boats is about an hour. It's longer than some of the other recipes we've listed, but totally worth the wait for a delicious filling meal.
via Skinny Taste
58. Veggie-Loaded Rotisserie Chicken Casserole
Here is another rotisserie chicken casserole you have to try, especially if you have some leftover veggies to toss in.
This veggie-loaded casserole may be low in carbs – But it's definitely not low on flavor.
The next time you have about an hour to cook something new, give this one a try.
59. Keto Chicken Salad Stuffed Avocados
Looking for an easy leftover rotisserie chicken recipe that's also keto-friendly?
You're going to love these stuffed avocados.
This recipe is incredibly easy to make and it's the perfect way to use up the last bit of leftovers in your fridge.
via KetoVale
60. Rotisserie Chicken Patties
Another easy way to use up leftover cooked chicken? Chicken patties!
These patties make great appetizers or high-protein snacks. They also pair very nicely with marinara sauce.
I believe they would be delicious on salads too.
via FittoServe
61. Keto Rotisserie Chicken Soup
If you're following the keto lifestyle or watching your carb intake in general, traditional soup may be off the menu.
Instead of rice or noodles, this recipe uses cauliflower. And by using chicken that's been cooked ahead of time, this one will only take you about 15 minutes to whip up.
via Baking Mischief
62. Chicken, Broccoli, and "Rice" Casserole
Everything loves this casserole when it's made the traditional way.
However, if you're avoiding rice because of the carbs, try it this way instead.
It swaps out traditional rice for cauliflower but keeps the other flavors that make this dish so delicious and comforting.
via This Mom's menu
63. Easy Chicken Soup
If you're not quite craving a creamy soup, but instead you're wanting a brothy soup, you can't go wrong with this one.
This soup is a wonderful substitute when you're avoiding noodles. And, it only takes 30 minutes to prepare.
via Cook Eat Well
64. Chicken Cordon Bleu Cauliflower Casserole
Is it time for an ultra cheesy casserole?
If so, give this chicken cordon bleu twist a chance. It's cheesy, creamy, and satisfying.
65. Buffalo Chicken Stuffed Spaghetti Squash
If I haven't mentioned this before, here is my confession: Spaghetti squash has a special place in my heart.
I could eat it prepared in just about any way and I would be happy.
And when you add buffalo chicken to spaghetti squash, well… That hits different!
66. Keto Chicken Salad with Bacon
They say bacon makes everything better.
With it comes to salad, they definitely aren't lying.
Combine bacon with a few other ingredients, and you have a keto salad that's perfect for lunch or dinner.
via Savory Tooth
67. Buffalo Chicken Egg Casserole
This unique egg casserole is a fantastic idea because it's low-carb and it uses ingredients that we typically have leftover in our fridge.
If you're craving a breakfast-style casserole with a kick, this one may just be a new favorite.
via Buns in My Oven
68. BBQ Chicken Zoodle Casserole
If you're a fan of zoodles (a fancy name for spiralized zucchini), I'm confident that this BBQ zoodle casserole recipe will impress.
With only 6 total ingredients, this one is a breeze to whip together.
And, it's the perfect way to sneak some extra veggies into your dinner for those picky eaters.
69. Healthy Buffalo Chicken Dip
This healthy chicken dip recipe uses Greek yogurt and cottage cheese instead of mayonnaise to make the creamy texture, which is definitely a win if you're following the keto lifestyle or you're keeping an eye on your carbs in general.
Serve it as an appetizer or add it to sandwiches, wraps, or even salads. It only takes 35 minutes to make!
via Hello Spoonful
70. Keto White Chicken Chili
Most of the time when we hear chili, there are lots of beans involved. Not this time!
This keto version is packed with cheesy flavor and the creamy texture is spot on. With only 4g of net carbs, the 55 minutes it takes to make this chili will be more than worth your time spent in the kitchen.
via Wholesome Yum
FAQs
Are rotisserie chickens healthy?
These are great for cutting your dinner prep time in half for those times when life is crazy busy, but you might be wondering whether or not they're actually healthy.
The good:
Store-bought roast chicken is a good source of several nutrients including protein, niacin, vitamins B6 and B12, selenium, and phosphorous.
A serving is only around 120 calories, but with 22 grams of protein!
And, aside from shredding, there's virtually no prep to quickly toss them into other recipes for a complete meal.
The not-so-good:
Unfortunately, they can also be high in sodium as well.
If you are watching your sodium, check and see if your grocery store offers less sodium or unseasoned options.
How long is leftover rotisserie chicken good for?
If you're wondering how long leftover rotisserie chicken is good for, it depends.
Generally speaking, they will last around three to four days (but make sure to check the expiration date).
If you are wondering about frozen leftover rotisserie chicken, you can expect it to last around four months in the freezer.
But, of course, be sure to discard it if it ever smells off.
Are there any keto leftover rotisserie chicken recipes?
You bet! There are plenty of recipes using rotisserie chicken that are low-carb and many of them are keto-friendly as well.
The low-carb recipes on our list start at #57.
Is it better to reheat rotisserie chicken in the oven or microwave?
In my opinion, it tastes much better if reheated in the oven. However, if you're short on time, the microwave will do the trick.
What's the best way to shred rotisserie chicken?
I prefer to shred chicken by hand – Just make sure it has cooled off first.
You can also use a mixer on low speed.
---
I urge you to try one of these the next time you have some store-bought rotisserie chicken that you need to use up.
Do you have a favorite?