This post may contain affiliate links. Please read my disclosure for more info.
Sometimes the amount you think you're spending just doesn't match up with reality.
If you ever find yourself checking your bank account balance and wondering where all your money went, it may be time to consider making a budget.
A monthly budget planner printable is the perfect way to get started, especially if this is an area that tends to be overwhelming for you.
Templates can help simplify the process because the format is already done for you. All you have to do is fill in the numbers.
Below you will find several budgeting planners to help you to identify where your money is going and make sure you're allocating it in the right places.
If you're looking for more free printables to keep your finances on track, you may want to print a monthly bill calendar and 52-week savings tracker before you head out as well!
For personal use only. Please do not redistribute.
Tips for using a budget planner printable
Before you dive in, there are a few key tips that will help you get the most out of these printables.
Tip #1 – Make a master list of all your monthly bills and expenses.
That way, when it's time to make a new budget for each month, you don't have to start from scratch each time.
You can keep this list in a binder or you can take a picture of it and store it on your phone. If you go the phone route, just be sure to favorite it or store it in a folder where you can access it quickly when you need it.
Tip #2 – Set aside time to analyze your spending habits.
If you've been winging it with your finances for the past few months (or longer), you may not have an accurate idea of how much you're actually spending.
Remember, it's not uncommon for this number to be much different than what you're estimating it to be.
Eating out, for example, is one area that most of us seem to underestimate! So, taking the time to comb through your own records can be really insightful.
This is also a good way to make sure you're not paying for any subscriptions you've forgotten about – like those pesky free trials that renew automatically.
You can comb through the previous month's spending or use a spending tracker for a month to get an idea of your spending habits.
Tip #3 – Don't forget to budget for fun too!
Of course, the necessities (like bills) always take first priority, but it's important to remember that you can budget for small luxuries too. It's not against the rules.
People often associate budgeting with being miserable. A better word is mindful because that's exactly what creating a budget is – You're being mindful of where you spend your money!
You don't have to splurge, but putting aside a specific amount each month for things like dining out or self-care can be a good idea, as long as it fits into your budget.
Tip #4 – Take a few minutes to fill in your totals at the end of the month
Some of the planners below have a "diff" column (short for difference).
Others simply have a box at the bottom for writing your "total remaining" amounts.
Whichever template you choose – Consider taking a few minutes at the end of the month to add everything up and see how well your budget worked for you.
If you end up with a positive number, great! That's leftover money you can apply to something else.
On the other hand, if you're seeing that your actuals are significantly higher than the numbers you budgeted, you may need to make some adjustments the following month.
Free printable monthly budget planners
Now for the planners!
There are a few different monthly budget planner printables to choose from that range from minimalist that will only use your black ink to designs with bright colors.
You'll see that the templates are very similar except for one key difference: some have the "difference" column mentioned above, while others do not.
Keep in mind, the budget planners that do not have this column still have a spot at the bottom for writing in your total leftover amount.
One isn't necessarily better than the other – It boils down to preference.
All printables are in PDF format and US Letter size. You are free to print as many copies as you want.
Although you may want to print at least 12 so you'll be set for a while. Since they are undated, you never have to worry about them expiring. Just circle the month at the top and start budgeting.
Minimalist budgeting planners
If you're trying to save your color ink, these are the planners you will want to choose from. These templates have absolutely zero colors and zero graphics.
There are a few subtle differences – pick the one you like best!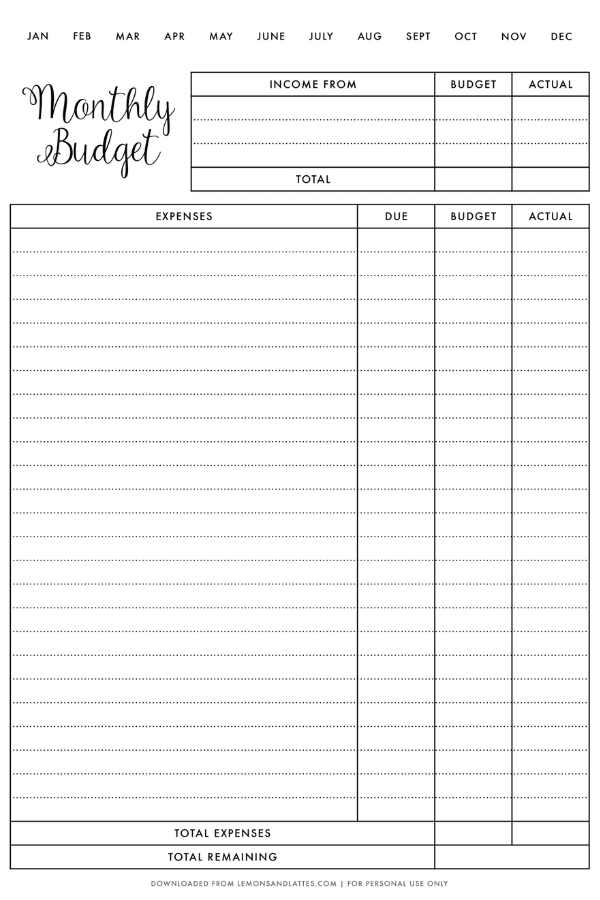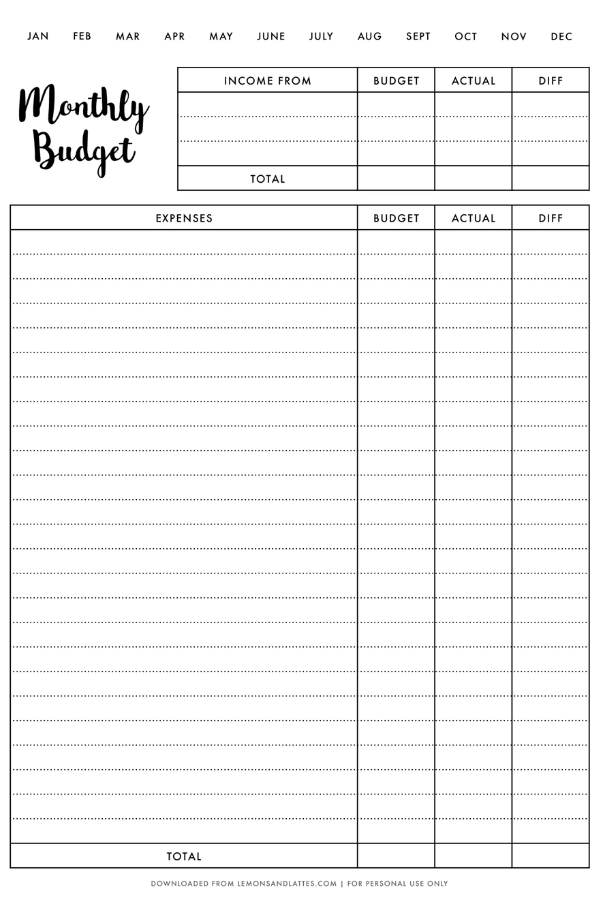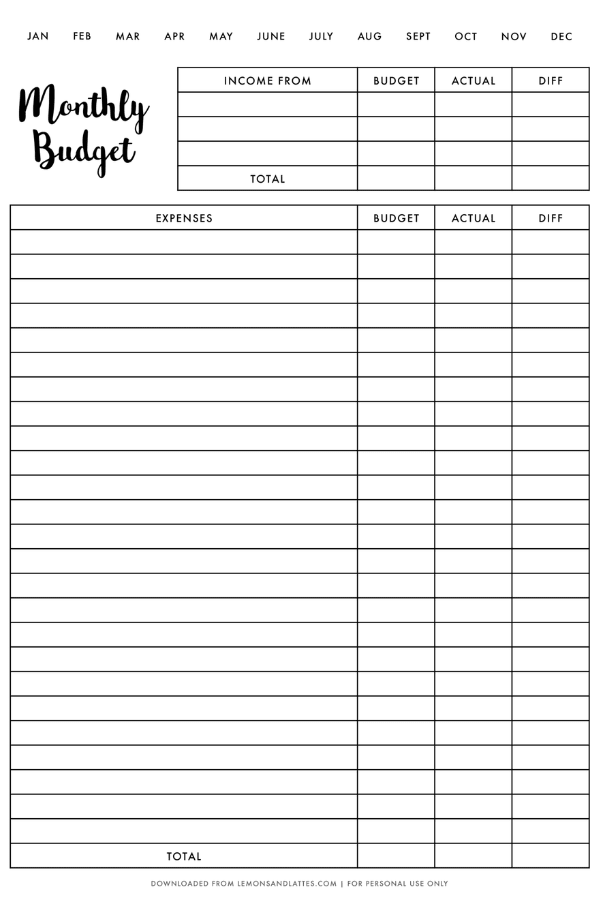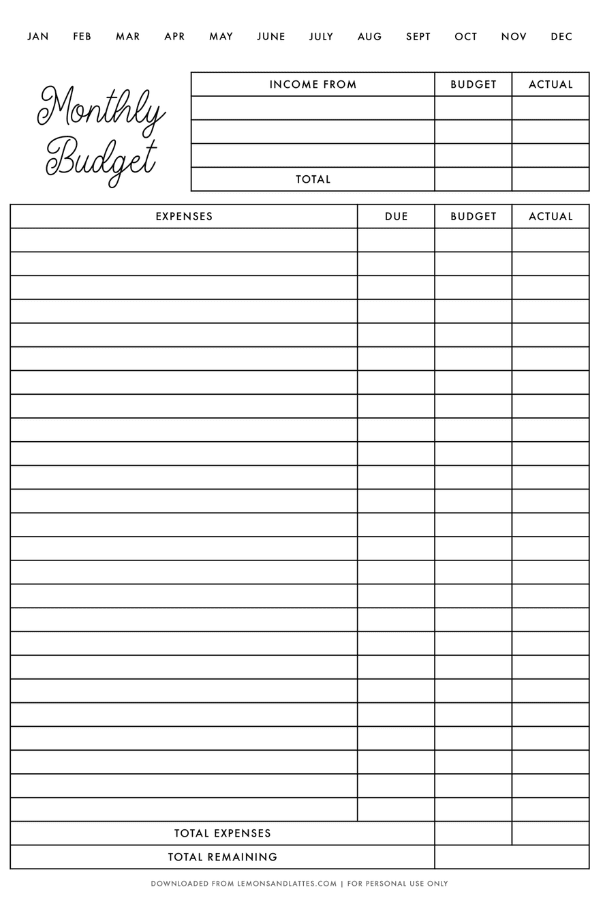 Monthly budget planner printables with pink, blue, and green
If you like bright colors, you may want to choose one of these variations. There's just enough pop of color to keep them fun without being too much or hard to read.
Print your favorite or download them all and mix them up each month.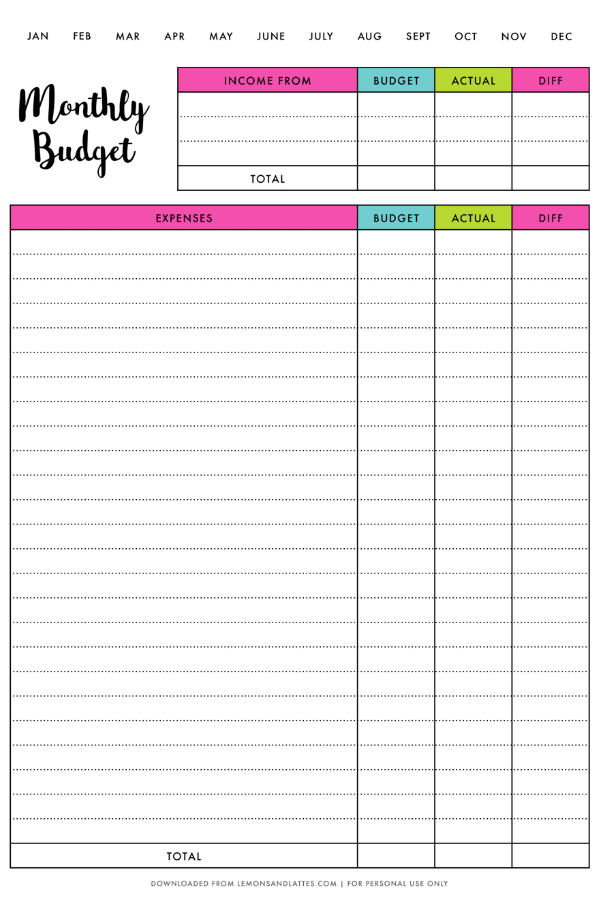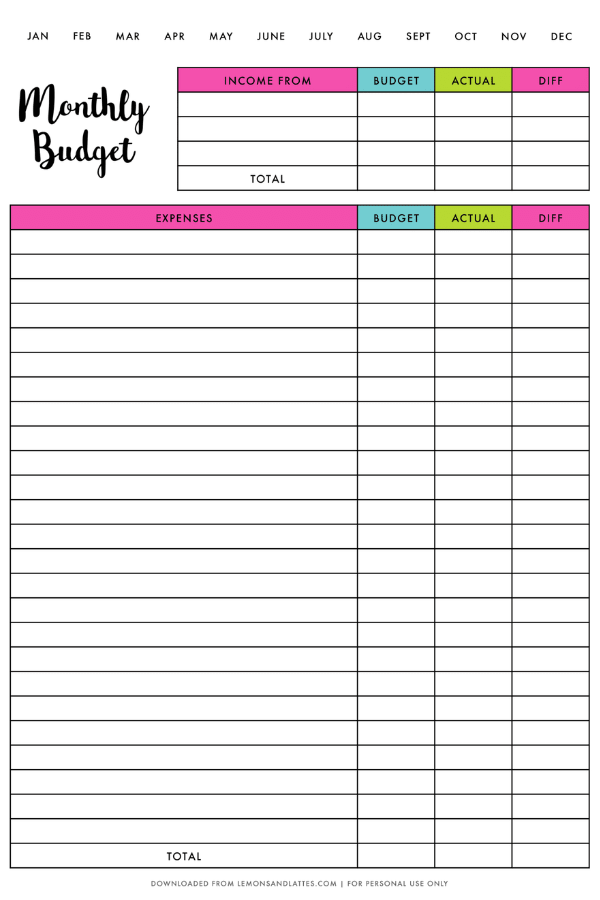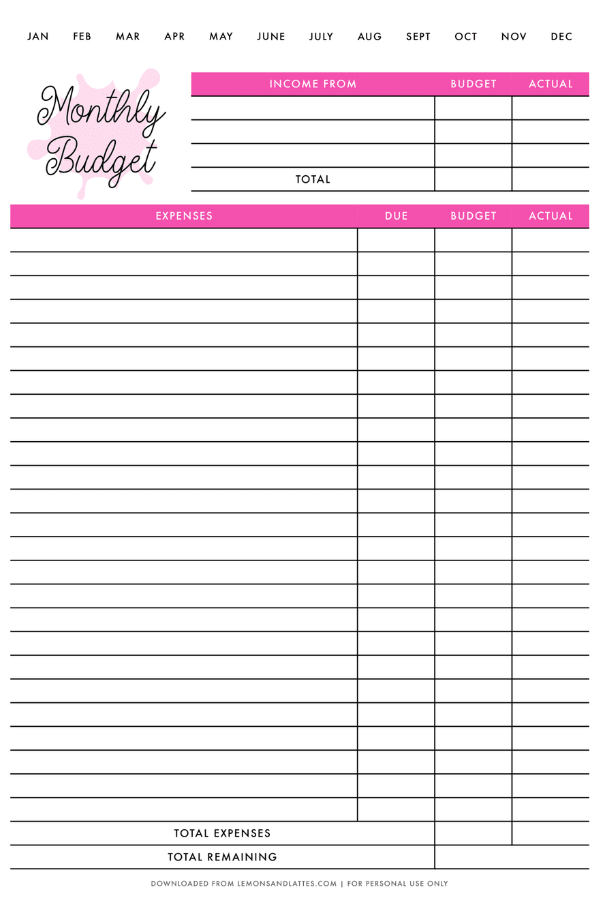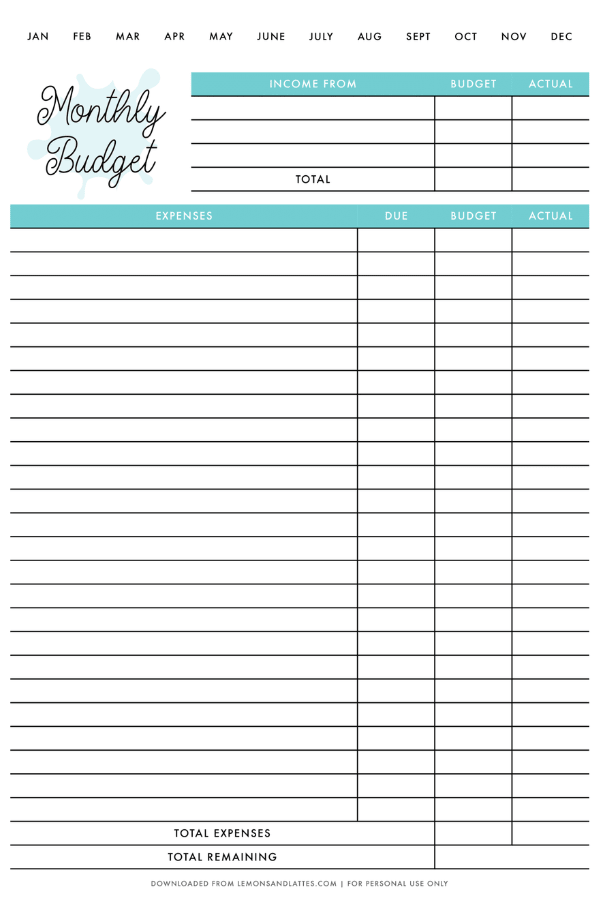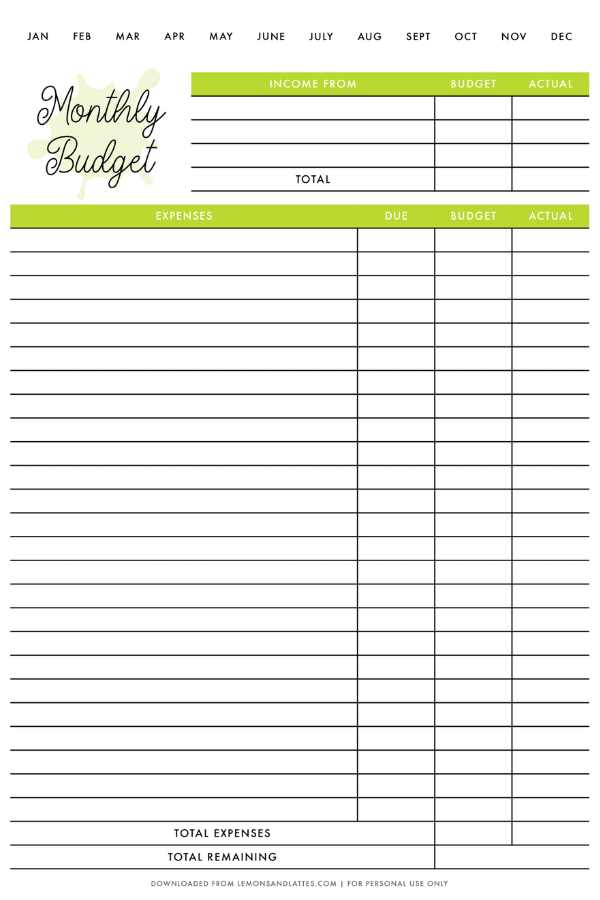 ---
Printing a free monthly budget planner printable (and actually using it) is a simple way to start getting your finances back in order.
Hopefully, these printables have inspired you to take the first steps toward creating a budget for your family.
Good luck! Remember, you can pin or bookmark if you need to revisit later!