This post may contain affiliate links. Please read my disclosure for more info.
These kitchen inventory sheets will help you stay organized and save money.
Most households have more food stored away in their pantries and freezers than they even realize.
Planning from your existing inventory is a game-changer because you'll know the exact items you need to use up!
A quick tip: Once you know what your inventory consists of, Supercook is a free tool you can use to brainstorm meal ideas.
How do I keep track of my freezer/pantry/fridge?
Creating a home kitchen inventory list is very simple. Here are the exact steps to take:
Remove everything from the space you want to track.
Group items that are the same together.
Write down the names of each item and how many of each you currently have on hand.
Write down the expiration date under "use by" (Refer to this chart if you are unsure how long you can refrigerate or freeze a certain item).
After using an item in your inventory, make note of it on your food inventory sheet/template.
Printable kitchen inventory sheets
These food inventory sheets are available in two designs currently.
Each set comes with inventory sheets for the fridge, freezer, and pantry. There are also sheets for spices and baking items. You'll also receive an ink-friendly version of each inventory printable.
So, a total of 10 printable pages.
Pink, blue, and green design: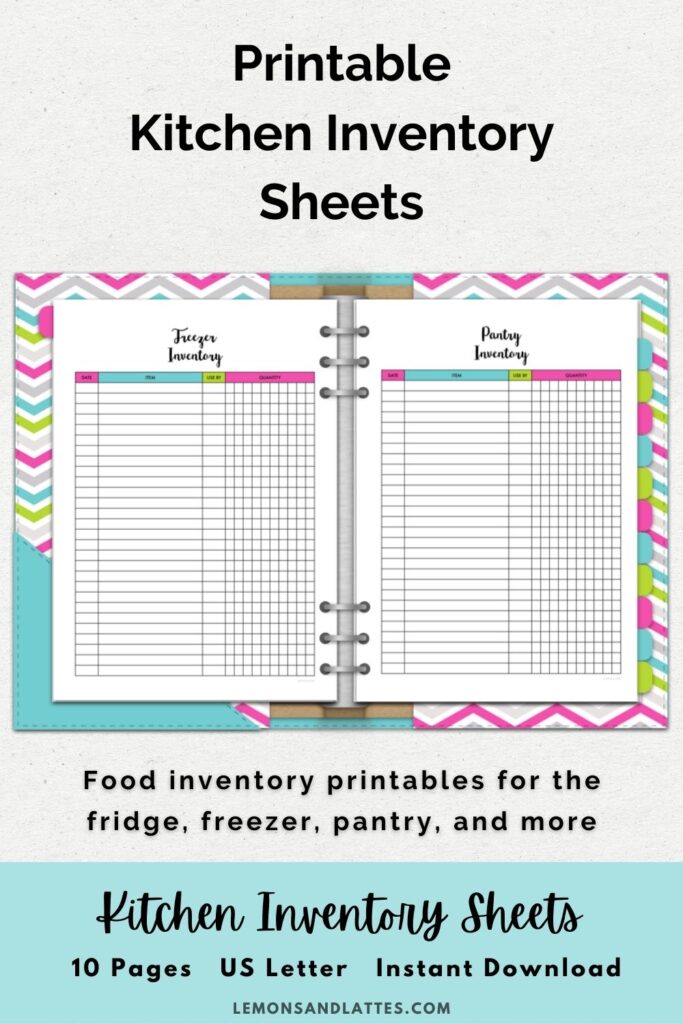 Spring flowers design:
How to access these kitchen inventory printables
👉 These printables are available in our Etsy store.
---
Print as many as you want and enjoy!
Pin for later?