28 Cheap and Easy Make Ahead Meals for Busy Moms
This post may contain affiliate links. Please read my disclosure for more info.
Make ahead meals are perfect for those times when you don't feel like cooking.
And let's face it… When you're a busy mom, that happens quite often and usually leads to more drive-thru visits than we'd like to admit.
Or Door Dash orders! And those aren't cheap.
The drive-thru is okay every now and then when you need a quick fix, but it can become an expensive habit fast.
That's just one more reason to love make ahead meals.
Not only will they help you stay sane during those times when life is just crazy, but they'll also help you save money because you'll no longer have to hit up the fast food lines.
Best containers for make ahead meals
Before we jump into the recipes, you might be wondering what containers to use for freezing food or just meal prep in general.
There are endless styles and types of containers you can use for your make ahead meals, but here are my top picks:
Plastic containers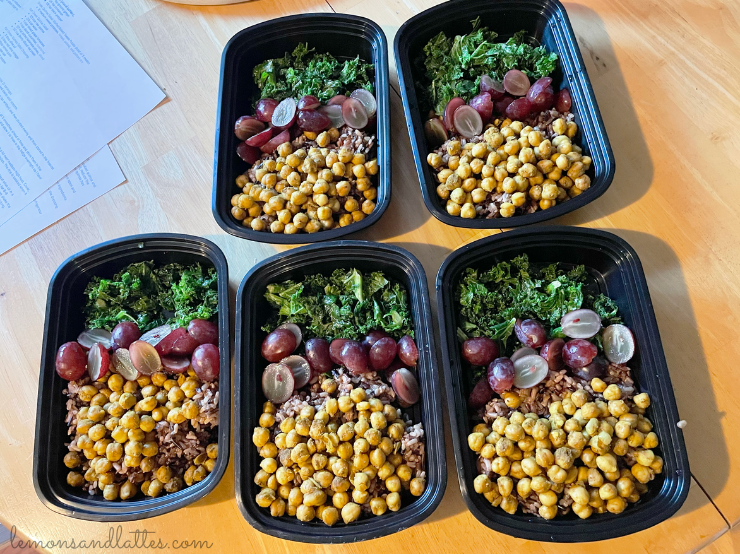 Plastic containers are inexpensive, light, and easy to store. I recommend going with BPA-Free dishwasher/microwave/freezer-friendly containers like these.
Glass Containers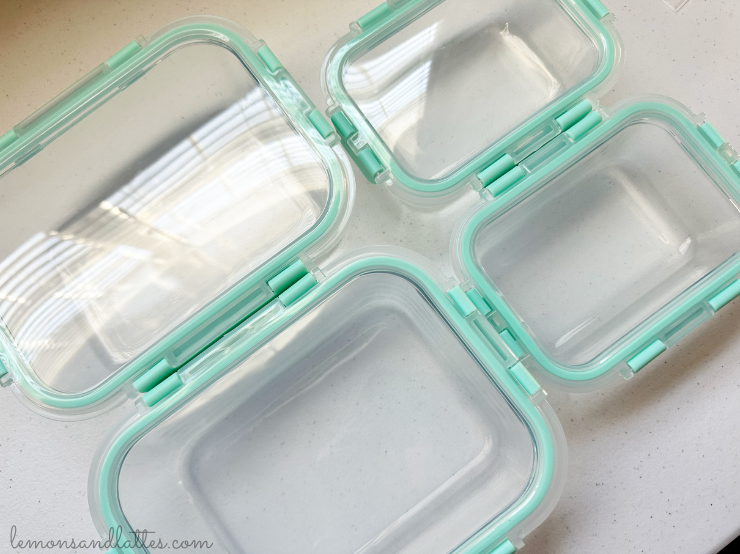 I love glass containers for fridge storage. Glass containers are so durable and will last forever!
These are my current favorite. The lids are easy to remove and the color is perfect too.
Side note: You CAN also store glass containers in the freezer if they are tempered. Just make sure to leave enough space (about 3/4 inch) between the food and the lid (source).
Mason jars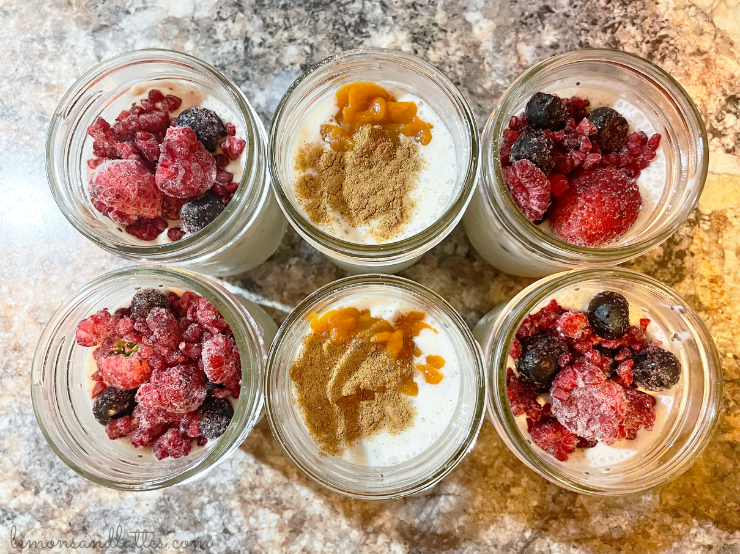 Mini Mason jars are my favorite for making meals like overnight oats in a jar.
Freezer Bags
And, of course, freezer bags are always an option.
Want to save money and help the environment? Try these reusable storage bags.
Make ahead breakfast recipes
1. Overnight oats in a jar
Overnight oats are easy to make and quite delicious – definitely one of my favorite make ahead meals for breakfast.
When I make them, I usually make 4 at once, and boom! Breakfast is solved for the next 4 days.
Here are 10 delicious ways to make overnight oats in a jar:
2. Breakfast quesadillas
Breakfast quesadillas are another super easy and versatile make ahead breakfast idea. Not into dairy? Skip the cheese. Don't eat gluten? Use gluten-free tortillas instead of the usual wheat flour tortillas.
Here are 4 ways you can make breakfast quesadillas to give you some ideas from Family Fresh Meals.
3. Breakfast sandwiches
An Egg McMuffin alternative you can make at home and save time and money? *swoon*
You can make these pretty much any way you want, but these make ahead freezer breakfast sandwiches from Aberdeen's Kitchen look reallyyyy promising. Minus the Canadian bacon.
4. Potato and omelet breakfast bites
Don't have time to chop potatoes? You can use tots instead. Pair with fruit and breakfast is complete!
Potato and omelet breakfast bites via Ella Claire
5. Breakfast burritos
Everybody loves breakfast burritos. Your spouse. Your kids. The perfect make ahead breakfast for us busy moms!
Check out this Breakfast Burrito Bonanza recipe from Mom on Timeout for step-by-step instructions.
6. Mini breakfast pizzas
Pizza for breakfast? Yes. I love creative recipes like this!
Mini Breakfast Pizza recipe via The Girl on Bloor
7. Breakfast bowls
Breakfast bowls are yet another super easy and versatile make ahead breakfast idea. All you need to do is combine scrambled eggs and roasted potatoes (AND veggies if you want). Then, top with your favorite toppings like salsa, cheese, etc.
These Country Breakfast Bowls from Budget Bytes are simple to make and budget-friendly.
8. Make ahead spinach and tomato frittata
Are you looking for a gluten-free or low-carb option? Frittata. OR pair it will a slice of toast or some fresh fruit.
Try this Spinach and Tomato Frittata from Simply Recipes.
9. Egg muffins
If you've ever done any meal prepping before, you've heard of egg muffins. These are a favorite of mine because there's honestly no wrong way to make them. I always make these when I need to use up leftover ingredients in my fridge.
If you want to follow a recipe for your first batch, try these Healthy Breakfast Egg Muffins from Well Plated.
10. Green smoothie packs
If you've never had a green smoothie, don't let the color fool you. You can't taste the greens at all! I love prepping these because all I have to do is pop the ingredients into my Ninja Fit and I'm done.
This recipe from Dessert Now Dinner Later is perfect for beginners.
11. Banana and chocolate chip oatmeal cups
I love this twist on traditional oatmeal. If you ever wake up with a sweet tooth, this one is for you.
These Banana and Chocolate Chip Oatmeal Cups from Organize Yourself Skinny look divine.
12. Banana bread baked oatmeal
You've seen that heavy-breathing cat meme, right? These.
Banana Bread Baked Oatmeal via Shaken Together
13. Pancake muffins
My son loves pancakes, so I know he is going to fall head over heels for these. For this recipe, I love that she uses a store-bought mix. Sometimes it's just not practical to make every single thing from scratch.
Freezer-Friendly Pancake Muffins via Forks and Folly
14. Peanut Butter Banana Chocolate Chip Breakfast Bars
Of course, we had to throw a bar recipe into the mix! I don't know about you, but I'm just not a fan of store-bought breakfast bars. These, on the other hand, have won me over.
Peanut Butter Banana Chocolate Chip Breakfast Bars via Vanilla and Bean
Make ahead lunches & dinners to freeze
15. Baked chicken nuggets
Bacon chicken nuggets seem to be every kid's favorite meal. You can make these ahead of time too!
These Baked Chicken Nuggets from Natasha's Kitchen look oh so crispy.
16. Orange chicken
Skip the takeout and try this easy make ahead orange chicken instead.
Freezer Friendly Healthy Orange Chicken via Super Healthy Kids
17. Veggie lasagna
Lasagna is one of my favorite comfort foods. I love that this recipe has added veggies. Maybe the kiddos won't even notice?
Extra Summer Veggie Lasagna via Super Healthy Kids
18. Taco casserole
Did I have you at taco? I'm glad we agree.
Try this Easy Taco Casserole recipe from Eating on a Dime
19. Stir-fry kits
Stir-fry is another very easy way to use up any leftover veggies you need to get rid of.
Healthy and Delicious Stir-Fry Kits via Feeding Our Flamingos
20. Creamy tortellini vegetable bake
Your kiddos won't even mind the veggies.
Creamy Tortellini Vegetable Bake via Chelsea's Messy Apron
21. Twice baked buffalo chicken sweet potatoes
These look divine. I'm always seeing sweet potatoes on sale at Aldi, so this is a budget-friendly winner for sure.
Twice Baked Buffalo Chicken Sweet Potatoes via The Creative Bite
22. Tomato bisque
Bisque is a fancy way of saying grilled cheese and tomato soup. (At least in the South).
Tomato Bisque recipe via Thriving Home
23. Black bean taco soup
Another winner for Taco Tuesday.
Black Bean Taco Soup via Six Sisters' Stuff
24. Chicken parmesan casserole
This recipe combines two very delicious hearty favorites.
Chicken Parmesan Casserole via Thriving Home
25. Spinach and Cheese Stuffed Shells
Stuffed shells remind me of my childhood. Love how this recipe has added spinach! Just a little extra vitamin K, folic acid, iron, and calcium.
Spinach and Cheese Stuffed Shells via Kristine's Kitchen
26. Black bean quinoa casserole
I'm learning to love quinoa. At first, I thought it had a weird texture and a weird name. But it's really not so bad. This recipe makes it look delish.
Black Bean Quinoa Casserole via iFOODreal
27. Mini turkey & veggie meatloaves
I love mini meatloaves. These would go perfectly with a quick baked potato.
Mini Turkey & Veggie Meatloves via Thriving Home
28. Homemade chicken pot pie
And, of course, you know we can't forget the pot pie. Only this one isn't a microwavable meal that's made with sponge meat. Definitely a winner.
Homemade Chicken Pot Pie via Meal Planning Magic
---
There you go – 28 EASY and delicious make ahead meals for busy moms!
Don't forget to pin for later!