This post may contain affiliate links. Please read my disclosure for more info.
Ever had someone ask you what you do?
And when you tell them you're a stay-at-home mom, their response is something along the lines of "oh, must be nice" as if it's some sort of vacation?
Truth is– There's more to it than just hanging out and watching Netflix all day, right?
Sure, some days we feel on top of the world and might fit in an episode or 2 of our favorite show.
Other days, laundry is up to our eyeballs, we feel like we have no time for ourselves, NO idea what to cook for dinner, and the baby is demanding to be fed.
(Need dinner ideas? Here are 35 easy dinners to make from a rotisserie chicken!)
While I can't promise you that laundry will ever truly be a piece of cake, I can, however, share some of my BEST stay-at-home mom survival tips for staying happy, healthy, and organized!
Stay-at-home mom organization tips
Start using a planner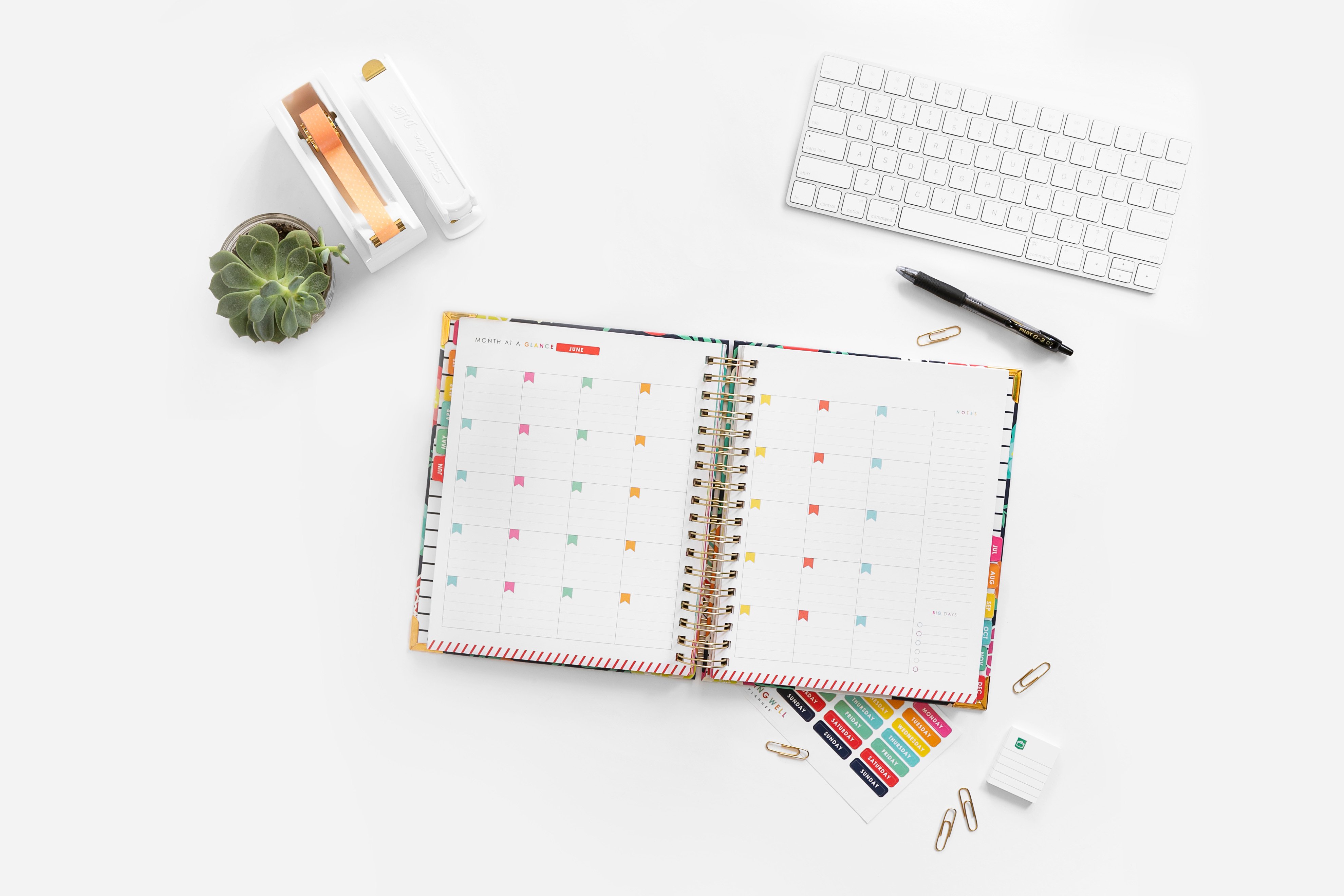 One way to get organized as a stay-at-home mom is to get yourself a planner or family calendar and actually use it.
From appointments to field trip dates, you can't expect yourself to remember #allthethings.
Save yourself the stress and chaos. You really need ONE place to keep up with everything if you want to be an organized stay-at-home mom!
These are my personal favorites when it comes to planners and calendars:
👉 The best family calendar app for your phone
👉 Grab a simple printable calendar for your fridge
Get your finances in order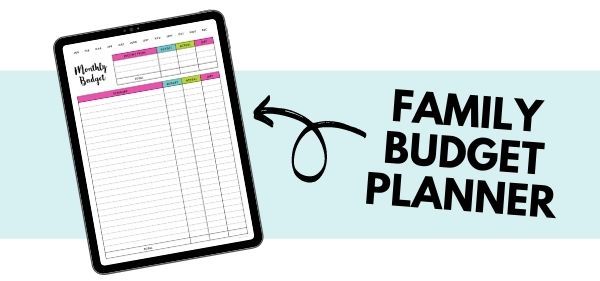 When it comes to stay-at-home mom organization— your finances matter too.
As a stay-at-home mom, you're probably living on one income (unless you're making extra money from home of course).
And let's face it– Being a one-income family can be stressful.
What's a mama to do? Get your finances on track by:
Creating a family budget – The more you make, the more you tend to spend. Figuring out where your money is going vs. where it needs to go is a good idea no matter what your income is.
Getting your bills organized – Starting a budget binder is an easy way to keep everything together and in one place. No more hunting for passwords or spacing on due dates!
Setting financial goals for your family – Working towards savings goals can be exciting. Want to plan a family trip to Disney? Pay off your car? Now is the perfect time to start.
Related: How to Afford to Be a Stay-at-Home Mom on One Income
Embrace routines
In order to create a stay-at-home mom schedule that works (and you can stick to), I highly recommend that you embrace routines.
Having solid routines in place will simplify your life and help you structure your day.
It wasn't until my oldest son started kindergarten that I started to nail this whole routine thing.
Let's just say that skating around on school mornings with no plan, no routine, nada… wasn't cutting it. Racing against the clock isn't the best way to start your day.
If you have absolutely no routine or structure in place and are just approaching things willy-nilly, I would start by creating your evening routine first. Your evening routine should simplify your mornings.
What drives you crazy to have to deal with in the mornings?
Figuring out what your child will wear to school? Hunting down matching socks? Packing lunches or snacks? Signing backpack papers? You can add things like this to your evening routine.
As for your morning routine, there are tons of things you can add to give you a jump start for a productive day.
Start with making your bed, washing your face, drinking a glass of lemon water, working on your blog if you have one… it's really up to you. The goal is to set the tone for a great day.
Kick the clutter
Another crucial stay-at-home mom tip? Kick the clutter OUT!
Now, I'm not saying you have to get rid of everything but the kitchen sink, but I wholeheartedly believe that decluttering your house is the first place you should start when you're feeling frazzled.
Some believe that physical clutter can make you feel weighed down and crappy, and I definitely agree.
The idea is to get rid of anything you don't use or absolutely love.
Is your closet cramped because you're hoarding things you know you'll never wear? When it comes to decluttering, you must be ruthless.
If you don't love something or you haven't used it in the past year, it's time to donate or sell it.
Trust me when I say that you'll feel so much lighter and better once you're finished.
Plan your dinners
I think when some moms hear "meal planning" they think they have to plan out every morsel of food or cook fancy meals.
That's really not the case. It doesn't have to be complicated at all.
In fact, getting started can be as simple as making a list of your family's favorite meals and using that as a starting point to plan from.
You can even plan to leave one night a week up for Chinese, pizza, date night– whatever you like.
Related: Meal Planning Printables to Save You Time and Money
Make smarter to-do lists
To-do lists are supposed to simplify things for you, right? But if you add too many things to the list, it can be counterproductive.
What works better? You probably feel like there are a million things going on inside your head. Things you need to grab at the store, meal ideas you randomly think of, upcoming appointments or due dates, etc.
How do you sort out what needs to be dealt with now without forgetting about the rest?
I'm a huge fan of using brain dumps to create my to-do lists.
Once I have a nice, physical list that's outside of my head and on paper, I can start to sort and prioritize what I should do first and what can be saved for later.
If you do this, you can physically see what needs your attention first and start crafting your (simplified) to-do list.
👉 Get your free brain dump template here!
Stay-at-home mom tips for staying happy and healthy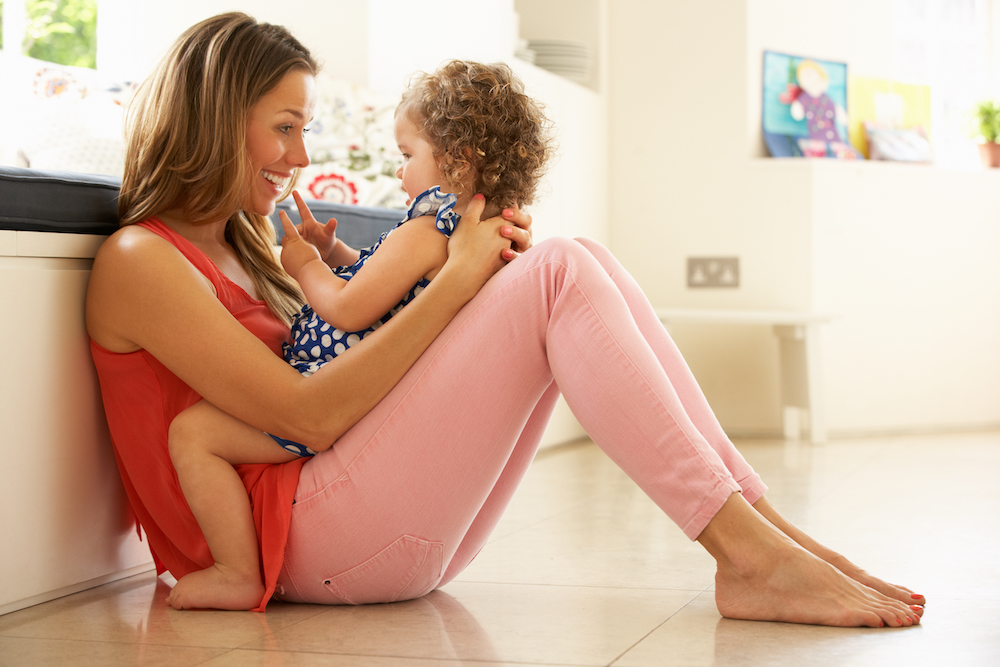 Start exercising
Yes, move your body!
Exercise is a natural stress reliever and can even help with anxiety and depression (source).
So, exercise for the feeling you'll have afterward. Do it because you want to feel your best.
No matter what my weight is or how far I can run, I always feel better when I'm exercising consistently.
And by exercising, I'm not saying you have to hit the gym.
It can be as simple as setting a step goal and walking for 20-30 minutes a day. I've noticed that just getting in a quick 20-minute walk improves my overall mood tremendously!
Also, if you want to step it up a notch, there are endless home workout options.
TurboFire is one of my favorites and helped me lose 35 lbs after my first son was born. The 21-Day Fix is another great option if you're short on time.
Bottom line- If you can find a type of exercise you legit enjoy, that's the best kind.
Make sleep a priority
Before you start giving me the frog face emoji, let me explain.
I know it's hard to get in enough sleep sometimes– especially if you have a baby. You're on their schedule and you can't always just sleep on demand whenever you want. I get that.
I also get that sometimes when your kids are asleep you just want to sit there and enjoy the peace and quiet as you catch up on your favorite show.
But it's so important that you at least try to get enough sleep.
If you're feeling extra irritable or crying at the drop of a hat, you're probably not getting enough.
I honestly didn't start paying attention to the amount of sleep I was getting until I started using my Fitbit.
I started noticing that I felt so much better when I'd get at least 7 hours of sleep. I had more patience and felt all-around better.
What if you're a stay-at-home mom that can't sleep?
Eat a healthier diet. More whole foods. Not sure what to cook? This will help!
Drink enough water during the day so that you're not feeling thirsty at night.
Figure out what helps you relax. A glass of wine? ASMR videos? Reading a book?
Lay off of social media at night. Sometimes a break from the mindless scrolling is a good thing. Plus, the bright screen hinders the production of melatonin (source).
Diffuse a few drops of essential oils for sleep.
When all else fails, valerian root is the natural supplement I take for sleep + relaxation. I love it because I don't feel groggy the next day.
Find a hobby or a side hustle
If you're feeling bored or unfulfilled, there are plenty of things to do when you're a stay-at-home mom.
Scraping food off of weird places doesn't count.
You need things to think and talk about other than Minecraft, Lego blocks, and which baby bottle you like best.
Yes, those things are great (and necessary), but the person you were before you had kids is still in there somewhere.
It's okay for you to have a little something for yourself, too.
Having a hobby or even a side hustle gives you something new to be excited about, look forward to, and work at. This will help you feel fulfilled as a stay-at-home mom.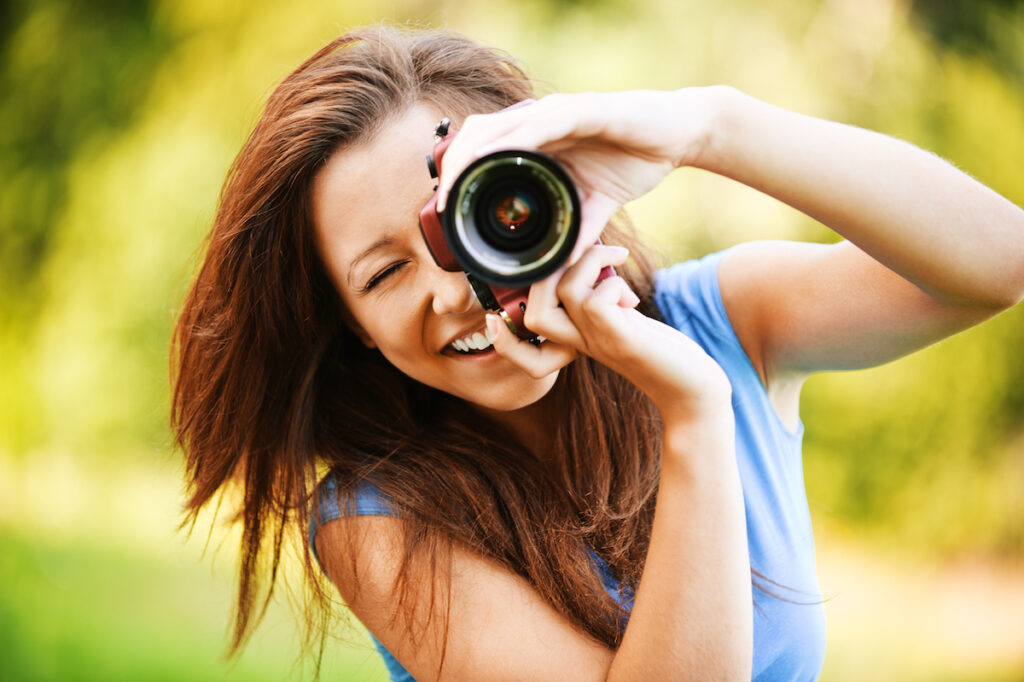 So, what do you like to do?
What would you like to learn? What did you like before you had kids?
Have you considered starting a blog? Or a YouTube channel?
I'm giving you permission to take the leap!
Related: How to Start a Mom Blog for Beginners
Related: 6 Ways to Make Extra Money as a Stay-at-Home Mom
Know that self-care for stay-at-home moms is a must
Happy stay-at-home moms know that self-care is essential.
That morning routine we talked about?
This is a good time to squeeze in some time for yourself. It might require getting up a little earlier than everyone else, but it's totally worth it if that's the only time you can get.
If you're not a morning person, maybe you can plan to take a walk later in the day (even if you have to load up the stroller).
I know this can be tough sometimes. If you can squeeze it in at least a couple of times per week, it will still help you to reset.
Related: 21 Quick and Easy Self-Care Ideas for Moms
Wake up before your kids
Another tip that really makes a big difference is to wake up a few minutes before your kids.
It gives you a few minutes of alone time to wake up, make some coffee, read– Anything you want to do before transitioning to mommy mode.
Those first few uninterrupted sips of coffee are the absolute best.
Play some music
Good music soothes the soul.
You can be in the absolute worst mood ever and turn on one of your favorite songs and feel better instantly. I challenge you to try it.
Doing the dishes? Folding clothes? Throw on some music- even if it has to be done with only one earbud in so that you can have the other ear in "mommy listening" mode.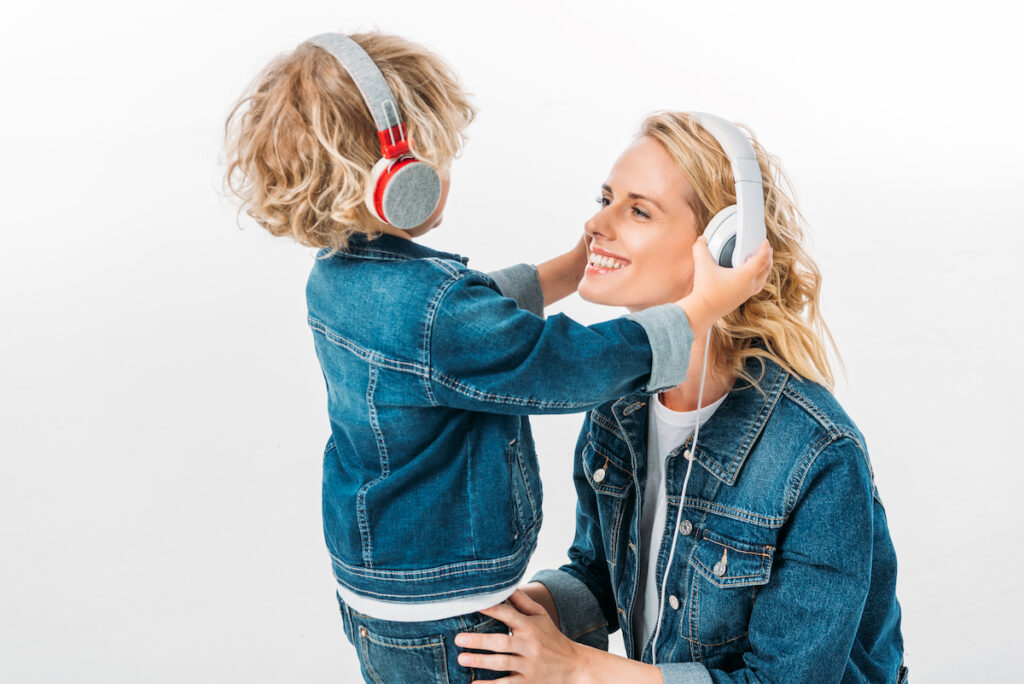 Learn to say no
And if something comes up that doesn't align with your main priorities?
Sometimes you have to say no.
Being a stay-at-home mom may not come with a paycheck (unless you have a SAHM job on the side), but it's hard work– No doubt!
You have a lot on your plate and if you aren't feeling up to a certain activity or event, it's 100% okay to say no.
Get out of the house
Finally, as simple as it sounds, getting out of the house is one of the most important tips for stay-at-home moms!
When you're a stay-at-home mom, you might find yourself slowly transitioning into a hermit crab ?. It happens.
It's GOOD to change your surroundings even if it's just to take the kids to the park.
A little sunshine and some fresh air go a long way!
---
Share these stay-at-home mom tips with other mamas by pinning!