This post may contain affiliate links. Please read my disclosure for more info.
When you're a student, it can be incredibly overwhelming to stay on top of studying and other homework assignments.
Especially when you're juggling multiple classes.
Due dates can pile up quickly if you aren't managing your time wisely, so it's essential to have a system in place to help you stay organized.
Thankfully, there's a simple tool that can help you out and it won't cost you a single cent – A free printable homework planner!
By the way, if you like these printables, you may also love a cute weekly planner printable or printable reading log!
What is a printable student planner?
A student planner and homework planner is essentially the same thing, so don't let the name throw you off.
Basically, it's a printable worksheet that helps students keep track of weekly assignments, project deadlines, and other to-do lists that are important.
And, anyone can benefit from having one! It's not just for college or high school students. A planner can be helpful for middle schoolers as well.
It's the perfect way to stay organized with school-related tasks and make sure nothing falls through the cracks.
There are two main types of homework trackers.
The first one is a weekly homework planner. These will have a place for you to write your list of assignments and other details like…
The subject or class
The date the assignment is due
A quick description of what the assignment entails
A place for you to mark once it's been completed
The overall layout will vary from one weekly planner page to the next, depending on which one you choose, but this gives you an idea of what to expect.
The second type is a homework calendar. My favorite way to use a calendar is to stay on top of due dates, especially bills.
So, it's no surprise that it can be helpful for school assignments and test dates too.
These are great because they give you an overview of what's due and when for the entire month.
As long as you are diligent about writing down when assignments are due as soon as you find out.
This can be especially helpful because you can use this info to plan ahead and get a jump start on any big projects or writing assignments that are coming up.
The benefits of using an assignment tracker
Whether you decide to use a weekly assignment tracker, a monthly calendar, or both – There are some benefits you can expect to see.
For one, better time management
When you know which assignments are coming up, you can then prioritize which ones need your attention first.
For example, if you know you are having a huge history exam the following week, you may need to plan block some time out for a few days to prepare for it.
It keeps you on the right track
And, when you're staying on top of your to-dos and you're planning your weeks in advance, it's much more likely that you'll finish your assignments on time and without any surprises.
Better time management = No more due dates creeping up on you and no more trying to finish everything up at the last minute.
It reduces stress and procrastination panic
Having a plan in place can help reduce the stress of having to rush through your assignments and also help you avoid procrastination.
And this results in lower stress levels, so it's a win-win.
Tips for students: How to use an assignment tracker effectively
Here are a few tips on how I would personally use the free printables below.
Tip #1:
Be diligent about keeping a running list of due dates. This includes all assignments, tests, projects, etc. You can use a monthly calendar or one of the monthly trackers below for this. That's what they were designed for!
Think of this as your "month at a glance" for school work. This page is helpful to refer back to when it's time to make your game plan for the week.
Tip #2:
Simple advice, but golden advice: Don't wait too long to get a head start on big projects.
It's much more manageable if you break larger assignments down into smaller ones instead of waiting until the last minute to play "catch-up."
Try to complete a certain amount of work every day so that when the due date arrives, you won't feel overwhelmed or behind.
This is one tip I am always telling my own children because I learned it the hard way when I was a student myself. I once waited until the day before to do a huge 10-page-or-so paper. No joke. Do not recommend.
Tip #3:
Keep your planner pages in a designated folder or binder. That way, you don't have to worry about where the pages are or if they got lost somehow.
It's also a good opportunity to reflect on what you accomplished during the school year by looking back at past planner pages. It can be so fulfilling and motivating seeing all that you've done and it will give you a sense of accomplishment as you move into the next school year.
It's time to print your favorite homework planner template
There are a total of 45 planner pages for you to choose from! Choose the version you prefer or print a few different ones to try.
All printable worksheets are free for personal use (non-commercial) and are US Letter Size. If you need a different paper size for any reason, follow this step-by-step!
Weekly homework trackers
These are perfect for planning your homework for each day of the week. You can write down the class, a description of the homework assignment, and when it's due. Once you've completed it, check "done" and move on to the next!
There are a couple different versions below. Some have the days of the week marked while others do not.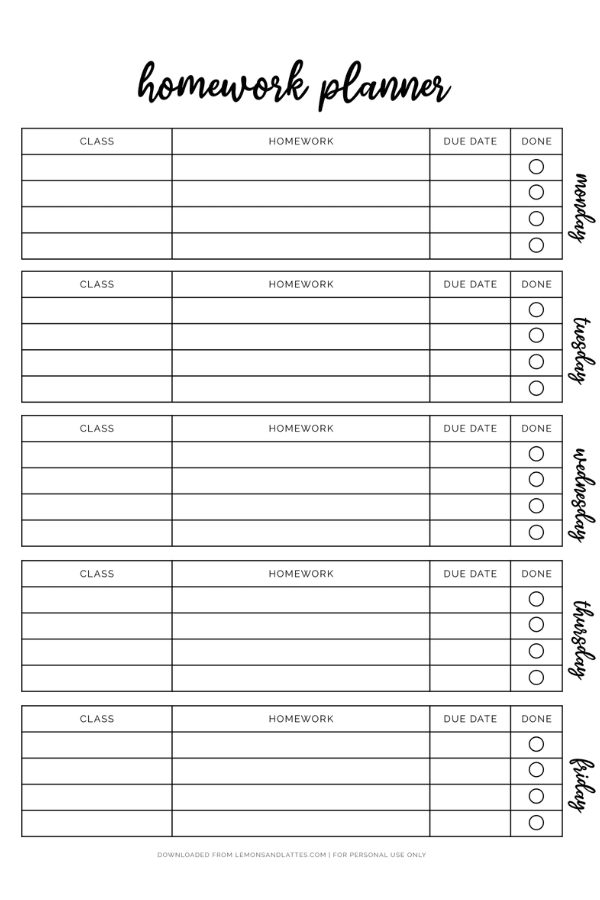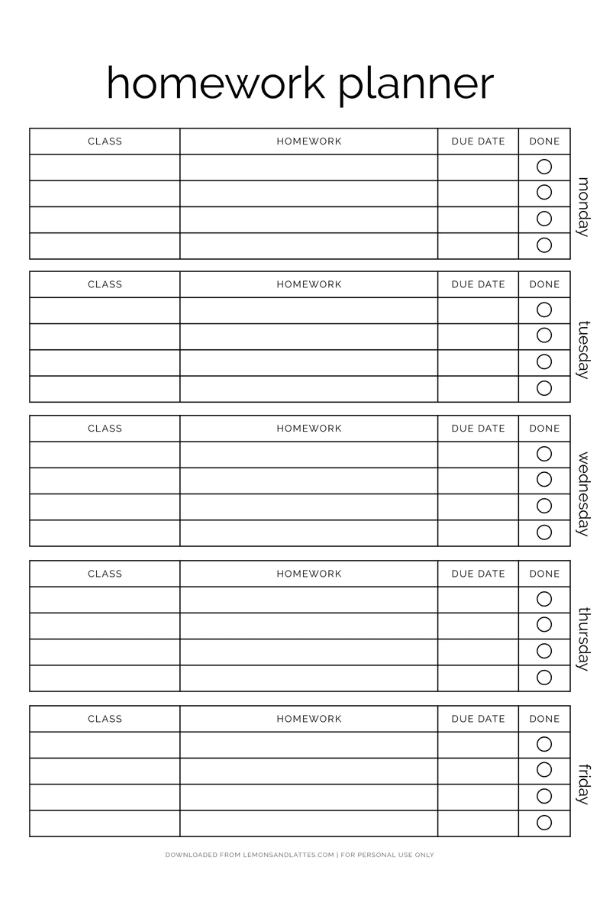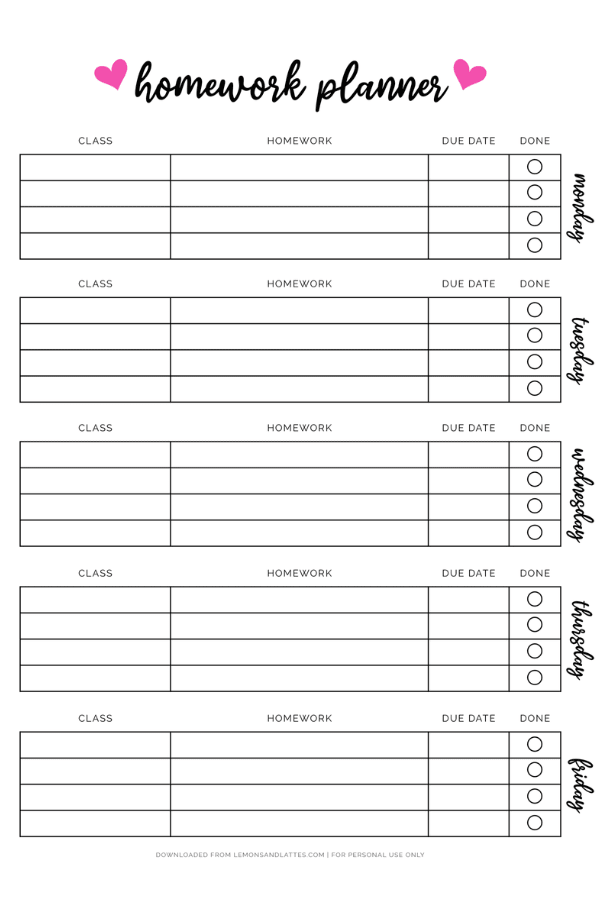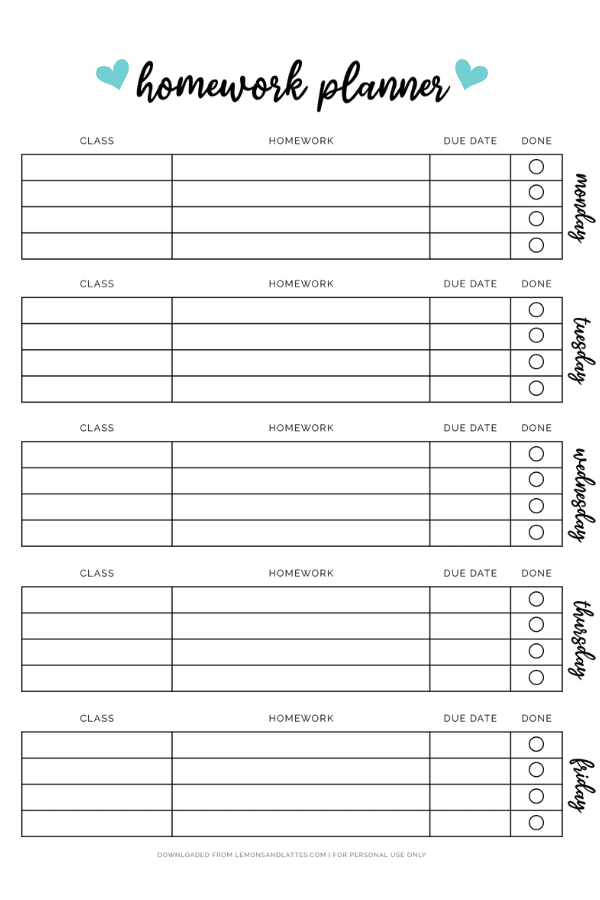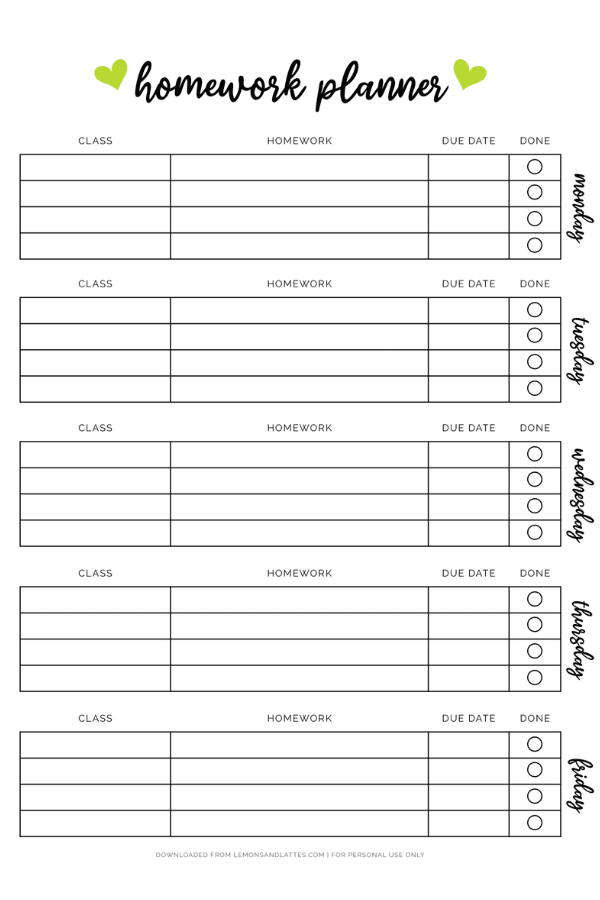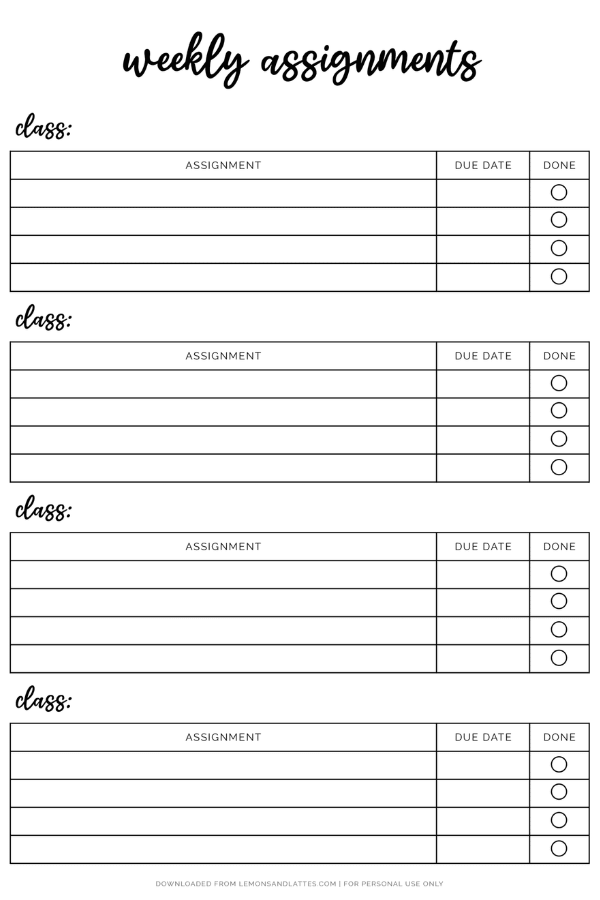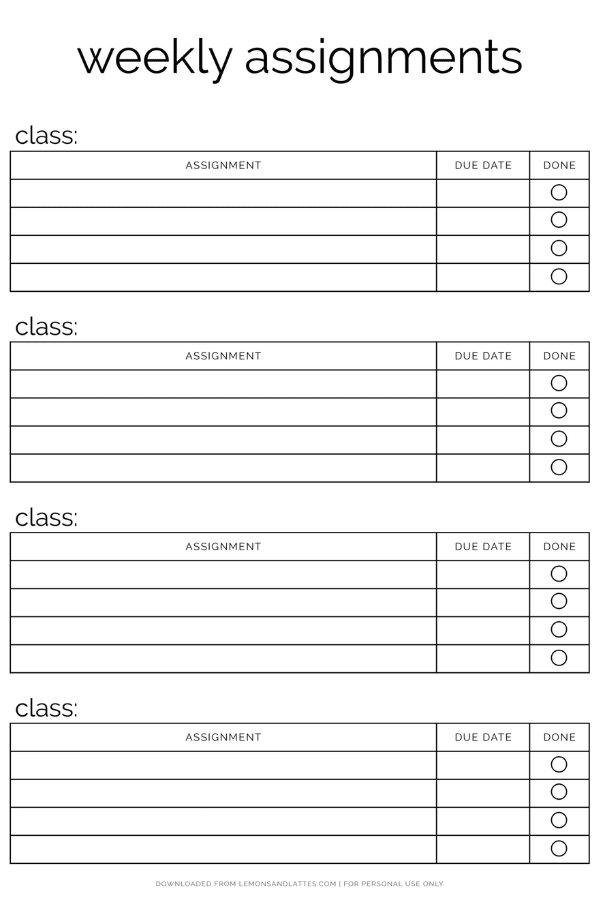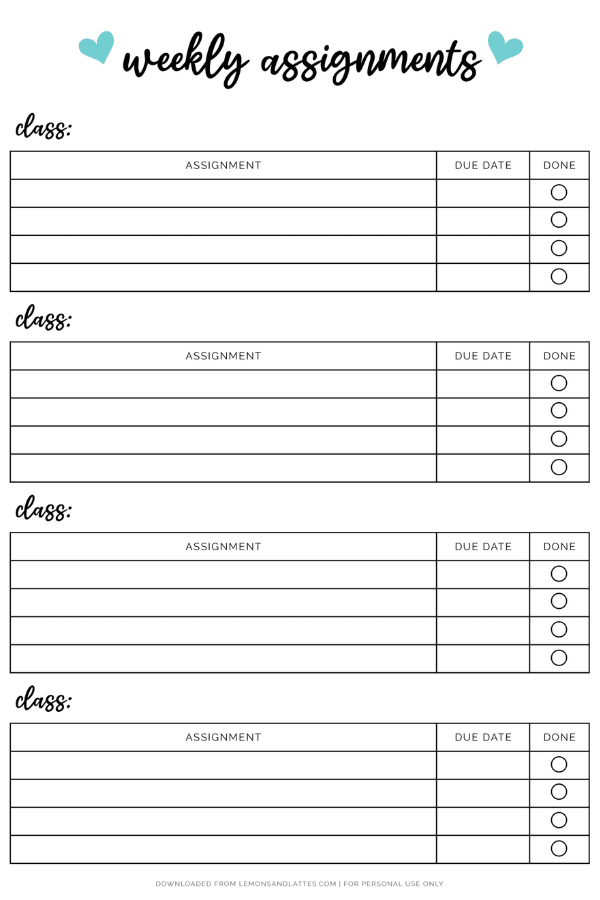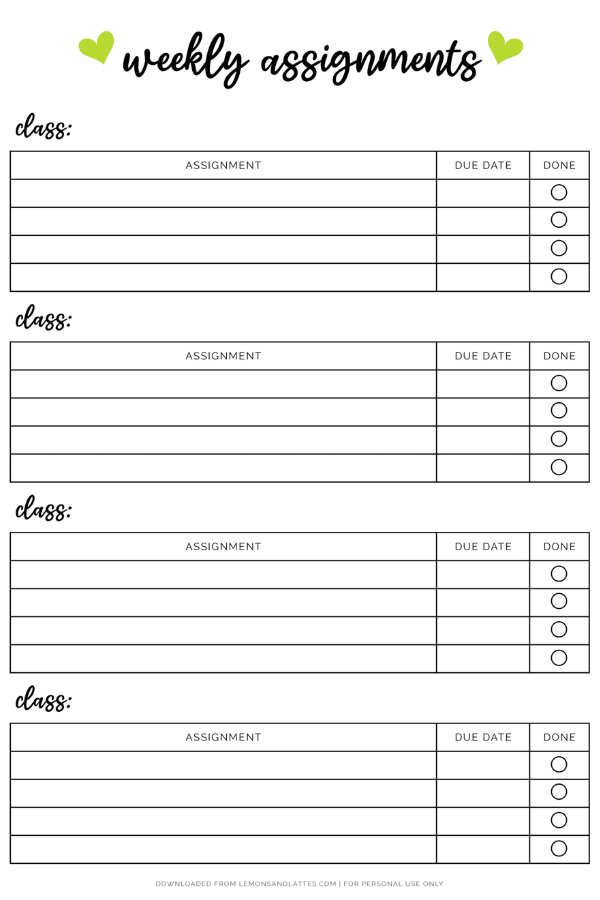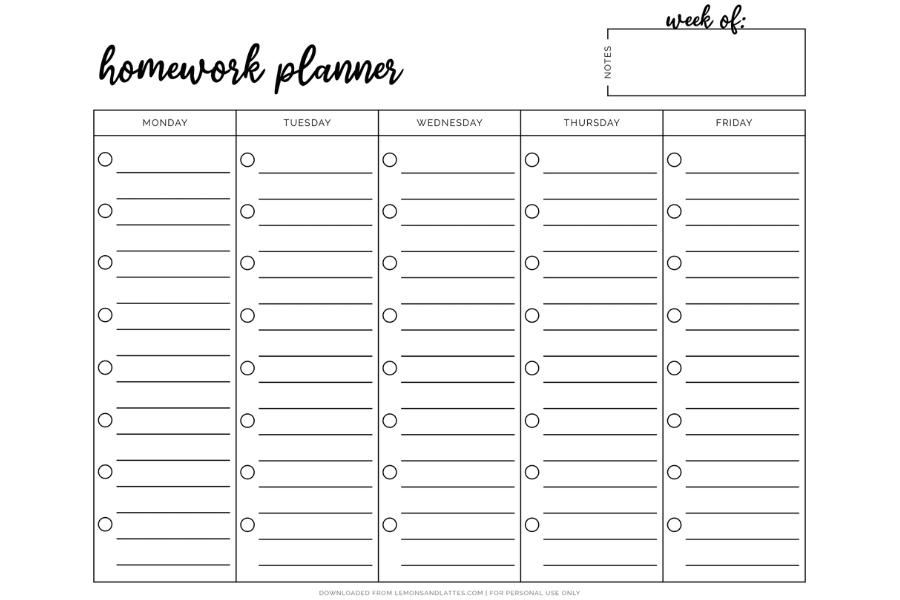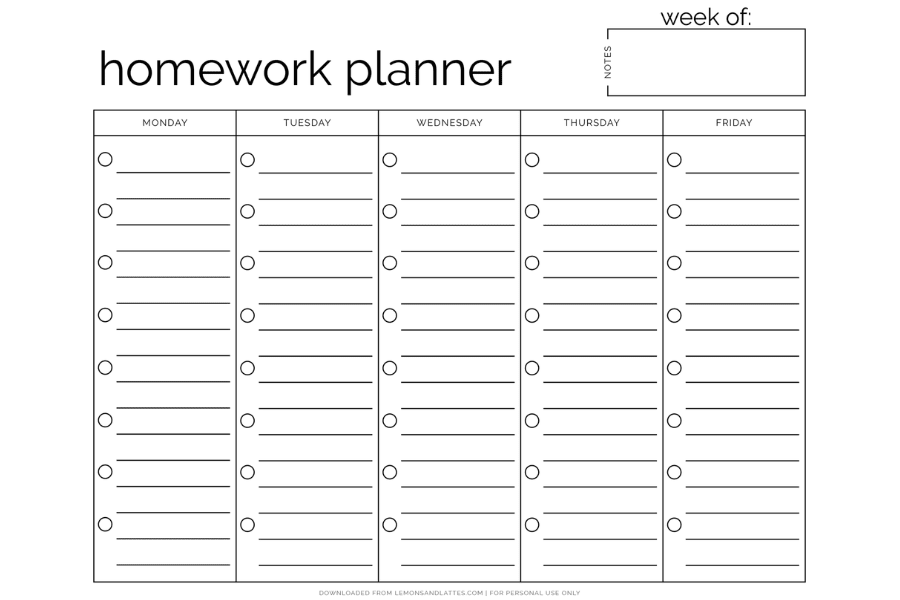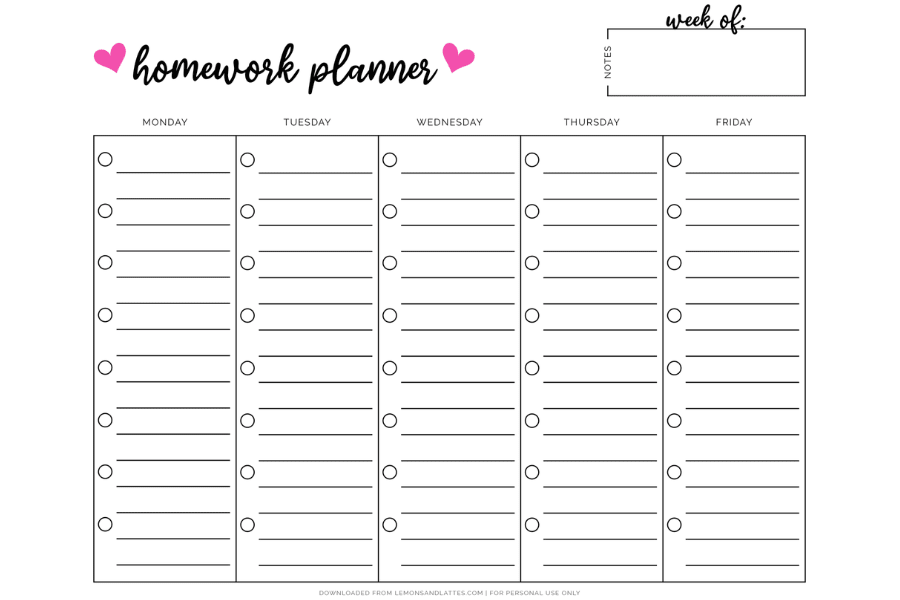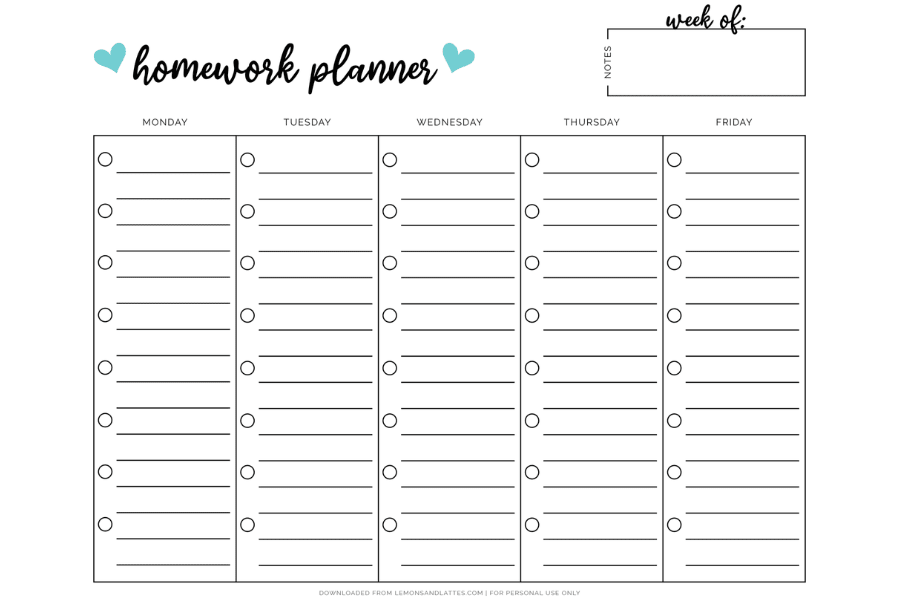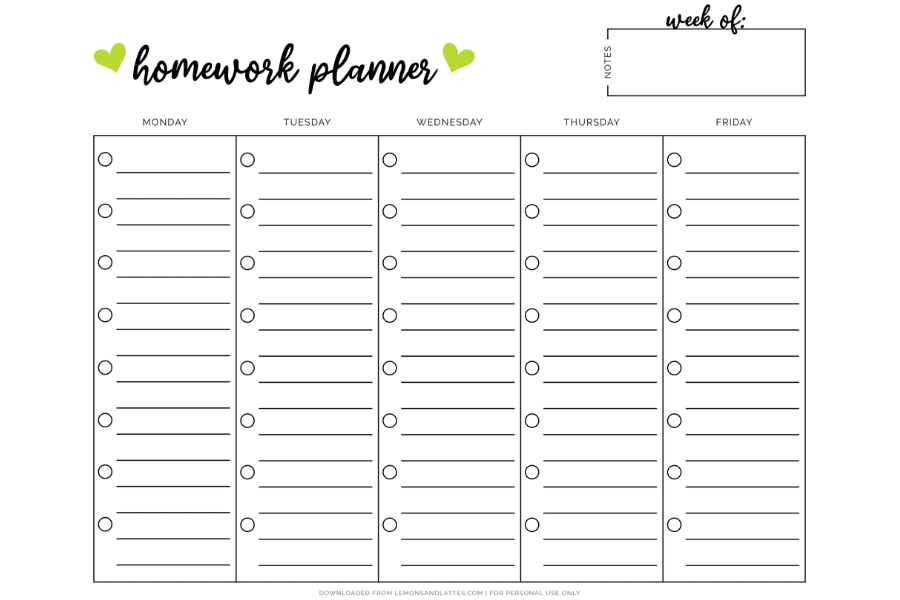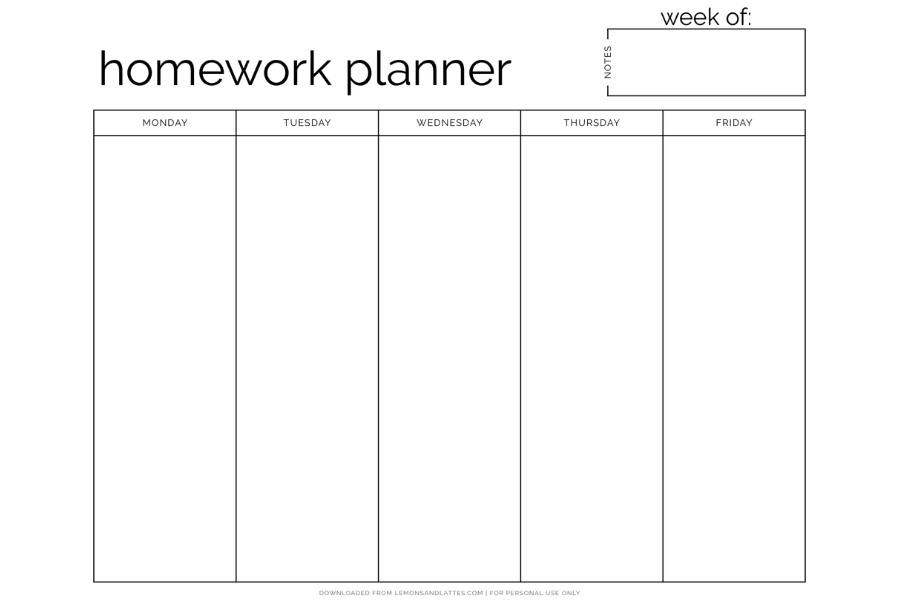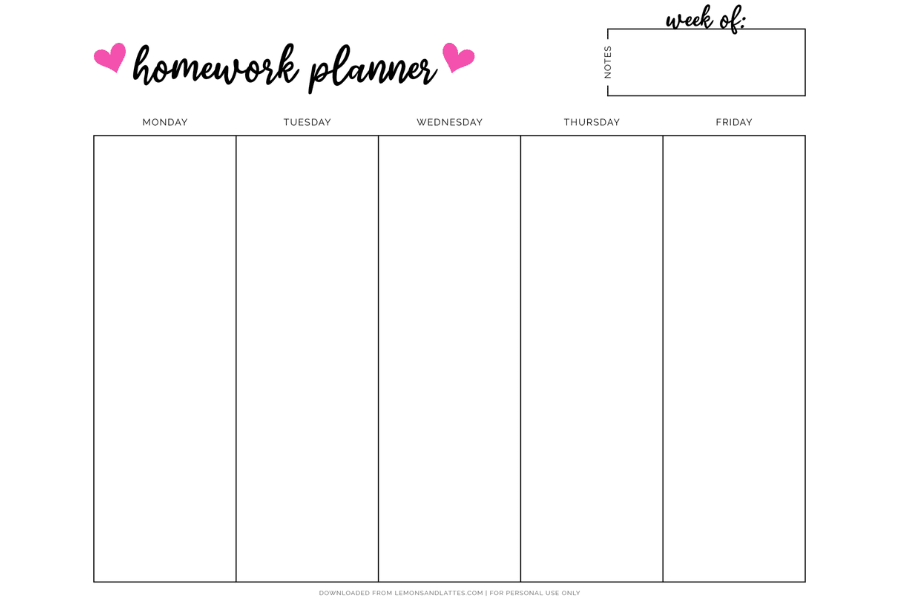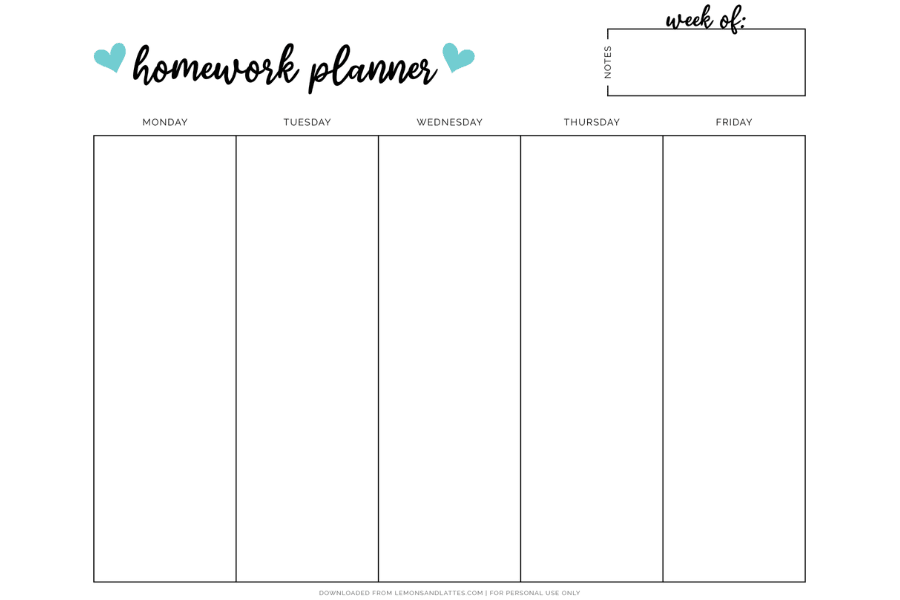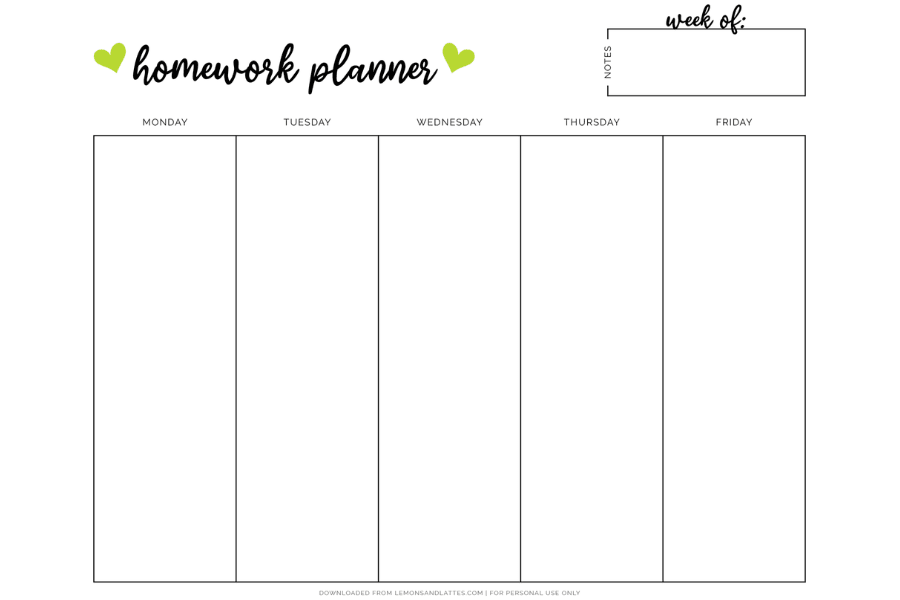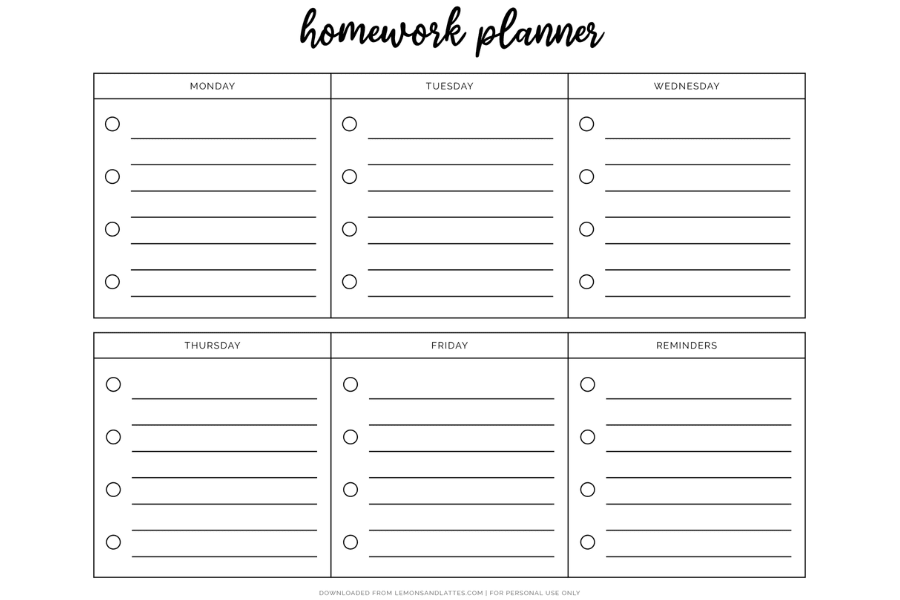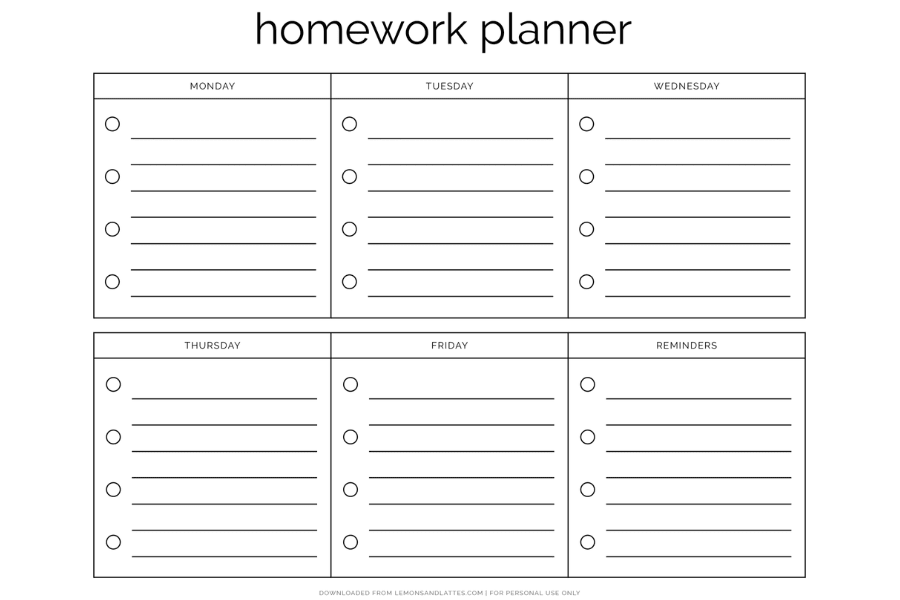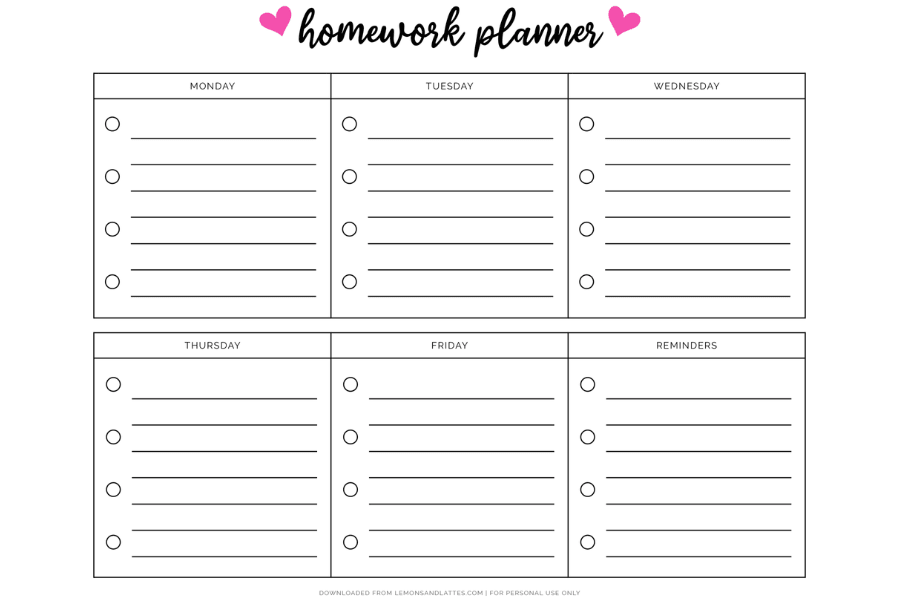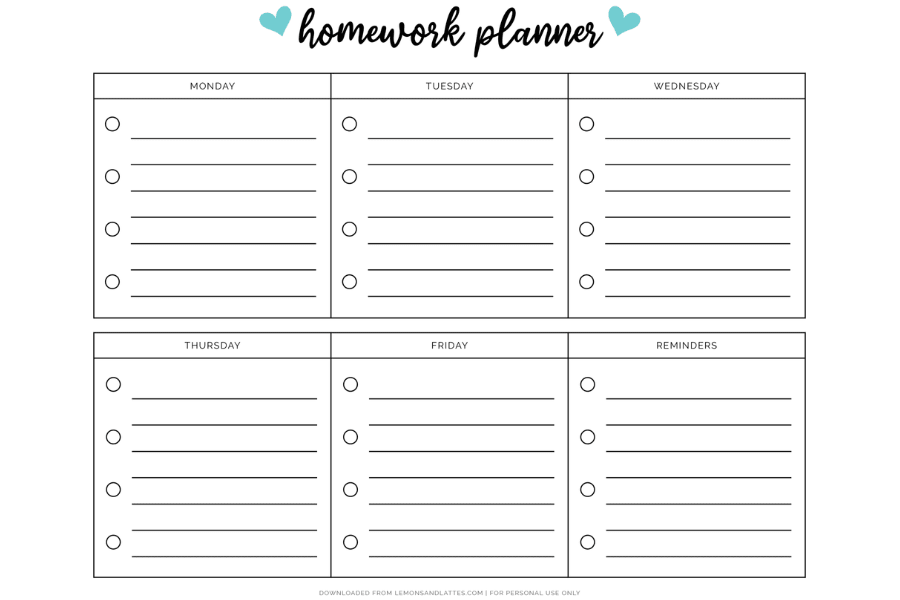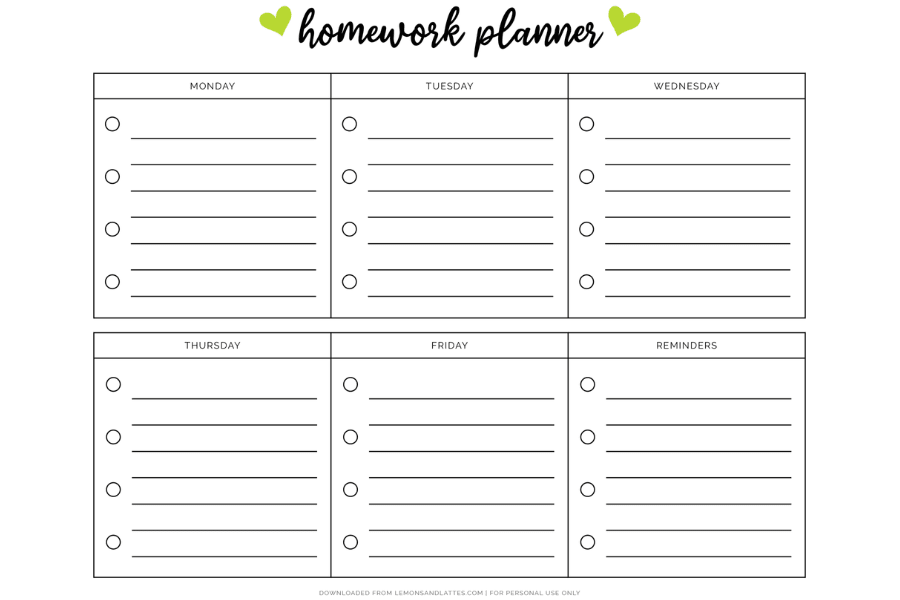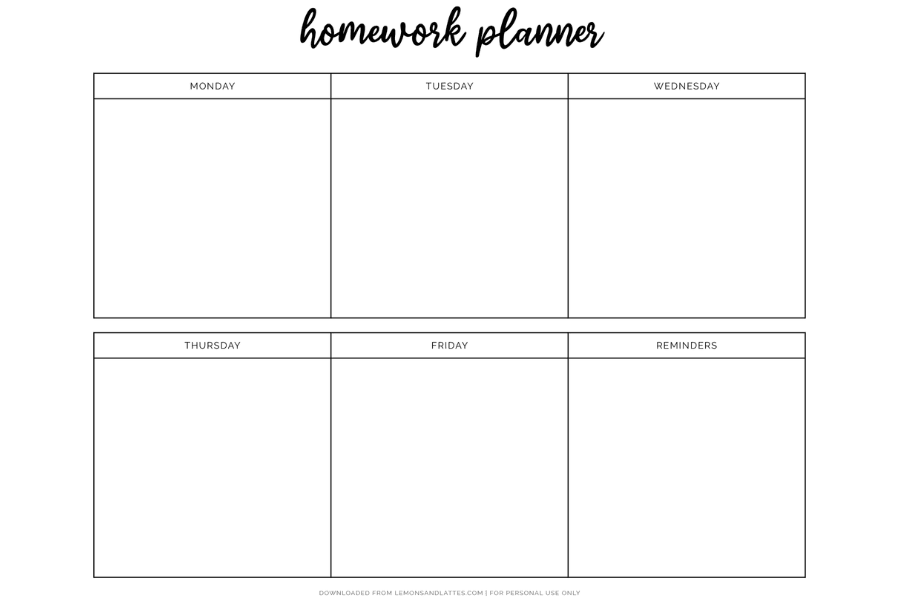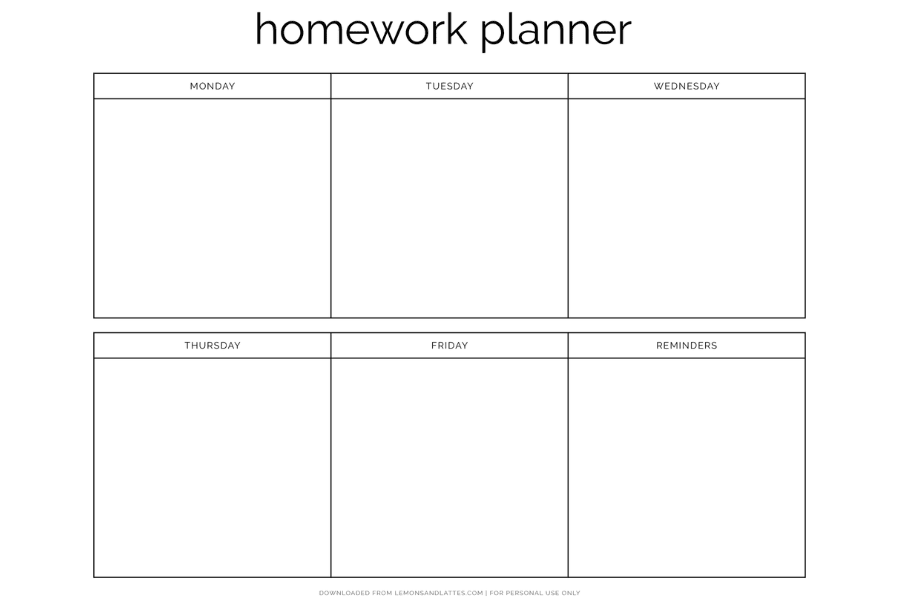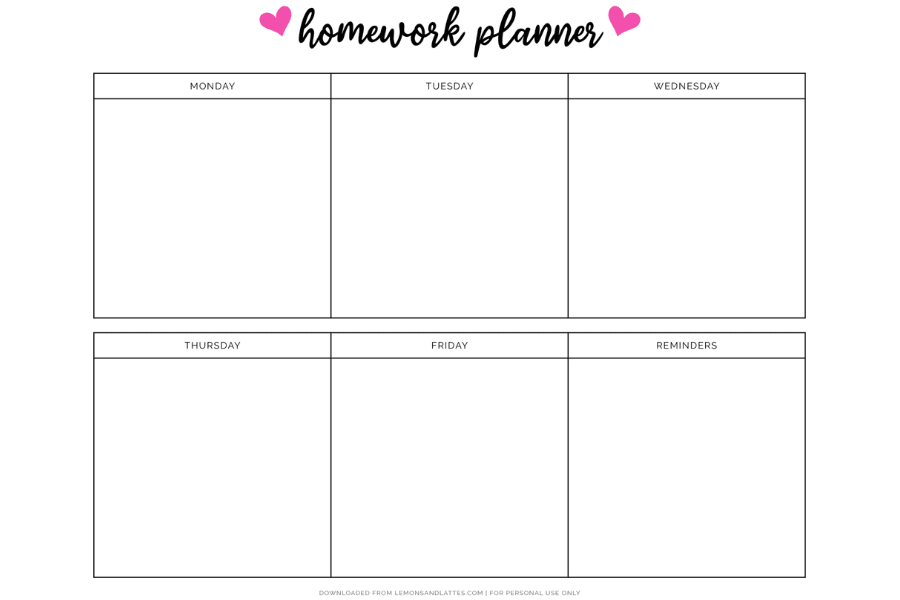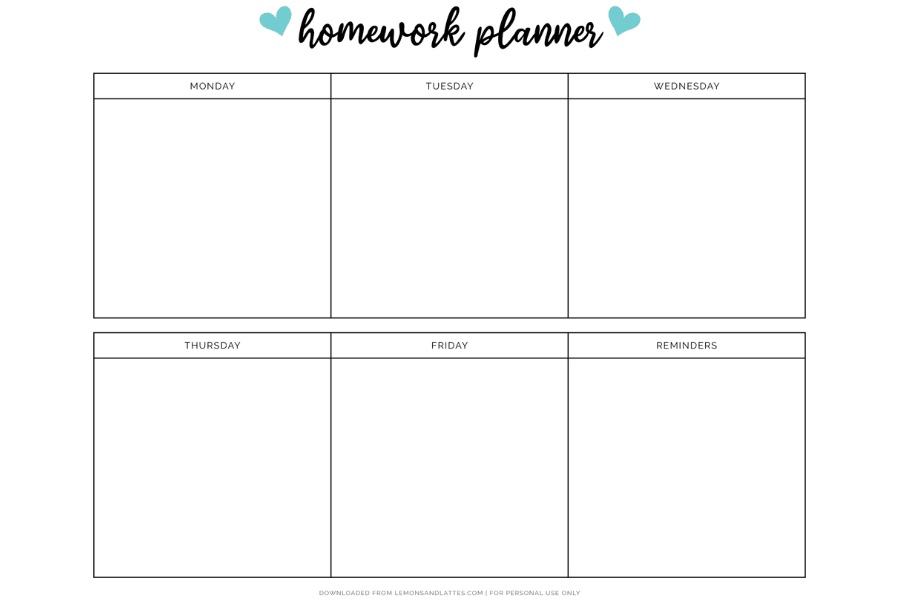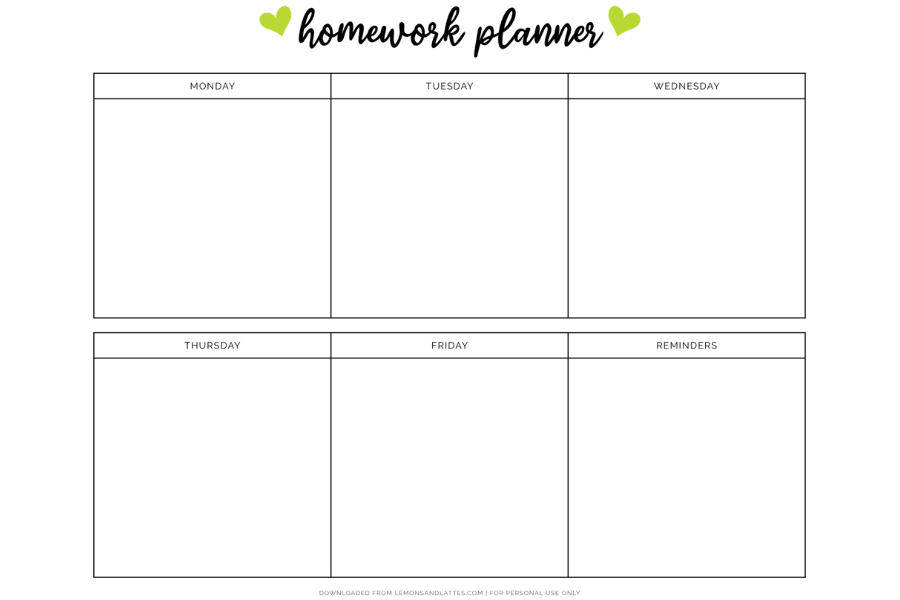 Monthly homework calendars
Looking for a blank homework calendar to keep track of when assignments are due and test dates? These work well for that!
Some have extra lines below the calendar for writing down reminders or any other notes you need to remember.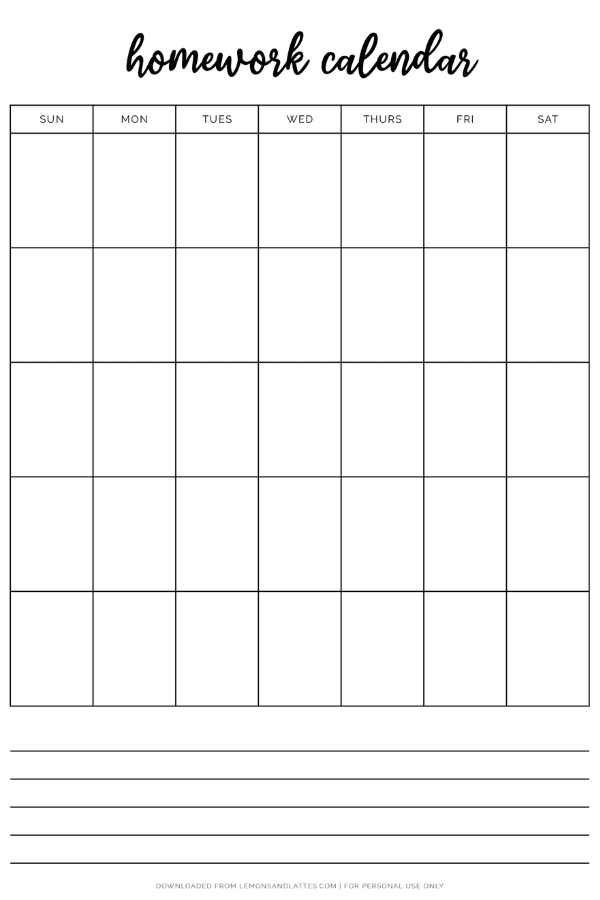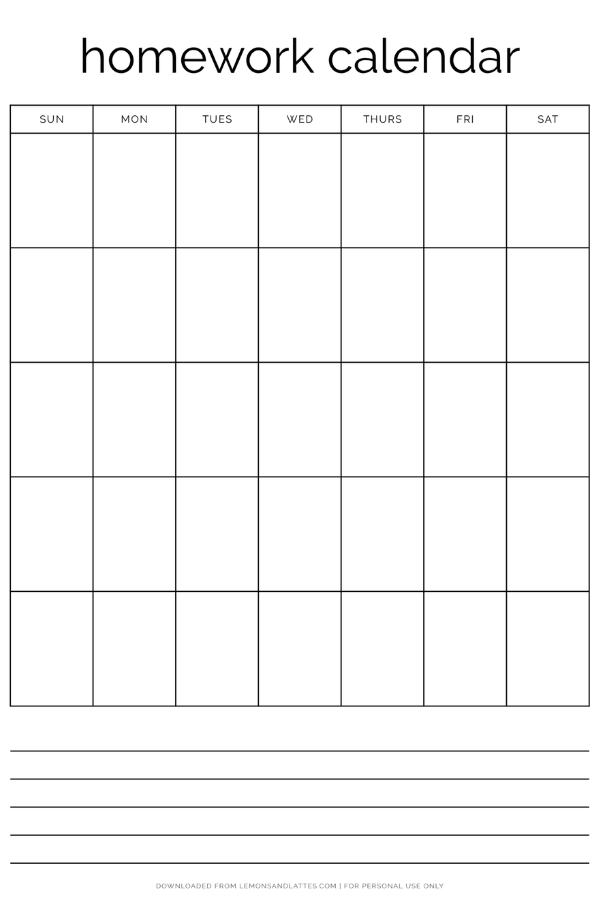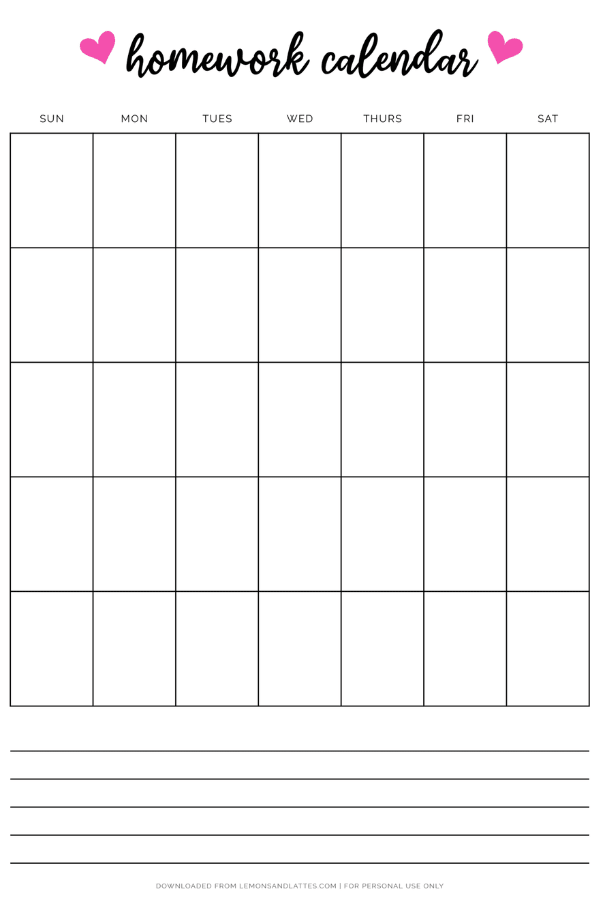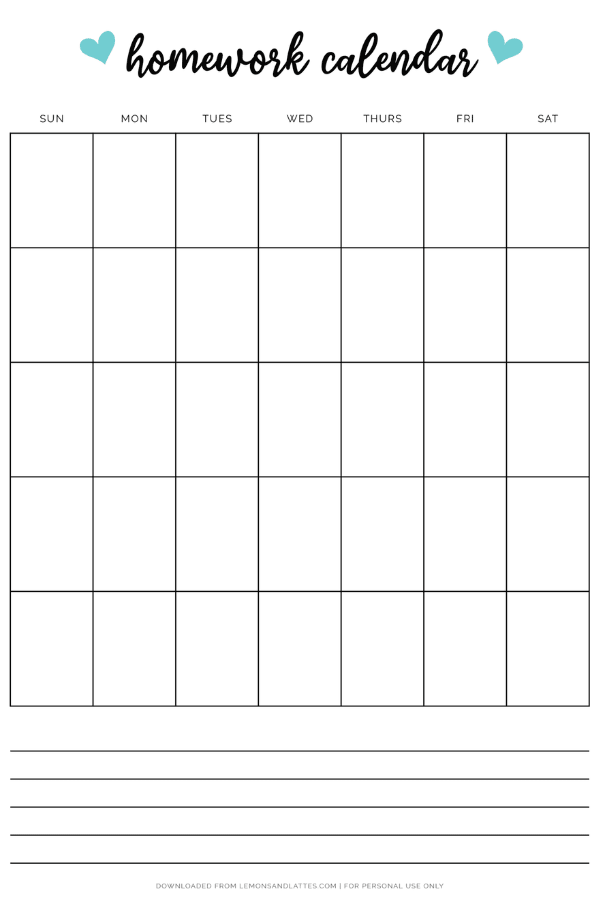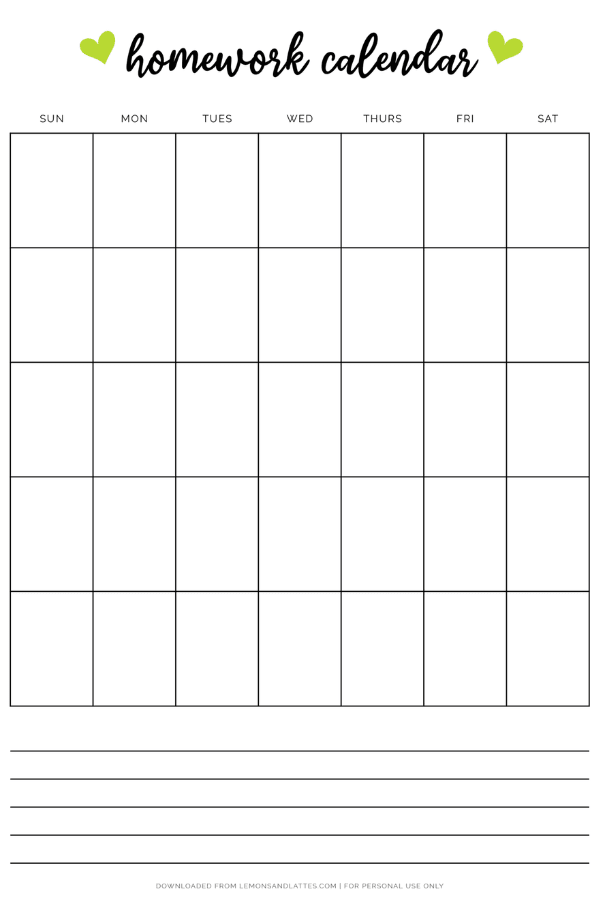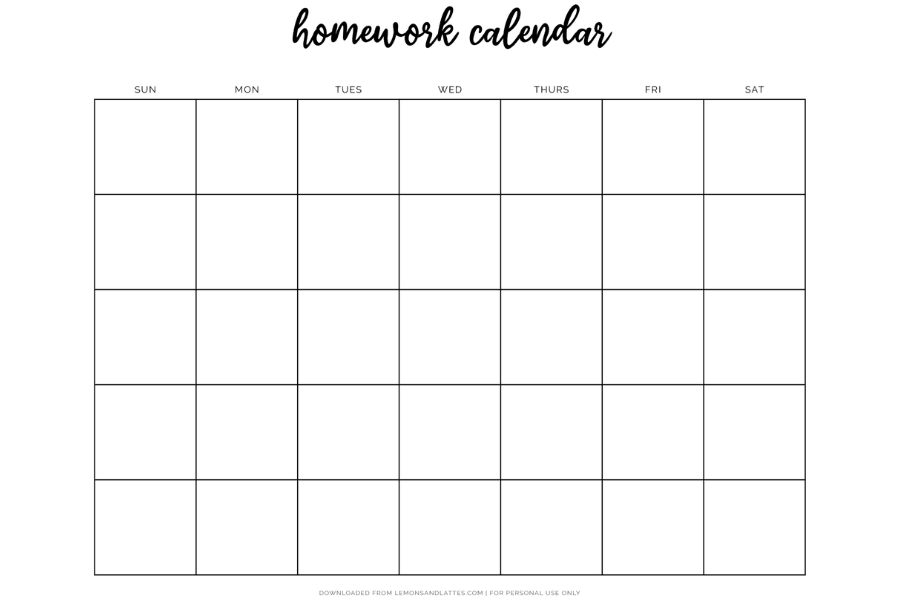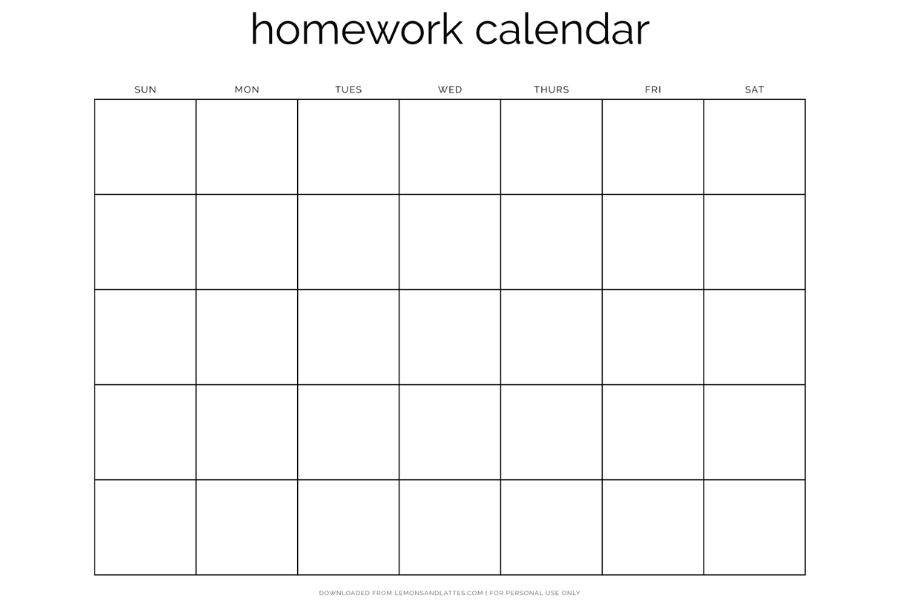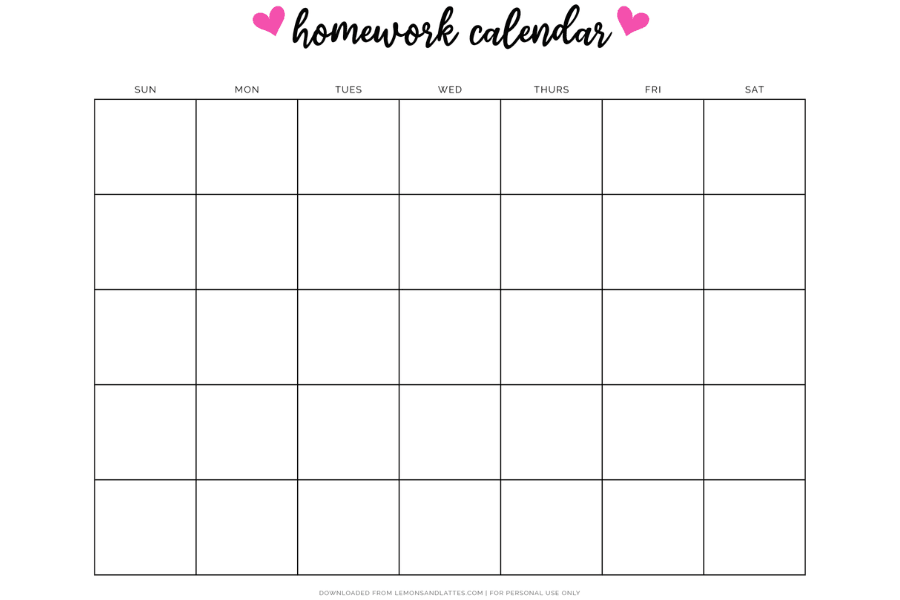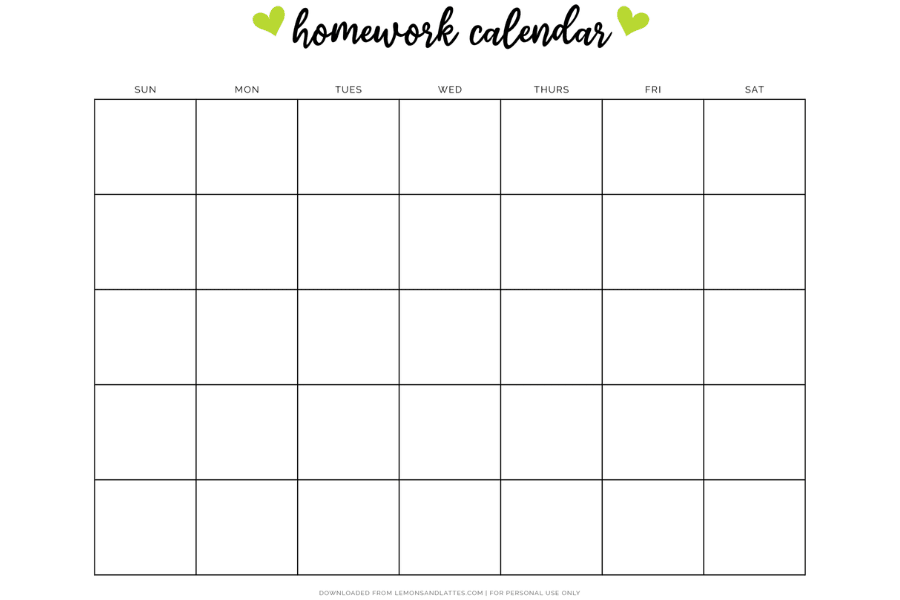 Monthly assignment and exam trackers
If you prefer a list-style layout over a calendar, one of the assignment trackers below may be more along the lines of what you're looking for.
You can write down the class, jot down a quick description of what's due (whether it's a basic assignment, project, or exam), and the due date.
And, of course, once you're finished, you can check it as done.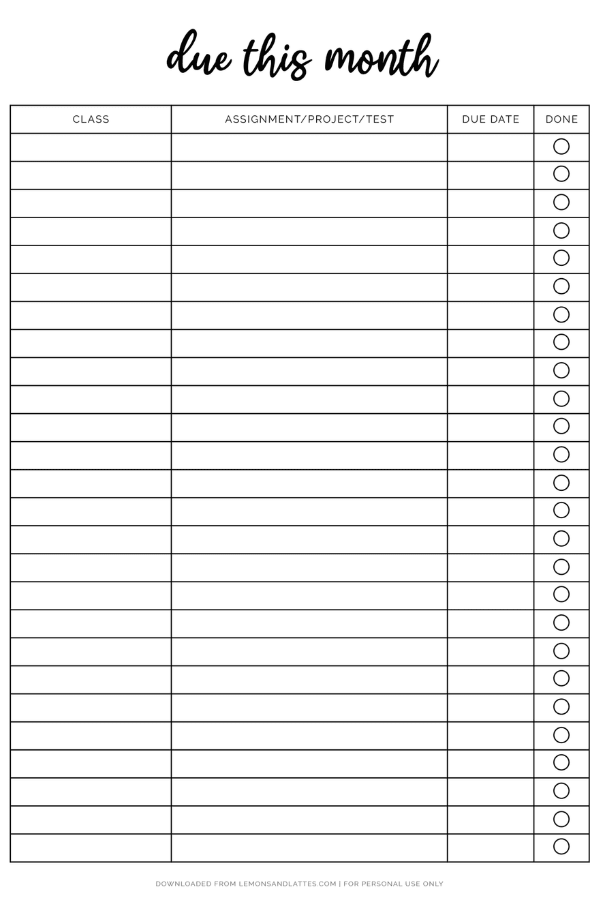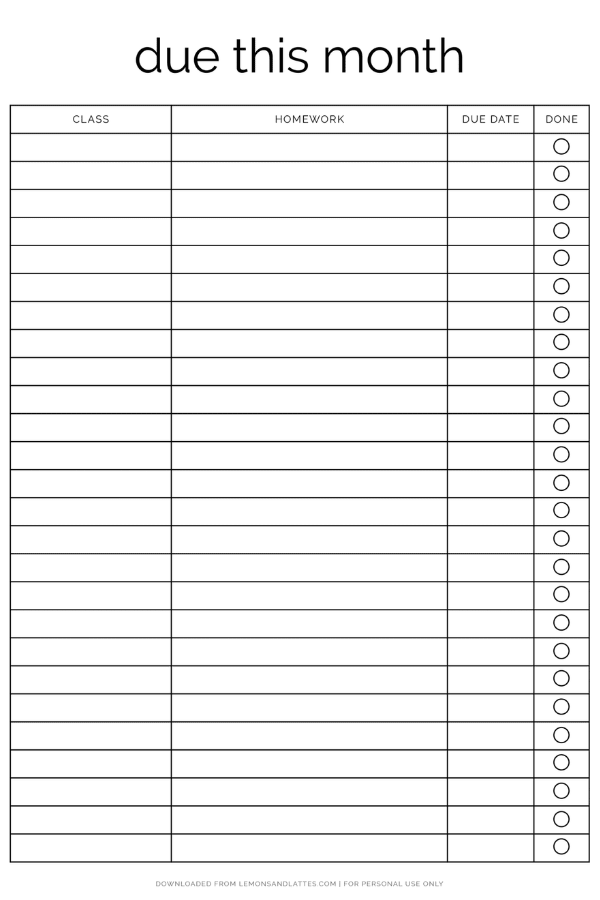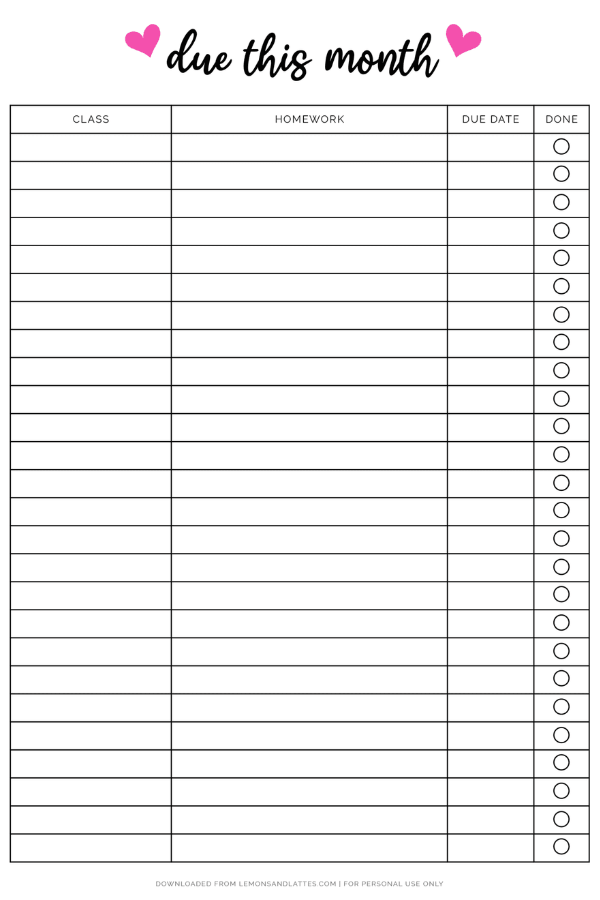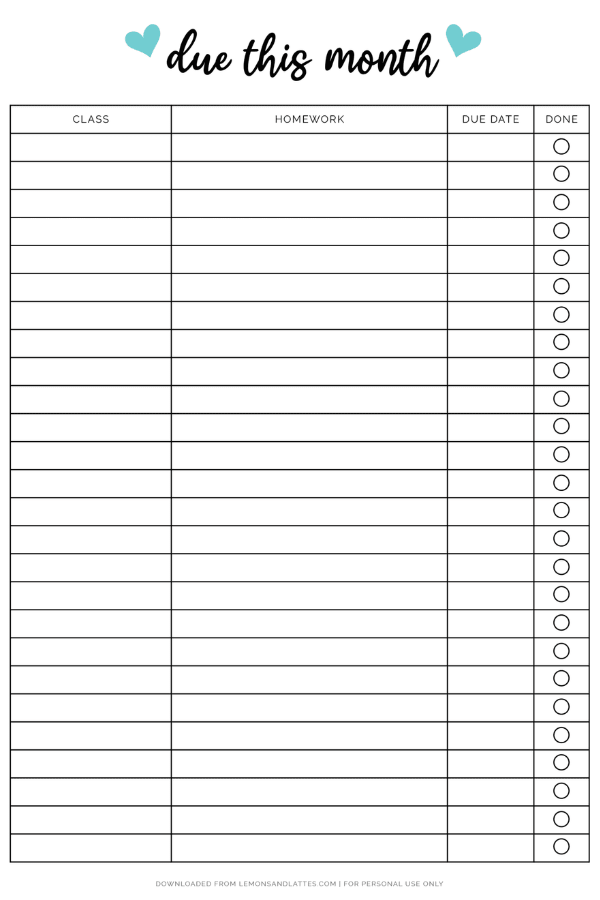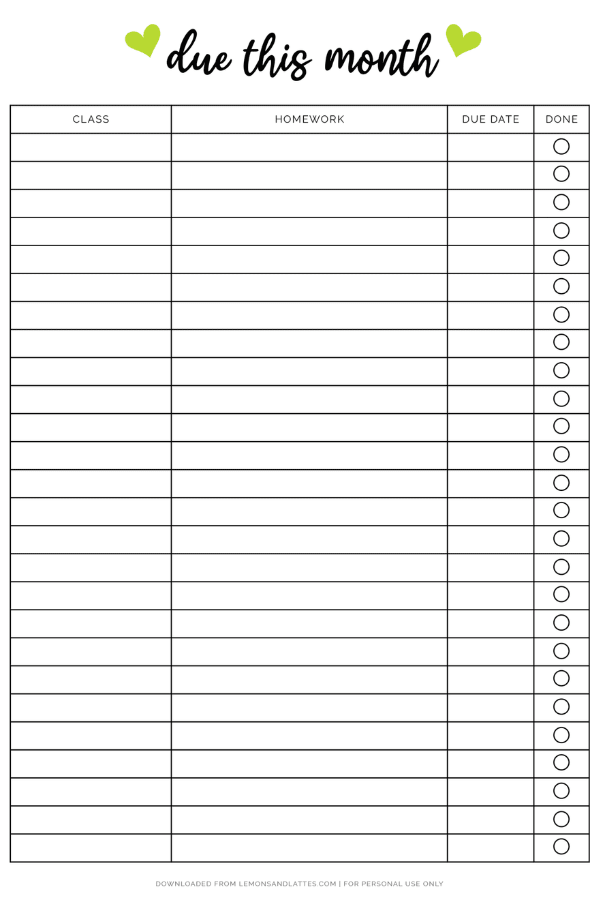 ---
Use these free printables to keep track of assignments all throughout the school year!
If you are a parent or teacher, you may print as many of these as you need for your child or student.
They are completely free for personal use!