This post may contain affiliate links. Please read my disclosure for more info.
December is a month that's always filled with excitement and anticipation.
There's so much to look forward to, from the big family gatherings to the smaller, cozier moments spent sipping hot cocoa and watching Christmas movies at home.
But now that it's here, the countdown to Christmas has begun! There's still quite a bit to do.
There are decorations to put up, presents to buy, and holiday cards to send out. Oh, and don't forget to order those advent calendars if you haven't already!
It may seem like a little overwhelming with so much to get done, but a little planning goes a long way.
Below are 52 printable December calendars that you can print out for free to help you stay organized!
You may also like:
More ideas for using your December 2023 calendar
Beyond just keeping up with upcoming dates, how can you use a basic calendar to stay organized?
Here are a few new ideas you may not have considered:
A DIY advent calendar: Create an advent calendar by labeling each day with a small activity or treat leading up to Christmas Day. This could be baking cookies, watching a holiday movie, or doing a random act of kindness. Use mini sticky notes to cover each day.
December bucket list: Use your calendar to create a winter bucket list of activities to do during the month of December. This is the perfect time for this since the kids will have plenty of time off from school.
Plan your elf on the shelf: Plan out some creative Elf on the Shelf ideas for each day leading up to Christmas.
Holiday movie marathon: Use it to schedule a few holiday movies to watch with your family, making each day with a different classic movie (or a new one) to watch.
What's happening during the month of December?
For most of us, December is centered around Christmas. We get to put up the tree, wrap presents, and indulge in wayyy too much tasty food (with zero regrets might I add.
But there are also other holidays celebrated during this month – namely, Hanukkah and Kwanzaa. Plus, there's New Year's Eve!
And, of course, there's New Year's Eve to wrap up the year with more celebrations and maybe even some firework shows.
Print your favorite December calendar
Okay, let's pick a calendar!
All 52 calendars are your standard Sunday-start calendars. So, while there aren't any that begin on Monday, you still have a few options.
First – I've included both portrait and landscape designs. I know some people prefer vertical while others prefer horizontal layouts, so you can have your pick.
Next, there are plenty of full-page calendars to choose from if you don't have a need for any extra writing space.
If you are someone who prefers some extra writing space for to-do's, reminders, etc. – I think you'll appreciate the added notes section.
It's not a huge extra section, but just big enough to jot down a few extras if you need to.
As far as colors and designs go, the templates range from simple and ink-friendly to ones that have a bit more pop of color. I didn't go overboard with the ink though, so you shouldn't have to worry about these draining your entire ink cartridge.
All PDF calendars are US Letter size, but if you'd like to learn how to resize them yourself, follow this tutorial – It's really easy!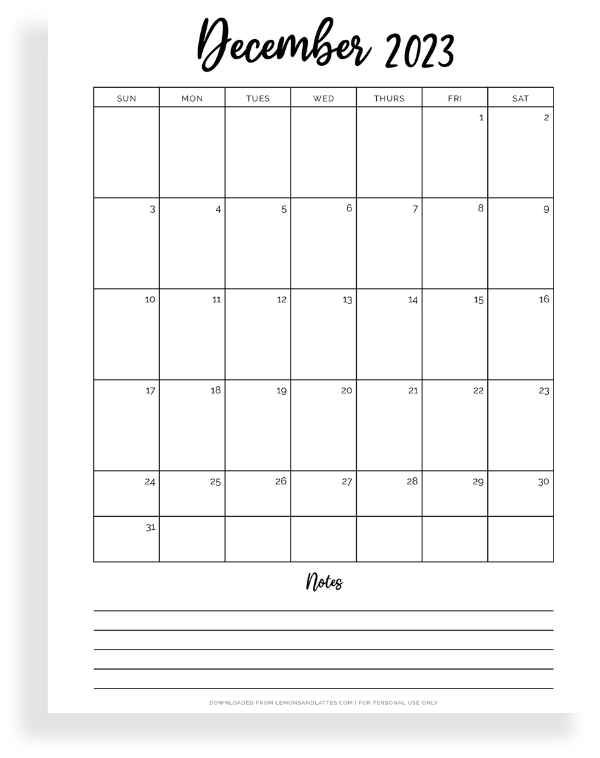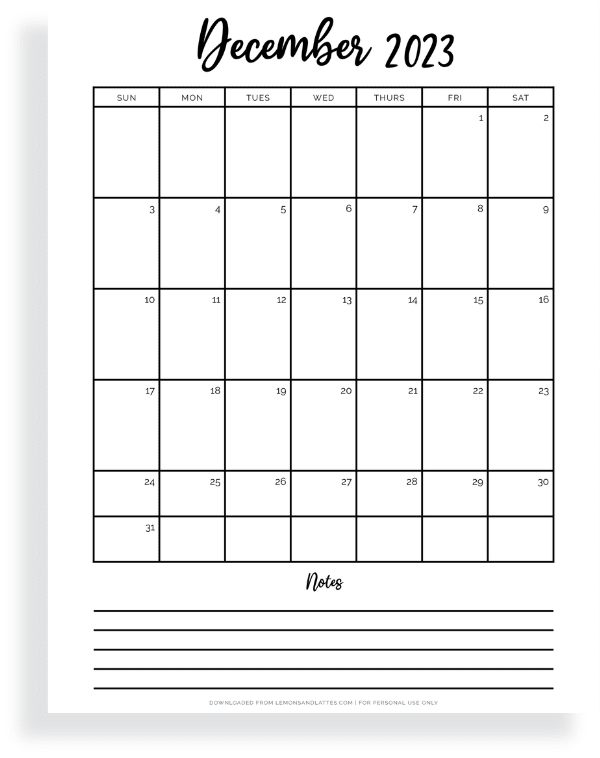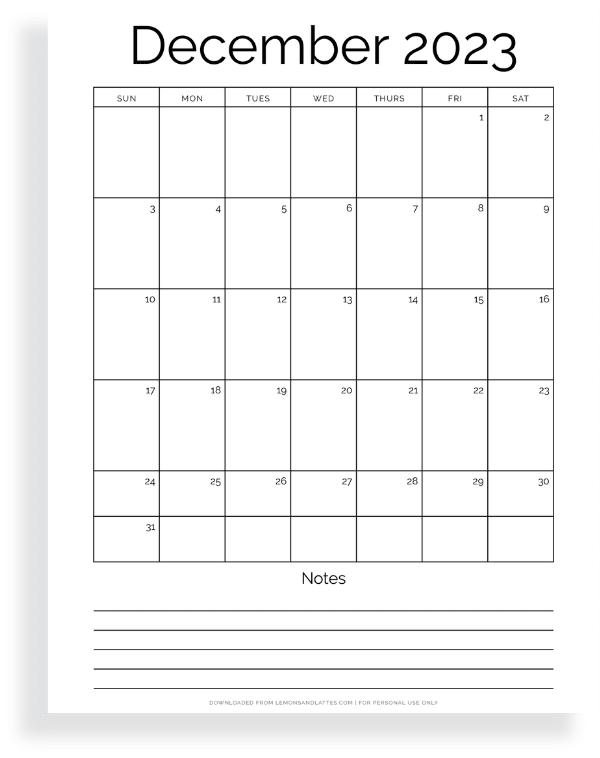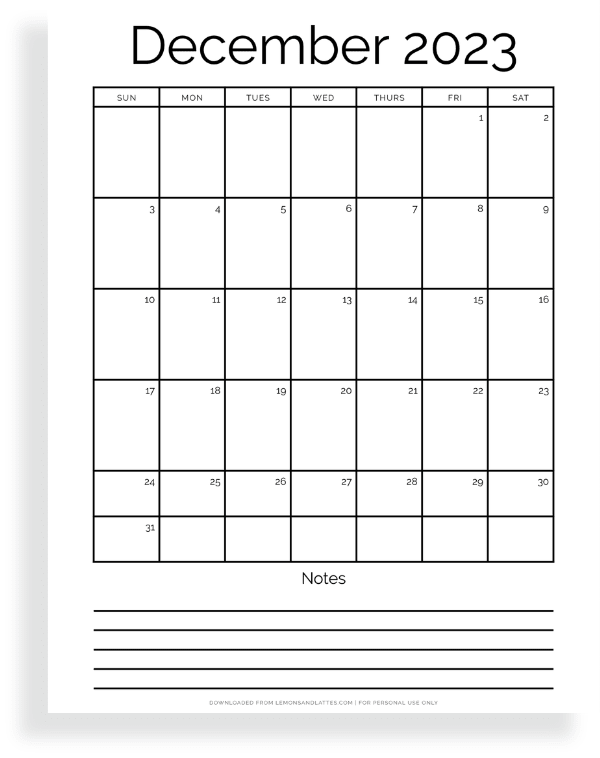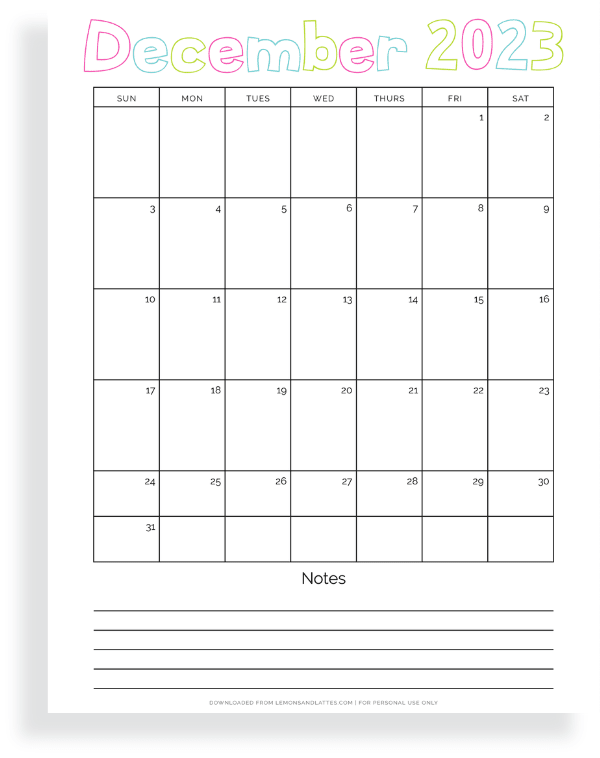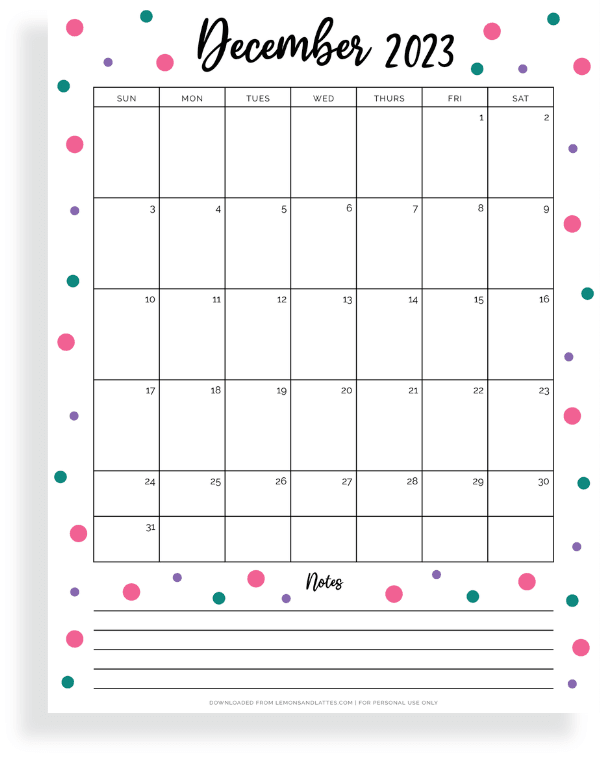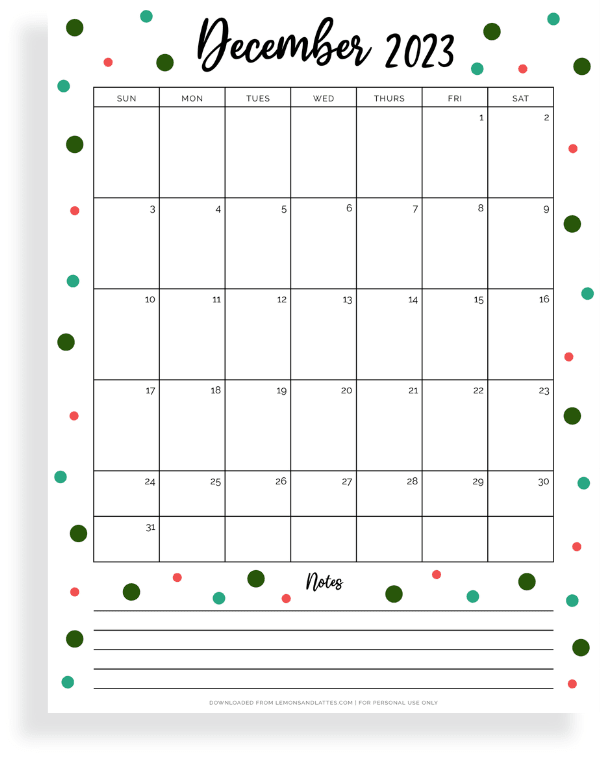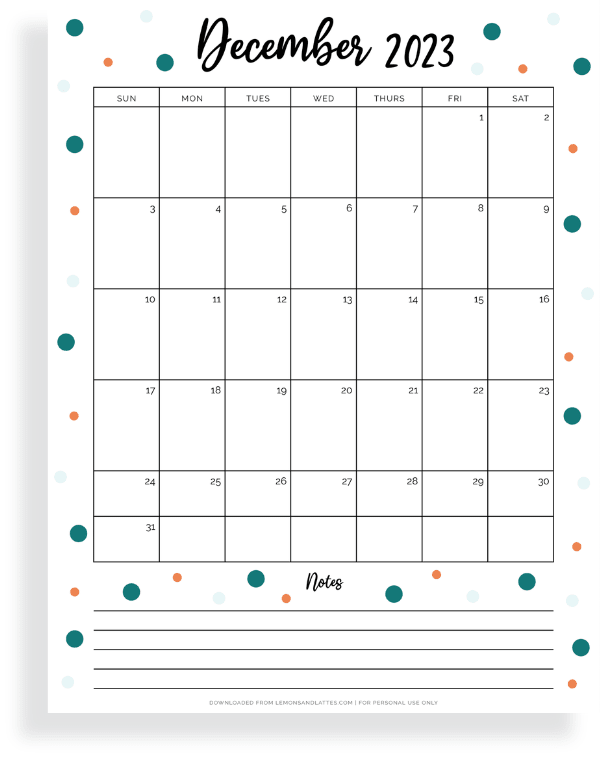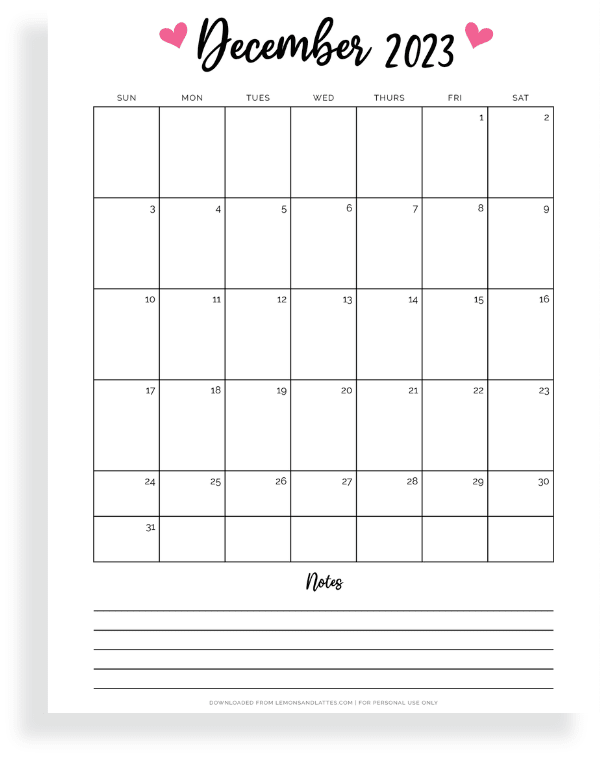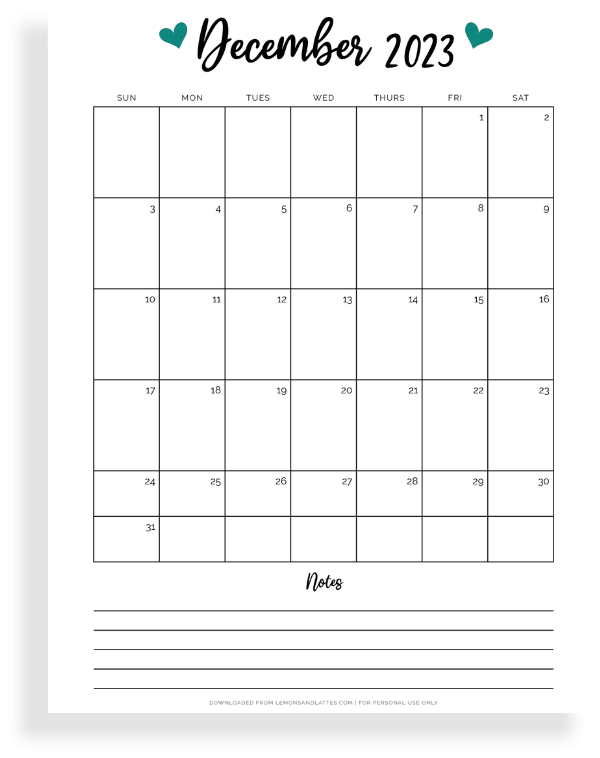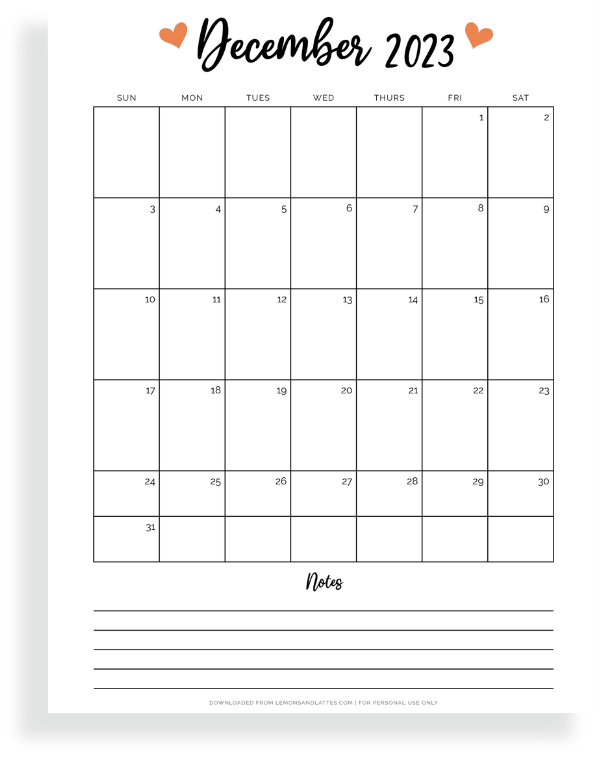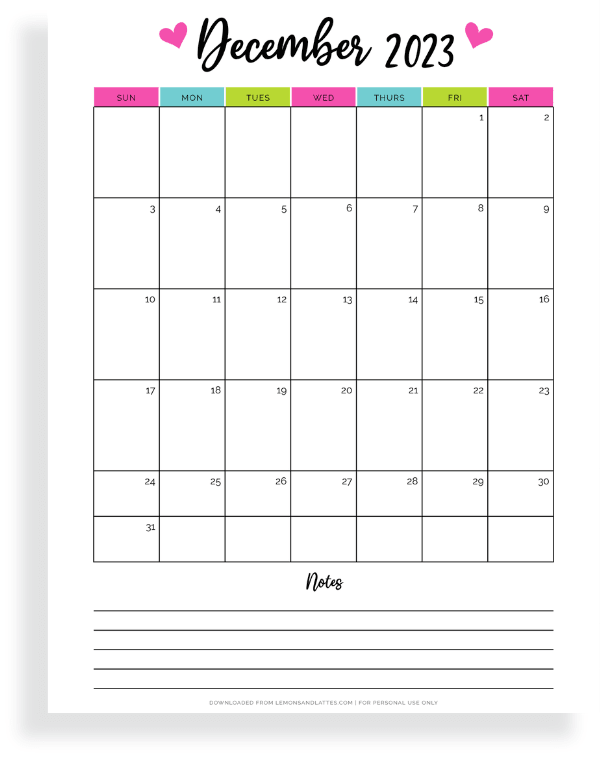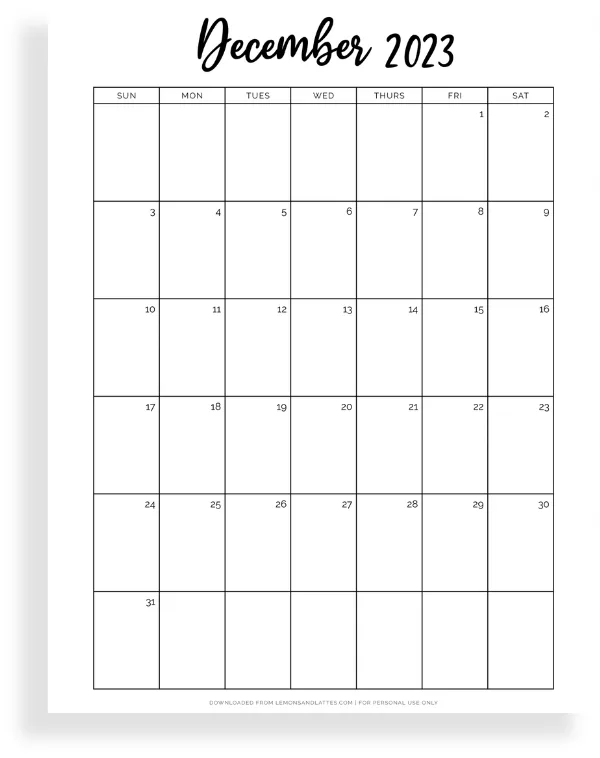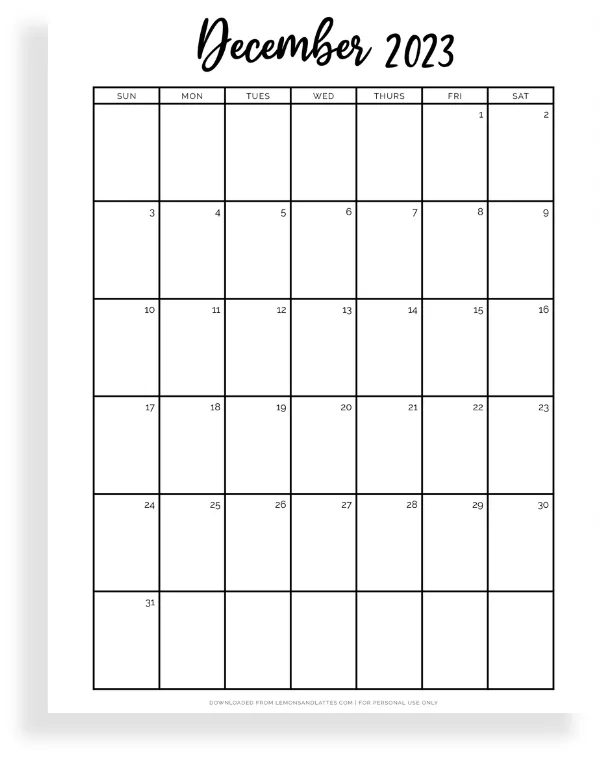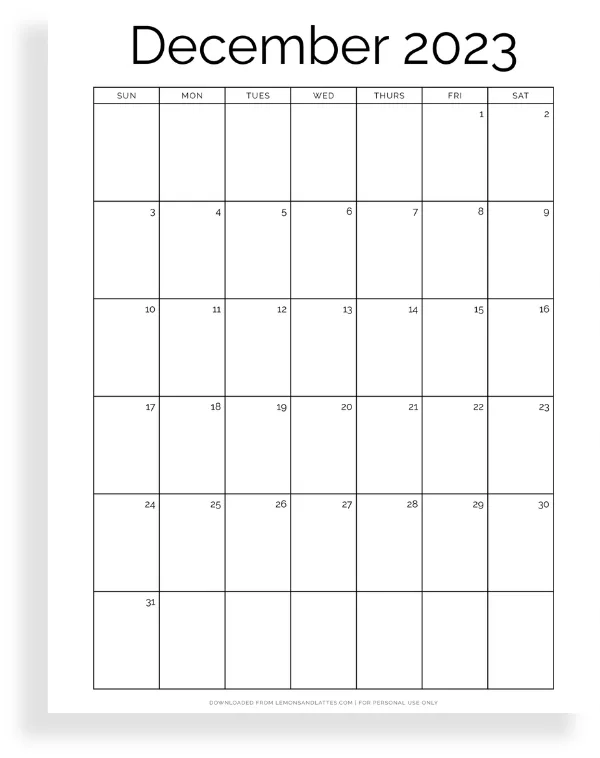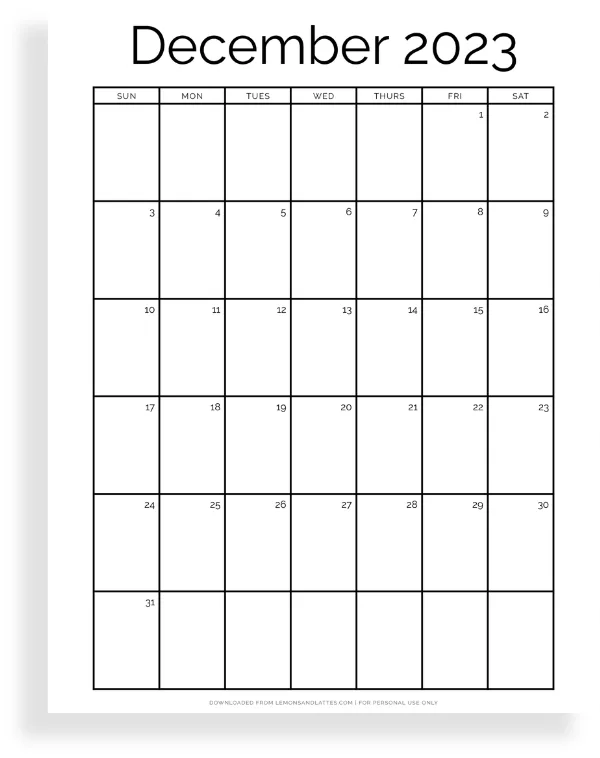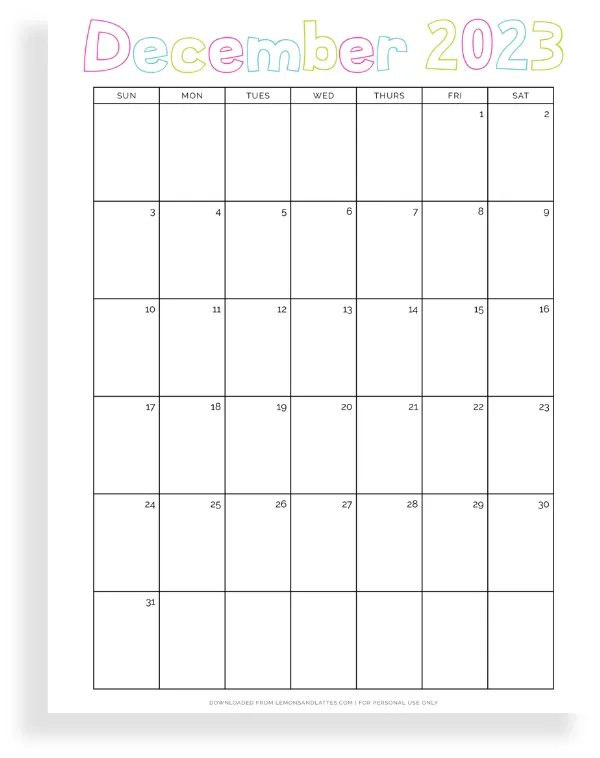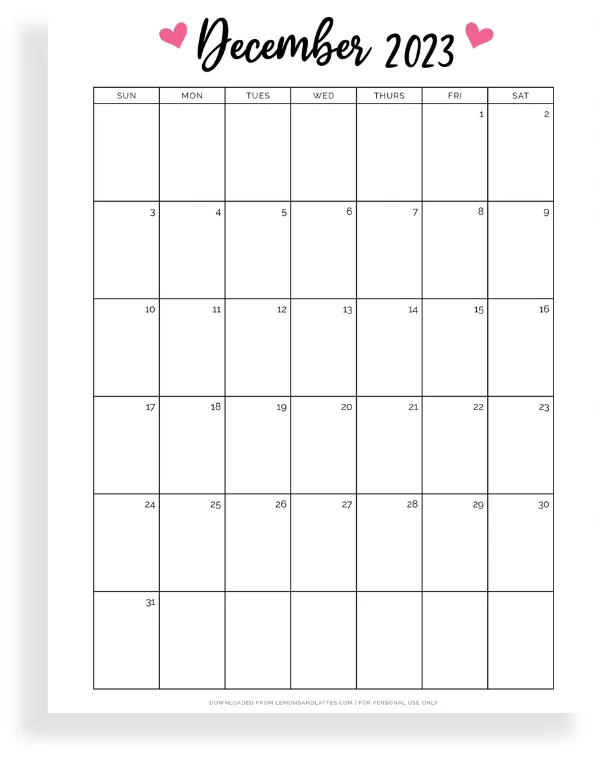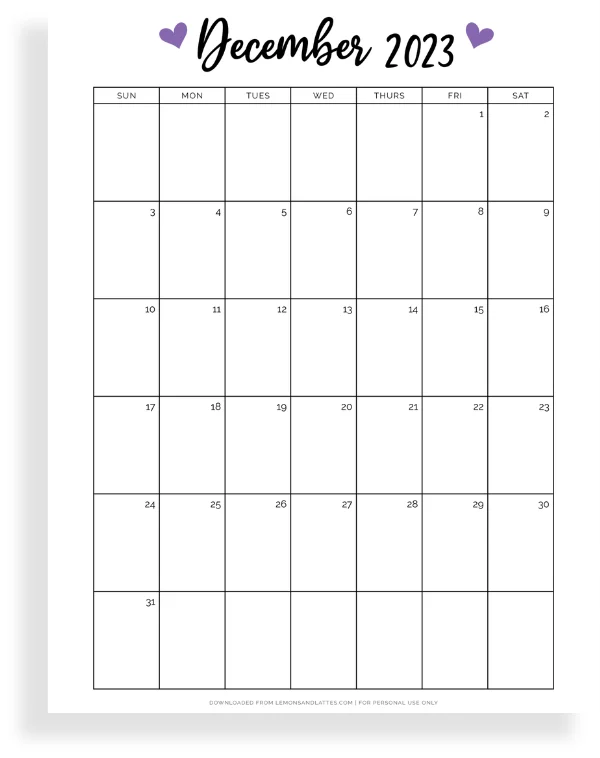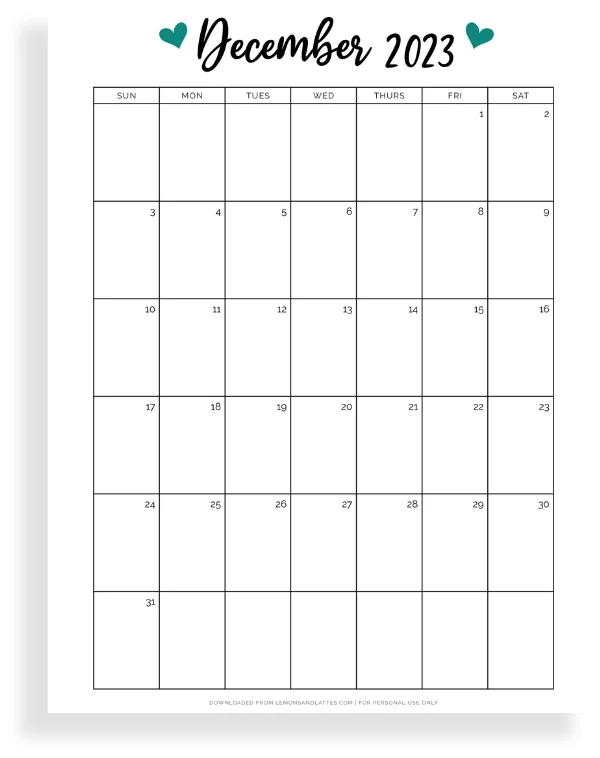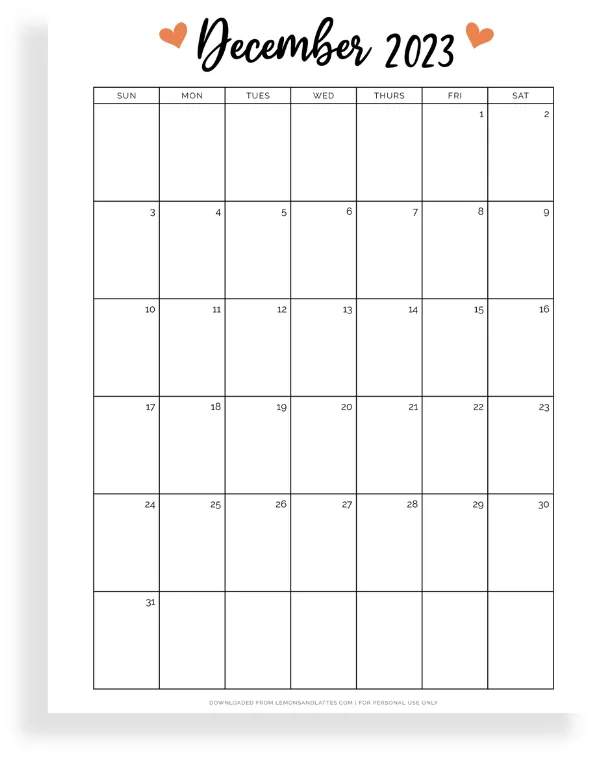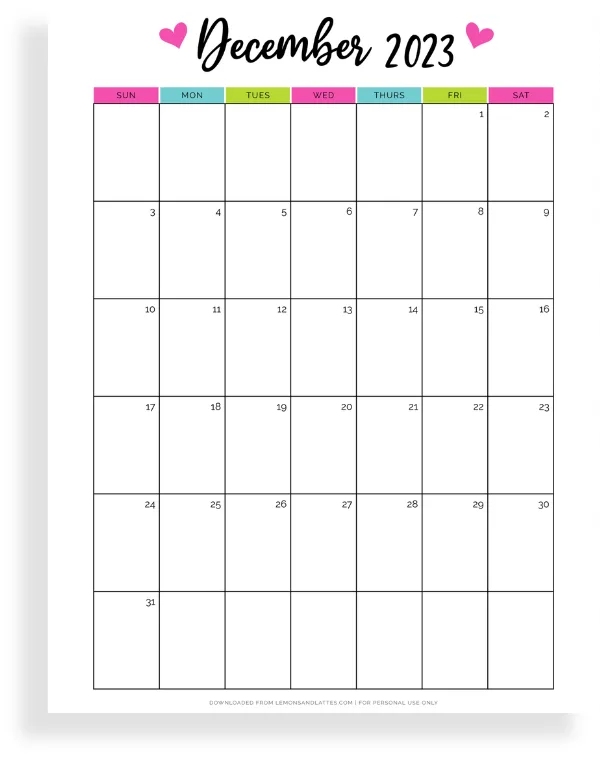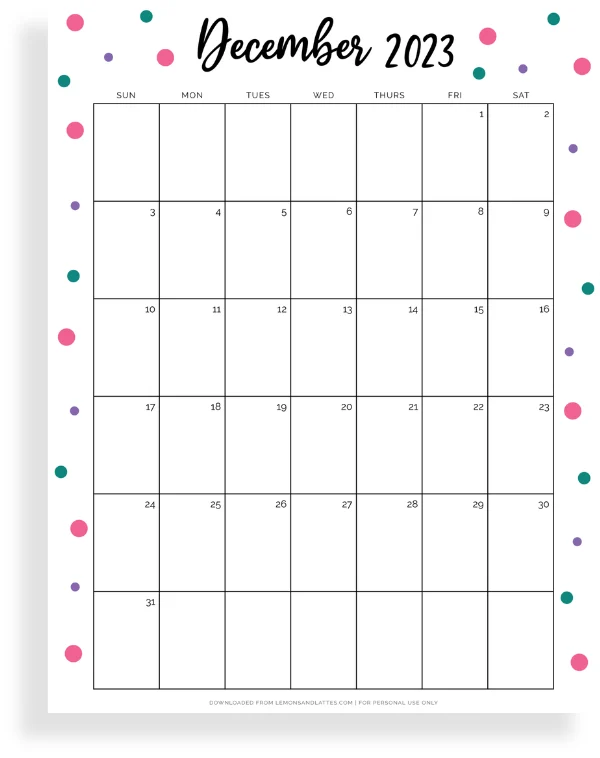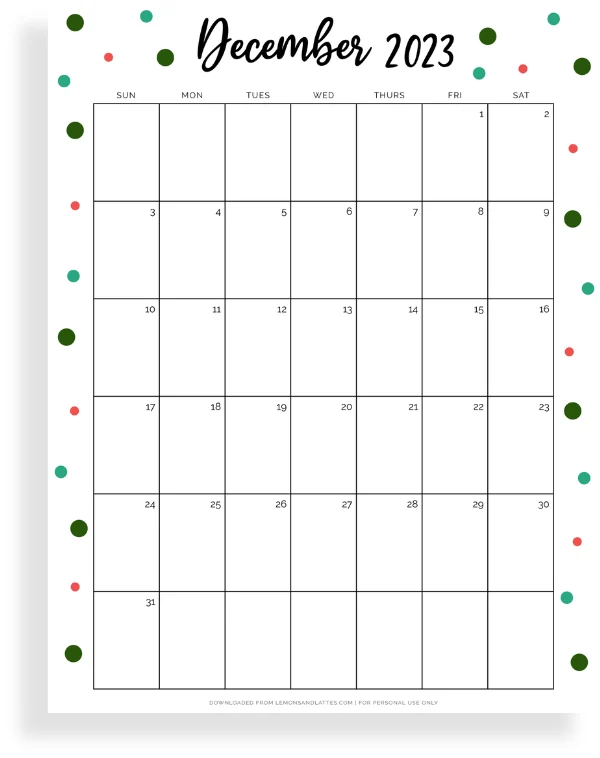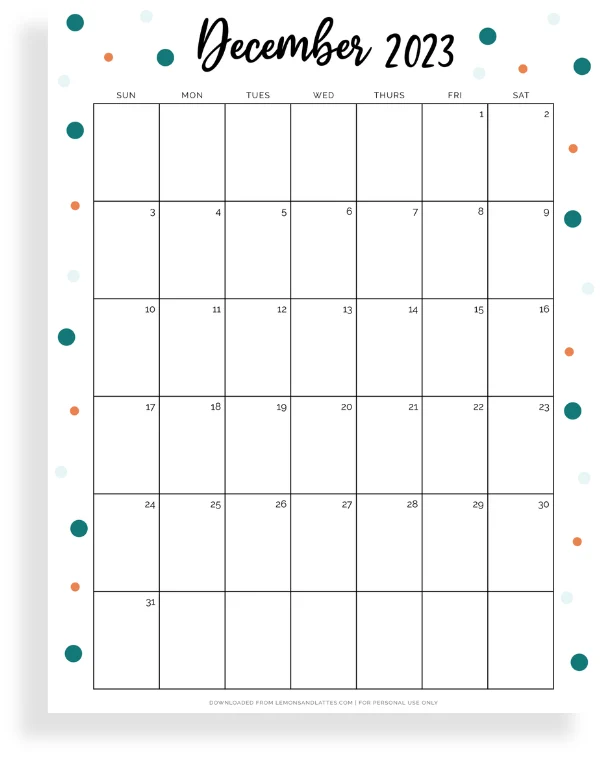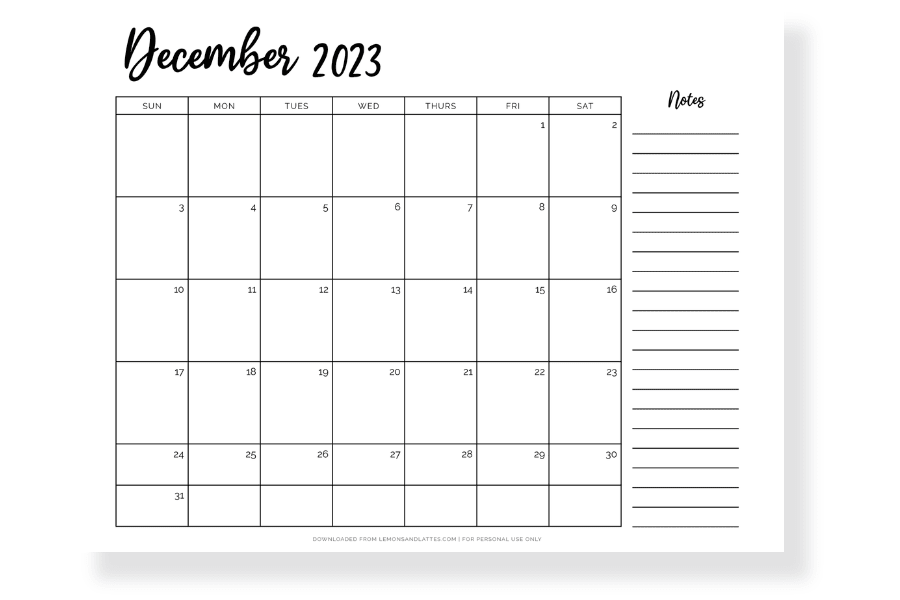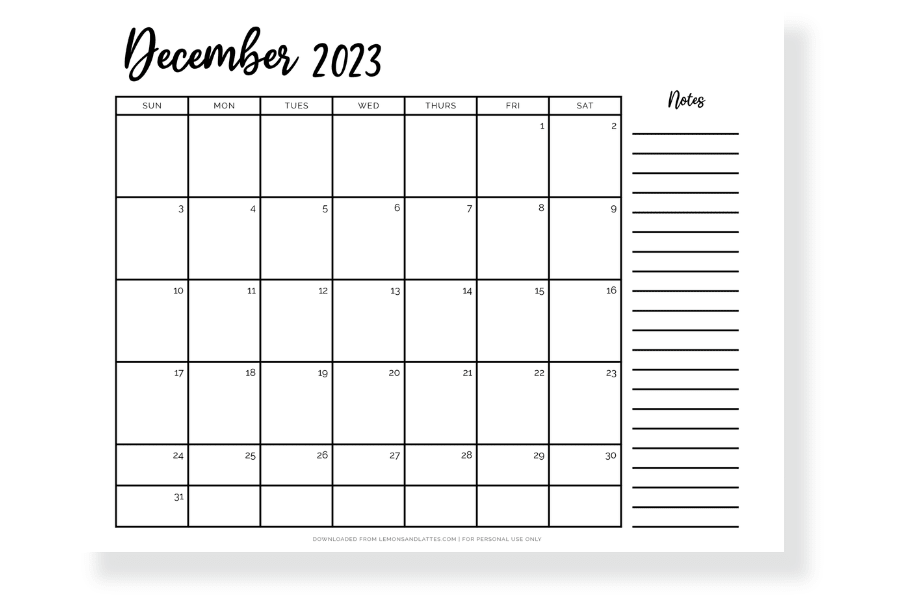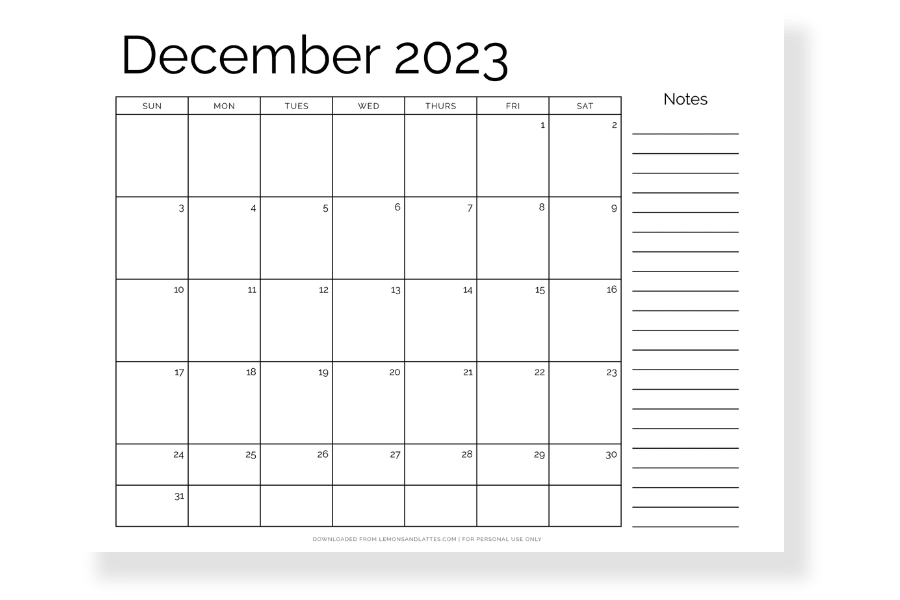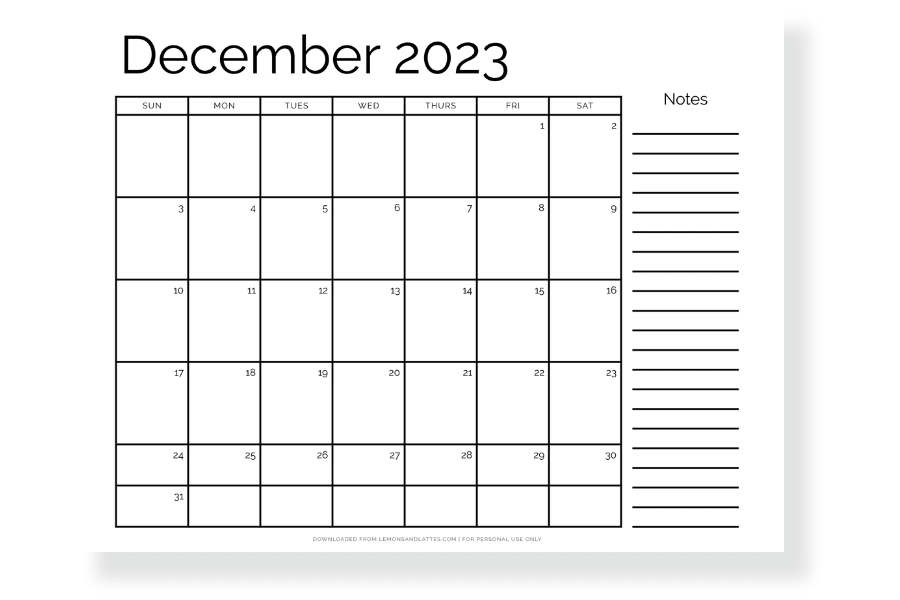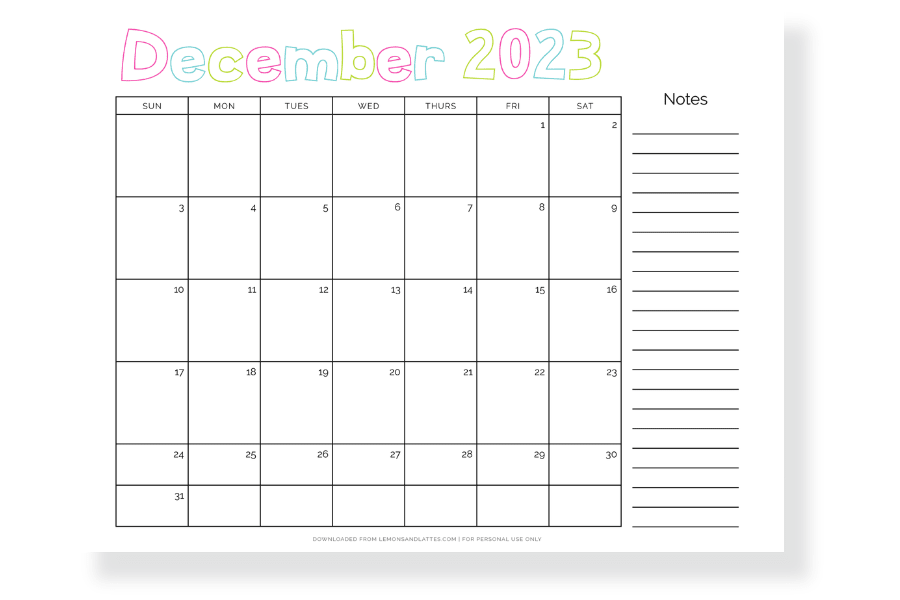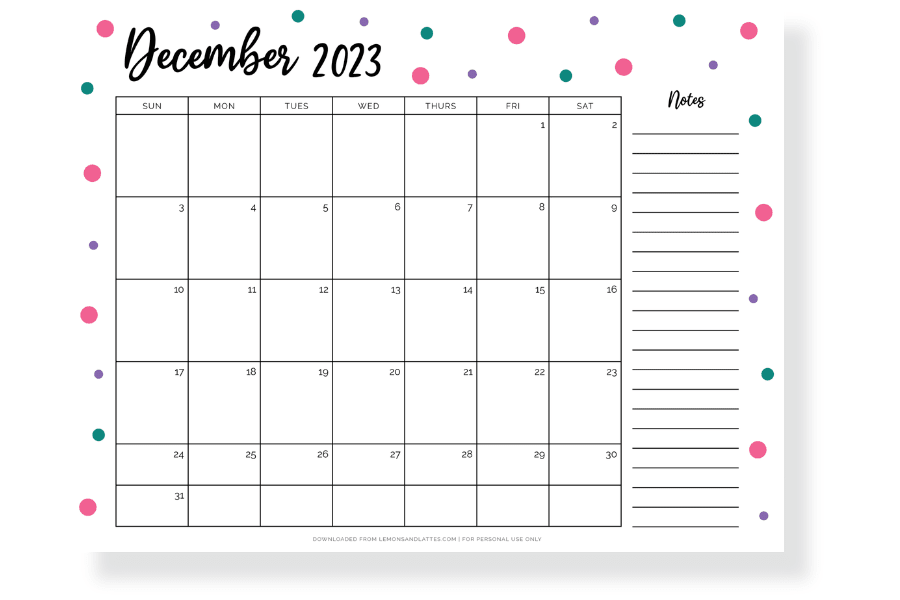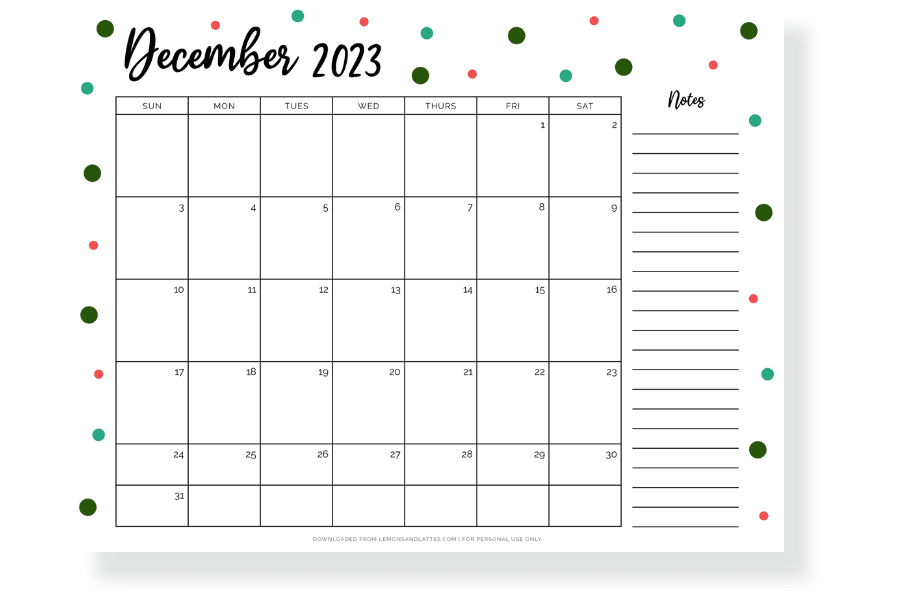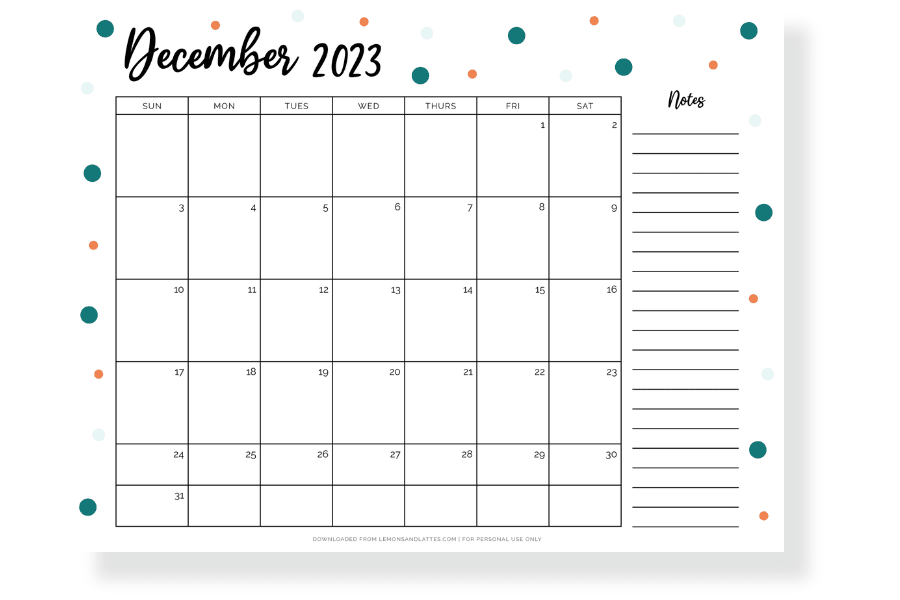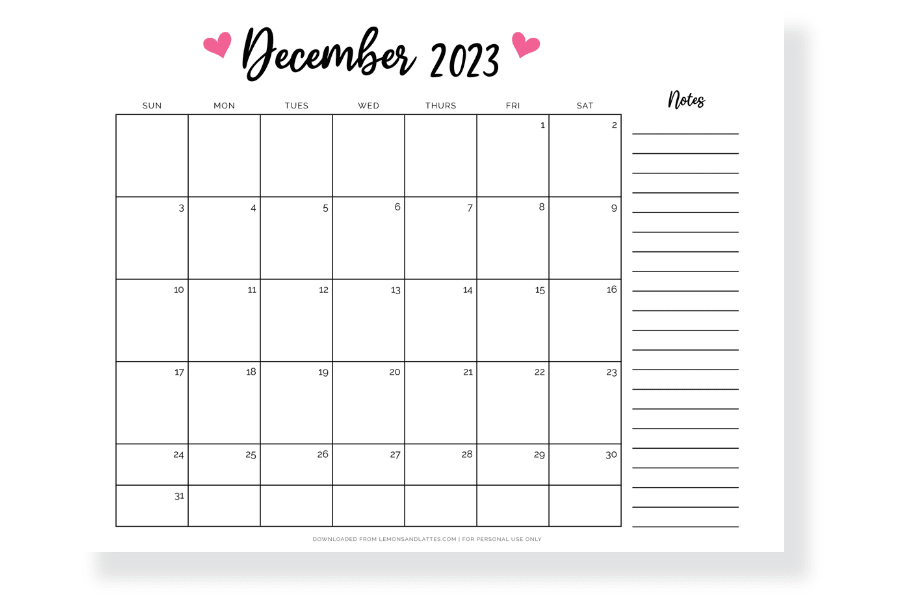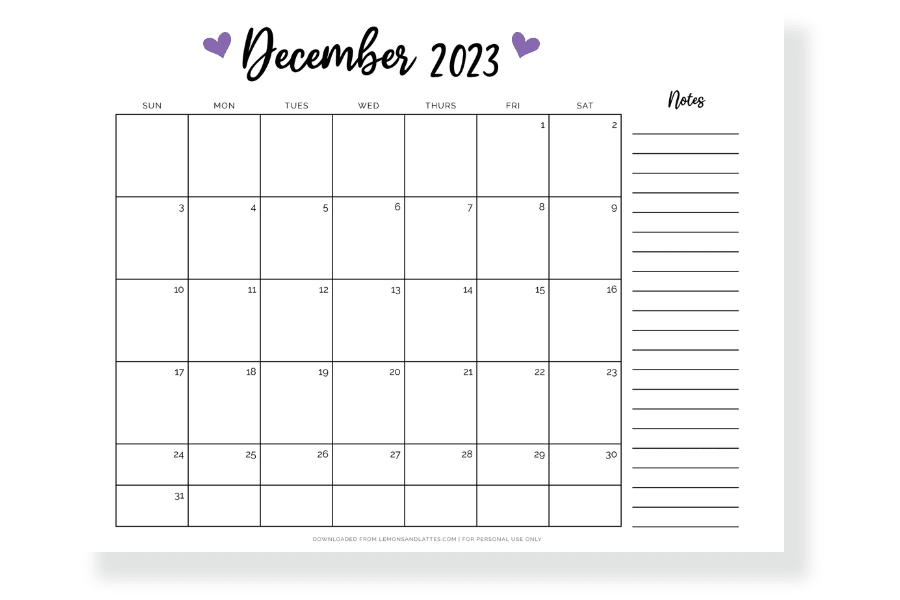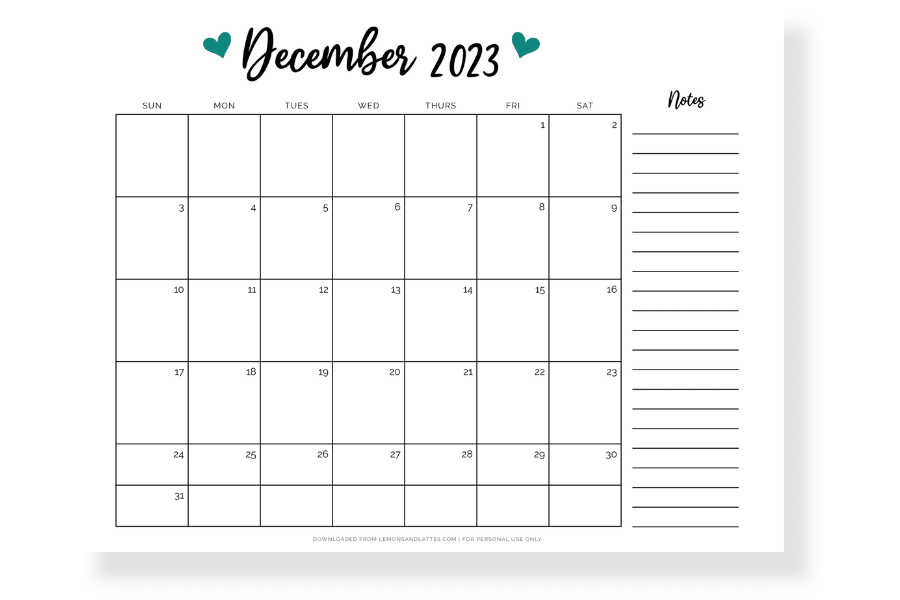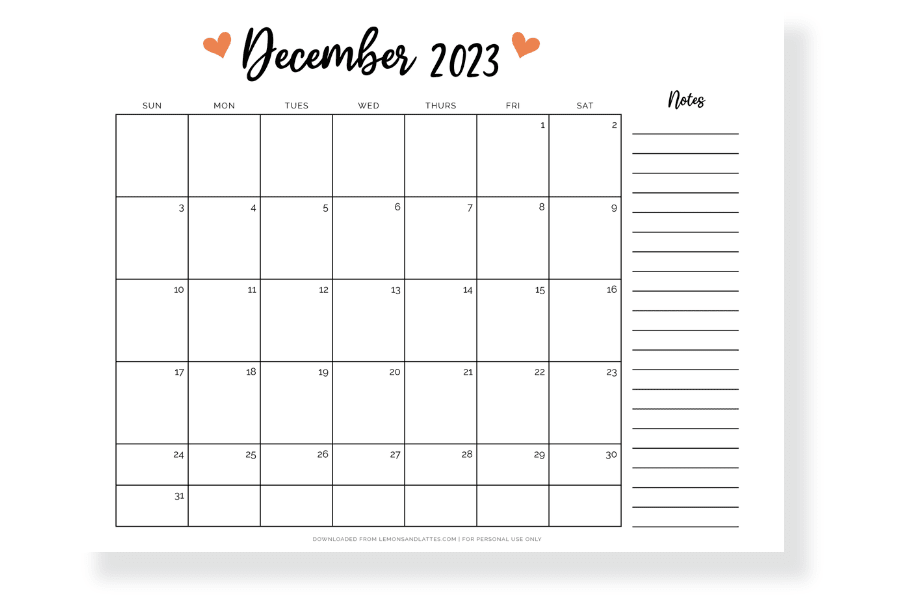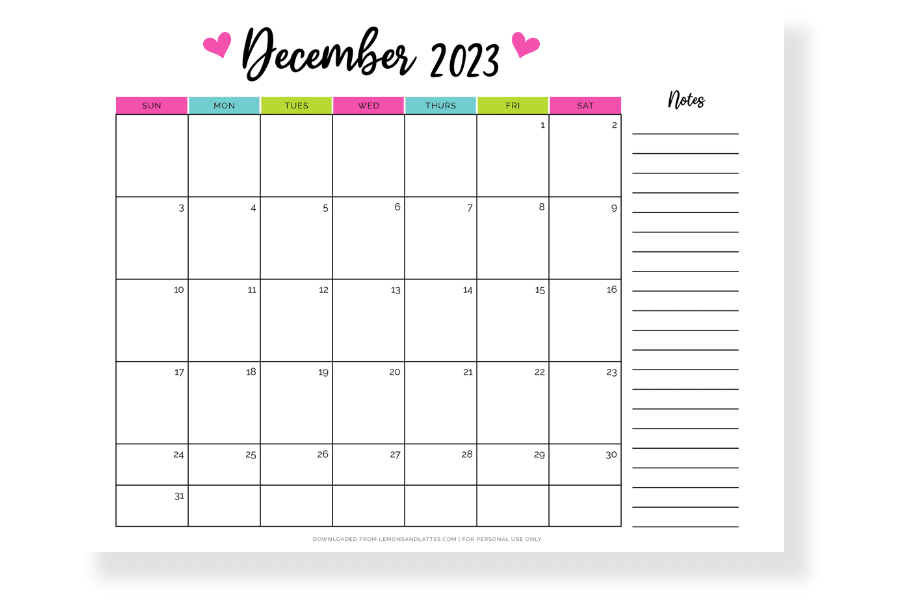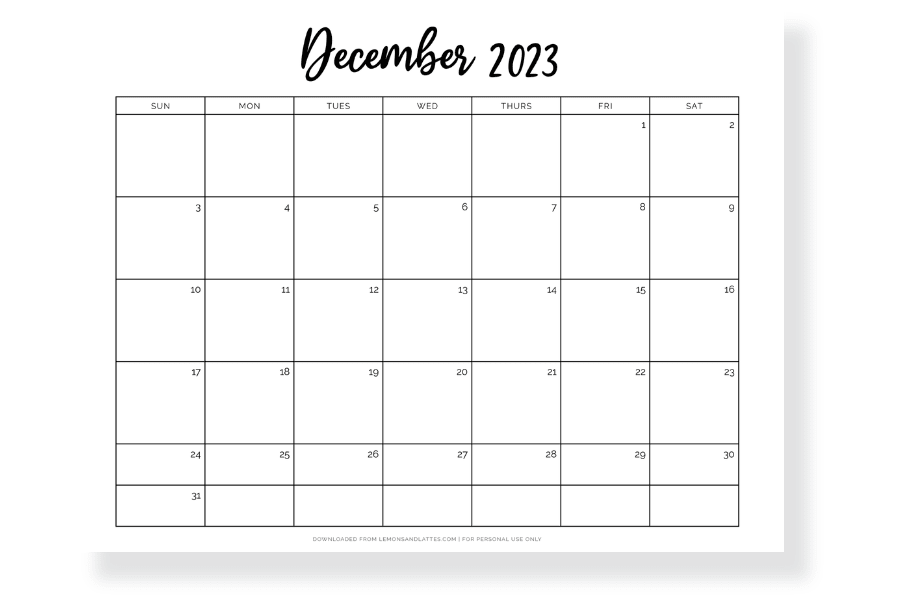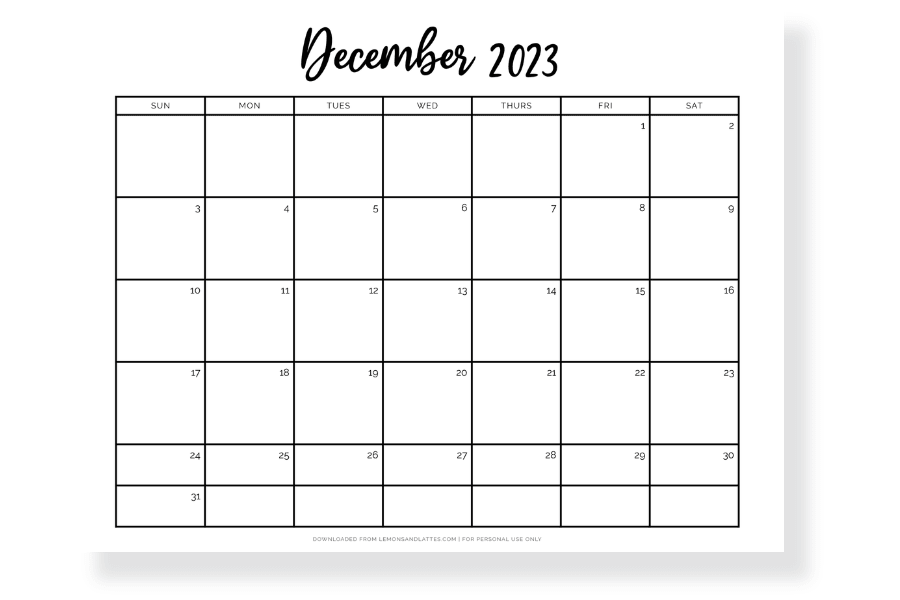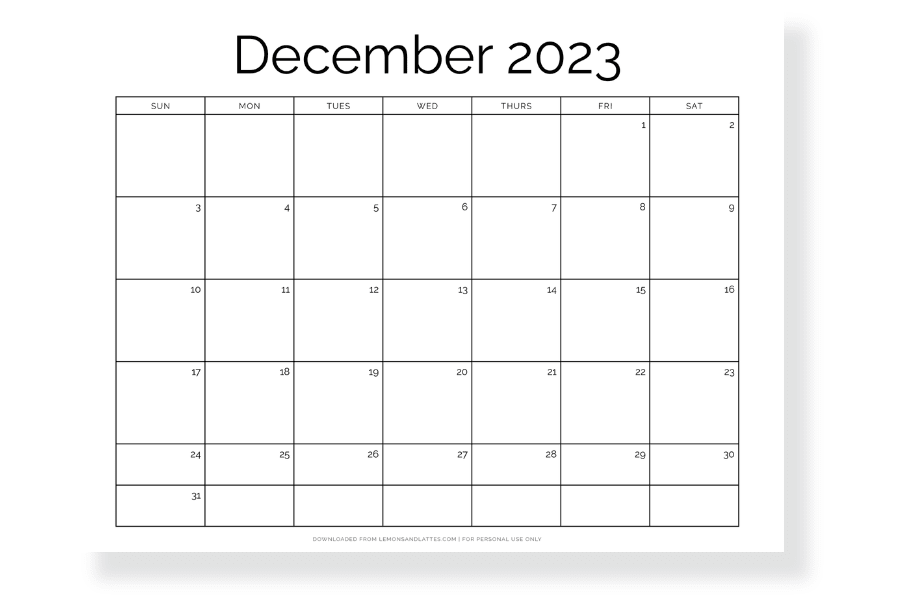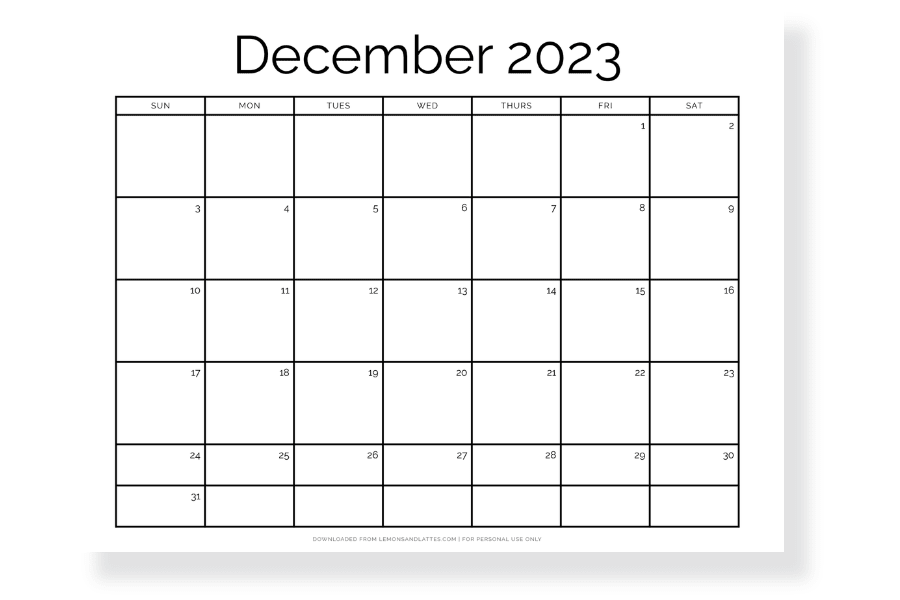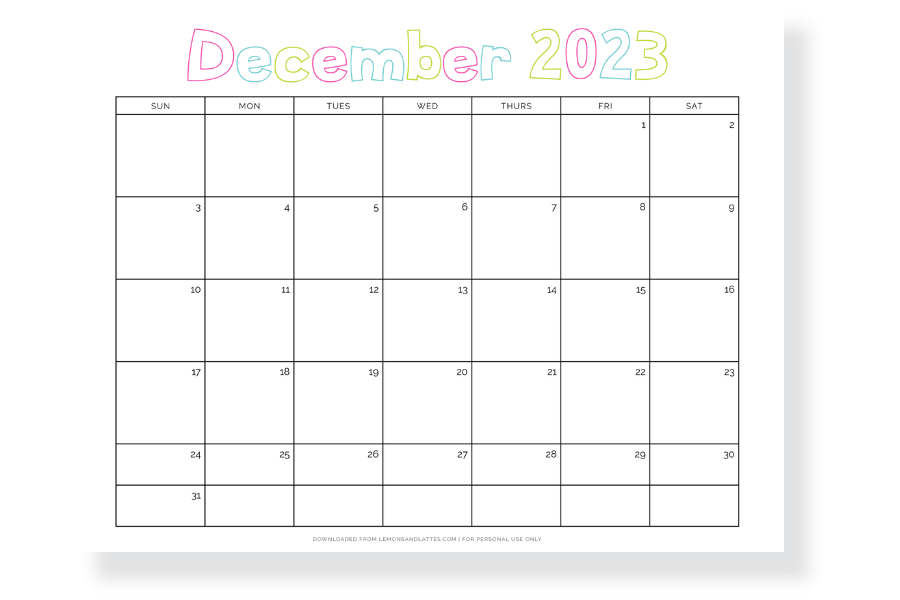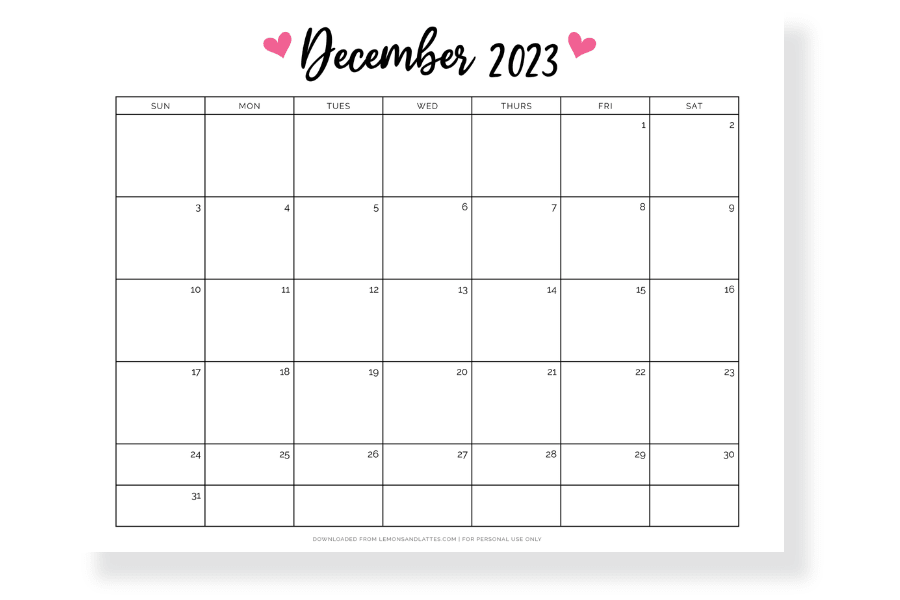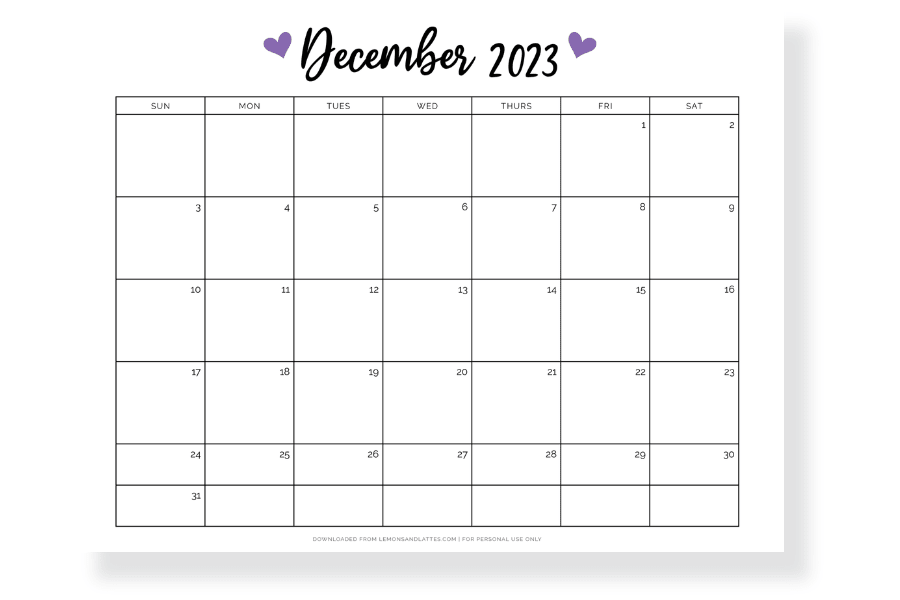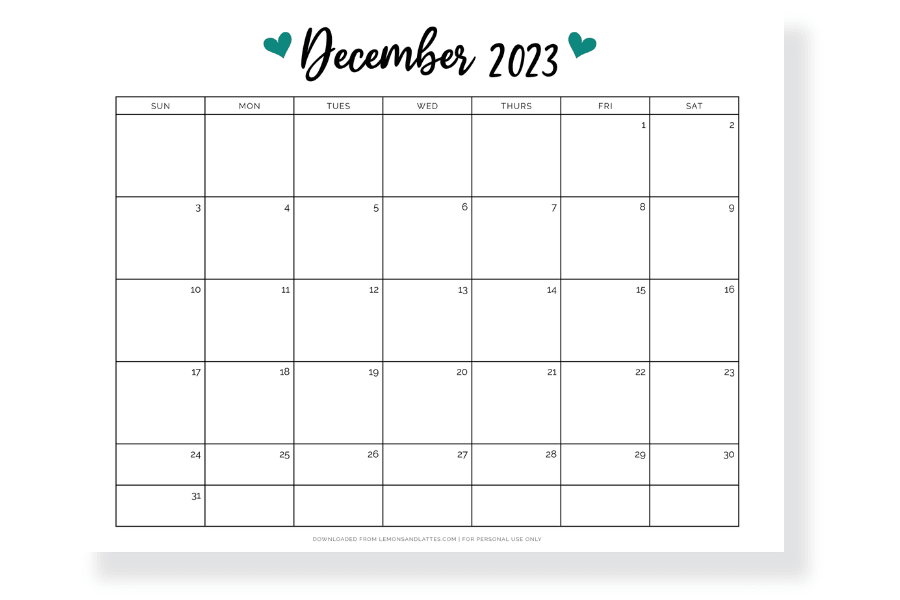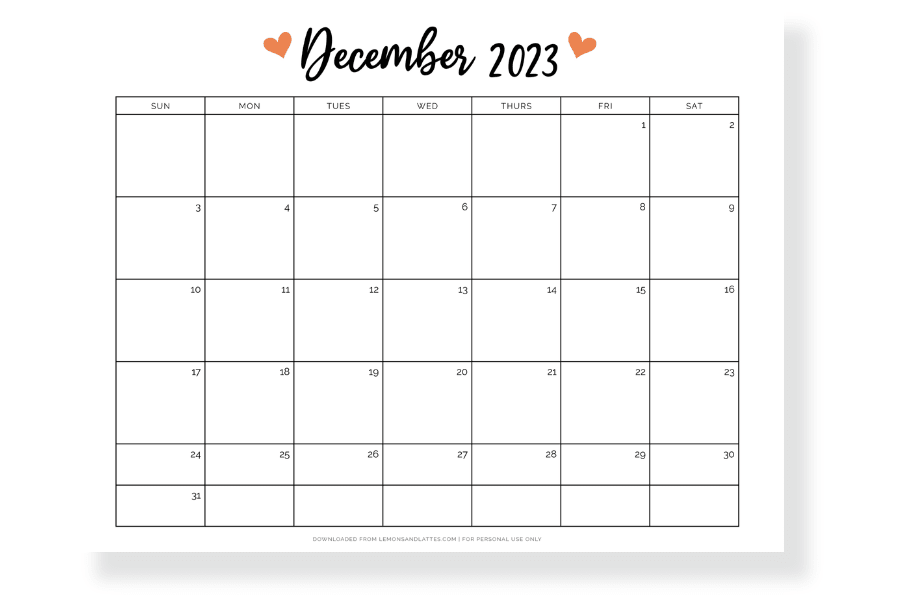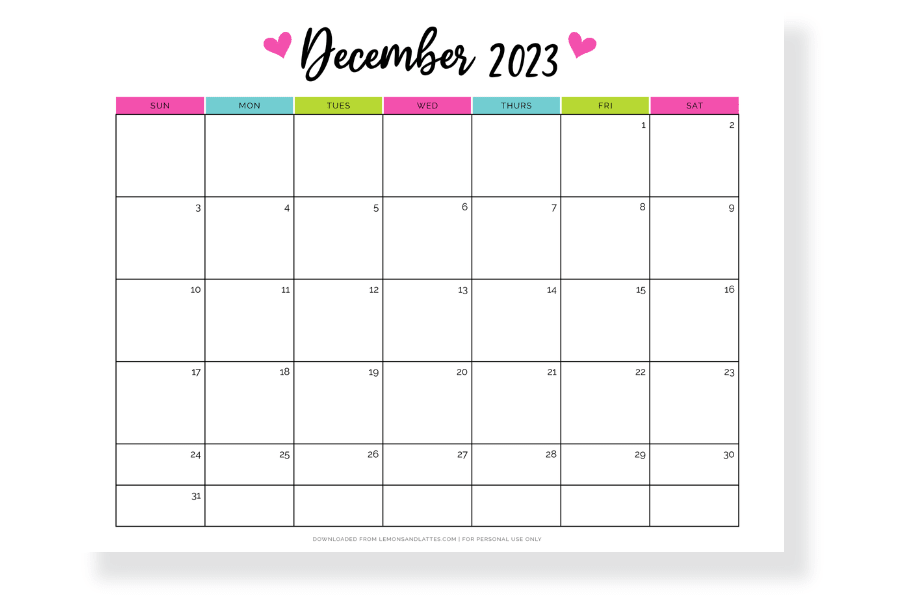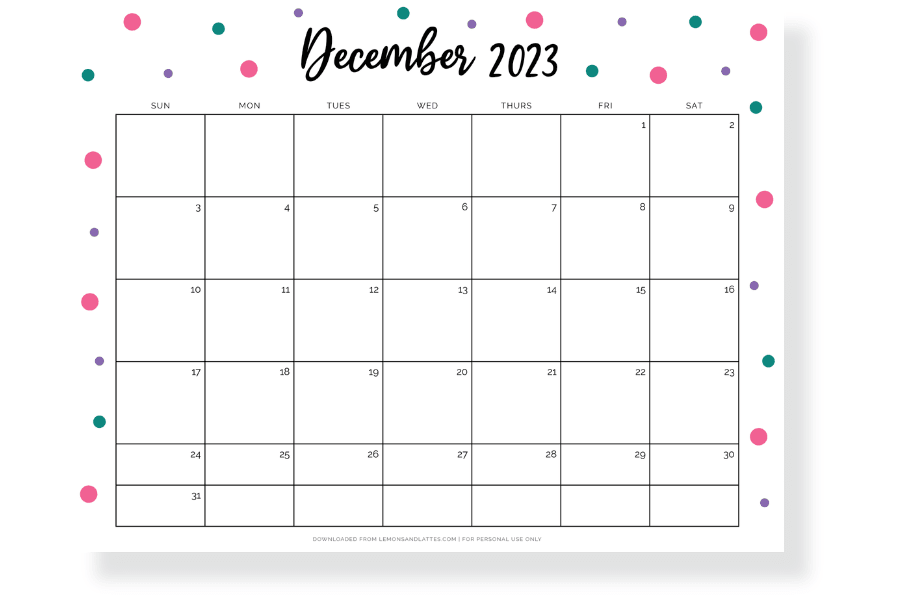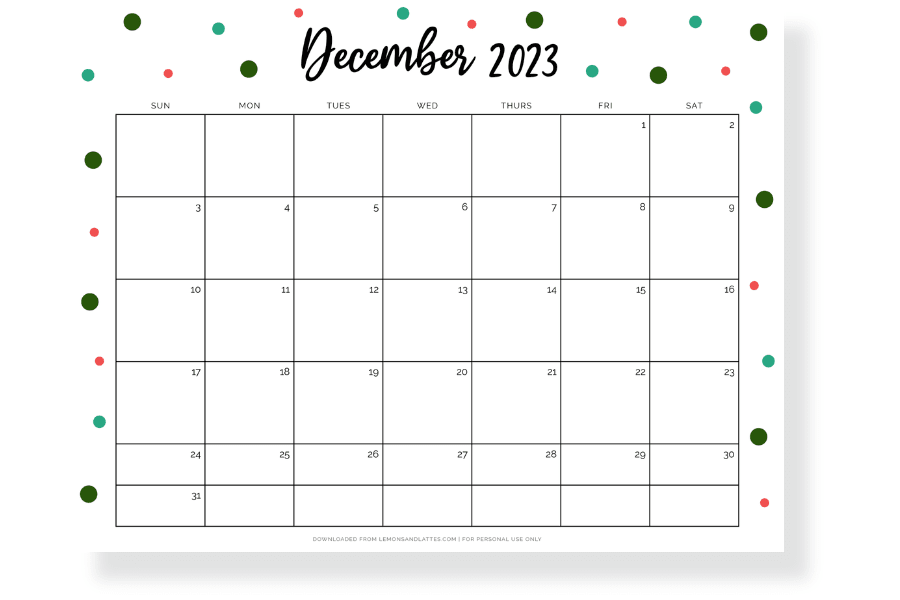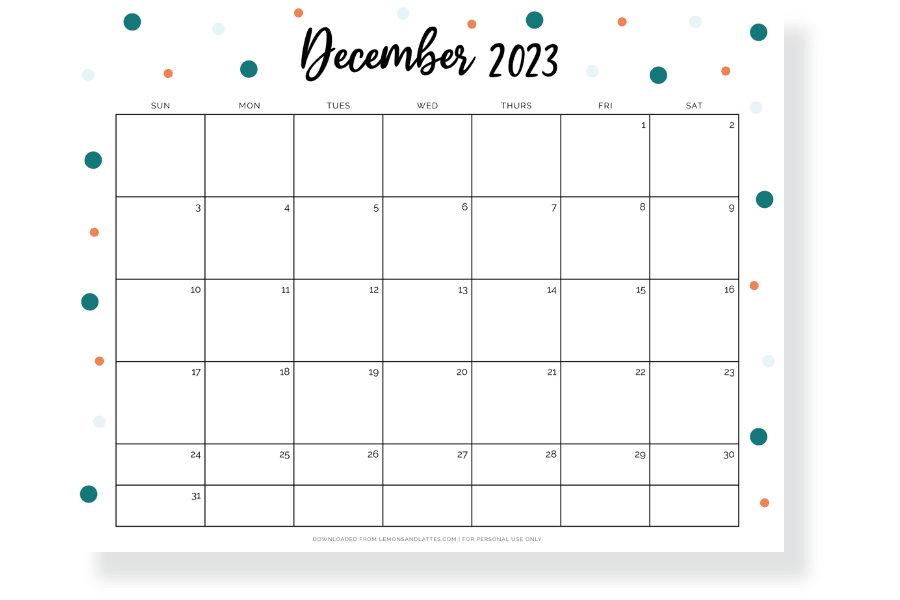 ---
FAQs about the month of December
How many days are in the month of December?
There are 31 days in the month of December.
What is the official flower for December?
The holly and narcissus.
What is the birthstone for December?
Blue Topaz, Blue Zircon, Tanzanite, and Turquoise.
What is the zodiac sign for December?
The main zodiac sign for the month of December is the fire sign, Sagittarius. But if your birthday is falls on December 22nd or after, then you are a Capricorn.
---
If you like these printable December calendars, you may also want to grab one for the following months:
January calendars (coming soon)
February calendars (coming soon)
March calendars (coming soon)
May calendars