This post may contain affiliate links. Please read my disclosure for more info.
A simple brain dump worksheet…
Trust me, that's all you need in order to declutter your mind.
Do you ever find it hard to focus or sleep?
Maybe you feel constantly bombarded with new thoughts, ideas, and things you need to do?
If that's a yes, then it's time for a brain dump.
What is a brain dump?
A brain dump is a technique used by busy moms (and other busy people in general).
Basically, you write down all your thoughts onto a piece of paper or on a brain dump template (such as the one I'm giving to you below) so that you can declutter your mind.
The idea is that once you get everything that's been on your mind out of your head and onto paper, you'll be able to see which tasks require your attention first.
By brain dumping, you can get rid of all the clutter that's been building up in your mind for days, weeks, or months so that you have more mental space and clarity when it comes time to do whatever needs doing next.
Brain dumps work on any type of task: projects at work, tasks around the house, errands, etc. There are no limits to what gets dumped!
And if it's something that has been weighing heavily on your mind? Then, chances are, there might be an answer waiting for you if you take just five minutes out of your day to brain dump everything about it.
I've found that it's nearly impossible to give your full attention to a task when you have a ton of things on your mind that you can't stop thinking about.
After all, David Allen said it best.
Your mind is for having ideas, not holding them.

David Allen
How often should I do a brain dump?
If you're wondering how often you should do a brain dump, there's no right or wrong answer.
A brain dump should be completed whenever you feel overwhelmed or need to clear your head. It can also be used as a periodic self-care activity that you do every morning or every night.
If you're finding it hard to sleep at night or feel as though you are lacking clarity, I'd say it's time to print a brain dump template and start writing.
How do you write a brain dump?
It's simple: take out your brain dump worksheet and a pen or pencil and start listing everything you can think of about the topic at hand or category/area of life you're focusing on.
Include everything from major concepts to smaller details.
Don't worry about grammar mistakes either– Just write down what you're thinking. You might be amazed at what you come up with!
If nothing comes to mind right away, try closing your eyes first and try to relax. Take a few slow, deep breaths so that you feel calm before starting the process.
Include things you MUST do, should do, might do, want to do, and any new ideas you can't stop thinking about.
For example, if you are a mom and you need to make your child a dentist appointment, write it down. Pay a bill? Prep some meals for the week?
Write it ALL down on a piece of paper or on your brain dump template.
Also, please know that it's completely okay to write down things you know you can't possibly do in one day.
The point of a brain dump is to get everything that's on your mind out of your head and onto some paper. I can't stress this enough.
The goal is NOT to create an insanely long to-do list that you will never realistically finish.
The goal is to clear your mind.
A clear mind makes it much easier for you to focus on your priorities.
Speaking of priorities– that is step 2.
Once you have listed every single task or thought you can think of, you may want to choose 1-3 main things to focus your attention on first.
Then, you can save the rest for later.
How to use these brain dump templates
There are 4 separate printable brain dump templates to choose from.
The first 2 versions were designed specifically for busy moms. As a busy mom myself, these are the 4 main categories I tend to use:
If these don't work for you or you want to do a brain dump with different categories or prompts, there are 2 blank versions also.
All printable templates also have a section at the bottom where you can write down your top 3 priorities (your top tasks to focus on first).
So, how do you use these? Simple! Decide whether or not you want to print multiple copies OR print once and laminate your template so that you can use it over and over again.
If you do want to laminate your brain dump printable, these self-laminating sheets make the process incredibly easy. You will also need to grab some dry erase markers. I recommend getting markers with a fine point.
Sale
Brain dump worksheets (free PDF printables)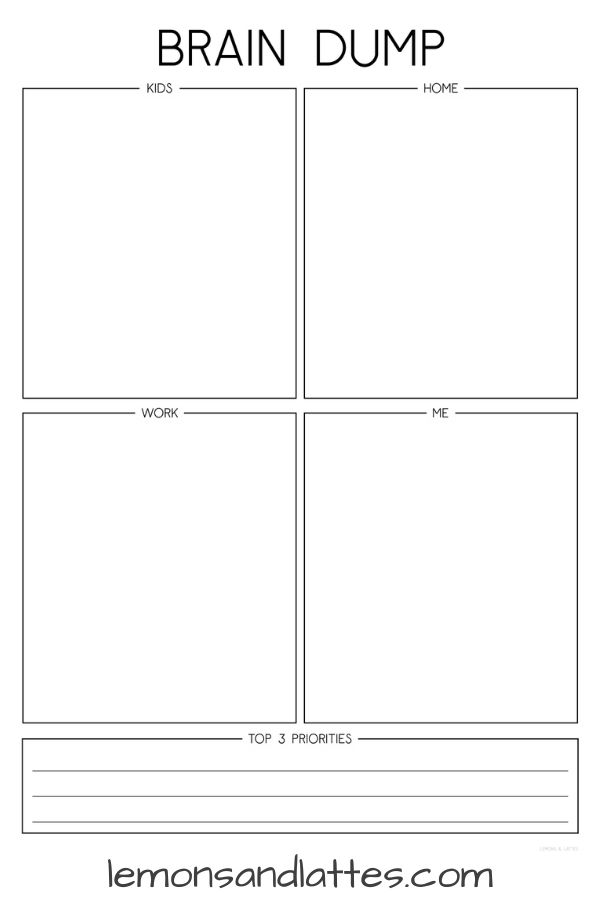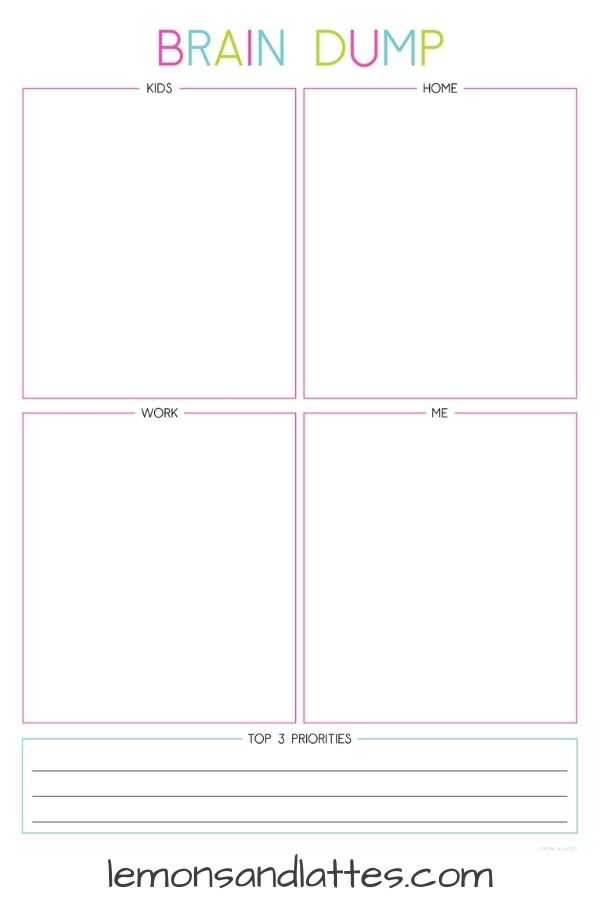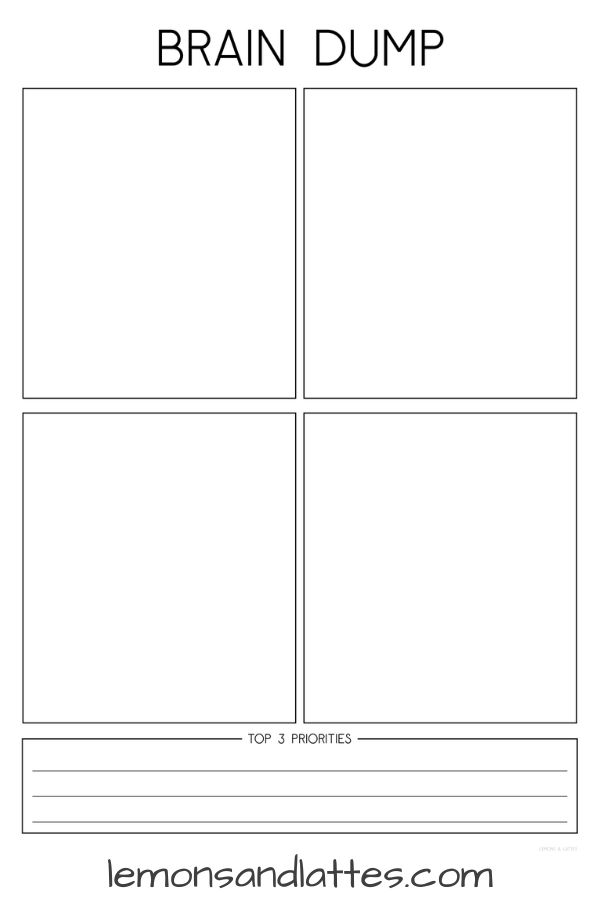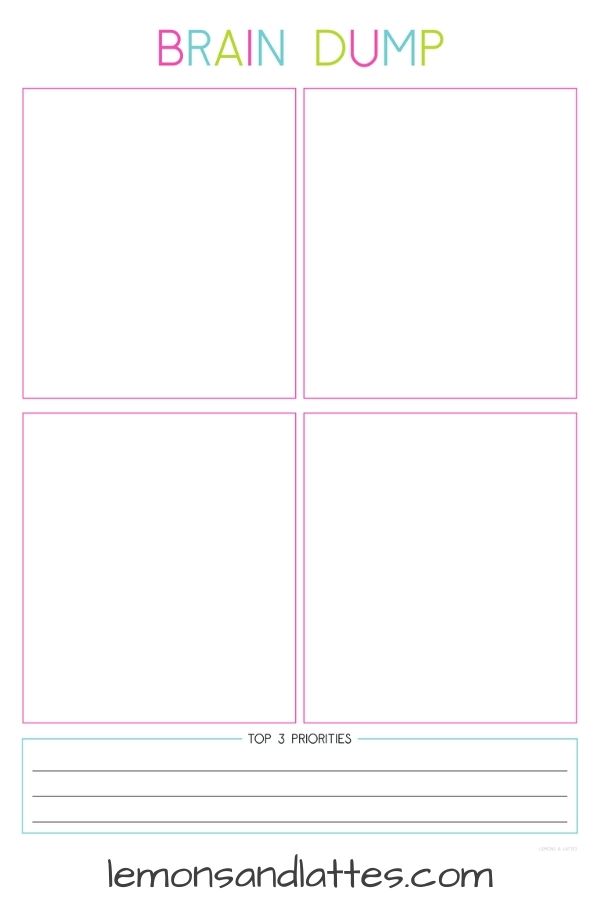 ---
I hope this has shown you how easy it is to do a brain dump!
If this sounds like something you could benefit from, I urge you to take five minutes right now and try it out.
---
Want more printables like this?
---
Don't forget to pin this brain dump printable for later!