This post may contain affiliate links. Please read my disclosure for more info.
My husband and I recently started our workouts back up and needed something to keep track of our daily exercises and progress.
I already had some workout calendars, but I wanted some printable exercise logs that included space for tracking sets and weight specifically.
So, I made a few new workout tracker printables and I'm excited to share them with you! We print several of these templates at once, hole-punch, and keep them in a binder.
It's so motivating to look back once a few weeks have gone by and compare where you're currently at to where you were when you first started. You'll be surprised at how far you've come!
Pair these with some food diary printables and whole lot of consistency and you'll be seeing results in no time.
Free printable workout logs
We use the weight-lifting workout tracker pictured below to log our sets, reps, and weight for each exercise.
If your workouts do not involve weights, you'll also find a template below that has a place for tracking time and distance instead.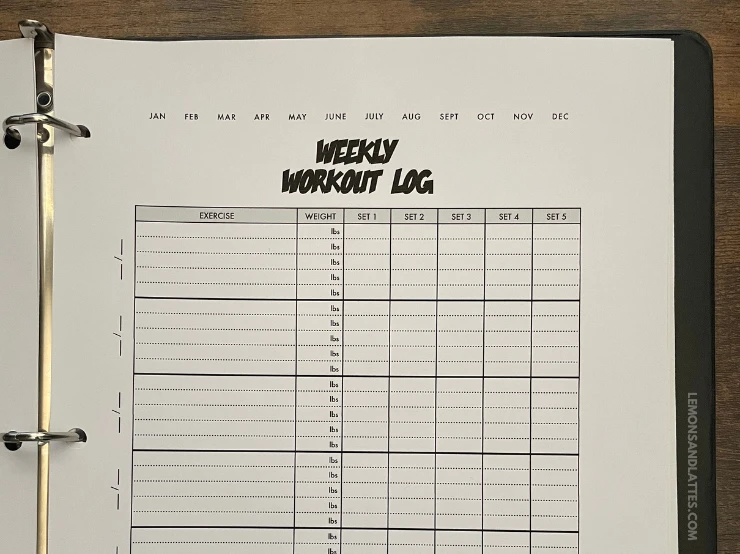 All of these printable workout trackers are free to download and print.
I left them undated, so you can print multiple copies at once to store them until you need them. At least, that's what we do!
And, of course, if these aren't the right size you need, you can always learn how to resize printables. It's very easy to do.
Weekly workout log sheet #1: Tracks time, distance, sets, reps, and weight
Do your weekly workouts consist of cardio like running on the treadmill or cycling?
This template allows you to track the time and distance in addition to sets, reps, and weight.
This is the perfect exercise log to use if your weekly workout schedule consists of different types of workouts. For example, maybe you do strength training 3x per week and cardio 2x per week.
With this tracker, you can keep track of all your activities in one place on one sheet.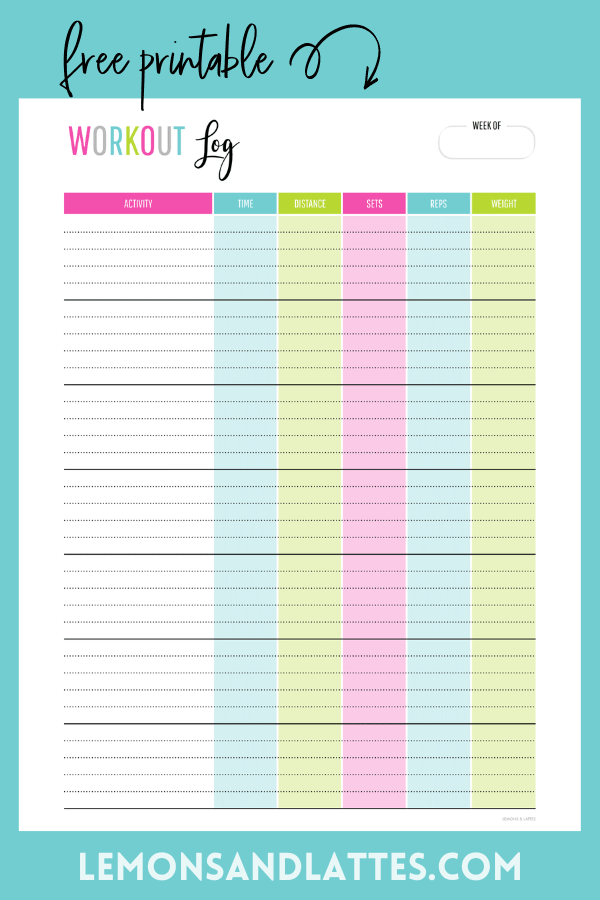 Weekly fitness log #2: Tracks activity, time, distance, sets, reips, and weight
This design is similar to the previous one since you can also track time, distance, sets, reps, and weight.
However, there are a few key differences.
With this one, you can choose the current month instead of writing in the "week of" date. If you only exercise a couple of times per week, this could help you save on paper.
This exercise tracker is also ink-friendly since there are no bold colors.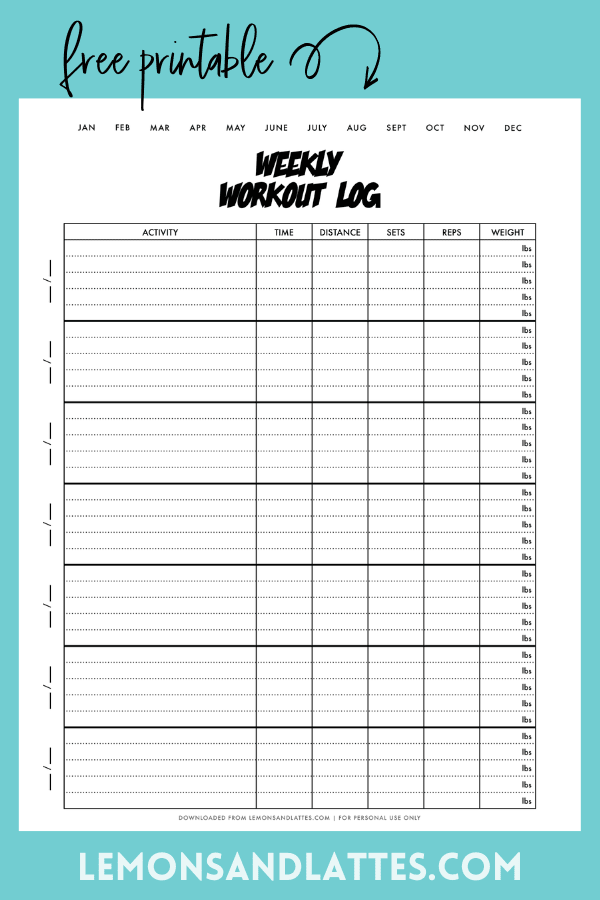 Weekly exercise log #3: Tracks exercise, time, distance, sets, reps, and weight
This log is exactly like the previous one, but it has "Weekly Workout Log" in a different font.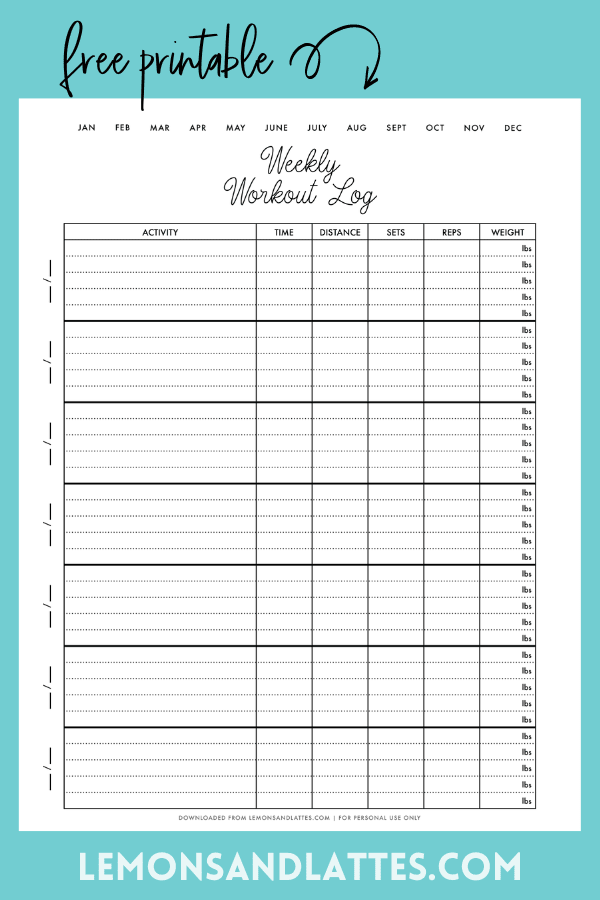 Workout template printable #4: Weight-lifting tracker
This is the exercise log my husband and I use. It was designed for strength-training workouts. You can track up to 5 different exercises, the weight used, and reps for up to 5 sets.
If you need a tracker with space for more than 5 exercises, let me know in the comments and I'll see what I can do!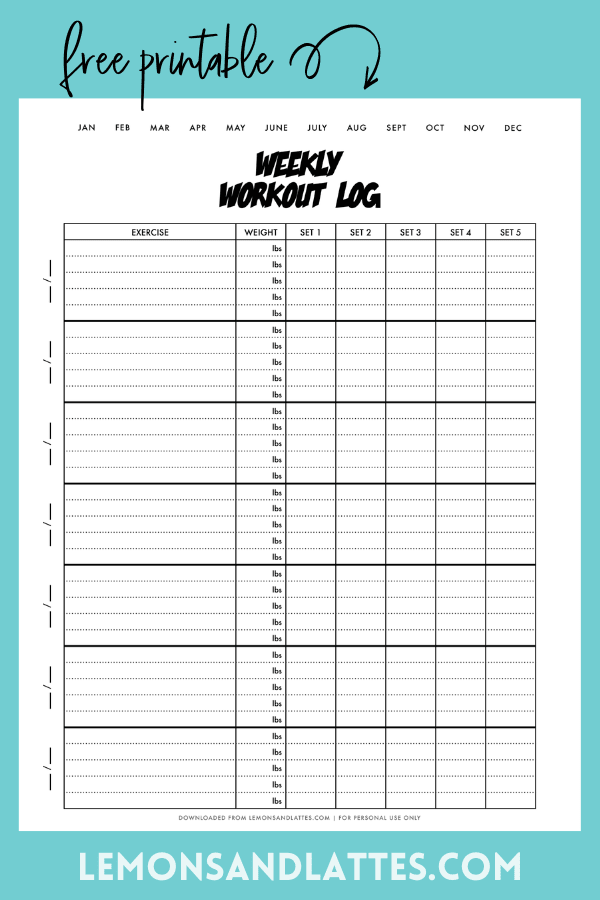 Daily exercise log #5: Tracker for lifting weights
This one is identical to the previous one but has a cursive font instead. I feel like this font gives it a slight feminine touch, but I like that it's still minimalist and ink-friendly.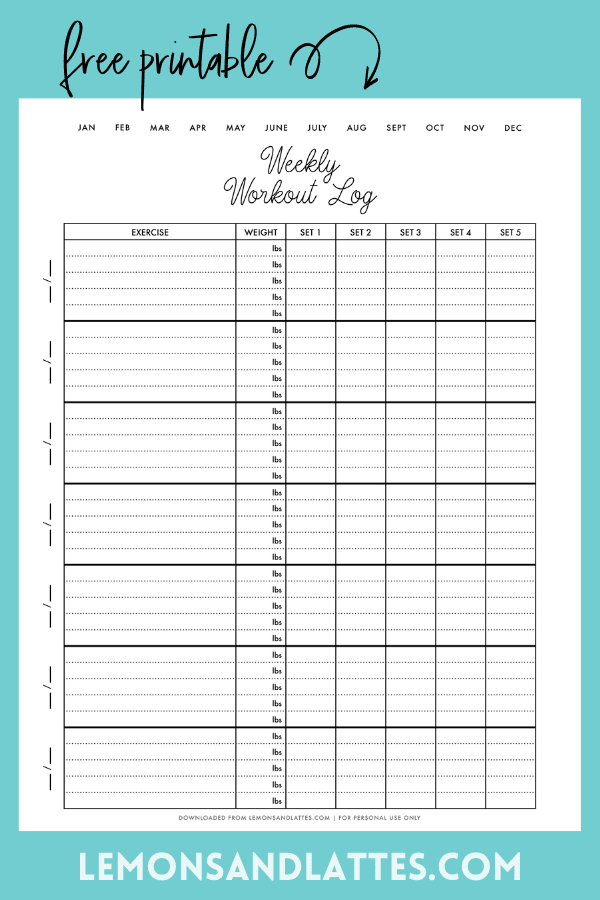 ---
Pin this page so you can revisit it later if you need to!