This post may contain affiliate links. Please read my disclosure for more info.
Are you looking for printable meal planner templates that are cute and functional?
Below you will find a list of 15 weekly menu templates and other meal planning printables to help keep your family organized.
Use these meal planners to create a weekly or monthly meal plan and keep track of your favorite meals and recipes!
Related: 10 Meal Planning Tips for Busy moms
👉 Looking for printable meal plans to make your life even easier? These $5 meal plans will save you a ton of time and money!
Quick tip for printable meal planning sheets
I love printables as much as the next person, but I'll admit they can drain your ink if you're printing often.
Laminating your printables is an easy way to make your ink last a lot longer.
Self-laminating sheets make this very easy to do. All you'll need is a dry erase marker to reuse them. You're welcome!
Sale
Weekly meal planner with grocery list template (Sunday or Monday start)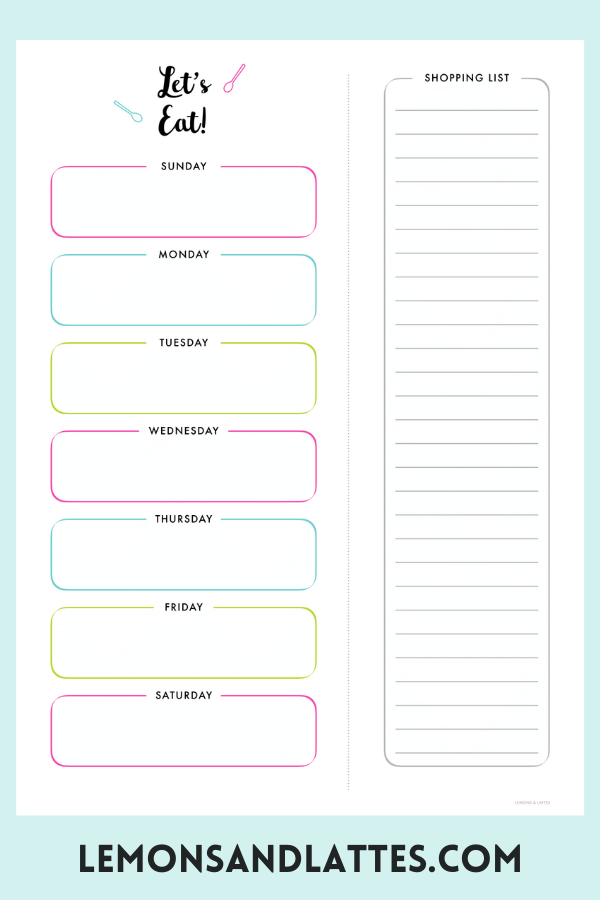 A printable weekly meal planner with space for making a grocery list is a great addition to your meal planning kit.
This design makes it super easy to get a grocery list together because you can jot down the ingredients you need as you're planning your meals for the week.
Never forget an ingredient again!
And once you're finished, cut or tear off your grocery list and head to the store.
With this weekly meal planner (with grocery list) template, you have 2 options: Start on Sunday or Monday.
Printable weekly meal planner template with snacks (Sunday or Monday start)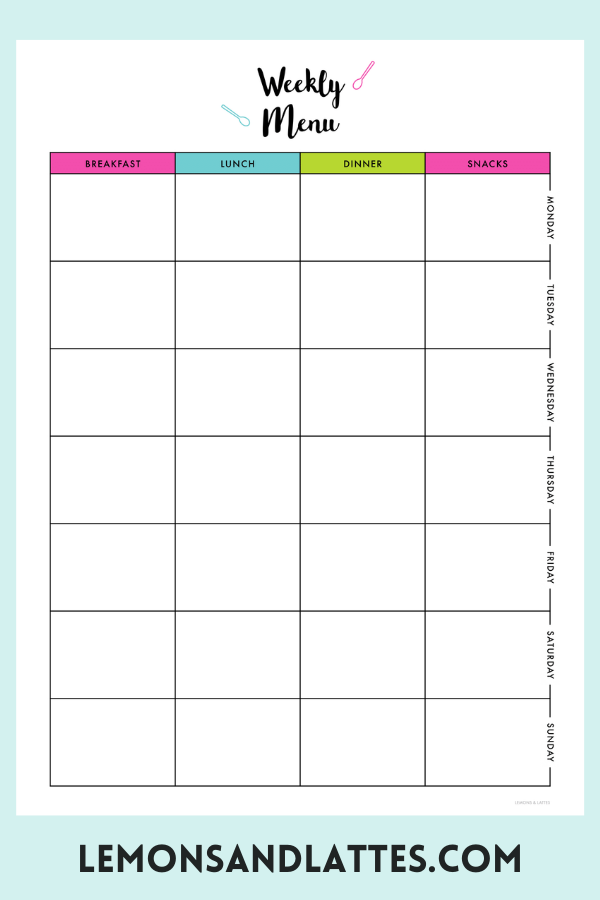 A printable weekly meal planner template with snacks is great to have if you're needing to plan or track more than your dinners only.
This design includes space for breakfast, lunch, dinner, and snacks as well.
And, of course, start on Sunday or Monday– There are options for both.
Printable grocery list by category (choose lines or no lines)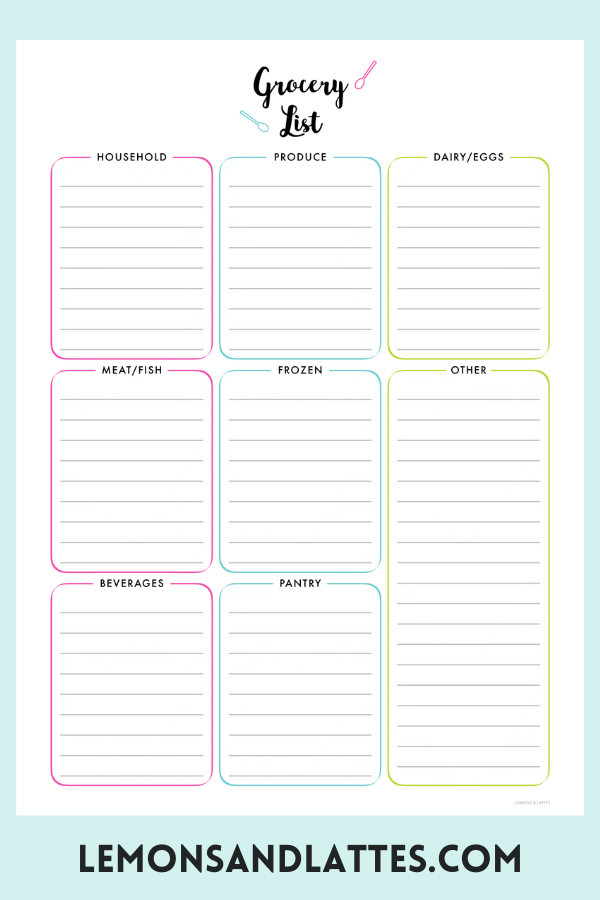 How many times have you made a shopping list only to end up running back and forth through the store trying to find all of your ingredients?
This grocery list printable is organized by category and will save you so much time!
With this template, you can divide your shopping list into the 8 following categories:
Household items
Dairy/eggs
Beverages
Pantry items
Meat/fish
Frozen foods
Produce
and an "other" category for any misc. items you also need to pick up.
Do you prefer lines to write on?
Prefer no lines?
Either way, you're covered. Both versions are included.
Meal plan calendar printable (portrait)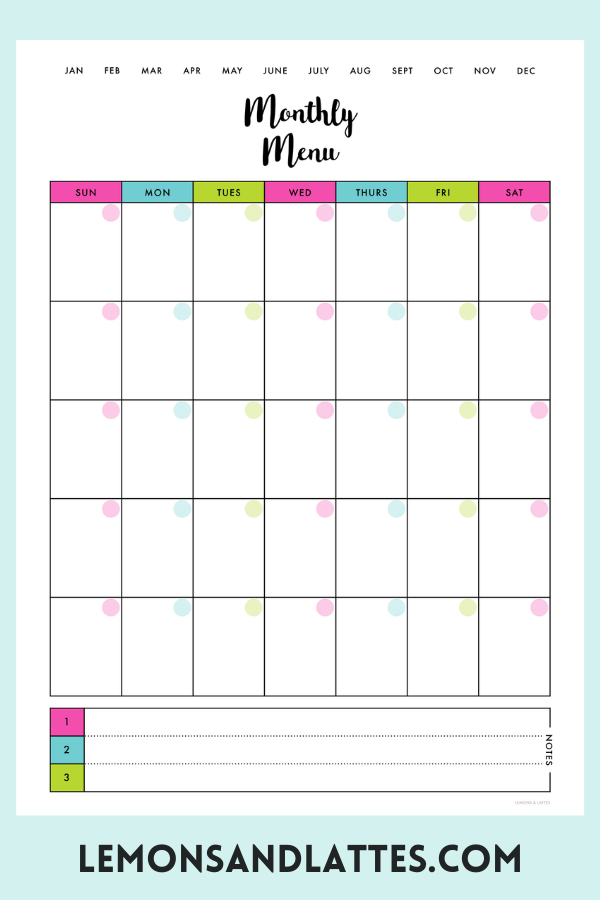 A meal plan calendar printable can help you plan out what to cook for the entire month instead of just a week at a time.
Once you've been meal planning for a while, monthly meal planning can save you a lot of time and headache.
Have you decided to give it a try?
This meal plan calendar template is undated so you will never have to worry about it expiring!
There's also space to write in your top 2 monthly goals if you choose to do so.
Family favorites tracker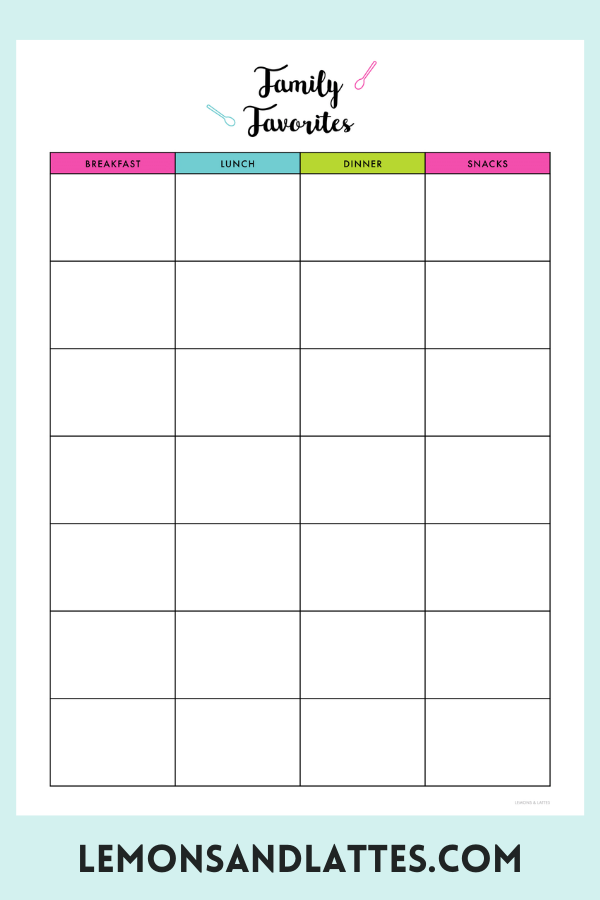 If you are creating a meal planning binder, a family favorites tracker is a must-have.
There's a reason this is one of my biggest meal planning tips for busy moms.
If you've found that it takes you forever to get a plan together for the week, a family favorites tracker will help simplify the process.
Think of this as your "cheat sheet" when you sit down to plan your meals. Instead of always having to come up with new ideas for dinner, you can simply pull from the list of meals that have been tried and true in the past.
All you need to do is set aside a few minutes to sit down and brainstorm some of your family's current favorites.
Then, when you try a new recipe/meal that's a winner, add it to your list.
It's much easier to come up with a plan when you have a list to pull ideas from that you know everyone will actually eat.
Printable meal planning sheets for brainstorming (sheets for breakfast, lunch, dinner, and snacks)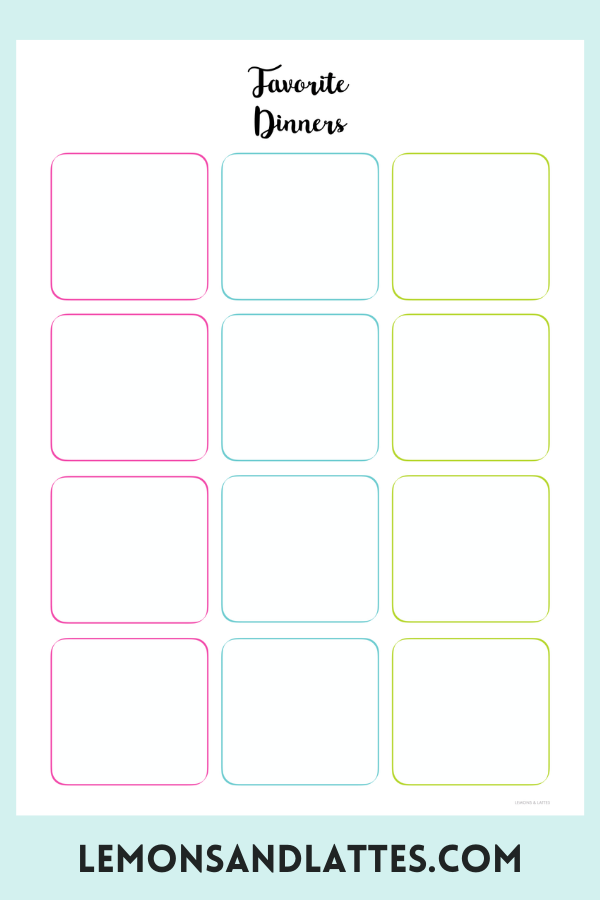 Are you completely new to meal planning?
As a meal planning beginner, you may have found yourself sitting and staring blankly at a piece of paper– Unsure where to start or what to do first.
That's what these brainstorming sheets are for.
The easiest place to start is with the meals you know your family loves already. You don't have to start by planning brand new complicated meals!
There are sheets for breakfast, lunch, dinners, and snacks to help you get started.
Meal planning theme nights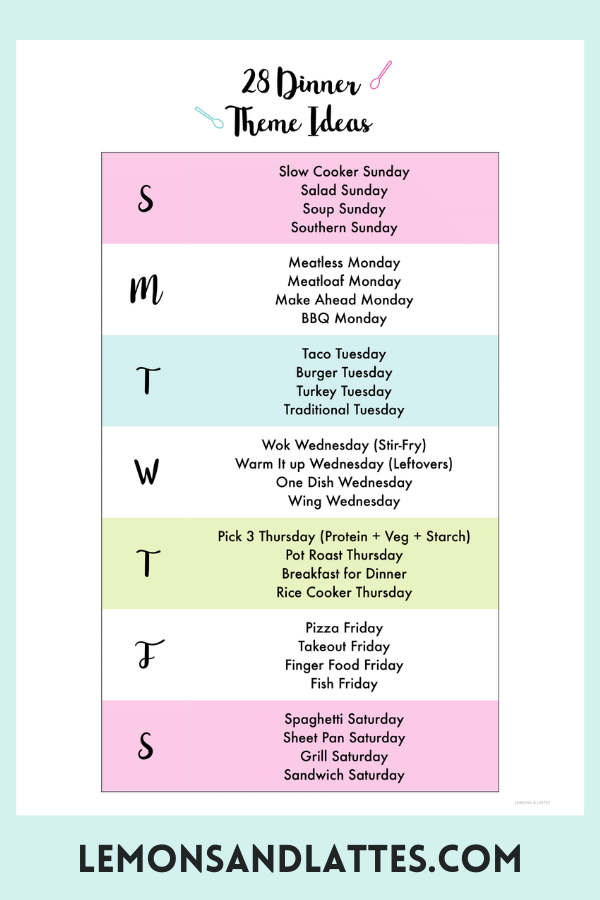 Another trick you can try to keep things fun? Theme nights.
Now, you may not have realized it, but theme nights have been around forever! Ever heard of Taco Tuesday or Meatless Monday?
Pizza Friday?
Incorporating theme nights is an easy way to mix things up and keep it fun for the family.
This printable includes 4 different theme ideas for each day of the week– A total of 28 meal planning theme night ideas to try.
Favorite recipes organizer/cheat sheet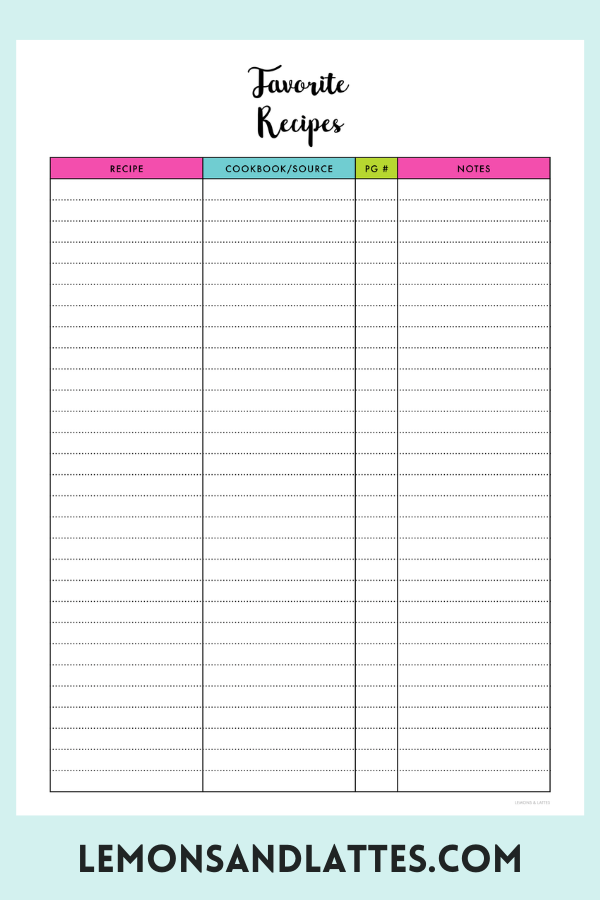 Do you have a few favorite recipes you haven't memorized?
Use this favorite recipes organizer to keep track of their location so that you can find them easily and quickly when it's time to gather ingredients and cook.
No fast food challenge tracker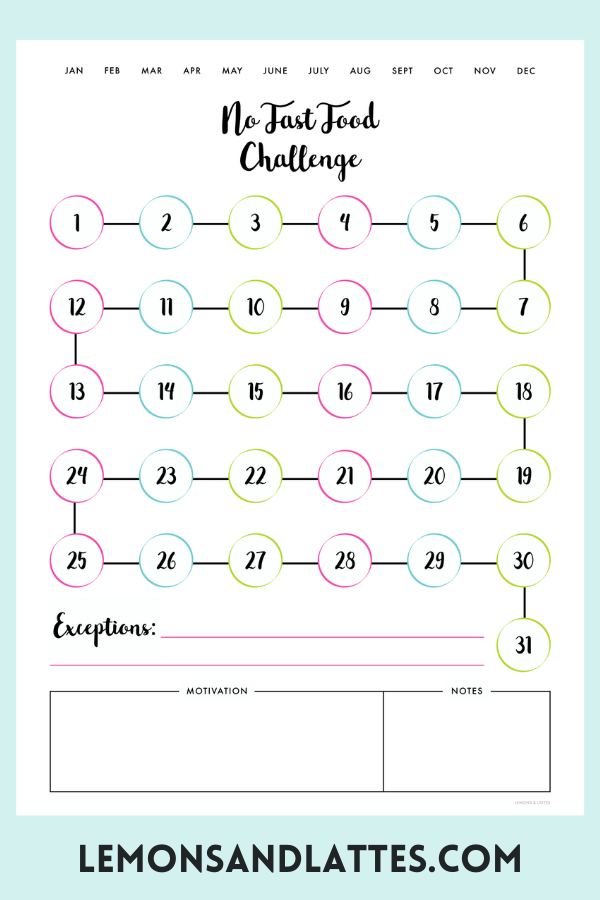 As we all know, most fast food is full of extra sodium, calories, and other junk that most of us can benefit from taking a break from.
Do you really want to amp up your meal planning efforts? See if you can go for a month without any fast food!
This is a fun printable to help you track your progress.
How to access these printable meal planner templates
👉 These printables are available in our Etsy store. Check them out there!
---
Help other moms get organized by pinning these menu planning printables to your favorite board!