This post may contain affiliate links. Please read my disclosure for more info.
November has arrived and you know what that means…
It's time to get ready for the holiday season!
As much as we all love the family get-togethers, scrumptious dinners, and cozy evenings spent at home, it can feel a little overwhelming if you're the one hosting all the events and cooking the majority of the food.
The best way to prevent yourself from becoming completely frazzled when you have a lot going on is to stay as organized as you can and plan ahead.
There are lots of ways to do that. But for starters, try one of these printable November calendars.
More printables you may like:
More ideas for using your November 2023 calendar
There are several creative ways to use a basic calendar in November that go beyond just keeping up with upcoming dates.
Here are some ideas you may not have considered:
#NoSpendNovember: Use your calendar to track your spending habits and challenge yourself to a month of no unnecessary purchases – Other than holiday meal supplies and Christmas shopping of course.
Daily affirmations: Write down a daily affirmation or positive quote. This is a simple way to encourage a positive mindset.
Gratitude: Each day you can write down something you are grateful for.
Fitness or self-care tracker: Use it as an exercise log and track your fitness goals, whether it's going for a daily walk, hitting the gym, or practicing yoga. Seeing your progress on the calendar can motivate and inspire you to keep going.
Habit tracker: You don't need a habit tracker to start tracking your habits. Yes, they are cute, but a simple calendar works too!
What's happening during the month of November?
November is a busy month! The holidays that come to mind first for most are Thanksgiving and Veterans Day.
Election Day is also in November on the third.
In addition to holidays, families are preoccupied with various fall activities like fall festivals and fairs, and football games.
And there are usually no shortage of pumpkin patches to visit!
Print your favorite November calendar
With 52 different November calendar printables to pick from, you do have some options here, which is nice. We like options.
There are several design variations that range from simple and ink-friendly to ones that have a bit more pop of color.
It's not a ton of color, so you shouldn't have to worry much about it draining your ink. But just enough to make it look cute.
There are portrait calendars as well as landscape. Both should have enough room for hole-punching also. (If you have any problems with this, please let me know!)
And finally, you can choose a full-page calendar or one that includes a bonus little notes section. I personally like the notes section, because it's handy for jotting down any additional things you need to remember.
But, if you don't have a need for it, go ahead and opt for the full-page.
These are all US Letter size, but you can learn how to resize them to any other size by following this quick step-by-step.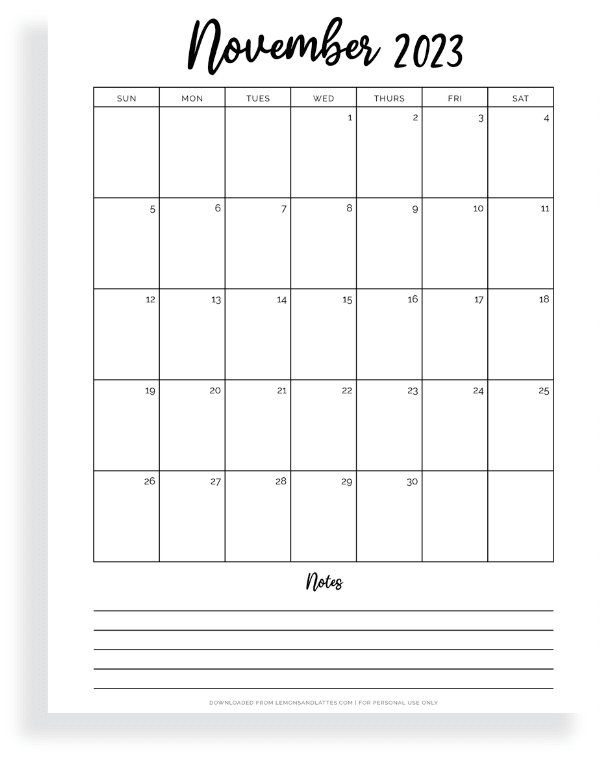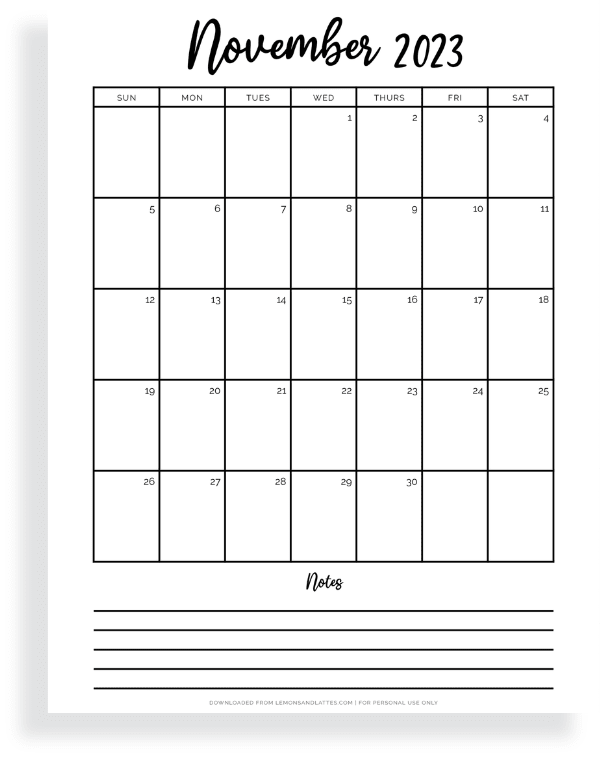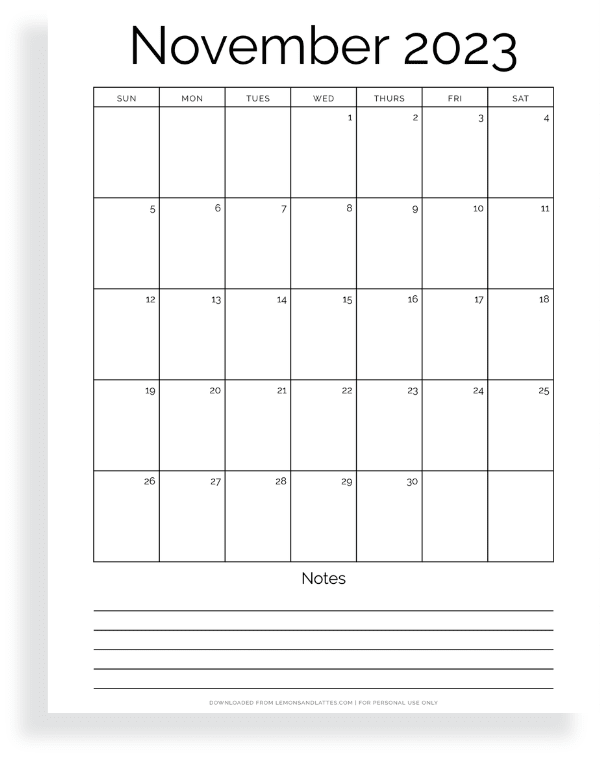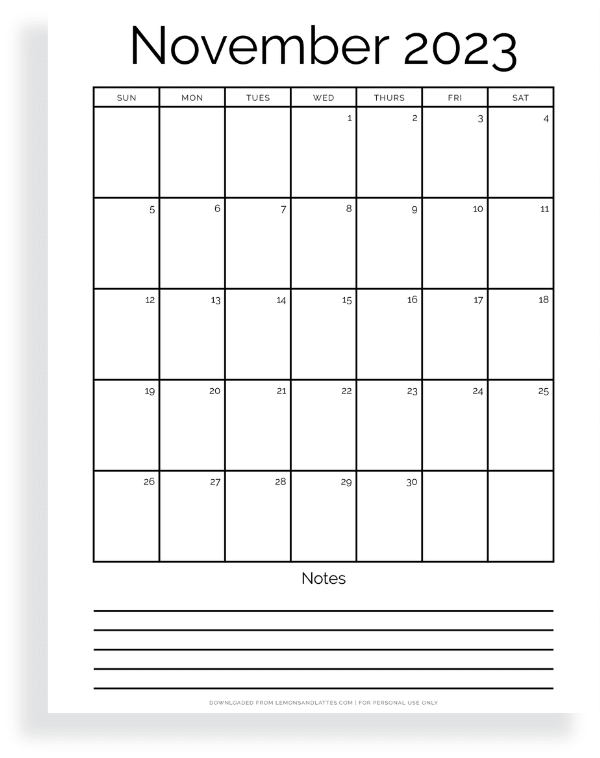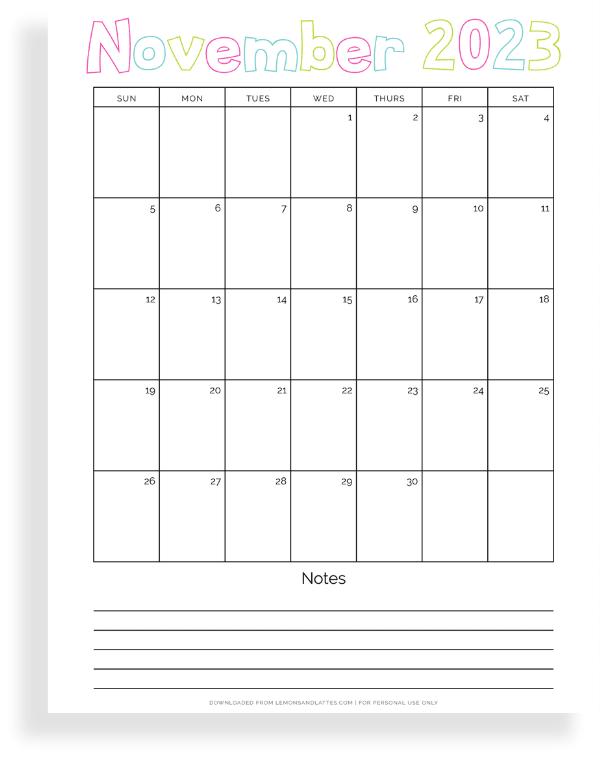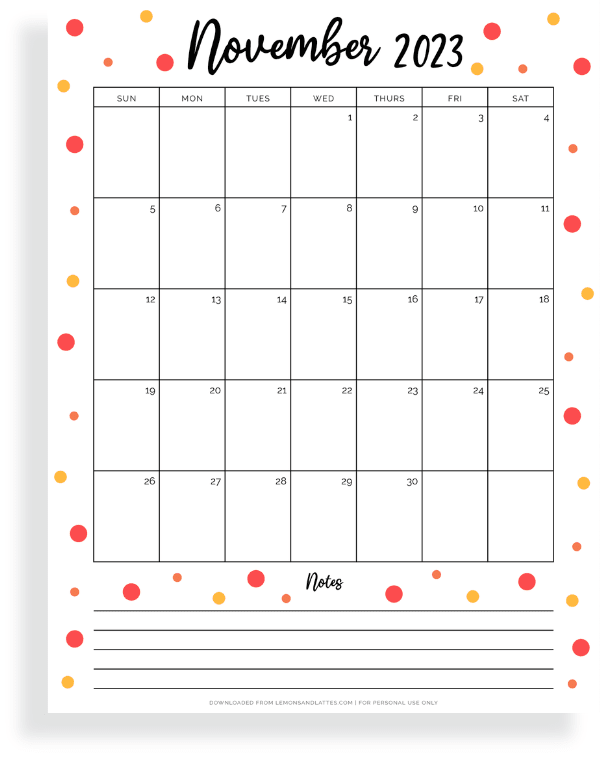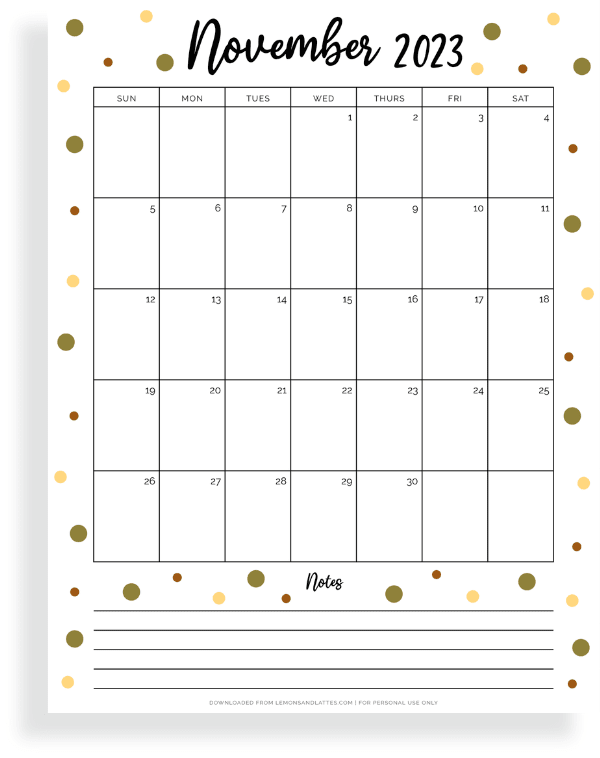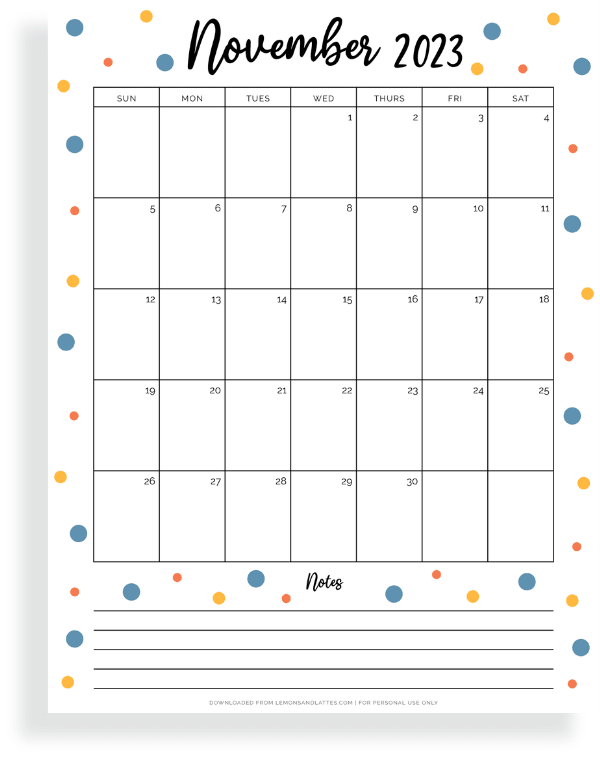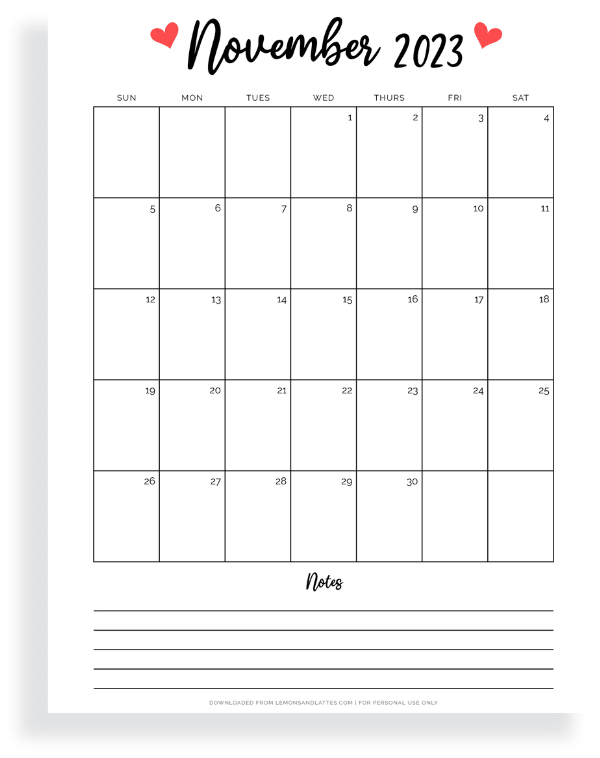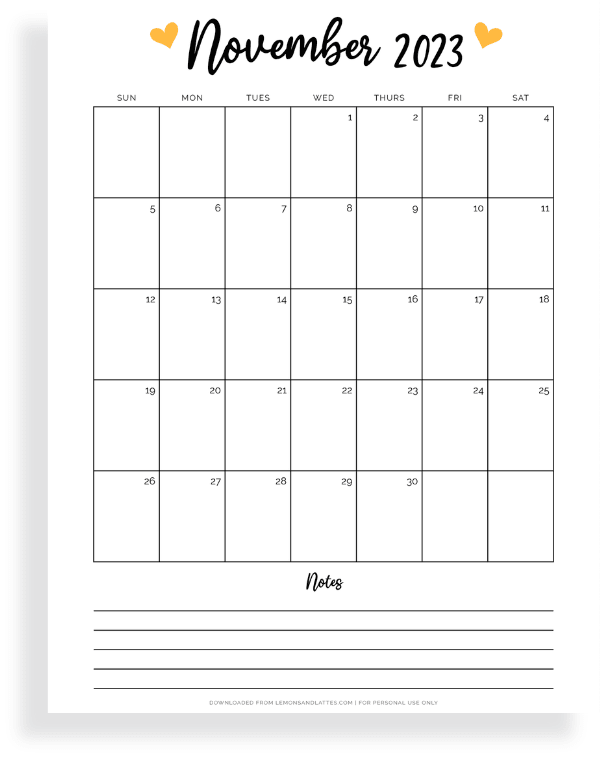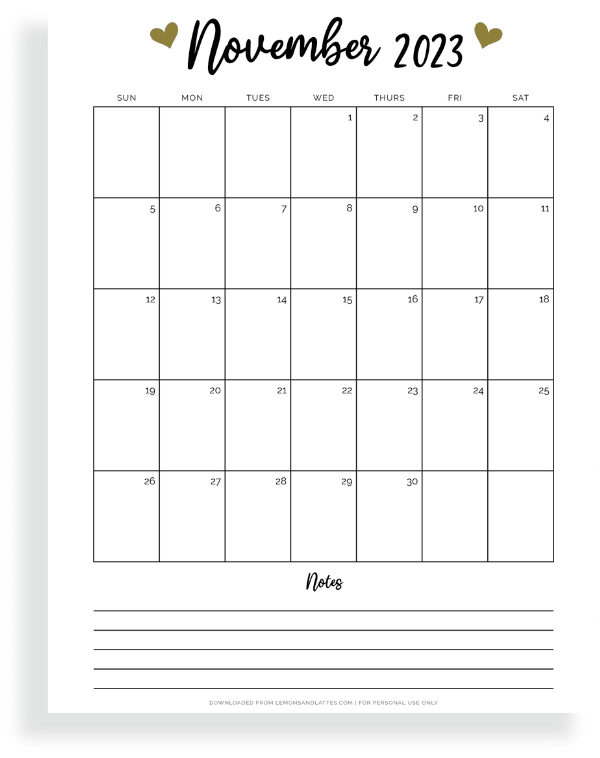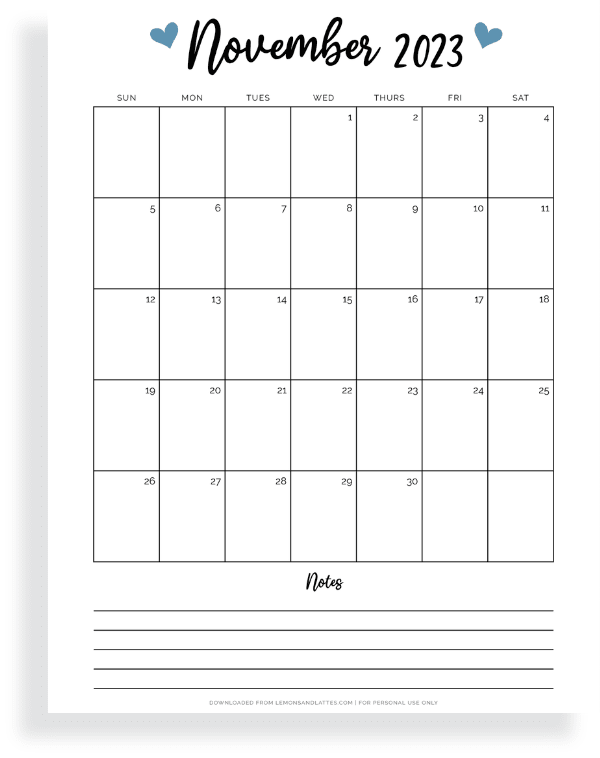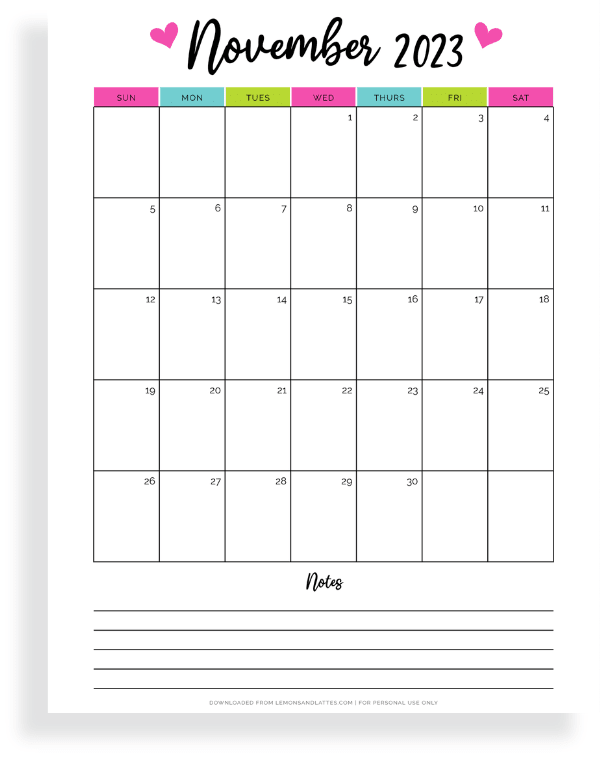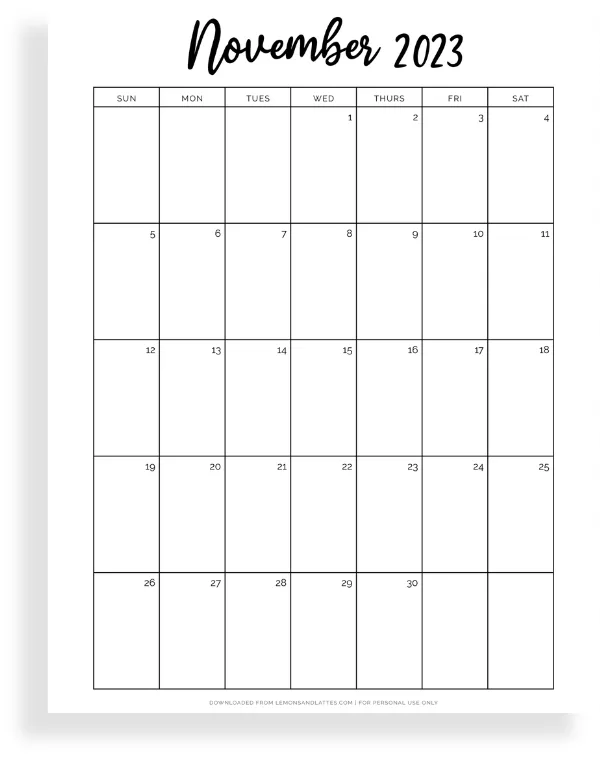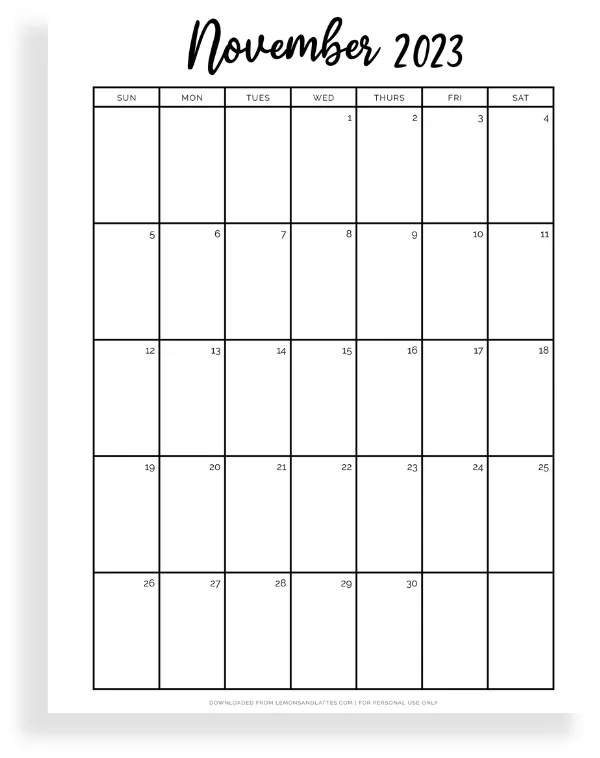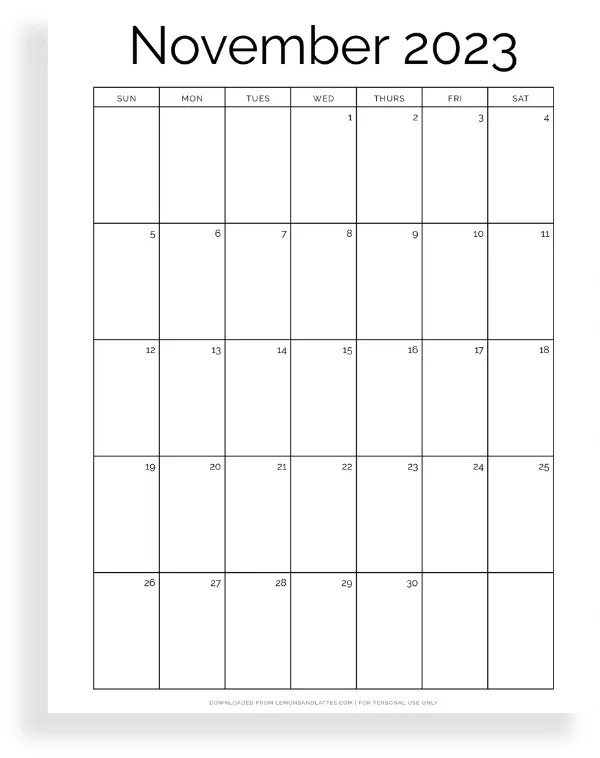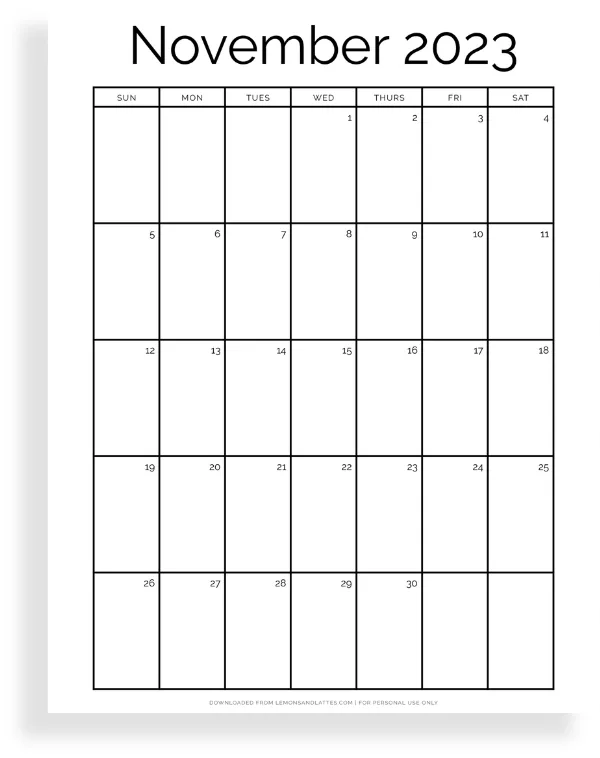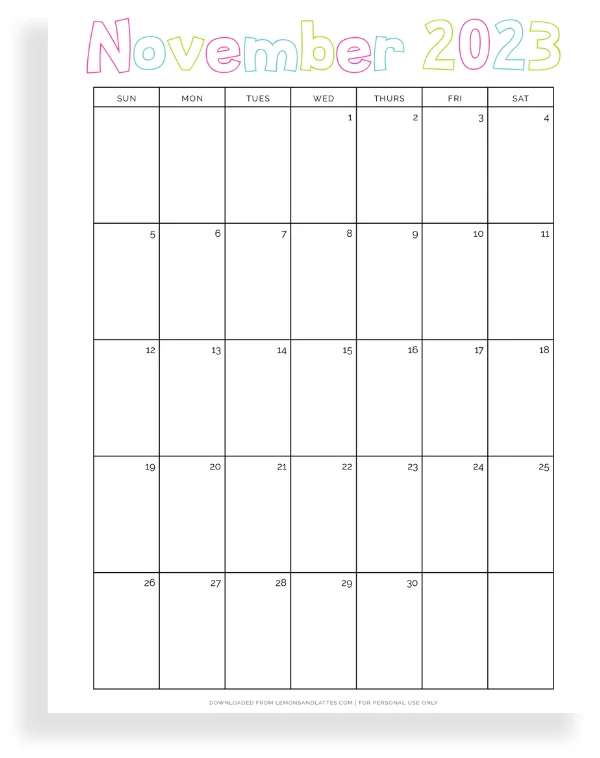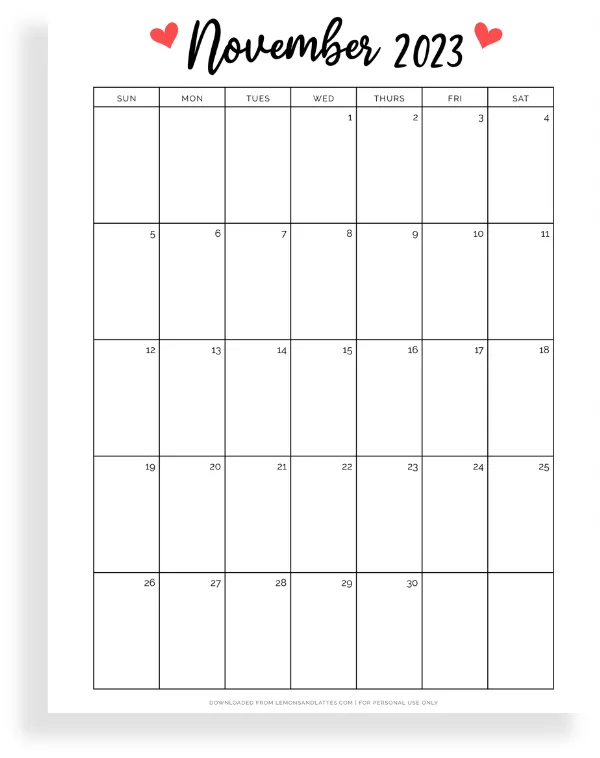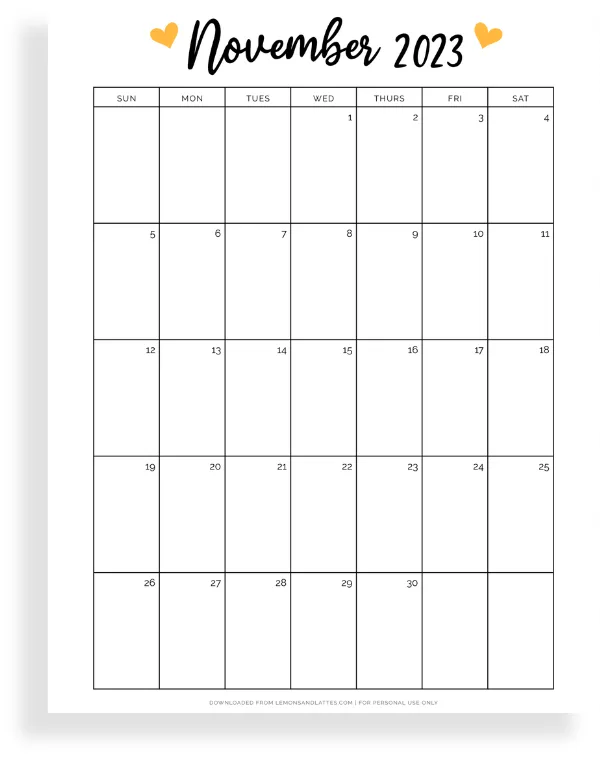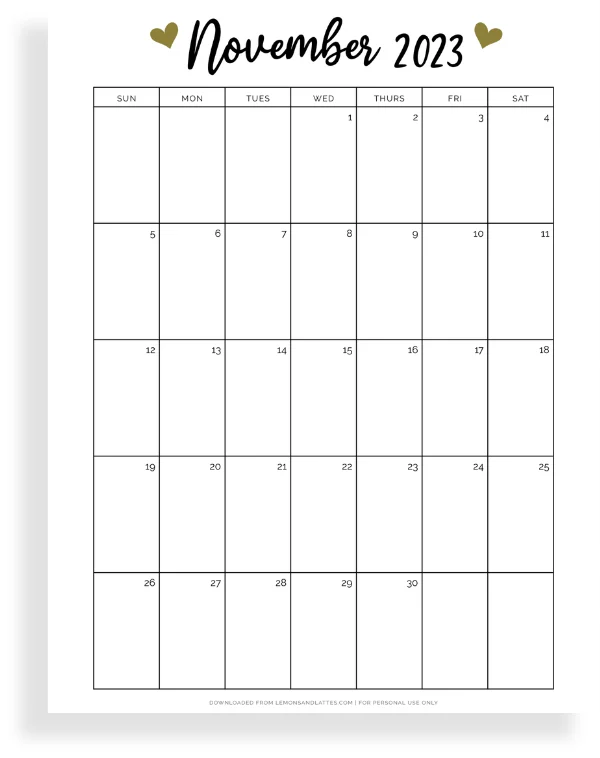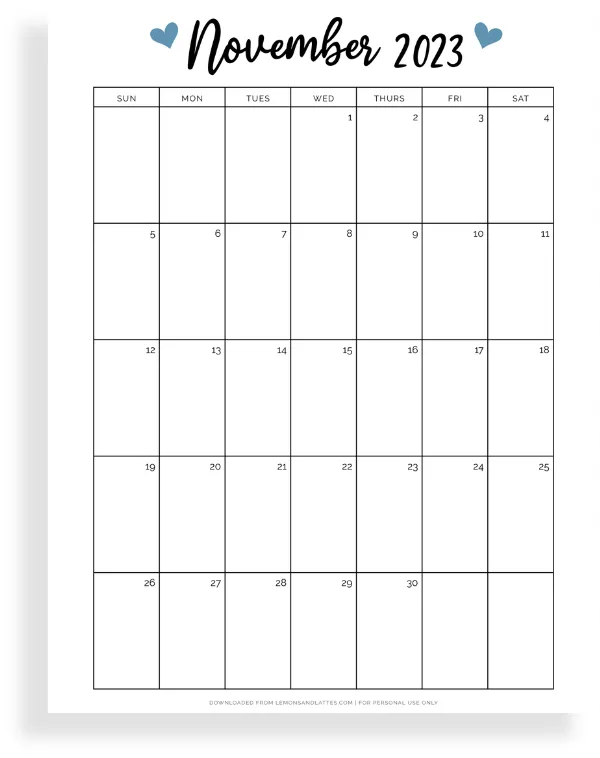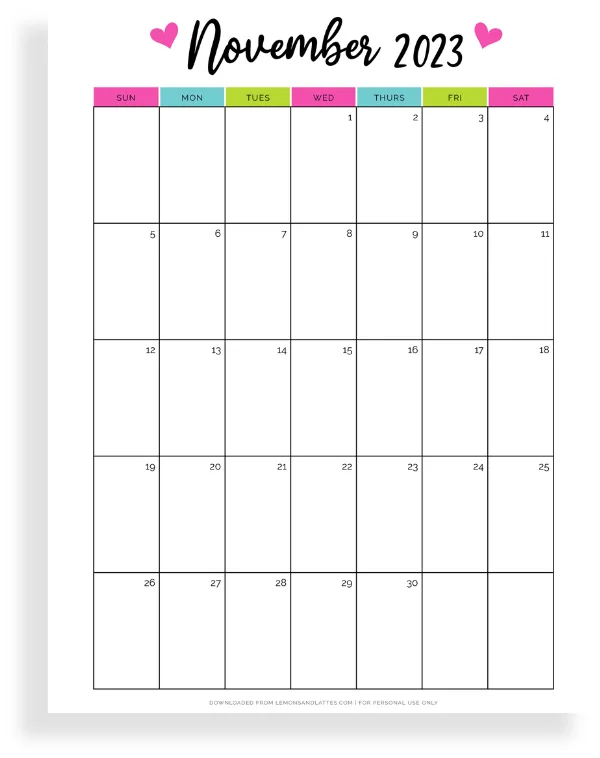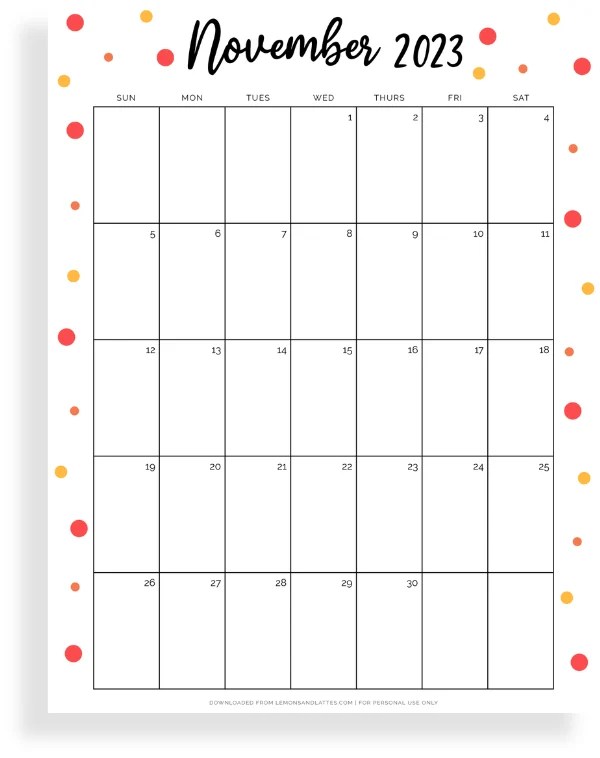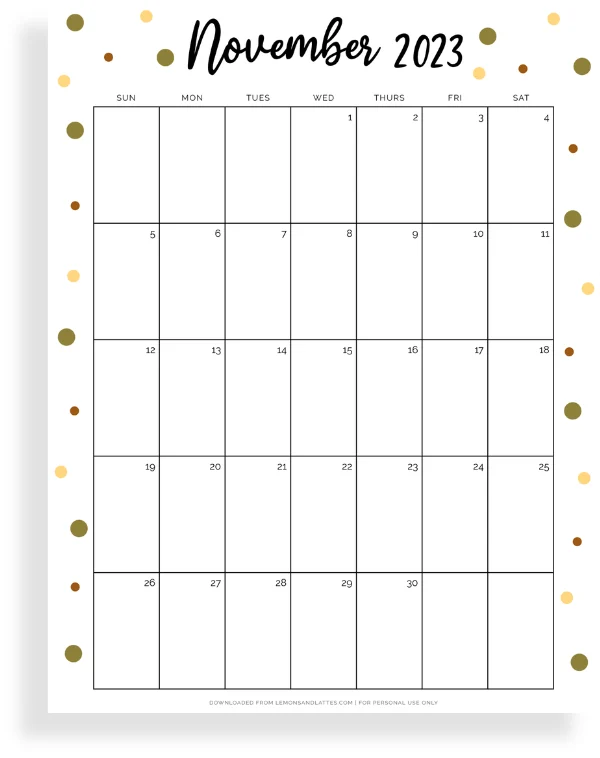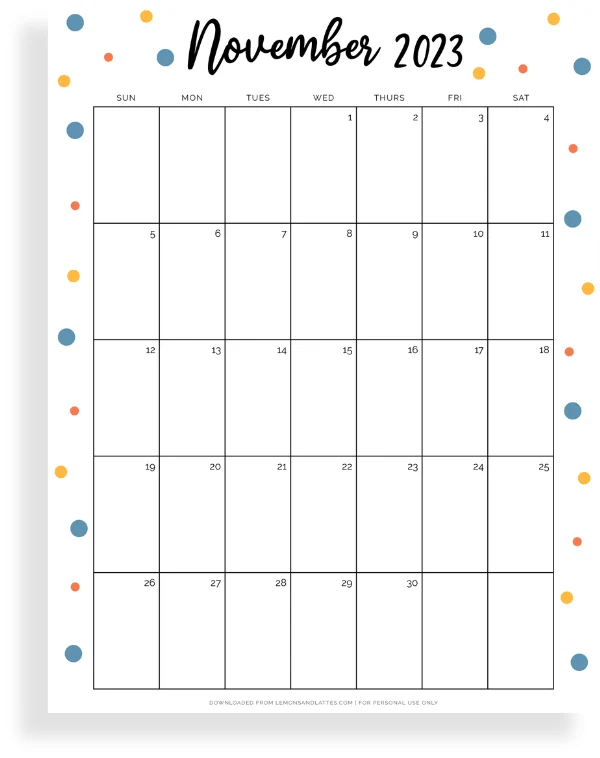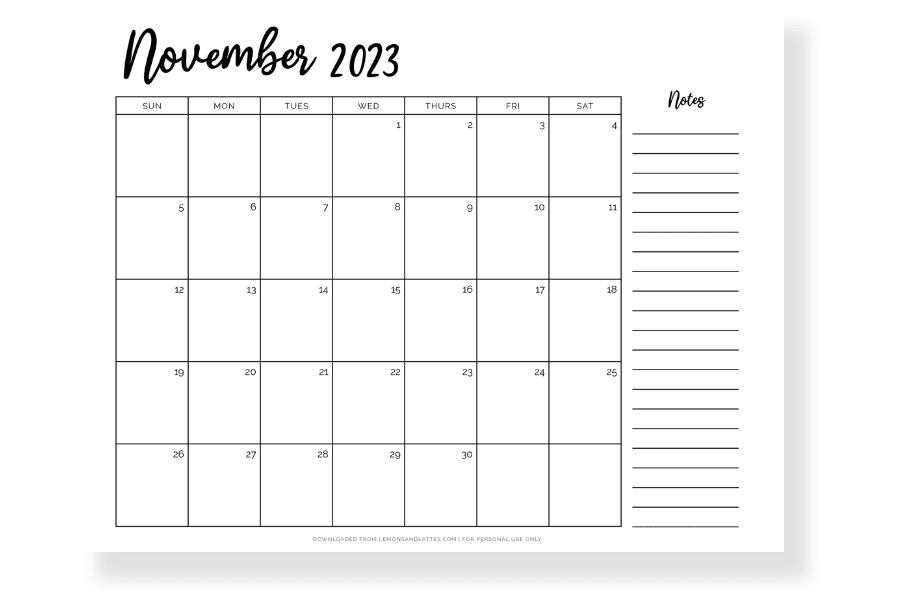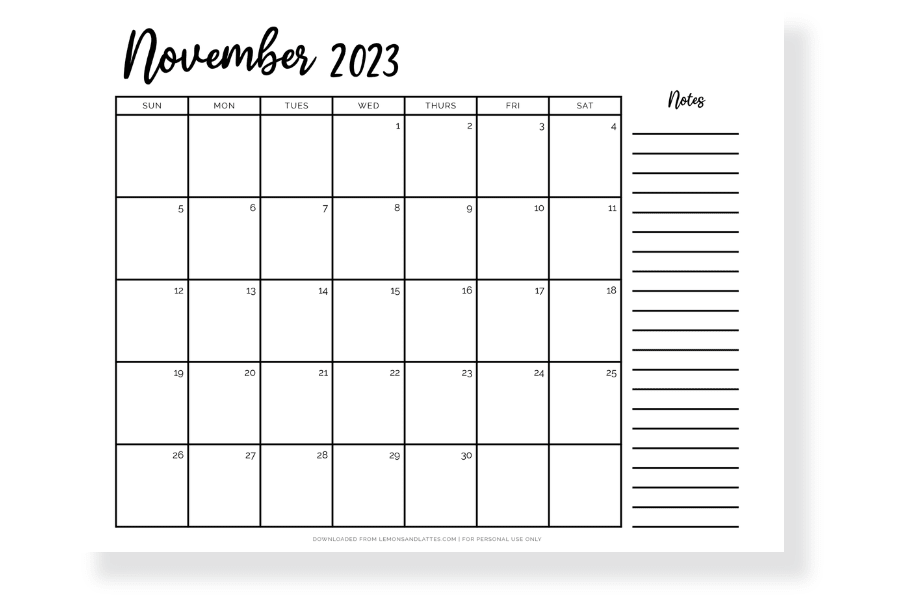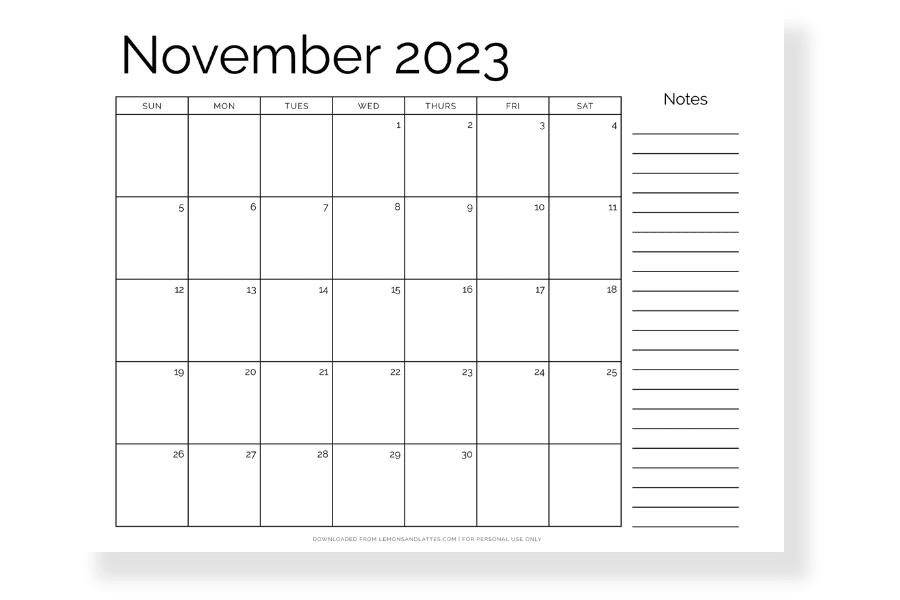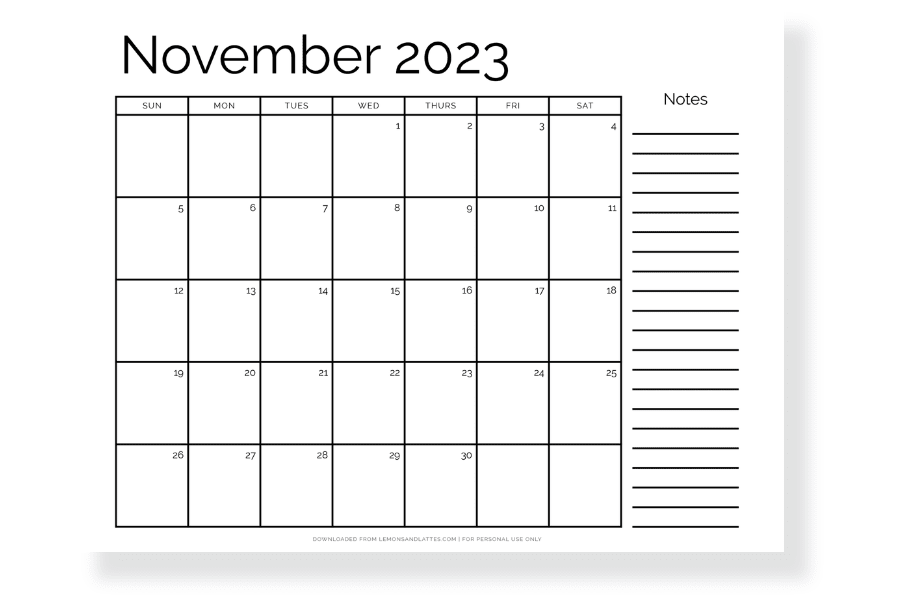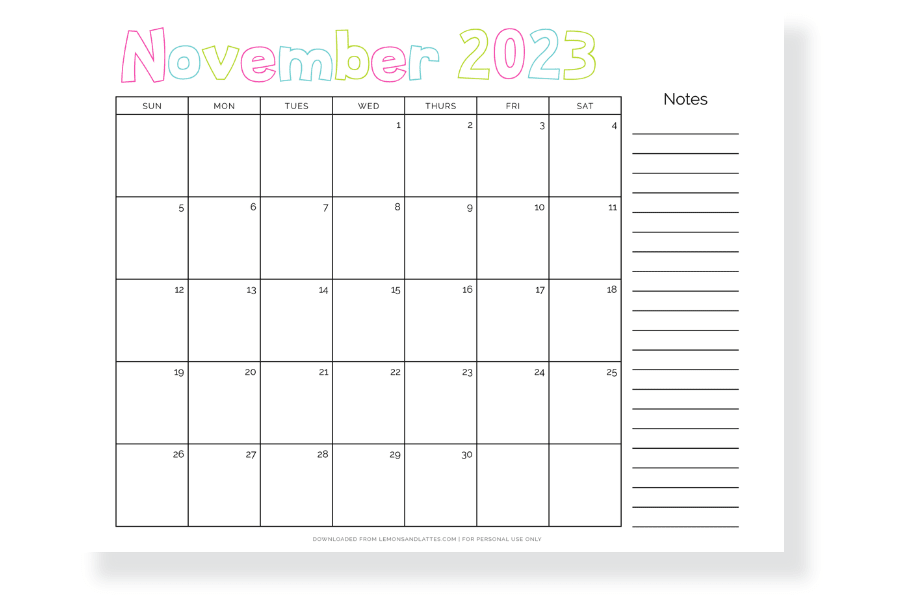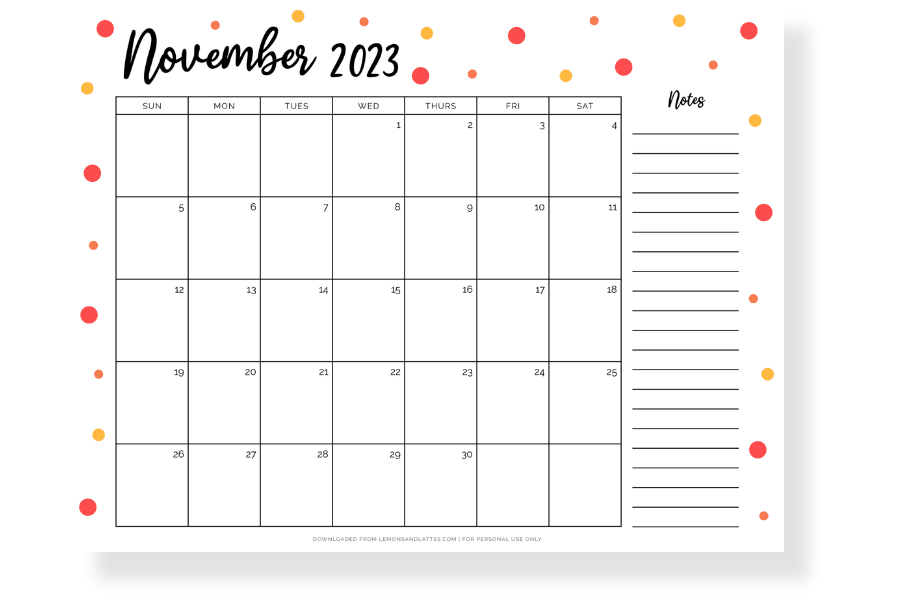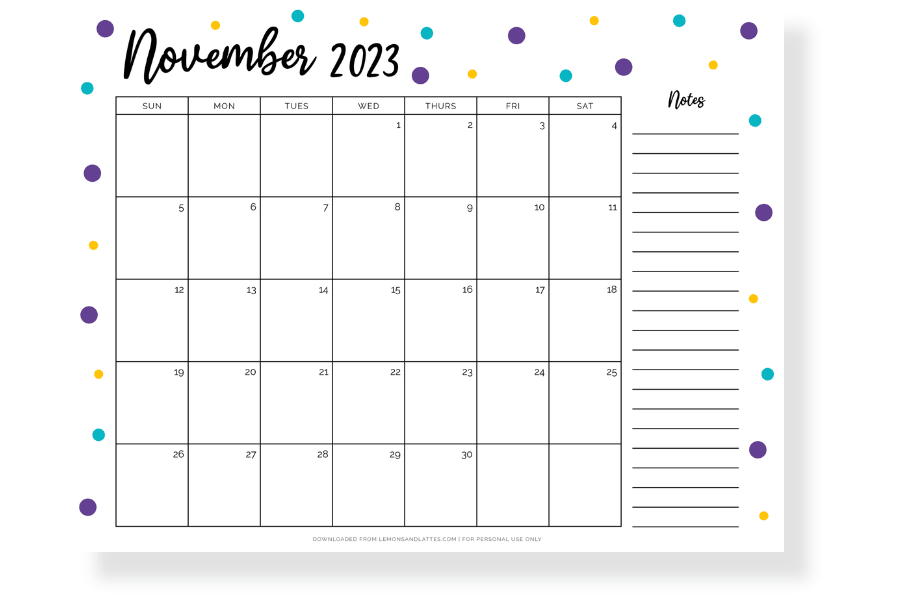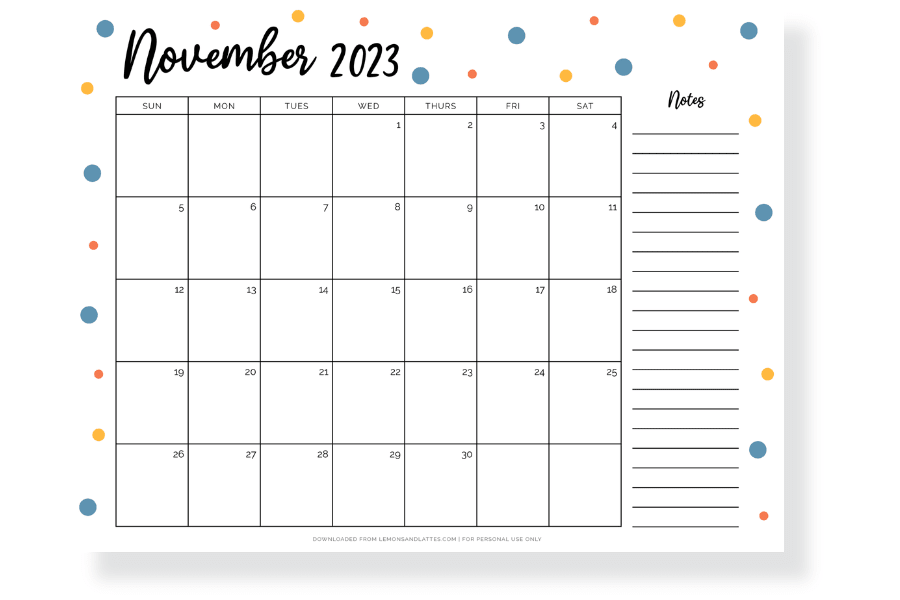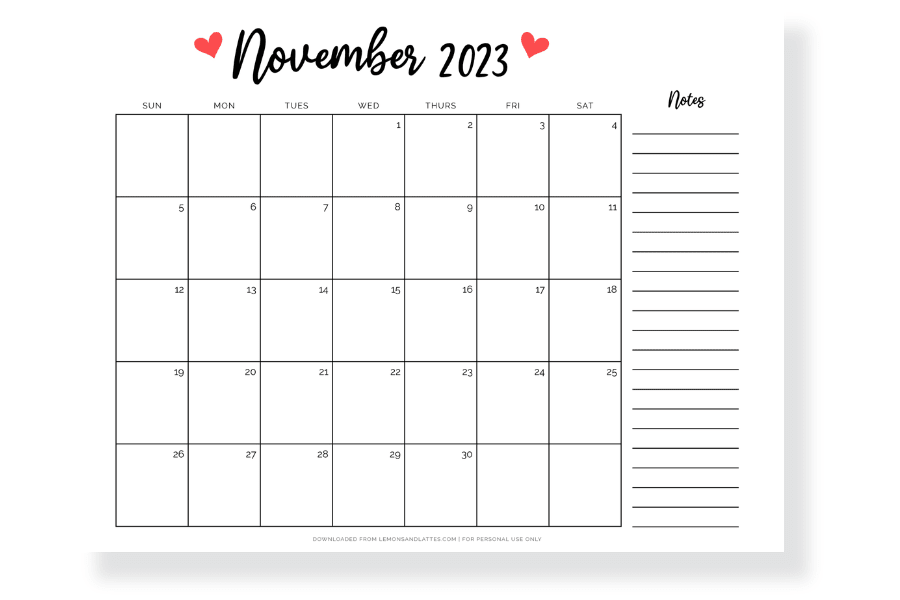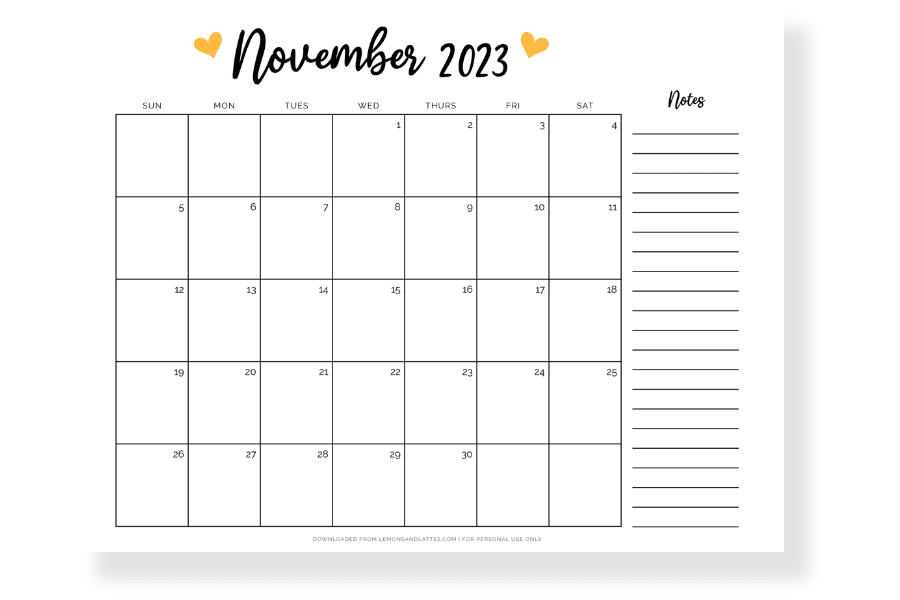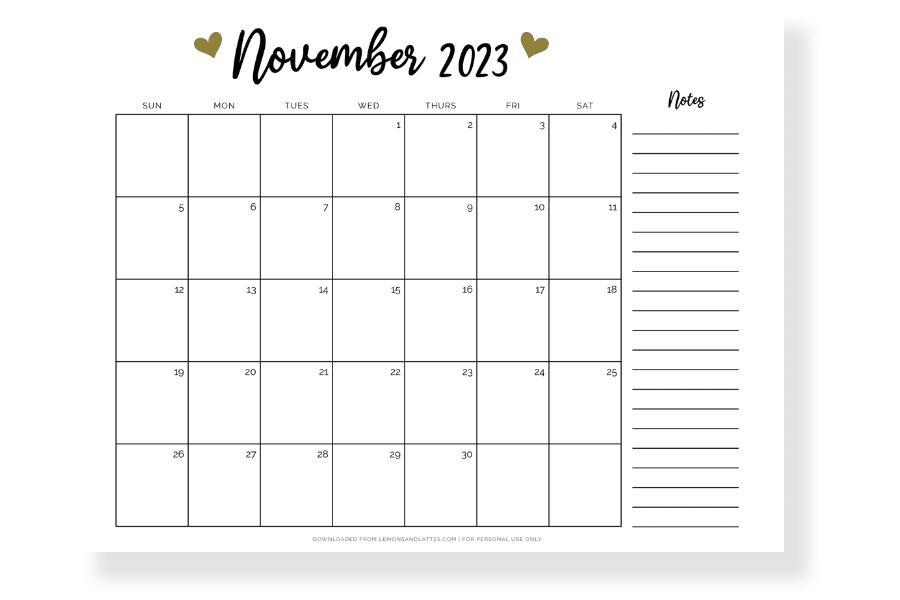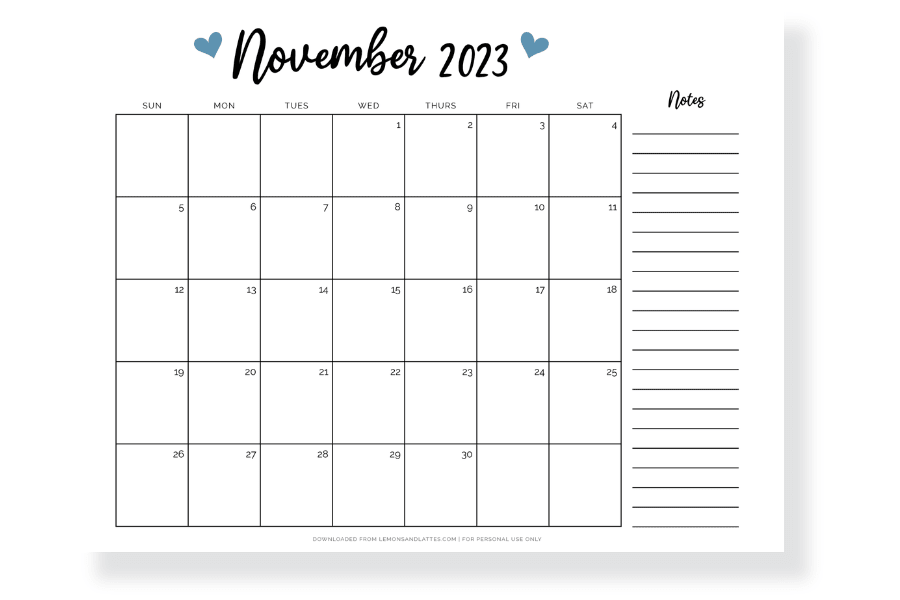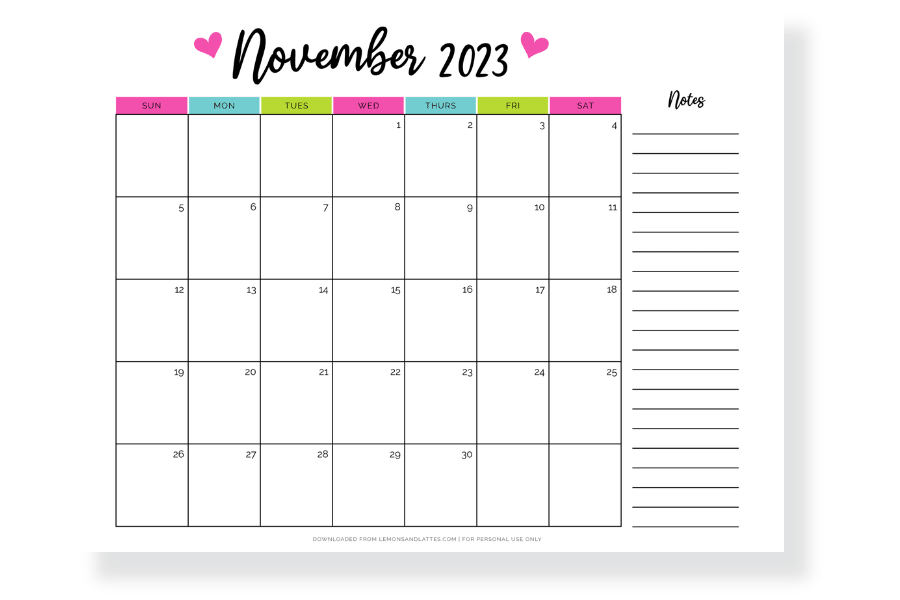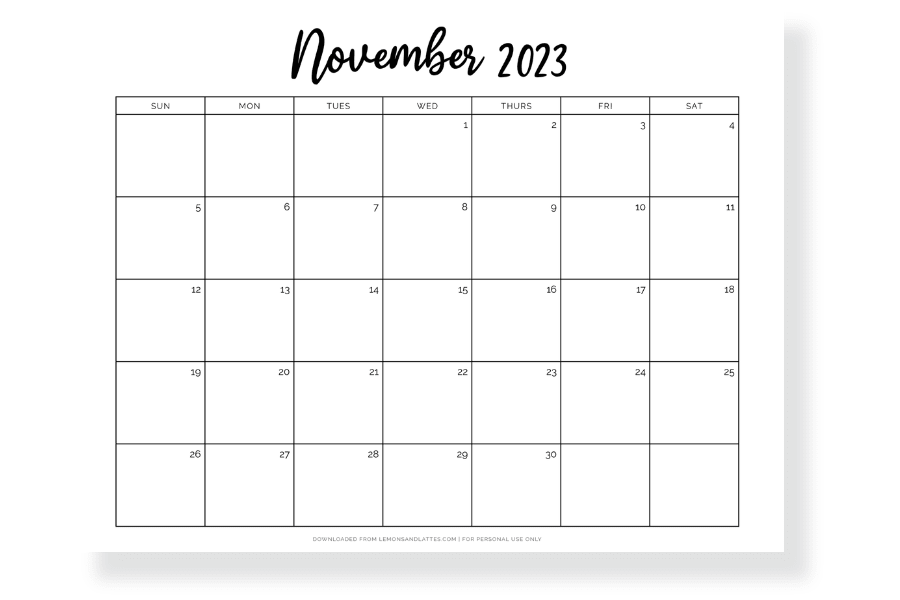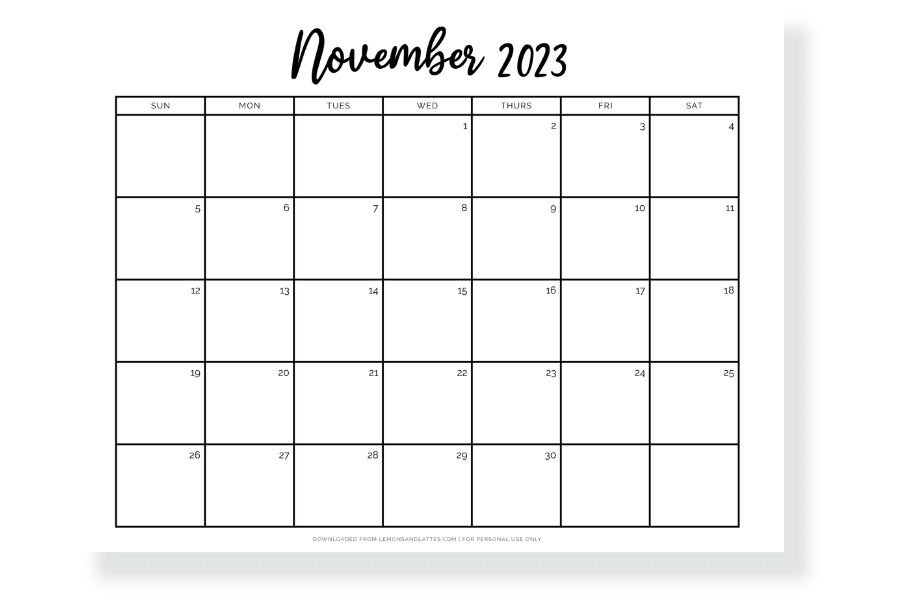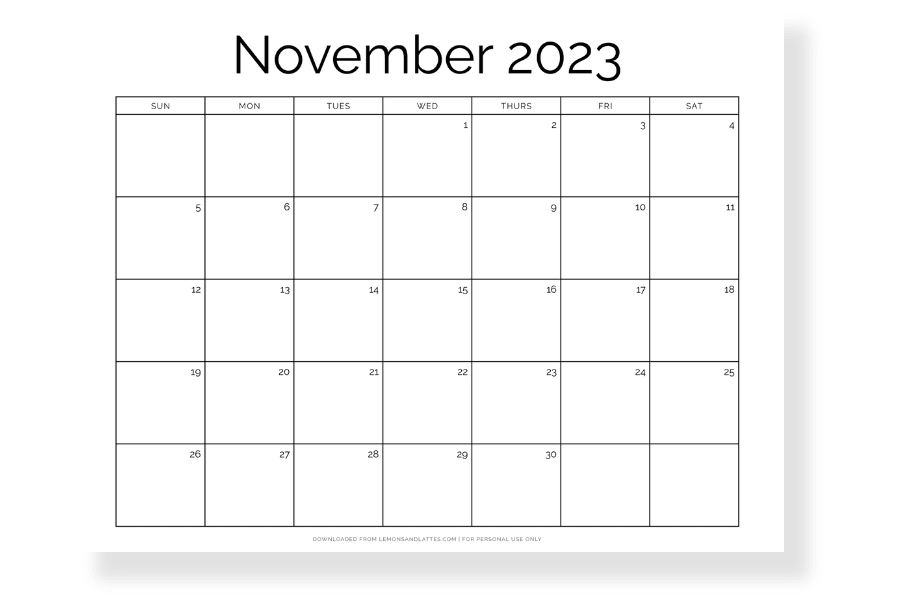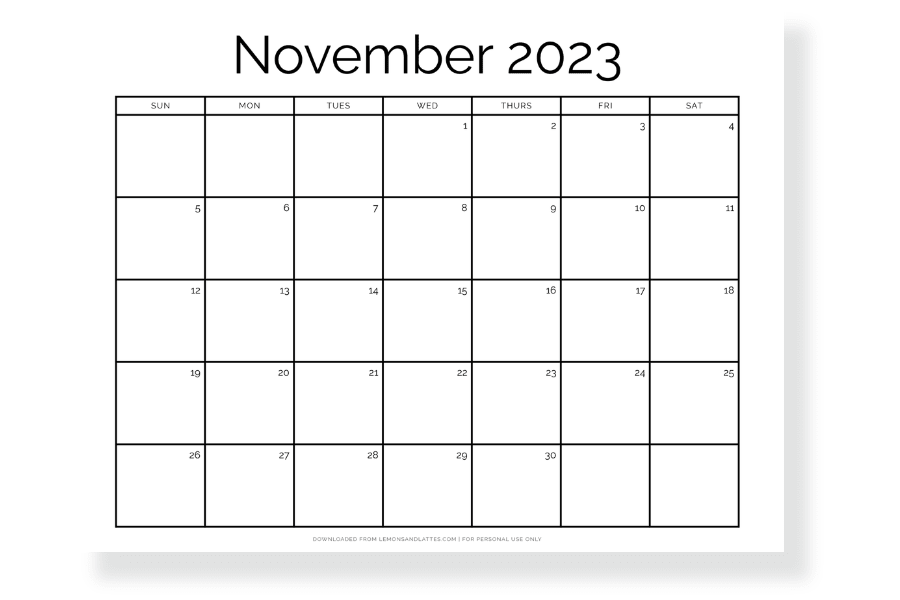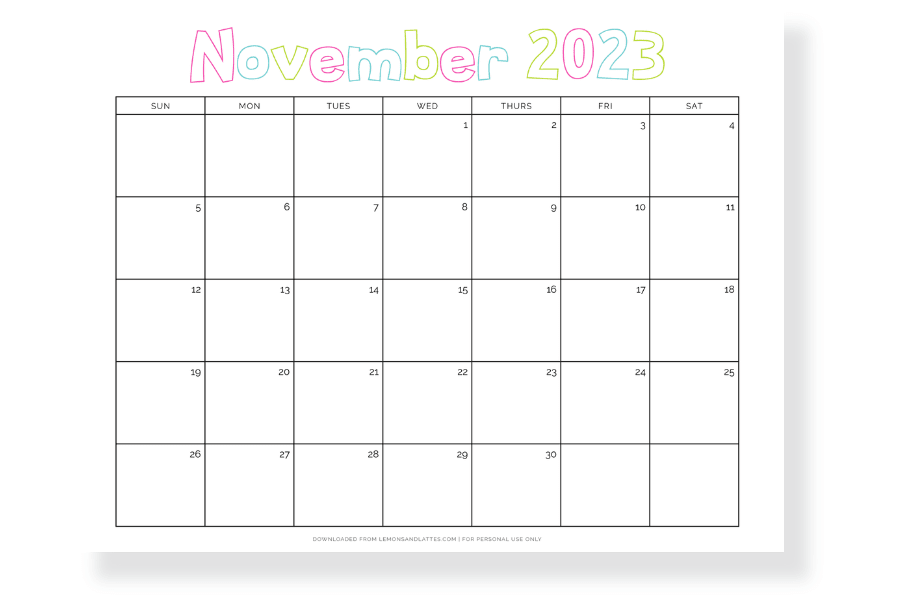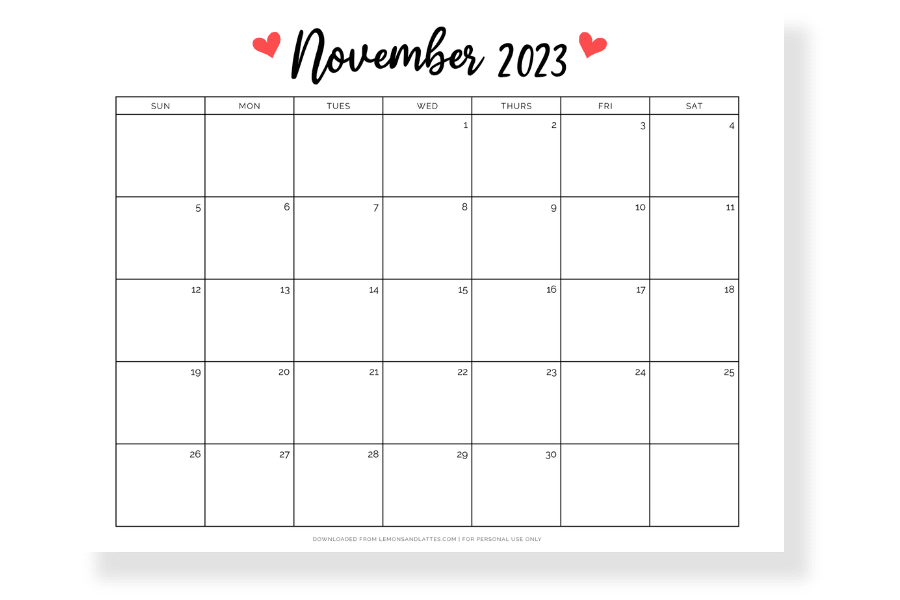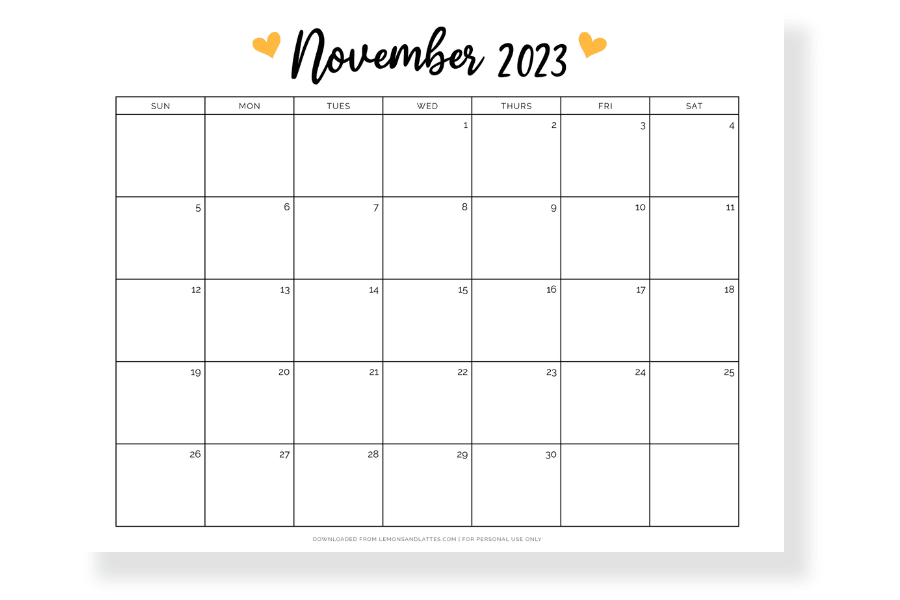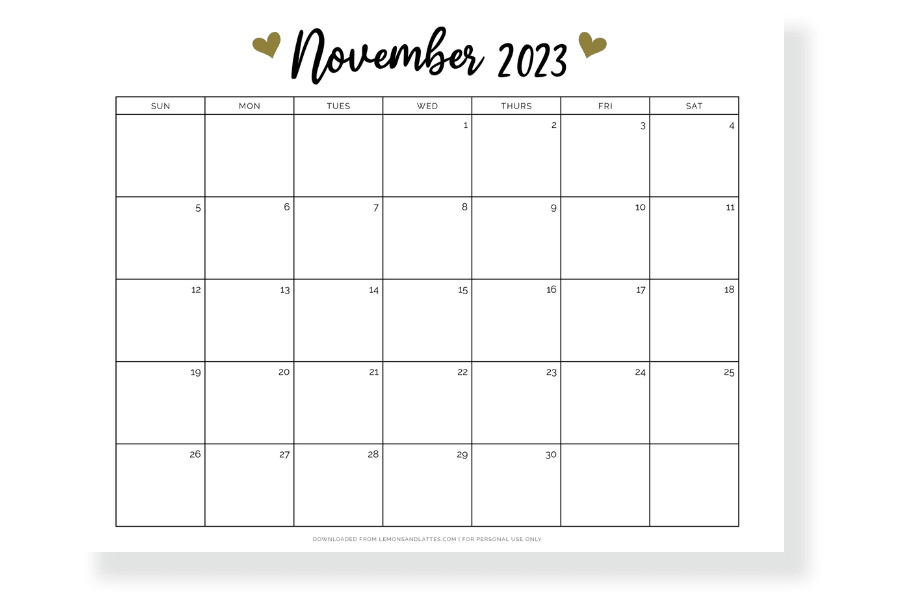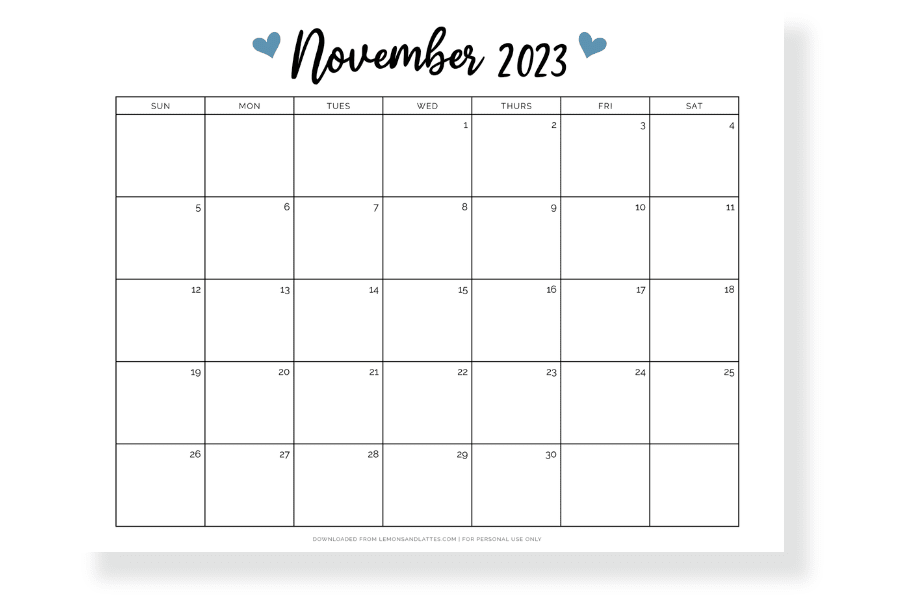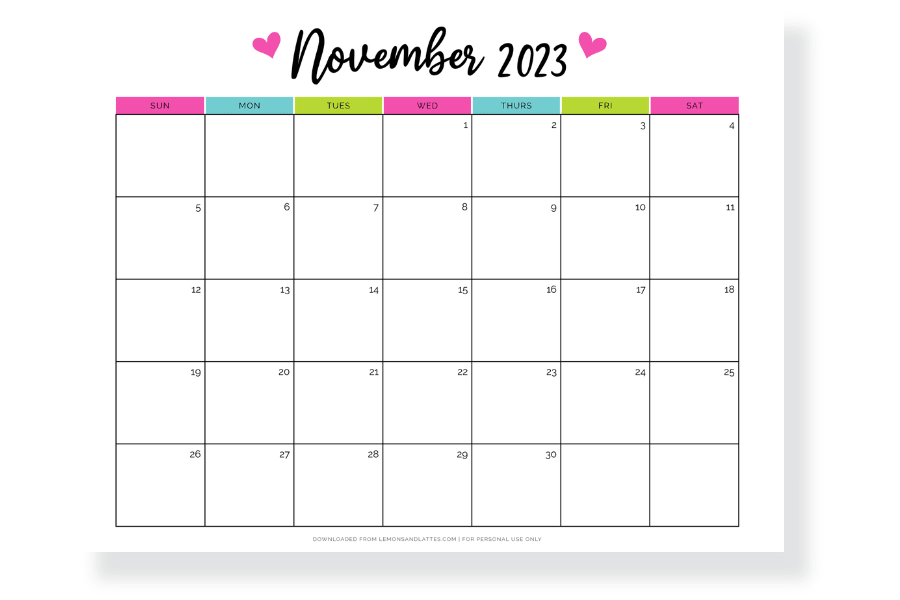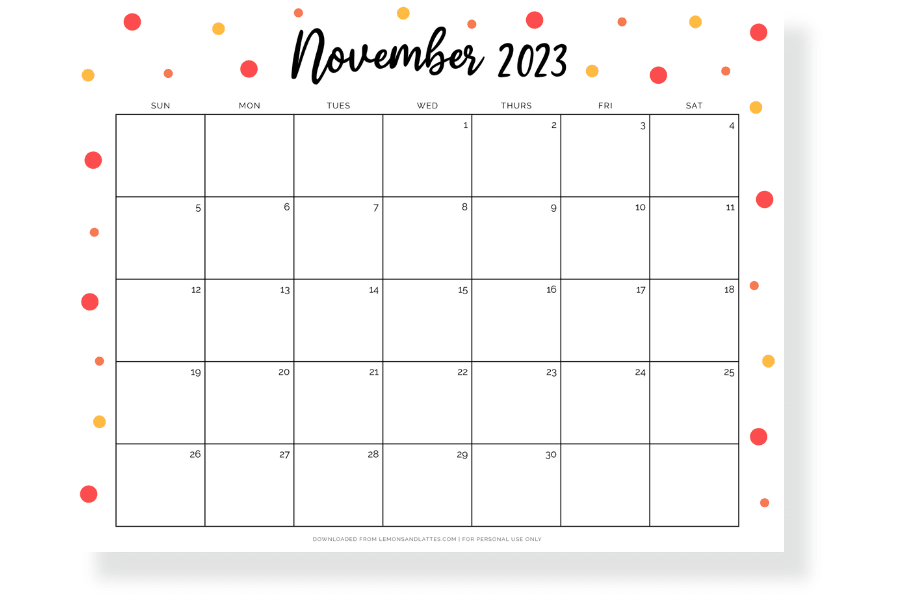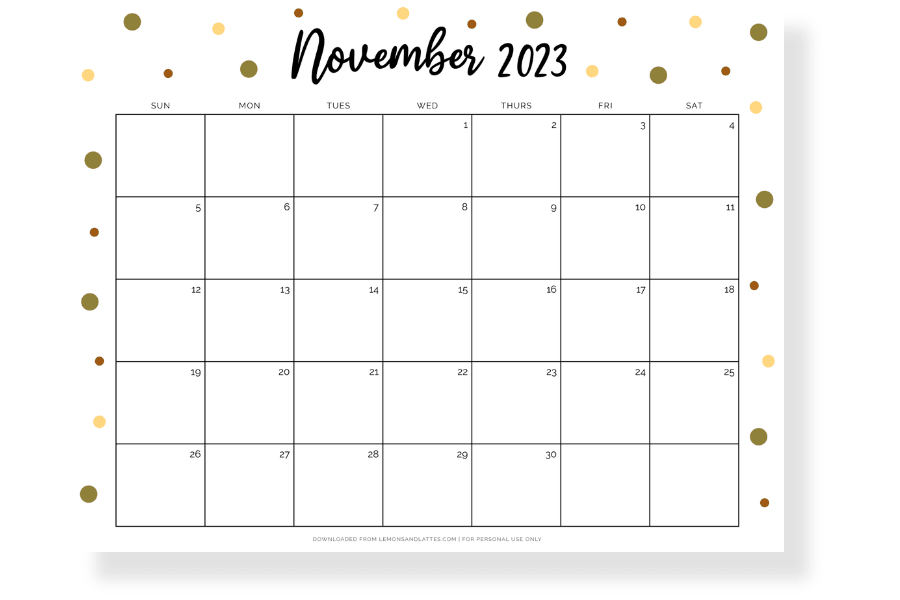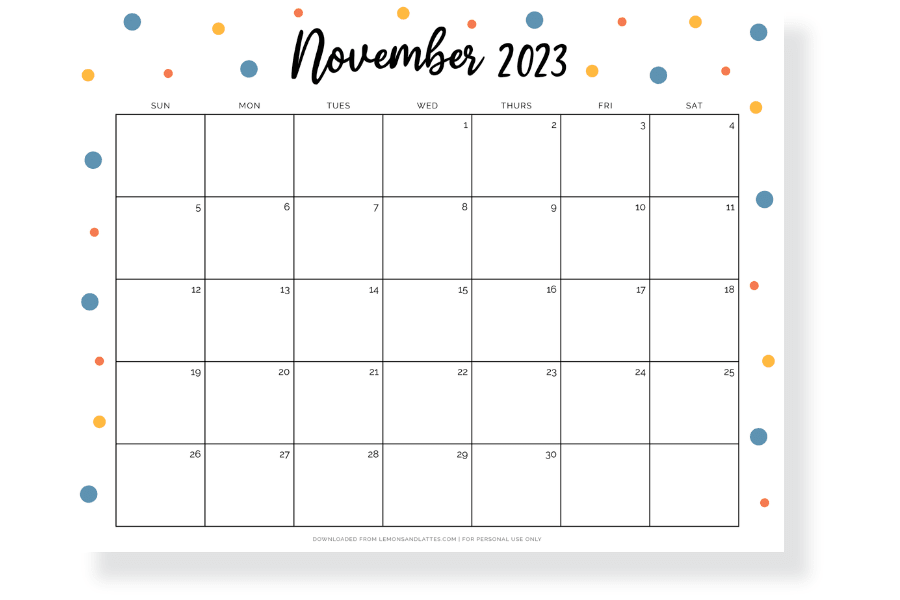 FAQs about the month of November
How many days are in the month of November?
There are 30 days in the month of November.
What is the official flower for November?
The Chrysanthemum and the Peony.
What is the birthstone for November?
Topaz and citrine.
What is the zodiac sign for November?
The main zodiac sign for the month of November is the water sign, Scorpio. But if your birthday is falls on November 23rd or after, then you are a Sagittarius.
---
If you like these printable November calendars, be sure to also grab next month's calendar too!
Enjoy!