This post may contain affiliate links. Please read my disclosure for more info.
September is a transition month.
It's the beginning of a new season (Fall begins on the 23rd!) and a new school year, which brings a lot of excitement for both kids and parents.
But, at the same time, it can be a bit hectic and chaotic when you're adjusting to a new schedule.
There's a lot to remember!
Stay on top of it all with these September calendar printables. They're perfect for sticking on the fridge or you can hole punch and add to an existing binder or planner.
More printables you may like:
More ideas for using your September 2023 calendar
Aside from sticking it on your fridge (probably the most common way to use these), did you know there are several other practical uses for a basic calendar?
You could also use these templates for:
Meal planning – Need some new ideas? Try one of these easy rotisserie chicken recipes.
Keeping track of monthly bill due dates
Making a new family cleaning schedule – Use one calendar for everyone or give each family member their own calendar
Tracking the days you exercise (a calendar is perfect unless you need a more detailed exercise log)
Birthday countdown
Habit tracking – If there's a new habit you'd like to start, put it on your calendar
What's happening during the month of September?
The holiday that comes to mind first during September is Labor Day. It's the first holiday the kids will be out of school for, so plan accordingly! It's also one that sneaks up on you.
Rosh Hashanah is another holiday that is celebrated this month.
You may also want to take note that National Grandparents Day is also in September. If you are a parent of a younger child (elementary age), there may be some type of event happening at the school.
If you live within driving distance from a beach, September can be a great time to check out some of the local festivals and events. The weather is usually still warm and the crowds tend to be smaller than in peak summer months.
Print your favorite September calendar (and print as many copies as you need)
All September 2023 calendars are standard Sunday-start designs.
However, you still have some options. You can choose between vertical (portrait) or horizontal (landscape) layouts.
One version includes a notes section and the other is a full-page calendar. Although, I must admit that having a notes section can be super helpful for jotting down anything extra that might not fit on a certain day.
But full-page calendars have their place too, so pick the version that suits you best.
Each PDF was designed to fit US Letter Size paper. But – If you are needing a different size, such as A4 or A5. Or, if you're wanting to add the calendar to a Classic Happy Planner, for example, you can learn how to resize printables here.
Ready? Click the button below each calendar image to download and print.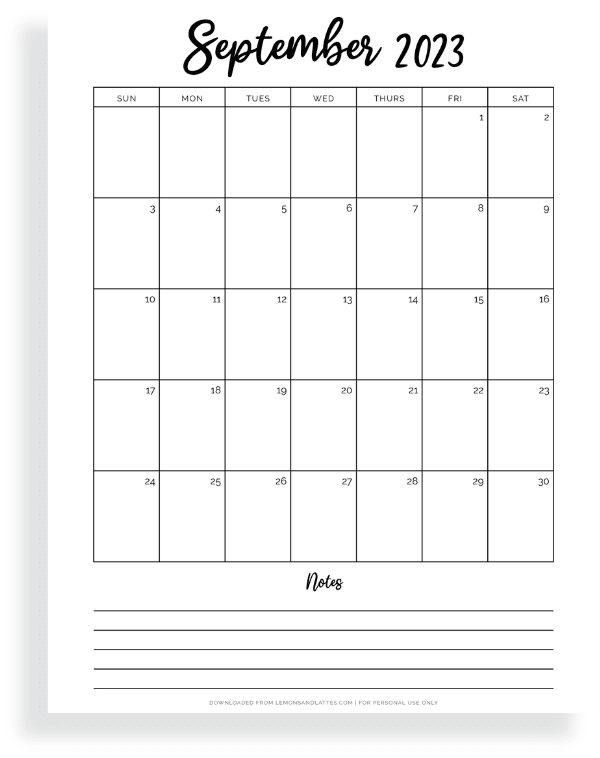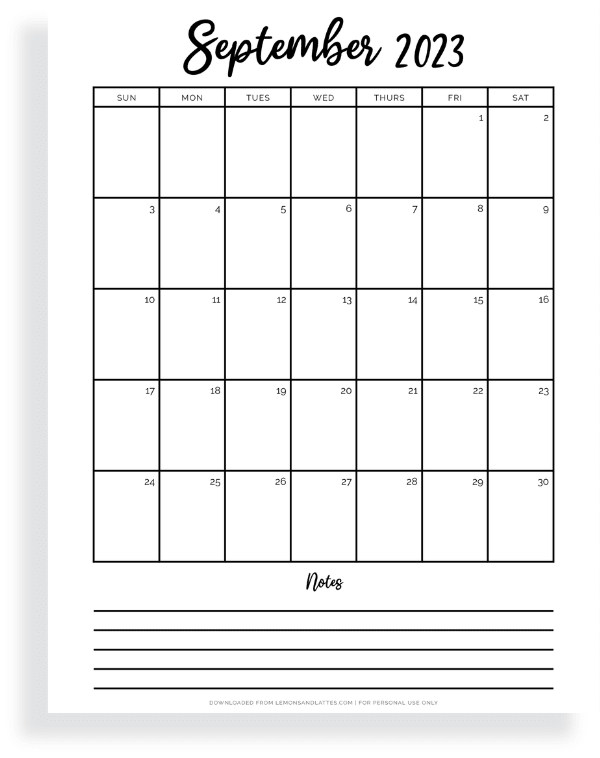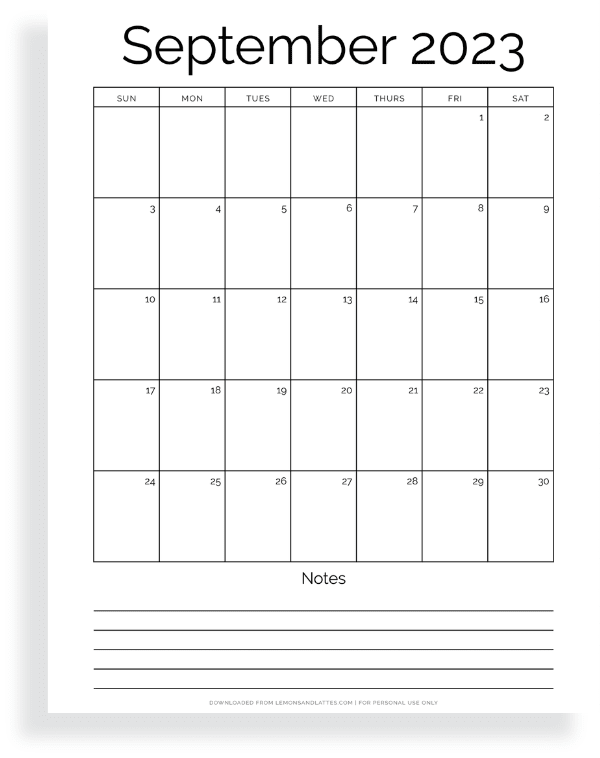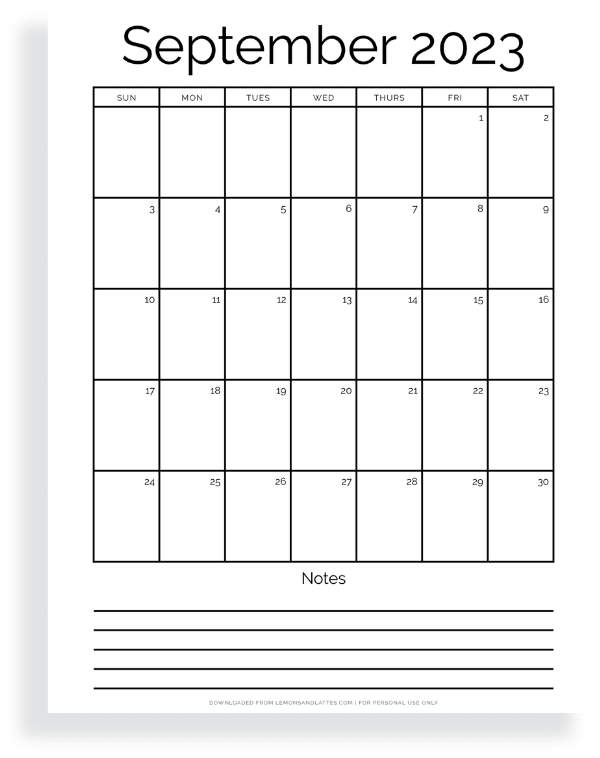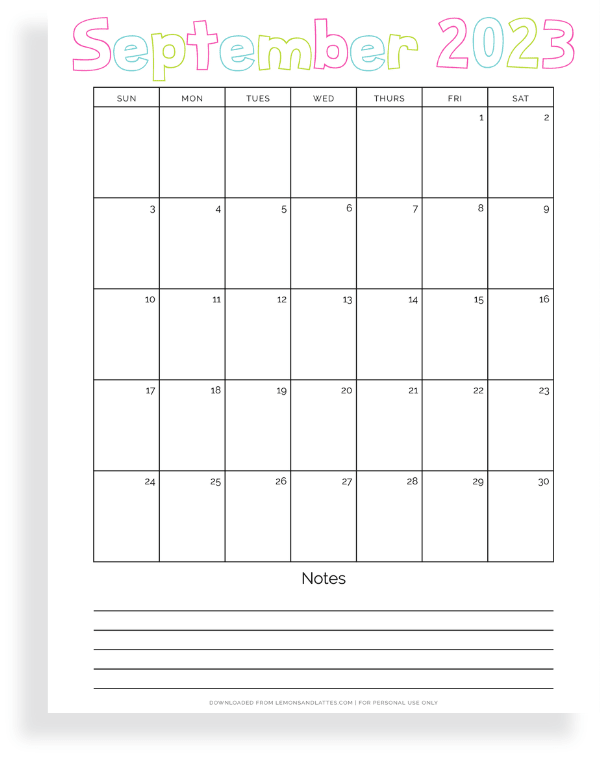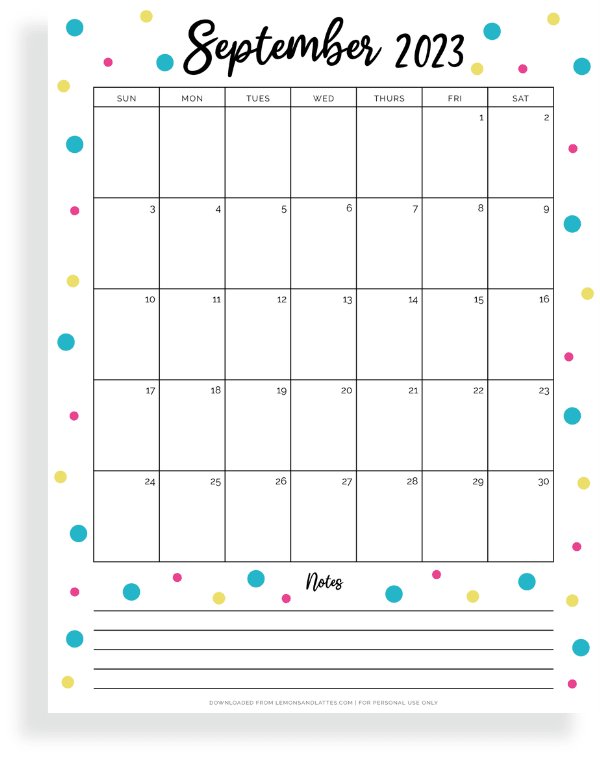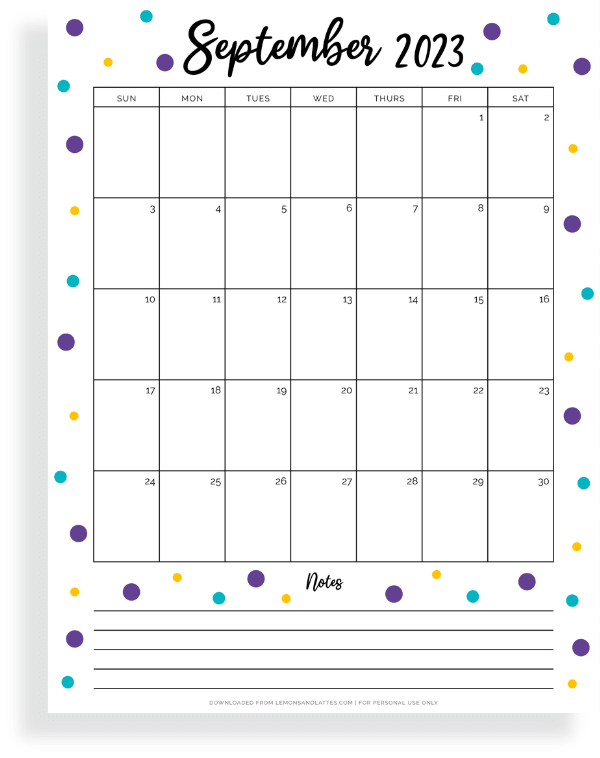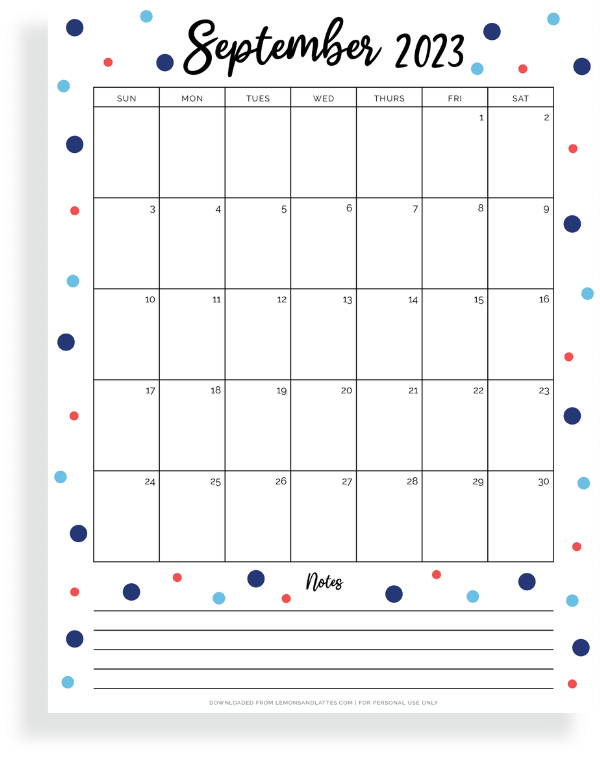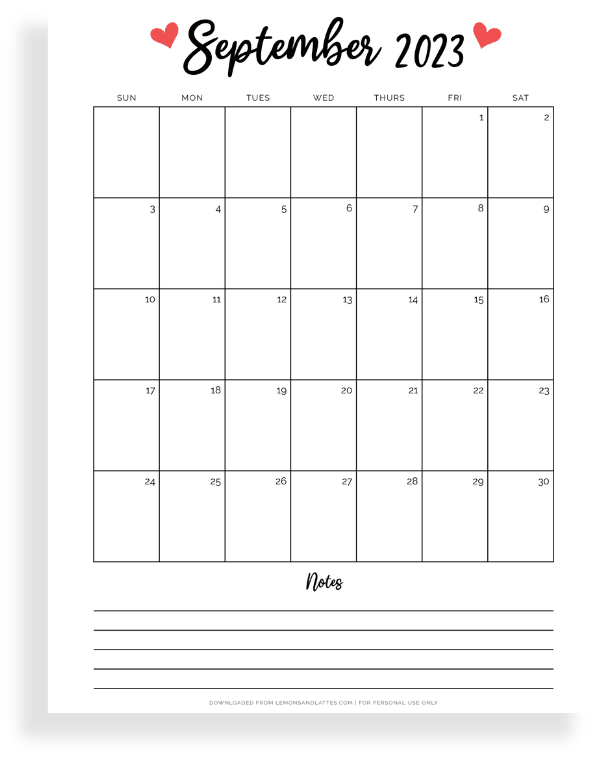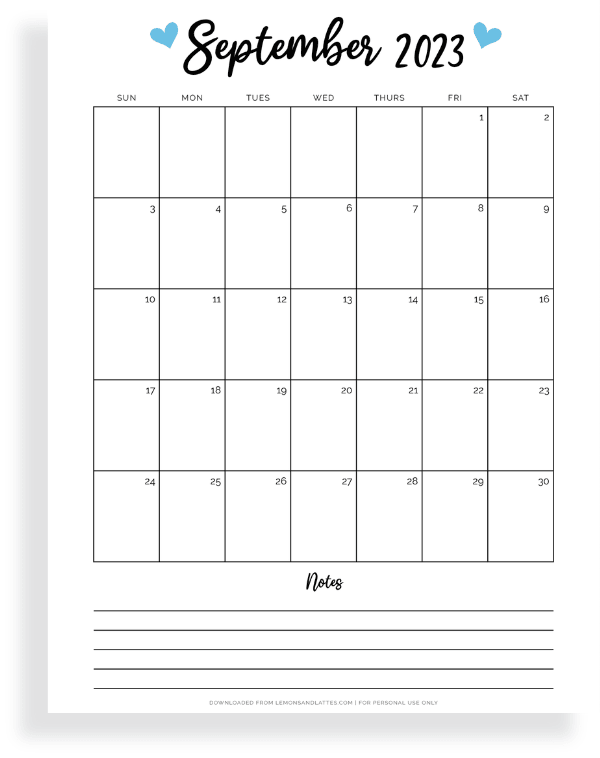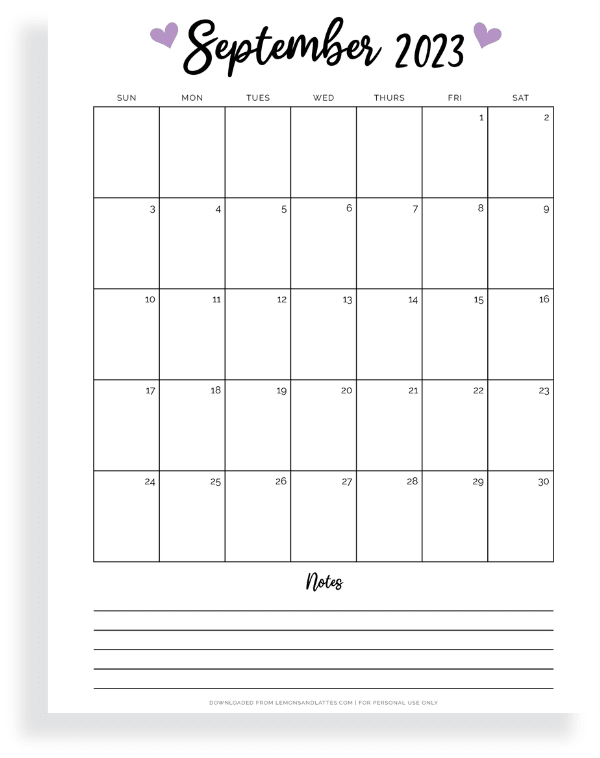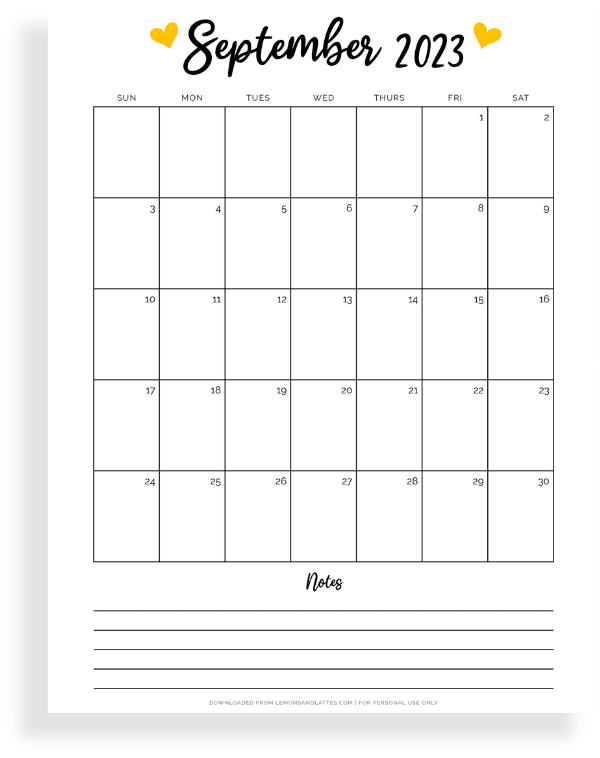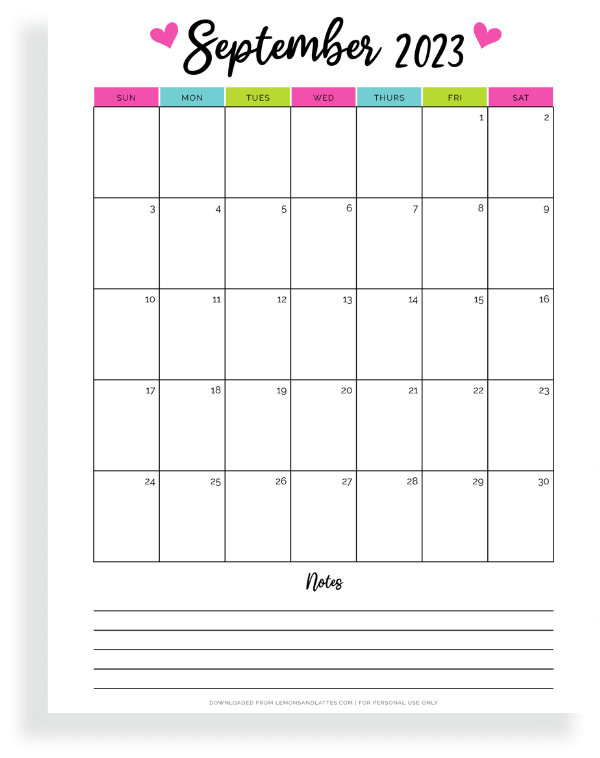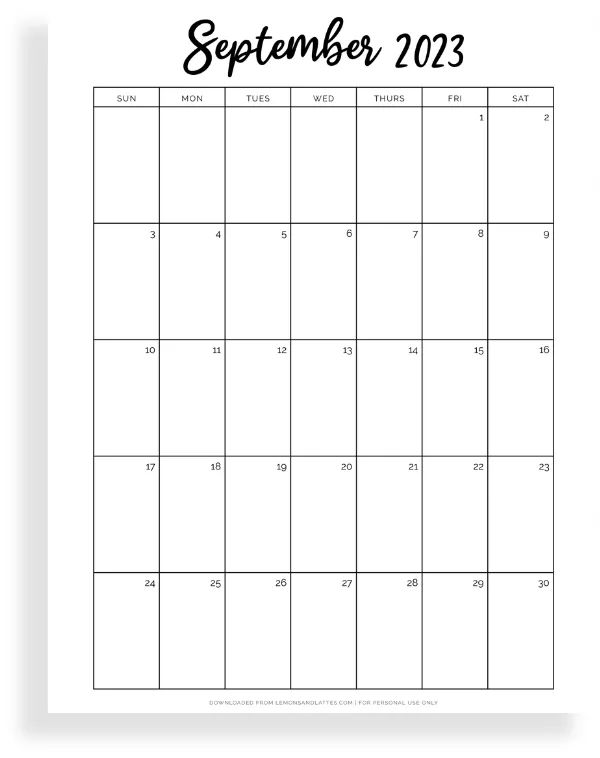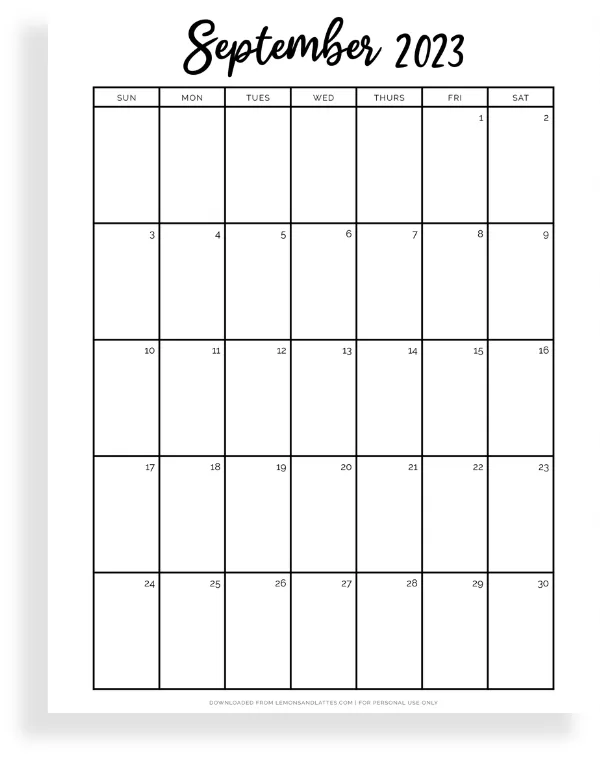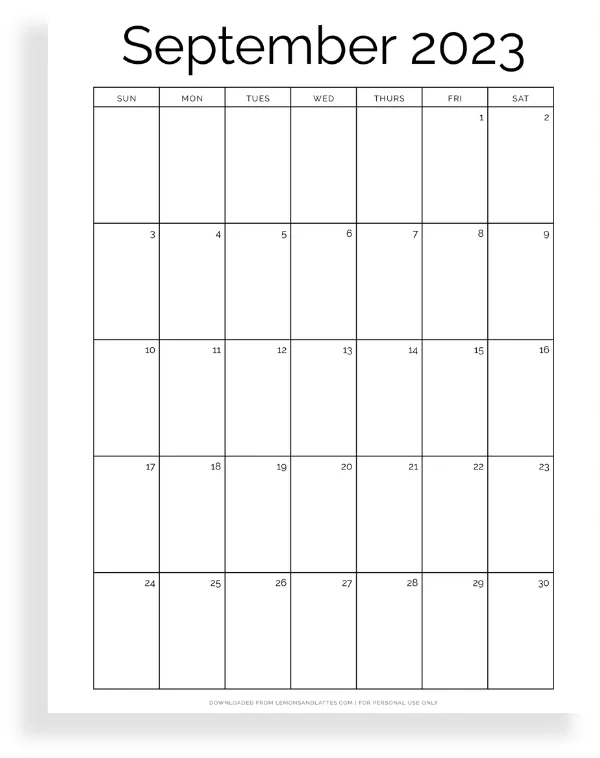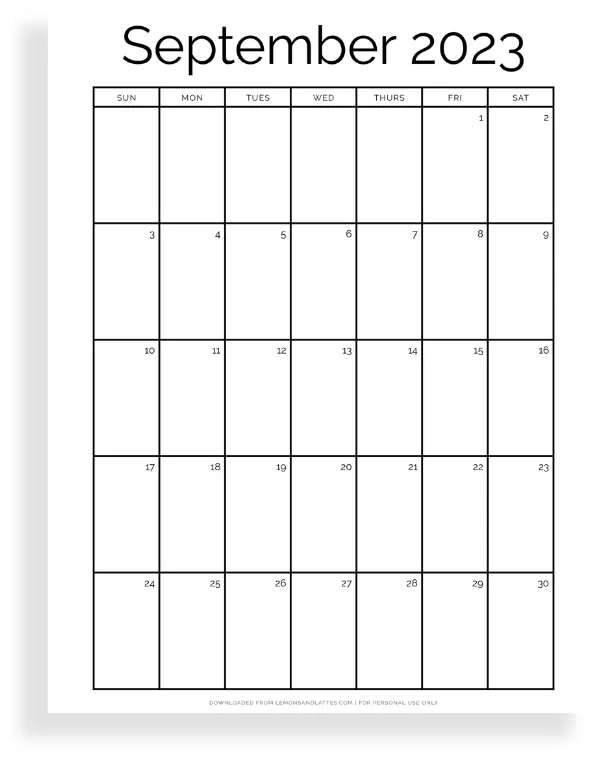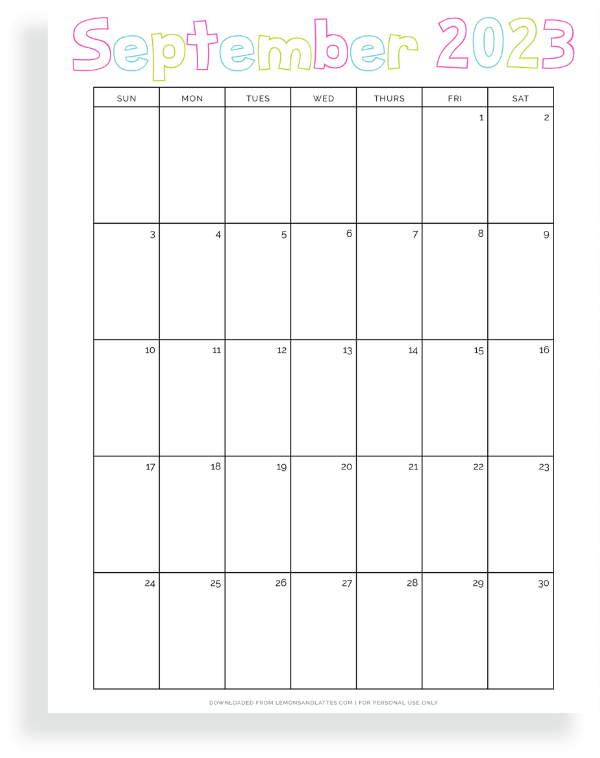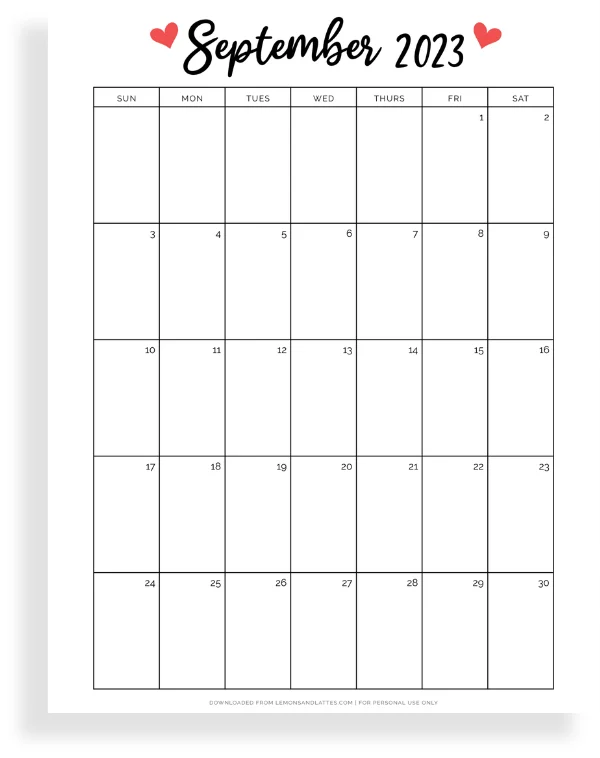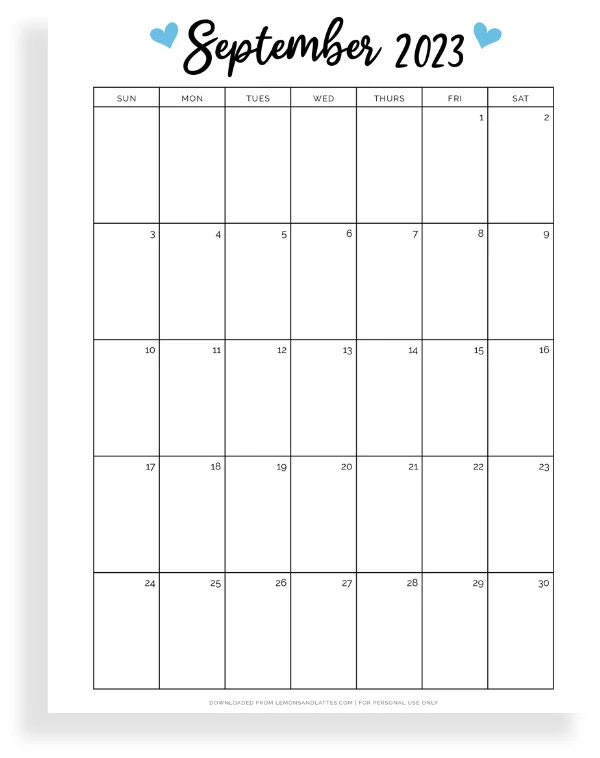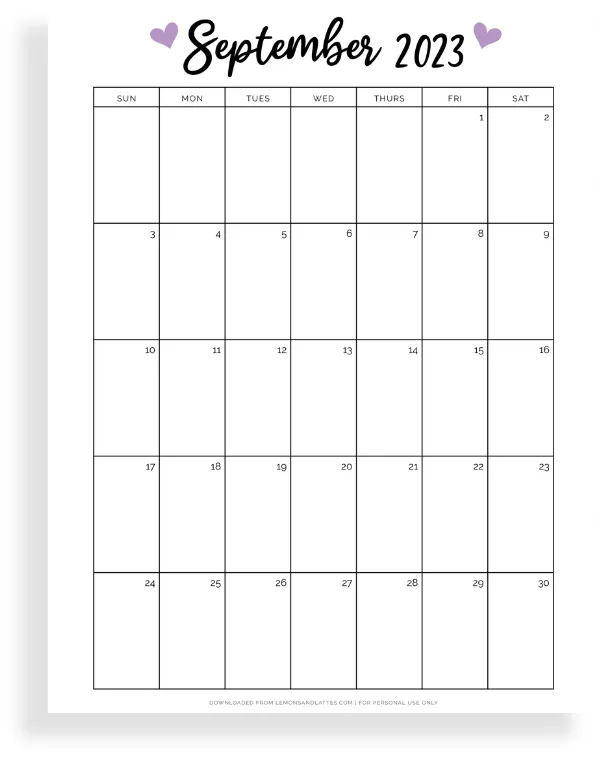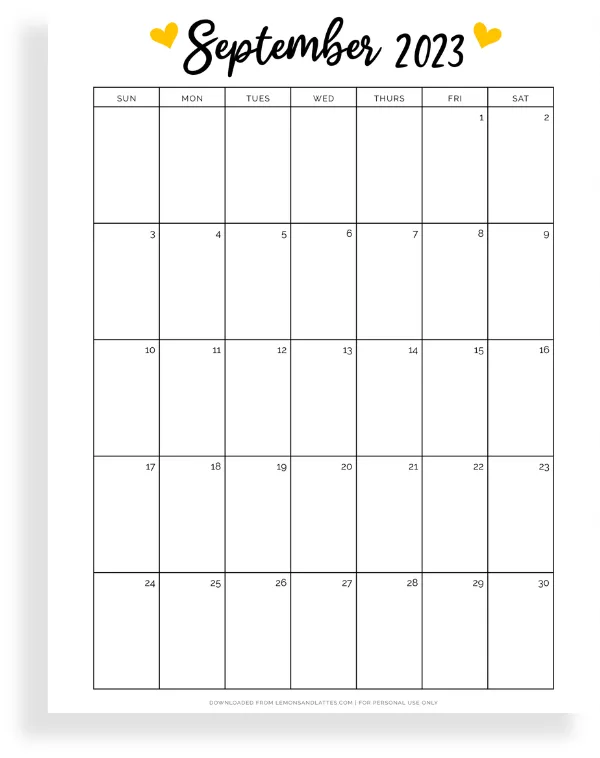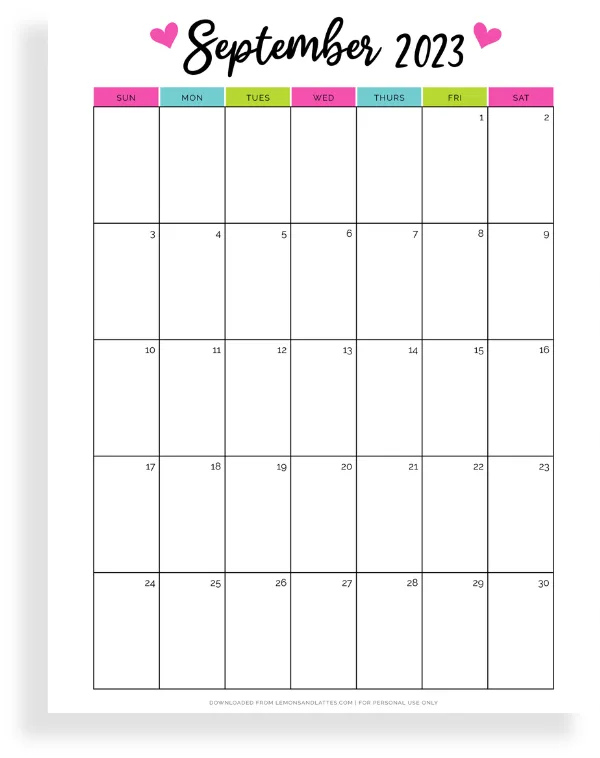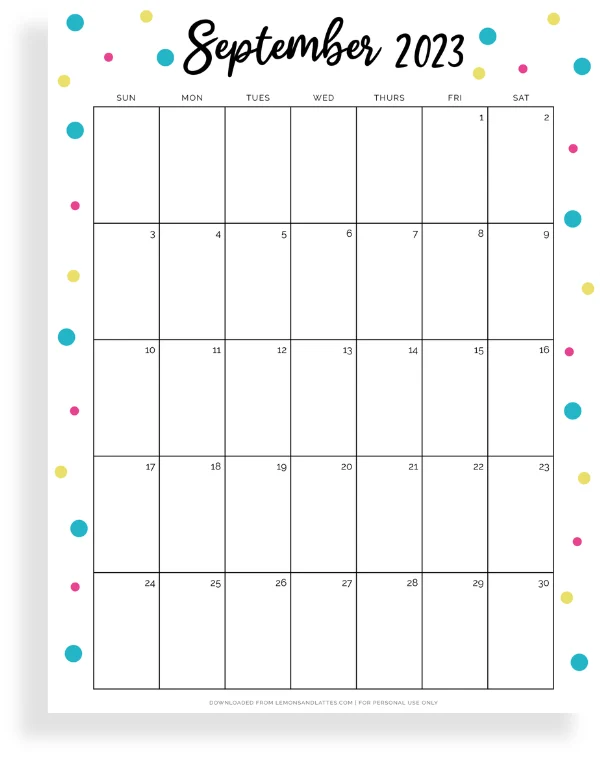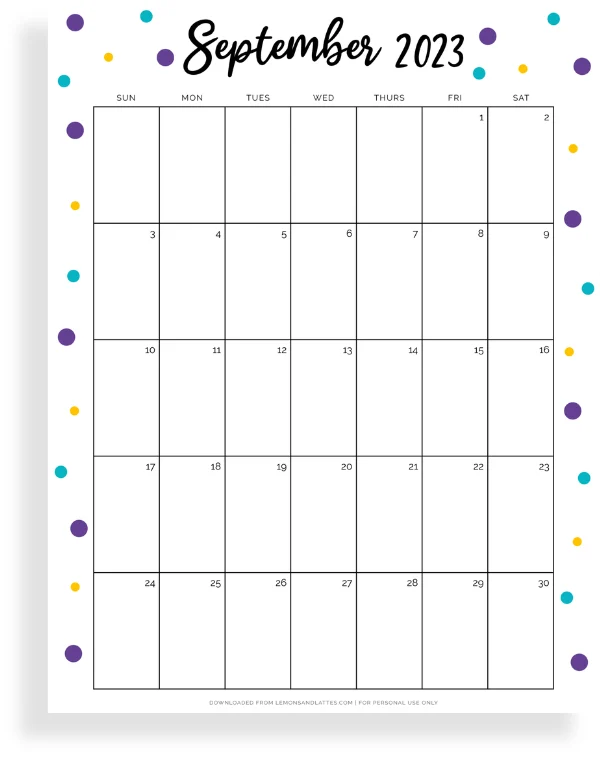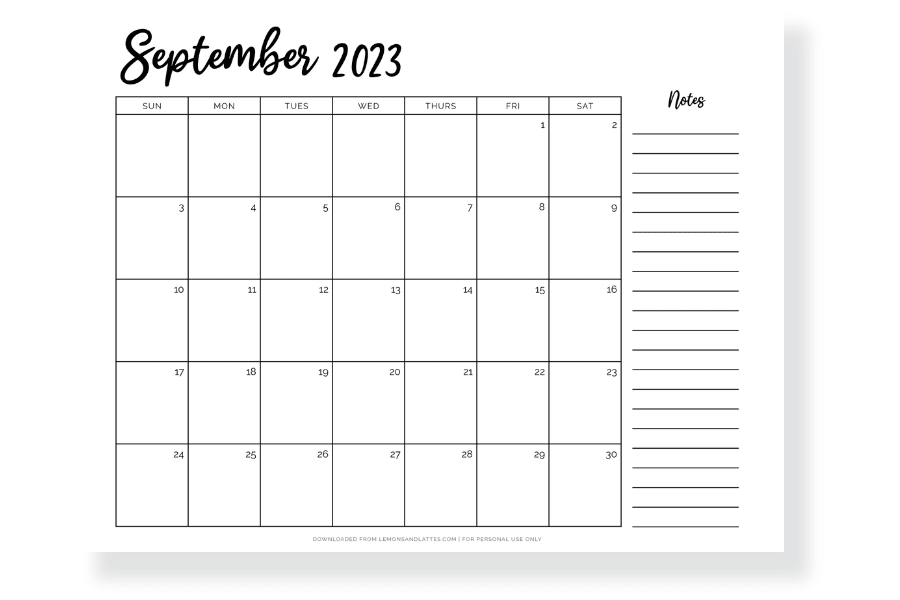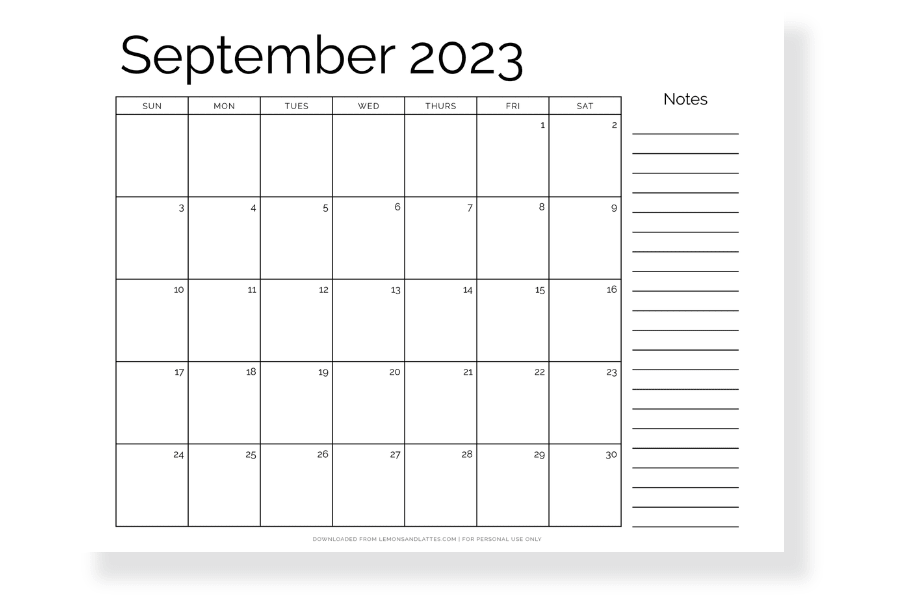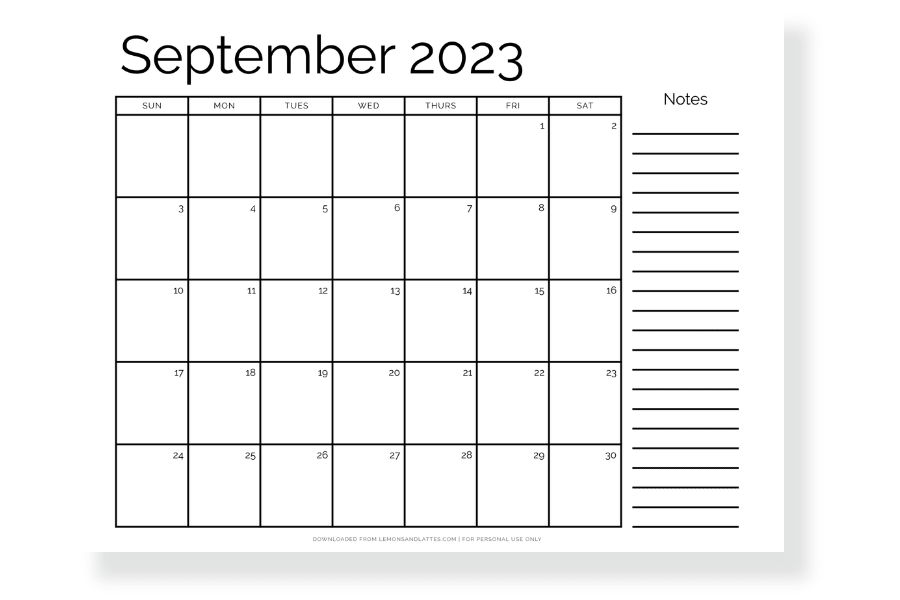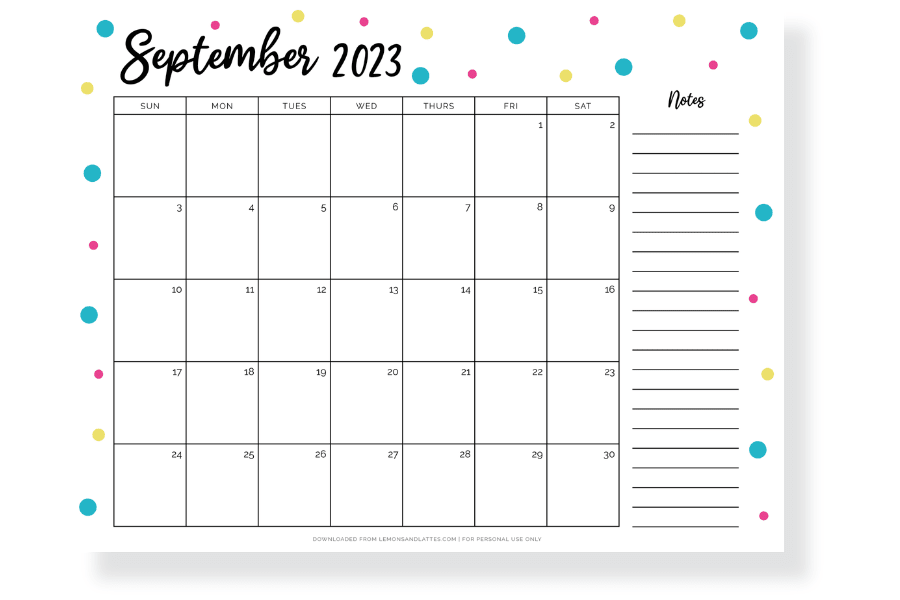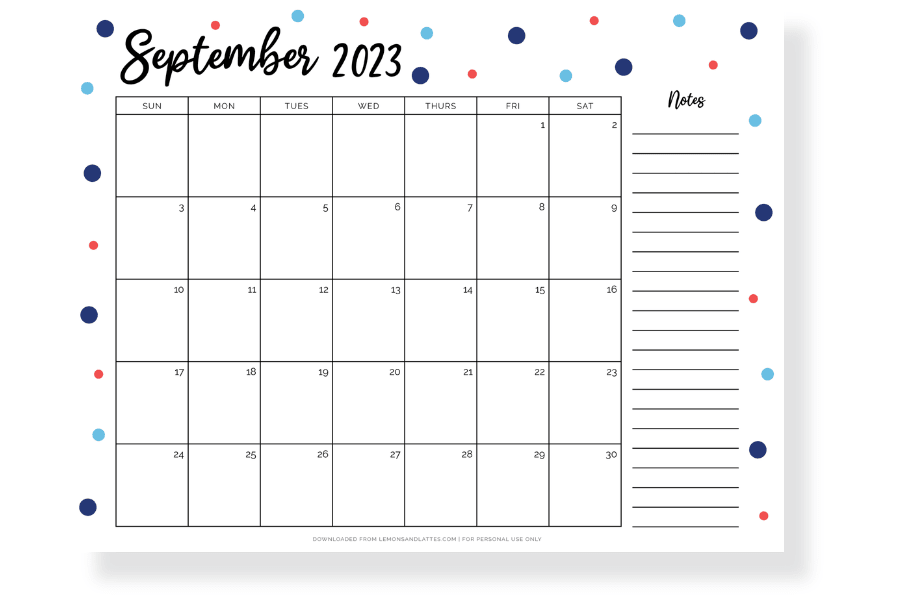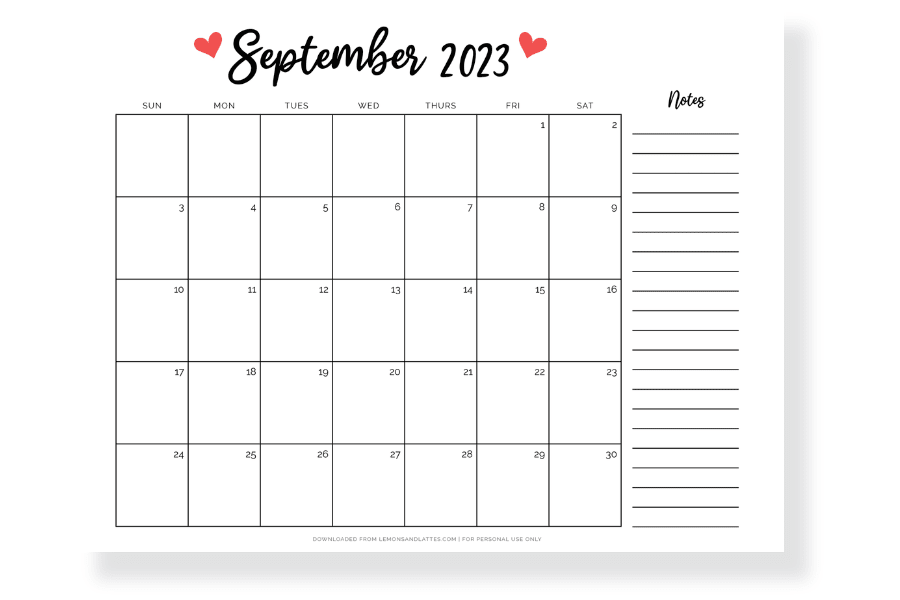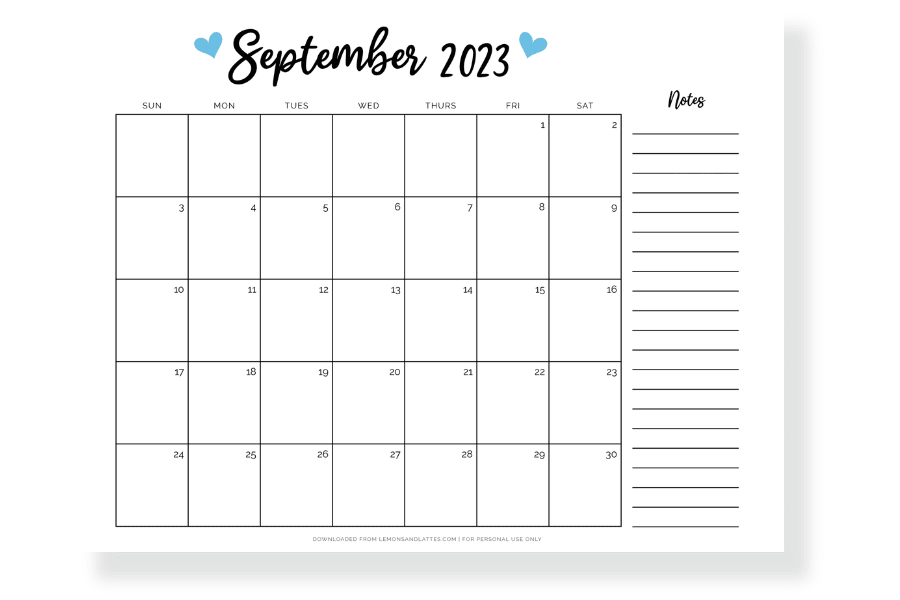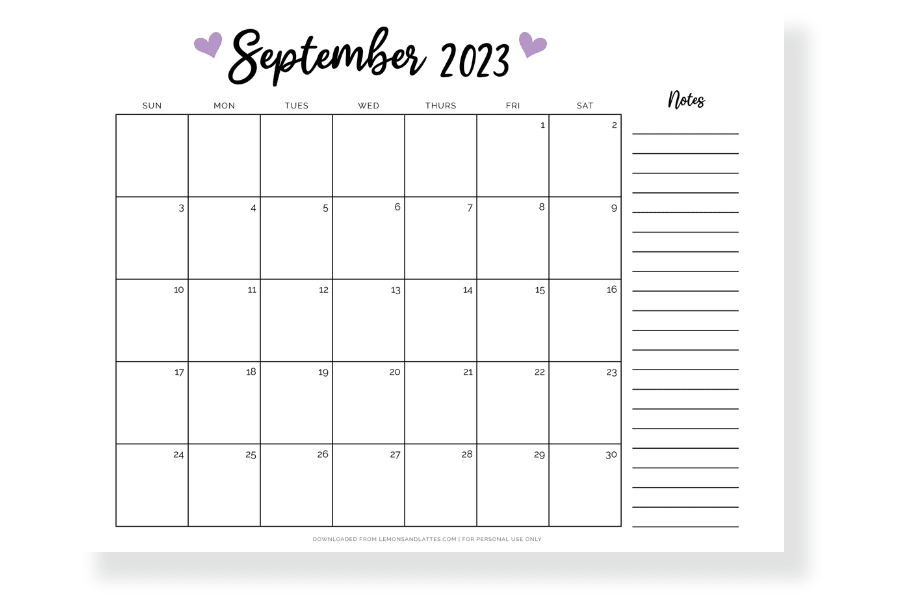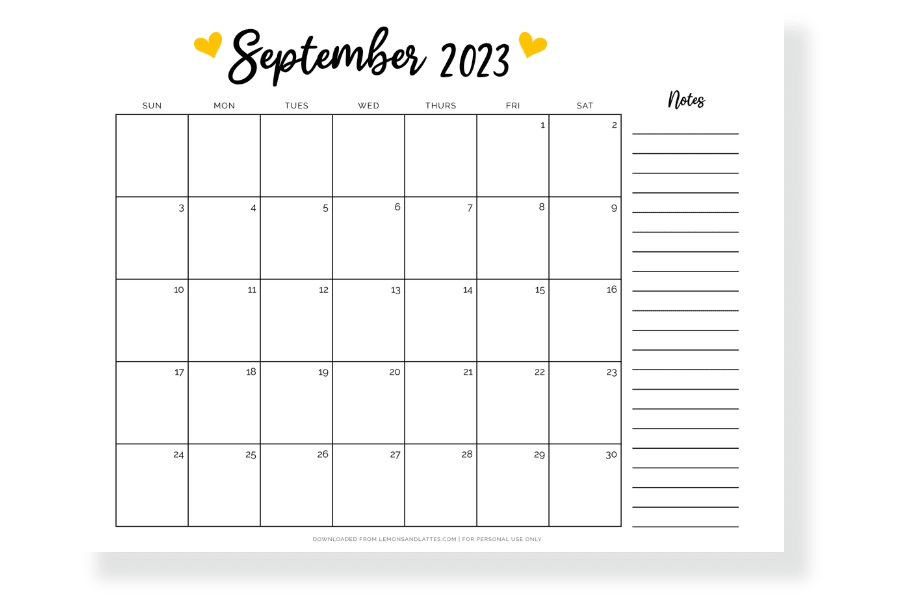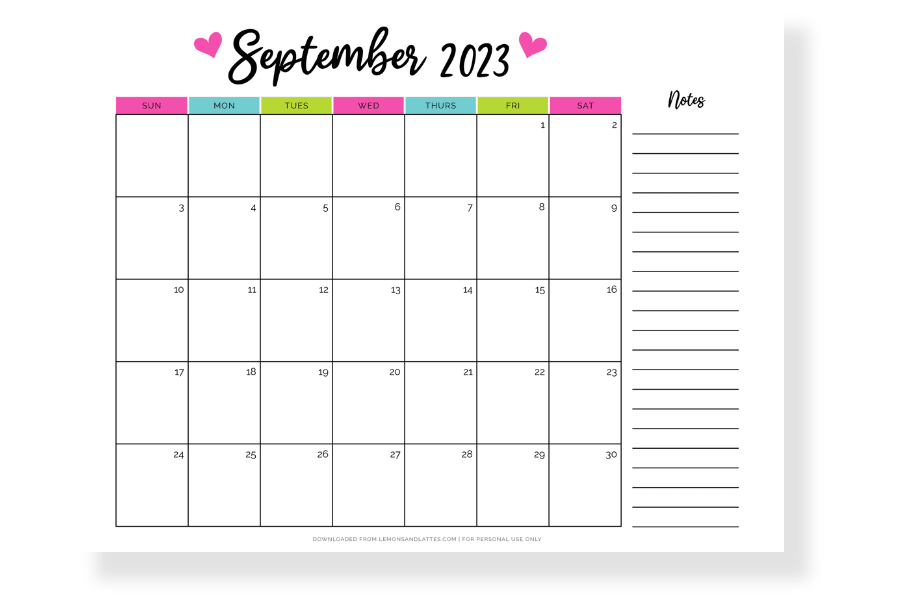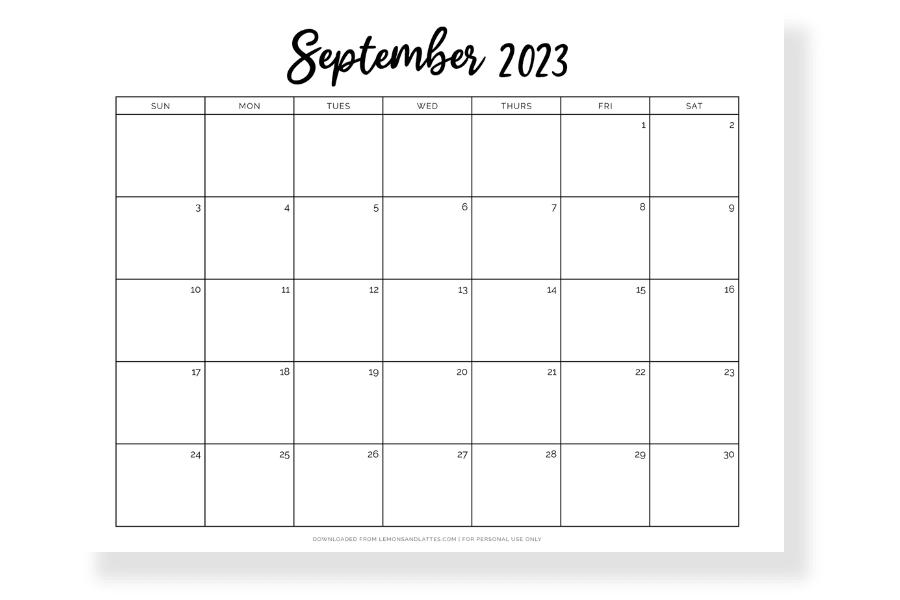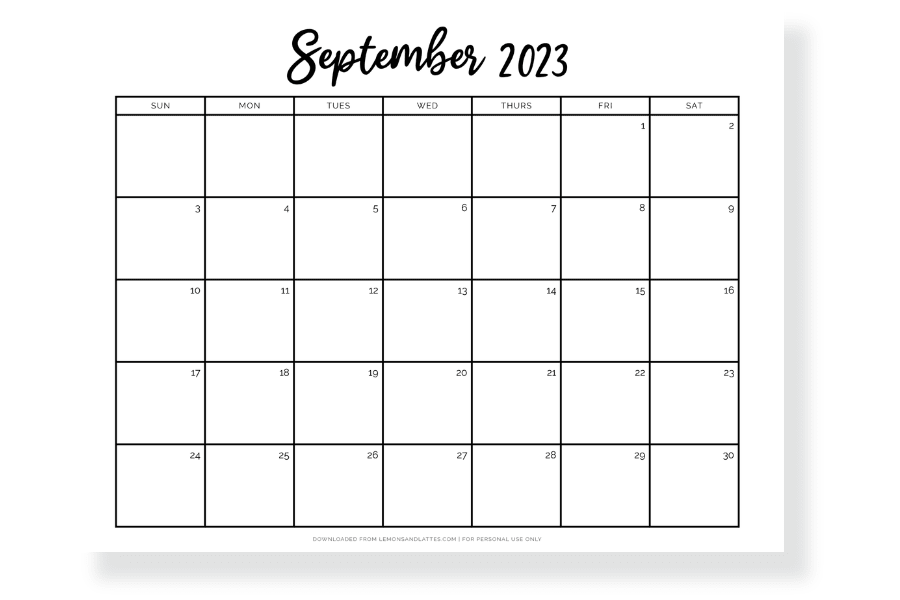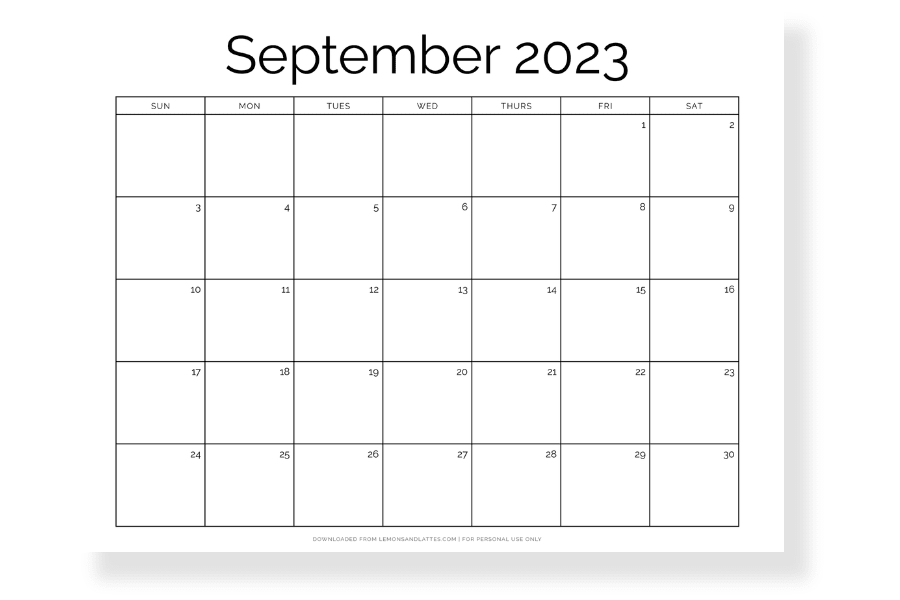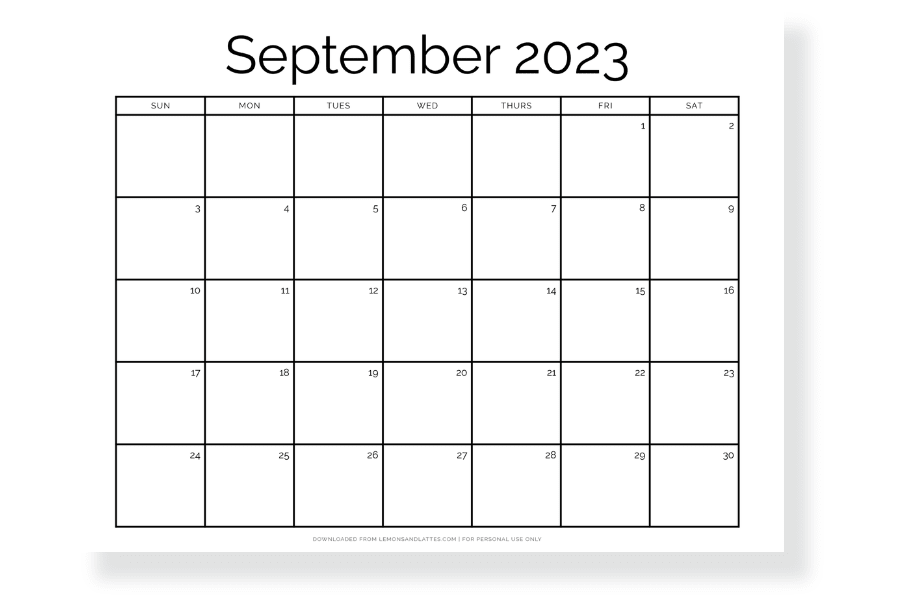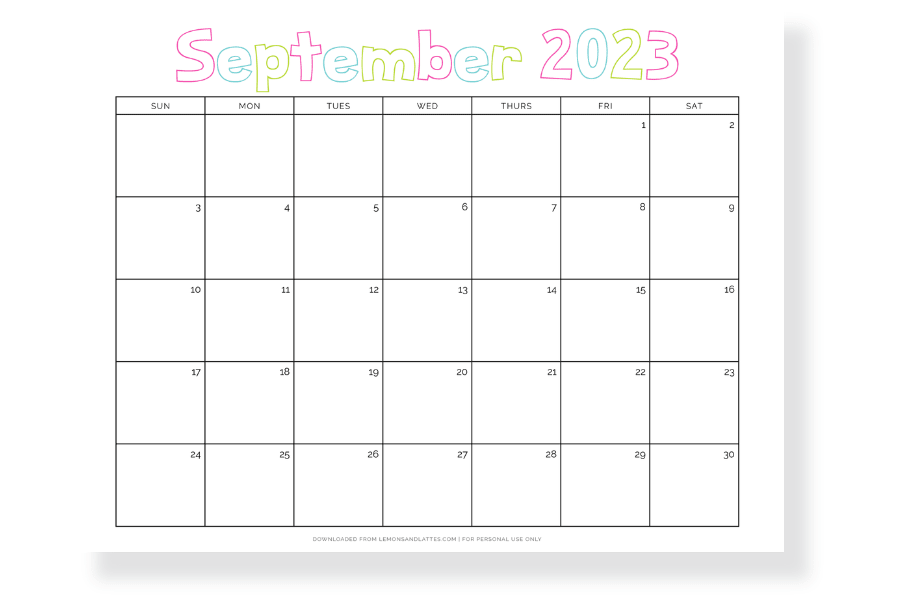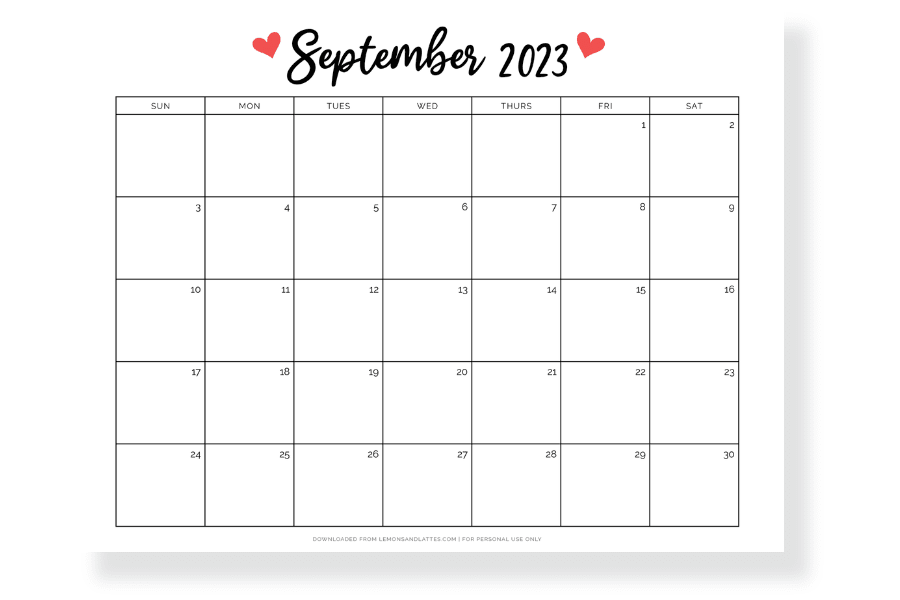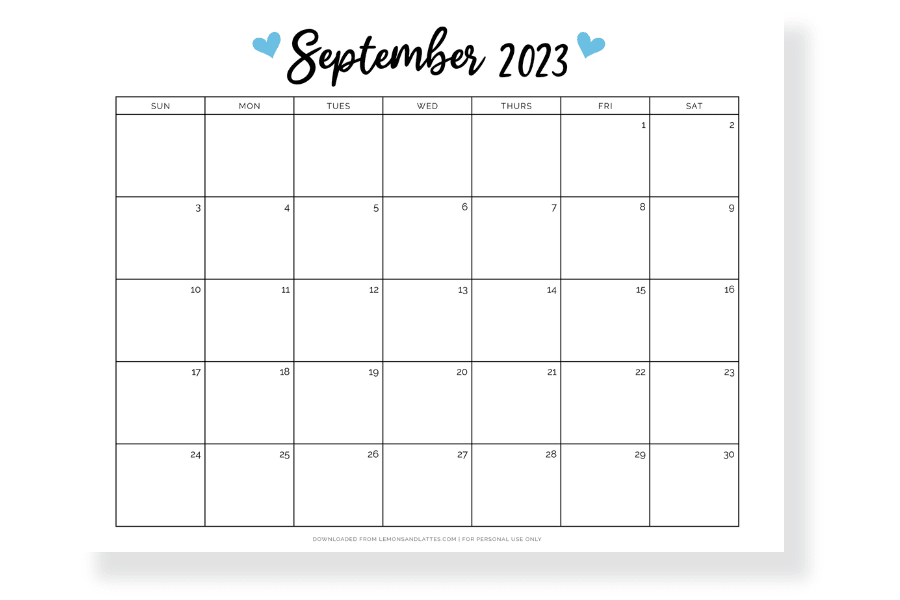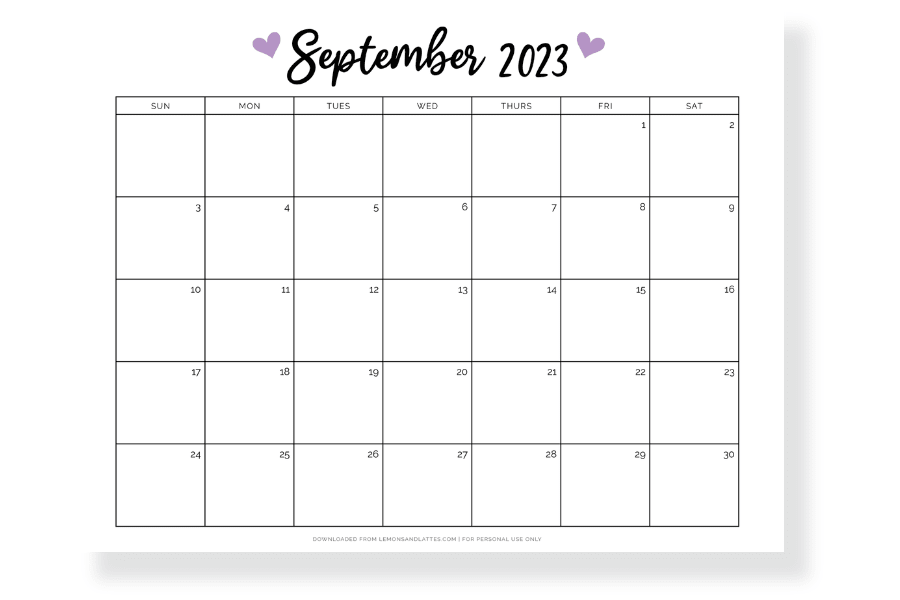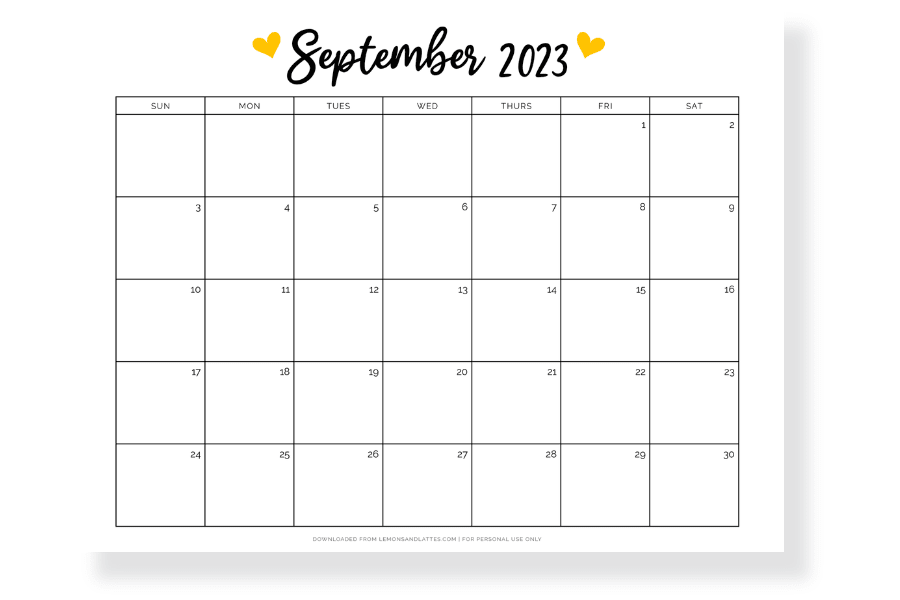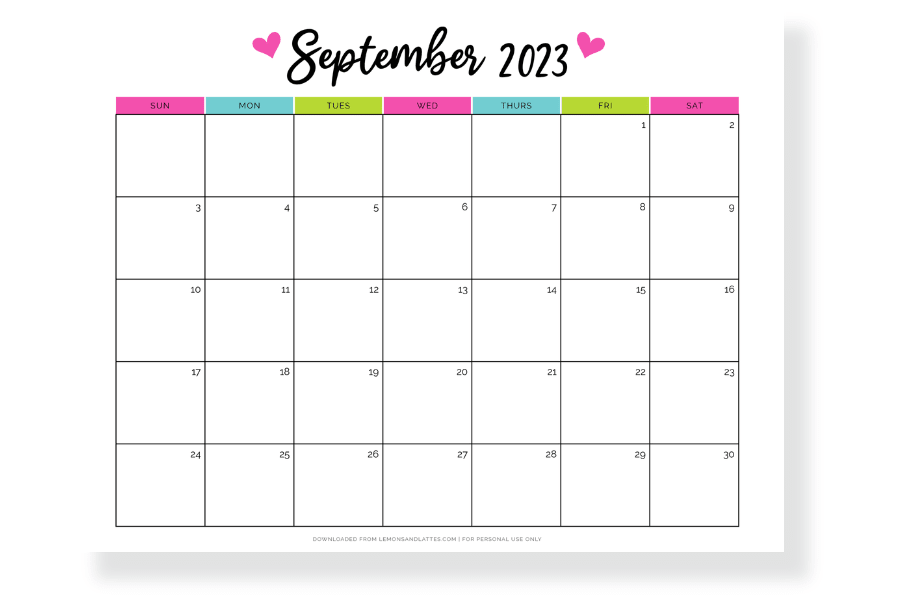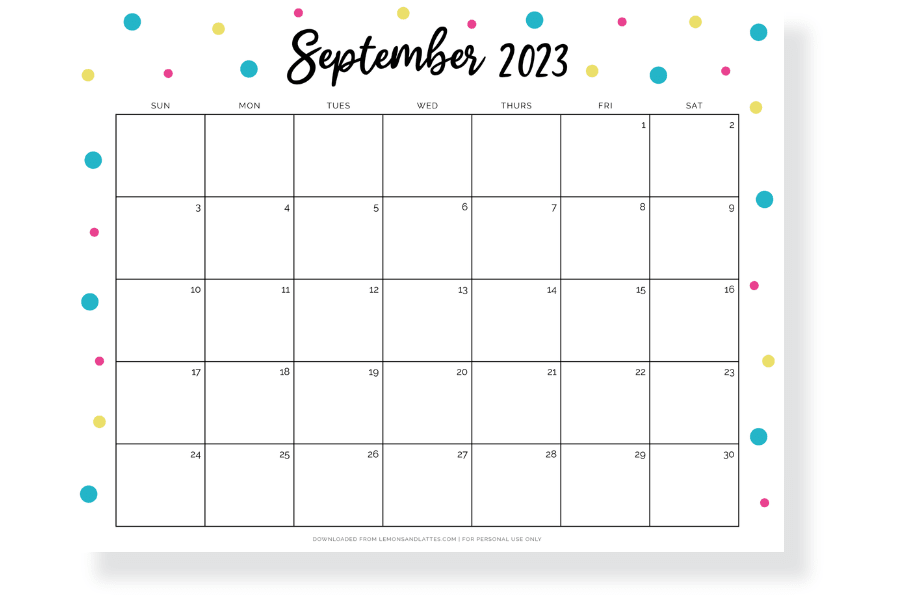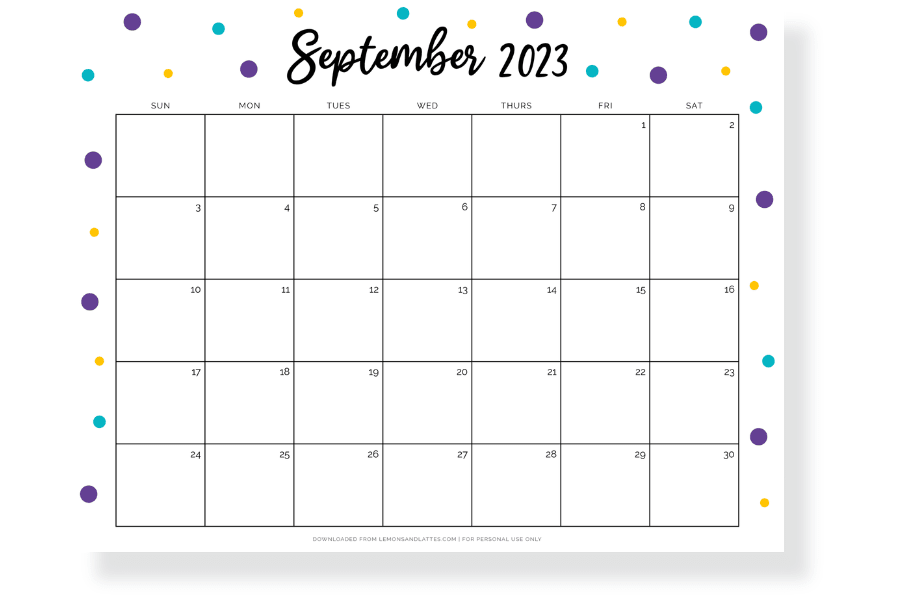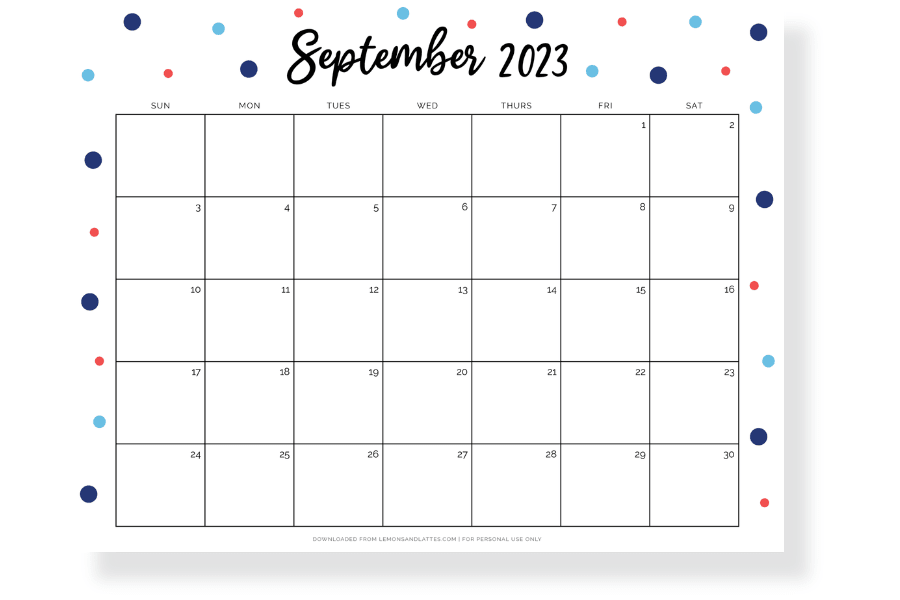 FAQs about the month of September
How many days are in the month of September?
There are 30 days in the month of September.
What is the official flower for September?
September actually has 2 birth flowers: The aster and the morning glory.
What is the birthstone for September?
Sapphire and moonstone.
What is the zodiac sign for September?
The main zodiac sign for the month of September is the earth sign, Virgo. But if your birthday falls on September 23rd or after, then you are a Libra.
---
If you like these printable September calendars, you may also want to grab one for the following months:
Enjoy!